Four Seasons Hotel and Private Residences Coming to Nashville
Four Seasons Hotels and Resorts, the world's leading luxury hospitality company; Congress Group, a Boston-based real estate investment and development firm; and AECOM Capital, the investment arm of AECOM, today announce that a Four Seasons Hotel and Private Residences will be coming to downtown Nashville. A groundbreaking for the development, which will be the first Four Seasons in Tennessee, is expected in April 2019.
"This will be one of the most iconic high-rise buildings in the state of Tennessee," said Dean Stratouly, president of Congress Group. "Delivered as LEED Gold and standing 542 feet tall (165 metres), it will be one of the state's greenest and tallest residential buildings. We'd like to thank the many public and private partners that have aided us in moving forward this generational vision, which will redefine the skyline and what is possible in Nashville."
"We're proud to bring Four Seasons Hotel and Private Residences to Nashville," said Timothy D. Haskin, senior managing director of AECOM Capital. "City officials and the community have made Nashville a top place to live and visit, as well as a leading corporate destination for world class companies. Our project is a celebration of Nashville's exciting momentum and its long-term staying power."
"Long recognised for its popular music and entertainment offerings, Nashville is also home to one of the most vibrant culinary and arts scenes in the United States. Together with our partners at Congress Group and AECOM Capital, we are creating a world-class property, in one of the best locations in the city," says Bart Carnahan, Executive Vice President, Global Business Development and Portfolio Management, Four Seasons Hotels and Resorts. "We look forward to welcoming guests and residents to experience this dynamic city with Four Seasons."
The development continues the momentum and growth of the SoBro area of Nashville, affirming its emergence as one of the most dynamic urban areas in the city. Sparked by the arrival of major businesses and corporate headquarters, the new Hotel and Private Residences will be located along the Cumberland River, within a block of fresh and exciting culinary and nightlife experiences on Broadway, West Riverfront Park, Nissan Stadium, and the award-winning Ascend Amphitheater. This prime location will make the project the ideal spot for visitors and residents to experience the best of Nashville.
Four Seasons Hotel and Private Residences Nashville will include a five-star, full service luxury hotel with 236 keys, a world-class spa and an array of fitness amenities. In addition, the building will offer for sale luxury residences to be managed by Four Seasons. Compass has been engaged by the developer exclusively to handle the sales and marketing of the private residences. To register interest in the Four Seasons Private Residences, sign up at nashvilleprivateresidences.com for real-time updates on the project, including exclusive first access to the launch of residential sales.
Construction on the building is expected to begin April 2019 and will be led by AECOM Hunt. Groundbreaking is expected to take place in the second quarter of 2019.
Hilton Announces Tajikistan Premiere with Flagship Dushanbe Property
Hilton today announced its debut in Tajikistan with the opening a flagship property in the heart of the country's historic capital city – Hilton Dushanbe. The hotel joins seven Hilton properties trading or under development in Central Asia, demonstrating the group's growing international presence in new and emerging tourism markets worldwide.
Conveniently located only a seven-minute drive from Dushanbe International Airport, and just three miles away from the Tajik Railway Station, Hilton Dushanbe offers both working professionals and leisure travellers a comfortable stay with 145 spacious rooms, all ergonomically fitted and with stunning mountain views. The property also offers Executive Rooms and access to its Executive rooftop lounge, featuring a private meeting room and terrace overlooking the city.
Hilton Dushanbe offers state-of-the-art amenities for hosting meetings and events, including ranging six conference rooms equipped with the latest A/V technology, two large ballrooms and a stunning outdoor terrace that can accommodate up to 400 people. Guests can also enjoy a relaxing treatment at the hotel's spa following use of the fitness centre, cool off in the on-property swimming pool, or indulge in a number of delectable dining options.
"We look forward to welcoming guests to a world-class Hilton hospitality experience right here in Dushanbe. Whether celebrating a special occasion, hosting a memorable event, travelling for business, or simply exploring the city's historic sites, guests can take comfort in our spacious rooms, distinguished amenities, and exceptional service," said Pavel Jindra, general manager, Hilton Dushanbe.
Gagan Malhotra, Director of CJSC CHL International, the hotel's owning company, commented: "We are delighted to partner with Hilton as we introduce their iconic brand in Tajikistan with the debut of Hilton Dushanbe. We believe that our partnership with a globally recognised company will have a positive impact on hospitality in Dushanbe as well as Tajikistan going forward."
Hilton Dushanbe is part of Hilton Honors, the award-winning guest-loyalty program for Hilton's 17 distinct hotel brands. Members who book directly have access to instant benefits, including a flexible payment slider that allows members to choose nearly any combination of Points and money to book a stay, exclusive member discounts, and free standard Wi-Fi. Book direct at Hilton.com, the Hilton Honors app or through any official Hilton channels for more perks and a price match guarantee.
Marriott International Signs Deal To Introduce The Luxury Collection To Saudi Arabia In 2020
Marriott International, Inc. has signed an agreement with Assila Investments to bring its Luxury Collection brand for the first time to the Kingdom of Saudi Arabia. Situated in the heart of Jeddah, Assila Hotel is anticipated to join The Luxury Collection's portfolio of more than 100 world-renowned hotels and resorts in 2020.
"We are thrilled to have Marriott International manage the beautiful Assila Hotel, under the Luxury Collection brand," said Bader Alissa, CEO, Assila Investments. "This only affirms Assila Hotel's position as a premier luxury hotel in Jeddah."
"We are delighted to announce plans for the first Luxury Collection property in Saudi Arabia, in collaboration with Assila Investments," said Alex Kyriakidis, President and Managing Director, Middle East & Africa, Marriott International. "This deal signing supports our plans to further diversify our footprint in the Kingdom while enhancing our overall luxury portfolio in the region."
Assila Hotel features 210 guestrooms, including a 590 sqm Royal Suite, and 94 apartments. It comprises multiple food and beverage venues, including a Café Lounge and Argentinian and Mediterranean specialty restaurants. The hotel also includes a 348 sqm ballroom and nine meeting rooms, as well as full-service recreational facilities such as a spa, fitness center and squash courts.
The hotel is situated on Prince Mohammed Bin Abdulaziz (Tahlia) Street, on the main commercial and retail strip of the city and within close proximity to the Corniche and many of the city's landmarks. The site is also within five kilometers of the planned 'New Jeddah Downtown' development, a mixed-used project on Jeddah's five million square meter waterfront anticipated to launch in 2022. The waterfront corniche is expected to include residential, cultural and retail spaces.
This signing of Assila Hotel under The Luxury Collection also underscores Marriott's growing luxury portfolio in the Middle East, where the company now has more than 30 open luxury hotels, including The Ritz-Carlton Riyadh and The Ritz-Carlton Jeddah.
Hyatt Announces the Opening of Hyatt Centric The Liberties Dublin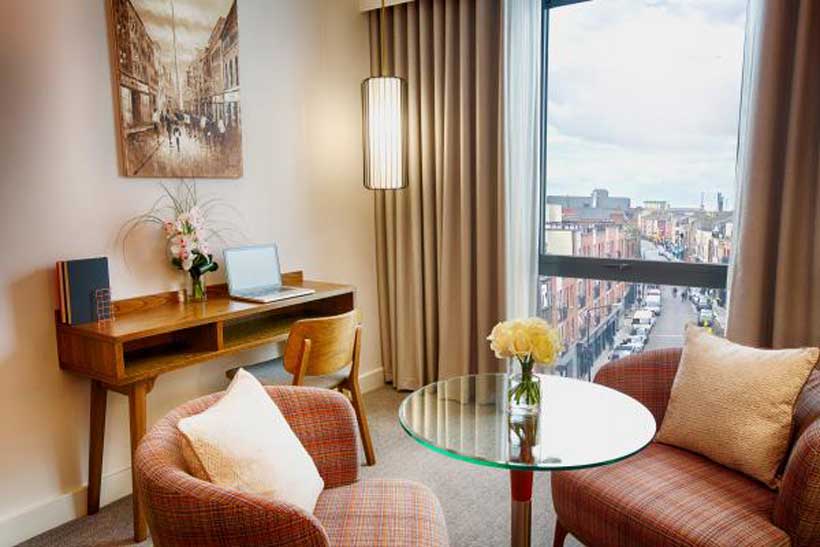 Hyatt Hotels Corporation announced today the opening of the 234-room Hyatt Centric The Liberties Dublin, the first Hyatt branded hotel in Ireland, managed by Hodson Bay Group.
Located in The Liberties, one of Dublin's most historic and vibrant areas which dates back to the 10th century, the hotel is the ideal destination for adventure-seeking travelers wanting to stay in the heart of the action. Guests will be within 10 minutes of a number of attractions, including the Irish Museum of Modern Art, St Patrick's Cathedral, the Dublin Liberties Distillery and Ireland's top tourist attraction – the Guinness Storehouse.
The lively Liberties district offers an incredible amount of history to explore. Guests will have the chance to learn about the stunning artefacts that were unearthed on the hotel's site during construction, some of which are up to 900 years old. Hyatt Centric The Liberties Dublin has embraced these exceptional artefacts and their stories by embedding them in unique ways throughout the hotel.
"We are thrilled to announce the opening of Hyatt Centric The Liberties Dublin – representing a milestone for Hyatt in Europe," said Declan Curtis, general manager of Hyatt Centric The Liberties Dublin. "With passionate colleagues providing local expertise, we aim to prepare our guests to explore the best that Dublin has to offer so they can go forth and discover."
From the large windows overlooking the bustling city, to the spacious guestrooms, the hotel delivers shareworthy experiences for socially connected guests due to its modern feel and exceptional social spaces. The private, landscaped Poddle Garden, along with The Corner – a relaxing reading lounge – offer places for guests to unwind. Business travelers will also benefit from the hotel's intuitive service and plentiful meeting space.
"Dublin is world-renowned for its cultural heritage and as a buzzing business hub, making it a natural fit for the vision of the Hyatt Centric brand. In addition to providing sophisticated accommodations and personalized service, this is the perfect hotel for travelers with an adventurous spirit, wanting to explore all the destination has to offer," said John O'Sullivan, Chairman of Hodson Bay Group.
Guestrooms
The hotel's 234 contemporary guestrooms include nine spacious suites. The King Suites create a home-away-from-home experience, while the Liberties Suites enjoy open views of The Liberties. Guests can also choose between the 506-square-foot (47 square meters) Cathedral View Suite, which overlooks St Patrick's Cathedral, and the 538-square-foot (50 square meters) Terrace View Suite, which offers stunning views of the Dublin Mountains.
Dining
Hyatt Centric The Liberties Dublin boasts two distinct dining experiences, with menus carefully crafted by Hodson Bay Group's Executive Chef Gavin O'Rourke whose years of experience include a period as Head Chef at the Michelin starred Peacock Alley Restaurant. The signature Liberties Gate Restaurant provides fresh, locally inspired cuisines, which combine simplicity and elegance.
The Liberties Gate Bar features the finest selection of whiskey from numerous local distilleries and Guinness straight from the Guinness Storehouse at St James' Gate. Guests can also choose from an all day dining menu that includes specialty breads, gourmet sandwiches, soups, stews and salad options, all served in a relaxed, warm and cozy setting.
The hotel sits in what's known as the Golden Triangle, a historic center for the brewing and distilling industries in Dublin. Anyone wanting to learn a bit more about the rich tradition of whiskey distilling in The Liberties can take part in a unique Golden Triangle Whiskey Masterclass that has been specially created by the Hyatt Centric The Liberties Dublin in collaboration with three local distilleries – Teeling, Pearse Lyons and Dublin Liberties Distilleries.
Meetings and events
With its superb central location, the hotel serves as the ultimate venue for a variety of events, meetings and conferences. With 4,000 square feet (371 square meters) of flexible meeting and events space, as well as a dedicated and experienced Events Team, guests can relax knowing that all their needs will be fulfilled. The meeting rooms offer state-of-the-art audio-visual equipment, including LCD projectors and electronic screens, as well as on-site tech support. Hyatt Centric The Liberties Dublin offers everything in one place making it a convenient choice for conferences.
Fitness center
The hotel features a modern fitness center, open 24 hours daily. With cardio machines, free weights and additional equipment, guests will be able to maintain their fitness routine effortlessly while away.
There are currently six Hyatt Centric properties across Europe, in Madrid, Istanbul, Venice, Milan, La Rosière and Dublin. The brand is also established globally with a presence in major cities, such as New York, Tokyo and Santiago.