Reducing carbon emissions: EU targets and measures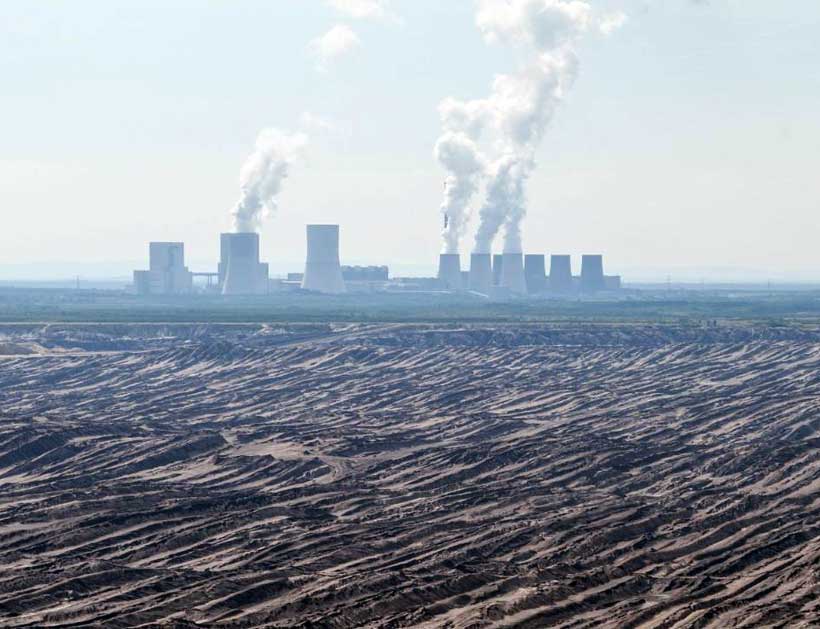 To prevent dangerous climate change, the EU has committed to cut its greenhouse gas emissions by at least 40% below 1990 levels by 2030 under the Paris Agreement .
In November 2018, the European Commission presented a long-term strategy for the EU to achieve a climate-neutral economy by 2050, including eight possible pathways.
Ahead of a European Council meeting in May, where EU leaders are expected to adopt the strategy, the European Parliament adopted a resolution outlining its recommendations on 14 March 2019.
MEPs called for the EU to raise the 2030 emission reduction target and reiterated the Parliament's position to allocate at least 35% of the EU's expenditure on research to support climate objectives.

To reach its climate goal, the European Union has come up with ambitious legislation.
An Emissions Trading System for industry

The EU's Emissions Trading System (ETS) aims to reduce the industry's carbon emissions by obliging companies to hold a permit for each tonne of CO2 they emit. Companies have to buy them through auctions. There are some incentives to boost innovation in the sector.

The European Emissions Trading System is the world's first major carbon market and remains the largest one. It regulates about 45% of total EU greenhouse gas emissions and covers approximately 11,000 power stations and manufacturing plants in the EU. The goal is to reduce emissions by 43% compared to 2005.

Tackling carbon emissions from other sectors

Sectors not covered by the Emissions Trading System – such as transport, agriculture, buildings and waste management – still account for nearly 60% of the EU's overall emissions. Emissions from these sectors will be cut by 30% by 2030 compared to 2005.

This will be done through agreed national emission targets which are calculated based on countries' gross domestic product per capita. Lower-income EU countries will be provided with support.

Managing forests for climate change

EU forests absorb the equivalent of 10.9% of total EU greenhouse gas emissions each year. The EU wants to use this power to fight climate change.

New legislation aims to prevent emissions caused by deforestation and oblige each EU country to compensate changes in land use, which lead to emissions of CO2, by better managing or increasing their forests.
Reducing car emissions

Cars and vans produce 15% of EU's CO2 emissions. The EU is working on legislation to toughen car emissions standards. The Parliament is also calling for measures to facilitate the shift to electric and hybrid vehicles.
Big lessons about biodiversity loss from a little French river
BY SARAH WILD
Even while drought is bringing many of Europe's rivers to record lows and damaging biodiversity, the threat of catastrophic flooding following a dry spell lurks in the background.
Some of Europe's most famous rivers such as the Rhine, Danube and Po, have been making headline news thanks to summer droughts. With water levels plummeting to record lows and the rivers drying out, many kinds of economic activities from shipping to farming have been disrupted.
But one little river in Europe that has avoided the media spotlight may offer valuable lessons about the worsening effects of global warming. It is the Albarine, located in south-eastern France and it is the focus of an EU-backed research project about the effects of drought on river ecosystems.
Worldwide, rivers are under stress from climate change. The research will help conservationists to understand the ways drought leads to the loss of biodiversity and respond appropriately.
Rising near the sleepy French town of Brénod near the Jura mountains, the Albarine flows almost 60 kilometres before its crystal-clear waters join the larger Ain River northeast of Lyon. However, there are a number of points during its course at which the Albarine river runs dry. This is something likely to happen to more waterways as global warming intensifies.
Extreme event
'Drying is an event and drought is an extreme event,' said Romain Sarremejane, a freshwater ecologist and Marie Skłodowska-Curie Actions (MSCA) post-doctoral research fellow at the French National Institute for Agriculture, Food, and Environment (INRAE).
'You need to understand drying to understand drought. The issue might be in the future that, if you have big droughts, you will lose all the refuges where species might survive during a drying event.'
Sarremejane is part of the MetaDryNet research project, which is assessing how drying affects organisms in the Albarine and their ability to consume carbon-rich organic matter. At its lush headwaters near Brénod, many leaves fall into the Albarine – and this leaf litter provides food and nutrients along the river's length.
Drying everywhere
Insects and other creatures nibble at them, and 'little by little they decompose as you go downstream and then it's very small particles that end up in the sea,' Sarremejane said. 'But when there is drying everywhere in the network, you have these leaves that accumulate in the dry riverbed and are not processed.'
This leaf build-up could result in creatures downstream going hungry and the river processing less carbon.
Sarremejane and his colleagues set out to investigate what happens in the Albarine's dry patches. They sampled 20 sites, each about 100 metres long, to see how much organic matter passed through, how quickly it decomposed, how much carbon and methane each site emitted, and the diversity of invertebrates, bacteria and fungi present.
Half the sites were in areas where the river sometimes runs dry and the rest were in places where the river flows all year long.
As more places are dry for longer, this could also compromise the ability of creatures to move between parts of the river –– which could ultimately lead to a decrease in biodiversity as well as extinction.
About 60% of rivers worldwide are intermittent –– which means that they are dry for at least one day a year –– and that share is set to rise, according to Sarremejane. Many such waterways usually flow for six to eight months of the year and then dry during the summer.
Intermittency
'This intermittency is becoming more and more common, and extending in time and space,' he said.
If a river's dry patches increase and expand for longer periods of time, these oases in the river where life weathers the drying may disappear too. 'There is a big tipping point at which you might lose a lot of diversity,' he said.
His future research will focus on how extreme weather events affect communities of creatures and their diversity in Europe's rivers, and whether it is possible to quantify these tipping points.
Heavy rain
For all the difficulties triggered by droughts, rain itself poses challenges. When drought-hit areas eventually get rain, it tends to be heavier and harder to absorb, leading to floods which is one of the most catastrophic effects of climate change in European cities.
Benjamin Renard, principal investigator on the Hydrologic Extremes at the Global Scale (HEGS) project, is trying to understand what more precipitation means for river systems and whether it leads to more flooding.
River floods are among the most damaging extreme climate events in Europe, according to the European Environment Agency (EEA). If carbon emissions continue to increase, climate change could triple the direct damages from river floods.
In cities, more rain leads to flooding in the streets, but with rivers it's not so simple.
'You have river catchments, which act as a strong filter, so many things could happen,' Renard said. 'Flooding is not a direct translation of what's happening in terms of precipitation.'
He and his collaborators created a statistical framework to assess the probability of rivers in an area flooding. Using data from about 2 000 rain-gauge and hydrometric stations, which measure river flow, their framework can determine the likelihood of a flood in a given region. The data, taken from stations around the world, spans the last hundred years.
'The data sets we use for both precipitation and floods are from every single continent except Antarctica,' he said.
The framework links climate variables – such as temperature, atmospheric pressure and wind speed – to the probability of extreme weather events including heavy rainfall or flooding.
Heavier precipitation
'We confirmed, indeed, that precipitation was getting heavier worldwide, but for floods the signal is much more complicated,' Renard said. 'You have some geographic areas where you don't see much change, some areas where you see increasing floods, and some where you see decreasing floods.'
Renard plans to use the framework for seasonal forecasting or even for different extreme weather events.
'There is nothing in the framework that is specific to flooding,' he said. Researchers could configure the framework to other events such as heat waves, droughts and wildfires.
In any case, deploying it for seasonal forecasting would form part of a useful early-warning system. This would allow people to prepare, for example, for nearby river floods and help prevent the loss of life and destruction of property.
The research in this article was funded by the EU. This article was originally published in Horizon, the EU Research and Innovation Magazine.
How countries can tackle devastating peatland wildfires
Today, a major wildfire in France has destroyed thousands of hectares of forest and forced many people to flee their homes. Meanwhile, dry weather, extreme heat and strong winds have combined to fan wildfires across Europe, the United States and other parts of the world over the last few weeks.
Extreme wildfires are devastating to people, biodiversity and ecosystems. They also exacerbate climate change by contributing significantly to greenhouse gas emissions.
While Europe and North America are in the crosshairs now, earlier this year, large parts of Chile and Argentina were engulfed in flames. That includes vast tracts of peatlands, key stores of carbon which, when released, feed planetary warming.
We asked Jacqueline Alvarez, head of the United Nations Environment Programme (UNEP) Office for Latin America and the Caribbean, to tell us more about the drivers of peatland wildfires and what can be done to limit their spread next year.
A recent report, Spreading like Wildfire: The Rising Threat of Extraordinary Landscape Fires, by UNEP and GRID-Arendal, finds that climate change and land-use changes, like deforestation, are making wildfires worse. Are those problems contributing to fires in Argentina and Chile?
Jacqueline Alvarez (JA): Yes. The changing climate has created a troubling reality, yet we shouldn't undervalue the fact that people cause most wildfires. Beyond natural causes, there is evidence that the fires are being intentionally set to deforest and clear land for speculative businesses. In Argentina, the National Fire Management Service shows in its daily reports that since August 2021, 95 per cent of fires have been due to human intervention.
However, climate change is certainly increasing the vulnerability of peatlands to fire, which is problematic as when peatlands burn, they release more carbon dioxide than many other ecosystems and can be extremely difficult to extinguish. Land use changes due to human activity also have profound impacts on peatlands, which can greatly increase their vulnerability to more frequent and intense wildfires.
Which areas are most at risk in Chile?
JA: The areas where human populations and plant ecosystems coexist are those with the highest risk of wildfires. About 60 per cent of wildfires are in these areas, mainly in central Chile around Valparaíso and La Araucanía, which comprise about 5 per cent of national territory but accommodate around 80 per cent of the population. For this reason, these are priority areas when establishing strategies for the management and design of less risky landscapes. From 2010 to 2020, the central-southern zone of Chile, home to much of Chile's peatland area, experienced a mega-drought that has had a strong impact on the wildfire regime by drying out biomass and peat soils.
Earlier this year, peatland wildfires in Chilean Tierra del Fuego burned for over a month and destroyed 1,200 hectares of native forest. The blazes killed plants and animals, and spewed carbon into the air. It has been suggested that faster action at the central level could have prevented the fire from reaching such a scale. What do you think Latin America and the Caribbean can do as a region to foster coordinated and rapid responses to wildfires?
JA: A coordinated approach requires planned, permanent, systematic and joint work, with special focus on communities directly exposed to this threat. In this context, the prevention of wildfires should be aimed at the population that lives in risk areas. However, appropriate funding is needed for such efforts. Effective fire response also requires an understanding of the ecosystem in question, its vulnerability or adaptation to fire, the amount of available fuel, the assets, infrastructure and lives at risk, and the likelihood of a fire outbreak developing into a wildfire. It's important to promote regional networks for collaboration, especially among countries with similar ecosystems and threats.
What kinds of legal protection do peatlands have in Argentina, Chile and Peru?
JA: There is no specific legal protection for peatlands in these countries. In the case of Peru, which has extensive peatlands, an important advance has been made within a recent decree on the protection of wetlands, where special mention is made of peatlands, prohibiting the extraction of peat for commercial purposes. In Chile there is a draft law on peatlands prohibiting the extraction of pompón, the Chilean name for sphagnum moss, currently in the final phase of approval. In July 2021, lawmakers in Argentina began debating the creation of a law to regulate human interventions in wetlands. In South America, there is an urgent need for countries to enact strong, dedicated environmental protection laws for wetlands.
What are the key knowledge gaps that need to be filled to inform policymaking better?
JA: One of the problems is that many policymakers are unaware of the significant socioeconomic benefits that peatlands offer. They are a habitat for many unique and threatened species, they regulate water cycles, they control pollution and sediments, they serve as a source of water and locally harvested products, and they are an inspiration for art, religion and cultural values. A lack of information means that political decisions on land use are leading to the degradation and conversion of these high-carbon ecosystems. Peatlands need to be recognized across levels of governance as a high-priority ecosystem for urgent action by policymakers given that they benefit the climate, people and biodiversity.
How sustainable living can help counter the climate crisis
To combat the climate crisis and secure a safe future below 1.5°C, the world needs to cut emissions of planet-warming greenhouse gasses by 50 per cent within the decade.
For many, ambitious targets such as this can induce a sense of dread and paralysis. But experts say there is a lot we can do as individuals to counter climate change.
Research shows that lifestyle changes could help the planet slash emissions by up to 70 per cent by 2050.
We sat down with Garrette Clark, an expert in sustainable living with the United Nations Environment Programme (UNEP), to learn more about what people and policymakers can do to make sustainable choices to help secure a healthier planet.
Why is it important for people to consider their individual impact on the planet?
Garrette Clark (GC): We're facing a triple planetary crisis that threatens our survival, so our impact on the natural world is an obvious concern. An increasing number of people know this but tend to avoid acting on it as the problem can seem abstract, they don't know what to do, and they have more immediate priorities.
How do our choices as consumers impact the planet?
GC: First, we need to understand that consumers are not only individuals. Great drivers of consumption are businesses and governments, who structure and influence the systems that meet our needs. So, it's important that people make more informed decisions and ask governments and business to take action. UNEP recently launched Act Now: Speak Up, a campaign that showcases how citizens can compel governments and businesses to up their climate game.
What does a sustainable lifestyle look like in 2022?
GC: I think we hear the word sustainable everywhere these days. We think of sustainable living as the positive things we can do in our daily lives to live better. But given the climate, biodiversity and pollution emergencies, we need to be clear on what those actions are and ensure that everyone needs to be taking them.
If someone wants to live more sustainably, where can they start?
GC: UNEP has made this super easy with the Anatomy of Action, an online media tool which translates the science into action. It all comes down to five domains: food, mobility, stuff, money and fun. In each of those areas, the top three things people could do are highlighted. Now they can be different depending on where and how they live and resources available, but within these three priority actions, there are opportunities for people to take action.
People around the world are talking about what's known as the 1.5°C lifestyle, a way of living that aims to keep alive the Paris Agreement goal of limiting global warming to 1.5ºC, considered a red line for the planet. Can you tell us more about that ethos?
GC: The 1.5°C lifestyles idea is tied to evidence and what we know about how individuals, governments and business consume. We know we have to change our consumption in the areas of food, mobility, housing and leisure, and we need to change quickly and drastically. 1.5°C living is a guide for change.
How do you convince someone to change the way they live?
GC: In general, people don't think about how they impact the planet – positively or negatively – and will tend to act if something is easy, accessible, affordable and attractive. That's why government and business, who are better placed to make systemic changes, are critical to making sustainable living the default option.
What will it take for sustainable living to become the norm?
GC: In addition to the affordability, accessibility and attractiveness of sustainable goods and services, there must be a broader integration of sustainable living into cultural norms so that people don't think about it as being special but just as the way it goes. If sustainable living practices were featured more in the media stories we're exposed to, they would become the standard.
What's one example of that?
GC: If in TV series and movies we saw more vegetarian protagonists eating right-sized meals of tasty, plant-based dishes, swapping proteins would be normalized and desirable. Making sustainable living the new normal means looking at the forces that influence and shape our aspirations and behaviors and integrating sustainability into them.
Some people might wonder: Why should I make sacrifices if my neighbour isn't?
GC. To counteract the others-don't-act-why should-I? attitude, all the actors involved — businesses, governments and civil society —should be aligned on the impactful actions to be taken. The evidence is there. The challenge is to enhance understanding and weave together the multitude of actions in a concerted fashion to harness the power of people for change.