Unrest in Algeria: A blow against Russia?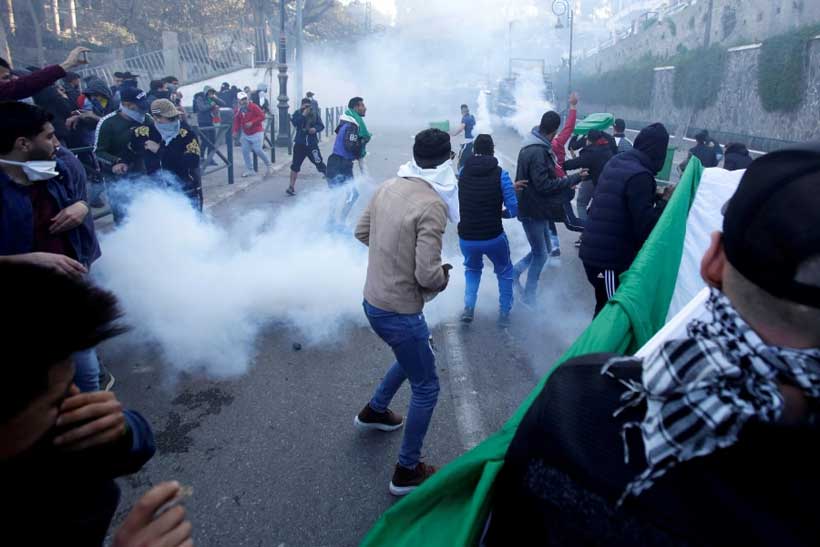 The political situation in Algeria has been aggravating as the number of the participants in protest rallies has amounted to one million and these are now being joined by representatives of the Algerian community in other countries – first of all, in France. Thousands of Algerians opposing the regime of incumbent President Abdelasziz Bouteflika have mounted rallies in a number of French cities while the most numerous demonstrations have been reported in Paris and Marseille.
About 200 protesters and the same number of policemen have been injured amid promises by rally activists to paralyze the country's economic and political life by means of a nationwide strike. For Algeria, a country which has been the stronghold of stability in North Africa for nearly two decades, such a course of events could turn out to be a severe trial. However, what is happening is due to a whole range of internal and external reasons.
Among the internal reasons that have been fuelling tensions in Algeria is the refusal by many Algerians to acknowledge the decision by 82-year-old Abdelaziz Bouteflika, who has been in power since 1999, to run for the fifth term in the presidential elections on April 18th. What has caused a pubic outcry is not the president's credentials (he played a significant role in the country's struggle for independence and takes credit for securing an end to the bloody civil war in 2002), but the condition of his health. After surviving a stroke in 2013, Abdelaziz Bouteflika has been moving around in a wheel-chair and has been experiencing severe speech problems. He has been rarely seen in public over the past few years and had to send his representative to the Central Electoral Commission to register him as candidate to presidency from his ruling National Liberation Front. According to reports, at the time of registration the president was under treatment in Geneva and his condition has worsened of late. For this reason, many protesters announced that they had no intention of voting for an "empty place" alleging that the candidate in question barely understood what elections he would be taking part in. «We don't even know whether our president is still alive, or whether he is dead. We don't know who is acting on his behalf», – the French Le Monde quotes one of the protesters as saying.
Nevertheless, shortly after the protests erupted the Algerian news media published the written version of the address to the nation by President Abdelaziz Bouteflika, in which the president made it clear that he had opted in favor of nominating his candidacy following «requests from the civil society and the political class». «Millions of Algerians have expressed their willingness to back my candidacy by collecting signatures and making their own personal contributions», – the president wrote. He praised the «feeling of civil duty», which, in his words, drove the participants in street protests: «I want to make it clear that I will not allow anyone to gain control of my country's riches or its future in the interests of some underground influence groups».
Should he win in the elections, Abdelaziz Bouteflika has promised to organize a nationwide dialogue so that citizens and political groups alike could discuss how to reform the system of government in Algeria and prepare the draft of a new Constitution which will be then put to vote at the nationwide referendum. On top of that, the incumbent president signaled readiness to step up struggle against corruption and assured the country's citizens that the fifth term in office would in any case become the last for him.
In turn, Algerian Prime Minister Ahmed Ouyahia has called for peace and quiet having warned the street protesters about the destabilizing consequences of their actions: «People were offering roses to the policemen, which is good. But I would like to remind you that the turmoil in Syria started with roses too». «They say some are calling for nationwide strikes but I remember the strikes in 1991», – the prime minister said recalling the tragic events of Algeria's recent history, – when the Islamists took advantage of the protest rallies and political instability in the country to launch their armed struggle for power.
However, political processes at home are not the only factor underlying the current protests in Algeria. Unlike its Maghreb neighbors, Algeria survived the turmoil of the 2011 "Arab Spring" in good condition and with minimum pain. The Algerians received an injection against mass protests when the disturbances of the late 1980s spilled into a decade of civil war, – says Karima Diresh, an expert on North Africa at the Paris-based National Scientific Research Center. In her words, this cost Algeria about 200, 000 killed, and dozens of thousands still unaccounted for.
That's why what causes the greatest concern in the current situation is not purely internal processes, but the striving of external forces to take advantage of the protests and instill them with a particular urgency. According to reports, standing behind the protest movement are not only activists of the Algerian diaspora abroad but also certain groups within the leadership of the European Union and some in the United States, which are extremely annoyed with the Algerian leadership for faltering in two vital sectors –the military-political and the energy.
In terms of military-technical cooperation, Algeria is one of Russia's key partners – not only in Africa, but worldwide. According to a report by the Stockholm International Peace Research Institute (SIPRI), in a period from 2013 to 2017 Russia supplied Algeria with weapons for a total value of 2.4 billion dollars, which accounted for 59% of the Algerian arms imports. According to 2016 reports, Algeria came third in the list of buyers of Russian weapons ($ 923.6 million), running ahead of Vietnam and coming close to China ($ 958.8 million).
This is largely due to two major factors – firstly, the historical traditions of cooperation which go back to the days when independent Algeria was brought into being with the support of the USSR, and secondly – the country's strained relations with neighboring Morocco over the Western Sahara. This conflict forces the Algerians to tirelessly strengthen their combat capability.
On the whole, trade and economic cooperation between Russia and Algeria has been developing progressively. According to the results of 2017, Algeria ranked second among African countries in imports from Russia, amounting to 4.6 billion dollars, after Egypt (6.2 billion dollars). In 2016, the Russian-Algerian trade did not exceed $ 4 billion.
Significantly, all other African countries in 2017 accounted for a total of $ 3.9 billion worth of imports from Russia. According to preliminary data for 2018, the Russian-Algerian trade turnover increased to 5.4 billion dollars (of which only 10 million dollars accounted for Russian imports from Algeria).
In the course of his visit to Algeria in October 2017, Russian Prime Minister Dmitry Medvedev discussed in detail with the country's leadership the prospects for the supply of Russian technologies and knowhow in order to create a national atomic industry. "A trustworthy regulatory and legal framework has been set for cooperation in the nuclear power industry," the head of the Russian government said back then adding that Russia is already preparing nuclear industry specialists for Algeria. "At the same time, we are ready to consider projects for the generation of "clean" power at wind and solar stations,"- Dmitry Medvedev said.
While cooperation between Algeria and Russia is rather a long-running source of headaches for the EU, NATO and the United States, the intention of the current Algerian leadership to re-consider gas supplies to the European market took Brussels by surprise and, according to reports, prompted an agenda that raised the issue of removing the incumbent leadership from power at an early date. A statement on gas supplies was voiced at the end of December 2018 by the Algerian Minister of Energy Mustafa Gitoni, who said that in the next five years his country will cut export gas supplies due to increased domestic consumption. In 2017, Algeria delivered 49.6 billion cubic meters of gas to Europe through pipelines and in the form of liquefied natural gas (LNG). However, according to the minister, gas consumption at home is growing at an ever faster pace, and therefore, the leadership will have to re-consider gas exports in 2022: "We have enough gas for our domestic needs only," predicts Mustafa Gitoni. Algeria is currently producing 130 billion cubic meters of gas, half of which goes for domestic consumption. As for gas consumption in Europe, in 2017 gas supplies amounted to 560.5 billion cubic meters. Of these, 260.4 billion cubic meters of gas were provide by European suppliers (including non-EU member Norway). The Russian Gazprom shipped 194.4 billion cubic meters to Europe in 2017, while another 105.7 billion cubic meters came from other countries.
Among them, Algeria (with 49.6 billion cubic meters of pipe gas and LNG) was a top supplier, significantly ahead of Qatar (24 billion cubic meters) and Nigeria (12.5 billion cubic meters). The United States accounted for 2.61 billion cubic meters.
Plans by the Algerian government to reorient gas supplies to domestic consumption caused an immediate negative reaction both from the European Union leadership and in the United States. Given the reduction of gas production in the Netherlands and Norway, it is uninterrupted supplies from Algeria that should largely ensure the energy security of Europe and thus allow it to reduce its dependence on Russian gas.
Another option is LNG supplies to Europe from the United States, but their volumes largely depend on the price and demand in European and Asian markets – primarily in China, where the situation has been following an unwelcome course, from the point of view of Europeans.
According to reports by the General Administration of Customs of China for 2018, the growth of China's gas imports compared to 2017 amounted to 31.8%. By 2025, China's additional demand for LNG will hit some 78 billion cubic meters, – analysts at Vygon Consulting say: "In fact, this means gas imports will double, even without Taiwan, by the middle of the next decade." "China will likely continue to absorb the growth of supply on the LNG market as new terminals are commissioned, primarily in the US,"- says Fitch Corporation Director Dmitry Marinchenko. According to the company's reports, if the above trend persists, by 2024 the absolute volumes of the Chinese gas market will grow almost fourfold.
In the current situation, we should expect more intervention from the United States and the European Union in order to provide Algeria with a ruling politician who would act in line with Western interests. So far, this politician is believed to be the richest man in the country, the billionaire industrialist Issad Rebrab, who makes no secret of his orientation towards France. However, he is already 74 years old, which makes him a transition figure. "The nationalist government formed on the basis of the National Liberation Front deliberately restrained Algerian-French ties, although from the geographic point of view, France, or Italy, are the two most suitable trading partners for Algeria. The younger generation is different. There are a lot of pro-French and pro-American representatives among the opposition who know little about the role the USSR played in the liberation of their country,"- testifies Sergey Balmasov, an expert of the Russian Council on International Affairs.
In addition, the current situation plays into the hands of Islamists who will undoubtedly try to replay the scenario of the civil war of the 1990s with more gains for themselves. And this is fraught with a new escalation of tension in North Africa, the Mediterranean and the Middle East.
First published in our partner International Affairs
Here Are the 10 Young Africans Pushing Boundaries and Changing the World in 2019
Ten African women and men are part of a cohort of 127 of the world's most promising social activists, business leaders, public servants, artists and technologists. They are all under the age of 40 and have been invited to join the World Economic Forum's community of Young Global Leaders (YGLs). They are pushing boundaries and breaking traditional rules to improve the world.
Current members lead governments and Fortune 500 companies, hold Nobel Prizes and Academy Awards, and have become UN Goodwill Ambassadors and Social Entrepreneurs. The community aims to bring together individuals with different skills sets from a range of fields to shape an inclusive and sustainable future for the world.
By working as a community, YGLs have supported the entrepreneurial skills of young refugees in the Kenyan camp of Kakuma, are pushing governments to set up a "New Deal for Nature" that will protect lands and oceans, and are tackling hunger and malnutrition using social gastronomy. Notable alumni include Iyinoluwa Aboyeji, Chief Executive Officer, Flutterwave, Nigeria; Lewis Pugh, Founder, Lewis Pugh Foundation, South Africa; Jacinda Ardern, Prime Minister of New Zealand; Fatoumata Ba, Founder and Chief Executive Officer, Janngo, France; Amal Clooney, Barrister, Doughty Street Chambers, United Kingdom; Emmanuel Macron, President of France; Larry Page, Co-Founder and Chief Executive Officer, Google, USA; and Zhou Xun, Actor, People's Republic of China.
This year, many of the YGL nominees are from emerging economies, including eight women and two men from Africa; and more than one-half of the new members are women. They have been selected for representing the best of their generation, for their ability to enhance understanding and promote action, and for their innovative activity in the fields of art, business, civil society, energy, government and health.
Members of the new class will take part in a five-year programme that will help them identify ways in which their ground-breaking work can advance new models of innovation and make a difference in their communities.
"We look to these leaders to take forward the challenge of improving the state of the world. In offering opportunities and experiences to transform their understanding of the possibilities presented by the Fourth Industrial Revolution, we are investing in them to drive a future where we all can flourish," said Mariah Levin, Head of the Forum of Young Global Leaders at the World Economic Forum.
African YGLs have the chance to benefit from the Dangote Fellowship, which is made possible by the generosity of the Aliko Dangote Foundation. The aim of the fellowship is to increase the quality and quantity of young African leaders across the continent by supporting the engagement of African YGLs in the community, such as those from small enterprises or the non-business sector. The fellowship helps YGLs from Africa participate in YGL and Forum events.
Joining the Class of 2019 from Africa are:
Anta Ngom Bathily, Managing Director, Groupe SEDIMA, Senegal. She has significantly developed Francophone Africa's largest agriculture business.
Kamissa Camara, Minister of Foreign Affairs, African Integration and International Communication of Mali. She is the country's youngest and first female minister of foreign affairs, working for peace, security and development across the Sahel.
Kirsty Coventry, Minister of Youth, Sport, Arts and Recreation of Zimbabwe. She has won more Olympic medals than any other female swimmer in history and is the most decorated African Olympian.
Wanuri Kahiu, Film Director, AFROBUBBLEGUM, Kenya. Her collective supports African art and, as an award-winning director, producer and author, she is part of the new generation of African storytellers.
Aminata Kane Ndiaye, Chief Executive Officer, Orange, Sierra Leone. She is a leading executive driving the operations of the telecommunications giant with more than 1.8 million local subscribers.
Bogolo Joy Kenewendo, Minister of Investment, Trade and Industry of Botswana. At 31, she is one of her country's youngest cabinet members.
Umra Omar, Founder, Safari Doctors, Kenya. She is saving thousands of lives a year by providing free basic health services, including malaria treatment, in rural Kenya.
Tolu Oni, Associate Professor, School of Public Health and Family Medicine, University of Cape Town, South Africa. As a leading female African scholar, she explores the intersections of health and urbanism.
David Moinina Sengeh, Chief Innovation Officer and Head, Directorate of Science, Technology and Innovation (DSTI) of Sierra Leone. As his country's first chief innovation officer, he is transforming critical thinking for youth across Africa.
Adebola Williams, Chief Executive Officer, Red Media Africa, Nigeria. His civic participation group engages millions of African youth and his work has helped elect three African presidents.
Candide Leguede: Shining a New Light on Women's Entrepreneurship in Togo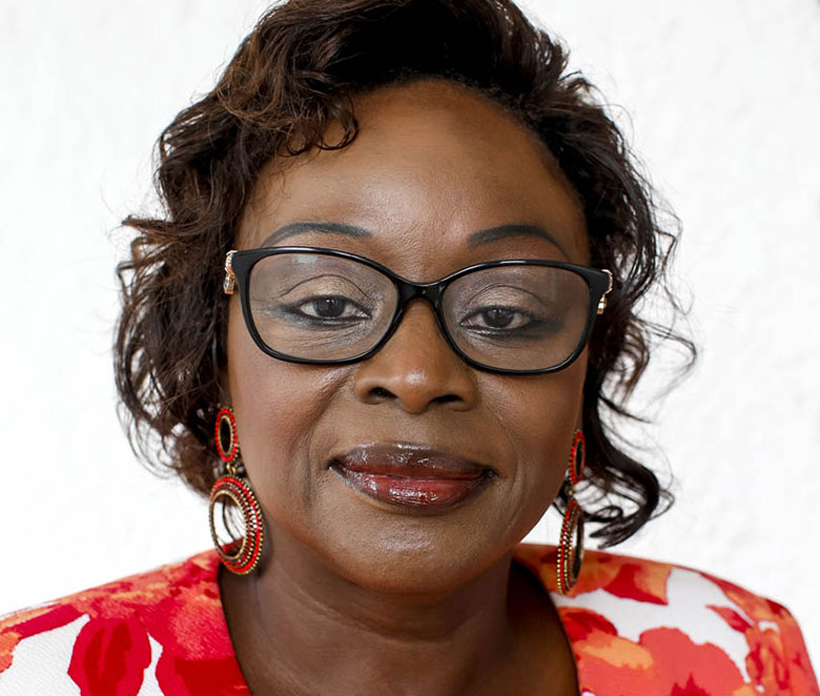 Candide Leguede runs Société ARCANDIA, a company she started nearly twenty years ago which promotes "Made in Togo" artisanal and artistic products. As an entrepreneur with years of experience, Leguede wanted to help women and young entrepreneurs by sharing her expertise. That is why she established and is CEO of INNOV'UP, the Entrepreneurial Center for Businesswomen in Togo with an incubator for women-led start-ups — the first of its kind in West Africa.
"Women's contribution to the economy is no longer in question," attests Leguede. "The Togolese economy is supported by the informal sector where 48% of women operate. There are more and more women-led SMEs, yet women continue to face unique difficulties that men don't when creating their businesses." Financed by UNDP, Leguede established INNOV'UP to promote women's entrepreneurship but also to facilitate the transition of women-led businesses from the informal to the formal sector.
Leguede sees entrepreneurship's strong potential for both wealth creation and employment and urges that it should be supported from the bottom up to promote inclusive development. Emphasizing the prevalence of the informal sector in the Togolese economy, she advises finding the necessary synergies between the different players in the ecosystem so that it benefits everyone. "Supporting infrastructure is essential. The state should consider financial support to entrepreneurship initiatives with yearly grants and allowances or establishing an investment fund that responds to the real needs of women entrepreneurs. In other words, a specially-dedicated fund to women's entrepreneurship."
Leguede acknowledges education as another key factor holding women back, as well as traditional attitudes about their role in society. "This compounds the problem in accessing finance. Moreover, it instills in women a fear of risk-taking and low self-esteem, both of which constitute major obstacles to promoting competitive female entrepreneurship."
The need for a more empowering narrative for women entrepreneurs with supporting policies behind it is undeniable. Highlighting the importance of confidence, Leguede notes that women in Togo are slow to assert themselves as economic actors: "even though they're key actors in the economy and have so much potential, they're still timid." Leguede therefore wanted to establish an incubator that targeted women and their specific constraints precisely because she understood the status quo could only go so far for women.
"As part of our goal to foster a change in women's mentality," she adds, "INNOV'UP now offers mentoring and awareness-raising programs to women — young and old — free of charge."
Speaking personally, Leguede insists that her gender and age have been an advantage in her career precisely because of these skills. "Women's emotional intelligence and social understanding is a major asset when building your own business. Look at the fact that women-led businesses are far less likely to fail than those run by men: 21% vs. 48%."
Ultimately, what drives Leguede is her belief in the women of Togo. "The number of women entrepreneurs is growing, and more and more women are at the heart of new business activities in Togo. No matter the real obstacles they face, women are excellent managers."
Radia Garrigues: CEO of an Incubator Providing Gabon's Youth with Skills for the Future
Radia Garrigues is the CEO of JA Gabon, a member of Junior Achievement Worldwide, one of the largest youth-serving NGOs that provides hands-on learning in entrepreneurship, financial literacy and work readiness. The Gabon location opened in 2013 and has trained nearly 7,000 young people (4,000 in entrepreneurship). The incubator supports around 30 start-ups a year. JA Gabon provides free services, except for its new SME Space that is co-financed by Noble Energy.
"I've always been fascinated with entrepreneurship," says Garrigues. "Throughout my career, I've sought to set up and implement projects and ideas, introducing entrepreneurial principles anywhere I go."
Her flair for business is evident. She was previously CEO of a subsidiary to Hachette Livre, the French publishing company, as well as director of the Alliance Française in Abu Dhabi. When JA Gabon was first founded, it had two employees. Today, it has increased that eighteen-fold, supporting thousands of young people in the process.
Across much of West and Central Africa, entrepreneurship has traditionally been seen as the last resort in terms of career choice but — pointing to waning civil service job opportunities in the context of the oil crisis — Garrigues feels the landscape is changing in Gabon. "This is part of the mission of Junior Achievement," attests Garrigues. "It started in the U.S. 90 years ago to provide people with training in professional skills and financial management. It really does change people's mentality and I see changes already in children as young as 5 and 6 that have participated in our programs."
Nevertheless, Garrigues warns that entrepreneurship is not necessarily for everyone. "People tend to gravitate to what's easiest and entrepreneurship is hard." JA Gabon has several employability programs, including for young people with no schooling who represent the majority of the unemployed population. The incubator also engages in a lot of fieldwork and supports other vulnerable groups, such as teenage mothers who are more likely to be unemployed.
Training in soft skills benefits up to 2,000 young people a year, with women making up 41% of participants. Garrigues notes, however, that as beneficiaries get older, the proportion of women tends to decline. "We certainly have more girls than women in our programs," she admits, adding that the proportion of women falls in particular as programs transition from secondary to third-level education. Capturing girls early, therefore, does not necessarily guarantee they will continue their professional development at the same rate as men.
As with many countries in the region, human capital remains a key lacking resource in Gabon, but Garrigues insists that reinforcing incubators' capacity at the local level is an easy win for policymakers. "We grew so quickly and the hardest thing now is finding the right people to implement our activities, including good mentors." In addition, she advises that donors should continue facilitating networking and exchanges between different incubators across the region. JA Gabon is an implementing partner of the World Bank's Gabon Competitiveness and Investment Promotion Project and is also currently a member of the network of West and Central African incubators under the Innovation Africa Program (PAI), financed by the French Agency for Development with the World Bank as a member of its steering committee.
Garrigues applauds the enthusiasm of the government in Gabon to support the work of JA Gabon. "The political will here to boost entrepreneurship is very strong, coming from the highest levels, including the President. There's now a Ministry of Entrepreneurship that was founded two years ago to promote youth entrepreneurship, which is very unusual for francophone Africa." JA Gabon is also working in partnership with the National Office of Employment on developing soft skills, such as preparing CVs.
The incubator is engaging in high-level policy dialogue with the government to foster better conditions for entrepreneurs in the country. In July 2018, Garrigues was received by the Minister for Small and Medium Enterprises, Julien Nkoghe Bekale, in order to define a set of essential tools to developing Gabon's entrepreneurial ecosystem and promote SMEs.
Garrigues has long urged new legislation to facilitate MSMEs' activities. "We want our incubees to have all the advantages possible but there's nothing right now for start-ups (nor for incubators), not even tax breaks for small or new businesses. Without seed-funding, people will see their projects as something short-term and give up."
She says this while emphasizing that JA Gabon has "beneficiaries, not clients". All of JA Gabon's services, aside from the SME Space, are free and even then, they are co-financed by Noble Energy. "I don't agree with all incubators being strictly private businesses," she says. "So many people wouldn't be able to access our services and so much of the country's potential would be lost!"