Leaders of Russia: A Hidden Russian Program that should not be hidden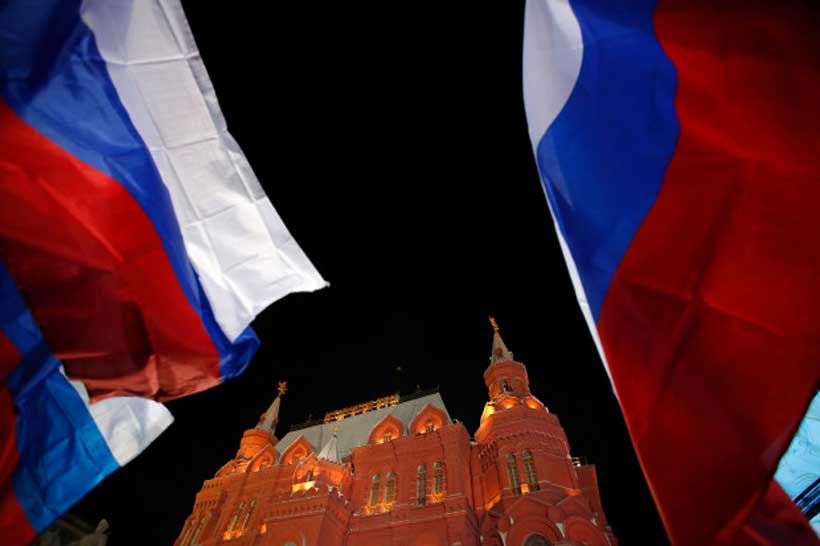 My experience and commitment to the study of Russia and the Post-Soviet space extends far beyond more than half of my life. It encapsulates my entire adult working life, with more than eight years living, studying, and researching throughout the area and it is the product of more than 100 publications. I have also prided myself on not following conventional wisdom about Russia or falling victim to the propaganda that has always flowed freely from both sides, American and Russian. I am comfortable criticizing Russia as much as I am motivated to objectively observe and analyze its progressive development in various dimensions and degrees. Most of all, I have never allowed some empty instinctive American reflex-patriotism to blind me from the ability to dispassionately and accurately review a situation as it truly is. Unfortunately, this analytical capacity has become quite endangered when it comes to American scholars and so-called Russian experts. This matters because it is now difficult to find American analyses of Russia that does not run their ultimate conclusions through this lens of subjective patriotism.
Which is a true shame when it comes to Western recognition of a unique program like "Leaders of Russia," for it is inarguably a symbol of successful impartiality and progressive advancement in Russia. Without doubt, it is the first of its kind in Russia: a positive and pro-active example to give access to the people across every single region of Russia and potentially earn a well-deserved recognition and push into the future leadership cadres of the country. Most importantly, this push is entirely transparent in its judging and completely open to all people. To be completely honest, when one looks at all of the political, social, and economic problems that have been afflicting the contemporary American scene, where leaders seem to be constantly recycled and no innovation or new blood seems ready to emerge on the scene, then it becomes quite apparent how desperately America could use just such a competition.
Politicians across America and Western Europe have long prided themselves on how open their societies and political systems are. The "American Dream," where anyone has the chance to make something of themselves, no matter where they come from and no matter how dire their beginnings, has long been part of Western mythology. But despite this concept of being able to justly pull yourself up by your own bootstraps, there is overwhelming data today that shows how for many people that reality simply doesn't exist: rising up and achieving the summit of success, no matter how ambitious and talented, can sometimes seem almost impossible. This reality has led to such a serious pessimism that some even discuss a genuine societal depression damaging America today, especially among its young people.
Perhaps worse than the supposed problem of elitism in America, an opposite phenomenon called "Post-Truth" now runs rampant across Western society. Post-truth politics is a political culture in which debate is framed largely by appeals to emotion disconnected from the details of policy, and by the repeated assertion of talking points to which factual rebuttals are ignored. Post-truth has become so pervasive that many fear that at least when it concerns American politics that we are witnessing the death of intellectualism and the end of respect for profundity. What all of this means is that whether we were talking about the original scourge of elitism and the new dilemma of post-truth, the end result is possibly the same: politics in the West is no more 'open' as anywhere else and in fact may be just as much of a 'closed club' as any authoritarian non-Western regime. One only need look at the newest scandal raging across America, where elites in business and in Hollywood openly bribed university officials across some of the country's most elite institutions, trying to basically buy a place for their children to study, whether they were worthy of it or not. In other words, we are facing the existence of a system of advancement, of new leadership grooming, that is completely not based on effort, ambition, and talent. The best are not getting rewarded, only the connected. Against this dark backdrop, programs like Leaders of Russia de facto end up serving as a light against such world tendencies.
Thus perhaps it should be seen as rather ironic that Russia, the country that so many Westerners eagerly criticize for an authoritarian (or at least semi-authoritarian) political regime, for the 'closed' nature of its societal-political system overall, for its hostility toward grassroots development, is in actuality the one to develop, foster, and build an unprecedented program of leadership development. A program completely devoid of the above Western criticisms. In the short time of its existence, Leaders of Russia as a program has literally selected citizens from every individual region of Russia, regardless of ethnic makeup or geographical proximity to the capitol. Previous participants/winners of the program (there are 100 officially recognized every year) have gone on to incredible levels of success: Deputy Ministers in the Russian government; Governors of various regions of the Russian Federation; heads of major international businesses and many different societal organizations supporting the improved functioning of Russia overall.
Most importantly of all, to date there has not been a single sniff of impropriety or corruption plaguing the program. What matters in Leaders of Russia is not who knows whom but rather who is the most worthy, with each winner selected via an open, data-verified mechanism. The spirit of the program also matters: it is not just a stepping-stone for personal enrichment and individual acclaim. Each winner is expected to pursue a life of service dedicated to the elevation and improvement of the lives of all Russian citizens. The concept of giving back to your country, to the people, is at the heart of the Leaders of Russia program, rather than just being an exercise in egoism and noveau riche elitism. The idea of combining a governmentally-sponsored program, fully-funded and guaranteed, with an ethic of giving and selfless leadership is exactly what is lacking in today's self-obsessed world, especially in the countries famous for supposedly being more developed, more open, and more 'democratic.'
Finally, after all of the above is considered, some remaining questions are left begging to be asked. If such programs are typically considered a sign of successful and dynamic societal-political development, of fully-functioning societal participation in the work of the state, in its future, then why is Russia never given any credit for being the founder and supporter of just such a program? This is not to say Russia is blameless and faultless. It is not to say Russia can do no wrong. But that is quite different from trying to make people understand that it is unfair to portray Russia as a country that can do no right. Why would such a laudable program like Leaders of Russia, that deserves global recognition and at least a piece of the international spotlight, instead remains basically anonymous outside of Russia? Why would a program that could show the positive evolution and future beneficial prospects of Russia remain in the international shadows? To whom is such hiding advantageous and to what end is this shadowing? Figuring these questions out might not just elevate the global prestige of Leaders of Russia. It might actually create an opportunity for better relations between Russia and the West. And if that becomes the case, then Leaders of Russia will have proven itself to be one of the most important programs in the world.
Why Economic Sanctions Mean Little to Moscow
Realpolitik, a German term for politics based on day-to-day calculations regarding the military and economic balance of power among major states, should be used and discussed more often in the modern world, though we often discuss Russia and the ways to influence its actions over the long-term especially in its immediate neighborhood.
Economic sanctions are a common tool for the West, and many, particularly in the former Soviet space, believed that western measures would cripple Russia and make Moscow change its foreign policy with regards to Ukraine and perhaps Georgia. Others thought the economic sanctions would do no more than influence some aspects of Russian policies, though in such a way as to limit to a certain degree Russia's projection of power.
But Russian politicians giving in to European pressure would be humiliating from a nationalistic point of view.
Instead of (or on top of) those sanctions, what the West lacks is a quiet military and economic build up along the Russian borders so that Moscow starts seeing the changing geopolitical landscape. Again, those western actions would not be based on loud bombastic statements such as "we'll change if you do," but on a real shift in the balance of power. This is what is happening now when Europe demands Russian concessions on Ukraine in exchange for lifting financial restrictions. But for the Russian leadership, it will be self-destructive to radically abandon its current policy on Ukraine and Georgia.
That there is a larger western economic and military presence in the Russian neighborhood is what matters to the Russians. For Vladimir Putin, a master practitioner of realpolitik, western notions of the democratic development of Ukraine, Moldova and Georgia, and thus Russia's non-interference, is a flagrant misconception. The leadership in Moscow does not genuinely believe that the West is so interested in Ukraine and Georgia. From the Russian perspective, the spread of democracy cannot be a viable explanation and the West's purely geopolitical calculations should be considered.
Putin, like his predecessors from the Soviet era or even the Romanov dynasty, believes that any Western moves in the Russian neighborhood are anti-Russian per se. He is not to blame; there is simply a different civilizational approach to foreign relations in Moscow compared to Western countries. In studies on geopolitics, this factor is often missed, but it is deeply important.
There is also a distinct way in which the Russian leadership responds to foreign threats. In Europe, governments of countries facing problems can easily resign, while in Russia, bending to foreign pressure is tantamount to an unravelling of the state apparatus, leading to elite infighting and even possibly something close to troubles on the periphery of the state. This is a product of Russian geography, ethnic composition and culture.
On the contrary, faced with direct pressure, the Russians usually make moves which better show off their military strength. Consider what happened in Ukraine. Facing a total loss of Ukrainian territory in 2014, a distinctively Russian reaction to this coming disaster was taking the pieces which Moscow could still take.
To counter Russian moves, a larger US and European presence in Ukraine, Moldova and Georgia could arguably be the only viable solution to the problems with Russia in the former Soviet space. Moscow will have to consider more acutely the changing geopolitical landscape, while it will serve as a good further pointer to various Russian elites that the state's foreign policy for the past 20 years has been counterproductive.
This will be a good representation of realpolitik towards Russia. In a way, the time is ripe for reinvigoration of this 19th century German foreign policy concept. The US recently reformulated its foreign policy, while its latest national strategy document clearly outlined the rise of power competition in Eurasia. To strengthen its positions across the continent, Washington ideally would need to work in Japan, South Korea and other traditional US allies. In this atmosphere, direct US support for Georgia and Ukraine might be logical and could be more practical than time-consuming NATO procedures.
It will be costly, but still not as much as the US is spending on its larger allies. In the era of the Cold War and later in the 1990s, when notions of world democratic world order were a driving motor of the US foreign policy, in a world based on realpolitik there will more avenues for direct, bolder and balance-changing moves.
This brings us back to Russia and how the economic sanctions have had only a limited impact on Moscow. Imposition of sanctions alone failed to produce viable results: instead, they should have been propped up by other actions, such as changing the economic and military landscape of Georgia and Ukraine.
Author's note: first published in Georgia Today
Russia and Italy: No Breakthroughs
The official visit of Russian President Vladimir Putin to Italy on July 4, 2019, the first in the past four years, became yet another confirmation of the "special relationship" between Rome and Moscow, but did not, however, signal a breakthrough. For Italy, the meeting came as another attempt to restore its role of a "protagonist" on the international scene, a role the country has been dreaming of playing for over two decades. It was not by chance that Guiseppe Conte, during his recent visit to Moscow, "rebuked" Vladimir Putin for not paying sufficient attention to the Italian people. In Italy, this lack of attention is seen as a sign that the country is not coping well with its role of a "protagonist" and a "bridge" between the West and the East. For Russia, a dialogue with Italy is more than just a conversation with a partner who is willing to listen and establish relations based on mutual trust — it is an opportunity to convey Russian opinions on key issues related to cooperation between Russia and countries of the Euro-Atlantic bloc.
The visit of Guiseppe Conte to Moscow in October 2018, and now Vladimir Putin's visit to Rome, the "friendly" meetings of Guiseppe Conte and Donald Trump in July 2018 during a period of acute tension in the Euro-Atlantic bloc, Deputy Prime Minister Matteo Salvini's visit to Washington in June 2019, and the signing of a memorandum of cooperation under the Belt and Road Initiative reached with Xi Jinping all testify to Rome's ambitions for a more independent and autonomous foreign policy. Italy, under the leadership of the new "government of change," is trying to play its own foreign policy game, guided by the principles of national sovereignty and national interests. However, at the moment, the hands of the yellow-green coalition are tied by the threat of sanctions from the European Commission for non-compliance with financial discipline. Naturally, this imposes significant restrictions on the potential of Italian foreign policy. In addition, the elections to the European Parliament in May 2019 and the subsequent distribution of top posts in the EU testify to Italy losing a significant share of its say in relations between Russia and the EU. In this context, the visit served as a confirmation of the two parties' intentions but did not produce any practical solutions to problems of mutual concern.
Bilateral political dialogue: dreams and reality
Improving relations with Russia is a separate clause of the "government contract" concluded between the two parties that form the governing coalition in Italy. This is the first time that such an agenda is set at such a high level. Generally speaking, this is evidence of the consistency of Italian foreign policy which was formed in the post-war years,the purpose of which is to fulfill the role of a "bridge" between the North and the South, the West and the East. Perhaps, the historical peak of this strategy occurred when Italy carried out active mediation to establish the Russia-NATO Council in 2002. Nevertheless, the Italian foreign policy is still following this strategy.
According to experts, the status of "privileged partnership", which was repeatedly voiced at the level of heads of state and by official representatives of Russia and Italy, does not match the real level of relations. A more realistic description of relations between Russia and Italy is "the best among the worst" compared to other partners in the EU, or a pragmatic cooperation that is still a problem to implement at the European level. This time, the leaders of the two states, speaking of existing relations, used such epithets as "excellent", "constructive" and "businesslike", and several times addressed each other using the word "friends".
Meanwhile, we can be confident that a political dialogue between Russia and Italy is gradually regaining strength after the crisis of 2014–2015, particularly following the arrival of the yellow-green coalition in Italy. In October 2018, the Italian Prime Minister Giuseppe Conte visited Moscow. On the eve of his visit, Deputy Prime Minister and leader of the League Party, Matteo Salvini, arrived in Moscow too to meet with representatives of Italian businesses working in Russia. In 2019, Vladimir Putin and Giuseppe Conte met at the "One Belt – One Road" forum, and also at the G20 summit in Osaka. Bilateral contacts are gradually being restored between the defense and interior ministries, consultations are under way on international information security, and an inter-parliamentary dialogue is back on track too.
Even though Moscow highly values Russian-Italian relations, Russian leaders regularly emphasize that Italy could do more in the EU to improve relations with Russia. In a report on Russian-Italian relations, which was recently released by the Russian International Affairs Committee of the Federation Council, Italy is systematically criticized for following the general course of the Euro-Atlantic partnership, be it NATO's bombings in Yugoslavia in 1999, the U.S. operation and coalition in Iraq in 2003, the bombing of Libya in 2011, or the adoption of anti-Russian resolutions on Crimea. In all these cases, the report says, Italy, even though it is not completely in agreement with the United States and other European leaders, did not come out actively against them. Similarly, in 2015, Italy did not protest against the lowering of the status of Russia-EU relations, which had previously been known as a "strategic partnership". In addition, Italy, whose political leaders often publicly speak in favor of the lifting of sanctions, has never used its right of veto when voting in the EU to extend sanctions.
In particular, Russia points out that, having burned its fingers on the situation in Libya in 2011 and still paying for hasty decisions back then, Italy has been acting more carefully in Middle Eastern conflicts. It refused to participate in ground operations in Syria. Instead, it opted for providing humanitarian and logistical support. In Libya, Rome is actively trying to establish a dialogue between key warring parties, including with the help of Russia. In November 2018, Italy invited Russia to a conference on Libya in Naples, hoping to win the support of the Russian leadership, who at that time had better negotiating positions with Marshal Haftar than their Italian counterparts. On the issue of refugees, the Italian leadership took a number of independent measures and decisions to restrict migrants' access to the territory of Italy ("porti chiusi", or closed ports), and adopted a security law changing the rules for granting refugee status. This triggered criticism not only in Brussels, but also in the UN. Italy refused to recognize self-proclaimed Juan Guaido as the new president of Venezuela, thereby making it difficult for the EU to strike a common approach on this issue. On March 23, 2019, during Xi Jinping's visit, Italy and the People's Republic of China signed a memorandum of cooperation within the One Belt One Road Initiative, despite the numerous warnings against the move from Brussels. Such "independence" of the Italian leadership in foreign policy shows that Italy is at the epicenter of the conflict of national and supranational sovereignty in the EU, articulating this conflict as clearly and consistently as possible.
Italy-EU-Russia: not a love triangle
Such independence on the part of Italian leadership and their desire to assume some of the decision-making has triggered controversy domestically in Italy. On the one hand, these moves contribute to the status of Italy, both within the EU and on the international scene. On the other hand, some Italian experts say there is the risk of the country becoming isolated within the EU. Brussels, Paris and Berlin tend to view Rome's moves in a negative way – as detrimental to European solidarity and hindering the development of further supranational integration.
The EU systematically criticizes Russia for prioritizing bilateral relations above dialogue with Brussels. As for Italy, the situation is aggravated by the fact that, from the point of view of Brussels, the "anti-system" forces have developed a special liking for the Russian leader, while Russia, in turn, uses them as agents of influence in the EU. In February 2019 the leader of the "League" Matteo Salvini was reported to have received 3 million euros from the Kremlin for running the election campaign in the European Parliament. Therefore, on the eve of his visit, Vladimir Putin said in an interview with Italian news agency Corriere della Sera that Russia is ready for dialogue with any political forces that come to power by legitimate means, "regardless of their political affiliations." However, after Vladimir Putin's interview with The Financial Times, one cannot but notice that the Russian president's criticism of liberalism, being addressed, above all, to U.S. president Donald Trump, echoes the rhetoric of the Italian "government of change". Both in matters of migration management and in terms of governments' ability to respond to people's needs, the views of the Russian and Italian leadership are fairly close. In this context, Vladimir Putin's visit to Italy should certainly be considered not only as a bilateral dialogue, but also as an attempt to get across to leaders of the Western world the need to establish a dialogue with those political forces that express a different point of view on further socio-political and economic development in Europe and the United States.
The recent developments in the EU show, however, that the political mainstream is not prepared to heed alternative political groups. After the May 26, 2019 elections, Matteo Salvini, together with representatives of the "sovereignists" of Poland, France and a number of other countries, succeeded in building the largest coalition of "populists" in the entire history of the European Parliament – 73 deputies. This, however, did not provide them with enough say to affect the choice of candidates for key posts in the EU. The results of the EU summit on July 2, 2019, in which appointments to senior positions were made, testifies to Rome losing its influence in the EU. Unlike before, when representatives of Italy had occupied three key posts in the EU (Antonio Tajani – President of the European Parliament, Mario Draghi – Chairman of the ECB, Federica Mogherini – High Representative of the European Union for Foreign Affairs and Security Policy), now only one Italian – a representative of the opposition Democratic Party Divid Sassol – is part of the EU top management, having been given the position of President of the European Parliament. This yet again demonstrates that Paris, Berlin and Brussels are not ready for a serious dialogue with representatives of the yellow-green coalition of "sovereignists" and continue to rely on center-leftists.
In addition, the appointment of Ursula von der Leyen, German Minister of Defense with extensive experience in foreign policy and defense, as President of the European Commission is likely to lead to attempts at greater EU integration in the sphere of foreign policy, which may narrow the window of opportunity for more independent foreign policy initiatives of EU countries, including Italy.
What also restricts Italy in its efforts is the looming threat of EU sanctions for breaching fiscal discipline and exceeding the budget deficit. After the EU summit on June 2, Giuseppe Conte said that he had reached an agreement that sanctions would not be applied if Italy cut down the previously planned budget expenditures. However, the threat of sanctions is still there, and this is likely to be one of the most effective instruments of influence from Brussels on the country's position on many issues, including relations with Russia. Any harsh statements during the visit of Vladimir Putin or any so-called "big deals" would certainly cause even more irritation in Brussels, which means they could lead to a tougher policy towards Italy. Therefore, Vladimir Putin's visit was, of course, an important confirmation of Italy's proactive foreign policy but was not a breakthrough, since Italy is connected with the EU not only by the historical bonds of Euro-Atlantic solidarity, but also by tangible economic mechanisms that allow the EU to impose sanctions against the Italian economy.
The economy depends on politics
The economic dialogue between Russia and Italy does not correspond to the declared high level of bilateral relations. In 2017, after a three-year decline (from 2014 to 2016), bilateral trade regained momentum but is still far from the pre-crisis level ($ 27 billion in 2018 against 54 billion in 2013). Russia maintains a clear lead in Italian exports, being the fifth among top importers. The Italian presence is felt in almost all sectors of the Russian economy. About 500 Italian companies operate in Russia, which, however, holds no candle to Germany (4.7 thousand). Even though about 100 Russian-Italian joint ventures were set up during the period of sanctions as part of a program to move Italian production to Russia ("made with Italy"), this figure does not yet correspond to the existing potential. As for an economic dialogue, Italy is considerably behind Germany and France. While in Germany and France there have been functioning "Petersburg Dialogue" and "Trianon Dialogue" respectively, and the Sochi Dialogue has recently been launched with Austria, the Russian-Italian economic dialogue has yet to acquire an appropriate status. The Council for Economic, Industrial, Monetary and Financial Cooperation, which last gathered in Rome in December 2018, is still little known to both countries' general public. The "Russian-Italian Forum-Dialogue on Civil Society", which Vladimir Putin and Guiseppe Conte attended in course of the visit, has not received support from the Italian authorities since 2014. Only now is it approaching a new level of development. In addition, during the visit, the two parties agreed that the Russian Export Center and Vnesheconombank (VEB) would set up a bureau to support Russian exporters in Italy. Thus, the economic dialogue, which for a long time needed a new impetus, has finally received it following Vladimir Putin's visit to Rome. It is worth noting that the Italian leadership is acutely concerned about competition with Germany and France in two vast markets – Russia and China.
Russia, however, is waiting for more decisive steps from Italy to secure the lifting of the sanctions. However, according to Pasquale Terraciano, Ambassador Extraordinary and Plenipotentiary of the Italian Republic to Russia, "Italy has never considered sanctions a smart decision, but Italy is part of the Western bloc and cannot stand against it alone."[1]. Italy's agenda, he said, is to change the EU's opinion through the use of consistent steps. At the same time, as a practical measure aimed at expanding economic cooperation, Italy proposes to unfreeze the funding of small and medium-sized enterprises at the level of the EBRD and the European Investment Bank. As he addressed a press conference after the meeting, Giuseppe Conte pointed out that Italy is ready to assume the role of a consistent promoter of the idea of ​​lifting the sanctions but the conditions for this lifting had to be "ripe".
Energy is a major area of ​​cooperation between Italy and Russia. Russia is the fourth most important supplier of oil and the first of natural gas to Italy. Supplies from Moscow account for more than 40% of the total gas consumption. However, as Italian experts remark, Italy expects an increase in prices in connection with the construction of the Nordstream 2 gas pipeline, which will make Germany the number one transit country for Russian gas in Europe, bypassing Ukraine. Therefore, negotiations on the development of southern transportation routes are more than relevant for Italy. The meeting, however, yielded no breakthroughs on this issue either.
Regional cooperation: identifying problems, lack of solutions
Italy, just like Russia, sees a great potential for dialogue not only on issues related to bilateral cooperation, but also on those of the regional and global agenda. The priority for Italy is the Mediterranean, which produces the greatest number of challenges and threats to the country's national security. Simultaneously, Italy is fully aware of the fact that the country will not be able to cope with these challenges alone, although it is taking independent measures, in particular, in matters of migration. Quite recently, Matteo Salvini held talks with the Libyan leadership in Tripoli to curtail illegal migration. However, Rome knows only too well that the solution to the problem lies not so much in reaching agreements with specific countries as in assisting the development of countries the migrants come from and in settling regional conflicts. Italy greatly appreciates the role of Russia as a non-regional player whose influence has increased significantly in recent years. During a press conference following the elections, Vladimir Putin, however, said that Russia is not ready to plunge head-on into resolving the Libyan crisis, and that forces that destroyed Libya's statehood during the armed operation in 2011 should be involved;that is, NATO and the EU coalition. In solidarity with the Russian president, the Italian Prime Minister emphasized that Italy had warned from the very beginning that a military solution would not lead to peace. Under current conditions, the parties have indicated their readiness to participate in fostering a dialogue between all political forces in Libya.
As for Ukraine, Italy's official position should be in line with the EU policy providing for no new opportunities to change the situation. In an interview before Vladimir Putin's visit to Italy, Giuseppe Conte directly linked the issue of lifting of the sanctions with the observance of the Minsk agreements, implicitly suggesting that Russia is a party to the conflict and urging both sides to demonstrate more understanding. In an interview with Corriere della Sera, and during a press conference following the meeting, President Putin reiterated that the new leadership of Ukraine should fulfill its election promises and enter a direct dialogue with representatives of the Donetsk People's Republic and Lugansk People's Republic. Guiseppe Conte repeatedly pointed out that, although Italy is not part of the Normandy format (a negotiation apparatus designed to resolve the Ukrainian conflict), it is nevertheless ready to play a role in resolving the conflict if necessary, which once again confirms the country's willingness to play a greater role on the international scene.
The Russian president and the Italian prime minister also hold similar views on the situation in Venezuela, expressing concerns over foreign interference, which in their opinions will only aggravate the situation inside the country.
On the whole, it is essential to emphasize that Vladimir Putin's visit to Italy did not bring any breakthroughs, either in bilateral relations or in formulating common positions on issues of regional and global concern. Although the parties demonstrated identical views on the causes and nature of some of the issues on the international agenda, they proved unprepared to suggest concrete practical solutions. For Italy, the meeting provided yet another opportunity to identify its own national interests in promoting relations with Russia and to demonstrate its readiness to act as a "bridge" in the development of a dialogue between Russia and the Euro-Atlantic bloc. At the same time, it has revealed limitations in Italian foreign policy, linked to the economic situation in the country and the weak positions of the current leadership in the renewed European institutions.
1. Speech by the Ambassador Extraordinary and Plenipotentiary of the Italian Republic to the Russian Federation Pasquale Terracciano at the conference, at the Institute of Europe RAS, June 19, 2019
From our partner RIAC
Putin: Russia Ready to Work with Legitimate Leaders
President Vladimir Putin accepted the credentials of 18 newly appointed foreign ambassadors, among them seven from Africa, in a traditional ceremony in the St. Alexander Hall of the Great Kremlin Palace on July 3, and tasked them to facilitate the development of multifaceted relations between their individual states and Russia.
He reiterated that "Russia is open to mutually beneficial cooperation with all states without exception based on equality and respect for each other's interests, non-interference in internal affairs and strict compliance with international law."
Putin used the opportunity to outline upcoming key events as follows:
In the near future, Russia will host a series of major international events. In June, Russia assumed the presidency of the Shanghai Cooperation Organization, and will also preside on BRICS (Brazil, Russia, India, China and South Africa) from early 2020. Russia is steering towards a joint-partnership, and aims to advance common priorities in such areas as politics, security, economy, finance, culture and humanitarian ties.
In September 2019, Vladivostok will host a regular Eastern Economic Forum. Prime Minister of India Narendra Modi and Prime Minister of Japan Shinzo Abe will be the guests of honor.
Russia is planning to review cooperation prospects and the implementation of major joint investment projects in the Asia-Pacific region and to exchange opinions on ways of merging various integration processes so as to create a major Eurasian partnership.
In early October, Moscow will host Russian Energy Week, whose participants will discuss ensuring global energy security, providing all-round energy access and reducing volatile prices on global energy markets.
Russia is preparing actively for the first Russia-Africa Summit late October in Sochi and will be preceded by the Russian-African Economic Forum. President of Egypt and incumbent Chairman of the African Union, Abdel Fattah el-Sisi, will co-chair the Sochi forum together with Putin.
Accordingly, invitations have been sent to all heads of the African states, as well as the leaders of major sub-regional unions and organizations. It is, however, expected that this summit to propel a dialogue between Russia and Africa to a qualitatively new level, help ensure peace and security in the region, as well as a stable development on the African continent.
Further in his address, Putin told Ambassador Denis Kalume Numbi, Democratic Republic of the Congo, that Russia was interested in further developing cooperation with the Democratic Republic of the Congo in politics, trade, and international affairs, and would continue assisting Congolese partners in improving the socioeconomic situation in their country.
He noted that Russia's relations with Sierra Leone has been based on the traditions of friendship and mutual understanding, and Russia hoped for joint work in such sectors as mining, agriculture and fishing. Sierra Leonean Ambassador is now Mohamed Yongawo.
At the ceremony was Alemayehu Tegenu Aargau from the Federal Democratic Republic of Ethiopia. Putin expressed satisfaction on the level of cooperation with Ethiopia.
Last year, Russia and Ethiopia marked the 120th anniversary of diplomatic relations. Over the years, bilateral dialogue has covered a range of important political, economic, research and education topics. Besides, Russia and Ethiopia continue to strengthen cooperation in international and regional affairs.
Russia satisfied with cooperation with Namibia. "Cooperation with Namibia is successfully developing in such sectors as mineral resource development and uranium mining, as well as in the energy, fisheries, agriculture, tourism, military-technical and cultural areas," Putin told Clemens Handuukeme Kashuupulwa from the Republic of Namibia.
Namibia pursues a balanced policy in international affairs and plays an active role in peace-making efforts of the Southern African Development Community. Russia has a long history of bilateral engagements with the Southern African countries, which constitute the Southern African Development Community.
"We work together with Mauritania in marine fishing and hydrocarbon production. Our Mauritanian partners make a significant contribution to the fight against terrorism in the Sahara-Sahel zone," the Russian leader said while receiving Ambassador Hamid Hamouni.
Louis Sylvestre Radegonde (Republic of Seychelles) and Ms. Chandapiwa Nteta (Republic of Botswana) presented their credentials. Russia maintains friendly relations with the Republic of Seychelles. It counts on further joint work to expand cooperation including tourism.
Relations with Botswana encompass the trade, economic and humanitarian spheres; the intergovernmental agreement on military-technical cooperation is currently in force. Last year, Russia and Botswana signed an intergovernmental agreement on cooperation in defence.
Russian authorities have pledged to help and offer necessary assistance to the foreign envoys in pursuit of their official assignments in the Russian Federation. Present at the ceremony were Sergei Lavrov, Foreign Minister of Russia and Yury Ushakov, Aide to President Vladimir Putin.