More than half the global population lacks health care and social security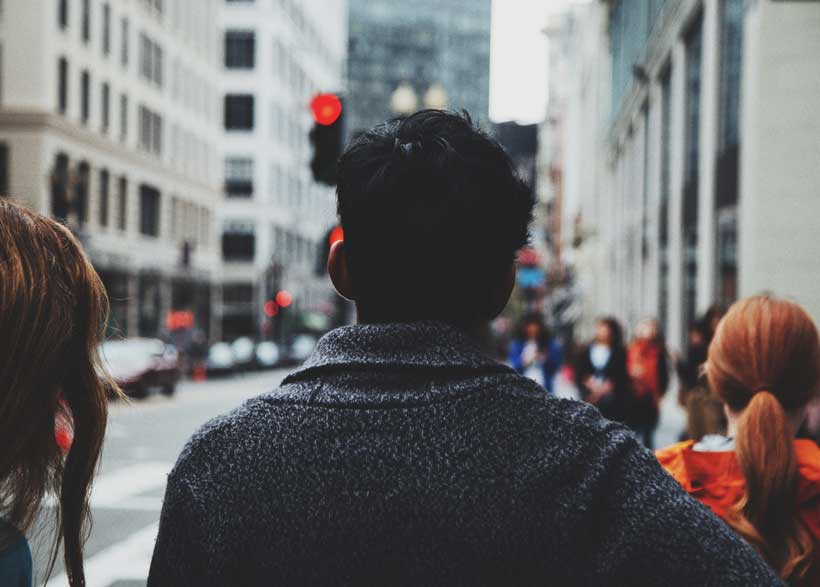 More than half of the world's population lacks access to essential health care and just 29 per cent have comprehensive social security coverage, according to a new International Labour Organization (ILO) report on the implementation of social protection in more than 100 countries.

Globally, only 68 per cent of persons of retirement age receive some form of pension, and in many low-income countries this drops to just 20 per cent. Fewer than 60 per cent of countries reported that they had schemes or benefits to ensure income security for children.

The findings come in the General Survey 2019, compiled by the ILO Committee of Experts on the Application of Conventions and Recommendations (CEACR). The Survey (published under the title Universal social protection for human dignity, social justice and sustainable development ) focuses on the ILO's Social Protection Floors Recommendation, 2012 (No. 202) , which calls for basic income security and essential healthcare guarantees from childhood to old age. It also aims to encourage greater levels of protection for as many people as possible, as soon as possible.

"Social protection is proven to be good for societies and economies. This human right clearly has strong buy-in from countries, employers and workers across the world," said Emmanuelle St-Pierre Guilbault, Legal Specialist at the ILO's International Labour Standards Department. "This is a 'must' to tackle the broad and rising inequality we see today and foster stability."
"The ILO stands ready to help countries address any remaining obstacles, including the major issue of financing, on the road to achieving sufficient social protection for all," she added.

It found that while universal health coverage has been achieved in many high- and middle-income countries, in many countries the population only has access to certain components of health care.

The main deficits in essential health care access relate to the underfunding of health protection, shortages of health workers and high rates of out-of-pocket payments. This results in an increased risk of impoverishment and financial hardship, which is found in all regions of the world.

The report says that more effort is needed to establish universal health coverage in both law and practice, including the reallocation of budgets and an increase in the number of health workers.

Important gaps also remain in establishing basic income security. The report recommends that countries set clear objectives, with precise time frames, to extend adequate social protection for all, covering basic needs. Such policies should be shaped through inclusive and effective dialogue with workers' and employers' organisations, as well as other stakeholders.

The issue of universal social protection coverage is also key for achieving the Sustainable Development Goals , notably those targets covering the ending of poverty and inequality, health and well-being, decent work, economic growth, peace, justice and strong institutions.

Social protection is expected to be on the agenda of the 2020 International Labour Conference .

General Surveys are prepared annually by CEACR, the supervisory body in charge of monitoring ILO member States' compliance with international labour standards. Each edition focuses on a subject chosen by the ILO's Governing Body and takes an in-depth look at member States' national law and practice in relation to it.

The General Survey 2019 is based on responses by 114 governments and observations submitted by employers' and workers' organizations. Survey participants responded to 46 questions on the implementation of Recommendation No. 202 , which was the first international social protection standard of the 21st Century. Responses to the 2019 survey were analysed, good practices and obstacles were identified, and guidance offered to encourage better application of the Recommendation .

The CEACR has also released its annual report , along with an updated edition of Rules of the Game , which gives a concise, non-specialist introduction to international labour standards and their importance in today's global economy.
World's Energy Transition in Doubt as Progress on Affordability, Sustainability Stalls
The world's energy systems have become less affordable and are no more environmentally sustainable than they were five years ago. While access to energy has substantially improved, with less than one billion people now living without access to electricity, concerns over affordability and equity of energy transition are increasing. These are the findings of latest edition of the World Economic Forum's Fostering Effective Energy Transition report, which was published today.
The report's Energy Transition Index (ETI) measures economies in two ways. Firstly, each economy is assessed for its energy "system performance". This takes into account three criteria regarded as critical for transitioning to the future, namely: security and access, environmental sustainability and economic growth and development. The latter measures economic impact to households, industry and export revenues.
Over the past five years, the measurement that has seen the most improvement has been energy access and security, followed by economic growth and development and, lastly, environmental sustainability. The average system performance score had been improving since 2014, but it stalled last year as gains in energy security and access were offset by reductions in affordability and sustainability. Continued use of coal for power generation in Asia, increasing commodity prices and slower than needed improvements in energy intensity have contributed to this year's stagnation in performance.
The second part of the ETI measures economies' success in putting in place the necessary conditions for transition. This "transition readiness" looks at six individual indicators: capital and investment; regulation and political commitment; institutions and governance; institutions and innovative business environment; human capital and consumer participation; and energy system structure.
Transition readiness scores vs annual emissions per country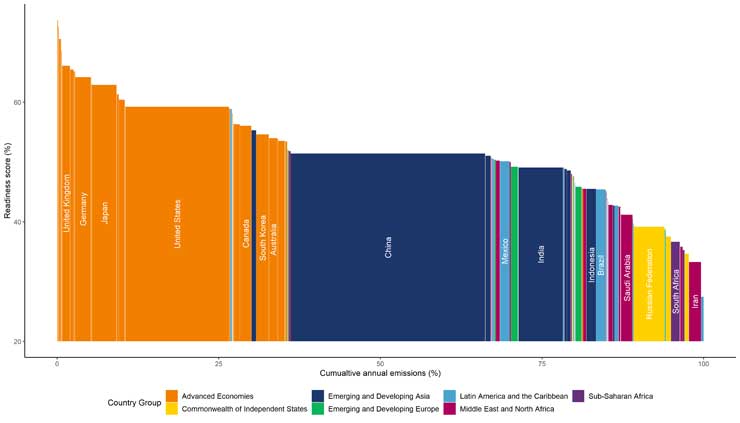 Small economies achieved higher scores on readiness, with the UK the only G7 economy in the top 10 of this subset. With the exception of Singapore, all are in Western Europe. The major challenge facing any attempt to future-proof global energy is the lack of readiness in the world's largest economies. For example, the 10 countries that score the highest in terms of readiness account for just 2.6% of global annual emissions.
"We need a future where energy is affordable, sustainable and accessible to all. Solid progress in bringing energy within the reach of more and more people is not enough to mask wider failures, which are already having an impact on our climate and on our societies. Urgent action is needed now to accelerate transition that works for business, consumers and our environment," said Roberto Bocca, Head of Future of Energy and Materials, Member of the Executive Committee, World Economic Forum.
However, there is some ground for optimism. While the world's two most populous economies, China and India, score low in terms of system performance (ranking 97 and 86 respectively) they rank considerably higher when it comes to readiness (45 and 61 respectively). This suggests that, while their current outdated energy systems are not ready for transition, an enabling environment is being built to support future transition. In this respect, China ranks seventh in the world for regulation and political commitment.
The Energy Transition Index 2019
Advanced economies continue to lead the rankings table, demonstrating the maturity of their energy systems. Sweden (1) retains the top spot from last year, followed by Switzerland (2) and Norway (3). Australia (43), Canada (35), and Republic of Korea (48) are the only advanced economies with scores below the top quartile on the ETI, due to the high carbon intensity of their fuel mix, and high per capita energy consumption and carbon emissions. Affordability is emerging as a growing concern in advanced economies, as the gap between household and wholesale electricity prices increases.
Results show that energy transition in the world's largest emitters has stalled in the past year. While the United States (27) has made progress in reducing the use of coal in power generation, it slipped in the rankings by two places reflecting concerns about the affordability of energy to households, and regulatory uncertainty on environmental sustainability
Countries in emerging and developing Asia observed significant improvements towards universal access to electricity, led by India (76), Indonesia (63) and Bangladesh (90). Malaysia (31) is the highest-ranking emerging country from this region, Vietnam (56) showed the greatest improvement in the ETI rankings since last year, while Thailand (51) improved on all three dimensions of the energy triangle as well as transition readiness. This region remains important for the future of energy transition because urbanization, industrialization and rising living standards continue to drive increases in energy demand. The Forum will support the Association of Southeast Asian Nations (ASEAN) in its progress towards energy transition, leveraging the ETI and its platform to enhance public-private collaboration.
In Sub-Saharan Africa, the report emphasizes the necessity of regulatory and policy stability, as well as strong institutional frameworks to leverage the abundant natural resources in a way that enables an effective energy transition. The progress on energy access for electricity and clean cooking fuels faces challenges from the rapidly growing population in countries throughout this region. Namibia (62) is the highest-ranking country in this group, Kenya (71) and Ethiopia (95) are showing improvements. South Africa (114) and Nigeria (109), the two largest consumers in this group, continue to face challenges in the form of over-reliance on coal and the lack of enabling infrastructure, respectively.
Latin America and the Caribbean region has the highest average scores on environmental sustainability of all regions, primarily due to its significant hydroelectric capacity. However, large economies like Brazil (46) and Mexico (37) did not show improvements on the previous index, while Colombia (34) and Dominican Republic (78) moved up the rankings. Regional integration of electricity markets and infrastructure, electrification of mobility, along with increasing operational efficiency of energy infrastructure can help unlock further improvements.
There is an urgent need for swift action on energy transition. Critical measures to accelerate energy transition include decoupling economic growth from energy consumption, particularly in emerging economies, mainstreaming breakthrough technological innovations to improve efficiency and sustainability, and developing addressing equity and justice in energy transition. Given the interconnectedness of the energy system throughout economic, social, and political systems, there is greater need than ever for different stakeholder groups to seek common understanding on the vision and priorities for energy transition.
Green and Gray Infrastructure More Powerful When They Work Together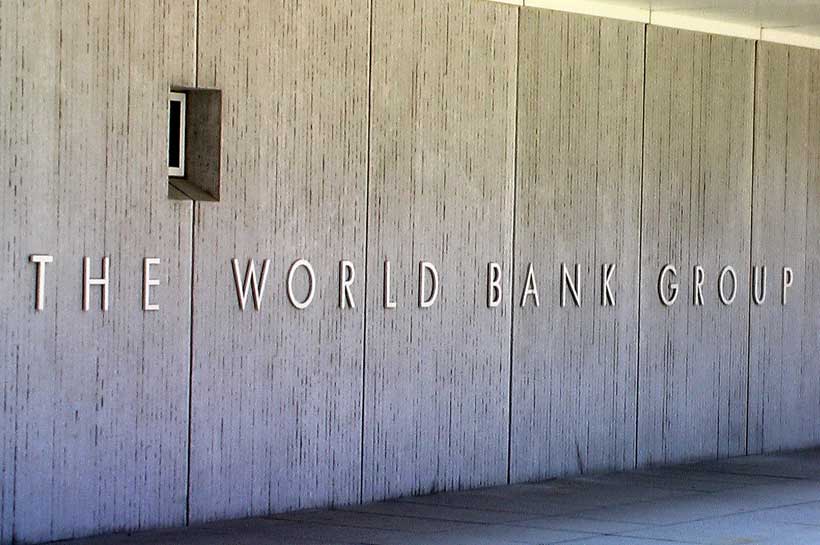 A new generation of infrastructure projects that harness the power of nature can help achieve development goals, including water security and climate resilience, according to a new report from the World Bank and World Resources Institute. Both organizations are calling for green infrastructure, such as mangroves and wetlands, to play a bigger role in traditional infrastructure planning.

Integrating Green and Gray – Creating Next Generation Infrastructure shows how weaving the power of 'green' natural systems, including flood plains and forests, into 'gray' traditional infrastructure systems can lower cost and increase resilience.

"If we help nature then nature can help us – that's the message of this report," said Interim President of the World Bank Group Kristalina Georgieva. "Measures like replanting wetlands can shield cities from storms and flooding, and protecting forests improves watersheds. Infrastructure should make use of plants and nature to boost resilience and create a more livable environment."

The report showcases World Bank projects where green infrastructure is already being deployed. For example, in Brazil, forests filter biological impurities to protect water sources and reduce the need for expensive water treatment plants upgrades. In Vietnam, mangroves are used as a first line of defense against typhoons and sea surges, helping to reduce investments in expensive man-made sea dikes. And in Somalia, natural river sediments are trapped behind dams, helping to recharge local aquifers, thus eliminating the need for deep and expensive groundwater pumps.

The report illustrates how emerging technology such as earth-based observations and advanced modelling make it cheaper and easier to design and assess the performance of green infrastructure. It also lays out a new framework for practitioners and service providers to integrate green infrastructure into gray, including technical, environmental, social, and economic dimensions.

The report finds that integrating green and gray infrastructure can help deliver a "triple-win" with benefits for the economy, communities, and the environment.

"Green infrastructure can be cheaper and more resilient than gray infrastructure alone—and it can produce substantial benefits beyond what the balance sheets measure," said Andrew Steer, President and CEO of World Resources Institute. "These nature-based solutions can help us meet the infrastructure investment gap in a cost-effective manner, while lifting up local communities with benefits in their backyards. We're at a climate inflection point, and in the midst of an infrastructure crisis. Now more than ever, the world must tap into nature's wealth."

The financing demands for global infrastructure are large and growing. Because of its environmental and social benefits, green infrastructure opens new finance opportunities both from public sources via grants and subsidies, or from private sources, such as mission-driven investors that can help tackle this financing gap. Unlocking these new sources of capital, both public and private, can help meet the significant infrastructure investment needs – equivalent to 4.5% of GDP in developing countries – over the next 15 years.

In total, 81 World Bank-financed projects with green infrastructure or broader nature-based approaches were approved between 2012 and 2017. Moving forward, the World Bank will further develop the analytical evidence for the benefits from natural capital in sustaining infrastructure and managing climate risks.

The report was funded in part by the Global Facility for Disaster Reduction and Recovery and the Global Water Security & Sanitation Partnership.


Investments in Gender Equality in Croatia Will Increase Opportunities for All
Croatia has made significant progress on including gender equality both institutionally and legally in its policy agenda, with indicators such as equitable primary and secondary school enrollment for boys and girls, remaining strong. However, according to a World Bank report presented today, several areas need to be improved to advance gender relations and opportunities for people living in Croatia, regardless of gender, sexual orientation, ethnicity or place of residence.
The World Bank report: Investing in Opportunities for All: Croatia Country Gender Assessment looks at the state of equality between man and women and found that most severe gaps are in access to economic opportunities, which are impacted by gaps in education, health, and care services. Women also have a limited role in the work force and less opportunities for entrepreneurship given gender roles and socioeconomic constraints.
Men in Croatia earn significantly more than women with the average monthly salary for women amounting to about 88.7% of that for men, making working women worse off throughout life and leading to a pension gap later in life. Female poverty among the elderly is 35 percent greater than that of elderly males.
Croatian women do well in education at all levels, but this does not translate into higher levels of female participation in labor markets. Compared to 71 percent of active men being employed, only 61 percent of active women have paid jobs with the rate dropping as women age.
Women are far less likely than men to be entrepreneurs in Croatia, a country with one of the lowest rates of female entrepreneurship in the European Union. Only 7 percent of employed women aged 35-39 years are entrepreneurs, only 12 percent of firms have women in top-management positions, and only one-third of Croatian firms are owned by women.
"Gender equality requires inclusive education and health services and social norms so that women can be empowered to make the necessary choices for themselves and their families," said Elisabetta Capannelli, World Bank Country Manager for Croatia. "Providing women and men equal opportunities will further help Croatia compete in the global economy of the future."
"There is an urgent need to encourage and accelerate the process of achieving real gender equality. Women still face barriers in employment, they are paid less for the same work, and they face discrimination based on pregnancy and maternity. Women also carry a double burden of managing household, family and business obligations, are underrepresented in the economic and political decision-making and predominantly represent victims of domestic and sexual violence," stated Višnja Ljubičić, Ombudswoman for Gender Equality of the Republic of Croatia. "Society must overcome these and all other aspects of inequality which stem from deep-rooted and persistent stereotypes and prejudices."
Gender inequality also has an ethnic element with women in Roma population – the most excluded minority group. Inequalities for Croatian Roma girls start early and intensify during their adult life, with only 6 percent of Roma women graduating from high school.
Place of residence plays an important role in determining welfare outcomes among both men and women in Croatia, with rural women faring the worst in terms of poverty, employment, education, and access to services, childcare, and elder care.
The report also offers actionable recommendations which can complement existing policies or initiate new ones related to learning, developing a healthful lifestyle, starting work, starting a family, active and healthy aging, and exercising citizenship and agency. It proposes, among other things, investing in lifelong learning opportunities that are relevant and improve livelihoods and income opportunities for the elderly, particularly elderly rural women. Encouraging entrepreneurial activities for women and providing business support services and exploring flexible hours/part-time arrangements. Providing publicly funded, good quality childcare so that both parents can work in all regions. Investing in civic engagement among women, to support their involvement in national politics. And increasing awareness of and facilitating access to anti-discrimination legislation and services.