Military Diplomacy as a Hybrid Instrument of National Power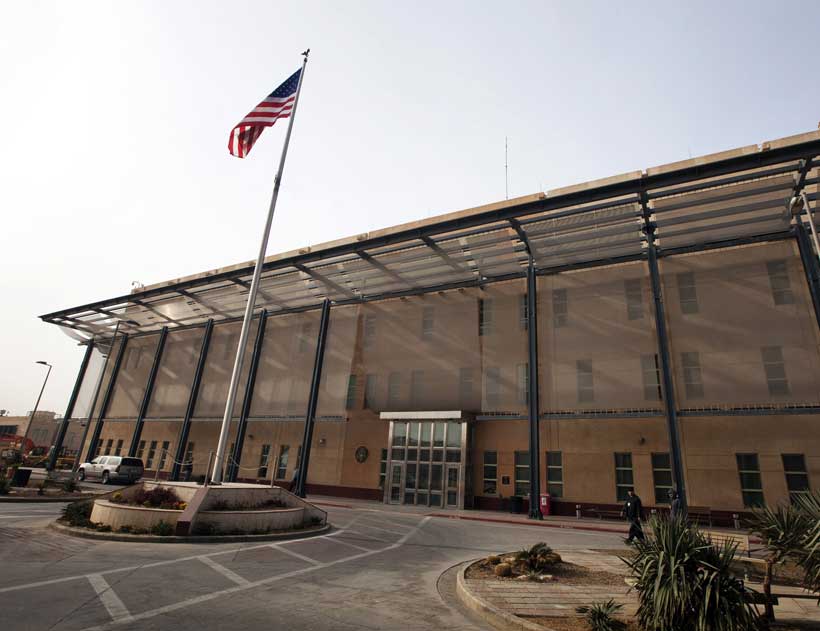 Today's complex security environment requires the United States to use all of its instruments of power to maintain its status in the world, as well as to protect its own interests and the interests of its allies. Traditionally, the instruments of power are separated into Diplomacy, Intelligence, Military, Economic, Financial, Information, and Law Enforcement, abbreviated as DIMEFIL in nearly every United States military Professional Military Education (PME) school. In almost all cases, the Military is considered the strongest of those instruments of power while Diplomacy is too often give short shrift. However, the continued use of Military Diplomacy offers a hybrid instrument of power to help connect with allies across regions while advancing the interests of the United States. This article will look at military diplomacy as a potential hybrid instrument of national power and how the Office of Security Cooperation-Iraq (OSC-I), under the U.S. Embassy Baghdad and U.S. Central Command utilized military diplomacy to reconnect Iraq with its neighbors in the Middle East.
The current United States National Security Strategy (December 2017) lays out the importance of continuing to engage with our partners and potential allies. It states, "Diplomacy catalyzes the political, economic, and societal connections that create America's enduring alignments and that build positive networks of relationships with partners." The Diplomacy and Statecraft section goes on to identify three different types of diplomacy: Competitive Diplomacy, Tools of Economic Diplomacy and Information Statecraft.
Similarly, the Military instrument of national power is mentioned throughout the 2017 National Security Strategy. From protecting the American people to defeating Jihadist terrorists, the military instrument of power is weaved throughout the document. However, there is a gap within the 2017 National Security Strategy. The article attempts to draws a cleaner line between the use of the United States military and its diplomatic efforts. The use of military diplomacy is an important tool not addressed in the National Security Strategy and one that can help bridge this gap.
What is military diplomacy
There is not a standard definition of military diplomacy. Erik Pajtinka defines military diplomacy as,
"A set of activities carried out mainly by the representatives of the defense department, as well as other state institutions, aimed at pursuing the forcing policy interests of the state in the field of security and defense policy, and whose actions are based on the use of negations and other diplomatic interests." He goes on to define military diplomacy as "a specific field of diplomacy which focused primarily on the pursuit of foreign policy interests of the state in the field of security and defense policy."
Amy Ebitz, in her paper from the Brookings Institute titled, "The Use of Military Diplomacy in Great Power Competition: Lessons Learned from the Marshall Plan," states Military diplomacy can also be referred to as "defense diplomacy," soft power," "military public diplomacy," and "strategic communication. Her terms of either defense diplomacy or military public diplomacy align well with the above definition of military diplomacy. However, use of soft power and strategic communications do not. Soft Power, as originally coined by Joseph Nye, refers to, "the ability of a country to persuade others to do what it wants without force or coercion." This often is accomplished by projecting soft power through companies, foundations, universities, churches, and other institutions of civil society. I would argue soft power falls more in the information instrument of national power and not within the military instrument.
Strategic communications is defined in the International Journal of Strategic Communications as,
"The purposeful use of communication by an organization to fulfill its mission. Six relevant disciplines are involved in the development, implementation, and assessment of communications by organizations: management, marketing, public relations, technical communications, political communication and information/social marketing campaigns."
Using this definition as a base, military diplomacy does not fit well into these categories of strategic communications.
For the purpose of this paper, Erik Pajtinka's definition, "A set of activities carried out mainly by the representatives of the defense department, as well as other state institutions, aimed at pursuing the forcing policy interests of the state in the field of security and defense policy, and whose actions are based on the use of negotiations and other diplomatic interests," will be used to guide this article.
There are three main parts of Pajtinka's definition of military diplomacy. First, "The activities are carried out mainly by the representatives of the defense department." This is a critical difference between traditional diplomacy. Rather than traditional diplomats in the lead, different representatives from the Department of Defense are leading these efforts.
Next, the activities are, "Aimed at pursuing the foreign policy interests of the state in the field of security and defense policy." As with most actions at the strategic level, the activities of military diplomacy must focus on the foreign policy interests of the government. However, a key difference is these foreign policy interests are in the fields of security and defense policy. The focus on these two traditionally military related fields helps clarify where traditional diplomacy ends and military diplomacy begins.
Finally, those implementing military diplomacy conduct their activities, "Based on the use of negotiations and other diplomatic interests." Unlike other traditional military activities to work with partner nations, military diplomacy leads through negotiations and other diplomatic interests before entering back into traditional military endeavors. This will be explained further in the example of the Office of Security Cooperation-Baghdad's efforts.
The Department of Defense has a variety of tools available to promote military diplomacy. First and foremost are the Combatant Commanders themselves. These four-star General Officers are responsible for specified geographic regions across the globe. Within each combatant command, the leadership interacts with numerous countries across their footprint. For example, U.S. Central Command (CENTCOM) has an area of responsibility of more than 4 million square miles, populated by more than 550 million people from 22 ethnic groups speaking over 18 languages. Equally important, CENTCOM partners with 20 nations from Kazakhstan to Egypt. Each United States combatant command has similar footprints, getting to interact with nearly every nation on the globe in some capacity.
The Commander of a combatant command interacts with all of the nations within their footprint. When visiting one of the countries in their area of operations, they coordinate with both the U.S. Ambassador responsible for the country team and the security cooperation office within the host nation. The result is a high ranking military diplomat, synchronized with the leading Department of State person in country, and bringing a massive capability to work with partner nation security forces.
Combatant commands have a large tool kit from which to pull from to help move U.S. interests forward. This includes all branches of the military (Army, Navy, Air Force, Marines) as well as the ability to serve as a coordinator between nations who may not have the friendliest of histories. Each branch of the service under the combatant commands carries with it leadership, units and expertise within their respective regions. The result is a massive amount of capability to conduct military diplomacy.
Military diplomacy in Iraq 2017-2018
As Iraq achieved success against Islamic State (IS) forces in 2017, there was a palpable shift from the use of military power to military diplomacy. After decades of isolation brought by previous Iraqi actions, United Nations sanctions and violence following the 2003 invasion of Iraq, the Government of Iraq only had one neighbor to turn to for help within the region: Iran. Sharing a major border of nearly 875 miles, these two countries have always been and will always be neighbors. As a result, there is a massive amount of legal and illegal trade crossing their borders. Additionally, the commonality of the Shia religion in both countries connects them on another level. The two have been, and will be tied together due to their proximity and shared backgrounds.
However, Iraq needed other partners in their region besides Iraq. As a result, the Office of Security Cooperation-Iraq(OSC-I), located within the U.S. Embassy in Baghdad, focused on using military diplomacy to help Iraq break out of its isolation. Traditionally, Security Cooperation offices focus on the sale of U.S. military equipment to a host nation. OSC-I works for both for the U.S. Chief of Mission in Iraq, and for U.S. CENTCOM. This placed it in a perfect position to facilitate military diplomacy.
In mid-2017, OSC-I had two main lines of effort. The first was traditional security assistance: the sale of equipment and parts to the Iraqi government. The second, defense institution building, focused on security sector reform and the building of the necessary institutions to sustain their security forces. Eventually, the priority of effort shifted to the important work of ensuring the sustainability of defense institutions. However, as the ISIS fight within Iraq concluded, senior leadership within both Department of State and Defense realized Iraq needed local partners to break out of its isolation. As a result, OSC-I developed a third line of effort: Regional Engagements (see Figure 1).
The regional engagement effort became a classic case of implementing military diplomacy to help a partner nation, Iraq. Knowing Iraq was isolated with only Iran as a local partner, the use of military diplomacy became a critical component of reconnecting Iraq with their other neighbors more friendly to the United States. The goal was to reconnect Iraq with its neighbors through military-to-military engagements to encourage a confident, independent Iraq and reduce Iraq's isolation. As a result, military diplomacy became a major effort between the United States and Iraq.
OSC-I, working with the Department of State and CENTCOM, reached out to surrounding neighbors and their militaries to increase military-to-military cooperation. This was the first step of military diplomacy. The initial plan was to engage at the Chief of Defense level between neighbors. With direct access to the Iraqi Chief of Defense, OSC-I was perfectly positioned to use military diplomacy.
First and foremost, this effort was coordinated through and approved by both the U.S. Ambassador and the CENTCOM Commander. The coordination between the two leads for both the diplomacy and military instruments of national power already had a solid relationship OSC-I was able to benefit from.
Getting the process started was not as easy as a phone call. The military diplomacy process began by coordinating invitations through the Department of State and the Iraqi's Ministry of Foreign Affairs. Additionally, CENTCOM was able to leverage its "power to convene" through its Commander at the time, General Joseph Votel. He and his staff served as the coordination link between the U.S. Embassy, OSC-I and the Iraqi Chief of Defense. Once coordinated, formal invitations were sent from the Iraqi Ministry of Foreign Affairs to their corresponding Ministries of Foreign Affairs in both Jordan and Saudi Arabia. Once the invitations were received, and confirmed by the Security Cooperation offices in both Jordan and Saudi Arabia, CENTCOM contacted both Chiefs of Defense to emphasize the importance of the upcoming meeting, and added the CENTCOM Commander would serve as the host.
The first result of this military diplomacy effort was a tri-lateral engagement in July 2017. The Chiefs of Defense of both Jordan and Saudi Arabia met with the Iraqi Chief of Defense in Baghdad. This initial meeting set the groundwork for future bi-lateral meetings between the Chiefs of Defense, and their respective staffs to improve communications and coordination between the neighboring countries. For OSC-I, this successful tri-lateral engagement demonstrated the power of military diplomacy when properly coordinated and supported by both Department of State and Department of Defense.
Another meeting rapidly followed, this time a bi-lateral between the Iraqi and Jordanian Chiefs of Defense. Discussion focused on the reopening of the Treybil border crossing between Iraq and Jordan. Closed during the Iraq War in 2003, the Treybil Highway served as a main trading route between Baghdad and Amman. A similar process occurred: coordination between embassies, the security cooperation offices and CENTCOM. Invitations were coordinated through the U.S. Embassy then the Iraqi Ministry of Foreign Affairs. The invitation went to the Jordanian Ministry of Foreign Affairs, and once the Security Cooperation office confirmed receipt, CENTCOM connected with the Jordanian Ministry of Defense to offer their support for the conference. A meeting soon followed. As a result of this meeting between the Jordanian and Iraqi Chiefs of Defense, staff working groups were established. Their work resulted in the Treybil border crossing reopened in August 2017, serving as a main trade route between the two nations and taking a major step towards normalizing relations.
Next, the Saudi Arabian and Iraqi Chiefs of Defense met in a bi-lateral engagement hosted by CENTCOM and coordinated by the Office of Security Cooperation-Iraq. The result of this military diplomacy effort was the reopening of the Arar border crossing for the first time in 27 years. This key border crossing was closed in 1990 after the countries cut ties following Saddam Hussein's invasion of Kuwait. The reopening assisted Iraqi religious pilgrims headed to Mecca during the Haj season. The governor of Anbar province, Sohaib al-Rawi said, "This is a great start for further future cooperation between Iraq and Saudi Arabia." Again, coordination occurred between both U.S. embassies in Iraq and Saudi Arabia, between the Security Cooperation offices overseen by CENTCOM made this important military diplomacy success story a reality.
After the September 2017 Kurdish referendum, tensions between Iraq and Turkey were extremely high. Turkey moved additional forces to the Iraqi border in response to the Kurdish vote for independence. Conflicts flared up between Iraqi troops and Kurdish fighters. The need for military diplomacy was needed more than ever.
Again, through military diplomacy, a tri-lateral discussion between the Iraq, Turkey and the United States was set up. Senior leaders in attendance included European Commander, General Curtis Scaparrotti, Turkish Chief of Defense General Hulusi Akar, Iraqi Chief of Defense, General Othman al-Ghanimi and U.S. Central Command Commander General Joseph Votel. The meeting occurred in Ankara, Turkey on December 14, 2017. This was again coordinated across both U.S. embassies, and in this case, two Combatant Commands to make this example of military diplomacy occur.
The result of this meeting was the reopening of communications between the Turkish and Iraqi Chiefs of Defense. This was both extremely important and timely as Iraqi and Turkish troops faced off against one another on their border. The two Chiefs of Defense, shepherded by their U.S. combatant command counterparts, were able to meet face-to-face and reestablish a civil dialogue. The result was an increase in positive communications between the two military Chiefs and a reduction in tensions between the two neighboring militaries.
With a taste of success, the Iraqi Chief of Defense then asked through the Office of Security Cooperation-Iraq to meet with his Kuwaiti counterpart, a meeting that had not happened between the two countries since the invasion of Kuwait in 1990. Again, coordination between the Iraq and Kuwait embassies started the process. Invitations followed and the meeting was set up.
The meeting between the Kuwaiti Defense Minister and the Iraqi Chief of Defense occurred on January 23, 2018. U.S. Central Command Commander, General Votel hosted the historic meeting, helping to reopen the lines of communication between these two former enemies. The result was an agreement for both militaries to continue to work together and begin developing longer-term security cooperation arrangements, an important step to normalizing relationships between two former enemies. This and the other examples demonstrate what can be accomplished by military diplomacy when coordinated properly.
Key to these military diplomacy successes was ensuring the Department of State Chief of Mission was tied into all discussions and approved of these efforts. In Iraq, there were weekly video teleconferences between the CENTCOM Commander and the U.S. Ambassador where current issues were discussed. Prior to any visit to Iraq, the CENTCOM Commander coordinated with the Ambassador to better, understand the priorities of the Department of State, and ensure CENTCOM was on the same message as the Chief of Mission.
Combatant Commands also have the ability to host regional ambassador conferences, such as the one hosted in Qatar by CENTCOM on October 19, 2018. The conference included chiefs of defense from the Gulf Cooperation Council for the Arabian States of the Gulf Region Countries: Kuwait, Bahrain, Oman, Qatar, Saudi Arabia ad United Arab Emirates, as well as Jordan and Egypt. The respective U.S. Ambassadors from each country attended and the U.S. CENTCOM forward headquarters in Qatar was a perfect spot to host the meeting. These conferences are another great example of military diplomacy in action.
Principles of Military Diplomacy
The examples above highlight the capabilities of using military diplomacy to further the interests of a country, in these cases the United States. Based on the previous definition of military diplomacy and the actions of the Office of Security Cooperation-Iraq, this article recommends four principles of Military Diplomacy.
First, the Chief of Mission/U.S. Ambassador/Chief Diplomat is in the lead. Within a host nation, it is the Chief of Mission responsible for all U.S. actions. Coordination through the Embassy is a necessity and must be paramount for any military diplomacy effort to be successful. Efforts at military diplomacy without this coordination at the highest levels will not only result in failure, but also sour the critical relationship between State and Defense elements on the ground.
Second, military diplomacy requires the support of the military. While this may sound like an obvious principle, military diplomacy requires elements of the Department of Defense to be involved, and to have something to offer. As mentioned earlier, Defense elements have a large toolkit to tap into. From traditional security cooperation efforts to hosting military to military engagements, military diplomacy requires the military. Militaries throughout the world have common experiences and shared languages. They are most adept at working with fellow militaries.
Third, any military diplomacy efforts must work through the host nation process. In the case of Iraq, invitations to bring in senior ranking military members from neighboring countries required an invitation from the Ministry of Foreign Affairs. It was the same for when the Iraqi Chief of Defense was invited to other nations: the inviting nation would send an invitation through its Ministry of Foreign Affairs to the Iraqi MFA. These efforts took time, and sometimes resulted in frustration on the American side as invitations were lost, or caught up in bureaucracy. That being said, the U.S. State and military members were able to keep tabs on the status of the invitations and query to the status.
Fourth and finally, set small goals. Sometimes just having the two senior leaders meet is an accomplishment in itself. Many involved in military diplomacy expected rapid results from all the coordination efforts. However, this often is not the case. Goals are not often met in the first or second meeting of these senior leaders. However, as demonstrated above, sometimes just having those two senior military leaders meet results in positive press, increased dialogue and the thawing of long cold relationships.
When properly coordinated with the Chief of Mission, military diplomacy is an effective instrument of national power. The combatant commands have the leadership, the staff, and resources to enforce their "power to convene" utilizing military diplomacy. Bringing key military leadership from different nations together is one of the important components of military diplomacy. This is not limited to the United States. Recent tensions between North Macedonia and Greece were reduced by military diplomacy between the two nations. Most militaries have the capacity, with the support from their diplomatic branches, to successful utilize military diplomacy.
More studies and research needs to look at the advantages and disadvantages of utilizing military diplomacy to help the United States achieve its stated policy goals, especially as we move back into an era of great power competition. The use of military diplomacy as a hybrid instrument of national power for the United States has provided tangible achievements in achieving foreign policy goals in the past. It must continue to do so in the future.
The theatrics before the Quad Meeting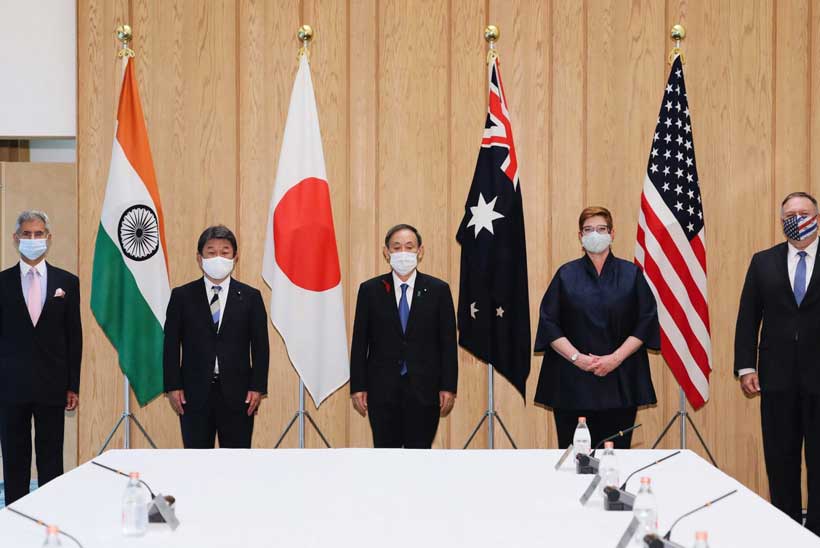 Authors: Mozammil Ahmad and Sruthi V S*
According to a Hindustan Times report, an anonymous senior US state department official has dismissed the talk for formalizing the Quad ahead of the ministerial Quad meeting to be held in Tokyo on 6th October.
The Quad or the Quadrilateral Security Dialogue is the informal forum between the US, Japan, Australia and India. Its origin goes back to the 2004 Boxing Day Tsunami. The adjunct grouping of US, India, Japan and Australia as the 'Tsunami Core Group' was formed to respond to tsunami. The concept of a "Quadrilateral Initiative" as a strategic alliance was first proposed as a dialogue in 2007. It was proposed by the then Japanese Prime Minister Shinzo to form a multilateral dialogue with Japan, the United States and Australia but it fell in 2008. Then, in 2017, the quad was revived and it began convening on a semi-regular basis.
US and the Quad
The US interest in Quad began when it found itself in a strategic competition with China. The US has been rethinking its stance against China before the coronavirus outbreak. The 2017 National Security Strategy of the Trump administration asserted that China seeks to challenge America's power and influence. Meanwhile the 2018 National Defence Strategy termed Beijing as the "strategic competitor." China expanded its international influence through its economy and the BRI to challenge the existing world order. However, during the pandemic, the US-China tensions have accelerated. This led the US to explore alliances in the Indo-Pacific region.
The first instance of US interest in the Quad began in March 2020 when the US initiated a weekly online meeting between Deputy Secretary of State Stephen Beigun and his counterparts in India, Japan, Australia, Vietnam, South Korea, and New Zealand to discuss and exchange views on how to deal with the pandemic. This initiative of the US is more than just exchange views, it also became a coalition of countries with similar views on China. The core countries of the Quad – India, Japan, Australia, are facing their respective security challenges posed by China forming a "Quad Plus".
Therefore, the upcoming ministerial Quad meeting holds strategic importance for the US to form a counter to China's posture under President Xi Jinping.
Then why is the US not eager to formalize the Quad?
In international relations, there is no selflessness. Every move must extract all possible gains. I propose the consideration of the following three factors for the recent US stance-
US Economy
The US economy has plunged 31.4% for the April-June quarter. Economists expect the US GDP to fall even more, making it the first time it has decreased since the financial crisis of 2008. Gregory Daco, the chief US economist at Oxford Economics has said, "With economic momentum cooling, fiscal stimulus expiring, flu season approaching and election uncertainty rising, the main question is how strong the labor market will be going into the fourth quarter." The economic condition of the US is not such to fully commit and invest in a multilateral alliance.
US Presidential Election
The October 6 meeting is being held when the US Presidential election is only a month away. There is an ongoing aggressive campaign battle between Donald Trump and Joe Biden for the Presidential election. Both Democrats and Republicans are wooing American-Indian community towards their side. While Democrats project Kamala Harris as a multiracial VP candidate, the Republicans are highlighting Trump-Modi friendship to consolidate support for their respective parties.
The Hindustan Times report mentions that "human rights organisation Amnesty International's decision to shut down its India operations had "received attention at the highest levels" of the Trump administration and it was being followed "very, very closely" by members of US congress."
This is not yet an official statement of the US State Department. With the reportage in the Indian English media and clear indication towards a domestic event of India, it could be seen as a pressure tactic on the Indian government. With the Trump campaign's reliance on friendship with Modi, this could be a subtle way of asking the Modi government to appreciate the friendship. Hence, increasing Trump's appeal to the American-Indian community.
This is also a typical strategic way to use the soft power of media to influence diplomacy. Maybe U.S wished to propose a few trade deals favourable for them and reports of lack of keenness of U.S to formalize quad may influence other countries to agree to the demands of U.S and appease it.
Commitment Issues
At a U.S-India Strategic Partnership Forum in August, when asked about the attempts to formalize the Quad Plus, the US Deputy Secretary of State Stephen Biegun remarked that "so as long as we keep the purpose right and as long as we keep the ambitions checked to start with a very strong set of members, I think it's worth exploring an (inaudible) like that, although it only will happen if the other countries are as committed as the United States."
The new Japanese Prime Minister Yoshihide Suge spoke to his Chinese counterpart Xi Jinping last week where both the leaders agreed to hold summits and other high-level meetings to cooperate in bilateral, regional and international issues. The goodwill conversation is considered as the improvement for China-Japan relations.
The US could be questioning the commitment of the fellow members of the Quad, and refraining from formalizing it. The recent statement has also mentioned that, "America wanted to strengthen existing regional architectures, not create new ones."
The Quad plus meeting held on 6th October reflected a continuation of their past style of cooperation. The four ministers agreed to convene regular meetings with the next meeting scheduled for next year. For now, the Quad is considered symbolic, though the US Secretary of State Mike Pompeo made remarks to potentially institutionalize Quad. However, much is happening in the world, with the global pandemic, economic slowdown faced by many countries and the US Presidential election, to suggest the future course of the Quad.
*Sruthi V S– Sruthi is a Consultant with Qrius (formerly The Indian Economist). She has previously taught as Assistant Professor in Journalism and Mass Communication at the University of Delhi, India. Her research interest includes art, culture, world, media, politics.
Bhutan – India: A multi- dimensional relationship. interview with H.E. Amb. Ruchira Kamboj
India and Bhutan have shared an interesting relationship for a very long time. They are geopolitical neighbours, trade partners and friends. In this conversation with Modern Diplomacy, Her Excellency Ambassador Ruchira Kamboj, Ambassador of India to Bhutan sheds more light on the India Bhutan relationship and her work in the Indian Foreign Services.
When did you decide that you wanted to join the foreign services? Tell us more about your journey.
That was quite early I would say – while in school. I enjoyed the pursuit of, and discussions on international relations, and greatly looked forward to actual practice! I guess I was fortunate and quite blessed that this aspiration came true.
The relations between India and Bhutan have been historically significant and more so now when the former's relations with few other neighbours seem to be muffled with confusion and disturbances. What do you believe will strengthen India – Bhutan's bond even more?
Bhutan and India are bound together by ties of geography, history, culture, spiritual traditions and centuries old people-to-people interactions.
The special friendship has not only benefited our two nations, it has also created an example for the whole world, an epitome of two nations, of two different sizes, living together for collective growth, bound by an unparalleled friendship.
Both Bhutan and India have young populations. Both Bhutan and India are rapidly transforming societies. A greater focus on youth-centric activities both sides through enhanced exchanges and connectivities, in particular in those sectors where India brings unique strengths to the table, such as IT, STEM, Start-Ups, could potentially be hugely beneficial for further growth and progress. As one tiny example, this year itself, eight Bhutanese students have entered our IITs against their chosen Masters' Programmes.
This ties in with His Majesty's vision and focus on STEM, where technology is rapidly transforming the world around us, and where the pace of scientific advancement is relentless in its pursuit towards creation.
What other plans and bilateral agreements can we foresee other than energy (hydroelectric) and tourism that will be a boon for both the South Asian countries?
The relationship between Bhutan and India today is multi- dimensional encompassing diverse sectors, not being limited to the traditional sectors but opening up to new and emerging spaces such as financial technology cooperation, IT, Start-Ups and Space Science and Technology, for mutually beneficial growth and cooperation.
I am pleased to share and following the visit of Prime Minister Modi to Bhutan in 2019, action has matched talk, and we are well into implementing much of what was envisaged during this memorable visit, reflective of our commitment to advancing the economic and infrastructural development of Bhutan, per the priorities and wishes of the Government and the people of Bhutan.
Speaking of energy diplomacy, what are your personal views on the environment and climate change? What lessons can the world learn from Bhutan's carbon-negative approach?
There are no two views that the world needs to think and act green, to support sustainable growth. India under Prime Minister Narendra Modi has embarked upon a massive upward trajectory as we seek to harness solar and wind energy to power our future. The International Solar Alliance is one example -since 2015, this 87 signatory-alliance is propelling Earth to a low-carbon growth path. Similarly, the Coalition for Disaster-Resilient Infrastructure aims at a climate-change and disaster-resilient future for all.
As for Bhutan, you are truly an example to the world, having envisioned the "requirement" to be green in your country's constitution, and being practically the world's only carbon negative country. Importantly, you are not just resting on past laurels but diversifying slowly but steadily into new spaces- into renewable energy such as solar and wind power; towards green transport; the ban on single-use plastic etc. These, among others, are examples of a country that is deeply respectful and committed to the environment. This is without doubt a tribute to the vision and leadership provided by the Druk Gyalpo of Bhutan, as most recently reiterated at the UN Secretary General's High Level RoundTable on Climate Action by Lyonchhen Dr. Lotay Tshering.
As mentioned before, both countries have also been focusing on cross-cultural tourism with initiatives like digital payments making the process more convenient. Can you speak more about this and the different contours that need to be strengthened?
We share His Majesty's vision for harnessing technology towards economic development and towards strengthening our partnership in new areas such as digital and emerging technologies, financial integration etc.
To this end, Prime Ministers Shri Narendra Modi and Dr. Lotay Tshering had launched the first phase of the Rupay Card in 2019. With this , Indian citizens have been facilitated in making payments with their Indian bank-issued debit cards, in Bhutan. A second phase to be launched in 2020 , will enable the use of Bhutanese bank-issued RuPay Cards across Points of Sale terminals in India. This will benefit all Bhutanese citizens who visit India for education, medical treatment, pilgrimage, work or tourism.
This cross border financial integration will further facilitate our warm people-to-people contacts and integrate furthermore the economies of our two countries.
Your father was an Army officer and your mother, a Professor at Delhi University. Do you credit your success to the environment you were brought up in? How important do you think are parents' support to a child for achieving some feat?
I would agree with you that the early childhood years are critical in shaping future orientation. I was fortunate and blessed in having a vision and values through personal examples from my parents, that have stood me in good stead. I wish that for every child on this planet-that their potential is fully realised in safety and with opportunity.
You seem to have an eye for Bhutanese art and culture. You also have been promoting a film called Lunana recently. Tell us more about that.
It is always a privilege to serve as India's Representative abroad and to get a rare insight each time into a country's culture and way of being, so to speak. The more so, with a country like Bhutan, which offers such a rich and unique mosaic, in itself.
Speaking of "Lunana", I was personally thrilled that this will be Bhutan's official entry to the Oscars, an exquisite opportunity for the world to learn more about this singularly unique country.
Tell us about your previous experiences, of representing India at UNESCO and being a high commissioner to South Africa.
There are no two ways about this: it is an outstanding honour each time to bat for India. It was thus my privilege to serve both as Ambassador of India within the multilateral settings of UNESCO, Paris and as High Commissioner of India for South Africa, a country with which India has a shared history and importantly and going forward, an equally rich future.
If not Foreign Service, what else would you have pursued?
I am indeed fortunate to have lived my dream, I had frankly only envisaged this as a career.
What is the most important lesson you have learned in the 33 years of your glorious service?
A simple message: lead by example.
A message to the young Indians who want to represent their country globally.
I would unequivocally and unhesitatingly say this to my Indian friends that if you do wish to represent your country globally, the best way to do so is through the Indian Foreign Service, an opportunity and a challenge, like no other!
Celebrity Diplomacy: Are they biting a bigger piece than they can chew?
In this book, Andrew Cooper who is a Political Scientist tries to analyses and assesses the role of celebrity into the world of Diplomacy which is changing its course from being state-centric to incorporating transnational and global elements. This book tries to capture the roles played by celebrities like movie stars, musicians, and CEOs who operate across the globe, have grabbed new roles on the world stage, simultaneously levering their access to world leaders and mass audiences by exercising their star power to the world of diplomacy and humanitarian cause, identifying both the benefits and the pitfalls of this thoroughly modern phenomenon. He also talks about how celebrities are constantly under scrutiny and often seen as a frivolous lot around professional diplomats.
The author in the first chapter tries to define what and who comes under the ambit of celebrity diplomat and how they are different from some professional diplomats who also gains the status of celebrity by being under the constant public eye. He highlights how the selection of Bono and Bill and Melinda Gates as Time magazine's 2005 persons of the year serves as just the most visible measure of how new types of celebrities performing functions of diplomacy and an expanded range of activities are being recognized on the international stage through them.
The current wave of celebrities squarely targets the arenas of global governance, global equity, and global regulatory issues. Efforts to end global poverty, to cancel the debt, to expand pro-grams of official development assistance, and to focus on HIV/AIDS and other pandemic health issues, all of which are heavily concentrated on Africa, would be on the top of most current lists of celebrity activism.
He throughout the book constantly point out the domination of the Anglo-sphere in the world of celebrity diplomacy, giving narrow space to outsiders, thereby keeping them under control.
The authors point out how some celebrities like Audrey Hepburn and Danny Kaye tried to capture elements of the engaged public life while working with UNICEF, but the work of diplomacy took a full-fledged shape only after the end of cold-war with a massive surge of technical innovation and expansion. Various celebrities bring their star power to work for the collective good of humanity and enter into the world of diplomacy. Celebrity diplomats comprise of no longer only of the ambassadors chosen for UN but also various free-floaters, such a late Princess Diana, U2 singer Bono whose advocacy work has had impacts on many governments. Philanthropists like Bill Gates, George Soros are also breaking new grounds not only because of the size of their financial contribution but also because of their personal involvement in global public policy debates. Some celebrities provide ground and field which requires celebrities' attention like Oprah Winfrey.
He uses U2 singer Bono as an epitome of a celebrity diplomat, who navigated the traditional boundaries between diplomacy and policymaking, working through both the International Forum and the corridor of national political power. He continuously changed his tactics as he continued to evolve. Bob Geldof, another celebrity who the author addressed as an anti-diplomat, had the same effect as Bono in the world of diplomacy though his characteristics were contrary to that of a celebrity diplomat.
UN has also revamped itself to include celebrities who were genuinely interested in working for it. It was after a lot of discussions, interviews, and debate that celebrity Angelina Jolie was selected to work with the UN. UN Secretary-General Kofi Annan encouraged celebrity involvement in the UN. Celebrities carving a niche for themselves by digressing from the path they have been told to tread on like Princess Diana. Most of the book the author is limited to the English-speaking West who dominated the world of diplomacy.
It is only in the final chapters that he devoted his attention to celebrities from Non-West taking the role of diplomacy offering views countering the Eurocentric part of the world order. He states how celebrity diplomacy has expanded and incorporated fragment from all around the world bringing with them different accents, cultures, and opinions. He highlights how Bob Geldof during the Live 8 concert was responsible for his controversial selection process, as he was accused of reproducing a system of "musical apartheid" in his bias toward featuring older white "gods" of rock over African stars in the concerts under his command.1
Thus, the interference of people from the Anglo-sphere dominating and speaking about issues centered around Africa and Africans started hinting at the new parentalism or an expression of benign neocolonialism. There have been a few celebrities from the African continent like great Senegalese musician Youssou N'Dour, Maal but it was only later in the 21st century that various non-west celebrities started entering and bringing their localism with cosmopolitanism in the arena of diplomacy. Various Japanese celebrities like Misako Konno, Tetsuko Kuroyanagi, and so on not only entered into the world of diplomacy but played their own game by being non-conformists. The author further spoke about how the need to have a democratic government is necessary for various non-state actors or various activism to flourish outside the state purview otherwise entertainment or celebrity diplomats are left with no choice but to balance between their loyalty for the government or help in accommodating the government in power. Various celebrities like Imran Khan. Pakistani cricketer, George Weah and others used activism as a means to get hold of political positions and power. Instead of continuing to act as a force of moderation and tolerance, Imran began to pander to a domestic constituency after becoming a candidate in national elections, most notably siding with minority obscurantist voices over unsubstantiated news reports in 2005 regarding.2 This led to considerable damage to his reputation across the globe.
India has also entered into the world of diplomacy through people like Arundhati Roy, Shabana Azmi, and Amitabh Bachchan who have not only offered their fresh perspective but also reciprocated in the fashion and technique similar to North. However, the biggest problem that non-Anglo-sphere celebrities faced was to attract the same level of publicity as their counter-parts from the U.S. /UK hubs. The celebrity diplomats in the North should embrace their south-ern counterpart is the way forward, humanity should be the underlying principle in the diplo-matic world.
Diplomacy is a complex activity with a vast array of actors.
The authors draw our attention to the fact that the celebrities bring an added value to the repertoire of diplomacy and global affairs as they operate beyond intergovernmental processes. Celebrities provide a convenient surrogate for, and a conduit in response to, the traditional bonds that hold society together, performing mobilizing, interpreting, and, most importantly, mediating functions that have been eroded within traditional institutions."When a celebrity talks, people listen; there is no better messenger."3 It is thus, important to accept that importance and role of celebrity diplomats, as keeping them away from scrutiny will propel them to become 'loose canons' who are not accountable to anyone.
Thus, we need to accept that the sheer scale, intensity, and resilience of celebrities have been successful in imparting both a buzz and a bite. Celebrities are better placed than politicians to convey important messages. We need to bifurcate the celebrities who use diplomacy as career enhancement from the sincerely working ones, and for that, we need to understand that celebrity diplomacy is not a mere fad. They can focus the entire world's attention on a problem, and they can help build a groundswell of public support for the work that the professionals are doing. Celebrities not only blur but effectively break down the barriers between domestic and international politics. their presence as participants who look, behave, and speak very differently than those actors who traditionally occupy the elevated space on global affairs says much about how these orthodox assumptions are no longer valid.
The only problem with this book is its limitation and biases towards the Global North which the author has accepted himself. Otherwise, it is an interesting read for someone who wants to read about soft power exerted by celebrities in today's globalized world and its effects on the national and global levels.