Commission reviews relations with China, proposes 10 actions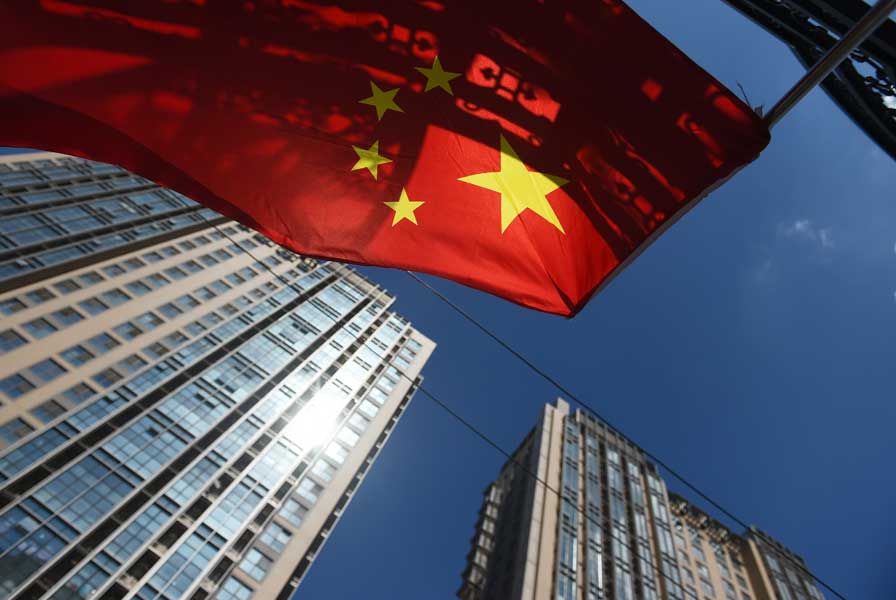 Against the backdrop of China's growing economic power and political influence, the European Commission and the High Representative review European Union-China relations and the related opportunities and challenges.
Today, they are setting out 10 concrete actions for EU Heads of State or Government to discuss and endorse at the European Council of 21 March.
The European Union and China have committed to a comprehensive strategic partnership. Yet, there is a growing appreciation in Europe that the balance of challenges and opportunities China presents has shifted. With today's Joint Communication, the European Commission and the High Representative aim to start a discussion to refine Europe's approach to be more realistic, assertive and multi-faceted.
China is simultaneously a cooperation partner with whom the EU has closely aligned objectives, a negotiating partner, with whom the EU needs to find a balance of interests, an economic competitor in pursuit of technological leadership, and a systemic rival promoting alternative models of governance. The EU will use links across different policy areas and sectors to exert more leverage for its objectives. Both, the EU and its Member States can achieve their aims concerning China only in full unity.
Vice-President, High Representative for Foreign Affairs and Security Policy Federica Mogherini, said: "China is a Strategic Partner of the European Union. We pursue strong bilateral and multilateral cooperation on files where we share interests, from trade to connectivity, from the JCPOA to climate change. And we are willing to keep engaging robustly where our policies differ or compete. This is the aim of the 10 actions that we are proposing to strengthen our relations with China, in a spirit of mutual respect."
Vice-President Jyrki Katainen, responsible for jobs, growth, investment and competitiveness, said: "EU and China are strategic economic partners as well as competitors. Our economic relationship can be hugely mutually beneficial if competition is fair and trade and investment relations are reciprocal. With this Communication we make concrete proposals on how the EU can act to strengthen its competitiveness, ensure more reciprocity and level playing field, and protect its market economy from possible distortions."
Today's Joint Communication proposes 10 action points for the debate: these actions are formulated in the context of relations with China, but some of them relate to the EU's global competitiveness and security. In general, the EU's response will pursue three objectives:
Based on clearly defined interests and principles, the EU should deepen its engagement with Chinato promote common interests at global level.
The EU should robustly seek more balanced and reciprocal conditions governing the economic relationship.
Finally, in order to maintain its prosperity, values and social model over the long term, there are areas where the EU itself needs to adapt to changing economic realities and strengthen itsown domestic policies and industrial base.
Specifically, the Commission and the High Representative invite the European Council to endorse the following actions:
Action 1: The EU will strengthen the EU's cooperation with China to meet common responsibilities across all three pillars of the United Nations, Human Rights, Peace and Security, and Development.
Action 2: In order to fight climate change more effectively, the EU calls on China to peak its emissions before 2030, in line with the goals of the Paris Agreement.
Action 3: The EU will deepen engagement on peace and security, building on the positive cooperation on the Joint Comprehensive Plan of Action for Iran.
Action 4: To preserve its interest in stability, sustainable economic development and good governance in partner countries, the EU will apply more robustly the existing bilateral agreements and financial instruments, and work with China to follow the same principles through the implementation of the EU Strategy on Connecting Europe and Asia.
Action 5: In order to achieve a more balanced and reciprocal economic relationship, the EU calls on China to deliver on existing joint EU-China commitments. This includes reforming the World Trade Organisation, in particular on subsidies and forced technology transfers, and concluding bilateral agreements on investment by 2020, on geographical indications swiftly, and on aviation safety in the coming weeks.
Action 6: To promote reciprocity and open up procurement opportunities in China, the European Parliament and the Council should adopt the International Procurement Instrument before the end of 2019.
Action 7: To ensure that not only price but also high levels of labour and environmental standards are taken into account, the Commission will publish guidance by mid-2019 on the participation of foreign bidders and goods in the EU procurement market. The Commission, together with Member States, will conduct an overview of the implementation of the current framework to identify gaps before the end of 2019.
Action 8: To fully address the distortive effects of foreign state ownership and state financing in the internal market, the Commission will identify before the end of 2019 how to fill existing gaps in EU law.
Action 9: To safeguard against potential serious security implications for critical digital infrastructure, a common EU approach to the security of 5G networks is needed. To kickstart this, the European Commission will issue a Recommendation following the European Council.
Action 10: To detect and raise awareness of security risks posed by foreign investment in critical assets, technologies and infrastructure, Member States should ensure the swift, full and effective implementation of the Regulation on screening of foreign direct investment.
What next?
The Joint Communication will be presented to the European Council on 21-22 March, with the Member States having the first opportunity to exchange views at the Foreign Affairs Council on 18 March. The next EU-China Summit is scheduled for early April.
Background
The existing policy framework for EU engagement with China is the Council Conclusions on the EU's Strategy on China adopted in July 2016 and the Joint Communication of the Commission and of the High Representative of the Union for Foreign Affairs and Security Policy 'Elements for a New Strategy on China' of June 2016. This remains the cornerstone of the EU's policy towards China.
Brexit: Plans in place to mitigate impact of no deal
If the UK leaves the EU without a deal, the effects will be felt by people and companies across Europe. The EU has adopted measures to mitigate the impact of a disorderly withdrawal.
The EU has repeatedly stressed that it favours an orderly withdrawal of the UK from the Union. It concluded a withdrawal agreement with the UK to ensure the two parties can continue to collaborate on various issues to their mutual benefit, nevertheless the EU has adopted measures to reduce the impact of a possible no-deal Brexit.
These measures cannot replicate the advantages of being part of the EU. They are temporary, unilateral measures. Some will require UK's reciprocity in order for them to come in force.
Long-term solutions depend on future discussions between the EU and the UK.
See below for the measures preparing the EU for a no-deal Brexit:
Aviation
UK airlines would be able to provide services to EU countries provided EU companies are also able to do so to the UK.
Rail services
The validity of rail safety authorisations would be extended to ensure the continuity of rail services between the UK and the EU, provided the UK does the same.
Road transport
Freight transport and bus and coach operators from the UK would be able to provide services between Britain and the EU, provided the UK provides equivalent access to EU companies.
Social security
EU citizens in the UK and UK citizens in the EU would keep social security benefits acquired before the withdrawal.
Erasmus+
Students and teachers in or from the UK would be able to complete their ongoing learning abroad as part of the Erasmus+ programme.
Peace process in Northern Ireland
Funding for bilateral peace programmes in Northern Ireland would continue until at least 2020 to help support the peace and reconciliation process started by the Good Friday agreement.
Fishing
If the UK agrees to full reciprocity of access to fishing waters, an easy procedure is in place for companies to obtain authorisation to fish. Quota swapping would still be allowed until these measures end on 31 December.
If the UK does not agree, EU firms banned from UK waters could be eligible for compensation from the European Maritime and Fisheries Fund.
Defence
EU firms will still be able to export certain items used for civilian and military purposes to the UK.
In some areas: no special measures in place
In many areas, no special measures are in place to replace existing relation with the UK in case of a no-deal. This could lead to additional costs and extra paperwork and it would be a good idea to check with relevant authorities of your country or region.
Driving licences
Driving licences issued by one EU country are automatically recognised by other member states. When the UK leaves, this will no longer apply to British licences. EU nationals wishing to drive in the UK will need to check with UK authorities if their licence is valid, while Brits will need to check with the national authorities of each EU country in which they wish to drive. International driving licences are valid across the UK and EU.
Pets
The EU pet passport, which allows your pet to travel with you to another EU country, will no longer be valid in the UK. It is likely more paperwork will be needed when taking your pet to or from the UK.
Medical treatment
Under EU rules people benefit from access to healthcare during a temporary stay in another member states using the European Health Insurance Card (EHIC). These rules will no longer apply to the UK. Both EU nationals travelling to the UK and Brits visiting EU countries should check whether their insurance covers the costs of medical treatment abroad. If not, they should consider taking out private travel insurance.
For additional information about travelling to and from the UK, check out this website from the European Commission.
Parliament's role
All of these measures can only come into effect with European Parliament's approval.
Any agreement reached by the EU and UK – including the withdrawal agreement and any agreement on future relations – must be agreed by the Parliament before it can enter into force.
Next steps
None of these temporary measures can replace actual agreements. Only once the UK has left the EU, the EU and the UK, as a third country, can look at the future relations and might wish to conclude deals to ensure they can continue to work together on issues ranging from trade to security, migration and defence. The political declaration attached to the withdrawal agreement, if ratified by the UK, gives the general framework on how these relations could look like.
EU Commission fines Google €1.49 billion for abusive practices in online advertising
The European Commission has fined Google €1.49 billion for breaching EU antitrust rules. Google has abused its market dominance by imposing a number of restrictive clauses in contracts with third-party websites which prevented Google's rivals from placing their search adverts on these websites.
Commissioner Margrethe Vestager, in charge of competition policy, said: "Today the Commission has fined Google €1.49 billion for illegal misuse of its dominant position in the market for the brokering of online search adverts. Google has cemented its dominance in online search adverts and shielded itself from competitive pressure by imposing anti-competitive contractual restrictions on third-party websites. This is illegal under EU antitrust rules. The misconduct lasted over 10 years and denied other companies the possibility to compete on the merits and to innovate – and consumers the benefits of competition."
Google's strategy for online search advertising intermediation
Websites such as newspaper websites, blogs or travel sites aggregators often have a search function embedded. When a user searches using this search function, the website delivers both search results and search adverts, which appear alongside the search result.
Through AdSense for Search, Google provides these search adverts to owners of "publisher" websites. Google is an intermediary, like an advertising broker, between advertisers and website owners that want to profit from the space around their search results pages. Therefore, AdSense for Search works as an online search advertising intermediation platform.
Google was by far the strongest player in online search advertising intermediation in the European Economic Area (EEA), with a market share above 70% from 2006 to 2016. In 2016 Google also held market shares generally above 90% in the national markets for general search and above 75% in most of the national markets for online search advertising, where it is present with its flagship product, the Google search engine, which provides search results to consumers.
It is not possible for competitors in online search advertising such as Microsoft and Yahoo to sell advertising space in Google's own search engine results pages. Therefore, third-party websites represent an important entry point for these other suppliers of online search advertising intermediation services to grow their business and try to compete with Google.
Google's provision of online search advertising intermediation services to the most commercially important publishers took place via agreements that were individually negotiated. The Commission has reviewed hundreds of such agreements in the course of its investigation and found that:
Starting in 2006, Google included exclusivity clauses in its contracts. This meant that publishers were prohibited from placing any search adverts from competitors on their search results pages. The decision concerns publishers whose agreements with Google required such exclusivity for all their websites.
As of March 2009, Google gradually began replacing the exclusivity clauses with so-called "Premium Placement" clauses. These required publishers to reserve the most profitable space on their search results pages for Google's adverts and request a minimum number of Google adverts. As a result, Google's competitorswere prevented from placing their search adverts in the most visible and clicked on parts of the websites' search results pages.
As of March 2009, Google also included clauses requiring publishers to seek written approval from Google before making changes to the way in which any rival adverts were displayed. This meant that Google could control how attractive, and therefore clicked on, competing search adverts could be.
Therefore, Google first imposed an exclusive supply obligation, which prevented competitors from placing any search adverts on the commercially most significant websites. Then, Google introduced what it called its "relaxed exclusivity" strategy aimed at reserving for its own search adverts the most valuable positions and at controlling competing adverts' performance.
Google's practices covered over half the market by turnover throughout most of the period. Google's rivals were not able to compete on the merits, either because there was an outright prohibition for them to appear on publisher websites or because Google reserved for itself by far the most valuable commercial space on those websites, while at the same time controlling how rival search adverts could appear.
Breach of EU antitrust rules
Google's practices amount to an abuse of Google's dominant position in the online search advertising intermediation market by preventing competition on the merits.
Market dominance is, as such, not illegal under EU antitrust rules. However, dominant companies have a special responsibility not to abuse their powerful market position by restricting competition, either in the market where they are dominant or in separate markets.
Today's decision concludes that Google is dominant in the market for online search advertising intermediation in the EEA since at least 2006. This is based in particular on Google's very high market shares, exceeding 85% for most of the period. The market is also characterised by high barriers to entry. These include very significant initial and ongoing investments required to develop and maintain general search technology, a search advertising platform, and a sufficiently large portfolio of both publishers and advertisers.
Google has abused this market dominance by preventing rivals from competing in the online search advertising intermediation market.
Based on a broad range of evidence, the Commission found that Google's conduct harmed competition and consumers, and stifled innovation. Google's rivals were unable to grow and offer alternative online search advertising intermediation services to those of Google. As a result, owners of websites had limited options for monetizing space on these websites and were forced to rely almost solely on Google.
Google did not demonstrate that the clauses created any efficiencies capable of justifying its practices.
Consequences of the Decision
The Commission's fine of €1 494 459 000 (1.29% of Google's turnover in 2018) takes account of the duration and gravity of the infringement. In accordance with the Commission's 2006 Guidelines on fines (see press release and MEMO), the fine has been calculated on the basis of the value of Google's revenue from online search advertising intermediation in the EEA.
Google ceased the illegal practices a few months after the Commission issued in July 2016a Statement of Objections concerning this case. The decision requires Google to, at a minimum, stop its illegal conduct, to the extent it has not already done so, and to refrain from any measure that has the same or equivalent object or effect.
Finally, Google is also liable to face civil actions for damages that can be brought before the courts of the Member States by any person or business affected by its anti-competitive behaviour. The new EU Antitrust Damages Directive makes it easier for victims of anti-competitive practices to obtain damages.
Other Google cases
In June 2017, the Commission fined Google €2.42 billion for abusing its dominance as a search engine by giving an illegal advantage to Google's own comparison shopping service.
In July 2018, the Commission fined Google €4.34 billion for illegal practices regarding Android mobile devices to strengthen the dominance of Google's search engine.
Background
Today's decision is addressed to Google LLC (previously Google Inc.) and Alphabet Inc., Google's parent company.
The Commission's investigation into the conduct covered by the present decision began as part of the broader Google Search investigation (case 39740).
On 14 July 2016, the Commission sent a Statement of Objections to Google setting out its preliminary views that the company had abused its dominant position by artificially restricting the possibility of third party websites to display search advertisements from Google's competitors.
Article 102 of the Treaty on the Functioning of the European Union (TFEU) and Article 54 of the EEA Agreement prohibit the abuse of a dominant position.
Fines imposed on companies found in breach of EU antitrust rules are paid into the general EU budget. This money is not earmarked for particular expenses, but Member States' contributions to the EU budget for the following year are reduced accordingly. The fines therefore help to finance the EU and reduce the burden for taxpayers.
More information on today's decision is available on the Commission's competition website in the public case register under the case number 40411.
€2 billion to fast forward the creation of the European Innovation Council
Ahead of the 21-22 March European Council discussion on innovation, industry and competitiveness, the Commission takes decisive steps to set up a European Innovation Council.
Global competition is intensifying and Europe needs to deepen its innovation and risk-taking capability to compete on a market increasingly defined by new technologies. That is why the Juncker Commission is introducing a European Innovation Council (EIC) to turn Europe's scientific discoveries into businesses that can scale up faster. Currently in its pilot phase, the European Innovation Council will become a full-fledged reality from 2021 under the next EU research and innovation programme Horizon Europe.
Carlos Moedas, Commissioner for Research, Science and Innovation said: "With the European Innovation Council, we don't simply put money on the table. We create a whole innovation system to place Europe at the forefront in strategic technologies and innovation that will shape our futures such as artificial intelligence, biotechnology and zero-emission energy. We must focus on the needs of the innovators, who are the ones who will generate jobs, strengthen our global competitiveness and improve our daily lives."
The Commission launched in 2017 the pilot phase of the European Innovation Council, introducing open competitions and face-to-face interviews to identify and fund Europe's most innovative start-ups and SMEs.Since then, 1276 highly innovative projects have already benefitted from an overall funding of over €730 million.
Today the Commission announces important steps that will ramp up the remaining two years of the pilot phase of the EIC:
Over €2 billion of funding in 2019-2020: covering the innovation chain: "pathfinder" projects to support advanced technologies from the research base (opens tomorrow); and "accelerator" funding to support startups and SMEs develop and scale up innovations to the stage where they can attract private investment (open in June). Under the "accelerator" funding companies will be able to access blended financing (grants and equity) of up to €15 million.
The Commission will appoint 15 to 20 innovation leaders to an EIC Advisory Board to oversee the EIC pilot, prepare the future EIC, and champion the EIC globally. Innovators from across the ecosystem are invited to come forward by 10 May.
The Commission will recruit a first set of "programme managers" with leading expertise in new technologies to provide full-time, hands-on support for projects. The call for recruitment will be published shortly.
Also today, the Commission announces 68 additional startups and SMEs selected for an overall funding of €120 million under the existing EIC pilot. The companies are for instance developing a blockchain-based online payment technology, new energy efficient screens and a solution to fight traffic noise (breakdown of beneficiaries per country and sector).
Given the growing economic importance of breakthrough and disruptive innovation, and based on the early success of the EIC pilot, the Commission has proposed to dedicate €10 billion to the EIC under Horizon Europe, the EU research and innovation funding programme for 2021-2027.
Background
With only 7% of the world's population, Europe accounts for 20% of global R&D investment, produces one third of all high-quality scientific publications, and holds a world leading position in industrial sectors such as pharmaceuticals, chemicals, mechanical engineering and fashion. But Europe needs to do better at turning that excellence into success, and generating global champions in new markets based on innovation. This is particularly the case for innovations based on radically new technologies (breakthrough) or markets (disruptive).
In June 2018, the Commission proposed the most ambitious Research and Innovation programme yet, Horizon Europe, with a proposed budget of €100 billion for 2021-2027. The proposal builds on the Commission's contribution to the EU Leaders' meeting on 16 May in Sofia "A renewed European Agenda for Research and Innovation – Europe's chance to shape its future", which highlighted the need to create a European Innovation Council and other steps to ensure Europe's global competitiveness.
The conclusions of the European Council of 28 June 2018 endorsed the setting up of the EIC under the next long-term budget (2021-2027). EU leaders invited the Commission to launch a new pilot initiative on breakthrough innovation within the remaining period of Horizon 2020, in order to pave the way for a fully-fledged EIC in Horizon Europe.
The European Innovation Council is part of a wider ecosystem that the EU is putting in place to give Europe's many entrepreneurs every opportunity to become world leading companies. Other initiatives include a Pan-European Venture Capital Funds-of-Funds programme (VentureEU), the Investment Plan for Europe (EFSI), the work of the European Institute for Innovation and Technology, the Capital Markets Union Action Plan to improve access to finance or the proposal for a Directive on business insolvency.