Chinese pressure tactics put countries between a rock and a hard place
Recent Chinese pressure on Myanmar to approve a controversial dam project and the arrest in recent days in Kazakhstan of a human rights activist suggest that China in a seemingly tone-deaf pursuit of its interests is forcing governments to choose between heeding increasingly anti-Chinese public sentiment and pleasing Beijing to ensure continued political and economic support.
Apparent Chinese disregard of public opinion, whether as a matter of policy or because of haphazard insensitivity, is compounded by the powering of anti-Chinese sentiment in several countries as a result of commercial terms of China-funded Belt and Road projects that favour the use of Chinese rather than local labour and materials.
The Chinese approach risks anti-Chinese sentiment meshed with social and economic discontent exploding into popular protests that could prove destabilizing. It potentially could complicate Chinese efforts to ensure that the Muslim world continues to refrain from criticizing China's crackdown on Turkic Muslims in the strategic but troubled north-western province of Xinjiang.
Chinese pressure on various countries aimed at imposing its will strokes with China's adoption of a more aggressive diplomatic posture that has seen its diplomats employ blunt, undiplomatic language and repeatedly break with diplomatic protocol.
As a result, increasing Chinese pressure on Myanmar to revive the suspended Myitsone dam project in ethnic Kachin state is putting the government between a rock and a hard place.
The government is being forced to choose between ignoring popular concerns that the dam would disrupt the traditional economy of the Kachin in a region wracked by ethnic insurgency and cost Myanmar control of the Irrawaddy River, its most important waterway, or risk the ire of China on which it depends politically and economically.
China has reportedly offered in return for the dam to support Myanmar that has been condemned by the United Nations, Western countries and some Muslim nations for its repressive campaign against the Rohingya, some 700,000 of which fled to Bangladesh in 2017.
China has invested some US$15 billion in scores of projects in Myanmar
China's state-controlled Global Times newspaper recently quoted Xiamen University Myanmar expert Fan Hongwei as saying that "the abrupt suspension of such a significant project has blurred political trust between China and Myanmar."
Former Myanmar President Thein Sein in 2011 suspended the US$3.6 billion dam project in response to a campaign that brought together conservationists, scholars, and political activists including Nobel Prize laureate Aung San Suu Kyi.
Activists assert the dam, if built as previously designed, would flood 600 square kilometres of forestland in northern Kachin state and export 90 % of the power produced to China.
Myanmar is not the only country that has recently experienced Chinese attempts to force it to act in ways that could have unintended consequences.
Kazakh police, despite widespread public criticism of the crackdown in Xinjiang, last weekend raided the office of Atajurt Eriktileri, a group that has reportedly documented more than 10,000 cases of ethnic Kazakhs interned in China and arrested activist Serikzhan Bilash.
Activists suspect that the raid was the result of Chinese pressure aimed at squashing criticism of the crackdown in Xinjiang.
Similarly, Russian leaders are facing mounting public anger in the Lake Baikal region and the country's Far East at their alleged connivance in perceived Chinese encroachment on the region's natural resources including water.
A petition by prominent Russian show business personalities opposing Chinese plans to build a water bottling plant on the shores of Lake Baikal attracted more than 800,000 signatures, signalling the depth of popular resentment and pitfalls of the Russian alliance with China.
Pakistani Foreign Minister Shah Mehmood Qureshi sought to put a good face on differences with China over his country's demand that the focus of the China Pakistan Economic Project (CPEC), a US$45 billion plus crown jewel of the Belt and Road, be shifted from infrastructure and energy, to poverty alleviation, job creation and agriculture.
China has acknowledged Pakistan's demand but suggested that the refocussing would happen in good time.
Mr. Qureishi asserted this week had CPEC had entered its second phase but provided few details. The minister said agreements on the second phase that would involve the creation of four economic zones would be concluded at some unspecified date in the future.
China notably refrained in recent months from contributing to a financial bailout of Pakistan that was achieved instead with the help of Saudi Arabia and the United Arab Emirates who have committed some US$30 billion in funding and investments.
Pakistani and Chinese officials have gone out of their way in recent months to deny any dent in what they have described as an all-weather friendship.
"There is no threat to CPEC. Our government considers it a game changer," M. Qureishi insisted this week.
China's deputy chief of mission in Islamabad, Lijian Zhao, insisted in an interview last year and in a series of tweets that China "always supported & stood behind @Pakistan, helping #develop it's #infrastructure & raise #living standards while creating #job."
Ultimately, the proof will be in the pudding. Indications so far are that China is digging in its heels on the assumption that its political and economic clout will allow it to get its way. Its an approach that ignores potential black swans and does little to garner soft power.
Looking back on India-China ties, one year past the Galwan incident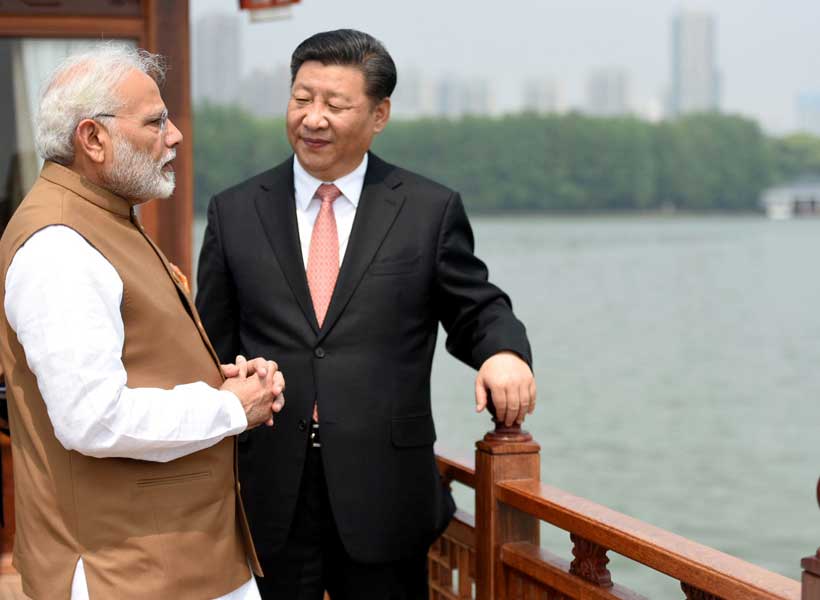 Two nuclear-armed neighbouring countries with a billion-plus people each, geographically positioned alongside a 3,488-km undemarcated border in the high Himalayas. This is the Line of Actual Control (LAC) between India and China's Tibet Autonomous Region. Differences in perception of alignment of this border for both sides have contributed to a seemingly unending dispute.
Chinese unilateral attempt to change status quo in 2020
One year back, on 15 June 2020, a clash between Indian and Chinese troops in the Galwan Valley of eastern Ladakh turned bloody, resulting in the death of 20 soldiers in the former side and four in the latter side. It was an unfortunate culmination of a stand-off going on since early May that year, triggered by the Chinese People's Liberation Army (PLA) troops encountering Indian troops who were patrolling on their traditional limits.
It was followed by amassing of troops in large number by China on its side and some of them crossed the line over without any provocation, thereby blocking and threatening India's routine military activities on its side of the traditionally accepted border. It was a unilateral attempt by the Chinese Communist Party-run government in Beijing to forcefully alter the status quo on the ground.
The LAC as an idea
Over the years, the LAC has witnessed one major war resulting from a Chinese surprise attack on India in 1962 and periodic skirmishes along the various friction points of the border, as seen in the years 1967, 1975, 1986-87, 2013, 2017, and the most recent 2020 Galwan Valley incident, the last being the worst in five decades. Post-Galwan, the optics appeared too high on both sides.
The LAC as an idea emerged with the annexation of Buddhist Tibet by Chinese communist forces in the early 1950s, bringing China to India's border for the first time in history. This idea just emerged and was taking shape through the Jawaharlal Nehru-Zhou Enlai letters of correspondence that followed.
In 1962, while the world was engrossed upon the Cuban Missile Crisis, the Chinese inflicted a huge military and psychological debacle on unprepared and outnumbered Indian soldiers in a month-long war along this border.
Even to this date, there is still no mutually agreeable cartographic depiction of the LAC. It varies on perceptions.
What could've led to 2020 stand-off?
One of the reasons that led to the current new low in India-China ties, other than differing perceptions, is the improvement in Indian infrastructure capabilities along the rough mountainous terrains of the Himalayan borders and its resolve to be on par with China in this front. This has been a cause of concern in Chinese strategic calculations for its Tibetan border.
The carving up of the Indian union territory of Ladakh with majority Buddhists from the erstwhile Muslim-majority state of Jammu and Kashmir in 2019 has indeed added to Beijing's concerns over the area.
For the past few years, India has been upfront in scaling up its border infrastructure throughout the vast stretch of LAC, including in eastern Ladakh, where the 2020 stand-off took place. There is a serious trust deficit between India and China today, if not an evolving security dilemma.
Post-Galwan engagement
Several rounds of talks were held at the military and the diplomatic levels after the Galwan incident, the working-level mechanisms got renewed and new action plans were being formed before the process of disengagement finally began.
The foreign ministers of both countries even met in Moscow on the side-lines of the Shanghai Cooperation Organisation meet in September, which was followed by a BRICS summit where Narendra Modi and Xi Jinping came face-to-face in November, although virtually.
By February 2021, the process of disengagement of troops gained momentum on the ground around the Pangong lake area. So far, eleven rounds of talks were held at the military level on the ground at the border. But, the disengagement is yet to be fully completed in the friction points of Hot Springs and the Depsang Plains.
Diplomacy is gone with the wind
All the bilateral border agreements and protocols for confidence-building that were signed between the both countries in the years 1993, 1996, 2005, 2012 and 2013 were rendered futile by the Chinese PLA's act of belligerence in Galwan.
The spirit of two informal Narendra Modi-Xi Jinping summits to build trust after the 2017 Doklam standoff, one in Wuhan, China (2018) and the other in Mamallapuram, India (2019) was completely gone with the wind. This is further exacerbated by the Chinese practice of 'wolf-warrior diplomacy', which is clearly undiplomatic in nature.
India's diversification of fronts
Coming to the maritime domain, India has upped the ante by the joint naval exercises (Exercise Malabar 2020) with all the Quad partners in November, last year. Thereby, New Delhi has opened a new front away from the Himalayan frontiers into the broader picture of India-China strategic rivalry. Australia joined the exercise, after 13 years, with India, Japan, and the United States, a move indicative of militarisation or securitisation of the Quad partnership.
Recently, India has been consolidating its position over the union territory of Andaman and Nicobar Islands, lying southeast to the mainland, and close to the strategic Strait of Malacca, through which a major proportion of China's crude oil imports pass through before venturing out to the ports of South China Sea.
Economic ties, yearning to decouple
Last year, India's external affairs minister S. Jaishankar remarked that border tensions cannot continue along with co-operation with China in other areas. In this regard, the Narendra Modi government has been taking moves to counter China in the economic front by banning a large number of Chinese apps, citing security reasons, thereby costing the Chinese companies a billion-size profitable market. The Indian government has also refused to allow Chinese tech companies Huawei and ZTE to participate in India's rollout of the 5G technology.
Moreover, India, Australia and Japan have collectively launched a Supply Chain Resilience Initiative (SCRI) in 2020 aimed at diversifying supply chain risks away from one or a few countries, apparently aimed at reducing their dependence on China. In terms of trade, India is still struggling to decouple with China, a key source of relatively cheap products for Indian exporters, particularly the pandemic-related pharmaceutical and related supplies in the current times.
But, the Indian government's recent domestic policies such as "Self-Reliant India" (Atmanirbhar Bharat) have contributed to a decline in India's trade deficit vis-à-vis China to a five-year low in 2020, falling to around $46 billion from around $57 billion in 2019.
The broader picture
The border dispute remains at the core of a range of issues that define the overall India-China bilateral relations. Other issues include trade and economics, Beijing's close ties with Islamabad, the succession of Dalai Lama who has taken asylum in India since 1959 and the issue of Tibetan refugees living in India, educational ties, and the strategic rivalry in India's neighbourhood, i.e., South Asia and the Indian Ocean Region, among others.
Chinese belligerence has led India to find its place easily in the evolving 'new Cold War'
The more China turns aggressive at its border with India, the more it will bring India close to the United States and the West. Despite India's traditional posture of indifference to allying itself exclusively with a power bloc, in the recently concluded G7 summit, India referred to the grouping of liberal democracies as a 'natural ally'.
India has been raising the need for a free, open and rules-based Indo-Pacific in as many multilateral forums as possible, a concept which China considers as a containment strategy of the United States. Possibly, India might also join the G7's newly announced infrastructure project for developing countries in an appropriate time, as it is initiated as a counterweight to China's multi trillion-dollar Belt and Road Initiative.
There was a time in the past when the former Indian Prime Minister Jawaharlal Nehru sought to lead Asia by cooperating with China. Considering today's changed geopolitical realities and power dynamics, nowhere in anyone's wildest dreams such an idea would work out. Prime Minister Modi's muscular foreign policy imperatives are aligning well with the Joe Biden-led Western response to the looming common threat arising from Beijing.
Today, encountering Xi Jinping's grand strategy of Chinese domination of the world (by abandoning its yesteryear policy of 'peaceful rise') is a collective endeavour of peace-loving democracies around the world, to which Asia is particularly looking forward. Most notably, it comes amid an inescapable web of global economic inter-connectedness, even among rival powers.
Taiwan: The First and Oldest 'Thorn' between China and the West (part 2)
In the first part of the article, we noted Taiwan has returned as one of the thorniest issues in the US policy toward China under the Biden administration. Almost five months have passed but the new White House is yet to completely formulate its China policy framework. But as they say, the proof the pudding is in the eating. In April third week, the US Senate Foreign Relations Committee sent to the Congress the US Strategic Relations Act of 2021 passed by 22-1 vote. The Act is filled with references to "closer US ties with Taiwan." The Act, as expected, angered Beijing which accused Biden administration of hyping up the China threat theory.
***
Fearful of China attacking Taiwan anytime now, a leading US political news magazine recently pitied President Biden for he might become the first president to be thrust upon with the decision to go to war to defend Taiwan. "If a war breaks out over Taiwan, Biden may be forced into a decision no American president since 1979 has wanted to make," the magazine observed. A similar concern was the focus of a Washington Post report within the first week of Biden coming to office, i.e., "the dragon has woken up and Washington should engage with it." The newspapers' national political correspondent Olivier Knox wrote: "President Biden hasn't been in office for a full week, but already faces questions about one of his most solemn duties: when, why and under what circumstances he might send Americans into combat."
In fact, from the Trump era onwards the US mainstream media (MSM), the State Department and the Pentagon – all have been consistently building up pressure on the White House to provoke China and take action against "the dragon." On its part, the White House has increasingly sent out signals "it is prepared to send military into situations where there is high probability of combat." Dangerous yet true is overall consensus in the US for quite some time demanding "aggressive toughness" as against the so-called "cringing appeasement," should China commit a "strategic miscalculation" in the SCS or in the Taiwan Strait. On the other hand, "wolf warrior" statements and periodic military-strike threat to Taiwan from Beijing have been only adding fuel to the fire.
Let's recall a short chronology of the US statements and actions over Taiwan in order to ratchet up pressure on Beijing. In part one of the article, we have noted two visits to Taiwan – both "first" since Sino-US normalization of ties in 1979 – by the Trump cabinets' highest-level officials in September last year; ahead of the two visits, the US ambassador to the UN, Kelly Craft, had lunch with Taiwan's top official in New York, James K. J. Lee. Craft-Lee meeting was described in a section of the US media as "historic" as it was the first time such a meeting took place since China seat at the UN was passed on from Taipei to Beijing in 1971.
Further, in last December, John Ratcliffe, the director of the US National Intelligence wrote in the WSJ: "As Director of National Intelligence, I am entrusted with access to more intelligence than any member of the U.S. government other than the president. If I could communicate one thing to the American people from this unique vantage point, it is that the People's Republic of China is poses the greatest threat to America today, and the greatest threat to democracy and freedom world-wide since WWII." Ratcliffe's article was described by some as aimed at "setting the scene for a post-Trump administration."
For limitation of space, let me cut to the chase and fast forward to the latest of President Biden's actions which tantamount to undermining the "One China" policy without openly challenging Beijing but increasing the risk of conflict. Last week, a Democrat and a Republican member of the House of Representatives together moved a bill which would rename Taipei Economic and Cultural Representative Office (TECRO) as Taiwan Representative Office. According to the bill, it is time for the State Department, for the Congress to take action to elevate relations with Taiwan. Remember, three months ago in March, a similar provocative step was taken by the US ambassador to the archipelago nation of Palau, John Hennessey-Niland. During his visit to Taiwan, a first in 42 years by a sitting envoy, he by mistake referred to Taiwan as "country." Of course, no clarification or apology to China was offered.
Interestingly, ever since the Carter administration normalized the US-China relations in 1979, on the issue of "One China" policy successive US administrations have all pursued a policy of strategic ambiguity(emphasis added). It has been an open secret and Beijing is not oblivious to the fact that the US understanding on "One China" policy is as good as fiction. Feeling helpless, Beijing so far has been compromising as long as the US does not cross China's three Red Lines: Taiwan formally declaring independence; Taiwan acquiring nuclear weapon; an "outside power becoming too cozy" to Taiwan. John Culver, who served CIA for over three decades monitoring movements in the Taiwan Strait and retired last year, reckons "Beijing has made clear it has three 'red lines' that, if crossed, would see China go to war tomorrow."
President Biden and his "team China" have been relentlessly issuing statements in order to heighten tensions between the mainland and Taipei. As recently as in April, the Secretary of State Blinken dared Beijing by saying "it would be a serious mistake for anyone to try and change the existing status quo by force." Without specifying when exactly the Chinese government is going to push reunification by force, Joseph Hwang, a professor at Chung Yuan Christian University in Taiwan, said Beijing is waiting for an opportune time. The current lull is "is the quiet before the storm," Hwang mulled over looking lost.
Inviting Taiwanese envoy to Biden swearing-in should not be viewed as one-off diplomatic move aimed at provoking China. Instead, and in fact, uninterrupted continuity in escalating tensions between China and the US even as Trump exited and Biden entered the White House on one hand, and China relentlessly mounting political, economic and military pressure on Taiwan, on the other hand, have turned the Taiwan Strait into potentially one of the most vulnerable military conflict hotspot. As an article in The Diplomat observed hours after Biden delivered his 100-days to the joint session of the Congress: "The Biden administration entered office at a critical inflection point for the United States. President Biden inherited a world order and in particular an Indo-Pacific region that is undergoing profound change with China's rise and an ongoing geopolitical shift toward Asia. Within this broad expanse, the Taiwan Strait is increasingly a critical military flashpoint."
Finally, the purpose of a series of top government officials' visit to Taipei, top US diplomats referring to Taiwan as "country" by slip of tongue, for several months on continuing presence of the US naval aircraft carriers in SCS and in nearby waters closer to the Taiwan Strait, and the latest attempts to create vaccine "friction" across the Taiwan Strait – all these actions are gearing towards one common goal, i.e., to elevate US-Taiwan relations as Washington prepares for conflict with Beijing. As NIKKEI Asia reported it last month in its 'Politics' columns, headlined: "US vows to approach Taiwan with clarity and resolve." The influential Asian political newsmagazine from Tokyo further stated: "A comprehensive American strategy on China under President Joe Biden's administration is still in the works, but Washington has promised to approach Taiwan issue with 'steadiness and clarity and resolve'."
The US Senate Foreign Relations Committee sending a bipartisan bill to the Senate floor in April, sponsored by Senators Menendez (D-New Jersey) and Misch (R-Idaho) respectively, is being described by some critics in US as "the most important piece of legislation regarding US policy toward China in the Congress." Implying it to be one of the most belligerent bills, Beijing's China Global Television Network website condemned the bill as the US Congress "declaring Cold War on China." Referring to Taiwan-related content in the bill, the CGTN said: "The bill contains several misleading statements about the US policy on China's Taiwan region." China's official Xinhua news agency reported that the Act stipulates that the US government shall not place any restrictions on the ability of US officials to interact with Taiwan. The Xinhua cited Michael D Swaine, a scholar of China securities Studies, as saying: "the Act epitomizes the worst errors of the new Washington consensus on what a rising supposedly means for the United States and the world."
Taiwan: The First and Oldest 'Thorn' between China and the West
Over three hundred and fifty years ago, when the West lost its first war with China over Taiwan, the technological level between the two sides was fairly even. But the Dutch, then the most dynamic colonial power, paid a heavy price for misbelieving "China might have invented gunpowder but we possess superior guns." Today, the world is witnessing China's rapid rise and the US is in decline. The question is, will Taiwan once again bust the Western (aka US) superiority myth?
***
In 1662, the West fought its first war with China and lost. The Sino-Dutch War, as it is called now, was fought when a Chinese admiral dared the Dutch East India Company to give up its little under half century 'rule' over Taiwan. The defeat resulted in the island falling under Chinese rule for the first time in history. It is not so important to know it was China's first great victory over Europe's most dynamic colonial power. In the words of the Dutch historian, Tonio Andrade, what is more significant is the first Chinese victory over the West broke the myth of Western superiority as it had been achieved on the basis of "Chinese advantage in strategic and tactical culture." (Emphasis added) The Chinese victory also broke another myth which the Western historians held on to until as recently as in 1970s, i.e., the Chinese might have invented the gunpowder but didn't know how to use it as weapon, Andrade, the author went on to add.
Fast forward to the present-day tensions in the Taiwan Strait. As China embarked on the path of Reform and Opening-up, relations between Beijing and Taipei too started improving in the early 1980s. Seen as a remarkable political development on both sides of the Taiwan Strait in 45 years, the KMT government in Taipei declared in 1991 "an end to the war with the People's Republic of China on the mainland." However, since the election of Chen Shui-bian as president in 2000, political headwinds in Taiwan have been moving in the opposite direction to Beijing. Alarmed by Chen's backing of demands for Taiwan's independence, Beijing was quick to pass anti-secession law a year after Chen was reelected in 2004.
In 2016, following Donald Trump's victory in US and the victory of Ms. Tsai Ing-wen as Taiwan's president respectively, Beijing's fear of Taiwan declaring itself an independent country has reached unprecedented levels. In fact, Beijing is feeling seriously threatened by the US role in creating conditions for Taiwan to declare independence. Immediately upon assuming office, President Trump held telephone conversation with the Taiwan president – something which no other US had done in the preceding forty years. This was the beginning of a new trend in US-China relations and which grossly undermined the "One China" policy.
During the past decade (between 2007 and 2019), the US warships made over one hundred trips through the Taiwan Strait. No wonder Beijing has been describing Taiwan as "the most important sensitive issue in Sino-US relations." According to New Strait Times, in 2020, the year of Coronavirus pandemic, the cross-strait faced its worst crisis in the past two decades. Without denying that the PLA fighter planes crossed maritime border with Taiwan, China however dismissed Taipei's claims of "incursions" by the mainland. Beijing even maintained its warplanes, bombers and anti-submarine aircrafts "conducted normal exercises on September 18 and 19 respectively and that the median line never existed."
However, according to experts, the median line is the unofficial airspace boundary between Taiwan and China, and was demarcated by US Air Force General Benjamin Davis Jr. in 1955, before the US pressured both sides to enter into a tacit agreement not to cross it. Media reports originating from Taipei, Hong Kong and Singapore claimed the forty or more PLA incursions last October, were prompted by two US top officials visiting Taipei during August-September period last year. "U.S. Under Secretary of State Keith Krach arrived in Taiwan on Thursday for the second visit by a high-level American official in two months. The first visit was by the US Health Secretary Alex Azar in August 2020." The visits by Krach and Azar respectively were first highest-level US Cabinet visits to Taiwan – in gross violation of the US commitments to China – since the US switched formal relations from Taiwan to Beijing in 1979.
This year, especially within hours following President entered the White House, the new US administration lost no time in announcing "our commitment to Taiwan is rock-solid." Two days earlier, the State Department invited and officially received Taiwan's unofficial ambassador in Washington to Biden's inauguration – the first envoy from the island present at a presidential swearing-in since 1979. Both the statement of commitment to Taiwan and the presence of Taiwanese envoy at the presidential inauguration respectively were interpreted by strategic affairs experts in Washington and Beijing as moves to provoke China towards making a strategic mistake leading to military conflict.
Further, Taiwan has returned as "thorniest" issue in US-China relations under President Biden – since perhaps it is easier to violate "One China" policy than to either rally European allies against China or to announce a decisive Washington position toward Beijing. As President Biden gears up to embark on his maiden in-person visit to shake hands or bump elbows with his European allies, the US administration has further escalated tensions over Taiwan. Last Sunday, a bipartisan contingent of three US Senators – Tammy Duckworth and Christopher Coons, both Democrats, and Dan Sullivan, a Republican – briefly visited Taiwan on a US military aircraft. According to media reports, the Chinese Defense Ministry described the visit as "extremely vile provocation." Reuters citing Chinese sources said China believes that "Biden administration is challenging one-China principle and trying to achieve the so-called goal of 'using Taiwan to control' China."
Experts in Beijing point out, Biden is accelerating the pitch of what started under Obama and was intensified by Trump, i.e., to use "the US economic and military might to pressure Beijing and force it to accept US hegemony in the region." Elsewhere, first the joint statement following Biden-Suga summit in April and then in late May the statement released after the summit meeting between European leaders and Japan's Prime Minister Suga, are being interpreted as "belligerent stances towards Beijing initiated and encouraged by President Biden." The EU-Japan post-summit statement called for "peace and stability across the Taiwan Strait." Similar to several moves initiated by Trump and Biden challenging one-China policy, the EU-Suga joint statement too is the first time that Taiwan has been included in such a statement.
A scholar in Tianjin, who writes a column for ftchinese.com, the daily online Mandarin version of the Financial Times, thinks Biden has intensified the so-called Thucydides trap. In a recent article, he has actually put forward a solution for Beijing to not only avoid falling into the trap, but also steer clear of having to choose between using force to reunify with Taiwan and being forced into military conflict with the US by striking first. To sum up Li Yongning's rather long thesis, he prescribes that China fight out Thucydides trap with economic growth and people's prosperity. To prove his point, Li flashes the example of de-escalation of hostility between China and Japan. Remember until a few years ago, heightened tensions between the two over Diaoyu or Senkaku Islands. Of late, especially since the middle of Xi Jinping's first five year tenure, belligerent provocations between Beijing and Tokyo have almost ceased.
How did China under Xi achieve this? According to Li, Xi's strategy to strike peace and tranquility with Japan was simple and practical. "China's GDP exceeded Japan's in 2010 and by 2019 it became 2.8 times more than Japan's, which put an end to Sino-Japan competitiveness. Likewise, once China achieves one and a half times or twice bigger GDP of the USA, the China-US competitiveness will be rendered as joke," Li contended. In 2017, in PPP terms China had already exceeded the US economy. Li cited a Brookings Institution report which predicted China's GDP will cross America's in 2028. "Once China reaches there, higher GDP will act as shock absorber for all Sino-US conflicts," Li wrote.