Scholars Discussed Iran's Role in the Changing World Order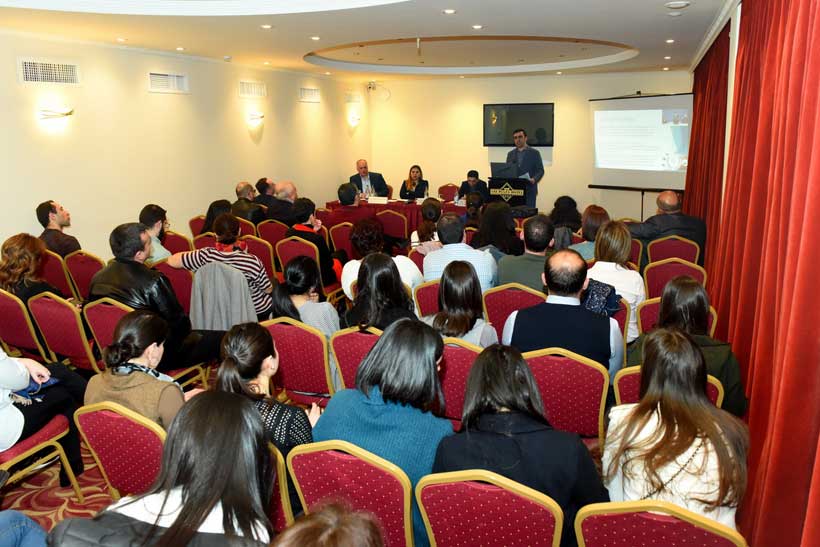 March 12, 2019, Yerevan, Armenia- leading scholars from Armenia, Austria, Iran, Russia and Sweden were invited by the "China-Eurasia" Council for Political and Strategic Research, foundation to introduce their research on Iran's role in the changing world order and Iran-Armenia relations. The key note speaker of this academic seminar was Univ.- Prof. Dr. Heinz Gärtner (International Institute for Peace and University of Vienna, Chair of the Advisory Committee for Strategy and Security Policy of the Scientific Commission at the Austrian Armed Forces). Among speakers were Dr. Mher Sahakyan (China-Eurasia Council for Political and Strategic Research, Armenia), Asst. Prof.-Dr. Hamidreza Azizi, (Shahid Beheshti University, Iran, Research Fellow, Institute for Iran-Eurasia Studies), Assoc. Prof.-Dr. Gohar Iskandaryan (Leading Specialist, Institute of Oriental Studies National Academy of Sciences, Armenia), Adlan Margoev,("Russia and Nuclear Nonproliferation" Program Director at PIR Center, PhD Candidate at MGIMO University), Vazgen Petrosyan (Advisory Board Member, "China-Eurasia" Council for Political and Strategic Research), Nairi Hokhikyan (Director, Diplomatic Foundation of Armenia) and Arvin Khoshnood (Lund University, Sweden). Scholars and researchers discussed the future of the JCPOA, Russia's input in the JCPOA negotiations and concerns over the future of the agreement, China's policy on Iranian nuclear issue in the UNSC, Iran-Armenia Relations after the "Velvet" revolution, Iran-US relations, prospects of Iran-Armenia railway project, the influence of the internal situation of Iran on foreign trade, the prospects for Iran's membership in EAEU and Its Implications for Tehran-Yerevan Relations. and other questions.
Women in Half the World Still Denied Land, Property Rights Despite Laws
Women in half of the countries in the world are unable to assert equal land and property rights despite legal protections, warned members of a new global campaign that formally launches today. The campaign, Stand For Her Land, aims to close this persistent gap between law and practice worldwide so that millions of women can realize these rights in their daily lives.
"For men and women alike, land is the foundation for security, shelter, and livelihood, supports women's dignity and creates pathways to empowerment and economic opportunity," said Karol Boudreaux, Chief Program Officer with the land rights group, Landesa, a founding partner of the Stand For Her Land campaign. "For women, land truly is a gateway right – without it, efforts to improve the basic rights and well-being of all women will continue to be hampered."
Stand For Her Land founding partners Habitat for Humanity, Huairou Commission, Landesa, Global Land Tool Network (GLTN) Partners, and the World Bank are hosting a public launch event, "Presenting Stand For Her Land," at 3 pm, March 25, ahead of the opening session of the World Bank Land and Poverty Conference 2019 at The World Bank, 1818 H Street NW, Washington, D.C.
"Secure land rights are essential for women's economic empowerment and creating incentives for investment, providing an asset that can be leveraged for agriculture or business development, and offering a solid foundation for financial stability," said Anna Wellenstein, Director, Social, Urban, Rural and Resilience Global Practice, World Bank. "Improving women's access to – and control over – economic resources also has a positive effect on a range of development goals, including poverty reduction and economic growth. We are committed to working with partners to close the gap and make land rights for women a reality globally."
Persistent discriminatory social norms and practices are among the strongest barriers standing between women and their land and property rights. Weak implementation of policies, insufficient capacity to enforce laws, and a lack of political will further compound the problem. And poor access to legal services and a lack of understanding of laws within communities and households – and by women themselves – build an invisible but near impenetrable wall to women realizing land and property rights in rural and urban areas alike.
"Insecure land rights create obstacles for women engaging in farming and other agricultural activities, in starting and running a home-based enterprise, and, as we've observed, in accessing safe and decent housing," said Jane Katz, Director of International Affairs and Programs, of Habitat for Humanity International. "As urbanization continues to increase, land rights are an issue for all those living in cities as well as in rural areas."

With so much at stake, there is growing recognition – and a growing movement – to strengthen women's land rights around the world. The Stand For Her Land campaign aims to be a driving force behind this movement by catalyzing a consolidated push across settings and cultures – urban, rural, customary, and indigenous – to narrow the gap between law and practice towards secure women's land.
"Global and regional efforts, including the United Nations Sustainable Development Goals and the New Urban Agenda, the African Union's Campaign for Women's Land Ownership and Agenda 2063, and U.S. Government's new Global Women's Development and Prosperity Initiative, recognize that women's land rights are critical to achieving gender equality and tackling some of the world's most pressing development challenges," said Oumar Sylla, Leader of the Land and Global Land Tool Network Unit, UN-Habitat. "The Stand For Her Land Campaign aims to translate these gains at the highest levels into real change for women in villages and communities across the globe."
The main objective of the campaign is to drive real change on the ground – consolidating local and national efforts by civil society groups, grassroots organizations, advocates and allies across sectors.
"This campaign is not a top-down effort but rather an approach to strengthening land rights from the ground up," said Violet Shivutse, grassroots women's leader from Kenya and Chair of the Huairou Commission. "Advocates, steeped in local contexts and the specific needs of communities, can apply their own expertise to overcome barriers for women and become the engines of social impact."
Partnering for Africa's future: Exhibition on UNIDO-Japan cooperation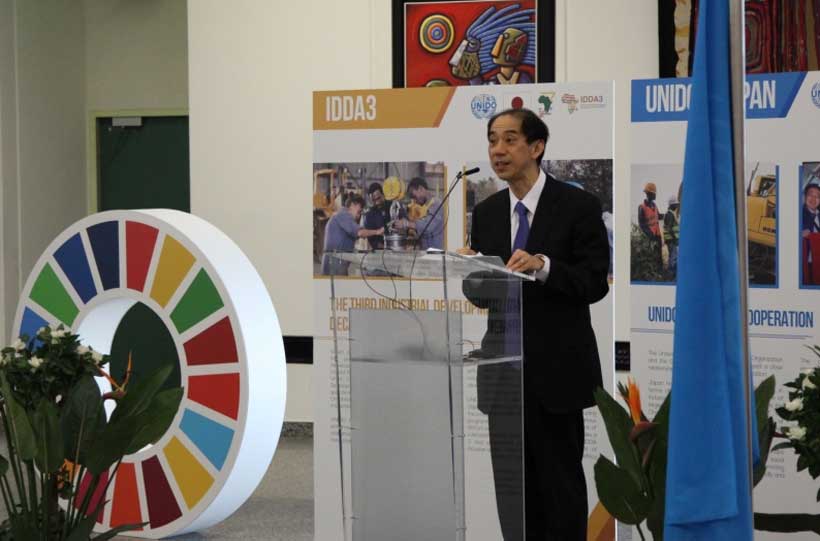 An exhibition highlighting cooperation between Japan and the United Nations Industrial Development Organization (UNIDO) for African industrial development has opened at the Vienna International Centre.
The exhibition showcases UNIDO and Japan cooperation on the Tokyo International Conference on African Development (TICAD) first held in October 1993, and on the implementation of the Third Industrial Development Decade for Africa (IDDA 3).
A series of panels address the Government of Japan's efforts on human security in relation to an array of UNIDO projects benefitting the most vulnerable groups by fostering human security and post-crisis rehabilitation. Others show the UNIDO-Japan multi-dimensional approach to a transition towards a sustainable energy future by fostering sustainable energy solutions and developing climate resilient industries for Africa.
At the exhibition's opening ceremony, the Deputy to the Director General of UNIDO, Hiroshi Kuniyoshi, said, "Japan and UNIDO are proud of a solid and trusted partnership to reduce poverty, and enhance inclusiveness while safeguarding the environment."
In his remarks, His Excellency Mitsuru Kitano, Permanent Representative of Japan to the International Organizations in Vienna, said, "It is our strong hope that this exhibition will spark discussions on the strengthening of Africa's ownership and international partnership. Africa's industrial development is our common goal, and common future."
Over the last five years, Japan has provided US$13m to fund 18 projects in various African countries in the field of human security and the humanitarian-development nexus. In the area of renewable energy, two important projects are being funded with US$25m. Last year, to reinforce the UNIDO Secretariat's capacity to focus on Africa and IDDA3, Japan made a new contribution of US$1.1m.
Her Excellency Vivian Okeke, Ambassador Extraordinary and Plenipotentiary, Permanent Representative of Nigeria to UNIDO, who represented the African Group of UNIDO member states, said, "I am happy that this exhibition highlights specific projects by Japan and UNIDO in Africa, especially in focus areas that are in line with the Sustainable Development Goals and Africa's priorities, such as climate change, investment and technology, human security and post-conflict rehabilitation."
UNIDO's Kuniyoshi also remarked that "a hallmark of the UNIDO-Japan cooperation is the strong foreign direct investment component, the centrality of technology transfer and the very important presence of the Japanese private sector." He mentioned the partnerships between Japanese companies and African partners, which have been supported by the UNIDO Investment and Technology Promotion Office (ITPO) in Tokyo.
Coinciding with the opening of the exhibition, the UNIDO ITPO Tokyo has organized a series of meetings at which Japanese technology providers will present their services to UNIDO staff.
Vietnam needs to embrace "Doi Moi 4.0" to sustain high quality growth
Vietnam should make a strategic shift towards a more productivity and innovation-based economy while making the most of the ongoing demographic dividend to sustain high quality growth over the next decade.
This is among the main recommendations from the joint report between the World Bank and the Vietnam Academy of Social Sciences on the new economic model to help Vietnam achieve high-quality growth for the 2021-30 period.
The report, which is being prepared with support from the Australian Government, proposes the Vietnam's new economic model in 2021-2030 to center around three breakthroughs: innovation and entrepreneurship, human capital, and modern institutions.
"This report will help begin an exciting new chapter in Vietnam's economic growth story," said His Excellency Craig Chittick, Australian Ambassador to Vietnam. "A chapter that embraces innovation, promotes bold reform, and helps Vietnam achieve its ambitious development goals."
To avoid the middle-income traps, experts contend that Vietnam will have to maintain a growth rate in the range of 7 to 7.5% for the 2021-30 period, higher than the average rate of 6.3% of the last ten years.
"We are living in the era of disruptive technologies that presents both challenges as well as opportunities – I would like to call it 'Doi Moi 4.0'," said Ousmane Dione, Country Director for The World Bank in Vietnam. "To mitigate these risks and seize the opportunities Vietnam needs to accelerate reforms that boost productivity and innovation as key drivers of growth in the coming decade including steps to remove bottlenecks for private sector investment, enhance public sector institutions and invest in 21st century skills of the workforce."
The report finds that the labor-intensive, export-led growth model Vietnam pursued during 2011 – 2020 has increasingly become obsolete against the context of Industrial Revolution 4.0, maturing global value chains, premature deindustrialization, and rising role of services.