North Korea's Nuclear Mindset: Why Nukes Still Matter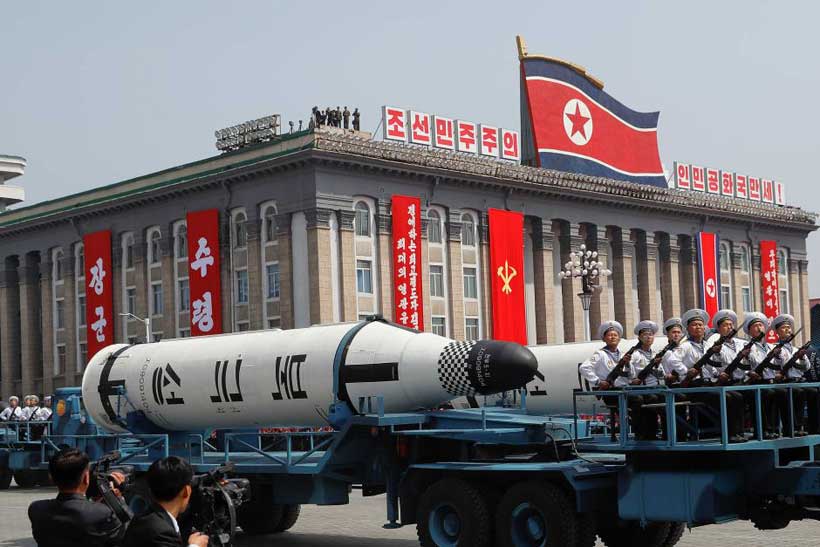 North Korea has evolved from a weakened country to one seen as a legitimate global military power due to its acquisition of nuclear weapons. Although, strength is a key factor behind its establishment of a nuclear program, there are other reasons that expand beyond the typical perception surrounding North Korea. There are four main reasons that North Korea immersed itself into the acquisition of a nuclear program.
The first was the desire to bring the US back to the negotiating table. "Pyongyang was effectively sending the message that the DPRK wanted finally to achieve results in its relations with the US. More specifically, North Korea has sought bilateral negotiations with the US, stipulating that progress on denuclearization would be contingent upon improved relations with the US – including economic aid, the end of sanctions, diplomatic relations with the US, and a peace treaty to end the Korean War" (Kim, 2011, 348). The benefits of super powers supporting and providing aid to North Korea would only be obtainable by recreating dialogue. However, North Korea would not eliminate its new position of military strength first in order to obtain it.
The second reason is the perception by North Korea of open hostility toward it by the United States. The belief is that the United States is trying to tear down the North Korean government and impact its internal decisions by causing disruption and chaos within the regime. The challenges implemented by the US government via sanctions and propaganda have the potential to not just undermine the planned regional dominance of North Korea but may even threaten the ultimate survival of the governing regime. It was believed that the acquisition of nuclear weapons had the potential to negate this American manipulation and bring it more humbly back to the negotiating table.
The third reason was to create an image to the world that North Korea is a strong and powerful nation that is not to be overlooked or summarily dismissed. Since the signing of the armistice, North Korea has been trying to rebuild its power and prestige standing in the region. Due to its weakened economic status and poor governmental performance, it has been labeled a third world country, far less significant than countries such as the United States, Russia, or China. The actions of the government to establish a nuclear program would begin the changes needed to elevate this status in the eyes of the world, gaining itself respect as a potentially dominant force across Southeast Asia at least.
Finally, the fourth reason is for economic sustenance and rebuilding. With the growth of a nuclear program, North Korea is able to sell nuclear products to countries, such as Pakistan. At this point, North Korea's ailing economy cannot provide care to its own people. The nuclear program has provided them access to international resources and funds that it was not able to acquire by other means, including aid from other countries which North Korea always say as coming with strings attached and external interference.
For many years North Korea worked to establish a treaty with the United States without the involvement of South Korea. "Pyongyang has always demanded that the United States hold bilateral talks on various issues such as its nuclear program and conclude a peace treaty or non-aggression pact to replace the current armistice agreement, one that excludes the South" (Koh, 2004, 439). From an outside perspective, the actions of North Korea with its nuclear testing program have been to create concern if not outright fear amongst many countries across the Southeast Asian region and beyond, including the United States.
The results and motivation behind the missile test were also a strategic move to bring the United States back to the diplomatic table but with less hubris and more equanimity. By this time, the United States had ceased the talks with North Korea regarding the 1999 U.S.-North Korea moratorium on missile tests. "The 1999 agreement had been worked out under the assumption that the two countries would conduct further talks on the proposal to ban the testing and production of missiles, but the U.S. had indefinitely suspended the talks since 2001, making the moratorium moribund. The missile tests were another display of Pyongyang's tried-and-true strategy to grab attention for itself and coax Washington into direct diplomacy" (Cho & Woo, 2007, 96).
Thus, the nuclear actions of North Korea overall are done in order to obtain "U.S. recognition and consequent benefits: acknowledgment of its legitimacy and security interests; Japanese recognition; and substantial economic aid from Japan, multilateral lenders such as the World Bank, and the U.S. itself" (Gurtov, 2002, 405). This allows North Korea access to aid, technology, and many other necessities for survival and growth. North Korea's focus to reconnect with the United States on its own terms is driven by its perception that the US has willingly opposed agreed-upon treaty and international negotiation frameworks. The North Korean fear is that America does this because it is adamantly opposed to the existence of North Korea as it is currently formulated and governed. "During 2001, senior administration officials had acknowledged that North Korea had upheld its obligations under the Agreed Framework. But the United States now confronted the possibility of a covert fissile material program not covered by the 1994 agreement, thereby enabling Pyongyang to circumvent its declared nonproliferation commitments" (Pollack, 2003, 14). As North Korea has professed, the United States is not willing to create a dialogue between the two countries, but instead find loopholes to disavow any established agreements and then declare it was North Korea's fault with random accusations.
North Korea feels it must be able to react to the threats posed by the United States. The establishment of a nuclear weapons program provides it with the protection needed. North Korea understands that their military personnel cannot compete with the strength of the United States military without the assistance of nuclear weapons. Before the late 1990s and into the 2000s, North Korea began to reinvent its image and stance within the global arena. In the mid-1970s, "North Korea was now recognized by more than 80 countries; it has also sought and gained acceptance into several international organizations including the World Health Organization and the International Parliamentary Union, and it has gained observer status at the United Nations" (Zagoria & Kim, 1975, 1022). Over the years, however, its economy and political acknowledgement would dwindle, thus forcing it to find a new avenue of acceptance as a global power. It desperately sought a recognition from others that it a weak and failing country but a state of relevance, impact, and high status.
The nuclear tests that began in 2006 established North Korea as a nuclear threat to surrounding nations. Analysis by the North Korean government on retaliation from adversaries produced "the likelihood of an all-out invasion by the U.S. to bring down the regime in Pyongyang as minimal because of the possibility of North Korean retaliation against U.S. allies, the burden on the U.S. military, and the global costs of war in an economically vibrant region" (Song, 2011, 1140-1141). The NK government, therefore, felt pursuit of global power through nuclear acquisition was an obvious winning strategy with only minor costs, despite high rhetoric from the United States. The nuclear program's benefits extend beyond the assertion of being a respected global power. "North Korea's reinvigorated nuclear program gives it the potential to export fissile materials, nuclear weapons development technologies and expertise, or even completed operational weapons" (Huntley, 2006, 725). The ability to sell uranium to other countries will arguably help North Korea stabilize its fractured economy regardless of how other countries like the US feel.
The development of the nuclear program has given North Korea the ability to impact the world's economy in a significant way. "North Korea also has the ability to threaten the global economy. Japan and South Korea, the second and 11th largest economies in the world, respectively, as well as major U.S. trading partners, are both vulnerable to any DPRK attack" (Howard, 2004, 810). The continued perseverance to create this nuclear program has put NK ahead of countries, such as Japan and South Korea, who do not have nuclear weapons and are not formally pursuing them. This extant potential threat of a nuclear NK also drives its need for greater international respect, let alone having a nuclear program increases the chances of North Korea being successful in any future military actions taken against it. North Korea has demonstrated that it is willing to use these weapons if needed to protect its country.
Although NK actions over the last several decades have been portrayed as "proof" of an aggressive and irrational North Korea, these calculated moves clearly have rational purpose to the NK government. If North Korea was focused on truly expanding its territory and taking control over South Korea, rather than just using the nuclear threat to solidify its own place in the global community and at the international table, its military actions would be far more invasive and chaotic. There have been instances since the armistice agreement in 1953, but they have been minimal and did not develop further into another war.
The overall purpose of the NK nuclear program is to reestablish dialogue with the United States on a more equal footing and create economic stability for its country. North Korea's nuclear program established itself (at least in NK's mind) as a significant military power and one that cannot be taken lightly. The fear of being undermined, disrespected, and dismissed was minimized. If the rest of the world wants North Korea to voluntarily walk away from its nuclear status, then it needs to find a compelling strategy that shows North Korea is considered seriously, taken as an equal partner, and legitimately respected in the global arena. Otherwise, the world better get used to a nuclearized North on the Korean peninsula.
Nepal-China Boundary Treaty: An example of peaceful Himalayan frontiers
Chairman Mao: How is everything with Your Excellency? Have all the problems been solved?
King Mahendra: Everything is settled.
Chairman Mao: Fair and reasonable?
King Mahendra: Yes. We all agree.
Chairman Mao: It is good that we agree. There is goodwill on both sides. We hope that will get along well, and you hope we shall get along well too. We do not want to harm you, nor do you want to harm us.
King Mahendra: We fully understand.
Chairman Mao: We are equals; we cannot say one country is superior or inferior to the other.
King Mahendra: We very much appreciate the way of speaking.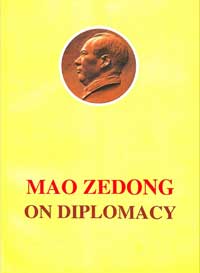 This was a snippet of the candid conversation between founding father of People's Republic of China Mao Zedong and Nepal's the then king Mahendra on the historic Nepal-China Border Treaty day of 5 October 1961. A book titled 'MAO ZEDUNG ON DIPLOMACY' has detailed this conversation. The conversation is mentioned under the topic of "Talk with Nepal's king Mahendra Bir Bikram Shah Deva and the queen' (page 366 and 367) in the book.
This famous diplomatic book of Mao was compiled by The Ministry of Foreign Affairs of the People's Republic of China and the Party Literature Research Center under the Central Committee of the Communist Party of China and was published by Foreign Languages Press Beijing on 1998.
This conversation, from the verbatim records, speaks volumes about the level of trust and the height of friendship between two neighbors Nepal and China.
Nepal-China boundary: An example of speedy settlement
Nepal and China boundary settlement has reached 59 years of its signing ceremony at Beijing. It is an extraordinary example of speedy settlement. Nepal and China formally established diplomatic relationship on 1 August 1955.
Few years later on 21 March 1960, Nepal and China signed Boundary Agreement. Nepal's first democratically elected Prime Minister Bishweshwar Prashad Koirala signed it during the official China visit. The friendly diplomatic dialogue of Koirala and Mao is also included in the book "MAO ZEDUNG ON DIPLOMACY' under the topic of "The Sino-Nepal Border Must be Peaceful and Friendly Forever."
On 5 October 1961, Nepal and China signed Boundary Treaty at Beijing during the state visit of the then king Mahendra. The 1414-kilometer-long border treaty protocol was finally inscribed on 20 January 1963.
The adjustment was made on equal footing by land-swapping with Nepal gaining more land than it gave. According to a working paper presented at "International Cross-Border Conference on Border Regions in Transition (BRIT)-XII Fukuoka (Japan)-Busan (South Korea) 13-16 November 2012" by Nepal's former Director General of Survey Department and the author of the book titled 'Boundary of Nepal', China had given 302.75 square kilometer more land to Nepal.
The paper says, "the adjustment was made on the basis of 'give' and 'take' and the inclusion of some pasture land within Nepalese territory. With this principle, Nepal had given 1,836.25 square kilometer of land to China and Nepal had taken 2,139.00 square kilometer, as it has been added 302.75 square kilometer of Chinese territory into Nepal."
Nepal-China border settlement is an excellent example of speedy border settlement compared to Nepal's southern neighbor India. Since the formal diplomatic engagement of 1955, it just took around eight years to ink full-fledged technical border adjustment between Nepal and China.
Tragically, Nepal and India are at odds over the border demarked by 204-year-old Treaty of Sugauli. The recent issue of Lipulekh, Kalapani and Limpiyadhura and new political map of Nepal unanimously approved by lower and upper houses of the federal parliament point to the long-pending friendly border settlements between Nepal and India.
Media myths on China's encroachment of Nepal's territory
Nepal and India has not resolved much of their border tensions since long. Lately, there are some media reports, mainly from India, about so-called Chinese 'encroachment' of Nepal's territory. There was report about missed pillar number 11. However, it came out to be untrue with the finding of the pillar. After field inspection and technical studies, Chief District Officer of Humla district, Chiranjibi Giri, made it clear that the rumored border encroachment from China was not the fact.
Similar incident was reported few weeks ago when Nepal's leading daily Kantipur claimed China's encroachment of Nepal's territory citing unverified Ministry of Agriculture, the ministry that has nothing to do with border issues. However, after formal clarification from Nepal Government, the report was found to be false and the biggest daily of the nation apologized.
There is a section in Nepal that desperately wants to draw parallel between factual Nepal-India border tensions with fictitious Nepal-China border rows. However, so far, this mission has proven wrong at times.
Nepal does not have any serious border tension with China. The only concern Nepal has it about China-India agreement to 'boost border trade at Quiangla/Lipu-Lekh Pass' as said in the 28th point of the joint communiqué issued by visiting Indian Prime Minister Narendra Modi and his Chinese counterpart Li Keqiang on 15 May 2015.
Nepal has diplomatically protested about this agreement by two countries as Lipulekh falls in Nepali territory not only based on the Treaty of Sugauli of 1816 but also the Nepal-China Boundary Treaty of 5 October 1961. Given China's generosity and friendliness towards Nepal, it is not a big issue to address. Nepalese citizens are optimistic on China's support on Nepal's sovereignty over Lipulekh.
Why doesn't China take India seriously?
India needs to formulate a long-term strategy on China, lest it be lurching from one crisis to another.
Amid rising anti-China sentiment in the aftermath of the bloody border clash with China, India has announced a slew of measures to curtail Chinese presence in the Indian economy. Building on previously imposed restrictions on foreign direct investment (FDI) from China, the latest round of regulations constitute banning over 200 Chinese apps and clamping down on Chinese investments in Indian startups. These measures, while drawing applause from Western governments such as the US and helping massage the nationalistic ego, have seemingly failed to irk the Chinese administration as much as India would have intended, let alone compel the PLA to pull back from the disputed areas along the long and undemarcated Indo-China border. In previous instances as well, India's signalling to China of allying more closely with the United States in response to China's aggressive posture on the border has failed to yield desirable results. This begs the question: why does not China take India seriously? The answer may lie in India's China policy which can be described as reactive at best and incoherent at worst.
India's Policy Conundrum
Although its geopolitical rise has been significant – next only to China, India still finds itself bereft of a world order concept or a guiding foreign policy framework. The lack of which, when it comes to dealing with China, has translated into a foreign policy muddle. Mohan Malik, for instance, points out that there are three schools of thought in India's policy-making with regards to China – pragmatism, hyperrealism, and appeasement. Pragmatists maintain that India should balance China both internally (increasing its economic and military strength w.r.t. China) and externally (by forging alliances and enhancing interstate cooperation with other powers) while mitigating differences through economic and diplomatic engagement. Hyperrealists decry pragmatists' optimism that increased trade and economic engagement can win over a territorially unsatiated China and instead argue for an unabashed encirclement strategy towards it with other China-wary powers. Appeasers posit that China is a benign and friendly power, meaning no harm to India and that it should be enthusiastically engaged. In trying to accommodate such plethora of views in dealing with China, successive Indian governments have found themselves muddling through one approach to another.
Current Government and Policy Flip-Flops
Following the Galwan clash, India appears to be hinting at a change of tack as evinced by India's External Affairs Minister S. Jaishankar's repeated assertions that realism should shape India's China policy and that peace and tranquillity on the border cannot be separated from the overall architecture of bilateral ties. India's slashing of Chinese presence in the Indian economy suggests a move in that direction. China's rather staid response to India's manoeuvres stems from a general under appreciation of Indian resolve to follow through on such a policy initiative. China's belief in Indian irresoluteness is not without basis either. The new dispensation led by Narendra Modi started off by trying to bring the "pragmatic" element more into play in India's dealings with China. To this end, it resorted to a two-pronged strategy of bolstering strategic ties with other regional partners alarmed by China's newfound boldness such as Vietnam, Japan, Indonesia, Australia among others and spurred up defense and strategic ties with the US, while simultaneously trying to improve relations with China by enhancing bilateral trade (which was already heavily-tilted in China's favour). However, relations nosedived with the Doklam standoff in June 2017 which lasted for over three months. Cognizant of its power differential with China, and therefore not keen on antagonizing it any further, India broached the idea of organizing an informal summit between Chinese President Xi Jinping and India's PM Narendra Modi. As the two leaders met in picturesque Wuhan, India had by then made up its mind to drop the "pragmatic" yet somewhat "confrontational" approach and decided in favour of going full throttle with appeasement vis-à-vis China. Following the summit, the Indian government scaled down its contact with the Tibet's India-based government-in-exile and refused to back Australia's bid to participate in the annual Malabar exercise. What exactly did India hope to achieve with such tactics is anyone's guess as China continued to brazenly oppose India's membership to the Nuclear Suppliers Group (NSG) and block India's efforts to get Pakistan-based terrorist Masood Azhar admitted to the UN Sanctions list – eventually relenting on the latter (courtesy of US pressure) while continuing to hyphenate India's cause with Pakistan's in the case of former.
A Long History of Fluctuating China Policy
As a matter of fact, the blame for such a vacillating policy cannot be squarely put at Modi's doorsteps. Historical precedents abound where previous Indian governments too have struggled to come up with a comprehensive and coherent strategy on China. Notable examples include Jawaharlal Nehru's flip-flops on China threat which not only cost India loss of territory but also resulted in a personal loss of face for Nehru. Some twenty-five years later, Rajiv Gandhi who showed remarkable courage in standing up to the Chinese challenge in a serious military provocation along the eastern flank of the LAC let go of the chance to articulate India's long-term strategy vis-à-vis China and instead sought a quick return to normalcy in bilateral ties following his visit to Beijing in 1988. A decade later, AB Vajpayee, after having justified India's nuclear tests as a response to Chinese nuclear weapons, ended up describing China as a "good neighbour" in his address at the Peking University only a couple of years later. Indeed, India's foreign policy history is riddled with complacency on the part of successive Indian governments in dealing with its largest neighbour, and a continual cause of strategic concern.
It is clear that unless India does away with policy ad-hocism and sticks with a clear, long-term China policy,it would not be able to effect a change in China's attitude towards itself. In this regard, Jaishankar's recoupling of economic and trade ties with the larger border question is a welcome move, but a lot would depend on how determined India is to persevere through the demanding nature of realpolitik.
Notes:
Mohan Malik's article on three schools of thought on India's China policy: accessible at: https://apps.dtic.mil/dtic/tr/fulltext/u2/a591916.pdf
India-China Relations: A Turbulent Future?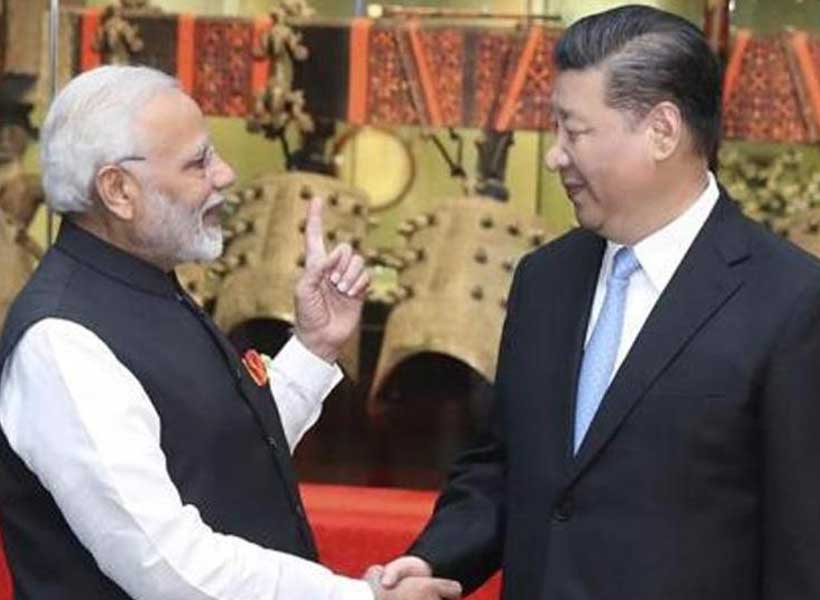 On the 10th May 2020, Indian and Chinese troops engaged in a cross-border dispute in Sikkim. After built up tensions, a month later another clash began in The Galwan Valley. By September, shots had been fired for the first time in over 40 years. Such confrontations are the worst India and China have seen in recent years. Although face-offs between the two sides are not uncommon, border disputes do pose a challenge for Indian and Chinese security. Also, their economic relationship could be strained if the two rising giants do not resolve their territorial dispute. Therefore, this article looks at the recent tensions between the two states and considers what this means for the future of their bilateral relationship.
Where did it Begin?
The Sino-Indian war took place in 1962, when Indian and Chinese troops fought over the Himalayan territory of Aksai Chin. Aksai Chin is located between Tibet, Xinjiang and Ladakh and territory was the primary cause of the war, as well as other issues including sporadic violence. China had gradually exerted its influence over Aksai Chin for four years before the war. At the time, India placed its forces along the border, but China's strategy was to launch a full-blown attack. China's standpoint was that the territory they were fighting over was deemed the Line of Actual Control (LAC) and they should have sovereignty over it. As India's strategy was one of defence, they were outnumbered and lacked sufficient weaponry. Therefore, they suffered heavy casualties with many of the army killed, wounded, missing and captured. The war lasted until China announced a unilateral ceasefire on 21stNovember 1962.India was left defeated and humiliated as it was never prepared for a war with China. Until 1962, India had always focused on the security threat posed by Pakistan and had the upper hand militarily.
Cross-border Disputes
Since the 1962 war there have occurred numerous infrequent stand-offs between Indian armed forces and Chinese armed forces along the disputed territory. There is a competitive nature between the two states whereby these stand-offs become an opportunity to militarily flex their muscles. Episodes occurred in Northern Ladakh in 2013 and Eastern Ladakh in 2014. In 2017, the situation escalated when China attempted to form a road that would extend its border into India. India opposed this and feared that if the road was built, China would have increased access to the Siliguri Corridor, also known as the 'chicken's neck'. This is a highly contentious area for India as they believe it is a strategic asset to them because it connects the North Eastern states to the mainland. The high-altitude stand-off lasted for over a month. In September 2019, another violent clash took place near the Pangong Tso (lake), an area that China has control over two thirds of. The most recent disputes involved pushing, shoving, fists, wooden clubs, and stone throwing. The skirmish in May resulted in 11 injured in total, 4 Indian forces and 7 Chinese forces. It was resolved by local brigadier-level sector commanders who were able to discuss the tensions and come to a resolution. However, the clash in June saw 20 Indian soldiers dead and up to 40 Chinese casualties. In late July, it was believed that troops were withdrawing from the border region. However, this remained incomplete and throughout August and September, Indian troops were continuing to deploy along the LAC. For over 40 years, no bullets were fired in these skirmishes because of the de facto border code that prohibits the use of firearms. However, this changed in September when the first shots were fired. The most recent disputes are believed to have been triggered by a disagreement over the location of Chinese observation towers and tents. It seems, tensions have been building since India's revocation of Article 370 in 2019 and China's resistance against India's infrastructure plans in the borderlands.
A Turbulent Future?
In 2018, PM Modi and President Jinping agreed to maintain peace along the border at the Wuhan summit. India and China's collective economies make up over 17% of the entire global economy. Also, China is India's primary trading partner with annual trade worth $92 billion. They have attempted to increase cooperation and build confidence measures by undertaking joint projects including a training program for Afghan diplomats and reviving the Bangladesh-China-India-Myanmar (BCIM) corridor. However, these efforts are undermined by the pervasive feeling of distrust between the two states and the echoes of Cold War history. Also, the summits and efforts of cooperation have not stopped the outbreaks of violence, nor have they solved any of the underlying issues. Underlying issues that strain the Sino-Indian relationship include nuclear weapons, China's support for Pakistan, the situation in Tibet and India's sheltering of the Dalai Lama, the Chinese navy making an appearance in Indian waters and Indian foreign policy. The Covid-19 pandemic has added pressure to Sino-Indian relations as the Indian general public blame China for the outbreak thus causing an anti-China sentiment. Both states have downplayed the recent stand-off's as short-term and temporary incidents. However, if relations continue to sour over territorial boundaries and the border remains unresolved, this could compromise their economic relationship. To prevent prolonged crisis, China would need to withdraw its aggressive position voluntarily through peaceful negotiations with India. India could attempt a forceful removal of Chinese forces, but that would lead to increased escalation. Further, India should tread with caution as neighbouring countries including Sri Lanka and Nepal are becoming increasingly supportive of China. In other words, unless India and China find a way to trust each other, it is highly likely that they will be pushed to the brink of war once again.