Armenia's Untimely Preconditions on Nagorno-Karabakh Conflict
After the Velvet Revolution, international community expected that new Armenian government would intensify the diplomatic negotiation process for Nagorno-Karabakh conflict. Everybody thought that Pashinyan-led government would act differently from the previous government that sized the power in Armenia during last 20 years. Winning the most of the seats during the parliamentary elections gave a strong authority to Nikol Pashinyan to discuss this issue with Armenian society too. At the early days, his government made positive statements about the process. But this discourse suddenly (without serious reason) is changed. For instance, on 6 March, during his visit to Brussels, Armenian Prime Minister Nikol Pashinyan made a remark about forthcoming meeting with Azerbaijani President Ilham Aliev and said that at the "next meeting we will discuss the format of negotiations. For the resolution of problem, we should firstly formulate an effective format and achieve Nagorno-Karabakh (Armenians) be part of the negotiations". Armenian new approach was not accepted by international community, rejected by Azerbaijan and criticized even by Armenian experts. While the OSCE's Minsk Group Co-chairs assessed the continuing lack of casualties on the line of contact positively and welcomed the discussions about preparing populations for peace, the new statements of Armenian officials affected negatively the atmosphere of negotiating process prior to the next planned meeting the Azerbaijani and Armenian leaders.
OSCE Minsk Group Co-chairs didn`t support Pashinyan`s new statements on the conflict resolution process. In this context, the Co-Chairs urged the sides to refrain from statements and actions suggesting significant changes to the situation on the ground, prejudging the outcome of or setting conditions for future talks, demanding unilateral changes to the format without agreement of the other party, or indicating readiness to renew active hostilities.
EU officials didn`t support Pashinyan`s new statements on the conflict resolution process as well. According to the press service of the European External Action Service, European Union High Representative for Foreign and Security Policy, Federica Morgherini "advocated full engagement in negotiations without preconditions, under the auspices of the Minsk Group Co-Chairs". Meanwhile Johannes Hahn, EU Commissioner for European Neighbourhood Policy and Enlargement Negotiations also didn`t advocate Pashinyan new approach when he said that "I think we shouldn't try new negotiating format we should protect old one. We should focus on principles of trust".
Azerbaijani government strongly criticized Pashinyan's new statement. Azerbaijan's Minister of Foreign Affairs Elmar Mammadyarov reacted that saying we should clarify that whether we are going to prepare our people to peace or we should choose different way. Hikmat Hajiyev, Head of Foreign Policy Department of the Presidential Administration of the Republic of Azerbaijan called Pashinyan`s new approach as a "Puppet policy".
The new position of Armenian government has been criticized by Armenian experts as well. According to Richard Giragossian new approach of Armenian government lead to Armenia`s significant setbacks in diplomatic position and prestige within the peace process.
New approach of Armenian government is neither advocated by history of negotiating process nor by real situation. Firstly, on 16 January the ministries of foreign affairs of both countries hosted consultations in Paris and agreed upon the necessity of taking concrete measures to prepare the populations for peace. So new approach of Pashinyan is wholly contradicting to that agreement and rises the new expectation in Armenian domestic politics which the main barrier for peace agreement on Nagorno-Karabakh conflict. Actually Pashinyan's new motivation focused on more domestic politics rather than international community. But experience proved that such kind of approach during Kocharyan and Sarkisyan's period has failed.
Secondly, throughout the last 20 years, the diplomatic negotiations over the Nagorno-Karabakh have taken place under the arbitrary role of OSCE's Minsk Group Co-chairs between Republic of Azerbaijan and Republic of Armenia. Meanwhile after the elections, Armenian Prime Minister and Ministry of Foreign Affairs met several times with Azerbaijani counterparts in order to discuss this conflict.
Thirdly, of all decisions, declarations and statements of many international organizations including the UN Security Council, Council of Europe, OIC, Non-Aligned movement and as well as The European Court of Human Rights (case of "Chiragov vs Armenia")has not been implemented by Armenian side. That is why, Armenia firstly has to implement these demands and withdraw her troops from the occupied territories of Azerbaijan. Whereas, instead of withdrawing her military forces, Armenia tries to present new preconditions to shadow over the negotiation process.
Fourthly, today the real population of Nagorno Karabakh is around 80.000 people. According to Armenian sources, there are 25.000 soldiers located in the occupied territories of Azerbaijan. That means 1/3 of populations are soldiers and many of soldiers are from the Republic of Armenia, but not local Armenians. During the ceasefire period and April war in 2016 many soldiers died in the fights are of Armenian citizens. The mothers of Armenian soldiers made protests in Yerevan against taking their children to the occupied territories of Azerbaijan. So the question is that: If the Armenia is not the side of the conflict what are the Armenian troops are doing in Azerbaijan territories?
Pashinyan demand that Nagorno-Karabakh Armenians have a right of being a part of negotiations, but he rejects the Azerbaijani demand that the Azerbaijani population of occupied territories also has similar right of being part of the negotiations. According to Armenia, 80.000 population of Nagorno-Karabakh (Armenians) must be part of negotiations, but 750.000 of population of the occupied territories which are living under IDP status, land cannot be part of the negotiations. According to Armenian argument, those 750.000s people didn`t suffer as a result of war, they cannot demand their rights or even they don`t have rights. Of course this approach is illogical.
The geopolitical reality in the region also doesn`t support the position of Pashinyan. As a result of Nagorno-Karabakh conflict, Armenia is isolated from the all regional transportation and energy projects, and her borders with Turkey and Azerbaijan are closed. Armenia's open borders are with Iran and Georgia is also subject to many political and financial limits for Yerevan. Meanwhile Armenia doesn`t have direct connection with her allies as a member of EEU and CSTO. One may observe that Pashinyan tries to change geopolitical situation around Armenia. But his last visits to Iran and Brussels failed due to geopolitical isolation of Armenia. Georgian new President Salome Zourabichvili supported Azerbaijan position on Nagorno-Karabakh conflict during her visit to Azerbaijan; Turkey keeps advocating for Azerbaijan's position in the resolution process. Therefore, it is not a right time for Pashinyan to change the negotiation format otherwise he will fail.
Quality of Life in Latvia is not a priority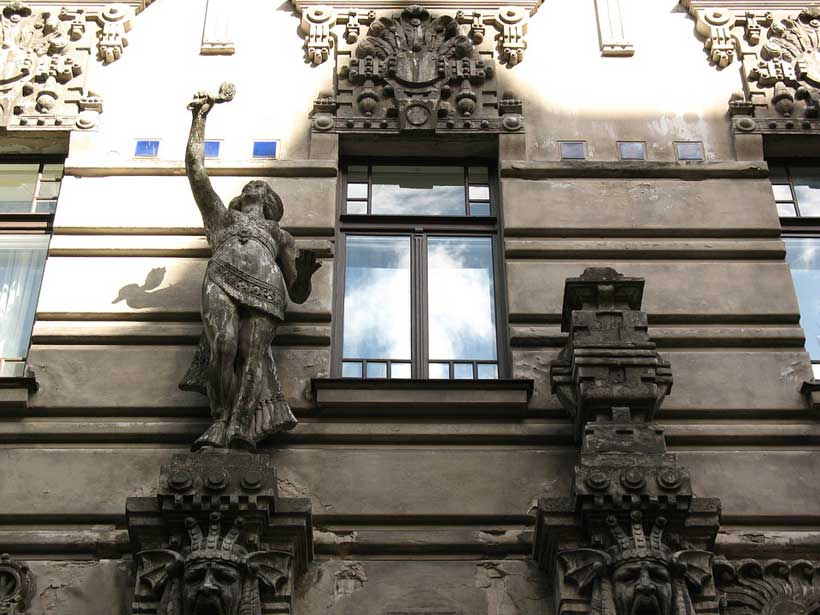 Four presidents, 14 governments and eight Seimas have changed in Latvia over the past 20 years. The country joined the European Union and NATO, and then switched to the euro. But have Latvians become better off? Has their quality of life improved? Statistics shows that the general well-being of population remains very low. Political turbulence only worsens the situation.
Thus, according to Numbeo.com portal, one of the largest databases on the cost of living and quality of life worldwide, Lithuania and Latvia are the worst Nordic countries for quality of life.
Quality of Life Index by Country 2019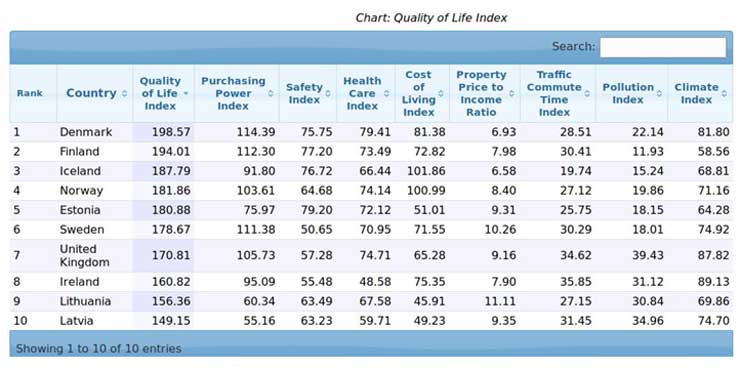 The leaders of the rating are Denmark, Finland and Iceland. Latvia showed the lowest result, the quality of life index here is 149.15 points. In Lithuania, the result is slightly higher – 156.36 points.
Numbeo experts took into account the purchasing power of the population, safety, health care, the cost of living and some other factors.
It is noted that the world ranking of countries for the quality of life is led by Denmark, Switzerland and Finland. Estonia took 11th place, Lithuania – 29th, and Latvia – 34th.
The more so, experts said that the proportion of shadow economy in Latvia rose by 2.2 percentage point last year to 24.2 percent.
The shadow economy proportion in Latvia has risen for the past two years in a row.
EU-SILC survey gives another frightening indicator. According to eurostat.ec.europa.eu, Latvia, as well as Estonia and Lithuania are top three EU countries in terms of poverty risk among pensioners.
Political and economic short-sightedness has lead to the state when the Baltic States have become the first battlefield in case of war between NATO and Russia.
The United States is preparing for the use of nuclear weapons in Europe along with non-nuclear countries, said Vladimir Ermakov, director of the Department for Non-Proliferation and Arms Control of the Russian Foreign Ministry. Experts point out that military airfields in the Baltic States and Poland have already been prepared to receive NATO aircraft that can carry tactical nuclear weapons. If take his words seriously, this means the end of the Baltic States' existence.
The behavior of the authorities guaranteed Latvia, Lithuania and Estonia the status of the first battlefield, despite the fact that in the event of war, economy would be completely destroyed and population would disappear.
How the Caspian Sea joins the Black Sea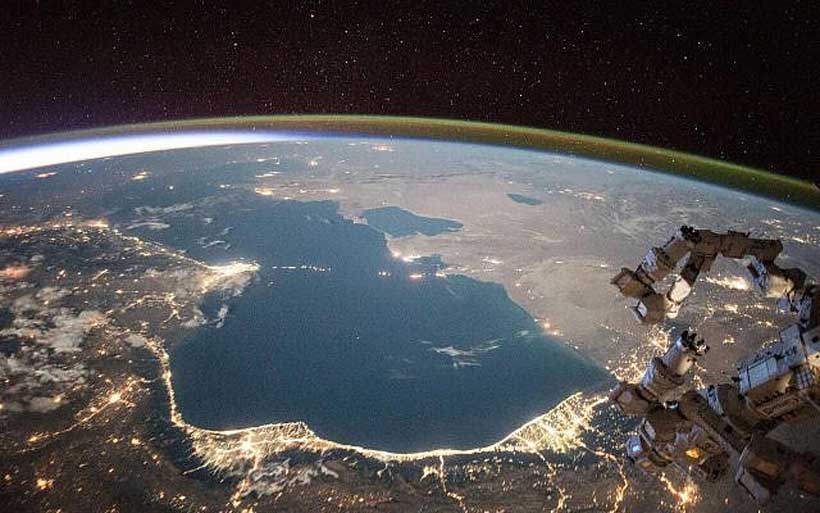 In the development of international cooperation and the deepening of industrial cooperation, the leading role belongs to the formation of a network of international transport corridors. It has a special place in solving transport problems associated with the expansion of interstate transportation, economic, cultural and other ties, with the creation of an international transport infrastructure that has common technical parameters and ensures the use of a single transportation technology as the basis for the integration of national transport systems into the global transport system.
Developing corridors are to play a system-forming role in the economic and social development of the territories along which they pass. Their creation is directly related to projects for the development of sectors of the economy and social sphere.
If a modern transport corridor connects the Caspian Sea and Black Sea, it will lead to uninterrupted cargo transportation between Asia and Europe. New opportunities for the regional states will be opened up. This was confirmed by the first meeting of the foreign ministers of Azerbaijan, Romania, Georgia and Turkmenistan, held in mid-March 2019 in Bucharest.
According to its results, a political declaration was signed. The document reflects the determination of the four states to implement the project of an international freight route between two seas by joint forces.
As expected, the corridor between the two seas will have a real impact on the standard of living in the participating countries and cause a sharp surge in business activity in neighboring regions.
The idea of the project is to make full use of the geographical proximity of Romania, Georgia, Azerbaijan and Turkmenistan, as well as the capabilities of the ports of Constanta in Romania, Poti in Georgia, Baku in Azerbaijan and Turkmenbashi in Turkmenistan.
New transport route will allow establishing a direct connection between the port of Constanta and the Danube River, and then the rivers and canals on the European continent, that will open access to Central and Northern Europe.
In general, the Caspian-Black Sea region is becoming links of a single Eurasian transport network.
The main question is how to direct the necessary volumes of cargo along this route, which would make its work profitable and profitable. To meet these challenges, in the near future four countries have planned to create an expert working group, optimize working procedures, harmonize tariffs, identify remaining infrastructure and legal constraints, and jointly promote the project at the international level, including in the course of interaction with the European Union. But it will not be easy for them to achieve all these ambitious goals.
The closest allies of Azerbaijan, Turkey and Russia, support all the projects aimed at strengthening economic cooperation between Baku and other countries of the Caspian-Black Sea region. Moscow and Ankara are lobbying for the creation of a transport corridor between the two seas.
Azerbaijan once again demonstrates that it is becoming one of the most important transport hubs of Eurasia – a transit hub in which the East and the West are tightly tied.
This country is interested in East and West, not conflicting with each other, but driven forward by the single energy of partnership.
China's changing interests in South Caucasus
On April25-28,"Second Belt and Road Forum for International Cooperation" took place in the capital city of China. From South Caucasus region only Azerbaijan leader Aliyev was in the list of 36 top-Level attendees (Diplomat, April 27).As the Azerbaijan was participating first forum in 2017 on ministerial level, visit of President in second forum demonstrates intention of both sides for close cooperation within the framework BRI.
Despite fact that China's strong ambition to enter European market through BRI makes Georgia one of the most important players in the region (it has FTA both with China and EU) its high-level officials did not attend the forum (Emerging-Europe, January 3, 2018).
Generally, South Caucasus region was not in the Chinese focus when the BRI project was unveiled in 2013.Its attitude to the region has changed afterwards. Being part of the Central Asia-West Asia Economic Corridor, South Caucasus has strategic importance for China. At the same time, transportation projects such as Baku-Tbilisi-Kars railway and Anaklia Deep-Sea Port has increased significance of the region.
From geopolitical point of view stability in Azerbaijan and Georgia's political problems with Russia creates ground for Chinese presence in Caucasus. It is clear that having political problems with West Russia is not willing to confront China. Therefore, using these opportunities and establishing good relations both with Georgia and Azerbaijan China is able to avoid its biggest rival in Eurasia and use shortest way to European markets (Trend.az, April 10).
Importance of South Caucasus countries within the BRI framework is not same. Armenia has less potential for BRI. It does not have enough transportation infrastructure and its borders with Azerbaijan and Turkey closed. Armenia has a potential to become a corridor to markets of Eurasian Economic Union (EEU) and Iran. However, it does not have borders with the members of EEU and railway project between Armenia and Iran is not viable due its high costs ($3.2 billion) and less importance in commercial means (Vestnikkavkaza, August 25, 2018).Also, China has borders with two biggest members of EEU and could easily reach EEU markets through them.
In the case of Georgia, China is the biggest foreign investor. China's Hualing Group controls Kutaisi free industrial zone (FIZ), owns Basis Bank, hotels, wine export enterprise. It also constructs "Tbilisi Sea New City" near Tbilisi Sea in which company has already invested around 150 million dollars (hualing.ge).Another Chinese company CEFC Energy owns 75% of Poti FIZ (Cbw.ge, March 20).
Unlike the Georgia, mostly state-owned Chinese companies have invested in Azerbaijan. One of these companies CTIEC Group constructed biggest cement factory in Azerbaijan in 2014.China also has a great interest on Baku International Sea Trade Port as it is one of the main ports within BRI. Based on intergovernmental grant agreement China transferred $2 million worth equipment to the port (Azernews, April 4, 2018).
Despite fact that Azerbaijan is China's key trade partner in the South Caucasus (it accounts 43 percent of China's trade turnover in the region) it has massive investments in Georgia (Azernews, April 25). It mostly related to political orientation of these countries. Georgia follows more western orientation that made it more attractive for China while Azerbaijan implements balanced strategy and it does not want to feel China's pressure. Besides, Azerbaijan is not in need of financial assistance like Armenia and Georgia as it has enough financial reserves.
However, recent developments of Sino-Azeri economic relations within the framework of the Second Belt and Road Forum creates new perspectives for China's presence in South Caucasus. During the forum 10 agreements worth of 821 million USD has been signed (Azvision.az, April 24). These contracts cover different economic spheres of non-oil sector including the construction of a tire factory in the Sumgayit chemical-industrial park, the creation of a 300-hectare greenhouse complex in the Kurdamir region of Azerbaijan, and the construction of agrological industrial parks in the Guba, Goychay and Khachmaz regions (Turan.az April 24).If we take in account that Chinese investors have invested800 million USD in the economy of Azerbaijan since independence, obtained agreements in the forum worth of same amount shows China's growing interest in Azerbaijan.
Nevertheless, it does not mean that China's preference of Georgia has changed. Within the BRI project both Azerbaijan and Georgia are of geopolitical importance for China. It is in China's interest to boost bilateral relations with both of countries. It is apparent that China already has considerable investments in Georgia and now it is time to deepen cooperation with Azerbaijan. At the same time Azerbaijan is not going to cross limits of its balanced policy. Chinese companies that signed agreements in second forum are government affiliated companies as well. It again shows that Azerbaijan is willing to deepen cooperation without creating room for pressure in its domestic economy.