OECD urges more action on bridging digital divides, boosting skills and enhancing access to data
The digital transformation is well under way, yet its scope and speed varies greatly across countries, sectors, people and places. Going digital will only fully benefit economies and societies if governments step up efforts to prepare businesses, people and policies for a digital world, the OECD said today.
More people are connected to the Internet than ever before, but gaps persist and new ones may emerge, according to data presented during the OECD's Going Digital Summit taking place in Paris on 11-12 March. More than four in 10 rural households in OECD countries don't have access to the fast fixed broadband needed to support the Internet of Things, whereas nearly nine in 10 households in urban areas have fast connections. A striking gap also remains between the way people with low and high levels of education use the Internet: over 40 percentage points' difference in the case of Internet banking.
A digital divide by gender sees women lagging behind in information and communications technology (ICT) professions, and more than twice as many young men as young women are able to program. In some countries, the gender divide in Internet usage is still too high.
"The digital transformation is affecting every aspect of our lives. It is redefining social and economic interactions; it is raising concerns about jobs, skills, privacy and security. And it is testing our policy frameworks as we try to balance innovations that can greatly improve people's well-being with many other concerns involving privacy, security, competition or equality, to mention just a few," said OECD Secretary-General Angel Gurría. "We have a responsibility to get the digital transformation right so it empowers and improves everybody's lives."
The digital transformation of economies and societies brings a significant training challenge. Only 31% of adults have sufficient problem-solving skills to succeed in a digital world, and the highly skilled tend to benefit more from digital opportunities. Training must target those most in need, particularly low-skilled workers of whom only 40% receive firm-based training compared to 73% of high-skilled workers.
Data and data flows are an increasingly important source of value creation. Every day, data is produced equivalent to about 1.25 billion DVDs. Creating more value in the digital age requires enhancing access to and sharing of data, promoting interoperable privacy regimes to facilitate cross-border data flows, and opening up government data while taking account of national and private security concerns.
Broader concerns over online privacy and trust must also be addressed, as well as the impact of social networks on people's mental health and on democracy. Cyberbullying is a growing challenge, with nearly one in ten 15-year-olds saying they are subject to it. The rapid development of Artificial Intelligence is revolutionising production and science and bringing direct benefits to consumers through applications like smart home appliances, improved healthcare and fraud detection but AI is also raising trust, safety and accountability concerns The OECD is seeking to address these by designing a set of guiding principles for AI.
Other key findings and recommendations include:
The Internet of Things is growing so fast that by 2022 three devices will be connected for every person in the world. But network capacity often lags behind. There are only seven fibre subscriptions per 100 people in the OECD area. Promoting competition and removing barriers to investment in infrastructure, especially fibre, can help increase access.
Most people, firms and governments are connected, but few are advanced users. Only 11% of small firms perform big data analysis compared to 33% of large ones. Governments can encourage more-sophisticated use of digital tools by investing in ICTs and skills.
Innovation is increasingly digital and data-driven, but not all countries innovate in the same way. Over 2013-16, about 33% of OECD country patents were in ICT compared to about 60% in China. Governments can boost innovation by promoting entrepreneurship, supporting basic research, and investing in R&D, patents and software.
The digital transformation is changing the world of work. OECD estimates show that automation may affect almost half of all jobs in the future, but four out of ten jobs created in the past decade were in highly digital-intensive sectors. It is vital that governments ensure fair transitions from declining to expanding job areas and strike a balance between flexibility and mobility on one hand and job stability on the other.
Trust fundamentally underpins the digital transformation, but almost a third of Internet users mistrust social and professional networks and 15% of EU citizens do not shop or bank online because of security concerns. Digital security risk management and improving online consumer protection should be strategic priorities.
Digital technologies and data transform how countries compete, trade and invest. For example, firms in the most digital-intensive sectors enjoy a 55% higher mark-up than other firms, and cross-border acquisitions of digital-intensive firms grew 20 percentage points more than those in other sectors over 2007-15. Reducing barriers to trade and investment, and addressing changing dynamics, can foster more market openness.
Two reports and an interactive data tool are being launched at the Going Digital Summit:
Going Digital: Shaping Policies, Improving Lives, which presents a comprehensive strategy for policy making in the digital age.
Measuring the Digital Transformation: A Roadmap for the Future, which proposes nine actions to build the next generation of data and indicators capable of dealing with the challenges of the digital transformation.
The online Going Digital Toolkit shows how countries compare in a raft of different areas from digital access and use to market openness, investment and trust, and featuring policy guidance and analysis to help countries realise the promises of digital transformation.
The OECD Going Digital Summit culminates Phase I of the OECD Going Digital Project, presenting the main findings and policy messages from the last two years of work by the Organisation in this area. The summit brings together high-level policy makers responsible for policies related to the digital economy and key stakeholders, to exchange views and share practices and experiences around the seven pillars of the OECD's Going Digital integrated policy framework: enhancing access, increasing effective use, unleashing innovation, ensuring jobs, promoting social prosperity, strengthening trust and fostering market openness. The 2019 Ministerial Council Meeting of the OECD, taking place next 22-23 May and chaired by the Slovak Republic, will precisely focus on "Harnessing the Digital Transition for Sustainable Development: Opportunities and Challenges".
We need to lead technology, not let technology lead us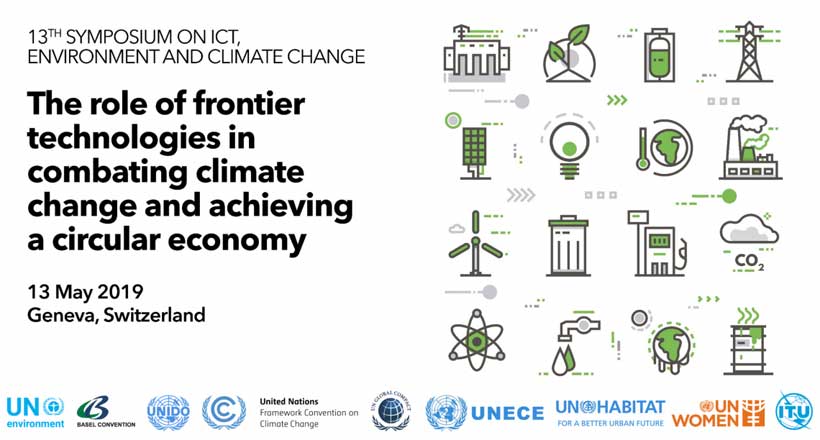 Industry experts, policymakers, and representatives from the ICT sector, international organizations and academia, have come together to discuss the role of frontier technologies, such as artificial intelligence (AI) and the Internet of Things, in combating climate change and achieving a circular economy.
The 13th Symposium on ICT, Environment and Climate Change was co-organized by a number of UN agencies, including the UN Industrial Development Organization (UNIDO), and was hosted by the International Telecommunication Union (ITU) at their Geneva headquarters.
The potential of frontier technologies to help to lower carbon emissions, boost climate resilience and support the transition to a circular economy represents a significant opportunity for stakeholders to progress with the goals of the 2030 Agenda for Sustainable Development, including Sustainable Development Goal (SDG) 9 on industry, innovation and infrastructure.
The event was opened by ITU's Deputy Secretary-General, Malcolm Johnson, who emphasized the importance of the three C's – collaboration, cooperation and coordination. "We need innovative solutions to the way we produce goods and services," he affirmed in his opening remarks.
The importance of partnerships was prominent throughout the day's discussions, during which participants learnt about how frontier technologies are helping to boost climate actions, from satellite data to support farmers with harvesting to tropical weather forecasts.
The need for bold leadership, and "a strong vision and guts to execute the plan" was highlighted by Piyush Verma, Senior Energy Market Analyst at the International Energy Research Centre. Participants were united in the belief that "we need to lead technology, not let technology lead us." This notion was echoed throughout the three sessions with Ericsson's Master Researcher, Pernilla Bergmark, affirming that ICT could be an "enabler of exponential climate action".
The role of data in combating climate change and achieving a circular economy was also discussed, with numerous examples given of ways in which Big Data and augmented realities are being used to power decisions to improve the lives of people across the world from Dubai to Norway. In a pilot project in the Norwegian town of Ålesund, traffic data has been used to help to halve emergency service response times, while in Dubai the implementation of circular ICT services and infrastructure has resulted in significant economic savings for over 50 entities.
During the final session on the "Impacts of E-waste on Climate Change and Moving to a Circular Economy", experts provided updates on various international efforts to improve e-waste management. This included an overview of the international standards developed by ITU-T Study Group 5: "Environment, Climate Change and Circular Economy", and an update on the UNIDO GEF Project that assists 13 countries in Latin America both technically and financially, advising on e-waste policies and regulations, suitable management technologies, business models, capacity building and awareness-raising, in collaboration with ITU and other UN agencies.
Cutting-edge technologies against floods, fires and extreme weather events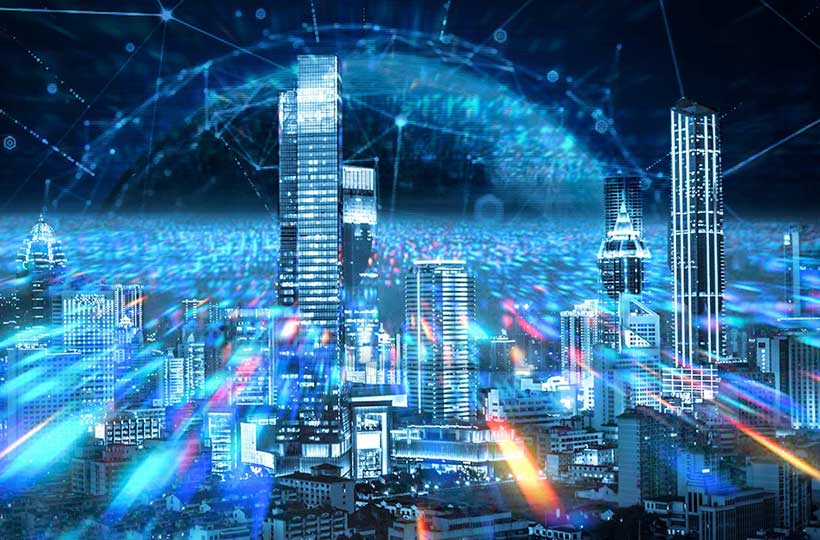 Big Data to process information in real-time during disasters, Artificial Intelligence applied to language filtering and a mobile app to alert citizens are some of the technologies presented. On 9- 10 May 2019, experts in floods, fires and extreme weather management from around Europe will meet in Venice to introduce and employ the tools developed by the H2020 project "I-REACT". The solutions developed in 3-year of intensive work and their core technology will be released as a free, open-source software for a larger adoption and use.
A new cross-platform mobile application to improve the monitoring and the real-time reporting. Wearables that locate and monitor the status of first responders. Updated and actionable satellite information to better assess how a fire, a flood or heavy rains may evolve. Accurate forecasts to predict the onset of weather extremes.
These are some of technologies that emergency responders will now be able to use, thanks to the Big Data platform developed by I-REACT.
The results of this project, funded by the European Union, will be shared in a workshop that will take place on 9-10 May, at the premises of UNESCO Regional Bureau for Science and Culture in Europe in Venice.
Among the attendees of the workshop will be representatives of Specialised Programme of the United Nations, European Commission and Civil Protection agencies and emergency management experts from around Europe.
The I-REACT solutions will be tested first-hand, through an in-field simulation – including flood and wildfire scenarios – thanks to the cooperation with the staff of the Civil Protection Department of Venice and its professional volunteers. They will be managed through the main technology of the project: a centralized, modular and interoperable Big Data platform. It combines data from multiple information sources such as weather prediction at different scales, models for climate projections and early warning forecasts for flood, fires and extreme weather events. The platform also incorporates a social media engine that uses natural language processing and machine learning to filter information from Twitter, providing real-time insights of the situation.
"Big Data and Artificial Intelligence are the main strengths of the project, as they allow us to transform raw data into useful information", explains Fabrizio Dominici, head of the Mobile Solution research area at the LINKS Foundation of Turin and coordinator of the I-REACT project. "This is extremely helpful nowadays, since Social Media has turned each citizen into a source of information. In addition, the project also features a mobile app that enables citizens to share geolocalised photos and information on disasters. "
"UNESCO contributes to Disaster Risk Reduction and technological solutions for improving prediction and management of disasters.", explains Ana Luiza Massot Thompson-Flores, Director of the UNESCO Regional Bureau for Science and Culture in Europe. "The I-REACT project is an important component of our Regional Bureau's efforts in line with the Sendai Framework for Disaster Risk Reduction 2015-2030 that stresses the importance of using appropriate communications, geospatial and space-based technologies to support our member states in coping with climate change risks."
This event represents an excellent opportunity to show the results of more than 3 years of hard work and close collaboration among 20 European partners. All the technologies are now available for Civil Protection Agencies, emergency managers and insurance companies. Our tools are modular, easily integrated with the existing services, and enable a multi-agency, cross-border disaster management.
The 2-day workshop will be a turning point, marking the end of the implementation of the research and innovation activities of the EU-funded I-REACT project and inaugurating the breakthrough of its resulting cutting-edge technologies.
100 organizations to accelerate blockchain deployment with World Economic Forum
Leaders from the global supply chain and logistics industry, the world's largest ports, blockchain start-ups, importers/exporters and civil society have teamed up with the World Economic Forum, the International Organization for Public-Private Cooperation, and over 20 governments to accelerate blockchain deployment across supply chains.
Currently, the supply chain industry is fragmented, with parties adopting a siloed approach. Blockchain and distributed ledger technology (DLT) could bring standardization and transparency, but this nascent technology is prone to hype. The Forum's Redesigning Trust with Blockchain in the Supply Chain project is a new initiative to help supply chain decision-makers cut through the blockchain hype and ensure that the technology is deployed in an interoperable, responsible and inclusive way.
Over 100 organizations and experts are on the team, representing large shippers, supply chain providers and governments. They include Maersk, Hitachi, Mercy Corps, Korea Customs Service, Llamasoft and Ports of Los Angeles, Oakland, Valencia and Rotterdam. The multistakeholder group will co-design an open-source roadmap or toolkit to guide supply chain decision-makers towards blockchain deployment. It will highlight technical and non-technical drivers of success, risks and recommendations as well as requirements.
"As blockchain technology is so new, supply chain decision-makers need clear guidelines, tools and frameworks to help them maximize the benefits and minimize the risks of this technology," said Nadia Hewett, project lead, Blockchain and Distributed Ledger Technology, World Economic Forum. "This toolkit will be built by the industry and piloted, so we can see what works and what does not. We are going to piece together the puzzle, so others don't have to start from scratch."
"The project has created a broad and diverse community of stakeholders to share experiences and develop a toolkit for innovators and decision-makers to navigate the complex policy, technical and commercial issues that arise from digital transformation of the supply chain," said David Libatique, Deputy Executive Director, Port of Los Angeles.
Bernhard Kowatsch, Head, Innovation Accelerator, World Food Programme, said: "A big part of WFP's core operations revolve around logistics and supply chain, distributing food and other life-saving items to more than 90 million people in 83 countries around the world. Becoming a part of the Forum's Redesigning Trust: Blockchain for Supply Chain community has provided us with the opportunity to share real-world challenges and use cases, making invaluable connections between the private and public sectors to assist us in the development of our own innovative blockchain for supply chain projects."
"We believe that blockchain is a promising technology for several industry verticals, including the financial sector, distribution and logistics, among others," said Norihiro Suzuki, Ph.D., Vice President and Executive Officer, Chief Technology Officer, and General Manager of the Research & Development Group, Hitachi, Ltd. "Hitachi is actively contributing to the development of platforms through open source software communities. We are looking forward to working with the World Economic Forum to bring together these communities to explore the future of supply chains and data flow economy."
The World Economic Forum will be releasing monthly white papers on the findings from the community. The recommendations will include guidelines on data privacy, security, creation and use of data, public versus private platforms, interoperability, digital identity and signatures. Supporting an approach that considers the entire ecosystem promises to ensure an inclusive perspective and result that will benefit all stakeholders.
Industry ready for sea change
Analysis in the first white paper points to a mindset shift in business from protective and silo-thinking towards a willingness to try new collaborative models. Competing ports have started to share data to optimize calls of shipping liners in the North Europe area. The ports also expressed willingness to expand their model to other ports. Similarly, and beyond the shipping industry, the world's four largest agriculture companies have partnered to digitize international grain trading.
"As digital technologies such as blockchain increasingly encourage higher levels of trust among supply chain partners, they will have effects on processes in the physical world as well," Hewett said. "As a result, fragmentation within and across industries could diminish, the occurrence of errors and exceptions could decline, and operators could require fewer resources to complete the same tasks."