Future of BRICS: BRAXIT or 'Power Next'?
The club of emerging political and economic powers of Brazil, Russia, India, China, and South Africa in response to new global challenges is famously known as BRICS. Since its inception in 2006, it has been a platform to highlight the prominence of multi-polar world order challenging the collision of G-7 members. These five countries account for 20 percent of world GDP and 40% of the world population. Further, they hold 40 percent of gold and hard currency reserves. Being collectively the largest market, their cumulative GDP has tripled in the last ten years.
With the president of Brazil, Jair Bolsonaro on 28th October 2018, many are skeptical about the future of the BRICS as he comes from the far-rightwing camp which seems to be antagonistic to the BRICS. Brazil is the most populous nation in South America with the world's eighth-largest economy of the world. Bolsonaro wants Brazil to be great as Trump wants America to be great. Even during Bolsonaro's campaign period, he has reiterated that his foreign policy would be changed from his precursor. Further, he is a follower of conservative Christianity who profoundly believes in restoring Judeo-Christian tradition against communism.
With this scenario, the future of BRICS has been subjected to controversial as to Jair Bolsonaro would lead Brazil to exit the BRICS moving towards the pro-western camp. Another argues that this collision would last long due to their close trade relations.
The Origin of BRICS
In 2001 the term BRIC was firstly coined by Jim O'Neill, a British economist in a paper written for 'Global Economic Paper' of Goldman Sachs using the acronym stands for Brazil, Russia, India, and China. The first summit was held in 2009 at Yekaterinburg, Russia emphasizing the need of reformations to be made to the international financial institutions. In 2011, South Africa became a member of this group at the third Summit held at Sanaya, China making BRIC into BRICS. The primary purpose of BRICS is to broaden the cooperation among members and enhances the support for multipolar world order. It is mainly an indication of the movement of world power from the west to the South. Since the inception BRICS conducts its annual summit of heads of the states to youth forums though the members don't have their own permanent executive body or a secretariat.
Functions of BRICS
Two main functions of the BRICS are, to 1) liaise with meetings and international organizations such as IMF and G-20 Grouping and to 2) design a framework for BRICS members for multi-sectoral cooperation. Today it covers more than 30 sectors including agriculture, science and technology, culture, outer space, think tanks, Internet governance and security, social welfare, intellectual property, health, and tourism. The forum called BRICS Business Council promotes and strengthens business, trade and investment ties amongst the business communities of the members. Think Tank Council formulates long term economic strategies of the members.
Further initiatives have been made for establishing New Development Bank (NDB) to finance the infrastructure projects in emerging economies and developing countries and also for entering into Contingent Reserves Arrangement (CRA) to promote mutual support among the members in situations of instability in the balance of payments. Demands have also been made to reformulate the IMF but, they were not yet successive because of the resistance caused by the Western power. Moreover, the BRICS are open to cooperation and constructive engagement with other countries, as well as open with international and regional organizations in dealing with current global issues.
Despite this, one of the vital political demands that the BRICS has made to the United Nations Organization is to expand the number of members of the Security Council covering the BRICS members and making decisions of the UNO more democratic and accountable. This shows the importance of BRICS to balance the prevailing world order and also to voice for the global south in international relations.
Challenges Ahead
However, as it is mentioned the foreign policy of Bolsonaro is opposite to the leftist approach which was a blessing to accelerate the activities of BRICS. It is more similar to the protectionist approach followed by the US President, Trump. Once, Bolsonaro said at a press conference as "It is about aiming for a great Brazil like that – the way Trump wants America to be great". This approach is contrary to the joint statement made at the 2nd summit of the heads of the states held at Brazil where the members pledged to resist all forms of protectionism and fight disguised restrictions on trade. Further, criticisms made concerning multilateralism and pulling out Brazil from Global Compact for Migration also support Bolsonaro's protectionist approach. With respect to the crisis in Venezuela, Bolsonaro supporting the USA rejects Nicolas Maduro as the duly elected President, while all other BRICS members accept Maduro as democratically elected president.
Moreover, distant relations between China and Brazil also a reason to make BRICS in a more controversial position. With the Xi Jinping's rise in China from 2013, China took the leadership of the BRICS group and proposals were made at the Fortaleza Summit in 2014 to establish NDB to mobilize resources for infrastructure and sustainable development projects in BRICS and other emerging economies, as well as in developing countries. However, Bolsonaro's far right and anti-communist ideology is contrary to fundamental policies of China. His early visit to Taiwan and South Korea and China's reaction on his visit has greatly influenced on assuming Bolsonaro would choose between BRICS and OECD members.
Nonetheless, since 2009 China is the top trading partner of Brazil and on the other hand export of soy to China from Brazil is as crucial as the arrival of Chinese investment into Brazil. According to a recent study carried by the Started Charted Bank, China will become the largest economy of the world in 2020. Hence, though there is much ideological dissimilarity, both the countries are dependent on each other concerning their trade relations.
Conclusion
If Bolsonaro is more driven by his far-right ideology than by pragmatism, he will not deal closely with the BRICS members. However, it is difficult to assume that he will abandon this BRICS group as Brazil is highly dependent on Chinese imports. It would be challenging for him to dramatically shift in his trade relations having with China and also with Russia. More importantly, in the middle of this year, it is Brazil's turn to host the BRICS summit of 2019. Though there are no valid reasons for BRAXIT, i.e. for Brazil to exit from BRICS, Brazil would not be an active player in BRICS making BRICS into the most powerful allies of the South as it happened during LuizInácio Lula da Silva's tenure. Skepticism arose even when Narendra Modi appointed as Prime-Minister in India coming from the far right wing that how BRICS is going to maintain cooperation among members with the rivalry between India and Russia. Further, Brazil was not prominent in BRICS during his predecessors Dilma Rousseff and Michel Temer's period. Conversely, it's not only stance of Brazil has been changed even China doesn't seem to be willing to invest much on the BRICS as in the past. As Lord Palmerston once stated, "in international relations, there is no eternal allies and no perpetual enemies. Only the interests are eternal and perpetual". Hence, BRAXIT seems to be far away than we assume.
A self-inflicted wound: Trump surrenders the West's moral high ground
For the better part of a century, the United States could claim the moral high ground despite allegations of hypocrisy because its policies continuously contradicted its proclaimed propagation of democracy and human rights. Under President Donald J. Trump, the US has lost that moral high ground.
This week's US sanctioning of 28 Chinese government entities and companies for their involvement in China's brutal clampdown on Turkic Muslims in its troubled north-western province of Xinjiang, the first such measure by any country since the crackdown began, is a case in point.
So is the imposition of visa restrictions on Chinese officials suspected of being involved in the detention and human rights abuses of millions of Uyghurs and other Turkic Muslims.
The irony is that the Trump administration has for the first time elevated human rights to a US foreign policy goal in export control policy despite its overall lack of concern for such rights.
The sanctions should put the Muslim world, always the first to ring the alarm bell when Muslims rights are trampled upon, on the spot.
It probably won't even though Muslim nations are out on a limb, having remained conspicuously silent in a bid not to damage relations with China, and in some cases even having endorsed the Chinese campaign, the most frontal assault on Islam in recent history.
This week's seeming endorsement by Mr. Trump of Turkey's military offensive against Syrian Kurds, who backed by the United States, fought the Islamic State and were guarding its captured fighters and their families drove the final nail into the coffin of US moral claims.
The endorsement came on the back of Mr. Trump's transactional approach towards foreign policy and relations with America's allies, his hesitancy to respond robustly to last month's missile and drone attacks on Saudi oil facilities, his refusal to ensure Saudi transparency on the killing a year ago of journalist Jamal Khashoggi and his perceived empathy for illiberals and authoritarians symbolized by his reference to Egyptian field marshal-turned-president Abdel Fattah al-Sisi as "my favourite dictator."
Rejecting Saudi and Egyptian criticism of his intervention in Syria, Turkish president Recep Tayyip Erdogan gave the United States and Mr. Trump a blunt preview of what they can expect next time they come calling, whether it is for support of their holding China to account for its actions in Xinjiang, issues of religious freedom that are dear to the Trump administration's heart, or specific infractions on human rights that the US opportunistically wishes to emphasize.
"Let me start with Saudi Arabia," Mr. Erdogan said in blistering remarks to members of his Justice and Development Party (AKP). "Look in the mirror first. Who brought Yemen to this state? Did tens of thousands of people not die in Yemen?" he asked, referring to the kingdom's disastrous military intervention in Yemen's ruinous civil war.
Addressing Mr. Al-Sisi, Mr. Erdogan charged: "Egypt, you can't talk at all. You are a country with a democracy killer." The Turkish leader asserted that Mr. Al-Sisi had "held a meeting with some others and condemned the (Turkish) operation – so what if you do?"
The fact that the United States is likely to encounter similar responses, even if they are less belligerent in tone, as well as the fact that Mr. Trump's sanctioning of Chinese entities is unlikely to shame the Muslim world into action, signals a far more fundamental paradigm shift: the loss of the US and Western moral high ground that gave them an undisputed advantage in the battle of ideas, a key battleground in the struggle to shape a new world order.
China, Russia, Middle Eastern autocrats and other authoritarians and illiberals have no credible response to notions of personal and political freedom, human rights and the rule of law.
As a result, they countered the ideational appeal of greater freedoms by going through the motions. They often maintained or erected democratic facades and payed lip service to democratic concepts while cloaking their repression in terms employed by the West like the fight against terrorism.
By surrendering the West's ideological edge, Mr. Trump reduced the shaping of the new world order to a competition in which the power with the deeper pockets had the upper hand.
Former US national security advisor John Bolton admitted as much when he identified in late 2018 Africa as a new battleground and unveiled a new strategy focused on commercial ties, counterterrorism, and better-targeted U.S. foreign aid.
Said international affairs scholar Keren Yarhi-Milo: "The United States has already paid a significant price for Trump's behaviour: the president is no longer considered the ultimate voice on foreign policy. Foreign leaders are turning elsewhere to gauge American intentions… With Trump's reputation compromised, the price tag on U.S. deterrence, coercion, and reassurance has risen, along with the probability of miscalculation and inadvertent escalation."
Trump's effects on diplomacy
No longer has Trump's haphazard behaviour persisted, more will be easy for his administration to enact actions against China, Iran and Taliban. The state department is in a quandary because of it, on each front. Trump's entrenched eagerness to remain "great" and "first" on the chessboard of International power, could damage the world more ahead than before.
Following the Iran's attacks on the Kingdom of Saudi-Arabia's oil infrastructure, US wanted to deploy troops to the Kingdom. It is primarily a justification for why the US has been imposing sanctions over Iran. Is troops deployment a solution? Or will it provide safe horizon to Kingdom oil's installation? Or will it be revolutionary in oil diplomacy? Or is it the only target retaliated on, by Iran. However, such kind of engagement has short term beneficiary spots, while in broader perspective it has consequential effects for all stakeholders. The episode of nuclear deal has, as a factor of quid-pro-quo, been further dramatised by the state department, withdrawing from. Notwithstanding, the deal has advantageous prospects for the Middle East, and an exemplary for rest of nations, has been further dramatised by the US, in order to seek its diplomatic wins. What significant at this point, is an agreement to reback to the deal.
Embracing a different economic model, China, is plausibly on a runner-up position to the US. Whether it's 5G tech. Or leading status of green energy, or ultra-scales exports or its leading developments for the nations having indigent economies, is a source of chaos for US administration. The current trade war is an antidoting tool for the whole scenario. The US should, I assume, eye China's hegemony a piece of cake, and welcome its come out while securing its interests under the umbrella of cooperation. This logic, while posing no threat, seems to be long term functional. Is it?
Trump, according to many native writers, is psychologically unfit, unstable and fickle, however have had strong narrative to prevent America's engagement into "useless wars" and end "endless" wars. Following this token, Trump announcement of troop withdrawal from Syria and Afghanistan put the world politics and even his administration into chaos. This divided strategists and Washington security officials, which was underpinned by the resignation of James Mattis and recently John Bolton. The ten months of peace process which followed the US's announcement of troop withdrawal, precipitously ended, putting once again the international and national politics into chaos. Trump, grandiloquently fired a tweet that talks with Taliban are dead and futile. The argument he contended was the Attack in Kabil, where one American soldier with 12 other people were lost. The policymakers and high officials in Washington who already negated the policy of troop withdrawal and then after peace deal. They, of course are winner in this policy discourse, have staunch beliefs in their opinion, who may make Trump's change of heart. The Kabil attack was given, probably, an agent of resurgent for Obama's approach. However, Trump's administration had already scripted their policy framework for the region, and pretending Kabul attack was perhaps a way of redemption from the peace talk.
Trump's factor in US foreign policy was chaotic to his subordinates for which, he attempted to compensate by cancelling peace deal with Taliban. However , on the domestic front, it is likely to be more pluses than on diplomatic front given to Trump in next year's presidential election. Let's see which side the wind blow.
Trump Cannot Be Impeached Over Ukrainegate, But Pelosi and Schiff Can Be Charged Criminally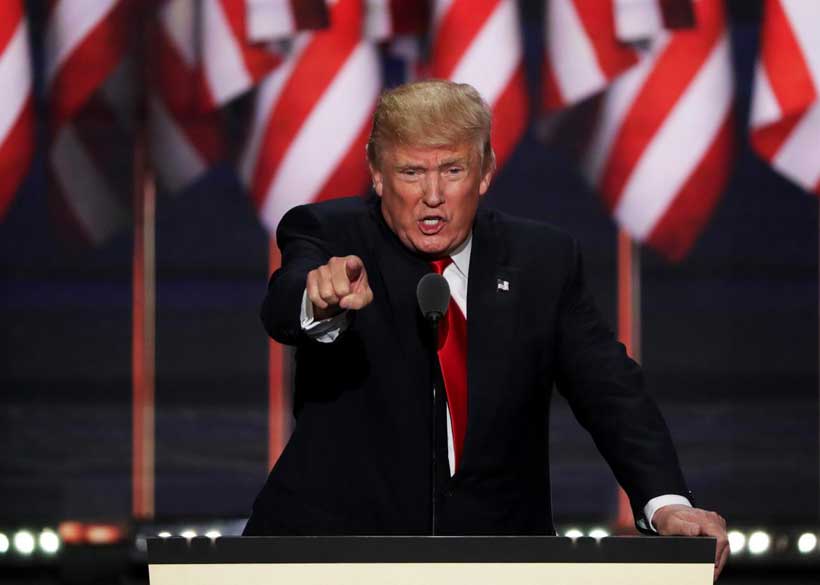 Pursuant to United States v. Curtiss-Wright Export Corp., 299 U.S. 304 (1936), the U.S. Supreme Court issued an unmistakable clear edict concerning the foreign affairs powers of the President of the United States.
In its majority opinion, the Court held that the President, as the nation's "sole organ" in international relations, is innately vested with significant powers over foreign affairs, far exceeding the powers permitted in domestic matters or accorded to the U.S. Congress.
The Court reasoned that these powers are implicit in the President's constitutional role as commander-in-chief and head of the executive branch.
Curtiss-Wright was the first decision to establish that the President's plenary power was independent of Congressional permission, and consequently it is credited with providing the legal precedent for further expansions of executive power in the foreign sphere.
In a 7–1 decision authored by Justice George Sutherland, the Supreme Court ruled that the U.S. government, through the President, is categorically allowed great foreign affairs powers independent of the U.S. Constitution, by declaring that "the powers of the federal government in respect of foreign or external affairs and those in respect of domestic or internal affairs are different, both in respect of their origin and their nature…the broad statement that the federal government can exercise no powers except those specifically enumerated in the Constitution, and such implied powers as are necessary and proper to carry into effect the enumerated powers, is categorically true only in respect of our internal affairs."
While the Constitution does not explicitly state that all ability to conduct foreign policy is vested in the President, the Court concluded that such power is nonetheless given implicitly, since the executive of a sovereign nation is, by its very nature, empowered to conduct foreign affairs.
The Court found "sufficient warrant for the broad discretion vested in the President to determine whether the enforcement of the statute will have a beneficial effect upon the reestablishment of peace in the affected countries."
In other words, the President was better suited for determining which actions and policies best serve the nation's interests abroad.
Period.
It is important to bear in mind that we are here dealing not alone with an authority vested in the President by an exertion of legislative power, but with such an authority plus the very delicate, plenary and exclusive power of the President as the sole organ of the federal government in the field of international relations – a power which does not require as a basis for its exercise an act of Congress, but which, of course, like every other governmental power, must be exercised in subordination to the applicable provisions of the Constitution.
Separation of Powers Doctrine
In other words, neither the U.S. Congress nor the U.S. Senate can say or do very much of anything to prevent or interfere with this power, and if they do, they can in fact be held responsible for violating the Separation of Powers doctrine pursuant to the U.S. Constitution wherein the three branches of government (executive, legislative, and judicial) are kept separate.
This is also known as the system of checks and balances, because each branch is given certain powers so as to check and balance the other branches.
Each branch has separate powers, and generally each branch is not allowed to exercise the powers of the other branches.
The Legislative Branch exercises congressional power, the Executive Branch exercises executive power, and the Judicial Branch exercises judicial review.
National Security and Foreign Affairs
The Curtiss-Wright case established the broader principle of executive Presidential supremacy in national security and foreign affairs, one of the reasons advanced in the 1950s for the near success of the attempt to add the Bricker Amendment to the U.S. Constitution, which would have placed a "check" on said Presidential power by Congress, but that never passed, or became law.
If Speaker of the House Nancy Pelosi and other Democrats really wanted to interfere with or prevent President Donald Trump from engaging in the activity that they are trying to prevent vis-a-vis Ukraine, China, and Joseph Biden's alleged corruption and its effect on National Security, they would have to first draft, propose, enact, and pass sweeping legislation, and this could take years and would most probably never pass.
Even so, it could not affect President Donald Trump's actions already occurred, since the U.S. Constitution prohibits ex post facto criminal laws.
Turning This All Against Nancy Pelosi and Adam Schiff
To that end if Speaker of the House Nancy Pelosi and Congressman Adam Schiff persist in pushing said "impeachment proceedings" against President Donald Trump, it is actually they who could find themselves on the wrong side of the law, with formal and actual charges of Treason, Sedition or Coup D' Etat being levied upon them by the U.S. Government.
The consequences of that occurring, are truly horrific indeed.