Engaging the music community to take action for the environment
UN Environment has teamed up with the nonprofit REVERB to engage music fans to take action for the environment on tours across several countries this year. Harnessing the power of live music and working with artists committed to doing their part to tackle pressing environmental issues, the partnership will encourage individual actions at concerts and beyond.
Music tours, concerts, and festivals have a significant environmental impact, between travel, enormous energy consumption, and the waste generated by hundreds of thousands of concertgoers. But live music also brings people together around their shared passion and has the potential to create real, positive change for people and the planet.
REVERB and UN Environment will work with musicians to educate and engage music fans on environmental issues, mitigate carbon emissions, and reduce single-use plastic waste through the UN #CleanSeas campaign and REVERB's #RockNRefill initiative, a partnership between REVERB and reusable water bottle maker Nalgene which has eliminated the use of more than 2.4 million single-use plastic bottles at concerts throughout North America since 2013.
"We wholeheartedly welcome the entertainment industry in joining government, civil society and private sector leaders in the fight for positive climate solutions," said Barbara Hendrie, Director of the UN Environment Office for North America. "Musical artists are in a unique position to use their platforms as performers and public figures to build awareness and engage their fans to take action on a very large scale."
"Music moves people to feel, to care, and moves us to action. REVERB uses this power to inspire millions of music lovers and music makers to take part in tackling today's most pressing environmental and social issues," said Adam Gardner, Co-Founder and musician with the band, Guster.
UN Environment's community of experts and Goodwill Ambassadors are on board to support this initiative. According to UN Environment Goodwill Ambassador and REVERB Advisory Board Member, Jack Johnson: "Throughout a decade of touring, I've worked with my crew to reduce our environmental footprint and to inspire fans to take action in their own daily lives. We work with venues to conserve energy, reduce food waste and single-use plastic, and support carbon offset projects around the world."
The partnership kicked-off last night as part of the 2019 Fleetwood Mac tour, where fans can visit the REVERB Action Village and take the Clean Seas pledge to eliminate plastic waste.
GHG emissions from pyrolysis are nine times higher than in mechanical recycling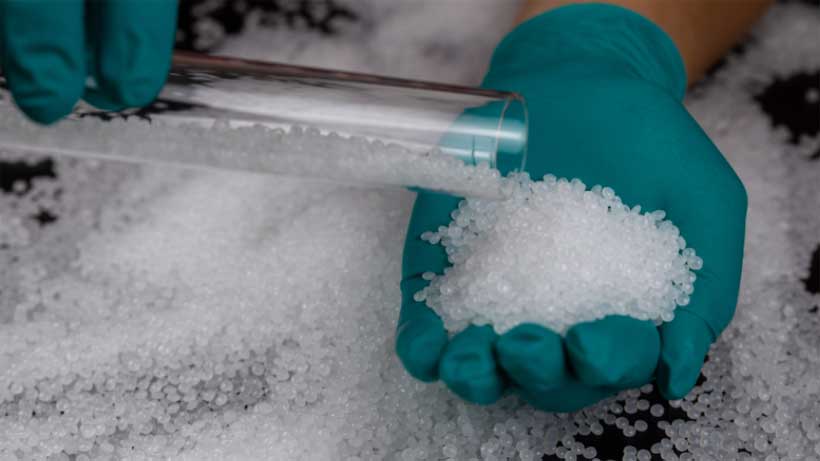 New study published today by Zero Waste Europe (ZWE) finds that greenhouse gas emissions from pyrolysis of plastic packaging are nine times higher than that of mechanical recycling. The "Climate impact of pyrolysis of waste plastic packaging in comparison with reuse and mechanical recycling" study is based on the estimated future recycling content targets in plastic packaging.
BACKGROUND: In the context of the revision of the Packaging and Packaging Waste Directive (PPWD), the European Commission (EC) assigned the independent consultancy Eunomia to consider the possible introduction of recycled content targets for plastic packaging by 2030. Based on the estimated future recycling content targets in plastic packaging, Eunomia determined to recycle quantities that must come as outputs from chemical recycling or mechanical recycling. Chemical recycling, in this case, means thermo-chemical (i.e. pyrolysis) recycling.
With this study, commissioned by ZWE and Rethink Plastic alliance to Öko-Institut, we calculated the impact of Eunomia's proposed scenario regarding greenhouse gas (GHG) emissions and carbon loss. The study compares seven scenarios to meet the projected recycled content target by 2030, and puts them into perspective with the Paris Agreement commitments to limit global warming to 1.5 degrees Celsius.
The study found that:
Pyrolysis GHG emissions are nine times higher than those in mechanical recycling – in all scenarios considered over 75% of greenhouse gas emissions are attributable to chemical recycling;
Over half of the carbon content of plastic is lost in the pyrolysis process and has to be replaced by new plastic;
Mechanical recycling must be prioritised over pyrolysis wherever possible – shifting 30% of the production attributed to chemical recycling by Eunomia to mechanical recycling would reduce GHG emissions by 31%;
Combining shit to more mechanical recycling together with a reduction of 20% of packaging would result in a 45% reduction of GHG emissions compared to the "chemical recycling scenario".
Combining mechanical and chemical recycling to transform plastic waste into recyclate avoids the GHG emissions associated with the use of primary plastic.

ZWE's Chemical Recycling and Plastic-to-Fuel Policy Officer, Lauriane Veillard says: "The revision of the PPWD should serve as a lever to make the packaging sector more circular and be in line with European climate commitments to limit Global Warming to 1.5 Degrees Celsius. There are other ways than pyrolysis for contact-sensitive materials. The climate impact of the managing pathways should be considered when setting targets. The revision is the opportunity to rethink the overall volume and the use we make of plastic packaging."
With this in mind, ZWE urges the European Commission (EC) to consider the reports' findings in the upcoming revision of the PPWD and to:
Introduce legal safeguards to prioritise mechanical recycling over pyrolysis;
Consider the climate impact of different recycling technologies when settings targets for recycled content;
Incentivise measures such as design for recycling and innovations along the plastic packaging value chain to facilitate mechanical recycling.
Lauriane Veillard adds: "If we are serious about achieving net-zero emission economy, mechanical recycling must be preferred over pyrolysis. However, this cannot be achieved unless legal safeguards as part of the P&PWD revision are introduced to prioritise mechanical processes for recycling packaging waste complemented with ambitious prevention and reuse targets".
UN spotlights transformational potential of family farming for world food supply
A Global Forum highlighting the UN's Decade of Family Farming (UNDFF) got underway on Monday, aimed at identifying priority policies to boost support for family farmers and agricultural development worldwide.
The UNDFF runs through the end of 2028, and the Forum is being convened by the UN Food and Agriculture Organization (FAO) and the International Fund for Agricultural Development (IFAD).
FAO Director-General QU Dongyu, pointed out in his video address to the Global Forum's opening that the world is moving backwards in its efforts to eliminate hunger and malnutrition.
Growing hunger
He said the number of people facing hunger increased in 2021, and it risks rising further especially among the most vulnerable, of which almost 80 percent live in rural areas and are small-scale, family farmers.
Family farmers around the world are also subject to the new challenges to food systems everywhere, created by the climate crisis, as well as conflict. The war in Ukraine has added further pressure, to already fragile agrifood systems, UN agencies said.
Mr. QU said the forum provides a way, firstly, to discuss "the unique role of family farmers in transforming our agrifood systems; two, take stock of achievements and challenges in the implementation of the UN Decade; and three, strengthen collaboration to ensure global food security, enhance livelihoods and achieve the Sustainable Development Goals".
80 percent
"Family farmers need to be at the centre of efforts to transform agrifood systems if we are to make real progress towards ending hunger," Mr. Qu said.
He added that "family farming is the main form of agriculture in both developed and developing countries and is responsible for producing 80 percent of the world's food," in terms of value.
Family struggle
He noted that often, these family farmers struggle to feed their own families.
Since its launch three years ago, the UN Decade of Family Farming has been promoting integrated policies and investments to support family farmers, and FAO has been assisting national implementation of international tools and guidelines to strengthen family farming, Mr. Qu told the virtual forum.
He also noted that FAO hosts the Family Farming Knowledge Platform to facilitate the exchange of experience, innovation and specialised knowledge.
In addition, the FAO Strategic Framework 2022-31 includes a priority area of work aimed at better supporting small-scale food producers and delivering concrete results.
Push for the future
The main objectives of the Global Forum are to provide a general overview of policy trends and the relevance of family farming to the global push towards reaching the Sustainable Development Goals; highlight the main outcomes of the first three years of implementation; and re-orient the UNDFF agenda through the practical lessons learned so far.
Participants include representatives from national governments, governmental agencies, UN agencies, family farmers and their organizations, civil society organizations, as well as NGOs; the private sector, the media and academia.
Microalgae promise abundant healthy food and feed in any environment
By Sofia Strodt
Feeding a growing world population that will reach 9.8 billion by 2050, according to United Nations forecasts, and the need to conserve natural resources for generations to come may seem conflicting at first.
But a solution, while not yet in sight, is certainly not out of reach. European scientists recently have developed an appetite for microalgae, also called phytoplankton, a sub-group of algae consisting of unicellular photosynthetic microorganisms.
Most people are familiar with the largest form of algae, kelp or seaweed. It can grow up to three metres long and, in some forms, is a well-known delicacy. The related species microalgae, which can be found in both seawater and freshwater, have gained attention in research due to their extraordinary properties.
These microscopic organisms can be used for animal feed, particularly in aquaculture, and various foods including pasta, vegan sausages, energy bars, bakery products and vegetable creams.
Most commercial microalgae cultivation centres on the production of dried biomass such as chlorella or spirulina powder as a food providing considerable health benefits. Some microalgae strains not only accumulate up to 65–70% of protein but also are sustainable sources of omega-3 fatty acids – a substance that is conventionally derived mainly from fish and fish oil.
Additional bioactive compounds, such as vitamins B12, K or D, mean microalgae contain significant health properties, potentially reducing the risk of cancer and cardiovascular illness.
Desert algae
'Microalgae can be cultivated in many different locations, under very different conditions,' said Massimo Castellari, who is involved in the Horizon-funded ProFuture project aimed at scaling up microalgae production. 'We can grow it in Iceland and in a desert climate.'
The technologies for the intensive cultivation of microalgae have been in development since the 1950s.
Today, microalgae are cultivated in open- or closed-system photobioreactors, which are vessels designed to control biomass production. The closed-system version, while more expensive to build, offers more control over experimental parameters and less risk of contamination.
The substance is by no means just a trendy food supplement. For example, in Chad, a landlocked, low-income country, the consumption of spirulina harvested from Lake Chad has significantly improved people's nutritional status because spirulina is an excellent source of proteins and micronutrients.
On top of its nutritional value, microalgae offer climate benefits by sequestering carbon dioxide as well as economic advantages by using farming areas more efficiently and – through the use of non-arable land – expanding the possibility of biomass production.
With a total of less than 57 000 tonnes cultivated in 2019, according to the UN Food and Agriculture Organization (FAO), production of microalgae is still very much in its early stages. By comparison, primary-crop output was 9.4 billion tonnes in 2019.
Food inflation
Russia's continuing war in Ukraine has highlighted just how vulnerable global food supply can be. Halts to Ukrainian grain exports and increases in energy prices have helped push food inflation around the world to record highs, with developing countries being hit disproportionately hard. In May this year, costs for food had risen by 42% compared with 2014-2016, the UN reported.
Last year, as many as 828 million people were affected by hunger – an increase of roughly 46 million compared with 2020 and a surge of 150 million since the outbreak of the COVID-19 pandemic.
The FAO projects that some 670 million people will still face hunger by the end of the decade.
While the benefits of cultivating organic microalgae for food and feed are substantial, market growth will require overcoming obstacles including a lack of automated production in the industry, according to Castellari, who works at the Institute of Agrifood Research and Technology in Barcelona, Spain.
'The automatisation is still not completely implemented,' he said. 'There are small producers in Europe – many steps still involve manual labour. So they are still working on optimising the process.'
Processed biomass
The challenges go well beyond cultivation. With microalgae, biomass has to be processed, cleaned and dried before a usable powder can be obtained. The next step is to scale up production to drive down costs.
In addition, there are regulatory challenges. Only a few species of microalgae are currently authorised in the European Union.
'In Europe it's still in a preliminary stage of development,' said Castellari. 'There are thousands of species of microalgae, but for food consumption or feed there are only seven species authorised.'
To gain knowledge about the possibilities to use other species, Castellari and his team are also investigating these other kinds of microalgae.
Due to these challenges, the portfolio of products containing microalgae remains limited today. But, if these hurdles can be overcome, the overall prospects for the microalgae industry are promising. Besides being a source of food and feed, the plant can be used for biofuels, cosmetics, fertiliser and health supplements.
Astaxanthin, a blood-red pigment extracted from algae, already has notable uses. A powerful antioxidant, astaxanthin can be found in seafood and is commonly used to colour shrimp. It is also sold in the form of pills as a food supplement.
Astaxanthin is thought to have potentially a positive impact on brain function, athletic performance and ageing skin, among other things.
Matteo Ballottari, associate professor of biotechnology at the University of Verona in Italy, helped start the European Research Council's Horizon-funded project AstaOmega simultaneously to produce astaxanthin and omega-3 fatty acids in microalgae for aquaculture and human nutrition.
Quality and quantity
Most omega-3 supplements are derived from fish oils. This, however, raises sustainability concerns such as damage to marine ecosystems as a result of overfishing.
'There is more demand for eating high-quality foods, along with an awareness for incorporating omega-3 rich ingredients in our diets,' Ballottari said. Responding to this trend while feeding a growing world population is 'a big challenge,' he said.
Meanwhile, on the astaxanthin front, the AstaOmega researchers have made progress. They have been able to obtain a new strain that can produce astaxanthin on its own, without needing to be "stressed". This means the researchers don't have to change production parameters such as light intensity, temperature or nitrates concentration. Also, extracting the substance has become easier, resulting in lower costs.
Scientists agree that microalgae have the potential to change the ways in which we eat for the better.
'Microalgae can help us to increase the protein production within Europe to reduce our dependence on other countries,' said Castellari of the ProFuture project.
Research in this article was funded by the EU and it was originally published in Horizon, the EU Research and Innovation Magazine.