Capital Markets Union: Making it easier for insurers to invest in the real economy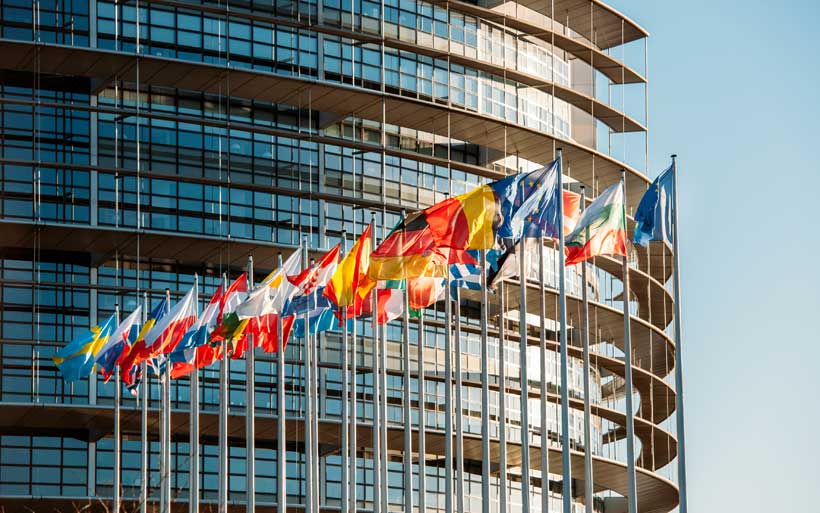 The European Commission adopted today new rules to help insurers to invest in equity and private debt and to provide long-term capital financing.
The insurance industry is well-equipped to provide long-term finance by investing in equity and private debt, including of small and medium enterprises (SMEs), but the actual share of their investments in the real economy remains limited. As a result of today's rules, insurers will have to hold less capital for such investments and will therefore find it more attractive to invest in the economy. This will further help mobilise private sector investment – a key objective of the Capital Markets Union. The newly adopted rules, which take the form of a Delegated Regulation, amend the EU prudential rules for the insurance sector, known as Solvency II, and follow up from the Mid-term review of the CMU Action Plan.
Commission Vice-President Valdis Dombrovskis, responsible for the Euro and Social Dialogue, also in charge of Financial Stability, Financial Services and Capital Markets Union, said: "One of the main objectives of the CMU is to foster economic growth in Europe by removing barriers to investment. Insurers were highlighting that some of the Solvency II rules were preventing them from investing more in equity and private debt. We have listened to their concerns. The amendments adopted today will make it easier and more attractive for them to invest in SMEs and to provide long-term funding to the economy".
Jyrki Katainen, Vice-President responsible for Jobs, Growth, Investment and Competitiveness said:"SMEs can play a crucial role in job creation and sustainable economic growth. To fulfil that role, they need access to a broad range of financing options, including via equity and privately-placed debt. Today's actions will allow SMEs and other companies to have better access to such financing instruments from insurers. I am confident that this change will contribute to growth and prosperity across the Union".
Based on expert advice from the European Insurance and Occupational Pensions Authority (EIOPA) and in-depth analyses by the Commission, today's Delegated Act lowers the capital requirements for insurers' investments in equity and private debt, also aligning the rules applicable to banks and insurers.
Today's amendments also change various other aspects of the Solvency II implementing rules, such as:
new simplifications in the calculation of capital requirements,
improved alignment between the insurance and banking prudential legislations,
updated principles and standard parameters to better reflect developments in risk management and the most recent data (including a better treatment of financial hedging strategies).
This will improve the balance between burden and risk and ensure that Solvency II remains up-to-date.
The amendments will now be subject to a scrutiny period of 3 months by the European Parliament and the Council.
Background:
This legislation takes the form of an amendment to Commission Delegated Regulation (EU) 2015/35 (Solvency II implementing rules). Solvency II is the first harmonised, risk-based EU-wide prudential framework for the insurance sector. This amendment is part of a scheduled review of the implementing rules of the Solvency II insurance regulatory framework, which precedes a more fundamental review of the Solvency II Directive in 2020.
Several previous targeted amendments to the Solvency II implementing rules adopted between 2015 and 2018 have already contributed to the objectives of the Capital Markets Union Action Plan, and supported insurers' investments in the real economy. In particular, in 2015 and 2017, the Commission introduced preferential treatments in the standard formula capital requirements to equity and debt investments in infrastructure projects and infrastructure corporates. In 2018, the Implementing Measures were amended to introduce more tailored capital requirements for simple, transparent and standardised securitisation.
EU Cohesion policy: Commission announces the winners of the REGIOSTARS Awards 2021
Today, the European Commission has announced the winners of the 2021 edition of the REGIOSTARS Awards that reward the best Cohesion policy projects in the whole EU. This year's REGIOSTARS competition received a record 214 applications and 14,156 people voted in the public choice's category.
Commissioner for Cohesion and Reforms, Elisa Ferreira, commented: "My warm congratulations to the 10 winners of the EU Cohesion policy projects of 2021. They are role models for everyone who wishes to better the life of people with the use of EU funds. I hope they will inspire many others across the continent. For sure, with REGIOSTARS we have learnt that excellence and innovation are everywhere in Europe. You just need to look for them and highlight them as they deserve. We will keep looking for them and we will keep supporting them."
The awards cover five categories and a public choice prize:
For 'SMART Europe: Increasing the competitiveness of local businesses in a digital world' (1st category) the award went to Integration 3D metal printing from Belgium. The project supports the implementation of the 3D metal printing technology in small and medium-sized companies (SMEs) through a very innovative integrated approach to knowledge and technology. The idea is easily transferable to other contexts with industrial tradition.
For 'GREEN Europe: Green and resilient communities in urban and rural setting' (2nd category) the award was given to ICCARUS (Gent knapt op) for providing a unique housing renovation financial scheme for 100 vulnerable homeowners in Ghent, Belgium. This project has a strong social component and is easily transferable, both to other places, including to less developed regions, and other sectors.
The award for 'FAIR Europe: Fostering inclusion and anti-discrimination' (3rd category) went to TREE – Training for integrating Refugees in the Euregion, which facilitates the integration of refugees through the development of a needs-based training programme for practitioners working with refugees and migrants, and a qualification programme for social interpreters. The winners are from the Netherlands, Germany, and Belgium.
Travelling Solidary Cannery received the award in the 4th category, 'URBAN Europe: Promoting green, sustainable and circular food systems in functional urban areas'. The project provides the disadvantaged access to healthy and fair food at affordable prices all year round. At the same time, it develops a new range of professions centred on the production, valorisation, logistics and marketing of local products, but also of unsold products from supermarkets or surplus harvests. The winner is from Belgium.
Under the topic of the year: 'Enhancing green mobility in the regions – European Year of Rail 2021' (5th category) the winner is North-West Multimodal Transport Hub from the United Kingdom and Ireland. This project provides an increased rail capacity, a strong balance of services for cycling, public transport and active travel users in Londonderry and an encouraging modal shift from car to public transport.
Finally, the 'Public Choice Award' goes to BEGIN, a project that unites cities, citizens, and stakeholders through the co-creation of blue and green infrastructure projects in 10 EU cities in the Netherlands, the United Kingdom, Sweden, Belgium, Norway and Germany. The project aims at reducing flood risk by up to 30% and improving livability. Other public favorites were Balkan Road (under the 1st category), Baltazar (3rd category), Digital Farming Specialist (4th category) and Transporte A Pedido (5th category).
Background
The REGIOSTARS Awards are the yearly competition organised by the Commission since 2008: it has become Europe's label of excellence for EU-funded projects under Cohesion policy that demonstrate innovative and inclusive approaches to regional development.
Each year, hundreds of projects compete in five categories: 'Smart Europe', 'Green Europe', 'Fair Europe', 'Urban Europe', and the topic of the year. The public can participate by voting for their favourite project among all finalists for the public choice award.
By bringing about solutions to common challenges and tapping into the biggest opportunities, the REGIOSTARS have inspired regions to deliver evermore-impactful EU Cohesion policy.
Commission proposes to strengthen coordination of safe travel in the EU
European Commission has proposed to update the rules on coordination of safe and free movement in the EU, which were put in place in response to the COVID-19 pandemic.
Since the summer, vaccine uptake has increased significantly and the EU Digital COVID Certificate has been rolled out successfully, with more than 650 million certificates issued to date. At the same time, the epidemiological situation in the EU continues to develop with some Member States taking additional public health measures, including administering booster vaccines. Taking into account all those factors, the Commission is proposing a stronger focus on a 'person-based' approach to travel measures and a standard acceptance period for vaccination certificates of 9 months since the primary vaccination series. The 9 month period takes into account the guidance of the European Centre for Disease Prevention and Control (ECDC) on the administration of booster doses as of 6 months, and provides for an additional period of 3 months to ensure that national vaccination campaigns can adjust and citizens can have access to boosters.
The Commission is also proposing updates to the EU traffic light map; as well as a simplified 'emergency brake' procedure.
The Commission is also proposing today to update the rules on external travel to the EU [press release available as of 14:15].
Didier Reynders, Commissioner for Justice, said: "Since the start of the pandemic, the Commission has been fully active in finding solutions to guarantee the safe free movement of people in a coordinated manner. In light of the latest developments and scientific evidence, we are proposing a new recommendation to be adopted by the Council. Based on our common tool, the EU Digital COVID Certificate, which has become a real standard, we are moving to a 'person-based' approach. Our main objective is avoid diverging measures throughout the EU. This also applies to the question of boosters, which will be essential to fight the virus. Among other measures, we propose today that the Council agrees on a standard validity period for vaccination certificates issued following the primary series. Agreeing on this proposal will be crucial for the months ahead and the protection of the safe free movement for citizens."
Stella Kyriakides, Commissioner for Health and Food Safety added: "The EU Digital COVID Certificate and our coordinated approach to travel measures have greatly contributed to safe free movement, with the protection of public health as our priority. We have vaccinated over 65% of the total EU population, but this is not enough. There are still too many people who are not protected. For everyone to travel and live as safely as possible, we need to reach significantly higher vaccination rates – urgently. We also need to reinforce our immunity with booster vaccines. Taking into account the guidance from ECDC, and to allow Member States to adjust their vaccination campaigns and for citizens to have access to boosters, we propose a standard acceptance period for vaccination certificates. At the same time, we have to continue to strongly encouraging everyone to continue to respect public health measures. Our masks need to stay on."
Key updates to the common approach to travel measures within the EU proposed by the Commission are:
Focus on a 'person-based approach': a person who has a valid EU Digital COVID Certificate should in principle not be subject to additional restrictions, such as tests or quarantine, regardless of their place of departure in the EU. Persons without an EU Digital COVID Certificate could be required to undergo a test carried out prior to or after arrival.
Standard validity of vaccination certificates: To avoid diverging and disruptive approaches, the Commission proposes a standard acceptance period of 9-month for vaccination certificates issued following the completion of the primary vaccination series. The 9 month period takes into account the guidance of the European Centre for Disease Prevention and Control (ECDC) on the administration of booster doses as of 6 months, and provides for an additional period of 3 months to ensure that national vaccination campaigns can adjust and citizens can have access to boosters. This means that, in the context of travel, Member States should not refuse a vaccination certificate that has been issued less than 9 months since the administration of the last dose of the primary vaccination. Member States should immediately take all necessary steps to ensure access to vaccination for those population groups whose previously issued vaccination certificates approach the 9-month limit.
Booster shots: As of yet, there are no studies expressly addressing the effectiveness of boosters on transmission of COVID-19 and therefore it is not possible to determine an acceptance period for boosters. However, given the emerging data it can be expected that protection from booster vaccinations may last longer than that resulting from the primary vaccination series. The Commission will closely monitor newly emerging scientific evidence on this issue. On the basis of such evidence, the Commission may, if needed, propose an appropriate acceptance period also for vaccination certificates issued following a booster.
The EU traffic light map is adapted: combining new cases with a region's vaccine uptake. The map would be mainly for information purposes, but would also serve to coordinate measures for areas with particularly low ('green') or particularly high level ('dark red') of circulation of the virus. For these areas, specific rules would apply by derogation from the 'persons-based approach'. For travellers from 'green' areas, no restrictions should be applied. Travel to and from 'dark red' areas should be discouraged, given the high number of new infections there, and persons who are neither vaccinated nor have recovered from the virus should be required to undergo a pre-departure test and quarantine after arrival (with special rules for essential travelers and children under 12 years old).
Exemptions from certain travel measures: should apply for cross-border commuters, children under 12 and essential travellers. The list of essential travellers should be reduced as many travellers included in the current list have had the opportunity to be vaccinated in the meantime.
Simplified 'emergency brake' procedure: the emergency procedure intended to delay the spread of possible new COVID-19 variants or address particularly serious situations should be simplified and more operational. It would include a Member State notification to the Commission and the Council and a roundtable at the Council's Integrated Political Crisis Response (IPCR).
To allow for sufficient time for the coordinated approach to be implemented, the Commission proposes that these updates apply as of 10 January 2022.
EU: new laws on political advertising, electoral rights and party funding
The European Commission has today presented a proposal on transparency and targeting of political advertising, as part of measures aimed at protecting election integrity and open democratic debate. The proposed rules would require any political advert to be clearly labelled as such and include information such as who paid for it and how much. Political targeting and amplification techniques would need to be explained publicly in unprecedented detail and, would be banned when using sensitive personal data without explicit consent of the individual. The Commission also proposes to update the current EU rules concerning EU "mobile citizens" and their right to vote in European and municipal elections as well as on European political parties and foundations.
Vice-President for Values and Transparency, Vera Jourová said: "Elections must not be a competition of opaque and non-transparent methods. People must know why they are seeing an ad, who paid for it, how much, what micro-targeting criteria were used. New technologies should be tools for emancipation, not for manipulation. This ambitious proposal will bring unprecedented level of transparency to political campaigning and limit the opaque targeting techniques."
Commissioner for Justice, Didier Reynders, said: "Fair and transparent elections are an integral part of a vibrant and functioning society. That is why we need to support inclusive and equal participation in the 2024 elections to the European Parliament and in municipal elections across the EU. With the proposal on political advertising, we are securing the use of personal data in context of political targeting, protecting the democratic process. Together, we are making progress with our common work for democracy."
Clear rules on transparency and targeting of political advertising
With the digital transition under way, people must be able to easily distinguish whether they are looking at paid political content – offline and online, and be able to participate in open debates, free from disinformation, interference and manipulation. People should be able to clearly see who sponsored a political advert and why. The main measures set out in the proposed Regulation on transparency and targeting of political adverts include:
Scope: Political ads will cover ads by, for or on behalf of a political actor as well as so called issue-based ads which are liable to influence the outcome of an election or referendum, a legislative or regulatory process or voting behaviour.
Transparency labels: Paid political advertising must be clearly labelled and provide a set of key information. This includes the name of the sponsor prominently displayed and an easily retrievable transparency notice with (1) the amount spent on the political advertisement, (2) the sources of the funds used and (3) a link between the advertisement and the relevant elections or referenda.
Strict conditions for targeting and amplification: Political targeting and amplification techniques, which use or infer sensitive personal data, such as ethnic origin, religious beliefs or sexual orientation, will be banned. Such techniques will be allowed only after an explicit consent from a person concerned. Targeting could also be allowed in the context of legitimate activities of foundations, associations or not-for-profit bodies with a political, philosophical, religious or trade union aim, when it targets their own members. For the first time it will be mandatory to include into the ads' clear information on what basis the person is targeted and to publish which groups of individuals were targeted, on the basis of which criteria and with what amplification tools or methods, among others. Organisations making use of political targeting and amplification will need to adopt, apply and make public an internal policy on the use of such techniques. If all transparency requirements cannot be met, a political add cannot be published.
Fines for breaches: Member States will be required to introduce effective, proportionate and dissuasive fines when the rules on transparency of political advertising are breached. Under the proposed Regulation, National Data Protection Authorities will monitor specifically the use of personal data in political targeting and have the power to impose fines in line with EU data protection rules.
Update of EU rules on EU political parties and foundations and on electoral rights
The Commission has also proposed to revise the EU rules on funding of European political parties and foundations. The current framework had a number of loopholes, preventing the parties and foundations from operating and fulfilling their mission to represent the voice of EU citizens. The updates to the Regulation seek to facilitate European political parties interactions with their national member parties and across borders, increase transparency, in particular in relation to political advertisement and donations, cut excessive administrative burden and increase the financial viability of European political parties and foundations.
Finally, the Commission has proposed to update the current rules on European elections and municipal for EU citizens who reside in a different Member State to their state of nationality ("mobile EU citizens"). While there are around 13.5 million such citizens, very few exercise their right to vote in European and municipal elections. In order to ensure inclusive participation ahead of European elections in 2024, the Commission proposes targeted amendments to the existing Directives on electoral rights including, among others, obligation to inform such citizens proactively of their electoral rights, use standardised templates for registration as voters or candidates as well as use of language broadly spoken by the mobile EU citizens residing at the territory. The proposal also includes safeguards for EU mobile citizens not to be de-registered from electoral roll in the country of their origin.
Next Steps
The proposals will now be discussed by the European Parliament and the Council. To ensure that the 2024 elections to the European Parliament take place under the highest democratic standards, the aim is for the new rules to enter into force and be fully implemented by Member States by spring 2023, i.e. one year before the elections.