OECD: Progress on gender equality is too slow
Governments around the world are paying more attention to gender equality but progress is too slow and uneven, and much remains to be done to increase women's rights, opportunities and participation in public life and senior jobs, according to the OECD.
Despite gender equality reforms in many countries, with innovative rules and regulations in many countries, entrenched social and cultural norms continue to maintain discrimination against women and girls, according to the Social Institutions and Gender Index (SIGI) 2019 Global Report launched in the presence of H.R.H. Princess Beatrice of York during the OECD's March on Gender events to mark International Women's Day. The report estimates the loss of income worldwide attributable to gender-based discrimination at USD 6 trillion, or 7.5% of global GDP.
A second OECD report presented today, Forward to Gender Equality: Mainstreaming, Implementation and Leadership, finds that in advanced economies, persistent gender stereotypes and bias in policymaking and budget decisions is hampering progress. While women comprise over half of public sector employees, there are still too few women in senior public jobs and decision-making posts. The digital transformation now risks creating new divides.
"Despite a global realisation that women's equality is an urgent priority, we are moving too slowly in closing gender gaps, and in some countries gender gaps have even widened," said the OECD's Chief of Staff, G20 Sherpa and leader on gender issues Gabriela Ramos. "We need to do more and to do it better. We need to be smarter in the way we design and execute policies and be held more accountable on the results; otherwise we may be looking at another 200 years to achieve gender equality."
The latest update to the OECD's Gender Portal shows the several areas in which gender gaps exist, including the wage gap across OECD countries that averages a stubborn 13.6%, Ms Ramos noted.
The SIGI report, covering 180 countries, finds that 33% of women worldwide have been victims of domestic abuse, although, encouragingly, social acceptance of domestic violence is receding. The share of women who say domestic violence is acceptable in some circumstances has dropped from 50% in 2012 to 37% in 2014 and 27% in 2018.
Since the last SIGI report in 2014, 15 countries have adopted legislation to criminalise domestic violence, meaning 132 countries now criminalise it while 48 do not. Another 15 countries have eliminated legal exceptions that allowed girls under 18 to be married, and eight have introduced legal measures to promote gender balance in elected public office. All but two countries – Papua New Guinea and the United States – now guarantee paid maternity leave.
Fast Forward to Gender Equality, which focuses on where OECD countries stand relative to the Organisation's 2015 Recommendation on Gender Equality in Public Life, finds that on average across OECD countries, women now occupy 29% of parliamentary seats and 28% of ministerial posts. Among leaders in gender equality are Latvia, where the number of women elected to public office has nearly doubled to 31%, and France, where 40% of parliamentarians are women. Similar progress has been seen in Ireland, Italy, Mexico and Spain, where two-thirds of Ministerial posts were occupied by women in the last government. Certainly, all these averages mask important divergences among participating countries.
On the downside, women working in public administrations are still over-represented in low-level job categories. They occupy less than a third of senior positions in the civil service on average and make up 75% of part time workers in the public sector. The report offers guidance on using tools such as legislated or voluntary quotas and gender budgeting, which tracks spending that supports gender equality, to improve women's participation.
How the Pandemic Stress-Tested the Increasingly Crowded Digital Home
The average U.S. household now has a total of 25 connected devices, across 14 different categories (up from 11 in 2019), including laptops, tablets and smartphones; video streaming devices and smart TVs; wireless headphones and earbuds; gaming consoles and smart home devices; and fitness trackers and connected exercise machines.
Thirty-one percent of Americans admit to feeling overwhelmed by the number of devices and subscriptions they need to manage.
Sixty-six percent of households have smart home devices; 39% of those smart home device owners paid for increased home internet speed.
More than 50% of U.S. adults had virtual doctor visits, and 82% of those who used virtual doctor visits claimed to be satisfied with the experience.
Fifty-eight percent of U.S. households have a smartwatch or fitness tracker, and 39% of consumers own one personally. Among device owners, 14% bought their smartwatch or fitness tracker since the start of the pandemic.
Seven-in-10 consumers who began smartphone-based retail behaviors, such as mobile ordering, during the pandemic intend to continue those behaviors.
Among respondents planning to switch mobile providers in the next year, the top reason is to access 5G service.
Why this matters
In March 2020, households became the center of daily American life — and connectivity took on newfound importance. With work, school, medical visits, fitness and retail shopping all crowding under one roof, rapidly shifting needs drove sudden demand for an evolving suite of connected devices and digital services. The second edition of "Deloitte's Connectivity & Mobile Trends 2021 Survey," an online survey of 2,009 U.S. consumers conducted in March 2021, saw households beginning to push the limits of connectivity. More consumers upgraded their home broadband, added Wi-Fi extenders, and expanded their mobile data plans. While connectivity providers and device makers quickly rallied to keep the nation connected and productive, many consumers were overwhelmed with managing a wide range of devices, services and communications suddenly necessary for life at home.
Homework takes on new meaning
Networks, services, devices and institutions rallied to effectively support the shift to working and schooling from home. Some had connectivity and technology issues but for many, human factors posed more of a challenge.
At the start of 2021, 55% of U.S. households included someone working from home and 43% had someone schooling from home. Top benefits of at-home behaviors were the ability to reduce the chances of getting COVID-19, closely followed by having no commute and being more comfortable.
Twenty-eight percent of home workers and 32% of home schoolers reported that they struggled to connect to the internet from certain locations in their home.
Workers at home cited the inability to meet face-to-face with colleagues or clients as a top challenge, followed by working longer hours than they would in-person, and being distracted by non-work activities. For home schoolers, the top challenge was getting distracted by non-school online activities, followed by not being able to meet face-to-face with teachers and classmates, and doing more schoolwork than if in-person.
Virtualized health care: a successful beta test
Recent growth in inexpensive and easy videoconferencing helped medical organizations overcome distance challenges to deliver much needed virtual house calls during the pandemic. The pandemic's urgency also suspended some of the regulatory barriers that made it difficult for providers to connect virtually with patients. This was good news for consumers who felt virtual doctor visits helped them continue to receive care during the pandemic, while minimizing risk of exposure to themselves and to other patients.
More than 50% of U.S. respondents had virtual doctor visits, and 29% of adult respondents assisted someone else in their household with a virtual visit.
Eighty-two percent of those respondents using virtual doctor visits claimed to be satisfied with the experience.
Among the benefits of attending virtual medical visits, 44% cited ease in attending appointments, 43% said it reduced their chances of getting COVID-19, 20% said it was easier to schedule appointments, and 10% cited ease in sharing medical data with doctors.
Sixty-two percent said they are likely to schedule future virtual appointments after the pandemic ends.
However, patients missed the human touch and face-to-face interactions (28%) and were frustrated with medical staff's inability to directly measure vital statistics (21% overall but higher among older patients).
Does this mean healthier innovation?
Success with virtual doctor visits may bode well for future health care innovation. As wearables advance to record more discrete health, fitness and wellness data, their ability to support health care providers will likely grow, along with many users' desire to share more of this data with their providers.
Overall, 58% of households have a smartwatch or fitness tracker, and 39% of consumers own one personally. Among device owners, 14% bought their smartwatch or fitness tracker since the start of the pandemic.
The largest use reported is for health and fitness (55%), primarily to measure walking steps and athletic performance, track heart health, and monitor sleep and calories.
Among those interested in wearables, 39% listed cost as the primary reason they haven't bought one — considerably larger than other factors. Yet, more seem to see the value of wearables, especially for health and fitness — 27% of those who don't have a smartwatch or fitness tracker in their household are interested in buying one, up from 24% before COVID-19.
Sixty percent of users claim to not be particularly concerned about the privacy of their wearable-generated data.
Smartphones led to smart behaviors
Both in and out of the home, smartphones helped people get on with their lives while mitigating pandemic risks. Users adopted a range of new digital behaviors, including online mobile payment services, contactless store payments and shopping and buying online from local providers who offer home delivery or curbside pickup. These mobile solutions were available prior to COVID-19, but the pandemic further highlighted their value.
Using a mobile app or website to order food from a local provider grew from 36% to 56% during COVID-19.
Using a mobile app or website to order a product and then pick it up at a local store grew from 31% to 51%.
Contactless payments jumped from 28% to 46% during the pandemic; using mobile payments to shop on social media grew 28% to 42%.
Among those who began smartphone-based retail behaviors during the pandemic, around 70% intend to continue most of those behaviors.
A true test of connectivity
The survey also revealed that while connectivity held up remarkably well to the demands of unexpectedly crowded homes during the pandemic, many households had reached the limits of broadband, wireless and Wi-Fi networks. And with reduced movement outside the home during the pandemic, it's not yet clear how well existing smartphones and mobile connectivity will serve post-pandemic behaviors.
Since the pandemic began, 19% of those with home internet had upgraded to a higher-speed home internet service and 8% switched providers.
Those who switched most often cited cost, followed closely by reliability, inadequate coverage throughout the home, and slow connectivity.
Around 70% of consumers said their home Wi-Fi met their needs for range and speed, but more have tried to fix dropouts and dead spots by extending their home networks. During the pandemic, 30% of home internet users purchased Wi-Fi extenders, 19% bought mobile hotspots, and 14% added mesh Wi-Fi networks.
Close to 40% of households with mobile data plans made some change to their mobile data plan since the start of the COVID-19 pandemic. Upgrading to a new phone was the highest driver for this, followed by switching to an unlimited data plan and adding 5G.
Sixty-six percent of respondents noted they have had their smartphone for at least a year, while 31% noted they plan on upgrading within a year.
Among respondents planning to switch mobile providers in the next year, the largest reason is to get 5G service, followed closely by getting better value for the price.
Among those who do not yet have 5G mobile coverage, 54% say they intend to eventually buy a 5G-compatible smartphone and 52% will sign up for a 5G mobile data plan with their carrier, when 5G becomes available.
Zimbabwe's Economy is Set for Recovery, but Key Risks Remain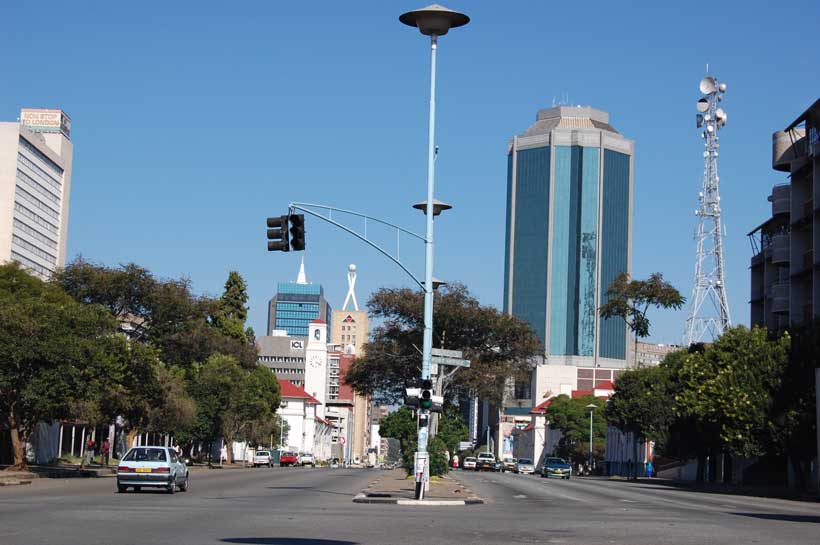 Gross Domestic Product (GDP) growth in Zimbabwe is projected to reach 3.9 percent in 2021, a significant improvement after a two-year recession, according to the World Bank Zimbabwe Economic Update (ZEU) launched today.
Economic growth this year will be led by recovery of agriculture as rains normalize, businesses adjust to limitations caused by the COVID-19 (coronavirus) pandemic, and inflation slows down. However, disruptions caused by the pandemic will continue to weigh on economic activity in Zimbabwe, limiting employment growth and improvements in living standards.
The ZEU, Overcoming Economic challenges, Natural Disasters, and the Pandemic: Social and Economic Impacts, provides the World Bank perspective on macroeconomic and poverty developments and discusses ways to strengthen public service delivery in key sectors. This is the third economic update for Zimbabwe produced by the World Bank. Economic Updates are a standard World Bank tool for macroeconomic and fiscal monitoring.
The ZEU notes that economic recovery is expected to strengthen further in 2022 with GDP growing at 5.1 percent as the deployment of vaccines intensifies and implementation of National Development Strategy 1 (2021-2025) bears fruits. Overall, the COVID-19 global contagion continues to pose significant downside risks, and thus the global and local outlook remains uncertain. A prolonged pandemic, weaker global demand, and heightened macroeconomic instability could choke economic growth, increase poverty, and worsen human capital development outcomes.
Mitigating these risks requires domestic policies to strengthen and sustain macroeconomic stability – which is critical for consolidating economic recovery. Recent efforts to stabilize prices through rule-based monetary and exchange rate policies have been effective and must be continued and expanded. Fiscal policies supportive of these efforts have thus focused on avoiding monetary financing and quasi-fiscal activities, reducing distortive subsidies, and improving fiscal and debt transparency.
"Improving the country's growth prospects will require further attention to policies that strengthen the quality of service delivery in the social sectors. Preserving lives during an unprecedented that protects livelihoods, strengthens social protection, improves food security, and ensures better education outcomes," said Mukami Kariuki, World Bank Country Manager.
Facing tight public finances and limited recourse to external financing, Zimbabwe will need to rely mostly on reallocating domestic resources to optimal public uses and leveraging private financing and humanitarian support where possible. Addressing underlying challenges in health, education, social protection, and food security will require sustained financing, strengthened accountability frameworks and investments in appropriate management information systems.
The ZEU reviews developments in 2019 and 2020; and emerging trends in 2021. Part One of the ZEU provides an overview of the macroeconomic and poverty context. Part Two assesses the impact of COVID-19 and other exogenous shocks on delivery of basic services to the poor and proposes mitigating actions for discussion. It also summarizes key policy options needed to stabilize Zimbabwe's economy, minimize the social costs of the transition, and prepare for an economic recovery.
Slow jobs recovery and increased inequality risk long-term COVID-19 scarring
The labour market crisis created by the COVID-19 pandemic is far from over, and employment growth will be insufficient to make up for the losses suffered until at least 2023, according to a new assessment by the International Labour Organization (ILO).

The ILO's World Employment and Social Outlook: Trends 2021 (WESO Trends) projects the global crisis-induced 'jobs gap' will reach 75 million in 2021, before falling to 23 million in 2022. The related gap in working-hours, which includes the jobs gap and those on reduced hours, amounts to the equivalent of 100 million full-time jobs in 2021 and 26 million full-time jobs in 2022. This shortfall in employment and working hours comes on top of persistently high pre-crisis levels of unemployment, labour underutilization and poor working conditions.

In consequence, global unemployment is expected to stand at 205 million people in 2022, greatly surpassing the level of 187 million in 2019. This corresponds to an unemployment rate of 5.7 per cent. Excluding the COVID-19 crisis period, such a rate was last seen in 2013.

The worst affected regions in the first half of 2021 have been Latin America and the Caribbean, and Europe and Central Asia. In both, estimated working-hour losses exceeded eight per cent in the first quarter and six per cent in the second quarter, compared to global working-hour losses of 4.8 and 4.4 per cent in the first and second quarter, respectively.

Global employment recovery is projected to accelerate in the second half of 2021, provided that there is no worsening in the overall pandemic situation. However this will be uneven, due to unequal vaccine access and the limited capacity of most developing and emerging economies to support strong fiscal stimulus measures. Furthermore, the quality of newly created jobs is likely to deteriorate in those countries.

The fall in employment and hours worked has translated into a sharp drop in labour income and a corresponding rise in poverty. Compared to 2019, an additional 108 million workers worldwide are now categorized as poor or extremely poor (meaning they and their families live on the equivalent of less than US$3.20 per person per day). "Five years of progress towards the eradication of working poverty have been undone," the report says, adding that this renders the achievement of the UN Sustainable Development Goal of eradicating poverty by 2030 even more elusive.

The COVID-19 crisis has also made pre-existing inequalities worse by hitting vulnerable workers harder, the report finds. The widespread lack of social protection – for example among the world's two billion informal sector workers – means that pandemic-related work disruptions have had catastrophic consequences for family incomes and livelihoods.

The crisis has also hit women disproportionately. Their employment declined by 5 per cent in 2020 compared to 3.9 per cent for men. A greater proportion of women also fell out of the labour market, becoming inactive. Additional domestic responsibilities resulting from crisis lockdowns have also created the risk of a "re-traditionalization" of gender roles.

Globally, youth employment fell 8.7 per cent in 2020, compared with 3.7 per cent for adults, with the most pronounced fall seen in middle-income countries. The consequences of this delay and disruption to the early labour market experience of young people could last for years.

The pandemic's impact on young people's labour market prospects is laid out in greater detail in an ILO brief published alongside the WESO Trends. The Update on the youth labour market impact of the COVID-19 crisis also finds that gender gaps in youth labour markets became more pronounced.

"Recovery from COVID-19 is not just a health issue. The serious damage to economies and societies needs to be overcome too. Without a deliberate effort to accelerate the creation of decent jobs, and support the most vulnerable members of society and the recovery of the hardest-hit economic sectors, the lingering effects of the pandemic could be with us for years in the form of lost human and economic potential and higher poverty and inequality," said ILO Director-General, Guy Ryder. "We need a comprehensive and co-ordinated strategy, based on human-centred policies, and backed by action and funding. There can be no real recovery without a recovery of decent jobs."

As well as looking at working hour and direct employment losses, and foregone job growth, the WESO outlines a recovery strategy structured around four principles: promoting broad-based economic growth and the creation of productive employment; supporting household incomes and labour market transitions; strengthening the institutional foundations needed for inclusive, sustainable and resilient economic growth and development; and using social dialogue to develop human-centred recovery strategies.