Breitling and Bentley: Partners in Luxury and Performance
Breitling and Britain's Bentley Motors enjoy the longest-ever partnership between a watch brand and an automo­bile manufacturer. In fact, it dates back to 2003, when Bentley, the world's most admired luxury car brand, launched the very first Continental GT. Every detail in this unrivaled grand tourer reflected Bentley's ongoing commitment to quality, luxury, and performance, and, fittingly, the company chose Breitling to design the onboard clock. It was the beginning of an important partnership for both brands, and now Breitling has announced the release of the Premier Bentley Centenary Limited Edition, which celebrates 100 years of luxury motoring excellence.
Breitling's partnership with Bentley Motors can be traced back to 2002, when the iconic automobile brand was designing its legendary Continental GT. Bentley commissioned Breitling to create an onboard clock that would reflect the unparalleled luxury, peerless quality, and extraordinary performance of the new grand tourer, which was debuted in 2003.
At this year's Geneva International Motor Show, Breitling introduced the Premier Bentley Centenary Limited Edition wristwatch on March 5, 2019, to commemorate the partnership and celebrate Bentley's 100 years of luxury motoring excellence.
Breitling CEO Georges Kern says the new watch reflects the values his brand shares with the legendary British automaker: "We're proud of our partnership with Bentley. Both companies are known for quality, performance, and design excellence, and both are built on powerful legacies. The Premier Bentley Centenary Limited Edition is a celebration of Bentley's history, its luxury, and its incredible racing pedigree, as well as its important, intimate connection to Breitling."
In 2018, Breitling introduced the Premier B01 Chronograph 42 Bentley British Racing Green, a striking wristwatch with a distinctive British racing green dial.
The Breitling Premier Bentley Centenary Limited Edition
The Breitling Premier Bentley Centenary Limited Edition is an exceptional member of the Swiss watch brand's elegant Premier collection. Produced in 18 k red gold and stainless-steel versions, some outstanding design features distinguish these limited-edition timepieces from all others.
The elegant, unique brown elm burl dial with black subdials (a chronograph minute counter at 3 o'clock and a small-second subdial at 9 o'clock) is particularly eye-catching. These contrasting subdials indicate that the watches are powered by Breitling's flagship Manufacture Caliber 01. The in-house mechanical movement delivers an impressive power reserve of approximately 70 hours.
The movement is visible through a unique transparent caseback featuring a Bentley logo. The 18 k red gold version is engraved with a "ONE OF 200" inscription, while the stainless-steel version is inscribed "ONE OF 1000", confirmation of the edition sizes for the watches.
The dial features a white tachymeter scale on a black inner bezel around the dial, with a red tachymeter inscription.
The Breitling Premier Bentley Centenary Limited Edition in 18 k red gold is presented on a brown leather strap whose pattern and stitching were inspired by the seats in a Bentley. The stainless-steel version will be avail­able on the brown Bentley-inspired leather strap as well or on a stainless-steel bracelet.
On the left-hand side of the 42-millimeter stainless-­steel case is a plate with an engraved "Bentley" inscription, whose design is based on the dashboard of the historic supercharged 1929 "Blower" Bentley.
The Breitling Premier Bentley Centenary Limited Edition is a COSC-certified chronometer, an independent confirmation of its precision.
The Breitling Premier: Elegant Watches for Men and Women of Style, Purpose, and Action
In the 1940s, Breitling introduced its first collection of truly elegant watches, which were defined by their fashionable flair. The new Breitling Premier collection combines purpose with style, delivering quality, performance, and timeless design that are worthy of the watch brand's proud legacy.
Celebrating a Motoring Legacy
At the Geneva International Motor Show, Bentley celebrated its 100th anniversary with the introduction of the Centenary Limited Edition – Continental GT Number 9 Edition by Mulliner. On the same day, Breitling launched the Breitling Premier Bentley Centenary Limited Edition.
Adrian Hallmark, Chairman and Chief Executive of Bentley Motors, commented: "The long-standing collaboration between Bentley and Breitling is a sterling example of how brands with shared values work together in an authentic way – the performance of both is enhanced. While we are certainly celebrating our past in our centenary year, our focus is on a future characterized by our passion for innovation. It is exciting to introduce our Centenary Limited Edition – Continental GT Number 9 Edition at the same time and in the same place that Breitling is launching its Premier Bentley Centenary Limited Edition watch. These two releases define both companies' unwavering commitment to technological excellence, expert craftsmanship, and a pioneering spirit."
While Bentley is known for its luxurious road cars, the brand also has an impressive history on the track. Between 1924 and 1930, the famous Bentley Boys and Girls won the 24 Hours of Le Mans race five times. That success, however, is not only a part of the brand's distant past. In 2003, Bentley returned to Le Mans and took the first and second place finishes. At that edition of the world's most famous endurance race, Breitling was Team Bentley's proud main sponsor.
Sir Tim Birkin was one of the legendary Bentley Boys, and it was in the No. 9 – his own car – that he raced and broke records in. It was his vision that brought a supercharger to a Bentley. While the official name of the car was "4½ Litre Supercharged," they soon became widely known and admired as the "Blower" Bentleys.
Perhaps the greatest of all the Blower's races was the 1930 Le Mans, where Sir Tim drove the second of the five Birkin team cars, registration UU 5872 and carrying race number 9.
In celebration of the car and its driver, the Bentley Continental GT Number 9 Edition by Mulliner features a wood insert from the seat of his iconic 1930 No. 9 Le Mans race car. Set in resin and situated in the middle of the center dial of the rotating display, it adds a tantalizing piece of history to each Limited Edition.
When Sir Tim Birkin's car was being restored, it was necessary to replace the wood insert, making the original wood available for a place of honor in the new automobiles.
Breitling's Connection to a Rich Racing Tradition
The wooden dials that contribute to the allure of the Premier Bentley Centenary Limited Edition watches are an important link to the wood inserts in the new Continental GT Number 9 Edition and, by extension, to the days in which the original Bentley Boys and Girls attracted so much attention with their successes on the track and their headline-making antics when they were not racing. The Breitling Premier Bentley Centenary Limited Edition watches are a stunning celebration of two great luxury brands that are appreciated around the globe for their design, their performance, and their history.
Savvy suitcase: 5 versatile jewelry styles to define your look and minimize packing
Do you have an upcoming trip planned? Whether you're going for a relaxed beach look or heading downtown to dazzle in the city lights, you want to plan outfits that make you feel great and fit the occasion. Jewelry is the go-to for defining your look, but you can only bring so many pieces. What's the best solution?
When you travel, it's great to have versatile pieces of jewelry that minimize your packing, but not your style. From adjustable necklaces to hoops with added charms, the experts at Jewelry Television (JTV) recommend these pieces to provide looks for every trip and travel memory! Here are some versatile pieces of jewelry and tips for mixing and matching to create distinct looks without overpacking your accessories:
By taking some adjustable necklaces or magnetic extenders, you can wear the same pieces several times and achieve a different look. Wear it alone or adjust the length and layer it with a multi-strand necklace to complement various necklines on different outfits. You can also get an ensemble that enables you to rotate the chains or gemstones to create coordinated looks to match your attire.
2. Endless strands or lariat style necklaces
Endless strands are long-length, no-clasp necklaces that can be worn long and layered, wrapped or even knotted. A lariat necklace has a design of its own; unlike traditional necklaces it has a lariat in place of a clasp, providing a lot of flexibility for styling. Very versatile, an endless strand or lariat style necklace can be worn several different ways to create or complete your look. Wear it long or short, wrap it around to layer, or drape the ends down your back to accent an open or low-back outfit. You can also wear the lariat style necklace as a belt for an alternative vibe.
3. Interchangeable pendants or charms
A versatile set of earrings with interchangeable charms complements multiple outfits, and changing out the charms is a breeze. For example, a set of filigree hoops can be worn alone or you can swap out the charms for four unique looks. The same versatility can be achieved with one chain and multiple pendants to create the look of extra necklaces without the extra baggage.
4. Stackable bracelets and rings
Want a fashion-forward jewelry look for your next trip? Layering and stacking is a trend everyone loves and is perfect for creating different styles with minimal effort. Choosing stackable bracelets enables you to vary your look from minimalist to fully layered — and everything in between. It's easy to mix and match to create different styles. For rings, layer them on one finger or spread them across multiple fingers to transform your look from daytime to evening or one event to the next.
5. Consider alternative jewelry
Depending on your trip and what excursions you have planned, you may be tempted to bring your best tennis bracelet or gemstone pendant, but to keep jewelry safe, consider options that create the same high fashion look for less. Also, if you're headed to the beach, consider leaving your diamond ring secured at home and wear a Bella Luce ring in its place.
As always, the JTV experts recommend transporting your jewelry in a travel-proof jewelry roll for safekeeping. For more tips and to explore versatile jewelry styles, visit https://www.jtv.com/traveltips.
Breitling To Partner With Ironman On New Luxury Timepiece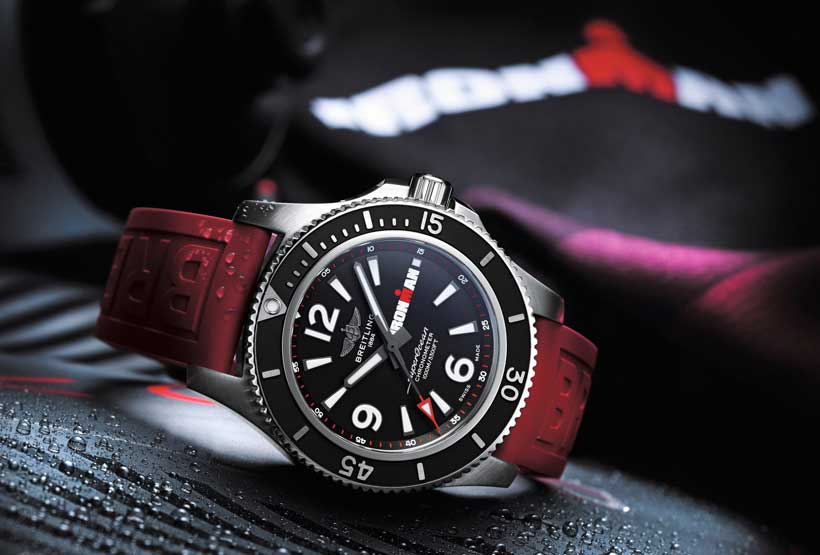 It was announced today that Breitling has partnered with IRONMAN, a Wanda Sports Group company, in launching the Breitling Superocean IRONMAN® Limited Edition timepiece. As part of the partnership, Breitling becomes the Official Luxury Watch of IRONMAN® and will also be present at several events, including the IRONMAN® 70.3® World Championship in Nice, France, and the 2019 Vega® IRONMAN® World Championship in Kailua-Kona, Hawai'i.
To celebrate the partnership and offer a first look at the watch, a special event was held at the Breitling boutique in New York City last night, cohosted by Breitling USA President Thierry Prissert and Andrew Messick, President and CEO of The IRONMAN Group. Over 150 guests attended the event, among them Paula Newby-Fraser – known as the Queen of Kona, who earned the title after winning the IRONMAN® World Championship eight times – and Mike Reilly, the Voice of IRONMAN®. Also at the event were some of the elite athletes who will be participating in the ViewSPORT® IRONMAN® Lake Placid triathlon, set to take place in Lake Placid, NY, on July 28, 2019.
The partnership with IRONMAN® is ideal for Breitling, bringing two premium brands together for the first time. Georges Kern, CEO of Breitling, said, "We're particularly excited to be working with IRONMAN®. The three members of our Triathlon Squad have all distinguished themselves in IRONMAN® events. Jan Frodeno won back-to-back IRONMAN® World Championships in 2015 and 2016, and Chris 'Macca' McCormack has also claimed two titles – in 2007 and 2010. It goes without saying that Daniela Ryf's accomplishments have been spectacular: she is the reigning IRONMAN® World Champion, having won four straight titles along with her four IRONMAN® 70.3® World Championships in the last five years. The sport has enjoyed enormous popularity and the performance and endurance of its great competitors reflect Breitling's values perfectly."
Daniela Ryf has continued her impressive form and recently won IRONMAN® Austria in Klagenfurt, finishing more than 26 minutes ahead of her nearest challenger. Jan Frodeno showcased his talents once more as he defied scorching temperatures and overcame a talented field to win the IRONMAN® European Championships in late June. Speaking about the partnership, Jan said: "I am very excited to be a part of this partnership between IRONMAN® and Breitling, two iconic brands that are bringing together a sporting elegance that is second to none."
Andrew Messick is excited about the new partnership: "Breitling has already demonstrated its appreciation for triathlon with its impressive squad of triathletes, all of whom have had great success in our most prestigious events. We are delighted to collaborate with Breitling in the creation of a great new watch that celebrates the passion, commitment, and incredible achievements of our athletes."
The IRONMAN® Triathlon Series offers athletes the opportunity to push themselves further than they ever thought possible by swimming 2.4 miles (3.8 kilometers), cycling 112 miles (180 kilometers), and running 26.2 miles (42.2 kilometers) en route to completing one of the world's most challenging single-day endurance races and earning the coveted title of IRONMAN. Since its inception in 1978, the IRONMAN® triathlon has come to represent the ultimate test of body, mind, and spirit for both professional and amateur athletes. The competition stages – swimming, cycling, and running – are activities that feature prominently in the lifestyles of Breitling's core customer base: men and women of action, purpose, and style.
The Breitling Superocean Automatic 44 IRONMAN® Limited Edition
The Breitling Superocean Automatic 44 IRONMAN® Limited Edition, which celebrates the partnership with IRONMAN and its events, is a member of Breitling's popular family of Superocean divers' watches. It has a 44-millimeter stainless-steel case and a black dial featuring the unmistakable IRONMAN® logo. It is presented on a red Diver Pro III rubber strap with a pin buckle. Its ratcheted unidirectional rotating bezel is an essential feature for divers as it can be used to track the elapsed time underwater.
The numerals, indexes, and hands are coated with Super-LumiNova®, a luminescent material that allows optimal readability in any lighting conditions. The COSC-certified chronometer has central hour, minute, and second hands.
This self-winding watch is powered by a Breitling Caliber 17, an automatic mechanical movement that offers a power reserve of 38 hours. It is water-resistant to an incredible 100 bar (1000 meters).
The Superocean Automatic 44 IRONMAN® Limited Edition has a caseback engraved with the IRONMAN® logo and the legend "ONE OF 300", reflecting its coveted limited-edition status. The watch will be available exclusively on Breitling's own e-commerce channel, in selected Breitling boutiques, and on site at the IRONMAN® 70.3® World Championship in Nice and IRONMAN® World Championship in Kailua-Kona.
An Incredible Legacy: The Breitling Superocean
When the first Breitling Superocean models were launched in 1957, they made it clear that there was a major new player in the divers' watch market. These timepieces were distinguished by their exceptional performance, their quality, and their pure Breitling style. In the more than 60 years since, the family has remained a favorite, and each watch in the collection has been created to stand up to the rigors of the most challenging water sports.
While the members of the collection reflect the brand's deep-water DNA, they are certain to appeal to all men and women with active lifestyles. With their clean, sporty design and impeccable performance, the watches in the Superocean collection – available in a wide range of case sizes – will look at home on any wrist and in any environment.
Hublot Celebrate Summer In Mykonos With The 8th Edition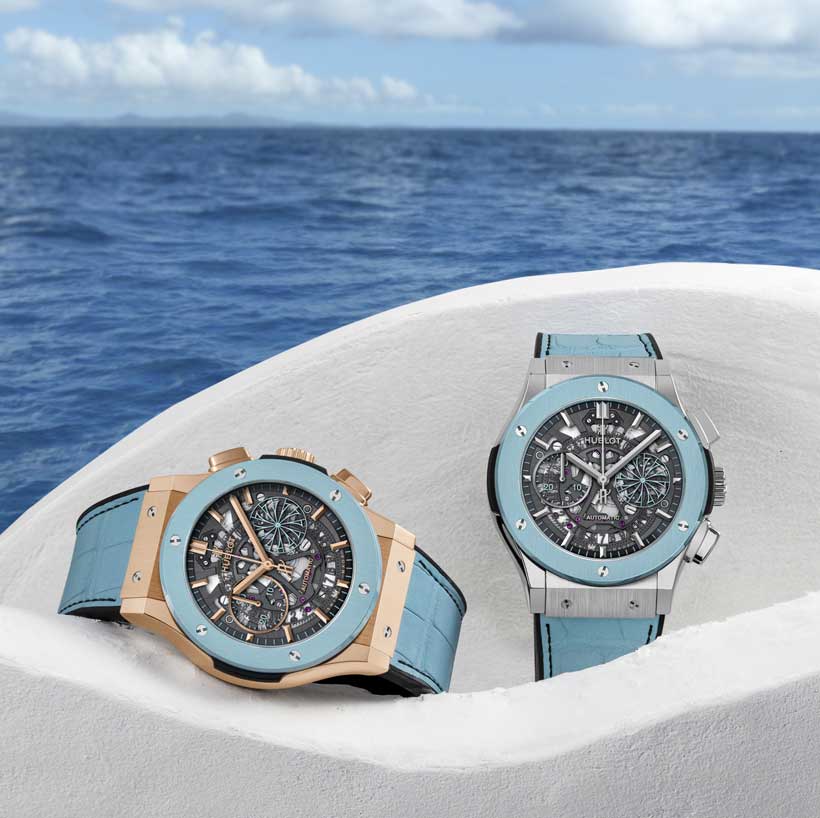 Following the success of the Classic Fusion Mykonos over the last seven years (2012 to 2018), Hublot and its local partner GOFAS Jewellery are unveiling a new Mykonos timepiece for summer 2019. Inspired by the Aegean Sea and the Cyclades Archipelago the watch is innovative for the first time featuring a sky blue ceramic bezel and unique rotating windmill, the iconic symbol of Mykonos, "waving" at 3 o'clock. The watch evokes without question the most archetypical of the Greek islands.

To celebrate summer, Hublot is dedicating its Classic Fusion Chronograph Mykonos model to the island and its iconic symbol: the discreet and elegant rotating windmill. Crowned with sky blue ceramic bezel, the 45-mm case encloses a skeleton self-winding chronograph movement, held on a bi-material strap in black rubber and sky blue alligator leather. The sapphire dial showcases the Hublot logo engraved at the crown in either polished king gold or titanium.

The trend Hublot perpetuates, where the mechanical microcosm is not hidden but fully revealed continues to be even more impressive in this collection, available only in Mykonos.

The limited editions of 50 pieces each of the titanium and king gold version represent the combination between the sky and the sea. A true fusion of the elements, born by the international collaboration "filled" with Greek color.