Water disaster platform to enhance climate resilience in Africa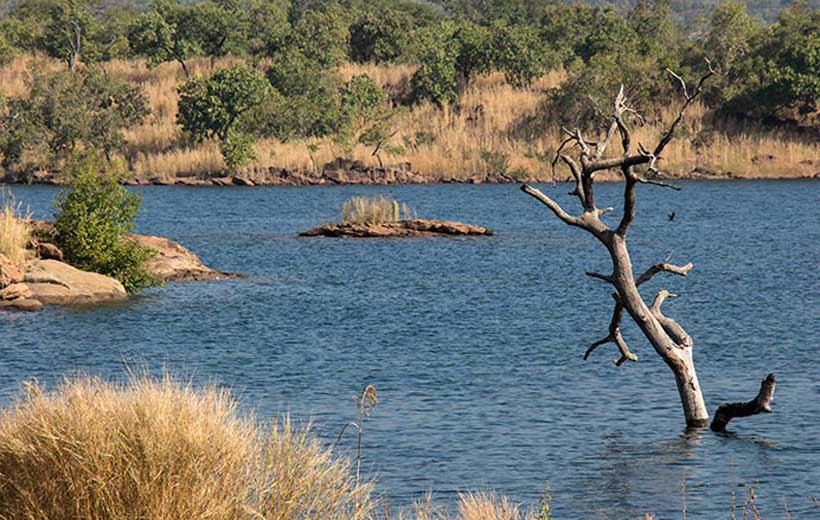 UNESCO and the Government of Japan have signed an agreement for USD 1.7 million in support of the project "Water disaster Platform to enhance climate resilience in Africa". H.E. Mr. Takio Yamada, Japan's Ambassador to UNESCO and Mr. Jean-Yves Le Saux, Director, Bureau of Strategic Planning, UNESCO, signed the document. The initiative stems from the first meeting of UNESCO Director-General Audrey Azoulay with Japanese Prime Minister Shinzo Abe, on 18 October 2018. It forms part of the voluntary contributions amounting to USD 5 million which the Government of Japan has recently decided to support UNESCO's various activities s in Asia, Middle East and Africa.
Mr. Jean-Yves Le Saux offered UNESCO's sincere thanks to the Government of Japan for its timely support, which would strengthen UNESCO's efforts to reduce the vulnerability of the region. Japan's support will focus on flood risk management in West Africa targeting the Niger and Volta river basins.
Natural disasters in West Africa pose a major obstacle to the region's efforts to achieve sustainable development, especially in view of the region's insufficient capacities to predict, monitor, deal with and mitigate disasters. For many years, several countries of the West Africa region have been experiencing recurrent flood disasters with challenging socio-economic impacts. A recent evaluation showed an exponential increase of flood magnitude and frequency in the region. For example, Niamey the capital of Niger was flooded in 2008, 2010, 2012, 2013, 2015, 2016 and 2017.
Reducing the vulnerability of the region to climate related hazards is a necessary element of poverty reduction strategies, including efforts to protect past development gains. There is a need to strengthen the capacities of the different countries in addressing floods challenges, including observation and early warning systems, assessments, prevention, preparedness, response and recovery.
The project will establish a flood early warning system and will build capacity for better preparation in managing recurrent flood events within the region moving from crisis management to a risk management approach. The project will be implemented in partnership with the International Centre on Water Hazard and Risk Management (ICHARM) and the AGRHYMET Regional Centre. The Niger basin authority (NBA), the Volta basin authority (VBA) and their related countries (Benin, Burkina, Cameroon, Chad, Cote d'Ivoire, Ghana, Guinea, Mali, Niger, Nigeria and Togo) will benefit, with more than 3,500 people from flood prone areas to be reached.
Education critical to ensure future of forests, and reverse their destruction
The UN drew attention to the vital role that forests play in addressing some of the world's greatest environmental challenges on Thursday, and the importance of tackling the issues that threaten them, such as deforestation, and land degradation.
The UN drew attention to the vital role that forests play in addressing some of the world's greatest environmental challenges on Thursday, and the importance of tackling the issues that threaten them, such as deforestation, and land degradation.
Marking the 2019 International Day of Forests, the UN Food and Agriculture Organization (FAO) launched new forestry education initiatives aimed at raising awareness amongst young people about their sustainable use and conservation, and some of the major challenges related to forestry education.
Despite the well documented and important role that forests play in keeping the environment healthy and helping to address global challenges such as climate change through the capture of greenhouse gases, many people have little knowledge of the many ways that forests support human life, or the grave dangers many forests face.
As more and more people move to cities, becoming oblivious to the plight of rural areas, says the FAO, this problem is growing.
In a statement, José Graziano da Silva, FAO's Director-General, said that "education is a critical step to safeguarding natural resources for future generations. It is essential for children to learn about forests at an early age."Education, however, can challenge and reverse this situation. The FAO has identified deficiencies in the way that forest-related issues are taught, describing forestry education as generally "inadequate," and failing to address emerging challenges. The opportunities to study forestry at all levels, the Organization says, are few and far between.
As part of the global celebrations marking the day, the UN Department of Economic and Social Affairs (DESA) held a special event at UN Headquarters in New York on Thursday, featuring remarks by senior UN and government officials, as well as a panel discussion and general discussion by Member States and UN bodies.
Opening the event, Mr. Hossein Moeini Meybodi, Senior Forest Policy Officer at the UN Forum on Forests, was positive about the effect that education, awareness raising measures and improved forestry management can have on the future of forests: "It is our sincere hope that by sharing positive messages on solutions that exist for forests, and the communities that they support, we can learn from each other and together create a greener, more sustainable world for future generations."
Tackling e-waste challenges in Latin America
The issue of e-waste continues to represent a threat to both the global environment and human health, and it shows no signs of slowing down anytime soon. E-waste is the quickest-growing waste stream in the world.
Currently, the world produces approximately 50 million tonnes of e-waste a year. This equals the total weight of all the commercial airliners ever made. This figure is predicted to rise to 120m tonnes by 2050.
From 17–22 March, political and technical representatives from 13 countries across Latin America and e-waste experts from around the world will meet in San Jose, Costa Rica, to discuss how to tackle the e-waste landscape in the region.
The second Expert Meeting on the Effective Management and Disposal of E-waste in Latin America under the Stockholm Convention on Persistent Organic Pollutants is being convened by the United Nations Industrial Development Organization (UNIDO), in cooperation with the Ministry of Health of Costa Rica and with co-financing from the Global Environment Facility (GEF.
The meeting is part of a UNIDO-GEF project to assist 13 Latin American countries both technically and financially, advising on e-waste policies and regulations, suitable management technologies, business models, capacity-building, and awareness-raising.
At the national level, the project seeks to strengthen policies and train technical staff and government officials. At the regional level, the project seeks to harmonize key aspects of e-waste policies and strengthen regional cooperation and knowledge exchange. A key element of this year's Expert Meeting is the E-waste Academy for Managers with the participation of renowned e-waste management experts.
UNIDO collaborates with a large number of organizations on the project, including the United Nations University (UNU), the International Labour Organization (ILO), the International Telecommunications Union (ITU), and the World Health Organization (WHO), as well as various other partners, such as Dell, Microsoft, RELAC and the International Solid Waste Association (ISWA).
The meeting coincides with Global Recycling Day on 18 March. Launched in 2018, the Day is an initiative of the Global Recycling Foundation to help recognize and celebrate the importance of recycling for preserving precious primary resources.
China to host World Environment Day 2019 on air pollution
Today, the head of Chinese delegation, Zhao Yingmin, Vice Minister of Ecology and Environment, and Joyce Msuya, Acting Head of UN Environment, jointly announced that China will host the global World Environment Day celebrations on 5 June 2019 with a theme of air pollution.
Approximately 7 million people worldwide die prematurely each year from air pollution, with about 4 million of these deaths occurring in Asia-Pacific. World Environment Day 2019 will urge governments, industry, communities, and individuals to come together to explore renewable energy and green technologies, and improve air quality in cities and regions across the world.
The Government of China has committed to organizing World Environment Day celebrations across multiple cities, with Hangzhou, in the province of Zhejiang, to host the main event.
The announcement comes as environment ministers from across the globe participate in the world's highest-level environmental forum in Nairobi. Negotiations at the Fourth UN Environment Assembly 11-15 March are expected to tackle critical issues such as stopping food waste and promoting the spread of electric cars. It also follows the publication of a review report of 20 Years' of air pollution control in Beijing.
"China will be a great global host of 2019's World Environment Day celebrations," said Joyce Msuya at the announcement on Friday. "The country has demonstrated tremendous leadership in tackling air pollution domestically. It can now help spur the world to greater action. Air pollution is a global emergency affecting everyone. China will now be leading the push and stimulating global action to save millions of lives."
China with its growing green energy sector, has emerged as a climate leader. The country owns half the world's electric vehicles and 99 percent of the world's electric buses. By hosting World Environment Day 2019, the Chinese government will be able to showcase its innovation and progress toward a cleaner environment.
According to a new UN report on air pollution in Asia and the Pacific, implementing 25 technology policies could see up to a 20 per cent reduction in carbon dioxide and a 45 per cent reduction in methane emissions globally, leading to a third of a degree Celsius saving of global warming.
World Environment Day is a UN Environment-led global event, which takes place on June 5 every year and is celebrated by thousands of communities worldwide.
Since it began in 1972, it has grown to become the single largest celebration of our environment each year.
Air Pollution facts:
92 per cent of people worldwide do not breathe clean air
Air pollution costs the global economy $5 trillion every year in welfare costs
Ground-level ozone pollution is expected to reduce staple crop yields by 26 per cent by 2030