A new ILO-Japan project to ensure water, jobs and peace in Mindanao, Philippines
A new ILO-Japan project will focus on community-based water supply development in the Bangsamoro Autonomous Region in Muslim Mindanao (BARMM).

The US$2.6 million (¥300 million) project aims to reduce poverty in areas prone to conflict. It will help organize communities, provide skills training, create jobs, and promote better working conditions. Local communities will be involved in developing, constructing, operating and maintaining water supply, sanitation and hygiene facilities.

"Using a peace lens, the project will reach out to returning combatants, vulnerable youth, indigenous peoples, and women and men displaced and vulnerable to conflict. Water is life and the project focuses on providing one of the most basic needs – safe and reliable water supply," said Khalid Hassan, Director of the ILO Country Office for the Philippines.

Despite having vast water resources, the majority of households in the ARMM still have inadequate access to safe water. Most communities are vulnerable to water-borne diseases, with many poor families still relying on unprotected and contaminated water resources.

In the Autonomous Region in Muslim Mindanao (ARMM), only 53 per cent of families have access to safe water. This is lower than the national average of 85 per cent, based on 2016 data from the Philippine Statistical Authority.

The new ILO-Japan project will improve community access to safe and reliable water supply for domestic consumption and agricultural production. The project will construct water supply and recovery systems using local workforce.

Over 1,800 workers and almost 12,000 households in conflict-affected communities will benefit from the economic activity entailed by the one year project. The project will integrate environmental standards and conservation measures promoting green jobs and providing immediate income.

The project will also contribute towards the achievement of the Sustainable Development Goals (SDGs), specifically Goal 6 on clean water and sanitation, and Goal 8 on decent work and economic growth.

Over the years, the ILO has developed and applied practical tools in marginalized communities to generate jobs, improve living conditions, transfer skills and enable access to livelihood opportunities. This year, the ILO also marks 100 years of advancing social justice and promoting decent work. It will build on its vast experience in water supply infrastructure development not only in the Philippines but in several other countries.

The ILO-Japan project will complement other peace and development projects of the Japanese government in Mindanao with the Technical Education and Skills Development Authority (TESDA), the Economic and Social Development Programme, the Food and Agriculture Organization (FAO), and the United Nations Development Program (UNDP).

Japan is a key partner of the ILO in the promotion of social justice and decent work, especially in the Asia and the Pacific region. The Government of Japan has a longstanding cooperation with the ILO dating back to 1974. In the Philippines, the Government of Japan has supported a number of projects including on disaster response, sustainable livelihood, peace and security, local economic development, social protection, and human trafficking.
New Financing to Help Indonesia Achieve a Deeper and More Resilient Financial Sector
The World Bank's Board of Executive Directors today approved a loan of US$400 million to support reforms that will help the Government of Indonesia increase the depth, improve the efficiency, and strengthen the resilience of the financial sector.
The COVID-19 pandemic has caused recession in Indonesia, with potentially long-lasting financial, fiscal, and social implications. While the banking system is well-capitalized and profitability is high, the lack of depth in the Indonesian financial markets increases the country's vulnerability to external shocks. The new financing is designed to help the country address financial sector vulnerabilities heightened by the pandemic. It does so through support to measures such as extending financial services to previously underserved groups, reducing the costs of such services for individuals and businesses alike, and strengthening the capacity of the financial sector to withstand financial and non-financial shocks.
"The COVID-19 outbreak has made structural reforms to address financial sector vulnerabilities urgent. The Government of Indonesia is committed to strengthening the financial sector given its critical role in sustaining Indonesia's growth and in reducing poverty, especially during the COVID-19 recovery phase. " said Minister of Finance of the Republic of Indonesia, Sri Mulyani Indrawati.
The new development policy loan will support Indonesia's financial sector reforms through three key approaches. First, it aims to increase the depth of the financial sector by expanding the access to financial services – including by youth and women – broadening the range of financial products, and incentivizing long-term savings. These efforts would reduce Indonesia's vulnerability to foreign portfolio outflows.
Second, it aims to improve the efficiency and lower the cost of the financial sector by strengthening the insolvency and creditor rights framework, protect consumers and personal data, and make payment systems more efficient and faster by utilizing digital technology. The latter will help large-scale social assistance payments to vulnerable people during the crisis.
Third, it aims to boost the capacity of the financial sector to withstand shocks by strengthening the resolution framework to avoid financial activities disruptions in the event of a bank failure, advancing the effectiveness of financial sector oversight and implementing sustainable finance practices.
"This financing complements the government's efforts to cushion the financial sector and the overall economy from the impacts of the COVID-19 crisis. By making financial services more transparent, reliable and technology-oriented, savings can be channeled into the most productive investments in a less costly, faster and safer way, thus opening opportunities for people to invest in their future and to protect themselves from unexpected shocks," said Satu Kahkonen, World Bank Country Director for Indonesia and Timor-Leste.
The World Bank's support to financial sector reforms in Indonesia is an important component of the World Bank Group's Country Partnership Framework for Indonesia, whose engagement area on strengthening economic resilience and competitiveness contains a specific objective focused on increasing the depth, improving the efficiency and strengthening the resilience of the financial sector. The new financing is also based on the World Bank Group's GRID (green, resilient, inclusive development) principles.
2021 Geneva Summit for Human Rights and Democracy
Each year, the Geneva Summit for Human Rights and Democracy assembles hundreds of courageous dissidents and human rights activists, diplomats, journalists and student leaders to shine a spotlight on urgent human rights issues.
The Geneva Summit is sponsored by 25 human rights NGOs from around the world. The Geneva Summit has been featured in media around the globe, including CNN, Agence France Presse, AP, The Australian, Radio Free Europe and ANSA.
This year, the 13th Geneva Summit for Human Rights and Democracy was held on June 7 and 8. The event was free to all the people who made online registration. This year the summit hosted different voices from different parts of the world.
In this year's summit, the leading Turkish journalist Can Dündar who was arrested, jailed and forced into exile for his reporting on Erdogan's government was one of the speakers addressing Human Rights and Democracy on the Fragility of Freedom and Democracy panel.
For the full text of the Fragility of Freedom and Democracy panel, click here.
The list of the other speakers is as follows:
Waad Al-Kateab, Syrian refugee and award-winning documentary filmmaker on the conflict in Syria
Rayhan Asat, Uyghur activist, sister of Ekpar Asat who was abducted by Chinese authorities
Nathan Law, Former member of Hong Kong Legislative Council who fled arrest & sudden leader of 2014 Umbrella Movement
András Simonyi, Academic & former Hungarian Ambassador to the U.S.
Prof. Irwin Cotler, Chair of Raoul Wallenberg Centre for Human Rights, former Minister of Justice & Attorney General of Canada.
Gulalai Ismail, Pakistani women's rights activist, former political prisoner who escaped the country
Tania Bruguera, Cuban political performance artist repeatedly arrested for her work
Sviatlana Tsikhanouskaya, Belarusian opposition presidential candidate forced to flee after rigged elections
Jihyun Park, Escapee and survivor of a North Korean forced labor camp
Daria Navalnaya, Daughter of poisoned and jailed Russian opposition leader Alexei Navalny
Kylie Moore-Gilbert, Australian-British academic just freed after two years in Iranian prison as a victim of hostage diplomacy
Evan Mawarire, Zimbabwean protest leader, arrested six times and tortured for his human rights work
Yang Jianli, Chinese dissident, former political prisoner, survivor of Tiananmen Square and President of Initiatives for China
Vladimir Kara-Murza, Leading dissident against Putin regime, Chairman of Boris Nemtsov Foundation, survivor of two poisoning attempts
For links to other speakers' quotes, videos, livestream, and more, click here.
Decentralized Finance heats up: new approaches needed for industry transformation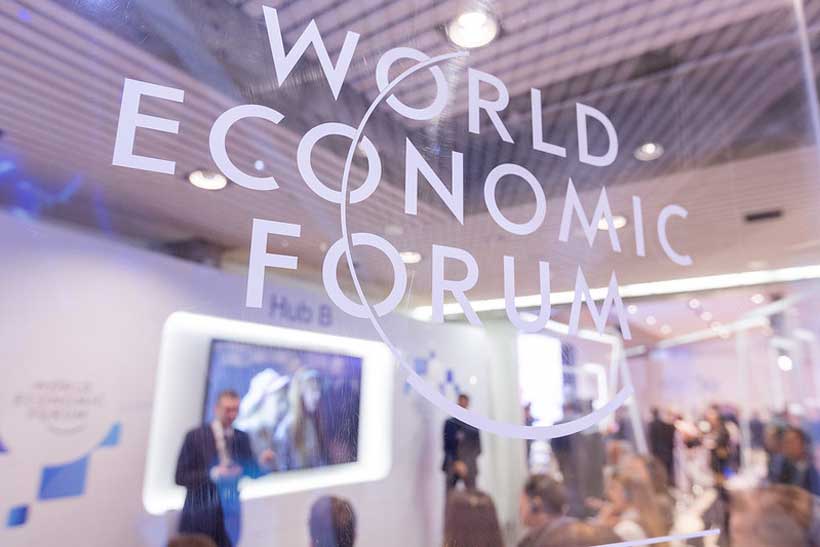 Decentralized finance (DeFi) aims to transform traditional forms of finance by reconstructing and reimagining services. The World Economic Forum today released the Decentralized Finance (DeFi) Policy-Maker Toolkit, providing policy-makers and regulators with guidance for technologies that are global and transforming rapidly.
The toolkit is a collaboration with the Blockchain and Digital Asset Project at the Wharton School of the University of Pennsylvania. It draws on contributions from an international expert group of academics, legal practitioners, DeFi entrepreneurs, technologists, global policy-makers and regulators, and is the second report in the series, after DeFi Beyond the Hype.
DeFi has been evolving since the launch of the Ethereum blockchain in 2015 and is a category of financial services based on blockchain's distributed ledger technology. It does not rely on central institutions, and interest has risen sharply from both private and public sectors.
The report notes that, in the past year, the value of digital assets locked in DeFi smart contracts grew by a factor of 18, from $670 million to $13 billion. The number of associated user wallets grew by a factor of 11, from 100,000 to 1.2 million, and the number of DeFi-related applications grew from eight to more than 200.
The first-of-its-kind toolkit provides a foundation for understanding the major factors that should drive policy-making decisions. It provides an overview of DeFi, explores and illustrates benefits and risks with case studies, and maps out legal and regulatory responses.
Representatives from governments around the world contributed to the creation of the toolkit, including those developing Europe's Markets in Crypto-assets (MiCA) framework and major U.S. financial regulators. The government of Colombia is among those planning to use the toolkit in their policy-making and regulations.
"We are in a critical time for DeFi. Following its rapid growth, and the price activity in crypto more generally, governments are closely watching cryptocurrencies and decentralized applications," said Sheila Warren, Deputy Head of the Centre for the Fourth Industrial Revolution Network; Executive Committee, World Economic Forum. "This toolkit is a critical first step in helping policy-makers and regulators navigate this quickly evolving space. By outlining the potential risks, while highlighting the opportunities for innovation, we hope it will be a valuable resource in informing balanced approaches to policies and regulations."
"DeFi has transformative potential for financial services worldwide but also creates an array of serious concerns," said Kevin Werbach, Director of the Blockchain and Digital Asset Project at Wharton. "Policy-makers and regulators need frameworks to address these issues responsibly. The toolkit provides that roadmap."
"DeFi presents a generational expansion of financial opportunity (and always accompanying risk). The most important first step before any regulatory or policy undertaking is to level-set on the evolving landscape," said Michael Mosier, Acting Director of the Financial Crimes Enforcement Network (FinCEN) in the United States. "This report helpfully provides us with a thoughtful, clear and comprehensive cartography of DeFi so that we can make the most of truly innovative opportunities for financial expansion and novel risk mitigation."
"We have been following the evolution of Crypto and DeFi and decided to take an active role in developing our policies in this field due to the opportunities it could unleash for our people," said Jehudi Castro Sierra, Digital Transformation Advisor, Presidency of Colombia. "We were pleased to contribute to the toolkit and we are looking forward to using it to inform approaches to this space that are balanced, risk-aware, and forward looking. As the first country in the region to use the Policy-Maker Toolkit, we aim to be the leader in Latin America for DeFi policies and regulation."
Authors call for technologically neutral approaches that can balance objectives of regulatory regimes and innovation and market development with policies that are fair, efficient and enforceable. Effective regulations should involve a combination of existing, retrofitted, new and bespoke regulations.