Turkish-Chinese spat puts Central Asian leaders on the spot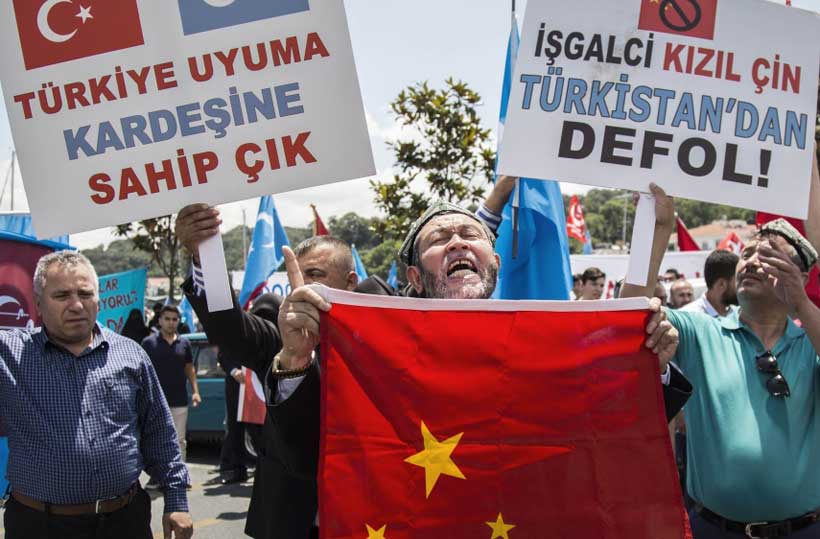 A Turkish-Chinese spat as a result of Turkish criticism of China's crackdown on Turkic Muslims in its strategic but troubled north-western province of Xinjiang complicates efforts by Kazakhstan and other Central Asian states to at best deal quietly behind closed doors with the plight of their citizens and ethnic kin in the People's Republic.
China's threat that the Turkish criticism of its massive surveillance and detention campaign, involving the alleged incarceration in re-education camps of up to one million Uyghurs and other Turkic Muslims would have economic consequences and the temporary closure of the Chinese consulate in the Mediterranean port city of Izmir serves as warnings to others in the Muslim world what could happen if they break their silence.
The Chinese effort to get the Muslim and broader international community to maintain silence, if not acquiesce in the crackdown that constitutes the most frontal assault on Islam in recent history, was boosted when Saudi crown prince Mohammed bin Salman on a visit to Beijing last month appeared to endorse Chinese policy.
Prince Salman's endorsement of China's right to undertake "anti-terrorism" and "de-extremism" measures was widely seen as tacit support for the crackdown by the custodian of the holy cities of Mecca and Medina.
China has denied allegations of widespread abuse of human rights and insisted that the camps are re-education and training facilities that have stopped attacks by Islamist militants and separatists.
The crown prince's remarks contrasted starkly with the characterization last month of the crackdown by Turkey's foreign ministry as an "embarrassment to humanity," The ministry demanded that Chinese authorities respect the human rights of the Uyghurs and close what it termed "concentration camps."
Turkish foreign minister Mevlut Cavusoglu called twice last week on China to make a distinction between perpetrators of political violence and innocent civilians while insisting that Turkey wished to continue cooperation with the People's Republic.
"The fact that we have a problem with China on an issue should not necessarily hinder our cooperation on other matters," Mr. Cavusoglu said.
Turkey is hoping that Chinese investment in nuclear, e-commerce, finance, and infrastructure will narrow its gaping trade deficit with China that last year stood at US$17.8 billion.
That is not how China appeared to envision its future relationship with Turkey.
"There may be disagreements or misunderstandings between friends, but we should solve them through dialogue. Criticising your friend publicly everywhere is not a constructive approach," said Chinese ambassador to Turkey Deng Li.
"The most important issue between countries is mutual respect. Would you stay friends if your friend criticized you publicly every day?" Mr. Deng asked.
"If you choose a non-constructive path, it will negatively affect mutual trust and understanding and will be reflected in commercial and economic relations," Mr. Deng added.
Mr. Deng's comments were not only designed to whip Turkey back into line but also to prevent Central Asian nations from speaking out despite mounting domestic pressure.
Mr. Deng's comments reflected greater Chinese intolerance for criticism of its crackdown amid attempts to convince the international community by taking diplomats and journalists on carefully managed tours of Xinjiang that one participant called a "dog and pony show."
The ambassador's rings particularly loud in Kazakhstan whose ethnic kin constitute the second largest Muslim community in Xinjiang after the Uyghurs.
A former re-education camp employee, Sayragul Sauytbay, who fled to Kazakhstan told a Kazakh court last year that she was aware of some 7,5000 Kazakh nationals and Chinese of Kazakh descent being incarcerated.
Atajurt Eriktileri, a Kazakh group that supports relatives of people who have disappeared in Xinjiang, says it has documented more than 10,000 cases of ethnic Kazakhs interned in China. The Xinjiang Victims Database says it has collected some 3,000 testimonies of prisoners and their families, half of which are from ethnic Kazakhs.
Askar Azatbek, a former Xinjiang official who became a Kazakh citizen, went missing in December after allegedly having been kidnapped while on the Kazakh side of Khorgos, a free-trade zone on the border with China.
So has Qalymbek Shahman an ethnic Kazakh Xinjiang businessman who was refused entry into Kazakhstan, sent to Uzbekistan and disappeared in Thailand to where he was returned by Uzbek authorities. Mr. Shahman hasn't been heard from since.
"I wanted to go to Kazakhstan, because China's human rights record was making life intolerable," Mr. Shahman said in a video tape from Tashkent airport before being forced to fly to Thailand, which has a track record of complying with Chinese repatriation requests.
For now, Central Asian leaders are walking a tightrope. Officially, they insist that Xinjiang is a Chinese internal affair. At the same time, the leaders are trying to curb domestic criticism.
Serikzhan Bilash, the head of Atajurt Eriktileri, was fined in February by an Almaty court for operating an unregistered organization.
Ms. Sauytbay has fired her lawyer after he became unreachable at key moments in her asylum application and encouraged her to not talk about it publicly. "I don't want to talk…until I have some kind of protection. I'd prefer that protection to come from Kazakhstan, but I might need help from other countries," Ms. Sautbay said.
Ms. Sautbay is certain to hope that Turkey's willingness to confront China, if maintained, makes Central Asia's tightrope act increasingly risky, particularly in an environment in which public criticism of the crackdown, anti-Chinese sentiment and social and economic discontent are meshing.
The 'Multiplier Effect' of BRICS+
The main hallmark of China's chairmanship in the BRICS grouping in 2022 has been the unveiling of plans to institutionalize the BRICS+ format and to explore the possibilities of expanding the core of the BRICS bloc. The current debate regarding the future trajectories of the BRICS+ format centers on whether the expansion of the bloc is to proceed one by one by adding new countries to the BRICS core, or via the format of "integration of integrations", namely the creation of a platform for the cooperation of regional arrangements in which BRICS countries are members. At this stage, it appears that both tracks are possible and have their pros and cons. But there is one factor in the regional "integration of integrations" model that has particular merit – it is the "BRICS+" multiplier that allows for a significant extension in the outreach undertaken by core BRICS economies with respect to the rest of the Global South.
In terms of scale, the effects of the two formats of BRICS expansion may be mathematically illustrated by the difference between the arithmetic and geometric progression. If the one-by-one expansion in the core of the BRICS grouping represents the minimalism of the arithmetic progression, the BRICS+ format of integration of integrations can be seen as a far more extensive and ambitious undertaking characterized by a geometric progression. With respect to the arithmetic progression, the waves of the expansion in the BRICS core may involve a sequential addition of one or several countries representing the most significant heavyweights (possibly members of G20 from the Global South). The alternative is the aggregation of the regional integration blocs of all of the five BRICS members – represented by the BEAMS platforms consisting of BIMSTEC, Eurasian Economic Union, the ASEAN-China FTA, Mercosur and the South African Customs Union – leading to the addition of up to 25 members (the 5 times 5 geometric progression – or the 5 BRICS taken to the power of 2) of the BRICS+ circle that are the regional neighbors/partners of BRICS economies.
This BRICS+ geometric progression can be taken further to the next level whereby a wider circle of countries is included into the enlarged platform that comprises the African Union in Africa, CELAC in Latin America and the Eurasian economies from the Global South. The Eurasian constellation of developing economies can be formed on the basis of the aggregation of the main regional integration blocs such as the Shanghai Cooperation Organization (SCO), the Gulf Cooperation Council (GCC), ASEAN, SAARC, EAEU. Such an extended platform across all three continents of the Global South may be termed as TRIA (Trilateral Intercontinental Alliance) and it comprises nearly 125-130 developing economies (depending on the exact methodological approach of including the Eurasian economies). This second sequence of extending the BRICS+ platform results in a "5 times 5 times 5" geometric progression – or the 5 BRICS economies taken to the power of 3.
These stages of progression in the extension of the BRICS+ circle can be taken to an even higher level if one is to account for all of the bilateral/plurilateral trade deals, digital alliances and other accords that may be multilateralized on the basis of the BRICS+ platform. For example, the Israel-Mercosur FTA or the SACU-EFTA FTA could be extended to include more developing countries from the BRICS+ circle. At this stage the combinatorics of matching and aggregating the multitudes of alliances along the BRICS+ platform kicks in – each of the main regions and regional integration grouping from the Global South has its own cob-web of alliances that can be shared throughout this extended network of Global South.
Such additional multiplier effects will be all the more powerful, the greater the openness and inclusiveness of the aggregated BRICS+ platform and the more connectivity there is across the alliances concluded by developing economies with their partners from across the globe. In other words, in order for the multiplier effects to be increased the BRICS+ platform of integration of integrations needs to be predicated on alliances that are scalable and capable of connecting with other regional blocs (regional alliances that can be "globalized"). This in turn may be facilitated by particular emphasis placed on building platforms for regional development institutions (with standardized protocols for investment projects, including with respect to PPPs); greater scope for digital economic alliances that may be particularly amenable to scale and replication.
Potentially this sequential approach to building alliances across the Global South on the basis of the BRICS+ "integration of integrations" could become a basis for re-starting the globalization process in the world economy bottom-up (from the level of countries and regional blocs) rather than top-down (solely from the level of global organizations). In fact, this "integration of integrations" sequence may prove superior to the previous attempts at top-down wholesale liberalization via "Washington consensus" for the following reasons:
Greater gradualism and connectivity of country and regional integration roadmaps with the resulting global pattern of liberalization
Greater flexibility: there may be room for revision and corrections to the resulting global pattern at the local level
Greater accordance of the global pattern of alliances and integration with local/country-level and regional peculiarities and exigencies
Greater political sustainability and feasibility of the resulting global pattern of alliances that is predicated on the cooperative network of regional alliances
This greater sustainability and flexibility of the bottom-up globalization process as a network of alliances rather than a rigid framework that is to be implemented across the globe without due account of the regional and country-level peculiarities argues in favor of looking for ways to render such a model of globalization more feasible and effective.
Under this scenario of a network-type globalization what would be the role of global institutions such as the WTO, IMF, World Bank? In many ways it would remain crucial for the sustainability of the construct of the reshaped global economic architecture. The global institutions would receive the additional mandate of coordinating the regional networks and development institutions:
IMF: coordination of regional financing arrangements (RFAs)
World Bank: coordination of regional development banks
WTO: coordination of regional integration arrangements
There will also be a need for global institutions to focus more on resolving global issues, including global imbalances. This in turn would allow the global economic system to overcome the current problem of regional and global institutions/organizations operating frequently as substitutes rather than mutually reinforcing complements.
In sum, the BRICS+ track of country-by-country additions to the BRICS core if pursued solely on its own without building a broader network of alliances may result in minor alterations to the status-quo and a missed opportunity for the Global South and the broader global economy. At the same time, the possibilities offered by the "integration of integrations" track for BRICS+ are substantial, provided that such a platform is open, inclusive and ensures connectivity across regional integration arrangements – this will deliver the much needed "multiplier effect" in the process of economic cooperation and can set off a new process of globalization that connects regional arrangements in the developed and the developing world. Such a paradigm may be the real mission of BRICS after all – the value of BRICS is not in each of them taken separately, but rather in them being connected together to form a construct that supports the edifice of the global economic architecture.
From our partner RIAC
Ukraine's losses are China's gains
The conflict in Ukraine will have major strategic consequences for Chinese foreign policy in the Indo-Pacific. It will promote the deepening of Russian–Chinese economic cooperation that will make both countries more resilient to Western economic pressure. Long-term instability in Europe will make it more difficult for the United States to boost its Pacific presence for years to come with significant US financial and military resources being drawn toward supporting Ukraine.
The conflict has demonstrated that the West is not able to impose sanctions on a major economy without damaging its own stability. The war has also shown the effectiveness of the Russian nuclear deterrent, making even a limited Western intervention unthinkable.
China will be the main beneficiary of the Ukraine crisis. But this is not reflected in China's political rhetoric which has been carefully calculated to avoid any major fallout with the European Union and other developed countries, while also maintaining close cooperation with Russia.
The official Chinese position has remained consistent with the statement made by Chinese Foreign Minister Wang Yi in February 2022 at the outbreak of the war: China is concerned with the violence and wants it to stop. It maintains that the territorial integrity and security interests of all parties need to be respected. China also maintains that NATO enlargement is partially responsible for the crisis.
On the economic front, China has seized the major strategic opportunities provided by the war. During the first four months of 2022, trade between Russia and China increased by 25.9 per cent. Russian exports to China grew by 37.8 per cent, to US$30.85 billion. The physical volume of natural gas exports also jumped 15 per cent.
China is in line to supplant the European Union as Russia's main economic partner. The Chinese Ambassador to Russia Zhang Hanhui has called upon Chinese businesspeople to 'fill the void' left in the Russian market by outgoing Western businesses. Cooperation with China has contributed to Russia's federal budget surplus between January–April 2022 despite the war. Maintaining this financial and economic stability appears to be Russia's strategy as it continues to press in Ukraine.
By 2023, most or all bilateral trade is expected to be conducted in renminbi. Chinese companies and brands will likely dominate large segments of the Russian consumer market and will become Russia's key industrial and technological partners. There is also a growing trend towards a large part of Russian trade being conducted with third countries in renminbi.
With the expected expansion of the logistical infrastructure, China will obtain a major source of strategic commodities. China will be able to procure these commodities at significant discounts because Russia will be isolated from many other markets and China will be using its own currency. This will significantly reduce the West's ability to leverage economic pressure points against China.
Some of China's top-tier global companies are visibly reducing their presence in Russia because secondary sanctions could affect their operations in international markets. But cooperation in many areas will be overtaken by second-tier corporations with limited or no global exposure. Such companies will still be powerful enough to operate in the Russian market. Their operations will be serviced by specialised banks with no exposure in the West, like in Iran.
Strategically, this transition — coupled with deep internal changes in the Russian political economy — will make Russia largely immune to economic warfare. For the foreseeable future, the West will have no other means to deter Russia in Europe except for costly military options. In turn, this will provide major strategic opportunities for China in the Pacific.
The military lessons of the war for China are too early and too difficult to assess based on available data. One characteristic of the Ukrainian conflict is an unprecedented scale of propaganda and misinformation from all sides.
But two clear lessons have emerged from the war so far. First, US and NATO allies will always try to avoid a direct military confrontation with a major nuclear power. Even if a power is fighting a full-scale war at their doorstep. Second, economic war on Russia has caused significant problems for Western economies, including rising inflationary pressures and falling growth rates. Any comparable actions against China, an economy ten times bigger, will devastate much of the world economy. This makes any such action extremely unlikely.
From our partner RIAC
Taiwan dispute, regional stability in East Asia and US policy towards it
In the 1950s, armed confrontation erupted between the People's Republic of China (PRC) and the Republic of China (ROC) over vital islands in the Taiwan Strait. ROC-controlled islands were bombarded by the PRC on two distinct occasions in the 1950s. The US retaliated by acting actively on favor of the ROC. Tensions in the Taiwan Strait were exacerbated by US policy toward East Asia during the early Cold War. In late 1949 and early 1950, American authorities were prepared to allow PRC forces to cross the Taiwan Strait and defeat Chiang, but when the Korean War broke out in June 1950, the US moved its Seventh Fleet into the Taiwan Strait to keep the conflict from expanding south. The advent of the Seventh Fleet enraged the Chinese Communists, who moved soldiers from Taiwan to the Korean front in preparation for an attack. This served to postpone military conflict in the Strait until after the Korean War, when the US withdrew its fleet.
Beijing claims there is only "One China," of which Taiwan is a part. It considers the People's Republic of China to be China's only legitimate government, a position it refers to as the "One-China concept," and desires Taiwan's eventual "unification" with the mainland.
China, Mongolia, Taiwan, Tibet, and the South China Sea remain part of the ROC, according to Taiwan's KMT-drafted constitution. The KMT opposes Taiwan's independence and has repeatedly advocated for tighter ties with China. However, in light of recent election setbacks, KMT leaders have pondered whether the party's position on the 1992 Consensus should be changed. The Democratic Progressive Party (DPP), the KMT's main adversary, has never supported the 1992 Consensus's understanding. President Tsai, who is also the DPP's leader, has refused to recognize the consensus in writing. Instead, she has endeavored to find a different formulation that Beijing will accept. Tsai declared she was "Elected President in accordance with the Constitution of the Republic of China," which is a One-China document, and that she would "Safeguard the Sovereignty and Territory of the Republic of China" in her 2016 inaugural address. Tsai also promised to "Handle Cross-Strait Affairs in accordance with the Republic of China Constitution, the Act Governing Relations Between People of Taiwan Area and the People of the Mainland Area, and other applicable legislation." Beijing, on the other hand, rejected this statement and severed ties with Taiwan.
UN Membership Status for Taiwan
China directly rejects the participation of Taiwan in other international organizations that only allow governments to join. Taiwan complains its absence on a regular basis, while the US advocates for Taiwan's meaningful involvement in such groups. Taiwan, on the other hand, is a member of over forty organizations, the most of which are regional in nature, such as the Asian Development Bank and the Asia-Pacific Economic Cooperation Forum, as well as the World Trade Organization. On several additional bodies, it has observer or other status. Only fourteen countries have formal diplomatic relations with Taiwan. No government has ever maintained formal diplomatic relations with both China and Taiwan at the same time.
Economic Situation of Taiwan
Taiwan's economy is still based on trade with China, the island's most important commercial partner. However, their economic relationship has been strained in recent years, partially as a result of Beijing's pressure on Taiwan and Taiwanese leaders' rising concerns about the island's overdependence on Chinese trade. President Ma, who served from 2008 to 2016, signed over twenty agreements with the PRC, notably the 2010 Cross-Straits Economic Cooperation Framework Agreement, in which the two countries agreed to remove trade barriers. Direct sea, air, and mail ties between China and Taiwan were reestablished after decades of prohibition. They also agreed that banks, insurers, and other financial service providers would be permitted to operate in both markets. Tsai's main program, the New Southbound Policy, has had some success in increasing trade and investment with Southeast Asian and Indo-Pacific countries. Between 2016, when the project was announced, and 2021, trade between Taiwan and the eighteen nations increased by more than $50 billion. Nonetheless, Taiwan's exports to China reached an all-time high in 2021. Beijing has exerted pressure on other countries to refrain from signing free trade deals with Taiwan. Only a few nations have signed free trade agreements with the island, with New Zealand and Singapore being the only industrialized economies to do so.
US-Taiwan Relations
The United States and the People's Republic of China established formal diplomatic ties in 1979. At the same time, it cut diplomatic ties with the ROC and terminated their mutual defense treaty. However, the US maintains a strong unofficial relationship with the island, selling defense weapons to its military. Beijing has frequently pushed the US to stop sending weapons to Taiwan and to cut ties with the country. The United States' strategy is guided by its One-China policy. It is based on a number of documents, including three US-China communiqués issued in 1972, 1978, and 1982; the Taiwan Relations Act, passed by the US Congress in 1979; and President Ronald Reagan's recently disclosed "Six Assurances", which he delivered to Taiwan in 1982. According to these documents, the United States:
"Acknowledges the Chinese stance that there is only one China and Taiwan is a part of China" and that the PRC is the "only lawful government of China"
Disposes the use of force to resolve the conflict; maintains cultural, commercial, and other ties with Taiwan through the American Institute in Taiwan (AIT), commits to selling arms to Taiwan for self-defense and maintains the ability to come to Taiwan's defense while not committing to do so, a policy known as Strategic Ambiguity was created.
The major purpose of the United States is to maintain peace and stability in the Taiwan Strait and it has urged both Beijing and Taipei to do so. It declares that it opposes Taiwanese independence. For decades, the US has tried to strike a careful balance between backing Taiwan and avoiding a confrontation with China through its policy of strategic ambiguity.
Over Chinese protests, the US strengthened ties with Taiwan under President Donald Trump, selling over $18 billion in armaments to the military and erecting a $250 million facility for its de facto embassy in Taipei. Tsai and Trump spoke by phone before Trump's inauguration, the greatest degree of engagement between the two since 1979. He also dispatched several top administration officials to Taipei, including a cabinet member, and the State Department lifted long-standing limitations on where and how US officials can meet with their Taiwanese counterparts during his final days in office.
Biden's Administrative and Military Relations with Taiwan
The Biden administration has taken a similar approach, maintained arms shipments and endorsed Trump's decision to allow US officials to meet with Taiwanese officials more freely. Biden was the first president of the United States to invite Taiwanese officials to the inauguration. The US regularly sails ships across the Taiwan Strait to demonstrate its military presence in the region, and it has encouraged Taiwan to raise its defense budget. The United States has been more supportive of Taiwan in recent years than it had been before China adopted a rejectionist stance toward the current Taiwanese government. On cross-strait problems, Tsai has been noticeably and consistently moderate. The fact that she would push the limit by declaring full formal independence is not a risk Beijing has to be concerned about. During Tsai's presidency, Washington has increased its support for Taiwan, primarily in response to Beijing's increasing pressure on the island. The Biden administration has a variety of grievances about Chinese behavior and its coercion of Taiwan has been towards the top of that list, as seen by congressional legislation and presidential and administration policy comments.
U-S Implications for Strategic Stability over Taiwan Issues
Strategic stability refers to a condition in which both the United States and China can pursue their key national interests without jeopardizing, if not increasing, regional and global stability. Such strategic stability may also help to establish a pattern of bilateral relations that decreases the likelihood of accidental conflict particularly military conflict while simultaneously enhancing the possibilities for future collaboration. However, the reality on all three sides make stability appear like a far-off dream. Beijing has made it obvious that it feels its national might is quickly expanding and that it will soon be enough to exercise diplomatic, economic, and military supremacy, at least in the western Pacific. Furthermore, the realities of Beijing's expanding power have allowed it to engage in resentment diplomacy, accusing the US and other foreign powers of being responsible for China's "Century of Humiliation" and demanding retribution. If strategic stability is to be achieved, it must begin here for the US to change its policies toward Taiwan and China, they must opt.
Conclusion
Both militaries have increased their capabilities in order to dissuade and defeat the other. The two countries have moved from rivalry to conflict, and both have made establishing Taiwan's future the focal point of that clash on numerous occasions. Taiwan, whether you call it a pawn or not, is caught in the crossfire. As a result, lowering tensions over Taiwan might be the first step toward avoiding potentially devastating instability and, possibly, developing a cautious trust on both sides that other lingering problems can be resolved successfully. A reinforced US policy of dual deterrence, coupled with authoritative assurance, can be a first step toward restoring trust in enormous strategic stability between these two superpowers.