PES: Zingaretti will champion Italy and progressive politics across Europe
Nicola Zingaretti will stand up for Italy at a time when the country desperately needs a new direction, the Party of European Socialists (PES) said today as it welcomed his election as leader of Partito Democratico.
PES President Sergei Stanishev said:"On behalf of the PES I send my warmest congratulations to Nicola Zingaretti on becoming the new leader of Partito Democratico. He is a true champion of progressive politics and he has a proven track record as President of the Lazio region. Under the current populist government, Italy is suffering and the people have lost hope. Nicola will provide the strong leadership and fresh ideas Italy needs.
"I would also like to congratulate Partito Democratico and the other candidates Maurizio and Roberto for this well fought leadership primary. It was an engaging contest with strong participation right across Italy. Partito Democratico is growing from strength to strength as we approach these crucial European elections. Now it's time for progressives to unite to convince people that we are the strong alternative, for Italy and for Europe. We are all looking forward to working together with Nicola and Partito Democratico as we campaign to elect Frans Timmermans as the next President of the European Commission."
More than 1.8 million party supporters cast their ballots in the Partito Democratico leadership primary.
New mandate must bring equality for women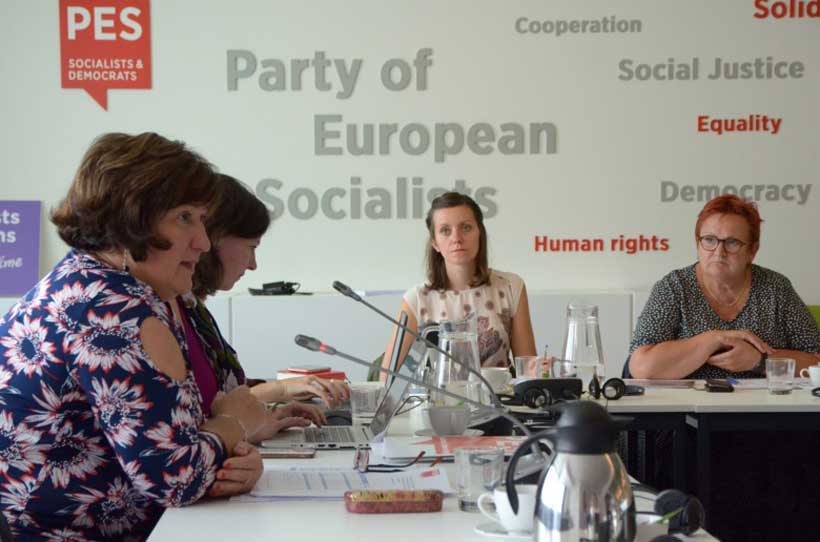 Gender equality and parity within the institutions must be priorities for the next mandate, PES Women said today as it released a statement 'Call for a feminist Europe'.
PES Women – which promotes gender equality and women's representation both inside and outside the Party of European Socialists – was gathering for the first time since the European elections.
PES Women members unanimously adopted Call for a feminist Europe, reiterating and outlining the steps the EU institutions must take to achieve greater gender equality.
PES Women President Zita Gurmai, said:"We are entering the ninth mandate of the European Parliament, and yet we have still not achieved gender equality. Last month's vote saw an increase in the number of women elected to the European Parliament, which is very welcome. But despite this, no institution comes close to ensuring equal representation in decision-making for women, or gender equality more generally. So after the PES feminist campaign, this is what we are reiterating today. It is time for a feminist Europe where every woman and girl can exercise her freedoms, choices and rights."
2020 marks the 25th anniversary of the Beijing Platform for Action – an agenda for women's empowerment adopted at the UN's Fourth World Conference on Women (Beijing, China, 1995). As this anniversary is approached, Call for a feminist Europe picks up many of the areas the Platform for Action identified.
The PES Women statement calls for:
Gender-balanced committees, committee chairs and heads of delegations in the European Parliament;
That national governments propose two candidates, a woman and a man, for Commissioner to ensure gender parity in the Commission's college;
Gender equality as a stand-alone European Commission portfolio, and as a priority of the Commission President or Vice-President, and a feminist approach to overall Commission policy-making;
The European Commission to introduce gender budgeting, and more resources to strengthen women's rights, including for the European Institute for Gender Equality;
All institutions to amplify their ambitions to create and adopt legislation that improves the lives of women and girls in Europe; and, reaffirm their aim to achieve full gender equality, including through training for staff and policy-makers on gender mainstreaming.
All institutions to introduce reporting mechanisms and mandatory training for staff and elected members on all types of harassment and sexism.
The statement also advocates for an ambitious and binding EU Gender Equality Strategy that ends all gender gaps – especially the gender pay gap, makes the work-life-balance Directive a reality, empowers women, combats gender-based violence, and ensures access to sexual and reproductive rights. This was a key proposal of PES Common Candidate Frans Timmermans, who PES Women continue to fully support for the President of the European Commission.
Together with Iratxe Garcia Perez, newly elected President of the Social Democratic Group, PES Women will continue its commitment to women's rights, further enhancing the chances of successfully taking forward gender equality policies in the European Parliament.
Read Call for a feminist Europe here.
Juncker Plan reaches almost €410 billion in triggered investment across the EU
As of June 2019, the deals approved under the Juncker Plan amount to €75 billion in financing and are located in all 28 Member States. Some 952,000 start-ups and small and medium-sized businesses (SMEs) are expected to benefit from improved access to finance.
Currently, the top five countries ranked in order of investment triggered relative to GDP are Greece, Estonia, Bulgaria, Portugal and Latvia.
The EIB has approved €55.2 billion worth of finance for infrastructure and innovation projects, which should generate €252.5 billion of additional investments, while the European Investment Fund (EIF), which is part of the EIB Group, has approved €19.8 billion worth of agreements with intermediary banks and funds to finance SMEs, which are expected to generate €155.9 billion of additional investments.
European Commission Vice-President Jyrki Katainen, responsible for Jobs, Growth, Investment and Competitiveness, said: "With these latest figures we have reached a new milestone, surpassing €400 billion in investment mobilised across the EU. This is a huge achievement and shows that by using a small amount of the EU budget as a guarantee, you can attract private investment for the public good. We are on track to reach our goal of €500 billion by the end of 2020, and the Commission will continue to mobilise investments under the InvestEU Programme from 2021 onwards."
Based on the projects approved until July 2018, the Commission and the EIB estimate that the Juncker Plan has already supported 750,000 jobs and increased EU GDP by 0.6%. By 2020, the Juncker Plan is set to create 1.4 million jobs and increase EU GDP by 1.3%.
Background
The Investment Plan for Europe – the Juncker Plan – focuses on strengthening European investments to create jobs and growth. It does so by making smarter use of new and existing financial resources, removing obstacles to investment, and providing visibility and technical assistance to investment projects. The European Fund for Strategic Investments (EFSI) is the central pillar of the Juncker Plan. It provides a first loss guarantee, allowing the EIB to invest in more, often riskier, projects.
On 6 June 2018, the Commission proposed for the next long-term EU budget 2021-2027, to create the InvestEU Programme, bringing EU budget financing in the form of loans and guarantees under one roof. The new programme will consist of the InvestEU Fund, the InvestEU Advisory Hub and the InvestEU Portal. After negotiations with the Member States, on 18 April the European Parliament gave its green light to the InvestEU Programme.
Asylum and migration in the EU: Facts and figures
The arrival of more than one million asylum seekers and migrants to Europe in 2015 exposed serious flaws in the EU's asylum system. To respond to the migrant crisis, Parliament has been working on proposals to create a fairer, more effective European asylum policy.

Below you will find all the relevant data about the migrant crisis in Europe, who migrants are, what the EU is doing to get to grips with the situation, and what financial implications there have been.

Definitions: what is a refugee? What is an asylum seeker?

Asylum seekers are people who make a formal request for asylum in another country because they fear their life is at risk in their home country.

Refugees are people with a well-founded fear of persecution for reasons of race, religion, nationality, politics or membership of a particular social group who have been accepted and recognised as such in their host country. In the EU, the qualification directive sets guidelines for assigning international protection to those who need it.

Currently people from outside the EU must apply for protection in the first EU country they enter. Filing a claim means that they become asylum applicants (or asylum seekers). They receive refugee status or a different form of international protection only once a positive decision has been made by national authorities.

Asylum decisions in the EU
In 2018, there were 634,700 applications for international protection in the EU plus Norway and Switzerland. This compares with 728,470 applications in 2017 and almost 1.3 million in 2016.

Also in 2018, EU countries granted protection to almost 333,400 asylum seekers, down by almost 40% on 2017. Almost one in three (29%) of these were from Syria while Afghanistan (16%) and Iraq (7%) rounded up the top three. Of the 96,100 Syrian citizens granted international protection in the EU, almost 70% received it in Germany.

Situation in the Mediterranean

The European Border and Coast Guard Agency collects data on illegal crossings of the EU's external borders registered by national authorities. In 2015 and 2016, more than 2.3 million illegal crossings were detected. In 2018, the total number of illegal border-crossings into the EU dropped to 150,114, its lowest level in five years and 92% below the peak of the migratory crisis in 2015.

One person can go through a border more than once, so the number of people coming to Europe is lower, nevertheless, member states have been under significant pressure.

In 2018, 471,155 people were denied entry at the EU's external borders. As of 18 June, more than 24,000 people have risked their lives reaching Europe by sea so far in 2019, with more than 550 feared to have drowned. 116,647 people reached Europe by sea in 2018, compared to over one million in 2015. The Mediterranean crossing remained deadly however, with 2,277 dead or missing in 2018, compared to 3,139 a year earlier.


Migrants illegally present in the EU

In 2015, 2.2 million people were found to be illegally present in the EU. By 2018, the number had dropped to just over 600,000. "Being illegally present" can mean a person failed to register properly or left the member state responsible for processing their asylum claim. This is not, on its own, grounds for sending them away from the EU.

What Europeans are thinking

Migration has been an EU priority for years. Several measures have been taken to manage the crisis as well as to improve the asylum system. According to the results of a Eurobarometer poll released in May 2018, 72% of Europeans want the EU to do more when it comes to immigration.
The EU significantly increased its funding for migration, asylum and integration policies in the wake of the increased inflow of asylum seekers in 2015. In the forthcoming negotiations on the EU's post-2020 budget, Parliament will call for additional funding for migration.
According to the UN Refugee Agency, an average of 37,000 people were forced to flee their homes every day in 2018. The countries hosting the largest number of refugees are Turkey, Pakistan, Uganda, Sudan and Germany. Only 16% of the world's refugees are hosted by developed countries.
Around the world, the number of people fleeing persecution, conflict and violence has reached 70 million for the first time ever. That is equivalent to every man, woman and child in the UK and Ireland being forced from their homes. Children account for about half of the world's refugee population.