Top Five Destinations for the Ultimate Girls' Getaway
With International Women's Day right around the corner (8 March), what better way to celebrate and show appreciation for the significant women in our lives than by embarking on an all-girls getaway? Take this opportunity to spend quality time with these women, be it your mother, sister or best friend, and make memories of a lifetime together.
Chengdu, China
Enter the birthplace of the world famous, legendary…giant panda! Chengdu, a rich cultural hotspot with a multitude of historical and natural attractions, is also home to most of China's giant panda population. Get up close with these gentle giants at the Chengdu Research Base of Giant Panda Breeding, designed to imitate the natural habitat of giant pandas. Catch them in their most natural element – playing, eating and sleeping. What a life! While here, be sure to pick up fun facts about this national treasure and of course, valuable information on conservation efforts.
You'll be hungry after soaking up all this knowledge, so it's time to experience another one of Chengdu's specialties, the local hotpot. There's no better way to bond with your girlfriends than over a bubbling pot of fresh ingredients and spicy broth (concocted from a secret blend of traditional spices) – beware the numbing peppercorns! Thankfully, for the less adventurous, non-spicy broth options are available as well. Hotpot restaurants are aplenty across the city, but head to Yulin Neighbourhood for a taste of the best.
Stay: Canopy by Hilton Chengdu City Centre, newly opened in January this year, is a refreshing lifestyle-brand hotel situated right in the center of the city's cultural and commercial hub. Get to know the city like a local by engaging our hotel Enthusiasts – local guides that will give you insider tips on the city's hidden gems. In addition, you can even explore the city on wheels, with Canopy's complimentary bikes available for rent.
Perth, Australia
Perth is undoubtedly one on the books for those seeking a relaxed getaway imbued with nature's best. Start your morning bright and early with a trip to the nearby island paradise, Rottnest Island, located just a short ferry ride away from Fremantle, Perth City. The island's pristine beaches, with rich marine life and laidback atmosphere, are the perfect spots for you and your girlfriends to revel in nature's gifts as well as each other's company. While there, take turns to snap pictures as you pose with the world's happiest animal, the resident Quokka! Of course, you have to take a #squadselfie with this adorable critter as well.
When you're back in the main city, it is an absolute must to head to Northbridge, a cultural hub stock full of modern art galleries, eclectic boutiques and cafés. Immerse yourself in the local environment, and wind down while having heartfelt conversations with your girlfriends over a good cup of coffee. We recommend checking out Little Bird Café for its outstanding cakes (it's also a non-profit that provides training for the long-term unemployed) and Kafka Coffee Shop, a dainty shopfront that serves the perfect cup of coffee you never knew existed.
Stay: DoubleTree by Hilton Perth Northbridge, strategically located in the heart of Northbridge district, provides convenient access to the city's most popular attractions, such as the Art Gallery of Western Australia, State Theatre Centre and Yagan Square. The suite of dining, shopping and entertainment options guarantee you'll never be bored!
Phuket, Thailand
No stranger to avid beachgoers, Phuket is the perfect place for a sun-soaked getaway with the girls. On top of lounging on the beach and dipping into the crystal-clear waters, be sure to also check out at least a couple of its 32 surrounding islands – each with its own unique characteristic. Escape the crowds at Patong and Karon, and embark on an island-hopping adventure; test your teamwork with the girls in an adrenalin-pumping game of football on the floating football pitch at Koh Panyi (this coastal village is built on stilts!), find hidden gems at the picturesque Pi Leh Cove and walk amongst the coral reef and marine life with a sea-walking adventure at Coral Island. There is a smorgasbord of experiences to share with your best friends, and you'll certainly make memories of a lifetime together.
Stay: Hilton Phuket Arcadia Resort & Spa is the idyllic destination for those seeking a restful stay coupled with picturesque views of the ocean by Karon beach. With the resort housing 15 spa villas, get ready to be pampered, rejuvenated and refreshed after a long day of island-hopping.
Seoul, Korea
Annyeonghaseyo (hello)! You don't have to be a K-pop fan to fall in love with Seoul; this metropolitan city is bound to capture your heart. Splurge on some retail therapy with a shopping expedition with your girlfriends and navigate the various shopping hotspots this fashion and skincare capital has to offer. From shopping the big brands at mega establishments like COEX Shopping Mall (check out the one-of-a-kind Starfield Library!), sussing out local boutiques along quaint street alleys at Garuso-Gil and taking your pic from open-street stalls along Namdaemun Market, you'll certainly spend quality time giving each other fashion advice and sharing your favourite picks!
End your day of shopping and relax those sore calf muscles at a jjimjilbang (traditional Korean bath house). These Korean bath houses put conventional saunas to shame – nowhere else will you find such an extensive selection of baths, saunas, massages and leisure activities. You can even head to the in-house noraebang (singing room) to belt some tunes or watch television! It's an all-in-one entertainment haven.
Disclaimer: You'll have to strip down to your birthday suit while in the bathing areas (separated by gender). While it's natural to feel a bit of discomfort at the start, you'll get used to it in no time.
Stay: Conrad Seoul towers over Seoul and boasts panoramic views of the Han River and the city's skyline. If a trip to the jjimjilbang leaves you craving more pampering, the hotel houses an on-site spa that combines the latest technology and innovative techniques.
Bali, Indonesia
Live out your very own "Eat, Pray, Love" experience with your girlfriends in Bali, the land of tranquillity itself. Take your pick from the numerous beaches across the island, such as Nusa Dua Beach, Green Bowl Beach and Seminyak Beach for a relaxed afternoon of lounging in the sun. Of course, be sure to have your favourite cocktail and snacks on hand! Engage in some self-care by meditating or executing your favourite yoga poses – whether it is by the beach or in a yoga studio, what matters is that you focus on yourself and are rejuvenated after. Mental health is certainly as important as physical health!
For some, the ultimate trip will definitely include a girl's night out, and there's no doubt that Bali is a prime location to paint the night red. With the plethora of beach clubs available, it won't be hard to find one that suits your mood and music preferences. Be prepared to bust a move as you groove along to your favourite beats, but of course, stay safe and keep a look out for your besties.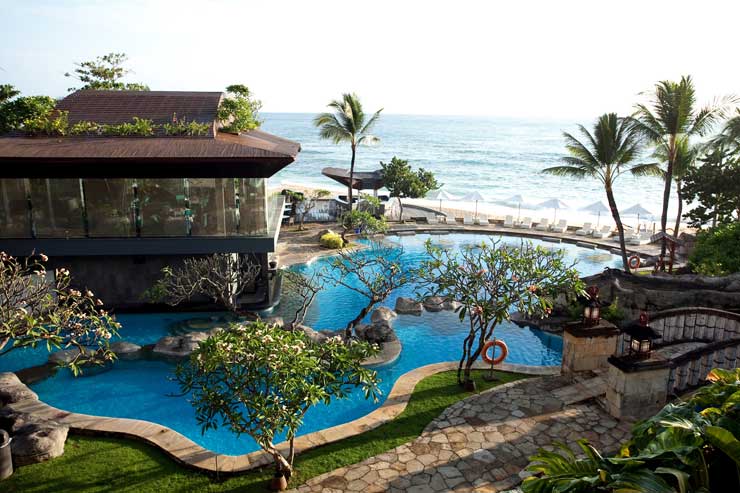 Stay: Hilton Bali Resort, located in Nusa Dua, is, in itself, a lifestyle destination. It has gorgeous views of the Indian Ocean and extensive recreation facilitates like a sand lagoon, waterslide and semi-outdoor spa villas. Be spoilt by the warm Balinese hospitality and explore the newly renovated wing and spaces within the property. You may never want to leave the hotel!
Wherever you are in the world, remember to celebrate memorable moments with the leading ladies in your life. Treat yourself to unique experiences, ranging from sold-out concerts, private mixology classes, indulgent spa treatments or luxurious boat trips by redeeming Hilton Honors Points on the Hilton Honors Experiences Platform. You totally deserve it!
The Most Intriguing Historic Figures of the Czech Republic
Discover the unique personalities and inventions that originated in Prague and the Czech Republic. How many of the following do you know?
Artists and the Czech Republic
Franz Kafka, one of the major figures of 20th-century literature, is buried around the corner from the Four Seasons Hotel Prague in the New Jewish Cemetery.
The famous 18th-century seducer Giacomo Casanova spent the last 13 years of his life at Duchcov Castle in Bohemia, where he wrote his memoirs.
Many of history's most renowned artists, composers, scientists and thinkers frequented the renowned spas of Karlovy Vary, and Marianske Lazne, including Mozart, Beethoven, Tchaikovsky, Gogol, Goethe, Freud, Edison, Schopenhauer and Marx, to name but a few.
One of Mozart's best-known operas, Don Giovanni, premiered at Prague's Estates Theatre in 1787 and is to this day still performed there.
American astronaut Neil Armstrong listened to Antonin Dvorak's New World Symphony as he walked on the Moon's surface in 1969. The Largo movement of the symphony is in a box, still spinning through outer space.
Scientists and the Czech Republic
Albert Einstein spent over a year in Prague as a professor at the Institute of Theoretical Physics.
The first person to categorise blood into four types (A, B, AB, O) was the Czech neurologist Jan Jansky. In his honour, the Jansky Plaque is awarded to volunteer blood donors in the Czech Republic and Slovakia.
It was a Czech scientist, Otto Wichterle, who invented modern contact lenses and founded macromolecular chemistry.
The founder of genetics, Johan Gregor Mendel, was born in Hynčice and spent most of his life in Brno.
The Czech pedagogue and philosopher Jan Ámos Komenský (Comenius) who wrote an encyclopaedia for children, Orbis Pictus (World in Pictures) is considered the father of modern education.
Czech Natives and Inventions with a Global Footprint
Figures such as Oskar Schindler (whose life is portrayed in the book and film "Schindler's List"), the philosopher Edmund Husserl, psychiatrist Sigmung Freud, the composer Gustav Mahler and the writer Rainer Maria Rilke were all born in what is now the Czech Republic.
Madeleine Albright, the first female US Secretary of State, was born in Prague.
Today's Czech Republic was also the home of businessman of Tomáš Baťa, the global footwear manufacturer and retailer from Zlín. He was also the first to introduce the clever pricing format ".99" (as in €99.99).
The bottom-fermentation method used in beer production was invented by the brewers of Plzeň (Pilsen) in 1842, and is now applied and enjoyed across the world.
Pakistan: Next Destination for Nature-Lovers
Pakistan is country blessed with natural beauty. Diverse topography, climate, people, makes it unique country, worth visiting. Northern part of Pakistan is high altitude are, with K-2 the second highest peak after Mount Everest, may attracts mountaineers, expeditors and those who really believes in adventures. Pakistan possess: World's largest collection of High Mountain peaks. Around 200 peaks are above 6000 meters high, World's largest collection of Glaciers (outside Arctic and Antarctic Regions), World's largest Canal irrigation network, World's highest Paved Road "Karakorum Highway" (KKH) almost above 4000m from sea-level, part of ancient Silk Route, World's highest Railroad bridge at Kan Mehtarzai, in Baluchistan province, World's highest Mud Volcano at Hingol in Baluchistan, World's most extreme temperatures+50 C in Sibi to -50C in GB.
"The roof of the world" -Deosai National Park is located between Kharmang, Astore and Skardu in Gilgit Baltistan. It has an average elevation of 4,114 meters(13,497 ft) above sea level, making the Deosai Plains second highest plateau in the world. The park protects an area of 3,000 square kilometers (1,200 sq mi). It is well known for its rich flora and fauna of the Karakoram-West Tibetan Plateau alpine steppe eco region. In spring, it is covered by sweeps of wildflowers and a wide variety of butterflies. Deosai is second highest plateau after Changtang Tibetan Plateau. World Famous Poet said:
"I wandered lonely as a cloud
That floats on high o'er vales and hills,
When all at once I saw a crowd,
A host, of golden daffodils;
Beside the lake, beneath the trees,
Fluttering and dancing in the breeze".
– William Wordsworth
Southern part of Pakistan is costal area along the Arabian-Sea, with white sandy beaches and deserts. Tourist from cold areas can enjoy summer during their winter season. Even, during December and January, one can swing in open sea. Warm winter is attraction for those who are fed-up of severe cold in their home towns.
Central part of Pakistan is moderate area, where mostly is plan land and agriculture is the strength of central part, which is also major economic strength of the country.
Pakistan is an old civilization, belongs to several thousand years of rich history, Ghandhara civilization is one of the biggest attraction for those who love archeology and oil civilization. Mohenjo-Daro and Harappa are signs of oldest civilization of this regions.
Pakistan is equally good attraction for religious tourism. The first-ever Budhist university was in Taxila, in Pakistan. Unfact, the porigin of Budhism was the border areas betewwen Afghanistan and Pakistan, later on spread to India, China, Japan and rest of world. Many Buddhist visit Pakistan religiously.
Sikhs are equally attracted to visit their holy places in Pakistan like: Nankana Sahib, PanjaHasanabdal, and Kartarpura etc.
Pakistan offers local food in variety of manners and rich in culture. Local traditions and hospitality of Pakistani society is much more attraction for nature loving people.
Government of Pakistan has launched e-visa and much more Fridley visa regime to promote tourism. Under China-Pakistan Economic Corridor (CPEC), road network throughout the country has been up-graded or being up-graded soon. Accessibility is much convenient and affordable. Boarding logging is affordable with reason able quality. Law and order situation has improved a lot. In fact, Pakistan was a very peaceful country and tourists consider as paradise in 1950s, 1960s, and 1970s. But due Afghan situation, the image of Pakistan was damaged and foreign tourists avoided to travel to Pakistan.
Hope more and more foreigners will visit Pakistan, as it a blessed country with natural beauty, and very much cost effective. What do you plan for your next vacations? Pakistan welcomes you. Be our guest and enjoy our traditional hospitality. Love nature, love Pakistan.
Only on Langkawi: An Insider's Guide to the Most Coveted Langkawi Pursuits
Whether in search of wanderlust, culture, or relaxation, Four Seasons Resort Langkawi showcases a bespoke collection of experiences that captures the warmth of Malaysian culture, combined with a deep sense of place. The Resort, with its prime placement directly on Langkawi's longest stretch of beach and adjacent to a UNESCO Geopark allows premier access to occasions that few have the opportunity to experience in Southeast Asia, let alone the world.
Our Front Office Manager, Mr. Indran Santhirasekaran, has offered his five must-see experiences that are only found here on Langkawi:
Mangroves & Eagle Safari – Explore mysterious forests between land and sea on this naturalist-led boat safari into the Kilim Karst Geoforest Park – home to majestic eagles, mischievous macaques, fish that "walk," colourful fiddler crabs, shy otters and sleeping bats.
Raja & Ratu Ritual – Designed for couples to experience together, this award-winning ritual focuses on three specific chakras – sacral, heart and crown – to maximize emotional and physical connections.
Cycle Adventure & Photography Tour – Pedal and capture your way through rural regions, taking in villages to scenic waterfalls, as you enjoy a photo adventure tour.
Rainforest Trekking – Trek through Langkawi's pristine rainforest and witness rare wildlife, ancient rock formations, and a scenic waterfall along the adventurous journey.
Lessons in Spice – Immerse yourself in the flavour, fragrance and flair of Malay cuisine. Distinguish local ingredients, sample aromatic spices and discover traditional cooking techniques with our world-class chefs.