With International Women's Day right around the corner (8 March), what better way to celebrate and show appreciation for the significant women in our lives than by embarking on an all-girls getaway? Take this opportunity to spend quality time with these women, be it your mother, sister or best friend, and make memories of a lifetime together.
Chengdu, China
Enter the birthplace of the world famous, legendary…giant panda! Chengdu, a rich cultural hotspot with a multitude of historical and natural attractions, is also home to most of China's giant panda population. Get up close with these gentle giants at the Chengdu Research Base of Giant Panda Breeding, designed to imitate the natural habitat of giant pandas. Catch them in their most natural element – playing, eating and sleeping. What a life! While here, be sure to pick up fun facts about this national treasure and of course, valuable information on conservation efforts.
You'll be hungry after soaking up all this knowledge, so it's time to experience another one of Chengdu's specialties, the local hotpot. There's no better way to bond with your girlfriends than over a bubbling pot of fresh ingredients and spicy broth (concocted from a secret blend of traditional spices) – beware the numbing peppercorns! Thankfully, for the less adventurous, non-spicy broth options are available as well. Hotpot restaurants are aplenty across the city, but head to Yulin Neighbourhood for a taste of the best.
Stay: Canopy by Hilton Chengdu City Centre, newly opened in January this year, is a refreshing lifestyle-brand hotel situated right in the center of the city's cultural and commercial hub. Get to know the city like a local by engaging our hotel Enthusiasts – local guides that will give you insider tips on the city's hidden gems. In addition, you can even explore the city on wheels, with Canopy's complimentary bikes available for rent.
Perth, Australia
Perth is undoubtedly one on the books for those seeking a relaxed getaway imbued with nature's best. Start your morning bright and early with a trip to the nearby island paradise, Rottnest Island, located just a short ferry ride away from Fremantle, Perth City. The island's pristine beaches, with rich marine life and laidback atmosphere, are the perfect spots for you and your girlfriends to revel in nature's gifts as well as each other's company. While there, take turns to snap pictures as you pose with the world's happiest animal, the resident Quokka! Of course, you have to take a #squadselfie with this adorable critter as well.
When you're back in the main city, it is an absolute must to head to Northbridge, a cultural hub stock full of modern art galleries, eclectic boutiques and cafés. Immerse yourself in the local environment, and wind down while having heartfelt conversations with your girlfriends over a good cup of coffee. We recommend checking out Little Bird Café for its outstanding cakes (it's also a non-profit that provides training for the long-term unemployed) and Kafka Coffee Shop, a dainty shopfront that serves the perfect cup of coffee you never knew existed.
Stay: DoubleTree by Hilton Perth Northbridge, strategically located in the heart of Northbridge district, provides convenient access to the city's most popular attractions, such as the Art Gallery of Western Australia, State Theatre Centre and Yagan Square. The suite of dining, shopping and entertainment options guarantee you'll never be bored!
Phuket, Thailand
No stranger to avid beachgoers, Phuket is the perfect place for a sun-soaked getaway with the girls. On top of lounging on the beach and dipping into the crystal-clear waters, be sure to also check out at least a couple of its 32 surrounding islands – each with its own unique characteristic. Escape the crowds at Patong and Karon, and embark on an island-hopping adventure; test your teamwork with the girls in an adrenalin-pumping game of football on the floating football pitch at Koh Panyi (this coastal village is built on stilts!), find hidden gems at the picturesque Pi Leh Cove and walk amongst the coral reef and marine life with a sea-walking adventure at Coral Island. There is a smorgasbord of experiences to share with your best friends, and you'll certainly make memories of a lifetime together.
Stay: Hilton Phuket Arcadia Resort & Spa is the idyllic destination for those seeking a restful stay coupled with picturesque views of the ocean by Karon beach. With the resort housing 15 spa villas, get ready to be pampered, rejuvenated and refreshed after a long day of island-hopping.
Seoul, Korea
Annyeonghaseyo (hello)! You don't have to be a K-pop fan to fall in love with Seoul; this metropolitan city is bound to capture your heart. Splurge on some retail therapy with a shopping expedition with your girlfriends and navigate the various shopping hotspots this fashion and skincare capital has to offer. From shopping the big brands at mega establishments like COEX Shopping Mall (check out the one-of-a-kind Starfield Library!), sussing out local boutiques along quaint street alleys at Garuso-Gil and taking your pic from open-street stalls along Namdaemun Market, you'll certainly spend quality time giving each other fashion advice and sharing your favourite picks!
End your day of shopping and relax those sore calf muscles at a jjimjilbang (traditional Korean bath house). These Korean bath houses put conventional saunas to shame – nowhere else will you find such an extensive selection of baths, saunas, massages and leisure activities. You can even head to the in-house noraebang (singing room) to belt some tunes or watch television! It's an all-in-one entertainment haven.
Disclaimer: You'll have to strip down to your birthday suit while in the bathing areas (separated by gender). While it's natural to feel a bit of discomfort at the start, you'll get used to it in no time.
Stay: Conrad Seoul towers over Seoul and boasts panoramic views of the Han River and the city's skyline. If a trip to the jjimjilbang leaves you craving more pampering, the hotel houses an on-site spa that combines the latest technology and innovative techniques.
Bali, Indonesia
Live out your very own "Eat, Pray, Love" experience with your girlfriends in Bali, the land of tranquillity itself. Take your pick from the numerous beaches across the island, such as Nusa Dua Beach, Green Bowl Beach and Seminyak Beach for a relaxed afternoon of lounging in the sun. Of course, be sure to have your favourite cocktail and snacks on hand! Engage in some self-care by meditating or executing your favourite yoga poses – whether it is by the beach or in a yoga studio, what matters is that you focus on yourself and are rejuvenated after. Mental health is certainly as important as physical health!
For some, the ultimate trip will definitely include a girl's night out, and there's no doubt that Bali is a prime location to paint the night red. With the plethora of beach clubs available, it won't be hard to find one that suits your mood and music preferences. Be prepared to bust a move as you groove along to your favourite beats, but of course, stay safe and keep a look out for your besties.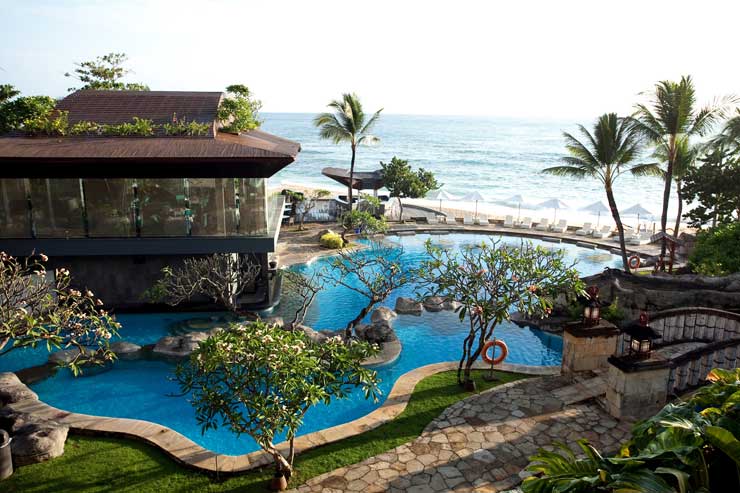 Stay: Hilton Bali Resort, located in Nusa Dua, is, in itself, a lifestyle destination. It has gorgeous views of the Indian Ocean and extensive recreation facilitates like a sand lagoon, waterslide and semi-outdoor spa villas. Be spoilt by the warm Balinese hospitality and explore the newly renovated wing and spaces within the property. You may never want to leave the hotel!
Wherever you are in the world, remember to celebrate memorable moments with the leading ladies in your life. Treat yourself to unique experiences, ranging from sold-out concerts, private mixology classes, indulgent spa treatments or luxurious boat trips by redeeming Hilton Honors Points on the Hilton Honors Experiences Platform. You totally deserve it!