Top Five Destinations for the Ultimate Girls' Getaway
With International Women's Day right around the corner (8 March), what better way to celebrate and show appreciation for the significant women in our lives than by embarking on an all-girls getaway? Take this opportunity to spend quality time with these women, be it your mother, sister or best friend, and make memories of a lifetime together.
Chengdu, China
Enter the birthplace of the world famous, legendary…giant panda! Chengdu, a rich cultural hotspot with a multitude of historical and natural attractions, is also home to most of China's giant panda population. Get up close with these gentle giants at the Chengdu Research Base of Giant Panda Breeding, designed to imitate the natural habitat of giant pandas. Catch them in their most natural element – playing, eating and sleeping. What a life! While here, be sure to pick up fun facts about this national treasure and of course, valuable information on conservation efforts.
You'll be hungry after soaking up all this knowledge, so it's time to experience another one of Chengdu's specialties, the local hotpot. There's no better way to bond with your girlfriends than over a bubbling pot of fresh ingredients and spicy broth (concocted from a secret blend of traditional spices) – beware the numbing peppercorns! Thankfully, for the less adventurous, non-spicy broth options are available as well. Hotpot restaurants are aplenty across the city, but head to Yulin Neighbourhood for a taste of the best.
Stay: Canopy by Hilton Chengdu City Centre, newly opened in January this year, is a refreshing lifestyle-brand hotel situated right in the center of the city's cultural and commercial hub. Get to know the city like a local by engaging our hotel Enthusiasts – local guides that will give you insider tips on the city's hidden gems. In addition, you can even explore the city on wheels, with Canopy's complimentary bikes available for rent.
Perth, Australia
Perth is undoubtedly one on the books for those seeking a relaxed getaway imbued with nature's best. Start your morning bright and early with a trip to the nearby island paradise, Rottnest Island, located just a short ferry ride away from Fremantle, Perth City. The island's pristine beaches, with rich marine life and laidback atmosphere, are the perfect spots for you and your girlfriends to revel in nature's gifts as well as each other's company. While there, take turns to snap pictures as you pose with the world's happiest animal, the resident Quokka! Of course, you have to take a #squadselfie with this adorable critter as well.
When you're back in the main city, it is an absolute must to head to Northbridge, a cultural hub stock full of modern art galleries, eclectic boutiques and cafés. Immerse yourself in the local environment, and wind down while having heartfelt conversations with your girlfriends over a good cup of coffee. We recommend checking out Little Bird Café for its outstanding cakes (it's also a non-profit that provides training for the long-term unemployed) and Kafka Coffee Shop, a dainty shopfront that serves the perfect cup of coffee you never knew existed.
Stay: DoubleTree by Hilton Perth Northbridge, strategically located in the heart of Northbridge district, provides convenient access to the city's most popular attractions, such as the Art Gallery of Western Australia, State Theatre Centre and Yagan Square. The suite of dining, shopping and entertainment options guarantee you'll never be bored!
Phuket, Thailand
No stranger to avid beachgoers, Phuket is the perfect place for a sun-soaked getaway with the girls. On top of lounging on the beach and dipping into the crystal-clear waters, be sure to also check out at least a couple of its 32 surrounding islands – each with its own unique characteristic. Escape the crowds at Patong and Karon, and embark on an island-hopping adventure; test your teamwork with the girls in an adrenalin-pumping game of football on the floating football pitch at Koh Panyi (this coastal village is built on stilts!), find hidden gems at the picturesque Pi Leh Cove and walk amongst the coral reef and marine life with a sea-walking adventure at Coral Island. There is a smorgasbord of experiences to share with your best friends, and you'll certainly make memories of a lifetime together.
Stay: Hilton Phuket Arcadia Resort & Spa is the idyllic destination for those seeking a restful stay coupled with picturesque views of the ocean by Karon beach. With the resort housing 15 spa villas, get ready to be pampered, rejuvenated and refreshed after a long day of island-hopping.
Seoul, Korea
Annyeonghaseyo (hello)! You don't have to be a K-pop fan to fall in love with Seoul; this metropolitan city is bound to capture your heart. Splurge on some retail therapy with a shopping expedition with your girlfriends and navigate the various shopping hotspots this fashion and skincare capital has to offer. From shopping the big brands at mega establishments like COEX Shopping Mall (check out the one-of-a-kind Starfield Library!), sussing out local boutiques along quaint street alleys at Garuso-Gil and taking your pic from open-street stalls along Namdaemun Market, you'll certainly spend quality time giving each other fashion advice and sharing your favourite picks!
End your day of shopping and relax those sore calf muscles at a jjimjilbang (traditional Korean bath house). These Korean bath houses put conventional saunas to shame – nowhere else will you find such an extensive selection of baths, saunas, massages and leisure activities. You can even head to the in-house noraebang (singing room) to belt some tunes or watch television! It's an all-in-one entertainment haven.
Disclaimer: You'll have to strip down to your birthday suit while in the bathing areas (separated by gender). While it's natural to feel a bit of discomfort at the start, you'll get used to it in no time.
Stay: Conrad Seoul towers over Seoul and boasts panoramic views of the Han River and the city's skyline. If a trip to the jjimjilbang leaves you craving more pampering, the hotel houses an on-site spa that combines the latest technology and innovative techniques.
Bali, Indonesia
Live out your very own "Eat, Pray, Love" experience with your girlfriends in Bali, the land of tranquillity itself. Take your pick from the numerous beaches across the island, such as Nusa Dua Beach, Green Bowl Beach and Seminyak Beach for a relaxed afternoon of lounging in the sun. Of course, be sure to have your favourite cocktail and snacks on hand! Engage in some self-care by meditating or executing your favourite yoga poses – whether it is by the beach or in a yoga studio, what matters is that you focus on yourself and are rejuvenated after. Mental health is certainly as important as physical health!
For some, the ultimate trip will definitely include a girl's night out, and there's no doubt that Bali is a prime location to paint the night red. With the plethora of beach clubs available, it won't be hard to find one that suits your mood and music preferences. Be prepared to bust a move as you groove along to your favourite beats, but of course, stay safe and keep a look out for your besties.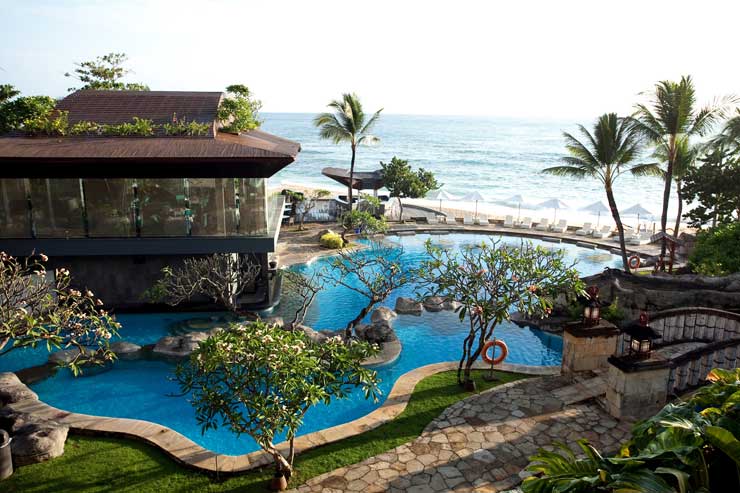 Stay: Hilton Bali Resort, located in Nusa Dua, is, in itself, a lifestyle destination. It has gorgeous views of the Indian Ocean and extensive recreation facilitates like a sand lagoon, waterslide and semi-outdoor spa villas. Be spoilt by the warm Balinese hospitality and explore the newly renovated wing and spaces within the property. You may never want to leave the hotel!
Wherever you are in the world, remember to celebrate memorable moments with the leading ladies in your life. Treat yourself to unique experiences, ranging from sold-out concerts, private mixology classes, indulgent spa treatments or luxurious boat trips by redeeming Hilton Honors Points on the Hilton Honors Experiences Platform. You totally deserve it!
Shivya Nath: A bold solo traveler who is breaking gender stereotypes
In a majorly patriarchal Indian society, Shivya Nath found it in her to be a bold solo traveller. She leads a nomadic lifestyle, travelling across the world with her backpack. Shivya is the author of a best selling book, "The shooting star", in which she highlights more about her life and experiences travelling. The book is an inspiration to women who are staying at home, craving a free lifestyle, and want to travel the world solo.
In this interview with Modern Diplomacy, Shivya tells us more about her life experiences journeying the world. She tells us what it takes to travel the world as a solo woman and narrates her experiences both bitter and sweet.
You have travelled so much and seen the world so intricately that you might as well be a nomad. The most obvious question – what convinced you to travel the world?
I grew up in a protective Indian family in Dehradun, a valley at the base of the Himalayas, and spent my childhood wondering what lay beyond the mountains I could see from my rooftop. Upon finishing high school, I went to Singapore to study, with big dreams and a big student loan. As luck would have it, I graduated in the middle of the financial recession of 2009, when most companies I wanted to work with had ceased hiring. I landed a job with the Singapore Tourism Board, where my experiments with social media began, and I first began following the journey of travel writers / bloggers around the world. It was impossible to tame my restless cubicle-bound soul, so in 2011, I took a 2 month unpaid sabbatical from work. I went flash-packing across Western Europe with a friend, and volunteer-travelled by myself in the high Himalayas of India. In those two months, I saw, experienced and lived more than I ever had before. Within a week of my return to work, I decided to quit my first and only corporate job with a dream of travelling the world on my own terms.
Your new project, Voices of Rural India is picking up steam and picking accolades for telling the most unlikeliest of stories. How do you envision it forward?
Voices of Rural India is an effort to turn this unprecedented pandemic into an opportunity to create alternate livelihoods by upgrading digital skills in rural India, while also preserving grassroots knowledge that is slowly disappearing. Voices of Rural India is a not-for-profit digital initiative that hopes to revolutionize storytelling, by hosting curated stories by rural storytellers – in written, photo or video format. Unlike most existing online platforms, the stories of rural India are told directly by local storytellers. In the short-term, Voices of Rural India is creating a revenue stream for affected communities through digital journalism. In the long run, it aims to develop digital storytelling skills at the grassroots level, along with becoming a repository of local culture and knowledge, documented in local voices. We are currently working with rural communities in Ladakh, Himachal Pradesh, Uttarakhand, Kerala, Maharashtra and Gujarat, through on-ground community-based tourism organisations like Global Himalayan Expedition, Himalayan Ecotourism, Himalayan Ark, Spiti Ecosphere and Grassroutes Journeys. The initiative is supported by the Digital Empowerment Foundation. We're eagerly looking forward to a post-Covid world, where we can physically travel to visit the communities we're virtually working with, conduct digital storytelling workshops, identify local talent and hopefully bridge some of the gaping urban-rural digital divide.
Your favourite place so far? You can give multiple answers of course.
There's so much to love about so many places! I love my home country India, because despite its challenges, nowhere comes close to the diversity of natural beauty, food and culture it offers. It's perhaps one of the few places in the world where strangers are the quickest to become friends. Other than that, I feel a deep connection to Guatemala, Bhutan, Georgia and Iran.
Your passion for environmental protection and climate change issues is also noteworthy. What do you think should be the biggest change that can make mankind save itself?
Unlearning.
The more I slow travel around the world, the more I unlearn conventional ways of doing things. And that's exactly what we need on a massive scale – politically, economically and individually.
We need to unlearn our reliance on fossil fuels, the issues based on which we elect our leaders, the way we treat some animals as friends and others as food (speciesism), the way we measure development and so on.
A deep unlearning will (hopefully) allow us to re-establish a world driven by mindfulness and compassion, rather than money.
Your book 'A Shooting Star' is a bestseller. Along with the travelogue, it is also about a spiritual journey one undertakes. Do you thus agree with the phrase that humans can better understand oneself and another with more communication and a better experience of diversity?
The Shooting Star charts my battles and adventures from the cubicle to the road, and from small-town India to remote corners of the globe. I write candidly about my struggles of transitioning from an average Indian girl to a free soul, who wanted to live on her own terms, explore the world meaningfully and smash stereotypes along the way. I write about my relationships, battles, triumphs and life-changing encounters, and how I tried to conquer my deepest fears.
There's no doubt that travelling is as much an inner journey as a physical one.
Tell us about a time when you were travelling alone and felt challenged?
After traveling safely and adventurously through some of Central America's more notorious countries (like Honduras, labelled 'the most violent place on earth'), I had pretty much let my guard down in Costa Rica. On a hurriedly hailed cab ride to the airport to impulsively catch a flight to the Pacific Coast, the cabbie and I chatted like long lost friends. Closer to the airport, he told me we'd get stuck in traffic so it's better to drop off a street before and walk; I agreed without thinking twice. When we arrived, I paid him and got off the cab, only to see him grabbing my small bag – the one with my passport, laptop and everything precious – asking for more money or he'd take off with it. I had the equivalent of 50$ in my pocket and gave it to him, shivering at the idea of being left alone without my valuables. In retrospect, there were a lot of hints I didn't catch; he asked me if I had family in the country, or if I had a local SIM card – pointed questions that should have made me wary. I felt shaken up for days, refused to trust anyone else I met along the way, and found solace in places crowded with other tourists, much unlike my usual travel style. It really wasn't about the money I lost, but the trust I lost, and it took me months to rebuild it.
What has been your biggest achievement till date? The most satisfying moment in your career?
There have been many satisfying moments on this journey: Publishing my first book and seeing it become a national bestseller in just over a month of release; recognition, awards and international features for my work to promote responsible, immersive travel; launching a clothing collection inspired by The Shooting Star that raises funds to grow forests in my home state Uttarakhand; and most recently, co-founding Voices of Rural India to challenge the way digital storytelling is typically done in India. But I think I feel the deepest satisfaction when a reader reaches out to me to share how my work has played a role in inspiring them to make different life or travel choices.
Travelling, that too alone is still considered a taboo for women in large parts of India. What do you think will change that?
As more of us choose to travel solo and share our stories online or offline, change is bound to happen. While female solo travellers are still considered an anomaly in some parts of India and the world, there's a lot more chatter, acceptance and encouragement online now.
Neatly tucked away on the sparkling Turkish Riviera, the utterly luxurious Dalyan Resort is a dreamy coastal cocoon that one never wishes to leave. Once a sleepy fishing village, the seaside town of Dalyanon Turkey's glittering coastline has, in recent years, become something of a playground for the jet-setters seeking respite from city life and her pernicious tendencies. The unique medley of beautiful red bricked cottages and ancient ruins run into an alluring elegance.
With its status as a burgeoning tourist hotspot there has been a slew of luxury hotels and resorts, all jostling for the patronage of beautifully bronzed, well-heeled holidaymakers. Establishing itself as one of the area's most comforting boltholes, Dalyan Hotels run by the utterly charming, Yucel Okutur and his wife, Fulia. The seaside property promises a blend of style, serenity and comfort. Oh and how well it delivers. The magnificence is made clear from the very second one steps into the resort's cosy lobby. A sweeping look from the sleek marble-panelled arrival deck across the sea and towards the property's pristine private deck begs no question as to why this corner of the world is a secret so well kept. One cannot help but saunter around corners past slivers of glittering sea interspersed with bursts of pink oleander. A private sun-drenched armchair from which can embrace the nature enjoy the nourishment whilst flipping through the fables of Marco Polo, an apt companion an inspiration for and of travels.
The clever integration of spaces indoor and outdoor extends throughout the property inspiring a sense of oneness with nature. The classic yet contemporary interiors are best illustrated in the spa. Gazing at the marbled paintings, one reminds one of the four seasons, much like Vivaldi. The use of light, domes, marble tiling, high ceilings and open plan spaces generates a refreshing airiness and palatial spaciousness- a very special Turkish delight. Locally crafted fabrics, furniture and art are tastefully displayed alongside modern décor. No stuffiness or over-the-top excessiveness provides a veritable feeling of ease and comfort abounds, giving the sense that these are spaces designed to be lived in and moved through.
Moreover, travel brings out the best in men like myself who get dressed every evening feeling a bit like Napoleon: ready to conquer the world. There is a spring in our step and a smile on our faces. When we reach to our pre-booked table near the Riviera, we tend to soak in the ambience. There is a romance to every evening. We tend to find ourselves in the laps of fine company and an eclectic state of mind. Just like most things, travel for men like myself is not a liberator, rather, is the elixir of our being. After feasting well into the night with Kebabs and what not, one may feel inclined to forgo breakfast, but the extensive buffet is too enticing to refuse. One sets up for the day with freshly-baked bread and Turkish pastries, organic juices, a huge array of cooked dishes and plenty of fresh fruits and cereals. There is an overwhelming sense of calm in the entire hotel, which is more like home. Unbridled bliss is the name of the game it becomes impossible not to leave feeling utterly rejuvenated. The bespoke service of its staff, who are friendly and attentive without being bother some.I am inclined to believe, this' true luxury.
Gift Giving Traditions Around the World
Giving gifts is a tradition as old as mankind itself. It has always been a part of our society. When you give a gift to someone, it tells them that they are special in some way to you. We give and receive gifts for many occasions, like birthdays, mothers days, Christmases, on our anniversary, etc. In fact, gift-giving is so integral to our world that many nations developed interesting traditions around it. Here are some of the most interesting ones.
Japan
When giving a gift in Japan you should be very careful. The Japanese people attach great importance to gifts and consider them something that is mandatory, not just a kind gesture. It is not desirable to surprise them, as they will be embarrassed if they cannot immediately return something to the gift giver. Therefore, it is a good idea to discreetly advise them that you will give them a small memento of your meeting. The gift is given exclusively in private, and it is not common to open it immediately.
South Korea
In Korea, it is extremely rude to give or receive a gift using only one hand, especially if it is the left hand. You must always use both hands at once if doing so. Korean New Years greeting cards or gifts are never with a predominantly red color, as it is used for announcing funerals. Also, avoid gifts that come in sets of four as they symbolize death in Korea.
India
When giving a gift in India, you should always use your right hand. Using the left hand can cause offense as that hand is considered unclean. If giving money in India, try to give a sum that ends with 1. Odd numbers are considered very lucky in India. The number 1 is especially lucky as it signifies a new beginning. Because of this, giving a sum that ends with 1 is believed to grant prosperity to the gift recipient.
Arabs
Gifts are not as important to the Arabs as to other people. They represent something that "gives hospitality a wider dimension". When someone comes to dinner, small gifts such as flowers and candy are common, and as a sign of special affection, silver, crystals, porcelain, and famous brand items are very appreciated. Handkerchiefs of any kind associate them with parting and tears and should be avoided.
Europe
As far as Europeans are concerned, every nation is a story for itself. The French are quite reserved with gift-giving, the Germans are especially rigid and formal, and the Dutch are a little bit more relaxed. For Italians or Spaniards, the exchange of appropriate gifts is quite acceptable. Russians and people from Eastern European countries appreciate something from your own culture, for example, a CD with your national music or some other kind of token from your country. Also, in Russia, you should never give someone yellow tulips as they are the symbol of ending a relationship or betrayal.
Ireland
Don't be surprised if your gift is refused a couple of times in Ireland. This tradition comes from a time when they had the potato famine, and because of this, the recipients are making sure that you can really part from the item that you are offering. It will also show great humility if you refuse the gift they are offering you a couple of times. The standard reply in Ireland when someone receives a gift is "you shouldn't have gone through all that trouble."
Kenya
In Kenya, the Maasai people spit on a gift before giving it to someone. This is considered a sign of blessing and with this, they wish the recipient great fortune. Spiting is a very important tradition in Kenya. It is customary to spit on the head of a newborn child and on a hand before shaking it with someone.