Tockr D-Day C-47 Watches Inspire Emotional Worldwide Response
Specialized in aviation watches, Austin, Texas based watch brand Tockr joined with the Commemorative Air Force (CAF) in 2018 to launch a 100-piece series of Tockr D-Day C-47 watches designed to honor the brave World War II veterans who gave it all on D-Day. These commemorative watches featured dials made of original material salvaged from the paratrooper transport that led the combat charge into Normandy: an aircraft famously known as "That's All, Brother." Within a month and a half, the first edition sold out. This unprecedented demand ahead of the 75th anniversary of D-Day this year led Tockr and CAF to collaborate on a second edition of 100 D-Day C-47 timepieces, available online now at tockr.com/dday.
Once again, Tockr will donate a portion of the proceeds from each Tockr D-Day C-47 watch sale to help fund CAF's non-profit mission of education and preservation, supporting the extensive restoration and ongoing maintenance of the historic "That's All, Brother" aircraft for future generations. "Creating the D-Day C-47 has been deeply personal for me, as my own grandfather flew a C-47 during World War II," explained Tockr Founder Austin Ivey. "Stories have been flooding in and it's been so moving to hear just how much this historically significant timepiece has resonated with collectors and history lovers around the world, even some whose lives were directly impacted by that day in Normandy 75 years ago."
Personal Stories from Tockr D-Day C-47 Customers:
"I am so excited to have a part of D-Day history, which means the world to me and my family. My uncle was killed in Germany, as a private with the 84th infantry, and I have been fascinated by WWII my entire life. I look forward to receiving the watch and also to being able to help aviation restoration efforts."- GP
"I am the child of Holocaust survivors, and the invasion of Normandy contributed to the fact I am here today…this watch would have a special meaning to me… I went for the "Stamped" dial option, as I think that dial conveys "That's all Brother" mission best. I was in for a positive surprise when I finally received my watch! No picture can do it justice, it's a genuinely stunning timepiece and a piece of history all at once… Bottom line, the D-Day C-47 is a unique watch that's also super comfortable and begs to [be] worn daily." -Sascha
"The watch will be proudly worn on our trip to Normandy next year." – TJ
Protecting and Preserving History with the Tockr D-Day C-47 Watch
After the first edition of 100 D-Day C-47 watches sold out, Tockr returned to CAF to collect more salvaged aircraft material from "That's All, Brother" to cut new watch dials for a second edition. Once again, Tockr has taken the utmost care to faithfully preserve and protect the original, genuine markings on the airplane. Each dial's unique character reflects the perilous journey the aircraft undertook during World War II combat service, with no two watches alike.
The D-Day C-47's distinct dial types are reprised for the second edition, each with dark to light hues of brown and green and varying degrees of painting, stamping, or weathering. "Clean Cut" dials feature light to medium weathering and exhibit some light, original distressing; "Stamped" dials feature medium weathering and select "Stamped" models also display original typography in yellow, brown or blue hues. "Hard Worn" models feature heavily weathered, crackled, and chipped dial material with large areas of exposed aluminum. Each precious piece of history has been preserved beneath a special anti-corrosion sealant. Through an anti-glare sapphire crystal, the wearer can admire each richly textured dial, over which an airplane-shaped second-hand, coated in vivid orange Super Luminova, ticks along in a visual cue that links the timepiece to the storied "That's All, Brother" aircraft.
The Austin, Texas based brand commissioned legendary watch designer Emmanuel Gueit to design a 42mm cushion-shaped case to frame these historic dials, and the case also houses a Swiss automatic ETA 2834 A6 movement, assembled in Switzerland. Each Tockr D-Day C-47 model comes presented in a military-inspired, keepsake wooden box with two straps: a drab green strap made from canvas webbing and a brown leather band.
Helping "That's All, Brother" to Fly Again Over Normandy
In 2019, CAF and "That's All, Brother" will return to the skies over Normandy for the commemoration of the 75th anniversary of D-Day, retracing the path from the United States to England and on to Normandy, and the Tockr D-Day C-47 will be along for the ride.
"I'm so proud to be a part of this extraordinary project which has touched so many lives," said Tockr Co-Founder Sophy Rindler. "With a portion of each watch sale, Tockr pledges to continue supporting CAF's mission of historic preservation and ensuring that "That's All, Brother" is in flight-ready condition to educate and inspire generations to come."
Infinitely Blue: A Much- Anticipated Collaboration Between Two Creative Firebrands
Behind this gentle blend of cool blues burns an ardent artistic collaboration between Garage Italia and Hublot. This marks the start of a brand new collaboration with no shortage of projects for the future, and the first of a three-part concept entitled "Sky, Earth, Sea". Enthusiasts will recognise the idiosyncratic style of Lapo Elkann and the innovative approach of the Haute Horlogerie brand, fused within a diameter of 45 mm. This collector's timepiece will be available from May 2019 in a limited edition of just 100 pieces. 

What challenge could be more inspiring for these pioneers of style and performance than conceptualising the immensity of the sky, the earth and the sea? Hublot and the Italian design team have completely revamped the chronograph movement, adorning it with the signature symbols of the Milanese brand. Encircled by the first ever bezel in sky blue ceramic, the dial wraps the Italian logo in undulating shades of azure that recall the deep waters of far-flung archipelagos. The ceramic case, decked out entirely in Garage Italia blue, complements the full rubber strap finely patterned with imaginary ocean waves.
Who better to evoke the theme of the elements than Lapo Elkann, his team and their ideas lab, a custom shop where style meets the transcendence of movement in the ceaseless pursuit of perfection. Exploration, innovation and technological feats galvanise and attune the innate passion of these two partners driven by the challenges they constantly address, and in which they love to lose themselves.
Hublot X Wild Customs X Laurent Picciotto Power Trio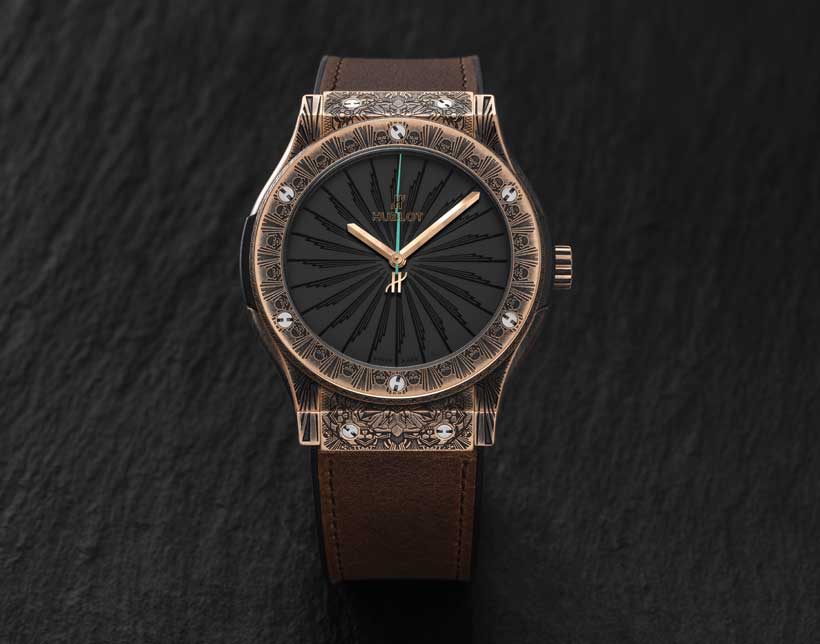 Wild Customs. Hublot. Rock, guitars and watches – fused together by Laurent Picciotto. Their joint creation: the Classic Fusion Wild Customs. A watch that uses iconography to tell the story of rock'n'roll, and symbolises the revolution the independent guitar maker is about to unleash on the music world with the Gyrock – an innovative mechanism designed by Laurent Picciotto. In aged titanium or bronze, the Classic Fusion Wild Customs is the very embodiment of chutzpah and innovation. A love affair between watchmaking and music.
Everybody knows Laurent and his passion for exquisite machines – watches, electric guitars, motorbikes… Ardent, original, innovative and surprising, he is a key player in the watchmaking world. Often the first to see the magic in off-the-wall projects, he is unique and different. It was with him that we opened the world's first Hublot boutique at 271, Rue Saint- Honoré 75001, Paris. By coincidence, Wild Customs and Hublot Saint-Honoré, of which he is the owner, both came into being in 2008. So when we were designing a watch for Hublot Paris Saint-Honoré, we were immediately taken with his idea to create a watch as Wild as his guitars.– Ricardo Guadalupe CEO of HUBLOT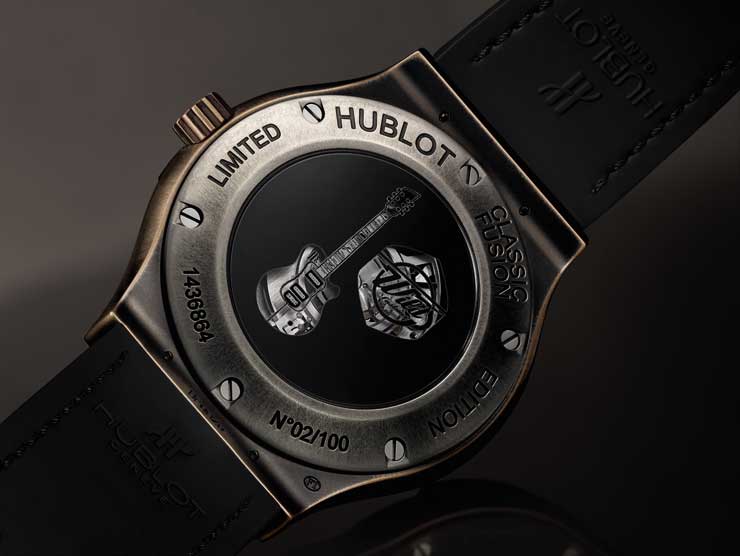 Hublot and Wild Customs – two adventures I have been following since they began, and that share the same depth of passion and rock'n'roll attitude. Their passions run parallel in many ways: expertise, mechanical brilliance, emotion and fearless innovation, time and time again.
– Laurent Picciotto, Founder of Chronopassion and Boutique Hublot Paris Saint-Honoré, Owner of Wild Customs

As the world's first Hublot boutique opened at 271, Rue Saint-Honoré in Paris, the City of Light was awakening to the sound of Wild Customs electric guitars – instruments conceived at the place where the boldest expressions of craftsmanship, jewellery making and industrial design come together. The point of fusion of these two worlds is Laurent Picciotto, a passionate, adventurous collector and lover of fine watches and electric guitars. His pioneering spirit awakened an affinity with Hublot from the moment the Big Bang was conceived, and also propelled him into the Wild Customs adventure, where his goal is to revolutionise the electric guitar industry.

Together, they have created the Classic Fusion Wild Customs, a watch that showcases the distinctive design and creative force that drives them. A wild, rock'n'roll spirit that inspires them to innovate ever further by designing brand new materials and revolutionary mechanisms. The Swiss watch brand has obtained several patents for its products: scratch-resistant Magic Gold, coloured ceramics and sapphire crystals and its Unico, Meca-10 and Tourbillon manufacture movements. Wild Customs will unveil the Gyrock, its patented mechanism designed to revolutionise the use of pickups on an electric guitar, in Nashville this July.

Rock'n'roll, Innovation and the Avant Garde
The body of its 45-mm case is cut from blackened bronze or aged titanium in tribute to the "relic" technique employed by luthiers. Engraved on the bezel, stylised skulls – a classic emblem of rock music – alternate with an Art Deco pattern that adorns the watch from case to dial. An homage to the avant-garde spirit and the industrialisation of the early twentieth century, inspired by the famous Empire State Building and its magnificent hall. Exuding the energy of rock music, the lightning seconds hand in surf green celebrates the pioneering spirit of the 1950s and 1960s – the golden age of the electric guitar – and its unrivalled creativity. The watch is driven by a self-winding mechanical movement. Featuring a strap in brown vintage leather or black leather stitched onto rubber, the Classic Fusion Wild Customs is available in a limited edition of 2×100 numbered pieces, accompanied by a plectrum in blackened bronze and aged titanium and an exclusive presentation case inspired by the two brands.
The Classic Fusion Wild Customs is available exclusively from the Hublot Boutique at 271 Rue Saint-Honoré, 75001 Paris until the end of July, and from other partner boutiques from August.
Pelé – Mbappé – Hublot: Fast Forward to the Future
Both have made their mark on footballing history. One has finished his career, the other is just beginning his. What unites them is love, respect for football and a remarkable destiny. Since the World Cup, an affinity has grown between the two men on social media. Today, Hublot brings them together for the very first time, marking a passing of the baton and a moment of recognition between the greatest player of all time and the most promising hope in world football. King Pelé, a Hublot ambassador since 2013, has crossed the Atlantic to meet Kylian Mbappé, the watch brand's newest ambassador, for a truly historic and moving encounter.

The generosity of Pelé and Kylian can be seen in their eyes, as can their love of football. This flame, this inextinguishable strength, is what drives these two great champions. They are inspiring new generations of footballers and writing the history of football, so it was perfectly natural to bring them together. Having them in our family is a great source of pride and pleasure, because before being football stars, they are above all great men who command respect.- Ricardo Guadalupe CEO HUBLOT
I am honoured to have the opportunity to personally meet Kylian. He embodies the new generation of footballers and espouses the values of a sport that inspires and unites the world. I am happy that he symbolises hope; the hope that anything is possible, for the dreams we must believe in and fight for, regardless of our origins or our social status. For me, the key to success can be captured in two words: humility and perseverance. That is the message that the new generation must convey, and Kylian has perfectly understood this.- Pelé HUBLOT AMBASSADOR
The youngest player to ever win a FIFA World CupTM
The only triple world champion with the brazilian team in the history of football
UN and UNESCO Ambassador

I have learned that the biggest stars and the best players are the most humble and respectful, those who are able to keep their feet on the ground. Respect, humility and lucidity are values that my parents passed down to me and they are values that I am proud to now share with my adopted family, Hublot, and King Pelé, who perfectly embodies what my parents have always taught me —to be a great footballer, you must first and foremost be a great man.- Kylian Mbappé HUBLOT AMBASSADOR
Greatest hope in wolrd football
Youngest-ever player to score a double in the knockout stage
And yougest player to score in a World Cup Final since Pelé in 1958


Pelé crosses the atlantic to meet Kylian Mbappé — 2 April 2019 I Paris
Hublot opens a new chapter in footballing history by bringing Pelé and Kylian Mbappé together for this momentous encounter. The paths of these two men show uncanny similarities. Is this chance, or fate? There are 60 years between Pelé's first World Cup and that of Mbappé. However, the impact of these two players on the history and love of football remains absolute. Pelé and Mbappé are two timeless, devoted and esteemed symbols of the world's most unifying sport, two generations with shared values: Humility, Generosity, Perseverance.

These two exceptional giants are renowned for breaking records, both as forwards who have made speed their trademark. They both won the first World Cup they played in and they were the youngest players (Pelé was 17 years old, Mbappé was 19) to score in and win a World Cup, both while wearing the number 10 jersey. A highly symbolic number in the world of football, the number 10 embodies that moment of perfect balance; the moment at which dreams become reality. In 1958, Pelé wore this jersey by chance; for Mbappé, 60 years later, it was a choice.

This emotional event was the occasion for Pelé to present Kylian Mbappé the Hublot watch that had been designed in collaboration with the footballing legend, a Classic Fusion Aerofusion Chronograph Pelé Special Piece, re-imagined especially for this encounter, in order to be given to the French footballing talent. The back of this timepiece features Pelé's logo on the case-back, as well as the date 02.04.2019 and the place, Paris.
As for Kylian Mbappé, he presented Pelé with a Big Bang Unico Titanium, which featured the French flag on its strap, the KM logo on the case-back, and the same note of the date and place as Pelé's version.

Kylian Mbappe—World Champion, New Hublot Ambassador

He is unique, he is the first, he is different. He is Hublot!

He is unique
He makes France, the world and the entire footballing planet dream.
Mbappé embodies the new generation that will set all future footballing records. Kylian Mbappé is currently the highest scorer in the French championship. He is a world champion, double French champion (PSG and Monaco) and winner of the Coupe de France (French Cup) and the Coupe de la Ligue (French League Cup) with PSG.

He is the first
Mbappé is the first player since Pelé – 60 years ago – to score a goal during and win a World Cup final at such a young age. He is the youngest Hublot ambassador in the Hublot Family.
A sign of fate: Kylian was born in 1998, the year that marked France's historic victory against Brazil in the FIFA World Cup.
20 years later, by scoring one of the four winning goals in the final, he earned the second star for the French national team. He has just made history, and this is only the beginning.
Mbappé is renowned for his extraordinary powers of acceleration, his unpredictability and his reading of the game. At just 20 years old, he is considered to be one of the best players in the world and was named by FIFA as Best Young Player of the tournament in Russia last summer

He is different
An outstanding athlete who makes people smile, Mbappé is also generous, donating all of his match bonuses to the charities he sponsors. The man they call "37", thanks to his top speed recorded at the World Cup, truly makes the world dream.
Kylian Mbappe, The Incarnation Of Football For Hublot
The only current player among Hublot's Football ambassadors, Kylian Mbappé will play a decisive role in the watch brand's communications. Deservedly famous, he takes the top ranking!