Tockr D-Day C-47 Watches Inspire Emotional Worldwide Response
Specialized in aviation watches, Austin, Texas based watch brand Tockr joined with the Commemorative Air Force (CAF) in 2018 to launch a 100-piece series of Tockr D-Day C-47 watches designed to honor the brave World War II veterans who gave it all on D-Day. These commemorative watches featured dials made of original material salvaged from the paratrooper transport that led the combat charge into Normandy: an aircraft famously known as "That's All, Brother." Within a month and a half, the first edition sold out. This unprecedented demand ahead of the 75th anniversary of D-Day this year led Tockr and CAF to collaborate on a second edition of 100 D-Day C-47 timepieces, available online now at tockr.com/dday.
Once again, Tockr will donate a portion of the proceeds from each Tockr D-Day C-47 watch sale to help fund CAF's non-profit mission of education and preservation, supporting the extensive restoration and ongoing maintenance of the historic "That's All, Brother" aircraft for future generations. "Creating the D-Day C-47 has been deeply personal for me, as my own grandfather flew a C-47 during World War II," explained Tockr Founder Austin Ivey. "Stories have been flooding in and it's been so moving to hear just how much this historically significant timepiece has resonated with collectors and history lovers around the world, even some whose lives were directly impacted by that day in Normandy 75 years ago."
Personal Stories from Tockr D-Day C-47 Customers:
"I am so excited to have a part of D-Day history, which means the world to me and my family. My uncle was killed in Germany, as a private with the 84th infantry, and I have been fascinated by WWII my entire life. I look forward to receiving the watch and also to being able to help aviation restoration efforts."- GP
"I am the child of Holocaust survivors, and the invasion of Normandy contributed to the fact I am here today…this watch would have a special meaning to me… I went for the "Stamped" dial option, as I think that dial conveys "That's all Brother" mission best. I was in for a positive surprise when I finally received my watch! No picture can do it justice, it's a genuinely stunning timepiece and a piece of history all at once… Bottom line, the D-Day C-47 is a unique watch that's also super comfortable and begs to [be] worn daily." -Sascha
"The watch will be proudly worn on our trip to Normandy next year." – TJ
Protecting and Preserving History with the Tockr D-Day C-47 Watch
After the first edition of 100 D-Day C-47 watches sold out, Tockr returned to CAF to collect more salvaged aircraft material from "That's All, Brother" to cut new watch dials for a second edition. Once again, Tockr has taken the utmost care to faithfully preserve and protect the original, genuine markings on the airplane. Each dial's unique character reflects the perilous journey the aircraft undertook during World War II combat service, with no two watches alike.
The D-Day C-47's distinct dial types are reprised for the second edition, each with dark to light hues of brown and green and varying degrees of painting, stamping, or weathering. "Clean Cut" dials feature light to medium weathering and exhibit some light, original distressing; "Stamped" dials feature medium weathering and select "Stamped" models also display original typography in yellow, brown or blue hues. "Hard Worn" models feature heavily weathered, crackled, and chipped dial material with large areas of exposed aluminum. Each precious piece of history has been preserved beneath a special anti-corrosion sealant. Through an anti-glare sapphire crystal, the wearer can admire each richly textured dial, over which an airplane-shaped second-hand, coated in vivid orange Super Luminova, ticks along in a visual cue that links the timepiece to the storied "That's All, Brother" aircraft.
The Austin, Texas based brand commissioned legendary watch designer Emmanuel Gueit to design a 42mm cushion-shaped case to frame these historic dials, and the case also houses a Swiss automatic ETA 2834 A6 movement, assembled in Switzerland. Each Tockr D-Day C-47 model comes presented in a military-inspired, keepsake wooden box with two straps: a drab green strap made from canvas webbing and a brown leather band.
Helping "That's All, Brother" to Fly Again Over Normandy
In 2019, CAF and "That's All, Brother" will return to the skies over Normandy for the commemoration of the 75th anniversary of D-Day, retracing the path from the United States to England and on to Normandy, and the Tockr D-Day C-47 will be along for the ride.
"I'm so proud to be a part of this extraordinary project which has touched so many lives," said Tockr Co-Founder Sophy Rindler. "With a portion of each watch sale, Tockr pledges to continue supporting CAF's mission of historic preservation and ensuring that "That's All, Brother" is in flight-ready condition to educate and inspire generations to come."
Breguet Classique 5177 Grand Feu Blue Enamel
In its current collection, the new Breguet Classique 5177 presents the Breguet blue for the first time in a grand feu enamel. This unique color affirms the elegant simplicity of the Breguet style in a contemporary register.
To ensure ease of readability, the moon-tipped hands made of rhodium-plated steel stand out against the blue background. In the same quest for readability, the Arabic numerals, stars, diamond shapes and fleur-de-lis on the chapter ring are silvered and are larger in size. Their relief is born from a very delicate, powdered tracing. The Breguet's secret signature, also in enamel, appears at 6 o'clock. For all of its timepieces with an enamel dial, the House of Breguet continues to use the calligraphy once drawn by Abraham-Louis Breguet, as featured, for example, on the self-winding Breguet No. 15 watch launched in 1787.
Powered by the self-winding 777Q mechanical caliber, the Classique 5177 Grand Feu Blue Enamel model has simple and useful functions: the central second hand and the date at 3 o'clock. Current technological advances such as the use of silicon for the lever and escape wheel optimize its chronometric reliability.
The Breitling Cockpit B50 Orbiter Limited Edition
On March 21, 1999, balloonists Bertrand Piccard and Brian Jones safely landed their Breitling Orbiter 3 in a remote region of the Egyptian desert. In doing so, they became the first people to circumnavigate the globe non-stop in a balloon. Twenty years later to the day, Breitling – who sponsored the unique journey – will celebrate this incredible feat of human ingenuity with the Cockpit B50 Orbiter Limited Edition, a SuperQuartz™ timepiece with features worthy of a true scientific and aeronautical milestone.

With the release of the Cockpit B50 Orbiter Limited Edition, Breitling celebrates the twentieth anniversary of the first non-stop balloon flight around the world. It is appropriate that the feature-packed SuperQuartz™ watch will be launched on March 21, 2019, exactly 20 years after the Breitling Orbiter 3 set down in Egypt, completing a journey that had tantalized adventurers for centuries. Balloonists Bertrand Piccard and Brian Jones accomplished something widely thought to be impossible. And on each pilot's wrist was a Breitling Emergency.

Breitling CEO Georges Kern is proud of his brand's historic link to the mission and of its ongoing partnership with Bertrand Piccard, who is a member of the Breitling Explorers Squad and with the Solar Impulse Foundation: "Bertrand is an explorer of the first rank, and he is also one of the world's true visionaries. He always dares to dream big, and, with every challenge he undertakes, there is always a level of humanity. He inspires all of us and constantly strives to make the planet a better place. We knew that we had to create a very special watch to honor him and the twentieth anniversary of the Breitling Orbiter 3."

For Bertrand Piccard, the collaboration with Breitling combines friendship and loyalty. "When I started to dream of flying around the world non-stop in a balloon, Breitling supported me with passion. Now, 20 years later, we are still partnering through the Solar Impulse Foundation to create solutions for a better quality of life on this planet. Therefore, the new Cockpit B50 Orbiter Limited Edition is not only celebrating the twentieth anniversary of the Breitling Orbiter 3, it is projecting us into new dimensions to explore."

Circumnavigating the globe in a balloon was considered as the final great adventure of the twentieth century. In total, ten teams of prominent personalities tried 21 times to reach this Holy Grail. Bertrand Piccard himself failed twice in 1997 and 1998 before attempting the third flight with Brian Jones. The balloonists successfully landed in the Egyptian desert on March 21, 1999, after traveling 45,755 km in 19 days, 21 hours, and 55 minutes, thus achieving the longest flight in the history of aviation in terms of both distance and duration.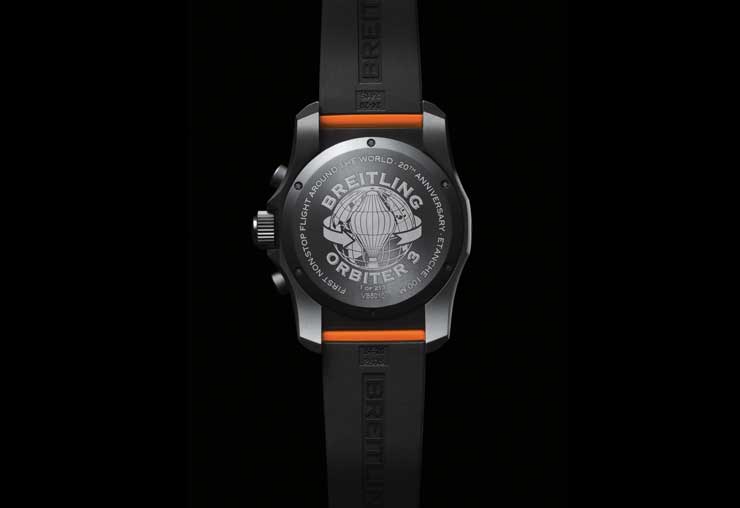 The Ultimate Wristwatch for Visionaries and Adventurers
The Breitling Cockpit B50 Orbiter Limited Edition has been crafted from striking black carbon-coated titanium and is limited to 213 pieces, a number chosen to commemorate the date the Breitling Orbiter 3 landed in Egypt – 21.3. – 20 days after it had taken off from Château-d'Œx in the Swiss Alps.

Presented on an orange rubber strap with a folding clasp and featuring an orange dial, the Cockpit B50 Orbiter Limited Edition will stand out in any crowd. The numerals, indexes, and hands are coated with luminescent Super-LumiNova®, which makes them legible in any lighting conditions.

On its distinctive screwed titanium caseback are an image of a balloon superimposed on a globe and the words "BREITLING ORBITER 3". Around its perimeter is the legend, "FIRST NON-STOP FLIGHT AROUND THE WORLD – 20TH ANNIVERSARY – ETANCHE 100 M" as well as the limited-edition number (1 OF 213).

The watch is powered by the Breitling Manufacture Caliber B50: a thermocompensated SuperQuartz™ analog and digital display movement designed in-house that delivers ten times the accuracy of a standard quartz watch. The Cockpit B50 Orbiter is a COSC-certified chronometer that includes functions that will prove particularly useful even on the most extreme missions.

In addition to the chronograph with split-time and flyback capabilities, this model features a second timezone display, a perpetual calendar, two alarms with buzzer and/or vibrate mode, a lap timer function and a countdown complete with its own alarm.

And that is only the beginning. The Cockpit B50 Orbiter is equipped with an electronic tachymeter, a countdown/count-up system, and a chrono flight device, which records flight times by memorizing departure and arrival times as well as the date.

Another special feature is the Cockpit B50 Orbiter's use of Coordinated Universal Time (UTC), which enables the watch to ensure the smooth juggling of timezones for frequent travelers. This function can also be used to switch between the time displayed by the hands and that of the second timezone shown on the screen simply by pressing a pusher, with the system automatically taking account of a potential date change.

The Cockpit B50 Orbiter has numerous other functions and features – the ones presented here are just the beginning –, but it is particularly user-friendly, with an intuitive, logical, and consistent control system, featuring function selection via crown rotation and activation/deactivation with its two pushers. This impeccable user-friendliness is complemented by the interface messages appearing on the screens to guide the user through the various operations.

When the definitive history of scientific achievement of the twentieth century is written, it will include a chapter about two pilots circumnavigating the globe in a balloon. The Breitling Orbiter 3 flew from the past – after all, ballooning around the world was one of mankind's early flying dreams – into the future. And a stunning high-tech chronograph whose black titanium case offers a stark contrast to its orange dial and strap is a perfect way to celebrate that mission.
Hublot Names Breakout Asian Musician Myrne as Friend of Hublot
Known for refining the art of fusion with its timepieces, luxury Swiss watchmaker Hublot kicks off 2019 with a bang, announcing sought-after local DJ/Producer MYRNE as Singapore's first Friend of Hublot.

At just 23 years old, MYRNE – whose real name is Manfred Lim – has made waves since his debut in late 2015 and is already a firm fixture on the electronic dance music scene. With a unique blend of R&B, future pop and mainstage energy, he has become the first Singaporean to perform alongside EDM heavyweights at Belgium's iconic Tomorrowland festival and Ultra Miami in 2018.

Hublot loves music: The story of Hublot & Myrne

Anchored in the present, always evolving, and at the forefront of new advances in technology and fundamental research into new materials, Hublot remains committed to traditional expertise in creating timepieces which bear the mark of the most talented master watchmakers. In this way, the brand represents the Art of Fusion between watchmaking culture and cutting-edge technical developments, connecting both the past and the future, tradition and innovation. In the words of Hublot's CEO, Mr Ricardo Guadalupe, "We are not breaking with the past. On the contrary, we are paying homage to it by connecting it to the future".

In a similar vein, MYRNE was classically trained in music from an early age, having been around traditional forms of musical instruments for the better part of his formative years. Since adolescence, he has experimented with traditional indie/rock four-piece bands, and has found his passion in the seamless, limitless world of electronic music. To MYRNE, music is all about pushing the boundaries of communicating through sound and he looks forward to carving out a newer, more distinctive path in his musical career.

This resonates well with Hublot's spirit of innovation – always looking to the past whilst simultaneously bringing its timepieces into the 21st Century.

Formerly the first and only Asian artist signed to Grammy Award-winning Diplo's Mad Decent label, the rise of his popularity on streaming platforms Soundcloud and Spotify has seen the rising icon sign a new, exclusive multiple-record deal with Ultra Records this year. The first Singaporean artist to be signed to the hitmaking label, MYRNE once again breaks new ground, breathing fresh air into the global and local dance music scene.

Hublot's first friend of the brand in Singapore

Sharing what it means for him to join the brand's big league of international friends, which includes the likes of Brazilian footballer David Luiz, Romanian World Number 1 tennis player Simona Halep and global artist DJ Snake, MYRNE says, "Experimentation is a huge part of my musical DNA and I was incredibly honoured when Hublot approached me to be the brand's first Friend of Hublot in Singapore. I love that they have a history of constantly challenging norms and daring to be different, and I'm personally a huge fan of their Big Bang Unico Titanium watch which really reflects my personality and career; it's classic and seemingly unassuming, yet powerful, sleek and full of confidence."

Mr Michael Tay, Group Managing Director of The Hour Glass, added, "Music is constantly evolving, innovating, and reshaping the world as we know it. MYRNE, a trailblazing Singaporean icon known for pushing the envelope is therefore the perfect fit to be Hublot's friend of the brand, whose only interest in boundaries extends to those that have yet to be created."

He continues, "This is part of our longstanding commitment to our partner Hublot, who has been confirming their passion for the arts. From being the first official timekeeper of global music phenomenon Ultra Singapore and the inauguration of our new friend, The Hour Glass is proud to continue advancing Hublot's love for Music."