Putin's African Dream and the New Dawn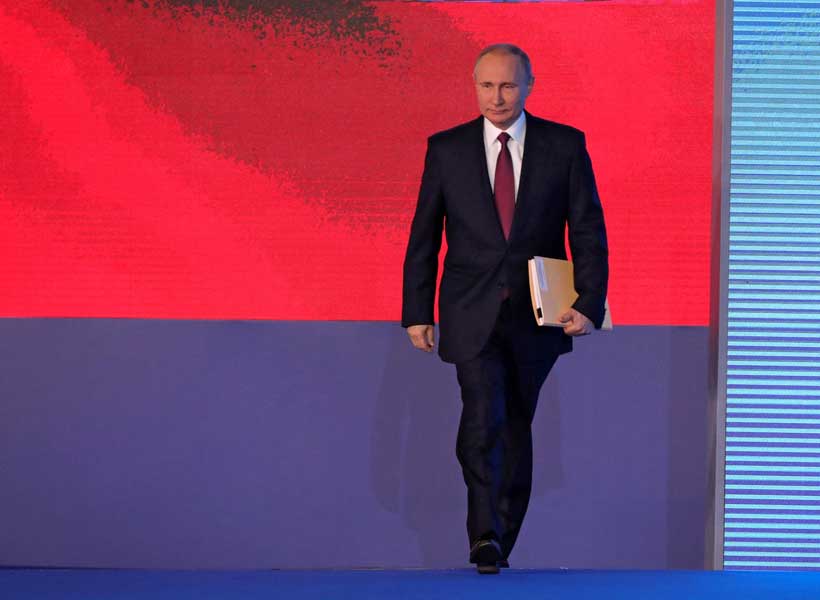 In a February decree posted to the official portal of legal information, Russian President Vladimir Putin has appointed his aide Yuri Ushakov to chair the organizing committee paving the way for the first Russia-Africa summit that Moscow plans to host in Sochi. The Russian government is to ensure financing of the expenditures related to hosting the summit and the decree has further assigned Roscongress, a major organizer of international conventions, exhibitions and public events, the task performer.

The idea to hold a Russia-Africa forum was initiated by President Putin at the BRICS (Brazil, Russia, India, China and South Africa) summit in Johannesburg in July 2018. This first Russia-Africa summit will definitely enhance mutual multifaceted ties, reshape diplomatic relationship and significantly to roll-out ways to increase effectiveness of cooperation between Russia and Africa.

Policy experts have suggested, however, that Kremlin has to substantiate its future African policy agenda with consistency, activeness and support, and enhance its participation in the economic development of Africa.

"Indeed, through the summit, Russia has to discover specific expectations, new directions and how to deal with Africa. The games there have completely changed, many global players have also adopted investment strategies more appealing and acceptable for Africans," Dr. Kelvin Dewey Stubborn, South African based Senior Analyst on BRICS and African policy, told me by email from South Africa.

To that end, he suggested that "the Russia-Africa summit has to focus discussions on new development-oriented thinking and how to transfer Russian technology to industry and agriculture more collaboratively, and a lot more cooperation on employment creation across sectors. That's the best way to sustain peace and eradicate conflicts in Africa."

South African business tycoon, Sello Rasethaba, questioned how Russia was going to establish a thriving trade relationship with Africa for the benefit all and sundry. In reality and effective practical terms, how Russia wants to reposition itself in relation with Africa. With business relationship, Russia has to consider practical strategies in consultation with African countries. The fact that the middle class is growing in leaps and bounds in Africa makes this market even more attractive and opens more opportunities also for Russian businesses.

"The current investment and business engagement by foreign players with Africa is on the increase. There are so many unknowns up there in Russia, it's crucial that Russia has a clear vision of the relationship it wants with Africa. Russia together with African countries must setup sovereign wealth funds using the resources power of those countries," he said.

There are similar views and sentiments. Rex Essenowo, Member of the Board of Trustees of Nigerians in Diaspora Europe and Senior Executive of Asian Africa Trade, a Moscow based business lobbying NGO, said it was unfortunate that some people consistently undermine Africa's strategic interest, that is infrastructural development and lifting its vast population out of poverty in Africa. Playing the conflict card is strategically destructive because the warring parties want to present Africa as unsafe for investments.

"It is for African leaders to remain focused on the right direction, resolute in conflict management and as well rolling out new implementable policies oriented towards building infrastructure, modernizing agriculture, investment in manufacturing and industry – these will offer employment for the youth. Meanwhile, we are not even using one tenth of our capacities on investment promotion at the international platforms," he added.

Essenowo further argued that the future of Russia-Africa relations has to take into cognizance the true meaning of building a platform for civil, media and cultural as well as people-to-people interaction, helping to change the attitudes and mentality, remove old stereotypes, – these are important steps for improving business cooperation.

In addition, Russia could help to deepen understanding through regular dialogue with the civil society and governments, as basis for economic growth, development, as well as motivation for confidence among Russian investors in the region.

Despite its global status, Russia lacks assertiveness towards practical implementation of essential development projects in Africa. Zimbabwe's Ambassador to Russia, Major General (rtd) Nicholas Mike Sango, told me in an interview discussions that, "For a long time, Russia's foreign policy on Africa has failed to pronounce itself in practical terms as evidenced by the countable forays into Africa by Russian officials. The Russian Federation has the capacity and ability to assist Africa overcome these challenges leveraging on Africa's vast resources."

Mike Sango further expressed his views as follows: "Africa's expectation is that Russia, while largely in the extractive industry, will steadily transfer technologies for local processing of raw materials as a catalyst for Africa's development."

Many former Ambassadors, mostly from Southern African region, have also tasked African leaders to prioritize concrete development projects and reminded them that it was necessary to make rational choices, push for "African solutions to African problems" within the Sustainable Development Goals (SDGs) when they finally gather at the forthcoming October summit in Sochi.

The summit sessions have to discuss thoroughly "the whole range of development issues that will ultimately form the future African agenda" and analyze them through the prism of rivalry and competition among foreign players on the continent, according to a summarized separate media interviews with the former African envoys who served in the Russian Federation.

In addition, they unreservedly underscored Russia's commitment to strengthening political contacts, but these have not reflected on the level of economic engagement as compared to its globally praised status. Now, looking objectively at the situation as it develops on the continent, Africa finds itself in an excellent compelling position of having many suitors – each offering something it needs for its development, they acknowledged.

The 15-member UN's Security Council unanimously adopted a resolution welcoming the AU's initiative and pledging support for "African solutions to African problems" to achieve Sustainable Development Goals (SDGs).

Former Envoys observed in their interview discussions with me that many African countries have failed to substantially reduce abject poverty, rising unemployment, marginalization of social groups and widening inequality (the primary root causes of conflicts) in many regions of Africa.

Admittedly and in their objective assessment, Africa's economy has remained largely based on subsistence agriculture with little development of the industrial or services sectors. The huge infrastructure deficit could be business for Russian investors. These development issues, among others, are what Russia-Africa platform has to genuinely deal with African leaders in Sochi.

Quite recently, Vyacheslav Volodin, the Chairman of the State Duma, told an instant meeting held with the Ambassadors of African countries in the Russian Federation, that Russia would take adequate steps to deliver on pledges and promises with Africa countries. "We propose to move from intentions to concrete steps," Volodin reassured.

On the summit, Foreign Affairs Minister Sergey Lavrov has explained earlier that arranging an event on such a large-scale with the participation of over fifty heads of state and government required most careful preparation, including in terms of its substantive content and equally important was African businesspeople who have been looking to work on the Russian market.

"The economic component of the summit has a special significance as it would be of practical interest for all the parties. As such, specific Russian participants in bilateral or multilateral cooperation should be identified, which are not only committed to long-term cooperation but are also ready for large-scale investments in the African markets with account of possible risks and high competition," Minister Lavrov noted in an interview posted to his official website.

For decades, Russia has been looking for effective ways to promote multifaceted ties and new strategies for cooperation in energy, oil and gas, trade and industry, agriculture and other economic areas in Africa.

President Vladimir Putin noted at the VTB Capital's Russia Calling Forum, that many countries had been "stepping up their activities on the African continent" but added that Russia could not cooperate with Africa "as it was in the Soviet period, for political reasons."

In his opinion, cooperation with African countries could be developed on a bilateral basis as well as on a multilateral basis, through the framework of BRICS (Brazil, Russia, India, China and South Africa).

But so far, Russia has not pledged adequate funds toward implementing its business projects and other policy objectives in Africa. Russia's investment efforts in the region have been limited thus far which some experts attributed to lack of a system of financing policy projects. While Russia government is very cautious about making financial commitments, Russia's financial institutions are not closely involved in foreign policy initiatives in Africa.
As publicly known in recent years, China has offered $60 billion, Japan $32 billion, and India $25 billion, while large cutting-edge investment funds have also come from the United States and European Union, all towards realizing the Sustainable Development Goals (SDGs) in Africa.
Russia and Italy: No Breakthroughs
The official visit of Russian President Vladimir Putin to Italy on July 4, 2019, the first in the past four years, became yet another confirmation of the "special relationship" between Rome and Moscow, but did not, however, signal a breakthrough. For Italy, the meeting came as another attempt to restore its role of a "protagonist" on the international scene, a role the country has been dreaming of playing for over two decades. It was not by chance that Guiseppe Conte, during his recent visit to Moscow, "rebuked" Vladimir Putin for not paying sufficient attention to the Italian people. In Italy, this lack of attention is seen as a sign that the country is not coping well with its role of a "protagonist" and a "bridge" between the West and the East. For Russia, a dialogue with Italy is more than just a conversation with a partner who is willing to listen and establish relations based on mutual trust — it is an opportunity to convey Russian opinions on key issues related to cooperation between Russia and countries of the Euro-Atlantic bloc.
The visit of Guiseppe Conte to Moscow in October 2018, and now Vladimir Putin's visit to Rome, the "friendly" meetings of Guiseppe Conte and Donald Trump in July 2018 during a period of acute tension in the Euro-Atlantic bloc, Deputy Prime Minister Matteo Salvini's visit to Washington in June 2019, and the signing of a memorandum of cooperation under the Belt and Road Initiative reached with Xi Jinping all testify to Rome's ambitions for a more independent and autonomous foreign policy. Italy, under the leadership of the new "government of change," is trying to play its own foreign policy game, guided by the principles of national sovereignty and national interests. However, at the moment, the hands of the yellow-green coalition are tied by the threat of sanctions from the European Commission for non-compliance with financial discipline. Naturally, this imposes significant restrictions on the potential of Italian foreign policy. In addition, the elections to the European Parliament in May 2019 and the subsequent distribution of top posts in the EU testify to Italy losing a significant share of its say in relations between Russia and the EU. In this context, the visit served as a confirmation of the two parties' intentions but did not produce any practical solutions to problems of mutual concern.
Bilateral political dialogue: dreams and reality
Improving relations with Russia is a separate clause of the "government contract" concluded between the two parties that form the governing coalition in Italy. This is the first time that such an agenda is set at such a high level. Generally speaking, this is evidence of the consistency of Italian foreign policy which was formed in the post-war years,the purpose of which is to fulfill the role of a "bridge" between the North and the South, the West and the East. Perhaps, the historical peak of this strategy occurred when Italy carried out active mediation to establish the Russia-NATO Council in 2002. Nevertheless, the Italian foreign policy is still following this strategy.
According to experts, the status of "privileged partnership", which was repeatedly voiced at the level of heads of state and by official representatives of Russia and Italy, does not match the real level of relations. A more realistic description of relations between Russia and Italy is "the best among the worst" compared to other partners in the EU, or a pragmatic cooperation that is still a problem to implement at the European level. This time, the leaders of the two states, speaking of existing relations, used such epithets as "excellent", "constructive" and "businesslike", and several times addressed each other using the word "friends".
Meanwhile, we can be confident that a political dialogue between Russia and Italy is gradually regaining strength after the crisis of 2014–2015, particularly following the arrival of the yellow-green coalition in Italy. In October 2018, the Italian Prime Minister Giuseppe Conte visited Moscow. On the eve of his visit, Deputy Prime Minister and leader of the League Party, Matteo Salvini, arrived in Moscow too to meet with representatives of Italian businesses working in Russia. In 2019, Vladimir Putin and Giuseppe Conte met at the "One Belt – One Road" forum, and also at the G20 summit in Osaka. Bilateral contacts are gradually being restored between the defense and interior ministries, consultations are under way on international information security, and an inter-parliamentary dialogue is back on track too.
Even though Moscow highly values Russian-Italian relations, Russian leaders regularly emphasize that Italy could do more in the EU to improve relations with Russia. In a report on Russian-Italian relations, which was recently released by the Russian International Affairs Committee of the Federation Council, Italy is systematically criticized for following the general course of the Euro-Atlantic partnership, be it NATO's bombings in Yugoslavia in 1999, the U.S. operation and coalition in Iraq in 2003, the bombing of Libya in 2011, or the adoption of anti-Russian resolutions on Crimea. In all these cases, the report says, Italy, even though it is not completely in agreement with the United States and other European leaders, did not come out actively against them. Similarly, in 2015, Italy did not protest against the lowering of the status of Russia-EU relations, which had previously been known as a "strategic partnership". In addition, Italy, whose political leaders often publicly speak in favor of the lifting of sanctions, has never used its right of veto when voting in the EU to extend sanctions.
In particular, Russia points out that, having burned its fingers on the situation in Libya in 2011 and still paying for hasty decisions back then, Italy has been acting more carefully in Middle Eastern conflicts. It refused to participate in ground operations in Syria. Instead, it opted for providing humanitarian and logistical support. In Libya, Rome is actively trying to establish a dialogue between key warring parties, including with the help of Russia. In November 2018, Italy invited Russia to a conference on Libya in Naples, hoping to win the support of the Russian leadership, who at that time had better negotiating positions with Marshal Haftar than their Italian counterparts. On the issue of refugees, the Italian leadership took a number of independent measures and decisions to restrict migrants' access to the territory of Italy ("porti chiusi", or closed ports), and adopted a security law changing the rules for granting refugee status. This triggered criticism not only in Brussels, but also in the UN. Italy refused to recognize self-proclaimed Juan Guaido as the new president of Venezuela, thereby making it difficult for the EU to strike a common approach on this issue. On March 23, 2019, during Xi Jinping's visit, Italy and the People's Republic of China signed a memorandum of cooperation within the One Belt One Road Initiative, despite the numerous warnings against the move from Brussels. Such "independence" of the Italian leadership in foreign policy shows that Italy is at the epicenter of the conflict of national and supranational sovereignty in the EU, articulating this conflict as clearly and consistently as possible.
Italy-EU-Russia: not a love triangle
Such independence on the part of Italian leadership and their desire to assume some of the decision-making has triggered controversy domestically in Italy. On the one hand, these moves contribute to the status of Italy, both within the EU and on the international scene. On the other hand, some Italian experts say there is the risk of the country becoming isolated within the EU. Brussels, Paris and Berlin tend to view Rome's moves in a negative way – as detrimental to European solidarity and hindering the development of further supranational integration.
The EU systematically criticizes Russia for prioritizing bilateral relations above dialogue with Brussels. As for Italy, the situation is aggravated by the fact that, from the point of view of Brussels, the "anti-system" forces have developed a special liking for the Russian leader, while Russia, in turn, uses them as agents of influence in the EU. In February 2019 the leader of the "League" Matteo Salvini was reported to have received 3 million euros from the Kremlin for running the election campaign in the European Parliament. Therefore, on the eve of his visit, Vladimir Putin said in an interview with Italian news agency Corriere della Sera that Russia is ready for dialogue with any political forces that come to power by legitimate means, "regardless of their political affiliations." However, after Vladimir Putin's interview with The Financial Times, one cannot but notice that the Russian president's criticism of liberalism, being addressed, above all, to U.S. president Donald Trump, echoes the rhetoric of the Italian "government of change". Both in matters of migration management and in terms of governments' ability to respond to people's needs, the views of the Russian and Italian leadership are fairly close. In this context, Vladimir Putin's visit to Italy should certainly be considered not only as a bilateral dialogue, but also as an attempt to get across to leaders of the Western world the need to establish a dialogue with those political forces that express a different point of view on further socio-political and economic development in Europe and the United States.
The recent developments in the EU show, however, that the political mainstream is not prepared to heed alternative political groups. After the May 26, 2019 elections, Matteo Salvini, together with representatives of the "sovereignists" of Poland, France and a number of other countries, succeeded in building the largest coalition of "populists" in the entire history of the European Parliament – 73 deputies. This, however, did not provide them with enough say to affect the choice of candidates for key posts in the EU. The results of the EU summit on July 2, 2019, in which appointments to senior positions were made, testifies to Rome losing its influence in the EU. Unlike before, when representatives of Italy had occupied three key posts in the EU (Antonio Tajani – President of the European Parliament, Mario Draghi – Chairman of the ECB, Federica Mogherini – High Representative of the European Union for Foreign Affairs and Security Policy), now only one Italian – a representative of the opposition Democratic Party Divid Sassol – is part of the EU top management, having been given the position of President of the European Parliament. This yet again demonstrates that Paris, Berlin and Brussels are not ready for a serious dialogue with representatives of the yellow-green coalition of "sovereignists" and continue to rely on center-leftists.
In addition, the appointment of Ursula von der Leyen, German Minister of Defense with extensive experience in foreign policy and defense, as President of the European Commission is likely to lead to attempts at greater EU integration in the sphere of foreign policy, which may narrow the window of opportunity for more independent foreign policy initiatives of EU countries, including Italy.
What also restricts Italy in its efforts is the looming threat of EU sanctions for breaching fiscal discipline and exceeding the budget deficit. After the EU summit on June 2, Giuseppe Conte said that he had reached an agreement that sanctions would not be applied if Italy cut down the previously planned budget expenditures. However, the threat of sanctions is still there, and this is likely to be one of the most effective instruments of influence from Brussels on the country's position on many issues, including relations with Russia. Any harsh statements during the visit of Vladimir Putin or any so-called "big deals" would certainly cause even more irritation in Brussels, which means they could lead to a tougher policy towards Italy. Therefore, Vladimir Putin's visit was, of course, an important confirmation of Italy's proactive foreign policy but was not a breakthrough, since Italy is connected with the EU not only by the historical bonds of Euro-Atlantic solidarity, but also by tangible economic mechanisms that allow the EU to impose sanctions against the Italian economy.
The economy depends on politics
The economic dialogue between Russia and Italy does not correspond to the declared high level of bilateral relations. In 2017, after a three-year decline (from 2014 to 2016), bilateral trade regained momentum but is still far from the pre-crisis level ($ 27 billion in 2018 against 54 billion in 2013). Russia maintains a clear lead in Italian exports, being the fifth among top importers. The Italian presence is felt in almost all sectors of the Russian economy. About 500 Italian companies operate in Russia, which, however, holds no candle to Germany (4.7 thousand). Even though about 100 Russian-Italian joint ventures were set up during the period of sanctions as part of a program to move Italian production to Russia ("made with Italy"), this figure does not yet correspond to the existing potential. As for an economic dialogue, Italy is considerably behind Germany and France. While in Germany and France there have been functioning "Petersburg Dialogue" and "Trianon Dialogue" respectively, and the Sochi Dialogue has recently been launched with Austria, the Russian-Italian economic dialogue has yet to acquire an appropriate status. The Council for Economic, Industrial, Monetary and Financial Cooperation, which last gathered in Rome in December 2018, is still little known to both countries' general public. The "Russian-Italian Forum-Dialogue on Civil Society", which Vladimir Putin and Guiseppe Conte attended in course of the visit, has not received support from the Italian authorities since 2014. Only now is it approaching a new level of development. In addition, during the visit, the two parties agreed that the Russian Export Center and Vnesheconombank (VEB) would set up a bureau to support Russian exporters in Italy. Thus, the economic dialogue, which for a long time needed a new impetus, has finally received it following Vladimir Putin's visit to Rome. It is worth noting that the Italian leadership is acutely concerned about competition with Germany and France in two vast markets – Russia and China.
Russia, however, is waiting for more decisive steps from Italy to secure the lifting of the sanctions. However, according to Pasquale Terraciano, Ambassador Extraordinary and Plenipotentiary of the Italian Republic to Russia, "Italy has never considered sanctions a smart decision, but Italy is part of the Western bloc and cannot stand against it alone."[1]. Italy's agenda, he said, is to change the EU's opinion through the use of consistent steps. At the same time, as a practical measure aimed at expanding economic cooperation, Italy proposes to unfreeze the funding of small and medium-sized enterprises at the level of the EBRD and the European Investment Bank. As he addressed a press conference after the meeting, Giuseppe Conte pointed out that Italy is ready to assume the role of a consistent promoter of the idea of ​​lifting the sanctions but the conditions for this lifting had to be "ripe".
Energy is a major area of ​​cooperation between Italy and Russia. Russia is the fourth most important supplier of oil and the first of natural gas to Italy. Supplies from Moscow account for more than 40% of the total gas consumption. However, as Italian experts remark, Italy expects an increase in prices in connection with the construction of the Nordstream 2 gas pipeline, which will make Germany the number one transit country for Russian gas in Europe, bypassing Ukraine. Therefore, negotiations on the development of southern transportation routes are more than relevant for Italy. The meeting, however, yielded no breakthroughs on this issue either.
Regional cooperation: identifying problems, lack of solutions
Italy, just like Russia, sees a great potential for dialogue not only on issues related to bilateral cooperation, but also on those of the regional and global agenda. The priority for Italy is the Mediterranean, which produces the greatest number of challenges and threats to the country's national security. Simultaneously, Italy is fully aware of the fact that the country will not be able to cope with these challenges alone, although it is taking independent measures, in particular, in matters of migration. Quite recently, Matteo Salvini held talks with the Libyan leadership in Tripoli to curtail illegal migration. However, Rome knows only too well that the solution to the problem lies not so much in reaching agreements with specific countries as in assisting the development of countries the migrants come from and in settling regional conflicts. Italy greatly appreciates the role of Russia as a non-regional player whose influence has increased significantly in recent years. During a press conference following the elections, Vladimir Putin, however, said that Russia is not ready to plunge head-on into resolving the Libyan crisis, and that forces that destroyed Libya's statehood during the armed operation in 2011 should be involved;that is, NATO and the EU coalition. In solidarity with the Russian president, the Italian Prime Minister emphasized that Italy had warned from the very beginning that a military solution would not lead to peace. Under current conditions, the parties have indicated their readiness to participate in fostering a dialogue between all political forces in Libya.
As for Ukraine, Italy's official position should be in line with the EU policy providing for no new opportunities to change the situation. In an interview before Vladimir Putin's visit to Italy, Giuseppe Conte directly linked the issue of lifting of the sanctions with the observance of the Minsk agreements, implicitly suggesting that Russia is a party to the conflict and urging both sides to demonstrate more understanding. In an interview with Corriere della Sera, and during a press conference following the meeting, President Putin reiterated that the new leadership of Ukraine should fulfill its election promises and enter a direct dialogue with representatives of the Donetsk People's Republic and Lugansk People's Republic. Guiseppe Conte repeatedly pointed out that, although Italy is not part of the Normandy format (a negotiation apparatus designed to resolve the Ukrainian conflict), it is nevertheless ready to play a role in resolving the conflict if necessary, which once again confirms the country's willingness to play a greater role on the international scene.
The Russian president and the Italian prime minister also hold similar views on the situation in Venezuela, expressing concerns over foreign interference, which in their opinions will only aggravate the situation inside the country.
On the whole, it is essential to emphasize that Vladimir Putin's visit to Italy did not bring any breakthroughs, either in bilateral relations or in formulating common positions on issues of regional and global concern. Although the parties demonstrated identical views on the causes and nature of some of the issues on the international agenda, they proved unprepared to suggest concrete practical solutions. For Italy, the meeting provided yet another opportunity to identify its own national interests in promoting relations with Russia and to demonstrate its readiness to act as a "bridge" in the development of a dialogue between Russia and the Euro-Atlantic bloc. At the same time, it has revealed limitations in Italian foreign policy, linked to the economic situation in the country and the weak positions of the current leadership in the renewed European institutions.
1. Speech by the Ambassador Extraordinary and Plenipotentiary of the Italian Republic to the Russian Federation Pasquale Terracciano at the conference, at the Institute of Europe RAS, June 19, 2019
From our partner RIAC
Putin: Russia Ready to Work with Legitimate Leaders
President Vladimir Putin accepted the credentials of 18 newly appointed foreign ambassadors, among them seven from Africa, in a traditional ceremony in the St. Alexander Hall of the Great Kremlin Palace on July 3, and tasked them to facilitate the development of multifaceted relations between their individual states and Russia.
He reiterated that "Russia is open to mutually beneficial cooperation with all states without exception based on equality and respect for each other's interests, non-interference in internal affairs and strict compliance with international law."
Putin used the opportunity to outline upcoming key events as follows:
In the near future, Russia will host a series of major international events. In June, Russia assumed the presidency of the Shanghai Cooperation Organization, and will also preside on BRICS (Brazil, Russia, India, China and South Africa) from early 2020. Russia is steering towards a joint-partnership, and aims to advance common priorities in such areas as politics, security, economy, finance, culture and humanitarian ties.
In September 2019, Vladivostok will host a regular Eastern Economic Forum. Prime Minister of India Narendra Modi and Prime Minister of Japan Shinzo Abe will be the guests of honor.
Russia is planning to review cooperation prospects and the implementation of major joint investment projects in the Asia-Pacific region and to exchange opinions on ways of merging various integration processes so as to create a major Eurasian partnership.
In early October, Moscow will host Russian Energy Week, whose participants will discuss ensuring global energy security, providing all-round energy access and reducing volatile prices on global energy markets.
Russia is preparing actively for the first Russia-Africa Summit late October in Sochi and will be preceded by the Russian-African Economic Forum. President of Egypt and incumbent Chairman of the African Union, Abdel Fattah el-Sisi, will co-chair the Sochi forum together with Putin.
Accordingly, invitations have been sent to all heads of the African states, as well as the leaders of major sub-regional unions and organizations. It is, however, expected that this summit to propel a dialogue between Russia and Africa to a qualitatively new level, help ensure peace and security in the region, as well as a stable development on the African continent.
Further in his address, Putin told Ambassador Denis Kalume Numbi, Democratic Republic of the Congo, that Russia was interested in further developing cooperation with the Democratic Republic of the Congo in politics, trade, and international affairs, and would continue assisting Congolese partners in improving the socioeconomic situation in their country.
He noted that Russia's relations with Sierra Leone has been based on the traditions of friendship and mutual understanding, and Russia hoped for joint work in such sectors as mining, agriculture and fishing. Sierra Leonean Ambassador is now Mohamed Yongawo.
At the ceremony was Alemayehu Tegenu Aargau from the Federal Democratic Republic of Ethiopia. Putin expressed satisfaction on the level of cooperation with Ethiopia.
Last year, Russia and Ethiopia marked the 120th anniversary of diplomatic relations. Over the years, bilateral dialogue has covered a range of important political, economic, research and education topics. Besides, Russia and Ethiopia continue to strengthen cooperation in international and regional affairs.
Russia satisfied with cooperation with Namibia. "Cooperation with Namibia is successfully developing in such sectors as mineral resource development and uranium mining, as well as in the energy, fisheries, agriculture, tourism, military-technical and cultural areas," Putin told Clemens Handuukeme Kashuupulwa from the Republic of Namibia.
Namibia pursues a balanced policy in international affairs and plays an active role in peace-making efforts of the Southern African Development Community. Russia has a long history of bilateral engagements with the Southern African countries, which constitute the Southern African Development Community.
"We work together with Mauritania in marine fishing and hydrocarbon production. Our Mauritanian partners make a significant contribution to the fight against terrorism in the Sahara-Sahel zone," the Russian leader said while receiving Ambassador Hamid Hamouni.
Louis Sylvestre Radegonde (Republic of Seychelles) and Ms. Chandapiwa Nteta (Republic of Botswana) presented their credentials. Russia maintains friendly relations with the Republic of Seychelles. It counts on further joint work to expand cooperation including tourism.
Relations with Botswana encompass the trade, economic and humanitarian spheres; the intergovernmental agreement on military-technical cooperation is currently in force. Last year, Russia and Botswana signed an intergovernmental agreement on cooperation in defence.
Russian authorities have pledged to help and offer necessary assistance to the foreign envoys in pursuit of their official assignments in the Russian Federation. Present at the ceremony were Sergei Lavrov, Foreign Minister of Russia and Yury Ushakov, Aide to President Vladimir Putin.
Russia's State Duma and Foreign Parliaments Ready to Influence Global Politics
Russia's State Duma has gathered parliamentarians from Europe, Latin America, Asia and Africa, creating a three-day solid platform to discuss the development of international parliamentarism and the most pressing national, regional and global issues and adopt some effective approaches to determine the future of mankind in the modern world.
The program also included topical issues on international security and stability, the development of a digital economy, youth and environmental policies. Within the framework of the forum the Russia-Africa parliamentary conference was held.
Dubbed as Development of Parliamentarism International Forum, it has attracted representatives from more than 130 states, 40 speakers and 800 parliamentarians and experts participated, according to official sources. The forum was held in the World Trade Center (WTC) overlooking the Krasnopresnenskaya Naberezhnaya in Moscow.
Welcoming the guests to the grand opening ceremony, Chairman of the State Duma Viacheslav Volodin acknowledged the growing enthusiasm and interest of foreign parliamentarians to express opinions on many common issues and the importance of inter-parliamentary relations and parliamentary diplomacy in the modern world.
"The forum is becoming an authoritative platform for the exchange of best legislative practices and parliamentary experience," he noted, and further urged parliamentarians of all countries to work together for the protection of digital sovereignty. At the same time, he stressed that it was necessary to work together on the development of the digital economy as the economy of the future.
According to the Chairman of the State Duma, through constructive communication, parliamentarians could possibly increase the efficiency of interaction on issues requiring joint decisions, including on sustainable development, international security, environmental protection, fighting poverty and inequality, countering terrorism, drug trafficking, and illegal migration.
Chairperson of the Federation Council, Valentina Matvyenko, used the opportunity created to urge all parliaments to participate in the World Conference on Inter-faith and Inter-civilizational Dialogue, which will be held in Russia on May 21, 2022.
In May 2018, the UN supported the organization of the World Conference on inter-faith and inter-civilizational dialogue with the participation of state leaders, parliamentarians, and representatives of leading world religions in its resolution.
In his speech delivered at the forum, Foreign Minister Sergey Lavrov said "the situation in the world remains challenging, and is getting even more challenging in some parts. Old conflicts are not settled, and new tensions arise. In this context, cooperation between legislative bodies becomes especially important."
Parliamentary diplomacy has to make a significant contribution to supporting trust and mutual understanding between countries and nations in their search for compromises and balanced solutions to acute international problems, according to Foreign Minister.
He unreservedly appreciated efforts made by the State Duma for bringing participants together for a common purpose of deliberating on the widest range of topical issues, such as global security, global sustainable development, the fight against poverty and environmental problems. This is exactly what people need.
As expected, Lavrov praised Russian parliamentarians are making an important contribution to the implementation of Russia's foreign policy. He described Russia as permanently open to broad, fair and equal cooperation with all countries without exception – large and small – in any formats, and his country will continue promoting synergy of the world's efforts to effectively respond to common challenges, above all fight against the threat of international terrorism, which Russia is playing a leading role.
Lavrov further said that Russia considers it unacceptable to create obstacles to the work of parliamentary delegations on international platforms, and hopes that the situation with the deprivation of Russian parliamentarians of their rights in the Parliamentary Assembly of the Council of Europe would not happen again.
"As representatives of the legislative power, it is necessary to pay increased attention to the legal aspects of international cooperation. This is especially needed in a situation where individual UN member states, bypassing the Security Council, impose unilateral illegitimate sanctions, including discriminatory restrictions on parliamentarians," said Lavrov.
Pedro Agramunt, who was President of Parliamentary Assembly of the Council of Europe from 2016 to 2017 and a member of the Spanish Senate, informed that he had worked hard to ensure the return of the Russian delegation to the Parliamentary Assembly of the Council of Europe.
"It was a huge mistake to keep Russia outside PACE," he said. "As the former President of the Parliamentary Assembly of the Council of Europe, I would like to express my satisfaction in connection with the return of the Russian Federation to PACE. I fought a lot for this. I struggled a lot to change that," said Pedro Agramunt.
Parliamentarism is the foundation, the canon of democracy. And there is no democracy without parliamentarism, without parliamentarians, argued Agramunt. "I believe that parliamentarians have a special mission – they represent the opinion of all citizens, not only those who are in the government but those who are the essence of the state," he reiterated.
Inter-parliamentary organizations are of fundamental importance for the stability of the world, he stressed at the gathering, adding "We must be on guard with those who are the defenders of globalism, with those who are trying to resolve problems unilaterally. And our fate is in our hands – in the hands of parliamentarians."
Similarly, others also expressed positive sentiments on Russia's return to PACE. "Allow me to congratulate the Council of Europe on solving the problem, how to return the Russian delegation to PACE," said the Honorary President of the OSCE Parliamentary Assembly, Chairman of the Finnish Parliament's Defense Committee Ilkka Kanerva.
He stressed that "this ia a very important signal for today, it is a signal for all of us as [it is necessary] to move on." He was supported by President of PACE in 2005–2008 René van der Linden who complained that national parliaments often "look too much inside their country."
"It is important that we develop an international perspective and convince everyone that the future of each country depends on what happens in other countries. In one country some processes take place but we see their consequences in other countries. It's extremely important to work together," said René van der Linden.
Vice President of the Chamber of Deputies of the Parliament of the Czech Republic, Filip Vojtech, said that "sanctions against Russia – it's not a solution" He stressed that the Czech Republic had argued against unreasonable restrictions, the Moscow forum presented the platform for and the creation of new opportunities for cooperation between nations.
Speaker of the National Council of the Slovak Republic, Andrej Danko, pointed to the issues discussed at the forum. "All these issues have a common character — the need for cooperation between states and continents. Legislators are pillars of democratic legitimacy and we represent citizens," he said.
While congratulating Russia on returning to the Parliamentary Assembly of the Council of Europe (PACE), Danko also said that the Russian Federation should participate in the discussion and resolution of global problems and common challenges.
"We are pleased that Russia can again take the full-fledged part in the work of PACE. Europe needs Russia, and I am glad that the votes of Slovak parliamentarians contributed to this," Danko added, appreciation the return of Russia to PACE.
Speaker of the Grand National Assembly of Turkey, Mustafa Şentop, stressed that all countries of the world "need channels for dialogue and cooperation. We believe that parliamentary diplomacy has begun to play a very important role," which is confirmed, according to him, by such a representative Forum. He also expressed the hope that the Forum would strengthen bilateral ties between Russia and Turkey.
Mustafa Şentop urged parliamentarians to join efforts to counter the threats of international terrorism and extremism, as well as to enhance the role of international law institutions, adding that "international organizations like the United Nations should protect all people, not just individual countries."
Chairman of the National Assembly of the Islamic Republic of Pakistan, Asad Qaiser, stressed that the parliamentarians should be mediators in resolving various international conflicts. Asad Qaiser noted "it is important to know that this Forum is increasingly helping to strengthen inter-parliamentary ties around the world. We, the parliamentarians, should be on the front line struggling for universal equality, fighting against poverty and other challenges."
Speaker of the House of Representatives of Egypt, Ali Abdel Aal Sayyed Ahmed, noted that the forum was being held at the time when economic, political and cultural conflicts are taking place in the world. "Parliaments, as representatives of nations, play a very important role in countering these conflicts and are at the forefront of combating these challenges," he said and stressed that it is necessary to find solutions together to overcome these problems.
The development of parliamentarism can play an effective role in this, he said, and further explained that parliamentary platform is an important mechanism that can contribute to further in-depth discussion of the issues facing the whole world. He also urged to discuss the role of young people as the "main nerve of society" in the development of parliamentarism.
This was an important and new platform for equal dialogue of all countries united by common problems and challenges, and find possible ways to resolve the existing issues for the benefit of voters and for the benefit of all nationals in the world.
Just like all foreign parliamentarians who arrived to the forum, the Speaker of the Federal National Council of the United Arab Emirates, Amal Al Qubaisi, expressed her deep gratitude to the Russian Parliament and separately to the Chairman of the State Duma, Viacheslav Volodin, for the invitation to the Forum.