Healthcare was a Top 2 issue in 6/7 issue priority polls conducted in 2018 (and was the Top issue in 4/7). The most important subcategory to voters is lowering prescription drug prices; according to a Harvard poll conducted in mid-December, Democrats and Republicans alike view it as their top healthcare priority. Bernie can point to his 2017 S.Amdt.178 to S.Con.Res.3, which would have allowed for much cheaper Canadian drug importation (it was killed by a slim 52 votes, including one by Cory Booker), as well as 3 bills that he has introduced this year.
As the godfather of Medicare for All, all the recent polling should hearten Bernie. In the aforementioned Harvard poll, 60% of Republicans support a universal Medicare buy-in option. Another poll from mid-October found 52% Republican support for Medicare For All. A Kaiser Family Foundation poll from last month found that 47% of Republicans support Medicare For All (as long as people have an option to keep their current plan) and 64% of Republicans support a Medicaid buy-in option. Overall support for M4A skyrockets to a 2/3 majority, Kaiser Family finds, once people learn that it will guarantee healthcare as a right, eliminate premiums and reduce out-of-pocket expenses. These KFF findings demonstrate on explaining the particulars of M4A to independents and Republicans. There is a lot of misinformation floating around about M4A in the media and the White House. Once people will learn about the individual benefits of M4A, as well as the fact that even conservative economists acknowledge that it would save $2T and the fact that every other industrialized nation has universal healthcare, support will continue to soar amongst every voting bloc. Stressing the fact that Bernie is the person who brought M4A into the public consciousness, and that most of his opponents either jumped on the M4A bandwagon recently or don't support it at all, he can make strides in winning the Over-45 vote (which he lost handily in 2016 to Clinton).
The economy was a Top 2 issue in 5/7 issue priority polls conducted in 2018. This provides both a challenge and an opportunity for Bernie. Trump will boast nonstop about rock-bottom unemployment rates, "lower taxes" (really lower tax withholdings) and the stock market. Bernie (and Warren) are the only candidates who have the financial street knowledge, consistency and experience illuminating the public about these issues to credibly change the status quo. Sanders has been vocalizing the plight of the working class his entire career.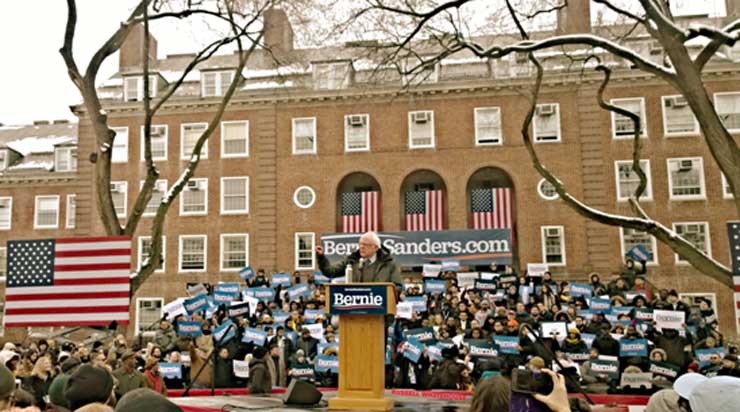 Most non-rich people know that they are being screwed over, even if they can't give a detailed economic explanation of why…. wages that barely keep up with inflation, shrinking workplace benefits and security; increasing tuition for a decreasing long-term payoff; skyrocketing healthcare costs; an increasingly oligarchic political system that ignores working class voting issues. Trump's trumped-up boasts will be pretty easy for Bernie to pick apart. In regards to shrinking unemployment, he can point out that it's merely a continuation of the economic recovery that started under Obama. Employment figures are inflated by what could be described as two-for-one employment: a poor person might have to work two (or more) part-time jobs to scrape by or a freelancer may work for several companies per year. Government statistics track employer records, not employee records; thus, the aforementioned kinds of workers get counted multiple times. This two-for-one employment is now the rule, not the exception: 94% of jobs created under the Obama administration were part-time or temporary. Further demonstrating this stat-padding is the fact that the number of people who filed tax returns this year decreased by a whopping 12.4%. That would seem to indicate that actual employment has actually plummeted in the first full year of Trump's tax law.
In regards to Trump's "tax cuts", most working class people are seeing little to no savings, due to the elimination of most individual deductions. A lot of the supposed savings are merely from reduced withholdings, not increased returns. In fact, the average refund has shrunk 8.4% this year, according to the IRS website. Even the people who have noticed a benefit will have to kiss them goodbye when they expire in 2025 (meanwhile, the corporate tax cuts are permanent). Lastly, the stock market is not something that Trump should be bragging about. Yes, it reached record highs in the first half year of the new tax law, but by the end of the year, many stocks had fallen below pre-tax law levels, in the case of major companies like Apple, Facebook and Google.The temporary growth was mostly fuelled by stock buybacks, not an actual increase in multifactor productivity, unit labor costs or industrial production, which have been stagnant for years. Anyway, the wealthiest 10% of Americans own 90% of all shares and these tycoons pay a lower tax rate on these capital gains than the average American does through earned income.
The Republicans are able to get away with passing "voodoo economics" bills because they lie about the effects that it will have and because the Democrats have traditionally done little to call out their b.s. Bernie is a very policy-oriented kind of guy. He will know how to articulate the aforementioned points for the common person- and will have to do so often to counter the GOP's perpetual lies. Likewise, he must be tireless in explaining how keystone legislation like Medicare For All, a Green New Deal and free public college will, yes, cost a lot of taxpayer money initially, but will eventually be a net saver of money. M4A will eliminate medical bankruptcy (the #1 cause of bankruptcy), protect the increasing majority of Americans who don't have jobs that offer healthcare coverage, ax runaway prescription drug pricing and save the lives of 45k previously uninsured people per year. A GND would not only help counter climate change, but also create countless blue-collar jobs (manufacturing, installation, maintenance). It would also help to keep the US economy competitive with China's; the latter is quickly establishing itself as the world's green manufacturing powerhouse. Free public college, particularly with an emphasis on trade schools, will help decrease unemployment and job skills-based income inequality. It has been embraced by ultraconservative (and ultra-poor) Tennessee.
Bernie, in his campaign kickoff video, talked about, "the need to end the destructive war on drugs private prisons, and cash bail, and bring about major police department reform." He has been remarkably consistent on criminal justice reform; 23 years ago, he co-sponsored a bill to legalize marijuana. Back in 2015, he said, "It seems to me that rather than spending huge amounts of money on jails and on private corporations who are incentivized to keep people in jail, it might make a lot more sense to spend money on job training and education so that people do not end up in jail in the first place." This speaks to the appeal that Bernie's economic policies can have with black voters. They would disproportionately benefit unemployed and underemployed black youth. Back in college, Bernie organized a campaign to fight housing discrimination, another major issue in America's cities and suburbs. Continuing to articulate denunciations of systemic injustice and programs that would help the black working class is key to winning the Presidency. Clinton lost 6% of the net black vote to Trump, compared to Obama in 2012. Losing black voters in swing-state cities like Milwaukee and Philadelphia helped Clinton to lose the Electoral College. Likewise, the black vote could play the deciding role in 2020 Democratic primaries. Many voters could be attracted to Kamala Harris, a black woman and one of the primary front-runners. So Bernie mustn't let the media smear him as being "out-of-touch with black voters" like they did back in 2016. Sanders can run on his long history of supporting criminal justice reform, while pointing out Kamala's record of doing the opposite while she was California A.G.
In terms of immigration, Bernie should take advantage of the increasing unpopularity of Trump's hardline stance. 2019 polling has shown that 41% of the country wishes to build a border wall, with a 57% majority opposed. On the question of whether there's a national border emergency/Trump declaring a national emergency, even fewer Americans agree: 34% support Trump's position and 63% disagree. In a Quinnipiac poll and a Gallup poll conducted this year, an average of 24% of respondents expressed general dissatisfaction with immigration. The recent debacles over inhumane treatment of immigrants at the border and in detention, plus Trump's loss on holding gov't funding hostage over border wall funding, have left a sour taste in the mouths of many moderates on the issue. In the 2016 presidential election, the Democrats lost an 8% net Latino vote lead to the GOP, as opposed to Obama-Romney. Bernie can win back some of these voters and attract new voters by renewing focus on immigration reform and the DACA issue, which has bipartisan support among citizens, but which have been forgotten by the Democratic leadership. He can also draft legislation to crack down on visa overstays (a far larger contributor to illegal immigration than border crossings) to placate moderates. I would advise that he avoids jumping on the Abolish-ICE bandwagon, as I think it would alienate too many undecided's. Rather, he should talk about the need to radically reform it. This could include a rapid scaling-down of detention centers, a greater focus on preventing immigrant dehydration deaths on the desert border and a more streamlined system of asylum-seeker processing. As the temperamental anti-Trump, Bernie can also talk about increasing aid, conflict mediations and business opportunities for Central America, to reduce the demand for people from these countries to flee for the US. Bernie's actions to end the Drug War would also help to end the cartel violence that spikes migration from Latin America.
Much was made of Bernie's popularity with young voters in 2016. He garnered more youth votes than Hillary and Trump combined. Such dominance didn't hand Bernie the nomination, however. From 2008 to 2106, the youth vote only jumped in 6 major Democratic primary states (highlighted in the below chart). Bernie only won 2 of them: MI and WI. Wisconsin's youth voter turnout only increased by 7% in those 8 years, little more than Wisconsin's 2.4% total population growth during that time. To be fair, Bernie doubled the youth turnout in Michigan, which he won in a stunning upset, but fell in all 4 of the first four primary states.
There's little to reason Bernie's youth vote can substantially increase in next year's primaries, given the plethora of rivals. In last year's Congressional elections, the youth vote reached a record high of… 31%. One third of that portion voted for Republicans. Bernie's free public college proposal and similar legislation will naturally attract some politically savvy young people, but to win in politics, you need to secure the Over-45 vote. Bernie's staff shouldn't jump over backwards to get young people to Pokemon-Go-to-the-polls, but rather should plan on winning over cynical older voters. Bernie's massive deficit with older people of color in particular likely cost Bernie the nomination in 2016.
This is a brief overview of how Bernie can be successful in 2020. This time, he will have at least two formidable primary opponents (Harris and Warren) and possibly Biden, as well. The mainstream media and Democratic establishment will likely be major hurdles as well, like they were in 2016. To overcome the dissenters and get through to the voters, Bernie will need perfect a formula of policy talking points, empathy with the working class and people of color, plus substantive critiques of his opponents. Bernie likely would have won in 2016 had he attacked Clinton more aggressively on her corruption and perpetual flip-flopping. Time will tell if Bernie's new campaign manager, Faiz Shakir, will adapt these ideas.
Hardened US and Iranian positions question efficacy of parties' negotiating tactics
The United States and Iran seem to be hardening their positions in advance of a resumption of negotiations to revive a 2015 international nuclear agreement once Iranian President-elect Ebrahim Raisi takes office in early August.
Concern among supporters of the agreement to curb Iran's nuclear program which former US President Donald J. Trump abandoned in 2018 may be premature but do raise questions about the efficacy of the negotiating tactics of both parties.
These tactics include the Biden administration's framing of the negotiations exclusively in terms of the concerns of the West and its Middle Eastern allies rather than also as they relate to Iranian fears, a failure by both the United States and Iran to acknowledge that lifting sanctions is a complex process that needs to be taken into account in negotiations, and an Iranian refusal to clarify on what terms the Islamic republic may be willing to discuss non-nuclear issues once the nuclear agreement has been revived.
The differences in the negotiations between the United States and Iran are likely to be accentuated if and when the talks resume, particularly concerning the mechanics of lifting sanctions.
"The challenges facing the JCPOA negotiations are a really important example of how a failed experience of sanctions relief, as we had in Iran between the Obama and Trump admins, can cast a shadow over diplomacy for years to come, making it harder to secure US interests," said Iran analyst Esfandyar Batmanghelidj referring to the nuclear accord, the Joint Comprehensive Plan of Action, by its initials.
The Biden administration may be heeding Mr. Batmangheldij's notion that crafting sanctions needs to take into account the fact that lifting them can be as difficult as imposing them as it considers more targeted additional punitive measures against Iran. Those measures would aim to hamper Iran's evolving capabilities for precision strikes using drones and guided missiles by focusing on the providers of parts for those weapon systems, particularly engines and microelectronics.
To be sure, there is no discernable appetite in either Washington or Tehran to adjust negotiation tactics and amend their underlying assumptions. It would constitute a gargantuan, if not impossible challenge given the political environment in both capitals. That was reflected in recent days in Iranian and US statements.
Iranian Spiritual Leader Ayatollah Ali Khamenei suggested that agreement on the revival of the nuclear accord was stumbling over a US demand that it goes beyond the terms of the original accord by linking it to an Iranian willingness to discuss its ballistic missiles program and support for Arab proxies.
In a speech to the cabinet of outgoing President Hassan Rouhani, he asserted that the West "will try to hit us everywhere they can and if they don't hit us in some place, it's because they can't… On paper and in their promises, they say they'll remove sanctions. But they haven't lifted them and won't lift them. They impose conditions…to say in future Iran violated the agreement and there is no agreement" if Iran refuses to discuss regional issues or ballistic missiles.
Iranian officials insist that nothing can be discussed at this stage but a return by both countries to the nuclear accord as is. Officials, distrustful of US intentions, have hinted that an unconditional and verified return to the status quo ante may help open the door to talks on missiles and proxies provided this would involve not only Iranian actions and programs but also those of America's allies.
Mr. Khamenei's remarks seemed to bolster suggestions that once in office Mr. Raisi would seek to turn the table on the Biden administration by insisting on stricter verification and US implementation of its part of a revived agreement.
To achieve this, Iran is expected to demand the lifting of all rather than some sanctions imposed or extended by the Trump administration; verification of the lifting; guarantees that the lifting of sanctions is irreversible, possibly by making any future American withdrawal from the deal contingent on approval by the United Nations Security Council; and iron-clad provisions to ensure that obstacles to Iranian trade are removed, including the country's unfettered access to the international financial system and the country's overseas accounts.
Mr. Khamenei's remarks and Mr. Raisi's anticipated harder line was echoed in warnings by US officials that the ascendancy of the new president would not get Iran a better deal. The officials cautioned further that there could be a point soon at which it would no longer be worth returning to because Iran's nuclear program would have advanced to the point where the limitations imposed by the agreement wouldn't produce the intended minimum one year 'breakout time' to produce enough enriched uranium for a bomb.
"We are committed to diplomacy, but this process cannot go on indefinitely. At some point, the gains achieved by the JCPOA (Joint Comprehensive Plan of Action) cannot be fully recovered by a return to the JCPOA if Iran continues the activities that it's undertaken with regard to its nuclear program…The ball remains in Iran's court, and we will see if they're prepared to make the decisions necessary to come back into compliance," US Secretary Antony Blinken said this week on a visit to Kuwait.
Another US official suggested that the United States and Iran could descend into a tug-of-war on who has the longer breath and who blinks first. It's a war that so far has not produced expected results for the United States and in which Iran has paid a heavy price for standing its ground.
The official said that a breakdown in talks could "look a lot like the dual-track strategy of the past—sanctions pressure, other forms of pressure, and a persistent offer of negotiations. It will be a question of how long it takes the Iranians to come to the idea they will not wait us out."
Wendy Sherman's China visit takes a terrible for the US turn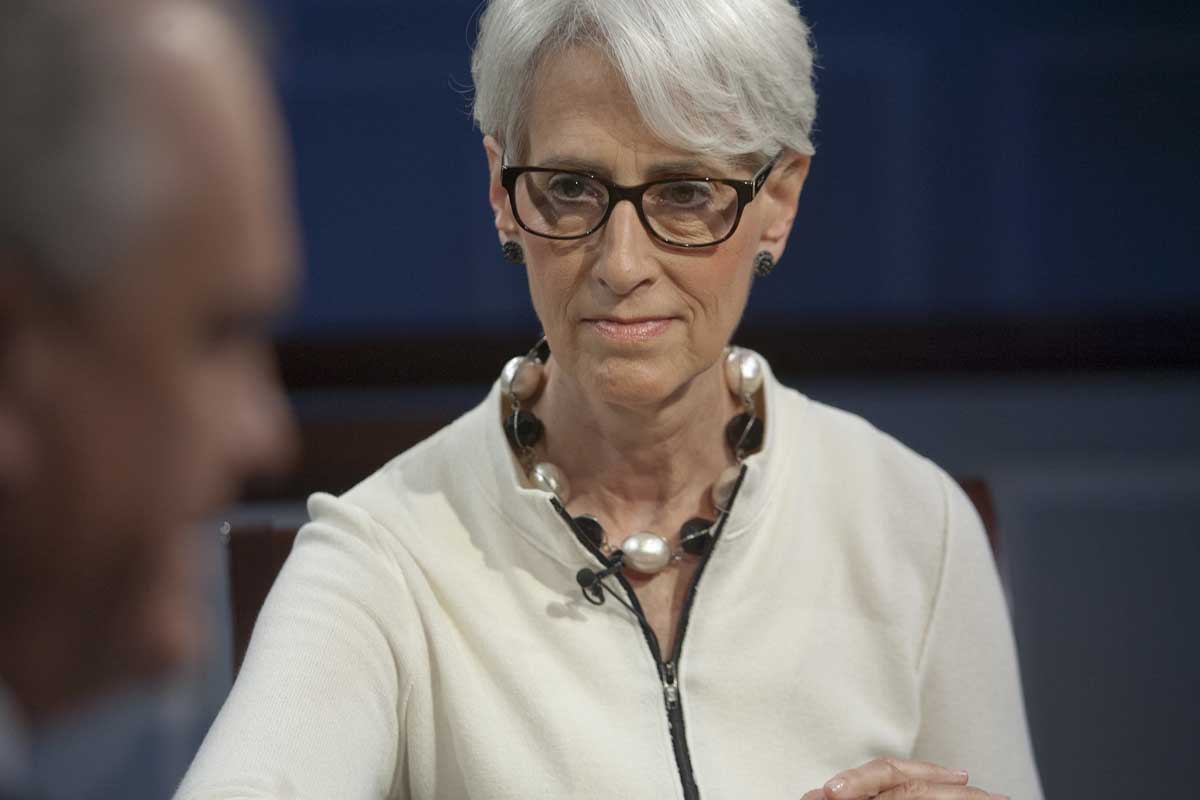 US Deputy Secretary of State, Wendy Sherman, had high hopes for the meeting in China. At first, the Chinese side did not agree to hold the meeting at all. The reaction had obvious reasons: Antony Blinken's fiasco in Alaska left the Chinese disrespected and visibly irritated. This is not why they travelled all the way.
So then the State Department had the idea of sending Wendy Sherman instead. The US government actually needs China more than China needs the US. Sherman was in China to actually prepare the ground for Biden and a meeting between the two presidents, expecting a red carpet roll for Biden as if it's still the 2000s — the time when it didn't matter how the US behaved. Things did not go as expected.
Instead of red carpet talk, Sherman heard Dua Lipa's "I got new rules".
That's right — the Chinese side outlined three bottom lines warning the US to respect its system, development and sovereignty and territorial integrity. In other words, China wants to be left alone.
The bottom lines were not phrased as red lines. This was not a military conflict warning. This was China's message that if any future dialogue was to take place, China needs to be left alone. China accused the US of creating an "imaginary enemy". I have written about it before — the US is looking for a new Cold War but it doesn't know how to start and the problem is that the other side actually holds all the cards.
That's why the US relies on good old militarism with an expansion into the Indo-Pacific, while aligning everyone against China but expecting the red carpet and wanting all else in the financial and economic domains to stay the same. The problem is that the US can no longer sell this because there are no buyers. Europeans also don't want to play along.
The headlines on the meeting in the US press are less flattering than usual. If the US is serious about China policy it has to be prepared to listen to much more of that in the future. And perhaps to, yes, sit down and be humble.
Why Jen Psaki is a well-masked Sean Spicer
When Sarah Huckabee Sanders showed up on the scene as White House Press Secretary, the reaction was that of relief. Finally — someone civil, normal, friendly. Jen Psaki's entry this year was something similar. People were ready for someone well-spoken, well-mannered, even friendly as a much welcome change from the string of liars, brutes or simply disoriented people that the Trump Administration seemed to be lining up the press and communications team with on a rolling basis. After all, if the face of the White House couldn't keep it together for at least five minutes in public, what did that say about the overall state of the White House behind the scenes?
But Psaki's style is not what the American media and public perceive it to be. Her style is almost undetectable to the general American public to the point that it could look friendly and honest to the untrained eye or ear. Diplomatic or international organization circles are perhaps better suited to catch what's behind the general mannerism. Jen Psaki is a well-masked Sean Spicer, but a Sean Spicer nevertheless. I actually think she will do much better than him in Dancing With The Stars. No, in fact, she will be fabulous at Dancing With The Stars once she gets replaced as White House Press Secretary.
So let's take a closer look. I think what remains undetected by the general American media is veiled aggression and can easily pass as friendliness. Psaki recently asked a reporter who was inquiring about the Covid statistics at the White House why the reporter needed that information because Psaki simply didn't have that. Behind the brisk tone was another undertone: the White House can't be questioned, we are off limits. But it is not and that's the point.
Earlier, right at the beginning in January, Psaki initially gave a pass to a member of her team when the Politico stunner reporter story broke out. The reporter was questioning conflict of interest matters, while the White House "stud" was convinced it was because he just didn't chose her, cursing her and threatening her. Psaki sent him on holidays. Nothing to see here folks, move along.
Psaki has a level of aggression that's above average, yet she comes across as one of the most measured and reasonable White House Press Secretaries of the decade. And that's under pressure. But being able to mask that level of deflection is actually not good for the media because the media wants answers. Style shouldn't (excuse the pun) trump answers. And being able to get away smoothly with it doesn't actually serve the public well. Like that time she just walked away like it's not a big deal. It's the style of "as long as I say thank you or excuse me politely anything goes". But it doesn't. And the American public will need answers to some questions very soon. Psaki won't be able to deliver that and it would be a shame to give her a pass just because of style.
I think it's time that we start seeing Psaki as a veiled Sean Spicer. And that Dancing with the Stars show — I hope that will still run despite Covid.