Once the backbone of Middle Eastern protests, ultras are down but not out
Ali Issa Ahmad, a British football fan, who was lingering earlier this year in jail in the United Arab Emirates for wearing a Qatari soccer jersey during the 2019 Asian Cup that Qatar state won.
Mr. Ahmad who potentially could have been sentenced to years in prison for supporting the wrong team in the eyes of the UAE was ultimately released after several days as the UAE sought to avoid the reputational damage his prosecution would have entailed.
Mr. Ahmad's predicament suggested that the UAE's stopping Qatari fans from attending recent Asian Cup matches and banning expressions of support for its nemesis because of the rift in the Gulf that has pitted the United Arab Emirates, Bahrain and Saudi Arabia against Qatar is about more than political rivalries between states determined to shape the region in their mould.
Mr. Ahmad's plight is part of a region-wide effort to ensure that soccer fans who played major roles in recent Middle East history don't get another opportunity.
Fans were central in the 2011 popular Arab revolts that toppled the leaders of Tunisia, Egypt, Libya and Yemen. They constituted the backbone of initial resistance to the military regime that in 2013 overthrew Mohammed Morsi, Egypt's first and only democratically elected leader. And fans led the 2013 Gezi Park anti-government protests in Turkey and, beyond the Middle East, the 2014 anti-government demonstrations in Ukraine.
The effort to control soccer fans takes on added relevance with mass protests in the greater Middle East occurring in Sudan, Algeria and Jordan while Kazakh president Nursultan Nazarbayev recently replaced his cabinet in a bid to halt mounting social unrest.
The effort takes various forms ranging from banning support in the Gulf for a team to brutal repression and the closure to the public of most domestic matches in Egypt since the 2011 revolt to attempts in Turkey to politically control all fan activity. Like in Turkey, those fans admitted into Egyptian stadia in limited numbers are first politically vetted to ensure that they don't turn the pitch into a protest venue.
The effort has succeeded to some extent, even if legal measures to ban militant fan groups in Egypt and Turkey failed. The return to stadia of some fans in Egypt suggests that the government feels it has gained the upper hand.
"The Egyptian regime has specific issues with fans organising collectively for football. So if these fans can be depoliticised, they can return to stadiums. This is the real political motivation for allowing fans back into the stadium: the belief that they have successfully depoliticised the game," said Ziad Akl, an analyst with the Cairo-based Ahram Centre for Political and Strategic Studies.
The proof is in the pudding. Indications are it hasn't persuaded militant fans who although a minority were the heartbeat of Egyptian fandom.
"I haven't been to matches for years, and I'm certainly not going to start now. I'm not stupid enough to give the security services my address, where I work, and my full name. I don't mind doing this to vote or to get a national ID, but I won't do this for a football match," said a member of a Cairo ultras group.
He was echoing the response of Turkish fans to government efforts to force identification of fans through an electronic ticket system.
The ultras' message was that militant soccer fans may be down but are not out and that Egyptian general-turned president Abdel Fattah al-Sisi will have to get a grip on simmering discontent by addressing widespread social and economic discontent rather than relying primarily on brutal repression.
To be sure, the differences between 2011 and 2019 could not be starker. Mr. Al-Sisi presides over the worst repression in recent Egyptian history that has targeted even the slightest form of dissent, making toppled leader Hosni Mubarak's rule look relatively benign.
Nonetheless, militant soccer fans pose enough of a continued threat to prevent the government from fully lifting the ban on spectators attending soccer matches that has been in place for much of the last eight years. The government recently agreed to allow a meagre 5,000 fans per match.
The ban was initially imposed when the popular revolt erupted in 2011 but was lifted once Mr. Mubarak was forced to resign after 30 years in office. It was reintroduced and has been in force uninterrupted since February 2012 when 72 supporters of storied Cairo club Al Ahli were killed in stampede in a Port Said stadium in what many believe was an attempt by the military and law enforcement to cut the ultras down to size that got out of hand.
"No one is excited that the fans are back. People went to the stadiums because of the atmosphere created by ultras – Egyptian football has died with the banning of ultras," said one of the founding members of Ultras White Nights, the militant support group of Al Ahli arch rival Al Zamalek.
Among Egypt's estimated 60,000 political prisoners are scores of militant supporters of soccer clubs who were not only prominent in the 2011 uprising but also in subsequent anti-government demonstrations.
The student protests against Mr. Al-Sisi's coup, that turned the country's universities into security fortresses, were brutally squashed by law enforcement forces abetted by the adoption of a draconic anti-protest law, tight control of the media, and a crackdown on non-governmental organizations.
The Ultras White Nights and their Al Ahli counterpart, Ultras Ahlawi, officially dissolved themselves in 2018 in a bid to ensure the safety of their members. With continued Ultras White Knights activity on social media, where both groups have/had huge followings, the dissolution was widely seen as tactical and a sign of goodwill.
"We are tired of going around police stations and prisons looking for our comrades. We want things to quieten down with the government, see the detainees go free and the crackdown end," said former Ultras leader Mohammed Saheel.
"The Ultras are desperate and don't see a bright future. They hope for a reconciliation with the regime to get their fellow members out of prison," added journalist and soccer fan Mahmoud Mostafa.
The decision to dissolve came in the wake of a statement by the ultras that appealed to Mr. Al-Sisi to initiate a dialogue between the fans and police to iron out their differences. The called for the pardoning of detained militant fans.
The peace offering was a far cry from the ultras' heyday. To the founders of various groups of ultras in Egypt and elsewhere in the Middle East, the battle for the stadia in the years prior to the 2011 revolts constituted a struggle for public space in a country governed by a regime that tolerated no uncontrolled public spaces.
The ultras constituted the only group that was willing to not only challenge government control of public space but also to put their lives on the line in staking their claim. They derived their title to the stadium from their analysis of the power structure of the sport that positioned ultras as the only true supporters of the club as opposed to a corrupt management that was a pawn of the regime and players who were mercenaries who played for the highest bidder.
That was what attracted thousands of young, under‐educated and un- or under-employed men who joined the ranks of the ultras because the fans were the only organized group that persistently and physically stood up to corrupt and brutal security forces who made their lives difficult in the stadia as well as in the neighbourhoods where they lived.
Members of the ultras and people close to them caution that the Al- Sisi government's apparent success in whipping the ultras into submission may be temporary.
Many believe that "nothing will happen. Standing up to the regime amounts to suicide. The question is how long that perception will last… Things will eventually burst. When and where nobody knows. But the writing is on the wall," said a source close to the ultras.
Added a founder of one Egypt's original ultras groups: "This is a new generation. It's a generation that can't be controlled. They don't read. They believe in action and experience. They have balls. When the opportunity arises, they will do something bigger than we ever did."
This article is an edited version of a German-language chapter in a book to be published in conjunction with the Macht der Masse – 4e Halbzeit (Power of the Mass – 4th Intermission at the Ludwig Forum Aachen in Germany
Israeli contrasts: Likud's favoured soccer teams veers left as Bibi turns further right
The contrast could not be starker. As Israel plays a dangerous game of US politics by restricting or banning visits by controversial Democratic members of Congress to seemingly please President Donald J. Trump's prejudiced electoral instincts, the owner of a notorious Jerusalem soccer club draws a line in the sand in confronting his racist fan base.
The contrast takes on added significance as prime minister Benyamin Netanyahu woes Israel's far-right in advance of elections on September 17 given that storied club Beitar Jerusalem has long been seen as a stronghold for his Likud party.
Mr. Netanyahu's barring of Congresswomen Rashida Tlaib and Ilhan Omar was as much a response to Mr. Trump's tweeted suggestion that they should not be allowed to visit Israel as it was catering to his right-wing base that includes Beitar's fans.
Beitar is the only Israeli squad to have never hired a Palestinian player. Its fans, famous for their racist slogans and bullying tactics, have made life impossible for the few Muslim players that the club contracted in its history.
Messrs. Netanyahu and Moshe Hogeg, the Beitar owner and tech entrepreneur who founded social mobile photo and video sharing website Mobli and crypto transactions platform Sirin Labs, are both treading on slippery ground.
Mr. Netanyahu, who initially raised out of respect for the US Congress no objection to the planned visit by Ms. Tlaib and Ms. Omar, has ensured that Israel for the first time in decades can no longer be sure of bi-partisan support in the Congress and beyond and is likely to become a partisan issue in the run-up to next year's US presidential election.
His pandering to Mr. Trump sparked rare criticism from the American Israel Political Action Committee (AIPAC), Israel's most powerful and influential lobby in the United States even though AIPAC agrees that Ms. Tlaib and Ms. Ilham support the Boycott, Diversification and Sanctions (BDS) movement that targets Israel.
"We disagree with Reps. Omar and Tlaib's support for the anti-Israel and anti-peace BDS movement, along with Rep. Tlaib's calls for a one-state solution. We also believe every member of Congress should be able to visit and experience our democratic ally Israel first hand," AIPAC tweeted.
A breakdown of bi-partisan support for Israel may not be what Mr. Netanyahu wants, but it may be, in a twist of irony, what Israel needs. It would spark a debate in the United States with a potential fallout in Israel about whether Mr. Netanyahu's annexationist policy and hard-line approach towards Palestinian aspirations serves Israel's longer-term best interests.
Israel's toughening stand was evident on Tuesday when police broke up an annual soccer tournament among Palestinian families in East Jerusalem on assertions that it was sponsored by the Palestinian Authority, which is barred from organizing events in the city. The tournament's organizer denied any association with the Authority.
In a dismissive statement, Israeli public security minister Gilad Erdan's office scoffed: "We're talking about scofflaws who lie and blame the agency that enforces the law when they know full well that the Palestinian Authority is involved in the event that Minister Erdan ordered halted."
The incident was emblematic of an environment that prompted columnist and scholar Peter Beinart, writing in The Forward, a more than 100-year old, left-wing Jewish weekly, to argue that "the United States has a national interest in ensuring that Israel does not make permanent its brutal occupation of the West Bank and blockade of the Gaza Strip.
By taking on La Familia, a militant Beitar Jerusalem fan group that has driven the club's discriminatory policy, Mr. Hogeg is going not only against Mr. Netanyahu's policies that emphasize Israeli Jewish nationalism at the expense of the rights of Palestinians with Israeli citizenship as well as those subject to occupation.
He is also challenging a global trend spearheaded by civilizational leaders like Indian prime minister Narendra Modi who, two weeks after depriving Kashmiri Muslims of their autonomy, is planning to build detention camps for millions of predominantly Muslim Indians suspected of being foreign migrants, Victor Orban who envisions a Muslim-free Hungary, and Xi Jinping who has launched in China's troubled, north-western province of Xinjiang the most frontal assault on Islam in recent history
The degree of polarization and alienation that civilizational policies like those of Messrs Netanyahu, Modi, Xi and Orban is highlighted by the fact that Mr. Hogeg's battle with his fans is over a name.
Ali Mohammed is Beitar Jerusalem's latest acquisition. The only Muslim thing about him is his name. Mr. Mohammed is a Nigerian Christian.
That wasn't good enough for the fans who demand that he change his name. During Mr. Mohammed's first training session fans chanted "Mohamed is dead" and "Ali is dead."
Unlike his predecessors, Mr. Hogeg seems unwilling to back down. He has threatened to sue the fans for tarnishing Beitar's already battered reputation and demand up to US$500,000 in damages. Lawyers for Mr. Hogeg have written to fans demanding an apology.
"They are very good fans; they are very loyal. They love the club and what it represents … but they're racist and that's a big problem," Mr. Hogeg said.
Convinced that the militants are a minority that imposes its will on the majority of Beitar fans, Mr. Hogeg takes the high road at a time that the likes of him threaten to become an endangered species.
"I was surprised to find that Mohamed is not Muslim, but I don't care. Why should it matter? He's a very good player. As long as the player that comes respects the city, respects what he represents, respects Israel, can help the team and wants to play then the door will be open. If those radical fans will fight against it, they will lose. They will simply lose," Mr. Hogeg said.
"Today Saudi Arabia finally lost the war on Yemen."
On August 17th, an anonymous German intelligence analyst who has perhaps the world's best track-record of publicly identifying and announcing historical turning-points, and who is therefore also a great investigative journalist regarding international relations (especially military matters, which are his specialty) headlined at his "Moon of Alabama" blog, "Long Range Attack On Saudi Oil Field Ends War On Yemen", and he opened:
Today Saudi Arabia finally lost the war on Yemen. It has no defenses against new weapons the Houthis in Yemen acquired. These weapons threaten the Saudis economic lifelines. This today was the decisive attack:
Drones launched by Yemen's Houthi rebels attacked a massive oil and gas field deep inside Saudi Arabia's sprawling desert on Saturday, causing what the kingdom described as a "limited fire" in the second such recent attack on its crucial energy industry. …
The Saudi acknowledgement of the attack came hours after Yahia Sarie, a military spokesman for the Houthis, issued a video statement claiming the rebels launched 10 bomb-laden drones targeting the field in their "biggest-ever" operation. He threatened more attacks would be coming.
New drones and missiles displayed in July 2019 by Yemen's Houthi-allied armed forces
Today's attack is a check-mate move against the Saudis. Shaybah is some 1,200 kilometers (750 miles) from Houthi-controlled territory. There are many more important economic targets within that range. …
The attack conclusively demonstrates that the most important assets of the Saudis are now under threat. This economic threat comes on top of a seven percent budget deficit the IMF predicts for Saudi Arabia. Further Saudi bombing against the Houthi will now have very significant additional cost that might even endanger the viability of the Saudi state. The Houthi have clown prince Mohammad bin Salman by the balls and can squeeze those at will.
He went on to say that the drones aren't from Iran but are copies from Iran's, "assembled in Yemen with the help of Hizbullah experts from Lebanon."
He has been predicting for a long time that this war couldn't be won by Crown Prince Mohammed bin Salman al-Saud (MbS). In the present report, he says:
The war on Yemen that MbS started in March 2015 long proved to be unwinnable. Now it is definitely lost. Neither the U.S. nor the Europeans will come to the Saudis help. There are no technological means to reasonably protect against such attacks. Poor Yemen defeated rich Saudi Arabia.
The Saudi side will have to agree to political peace negotiations. The Yemeni demand for reparation payments will be eye watering. But the Saudis will have no alternative but to cough up whatever the Houthi demand.
The UAE was smart to pull out of Yemen during the last months.
If he is correct (and I have never yet found a prediction from him turn out to have been wrong), then this will be an enormous blow to the foreign markets for U.S.-made weapons, since the Sauds are the world's largest foreign purchasers of those, and have spent profusely on them — and also on U.S. personnel to train their soldiers how to use them. So (and this is my prediction, not his), August 19th might be a good time to sell short U.S. armament-makers such as Lockheed Martin.
However: his prediction that "the Saudis will have no alternative but to cough up whatever the Houthi demand" seems to me to be the first one from him that could turn out to have been wrong. If the Sauds have perpetrated, say, $200 billion of physical damage to Yemen, but refuse to pay more than $100 billion in reparations, and the Housis then hit and take out a major Saudi oil well, isn't it possible that the Sauds would stand firm? But if they do, then mightn't it be wrong to say, at the present time, that: "Today Saudi Arabia finally lost the war on Yemen."? He has gone out on limbs before, and I can't yet think of any that broke under him. Maybe this one will be the first? I wouldn't bet on that. But this one seems to me to be a particularly long limb. We'll see!
The message behind the release of Iranian oil tanker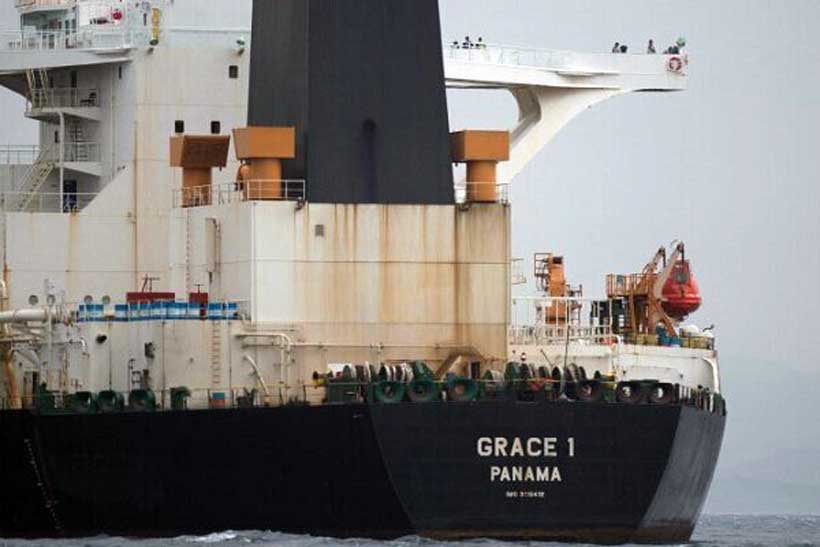 The Gibraltar court ordered the Iranian oil tanker Grace 1 to be released. The tanker was seized by the British Royal Marines about a month ago.
This verdict was the ending of an elaborate game designed by John Bolton National Security Advisor of the United States and Mike Pompeo, carried out by the Britain government.
With seizing the tanker, Bolton was trying to put psychological and political pressures on Iran and force other countries to form a consensus against Iran, but he couldn't fulfill any of these goals.
Iran's firm, logical and wise answer to the seizure of Grace 1 (like making solid legal arguments) and the seriousness of our country's armed forces in giving a proper response to Britain's contemptuous act, made the White House lose the lead on reaching its ends.
Washington imagined that the seizure of Grace 1 will become Trump's winning card against Iran, but the release of the tanker (despite disagreement of the U.S.) became another failure for the White House in dealing with Iran.
Obviously, London was also a total loser in this game. It is worth noting that U.S. was so persistent about keeping the oil tanker in custody that John Bolton traveled to London and insisted on British officials to continue the seizure of the ship. Their failure, however, clearly shows that the White House and its traditional ally, Britain, have lost a big part of their power in their relations with Iran.
Clearly, the illegal seizure of the Iranian oil tanker by Britain proceeded by the seizure of a British tanker by Iran and the following interactions between the two countries is not the whole story and there is more to it that will be revealed in coming days.
What we know for sure is that London has to pay for its recent anti-Iran plot in order to satisfy Washington; the smallest of these consequences was that Britain lost some of its legal credibility in international arena as it illegally captured an Iranian oil tanker.
The order of the Gibraltarian court revealed that London had no legal right to seize the Iranian oil tanker and nobody can defend this unlawful action. Surely, Iran will take all necessary legal actions to further pursue the matter.
In this situation, the Islamic Republic of Iran is firm on its position that it doesn't have to follow the sanctions imposed by the European Union on other countries (including Syria).
No entity can undermine this argument as it is based on legal terms; therefore, Iran will keep supporting Syrian nation and government to fight terrorism. This is the strategic policy of the Islamic Republic and will not be changed under the pressure or influence of any other third country.
Finally, it should be noted that the release of Grace 1 oil tanker was not only a legal and political failure for Washington and London and their allies but it was also a strategic failure. Undoubtedly, the vast consequences of this failure will be revealed in near future.
From our partner Tehran Times