Once the backbone of Middle Eastern protests, ultras are down but not out
Ali Issa Ahmad, a British football fan, who was lingering earlier this year in jail in the United Arab Emirates for wearing a Qatari soccer jersey during the 2019 Asian Cup that Qatar state won.
Mr. Ahmad who potentially could have been sentenced to years in prison for supporting the wrong team in the eyes of the UAE was ultimately released after several days as the UAE sought to avoid the reputational damage his prosecution would have entailed.
Mr. Ahmad's predicament suggested that the UAE's stopping Qatari fans from attending recent Asian Cup matches and banning expressions of support for its nemesis because of the rift in the Gulf that has pitted the United Arab Emirates, Bahrain and Saudi Arabia against Qatar is about more than political rivalries between states determined to shape the region in their mould.
Mr. Ahmad's plight is part of a region-wide effort to ensure that soccer fans who played major roles in recent Middle East history don't get another opportunity.
Fans were central in the 2011 popular Arab revolts that toppled the leaders of Tunisia, Egypt, Libya and Yemen. They constituted the backbone of initial resistance to the military regime that in 2013 overthrew Mohammed Morsi, Egypt's first and only democratically elected leader. And fans led the 2013 Gezi Park anti-government protests in Turkey and, beyond the Middle East, the 2014 anti-government demonstrations in Ukraine.
The effort to control soccer fans takes on added relevance with mass protests in the greater Middle East occurring in Sudan, Algeria and Jordan while Kazakh president Nursultan Nazarbayev recently replaced his cabinet in a bid to halt mounting social unrest.
The effort takes various forms ranging from banning support in the Gulf for a team to brutal repression and the closure to the public of most domestic matches in Egypt since the 2011 revolt to attempts in Turkey to politically control all fan activity. Like in Turkey, those fans admitted into Egyptian stadia in limited numbers are first politically vetted to ensure that they don't turn the pitch into a protest venue.
The effort has succeeded to some extent, even if legal measures to ban militant fan groups in Egypt and Turkey failed. The return to stadia of some fans in Egypt suggests that the government feels it has gained the upper hand.
"The Egyptian regime has specific issues with fans organising collectively for football. So if these fans can be depoliticised, they can return to stadiums. This is the real political motivation for allowing fans back into the stadium: the belief that they have successfully depoliticised the game," said Ziad Akl, an analyst with the Cairo-based Ahram Centre for Political and Strategic Studies.
The proof is in the pudding. Indications are it hasn't persuaded militant fans who although a minority were the heartbeat of Egyptian fandom.
"I haven't been to matches for years, and I'm certainly not going to start now. I'm not stupid enough to give the security services my address, where I work, and my full name. I don't mind doing this to vote or to get a national ID, but I won't do this for a football match," said a member of a Cairo ultras group.
He was echoing the response of Turkish fans to government efforts to force identification of fans through an electronic ticket system.
The ultras' message was that militant soccer fans may be down but are not out and that Egyptian general-turned president Abdel Fattah al-Sisi will have to get a grip on simmering discontent by addressing widespread social and economic discontent rather than relying primarily on brutal repression.
To be sure, the differences between 2011 and 2019 could not be starker. Mr. Al-Sisi presides over the worst repression in recent Egyptian history that has targeted even the slightest form of dissent, making toppled leader Hosni Mubarak's rule look relatively benign.
Nonetheless, militant soccer fans pose enough of a continued threat to prevent the government from fully lifting the ban on spectators attending soccer matches that has been in place for much of the last eight years. The government recently agreed to allow a meagre 5,000 fans per match.
The ban was initially imposed when the popular revolt erupted in 2011 but was lifted once Mr. Mubarak was forced to resign after 30 years in office. It was reintroduced and has been in force uninterrupted since February 2012 when 72 supporters of storied Cairo club Al Ahli were killed in stampede in a Port Said stadium in what many believe was an attempt by the military and law enforcement to cut the ultras down to size that got out of hand.
"No one is excited that the fans are back. People went to the stadiums because of the atmosphere created by ultras – Egyptian football has died with the banning of ultras," said one of the founding members of Ultras White Nights, the militant support group of Al Ahli arch rival Al Zamalek.
Among Egypt's estimated 60,000 political prisoners are scores of militant supporters of soccer clubs who were not only prominent in the 2011 uprising but also in subsequent anti-government demonstrations.
The student protests against Mr. Al-Sisi's coup, that turned the country's universities into security fortresses, were brutally squashed by law enforcement forces abetted by the adoption of a draconic anti-protest law, tight control of the media, and a crackdown on non-governmental organizations.
The Ultras White Nights and their Al Ahli counterpart, Ultras Ahlawi, officially dissolved themselves in 2018 in a bid to ensure the safety of their members. With continued Ultras White Knights activity on social media, where both groups have/had huge followings, the dissolution was widely seen as tactical and a sign of goodwill.
"We are tired of going around police stations and prisons looking for our comrades. We want things to quieten down with the government, see the detainees go free and the crackdown end," said former Ultras leader Mohammed Saheel.
"The Ultras are desperate and don't see a bright future. They hope for a reconciliation with the regime to get their fellow members out of prison," added journalist and soccer fan Mahmoud Mostafa.
The decision to dissolve came in the wake of a statement by the ultras that appealed to Mr. Al-Sisi to initiate a dialogue between the fans and police to iron out their differences. The called for the pardoning of detained militant fans.
The peace offering was a far cry from the ultras' heyday. To the founders of various groups of ultras in Egypt and elsewhere in the Middle East, the battle for the stadia in the years prior to the 2011 revolts constituted a struggle for public space in a country governed by a regime that tolerated no uncontrolled public spaces.
The ultras constituted the only group that was willing to not only challenge government control of public space but also to put their lives on the line in staking their claim. They derived their title to the stadium from their analysis of the power structure of the sport that positioned ultras as the only true supporters of the club as opposed to a corrupt management that was a pawn of the regime and players who were mercenaries who played for the highest bidder.
That was what attracted thousands of young, under‐educated and un- or under-employed men who joined the ranks of the ultras because the fans were the only organized group that persistently and physically stood up to corrupt and brutal security forces who made their lives difficult in the stadia as well as in the neighbourhoods where they lived.
Members of the ultras and people close to them caution that the Al- Sisi government's apparent success in whipping the ultras into submission may be temporary.
Many believe that "nothing will happen. Standing up to the regime amounts to suicide. The question is how long that perception will last… Things will eventually burst. When and where nobody knows. But the writing is on the wall," said a source close to the ultras.
Added a founder of one Egypt's original ultras groups: "This is a new generation. It's a generation that can't be controlled. They don't read. They believe in action and experience. They have balls. When the opportunity arises, they will do something bigger than we ever did."
This article is an edited version of a German-language chapter in a book to be published in conjunction with the Macht der Masse – 4e Halbzeit (Power of the Mass – 4th Intermission at the Ludwig Forum Aachen in Germany
The fallacy of soccer's magical bridge-building qualities
Imagining himself as a peacemaker in a conflict-ridden part of the world, FIFA President Gianni Infantino sees a 2022 World Cup shared by Qatar with its Gulf detractors, the United Arab Emirates and Saudi Arabia, as the magic wand that would turn bitter foes into brothers.
It may be a nice idea, but it is grounded in the fiction that soccer can play an independent role in bringing nations together or developing national identity.
The fiction is that soccer has the potential to be a driver of events, that it can spark or shape developments. It is also the fiction that sports in general and soccer in particular has the power to build bridges.
Mr. Infantino's assertion that if foes play soccer, bridges are built is but the latest iteration of a long-standing myth.
Nothing could be further from the truth. Soccer is an aggressive sport. It is about conquering the other half of a pitch. It evokes passions and allegiances that are tribal in nature and that more often than not divide rather than unite.
In conflict situations, soccer tends to provide an additional battlefield. Examples abound.
The 2022 World Cup; this year's Qatari Asian Cup victory against the backdrop of the Gulf state's rift with the United Arab Emirates, Saudi Arabia, Bahrain and Egypt; the imprint the Palestinian-Israeli conflict puts on the two nations' soccer; or the rise of racist, discriminatory attitudes among fans in Europe.
The Bad Blue Boys, hardcore fans of Dinamo Zagreb's hardcore fans, light candles each May and lay wreaths at a monument to their comrades who were killed in the Yugoslav wars in the 1990s. They mark the anniversary of a riot during the 1990 match against Serbia's Red Star Belgrade, their club's most controversial match, as the first clash in the wars that erupted a year later and sparked the collapse of former Yugoslavia.
Fact of the matter is that sports like ping pong in Richard Nixon's 1972 rapprochement with China or the improvement of ties between North and South Korea in the most recent Summer Olympics served as a useful tool, not a driver of events.
Sports is a useful tool in an environment in which key political players seek to build bridges and narrow differences.
The impact of soccer in the absence of a conducive environment created by political not sports players, is at best temporary relief, a blip on an otherwise bleak landscape.
The proof is in the pudding. Legend has it that British and German soldiers played soccer in no-man's lands on Christmas Day in 2014, only to return to fighting World War One for another four years. Millions died in the war.
Similarly, Kurds, Sunnis and Shiites poured into the streets of Iraqi cities hugging each other in celebration of Iraq's winning in 2007 of the Asia Cup at the height of the country's sectarian violence only to return to killing each other a day later.
Soccer's ability to shape or cement national identity is no different. In other words. football can be a rallying point for national identity but only if there is an environment that is conducive.
The problem is that soccer and the formation of national identity have one complicating trait in common: both often involve opposition to the other.
That is nowhere truer than in the Middle East and North Africa where soccer has played and plays an important role in identity formation since it was first introduced to the region in the late 19th and early 20th century.
Qatar has been in some ways the exception that proves the rule by plotting its sports strategy not only as a soft power tool or a pillar of public health policy but also as a component of national identity. That element has been strengthened by the rift in the Gulf and bolstered by this year's Asian Cup victory.
Qatar's efforts to strengthen its national identity benefits from the fact that the Gulf state no longer operates on the notion that Gulf states have to hang together. Today its hanging on its own in a conflict with three of its neighbours.
Soccer's role in identity formation in the Middle East and North Africa was often because it was a battlefield, a battlefield for identity that was part of larger political struggles.
Clubs were often formed for that very reason. Attitudes towards the country's monarchy in the early 20th century loomed large in the founding of Egypt's Al Ahli SC and Al Zamalek SC, two of the Middle East and North Africa's most storied clubs.
Clubs in Algeria were established as part of the anti-colonial struggle against the French. Ottoman and Iranian rulers used sports and soccer to foster national identity and take a first step towards incorporating youth in the development of a modern defense force.
Zionists saw sports and soccer as an important way of developing the New Jew, the muscular Jew. To Palestinians, it was a tool in their opposition to Zionist immigration. And finally, soccer was important in the shaping of ethnic or sub-national identities among Berbers, Kurds, East Bank Jordanians and Jordanian Palestinians.
In other words, soccer was inclusive in the sense of contributing to the formation of a collective identity. But it was also divisive because that identity was at the same time exclusionary and opposed to an other.
The long and short of this is that soccer is malleable. Its impact and fallout depend on forces beyond its control. Soccer is dependent on the environment shaped by political and social forces. It is a tool that is agnostic to purpose, not a driver or an independent actor.
Edited remarks at Brookings seminar in Doha: Lessons from the 2019 Asian Cup: Sports, Globalization, and Politics in the Arab World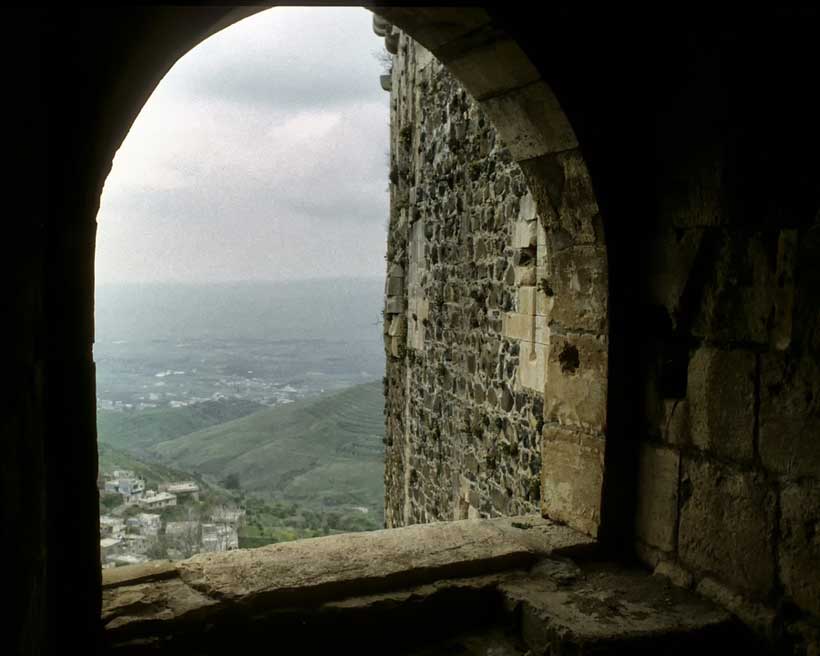 The Middle Eastern land has a diverse blend of history with conflicts and developments in knowledge. Where on one hand Baghdad was considered as the realm of knowledge on the other hand Constantinople was a symbol of power and domination. But now it seems that all has been shattered completely with conflicts.
The Middle Eastern landscape is facing its worst time ever: a phase of instability and misery. The oil ridden land is now becoming conflict ridden, from Euphrates to Persian Gulf; every inch seems to be blood stained nowadays. The region became more like a chess board where kings are not kings but pawns and with each move someone is getting close to checkmate.
Starting from the spring which brought autumn in the Middle Eastern environment, now the curse is on Assyrian land where blood is being spilled, screams have took over the skies. The multi facet conflict has caused more than 400,000 deaths and 5 million seeking refuge abroad whereas 6 million displaced internally.
What began with a mere peaceful civil uprising, has now become a world stage with multiplayers on it. Tehran and Moscow are playing their own mantra by showing romance with Assad while Washington has its own way of gambling with kings in their hand. Involvement of catchy caliphate from 2014 is worsening the complexities of the Syrian saga. The deck is getting hot and becoming more and more mess, chemical strikes, tomahawk show, carpet bombing, stealth jets and many more, Syrian lands is now a market to sell the products exhibiting fine examples of military industrial complex. While to some, Syrian stage seems to be a mere regional proxy war, in reality it seems like a black hole taking whole region into its curse. One by one every inch of the country is turned into altar as the consequence of war. A country is now ripped into different territories with different claimants, but the question still remains as "Syria belongs to whom?"
The saga of Syrian dusk has its long roots in past and with each passing moment it is becoming a spiral of destruction. What is being witnessed in current scenario is just a glimpse of that spiral. It has already winded the region into it and if not resolve properly and maturely it can spread like a contagious disease that can take whole Middle East into its chakra.
With recent development in Iran nuclear deal which left whole world into shock; and house of Sauds forming strong bond with western power brokers and Israel, to counter Tehran (because kings of holy desert have so much engraved hatred towards shiaits, that they prefer to shake hands with Jews and establish an unholy alliance) is making matters worse. This all has the potential to push the region into further more sectarian rifts. With Syrian stage already set. The delicacy of the situation is not secluded from the palette of the world.
Despite the condemnations from across the globe, humanitarian watch remains blind and failed to address the issues in Syria leaving Syrians in long lasting agony and despair The symphony of pain and suffering continues in the Middle Eastern region while world watches like a vicious sadist, the region becomes a playground for major powers as 'Uncle Sam" has their own interests in engaging, Kremlin have their own concerns same goes for every single actor who is party to the conflict.
The panacea to the Arabian pain is simple "a sincere determined approach" to the disease. Even if every party with draws from the conflict the situation can get worse due to the generated power vacuum and can make Syria a replica of Iraq. The Syrian grieve needs to be addressed through proper management skills, if not the curse is upon whole region.
The battle for leadership of the Muslim world: Turkey plants its flag in Christchurch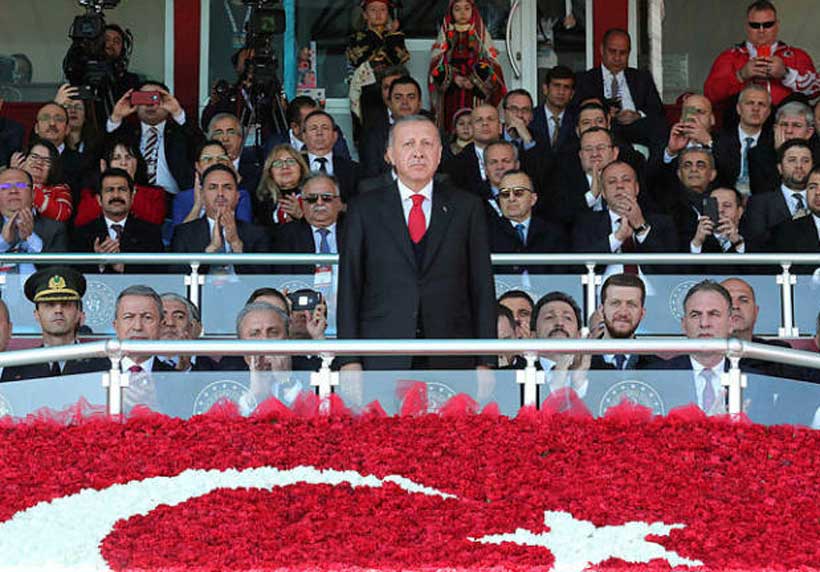 When Turkish vice-president Fuat Oktay and foreign minister Mevlut Cavusoglu became this weekend the first high-level foreign government delegation to travel to Christchurch they were doing more than expressing solidarity with New Zealand's grieving Muslim community.
Messrs. Oktay and Cavusoglu were planting Turkey's flag far and wide in a global effort to expand beyond the Turkic and former Ottoman world support for President Recep Tayyip Erdogan's style of religiously-packaged authoritarian rule, a marriage of Islam and Turkish nationalism.
Showing footage of the rampage in Christchurch at a rally in advance of March 31 local elections, Mr. Erdogan declared that "there is a benefit in watching this on the screen. Remnants of the Crusaders cannot prevent Turkey's rise."
Mr. Erdogan went on to say that "we have been here for 1,000 years and God willing we will be until doomsday. You will not be able to make Istanbul Constantinople. Your ancestors came and saw that we were here. Some of them returned on foot and some returned in coffins. If you come with the same intent, we will be waiting for you too."
Mr. Erdogan was responding to an assertion by Brenton Tarrant, the white supremacist perpetrator of the Christchurch attacks in which 49 people were killed in two mosques, that Turks were "ethnic soldiers currently occupying Europe."
Messrs. Oktay and Cavusoglu's visit, two days after the attacks, is one more facet of a Turkish campaign that employs religious as well as traditional diplomatic tools.
The campaign aims to establish Turkey as a leader of the Muslim world in competition with Saudi Arabia, the United Arab Emirates, and to a lesser degree Morocco.
As part of the campaign, Turkey has positioned itself as a cheerleader for Muslim causes such as Jerusalem and the Rohingya at a moment that Saudi Arabia, the UAE and other Muslim nations are taking a step back.
Although cautious not to rupture relations with Beijing, Turkey has also breached the wall of silence maintained by the vast majority of Muslim countries by speaking out against China's brutal crackdown on Turkic Muslims in the troubled north-western province of Xinjiang.
Mr. Erdogan's religious and traditional diplomatic effort has seen Turkey build grand mosques and/or cultural centres across the globe in the United States, the Caribbean, Europe, Africa and Asia, finance religious education and restore Ottoman heritage sites.
It has pressured governments in Africa and Asia to hand over schools operated by the Hizmet movement led by exiled preacher Fethullah Gulen. Mr. Erdogan holds Mr. Gulen responsible for the failed military coup in Turkey in 2016.
On the diplomatic front, Turkey has in recent years opened at least 26 embassies in Africa, expanded the Turkish Airlines network to 55 destinations in Africa, established military bases in Somalia and Qatar, and negotiated a long-term lease for Sudan's Suakin Island in the Red Sea.
The Turkish religious campaign takes a leaf out of Saudi Arabia's four decade long, USD 100 billion effort to globally propagate ultra-conservative Sunni Islam.
Like the Saudis, Turkey's Directorate of Religious Affairs (Diyanet) provides services to Muslim communities, organizes pilgrimages to Mecca, trains religious personnel, publishes religious literature, translates the Qur'an into local languages and funds students from across the world to study Islam at Turkish institutions.
Turkish Muslim NGOs provide humanitarian assistance in former parts of the Ottoman empire, the Middle East and Africa much like the Saudi-led World Muslim League and other Saudi governmental -non-governmental organizations, many of which have been shut down since the 9/11 attacks on New York and Washington.
Saudi Arabia, since the rise of crown prince Mohammed bin Salman in 2015, has significantly reduced global funding for ultra-conservatism.
Nonetheless, Turkey is at loggerheads with Saudi Arabia as well as the UAE over the killing of journalist Jamal Khashoggi; Turkish support for Qatar in its dispute with the Saudis and Emiratis; differences over Libya, Syria and the Kurds; and Ankara's activist foreign policy. Turkey is seeking to position itself as an Islamic alternative.
Decades of Saudi funding has left the kingdom's imprint on the global Muslim community. Yet, Turkey's current struggles with Saudi Arabia are more geopolitical than ideological.
While Turkey competes geopolitically with the UAE in the Horn of Africa, Libya and Syria, ideologically the two countries' rivalry is between the UAE's effort to establish itself as a centre of a quietist, apolitical Islam as opposed to Turkey's activist approach and its support for the Muslim Brotherhood.
In contrast to Saudi Arabia that adheres to Wahhabism, an austere ultra-conservative interpretation of the faith, the UAE projects itself and its religiosity as far more modern, tolerant and forward looking.
The UAE's projection goes beyond Prince Mohammed's attempt to shave off the raw edges of Wahhabism in an attempt to present himself as a proponent of what he has termed moderate Islam.
The UAE scored a significant success with the first ever papal visit in February by Pope Francis I during which he signed a Document on Human Fraternity with Sheikh Ahmad al-Tayeb, the grand imam of Egypt's Al-Azhar, the revered 1,000-year-old seat of Sunni Muslim learning.
The signing was the result of UAE-funded efforts of Egyptian general-turned-president Abdel Fattah Al-Sisi to depoliticize Islam and gain control of Al Azhar that Sheikh Al-Tayeb resisted despite supporting Mr. Al-Sisi's 2013 military coup.
To enhance its influence within Al Azhar and counter that of Saudi Araba, the UAE has funded Egyptian universities and hospitals and has encouraged Al Azhar to open a branch in the UAE.
The UAE effort paid off when the pope, in a public address, thanked Egyptian judge Mohamed Abdel Salam, an advisor to Sheikh Al-Tayeb who is believed to be close to both the Emiratis and Mr. Al-Sisi, for drafting the declaration.
"Abdel Salam enabled Al-Sisi to outmanoeuvre Al Azhar in the struggle for reform," said an influential activist.
The Turkey-UAE rivalry has spilt from the geopolitical and ideological into competing versions of Islamic history.
Turkey last year renamed the street on which the UAE embassy in Ankara is located after an Ottoman general that was at the centre of a Twitter spat between Mr. Erdogan and UAE foreign minister Abdullah bin Zayed al-Nahyan..
Mr. Erdogan responded angrily to the tweet that accused Fahreddin Pasha, who defended the holy city of Medina against the British in the early 20th century, of abusing the local Arab population and stealing their property as well as sacred relics from the Prophet Muhammad's tomb,. The tweet described the general as one of Mr. Erdogan's ancestors.
"When my ancestors were defending Medina, you impudent (man), where were yours? Some impertinent man sinks low and goes as far as accusing our ancestors of thievery. What spoiled this man? He was spoiled by oil, by the money he has," Mr. Erdogan retorted, referring to Mr. Al-Nahyan.