Government Inaction While Reports Signal a Climate Crisis
In the wake of climate-fueled disasters and several alarming reports on climate change, a gap is evident — a gap between how the world is responding to the climate crisis and how it should.
A new study appearing in Nature Climate Change (Feb. 25, 2019) examined three sets of satellite data using three teams of scientists. The scientists' findings now have a five-sigma level of confidence that climate change has anthropogenic cause; labeled a statistical "gold standard" it means a one-in-a-million chance of error. Having proved conclusively that human activities are responsible, they hope their work will spur change. There is now plenty of new and accumulated evidence of global warming, and of human involvement.
Heat trapping gases concentrating in the atmosphere cause an energy imbalance manipulated in a warming earth. About 93% of this heat is accumulated in the oceans. The rising ocean heat content (OHC) becomes a record of global warming. New research based on OHC observations over time shows a disturbing acceleration in ocean warming. Without proactive measures to reduce global warming, the report demonstrates an increasing rate at which oceans warm for each scenario it simulated. It warns of major global impacts such as a sea level rise of 30cm by 2100, unprecedented severe weather events, and coastal flooding.
Overall temperature in the oceans is now the highest since record-keeping began. Moreover, ocean levels are already 7cms (about 3 inches) higher than in the 1990s (keyfinding 1), human-caused climate change being a major culprit. The rise appears to be accelerating, now at the rate of 3.9 millimeters a year or about an inch in 6 years.
Coastal land loss from flooding is no longer just a problem faced by The Maldives in the Indian Ocean, or Pacific Islands like Kiribati. Low-lying coastal cities in the US have begun to flood at high-tide. This nuisance tidal flooding is expected to increase 5 to 10 fold (keyfinding 4).
Tell-tale signs of the exacerbation of weather events are already here: Hurricanes intensify quickly and then move slowly shedding unprecedented amounts of rain. It happened with Harvey over Houston in 2017, and with Florence over North Carolina in 2018. What might come as a surprise is the fact that half of the world's annual rainfall and snow pelts us on the 12 wettest days of the year and by century's end the same amount of precipitation will occur in 11 days. So reported scientists last November. A warming atmosphere means it can hold more moisture; thus more intense deluges will further test the ability of the soil to absorb the water leading to an increased likelihood of worse flooding.
Changing weather patterns also have other consequences. In California, large fires now burn twice the area they did 50 years ago, and are expected to triple that by 2050. Future projections point to both bigger fires and a longer fire season. And then who would have expected a heat wave in Canada to kill more than 90 people in 2018? It is not alone. The UK suffered debilitating summer heat in 2018 and 2017, and a heat wave hit southern Europe in 2018 where Portugal and Greece were also hit by wildfires.
The same is true in the Southern Hemisphere, where Australia suffered an intense heat wave in January, while its wildfire season now starts earlier, is longer, and is more devastating. Experts confirm these effects to be long term in a new joint report: The climate has warmed 1C since 1910; the sea levels around the country are rising; stream flow patterns in the country are changing; and rainfall has decreased except in Northern Australia. "Australia is experiencing climate change now …" is the blunt appraisal from the director of the climate science center at the Commonwealth Scientific and Industrial Research Organization (CSIRO) which issued the report jointly with the Bureau of Meteorology.
The U.S. 'National Climate Assessment' last November did not mince words when it reported, "The evidence of human-caused climate change is overwhelming … the impacts of climate change are intensifying across the country." The report is mandated by Congress and affirmed by science agencies of the government. President Trump, who religiously opposes climate change believing it to be a natural phenomenon that will reverse itself also naturally, had a brief response: "I do not believe it." About the report's estimated economic impacts, Sarah Sanders, his press secretary, claimed the report was "not based on facts." The "facts" on which the Trump administration reached its conclusions have not been released.
Sadly their indifference is not harmless because when the US changes tack on climate action, it gives other countries leeway to do the same. China has slackened and Brazil's newly elected president, Jair Bolsonaro has promised to open more of the Amazon rain forest for development reversing its CO2 capture into more CO2 emission. CO2 happens to be the most sensitive gas to the heat radiation wavelengths reflected back from earth, sending more back to earth.
All this at a time when the UN sponsored Intergovernmental Panel on Climate Change released its latest report last October setting off alarms. Comprising the work of hundreds of the world's leading climate scientists, it predicts a grim future and a narrowing window of action. Labeled the 1.5C report, it looks at a 1.5 degree Celsius rise in mean global temperature from preindustrial levels. We are already experiencing the effects of being 1 degree above, and according to the report should reach the 1.5C level by 2030 to 2052. It leaves a 12-year window to act before the process becomes self-sustaining and uncontrollable.
Even at 1.5C above, 70-90 percent of the world's sea corals would be lost; the Arctic sea ice in fast retreat threatening polar bears and raising sea levels; and with higher ocean temperatures worse severe storms, rain and flooding. A safer move would be to start removing CO2 from the atmosphere, perhaps even now. Certainly the Paris agreement, holding temperature increase to 2C, is no longer a viable alternative if we do not wish to leave behind a raging planet to our children and grandchildren.
Carbon capture from the atmosphere is difficult and expensive. Climeworks, a Swiss startup has a pilot project outside Reykjavik, Iceland, removing 50 tons of CO2 a year. For perspective, about a trillion tons are expected to be emitted by 2100, while researchers limit the potential for direct air capture (DACCS) at the most to 5 billion tons per year or about a quarter of the emissions. The cost also is high at $100 to $300 per ton, and it requires considerable energy usage — a 300 to 500 Megawatt power plant to remove a million tons annually reports Scientific American (January 2019).
Another alternative might be to remove it at the source. That means at power stations and factories, and there are claims of new and more affordable processes offering hope. However, most carbon emission comes from transportation, and it points to a future of electric cars using electricity from CO2 scrubbed power stations.
That is also the thesis of Greg Ballard's newly released book, "Less Oil or More Caskets." The book's title refers to the human and military cost of protecting the free flow of oil. A former Marine Lt. Colonel and two-term Republican mayor of Indianapolis, he is a long-term advocate of electric cars and rapid-transit electric buses, the latter underway in Indianapolis. He even managed to secure federal grants despite Trump's opposition, proving both that Trump is not unassailable and some Republicans are seeing the light.
It only goes to prove, Trump is not unassailable. Neither is climate change although the window to act narrows by the day … provided there is the wherewithal to shape the necessary and urgent changes in public policy, and the public pressure to force Trump's hand. That he eventually caved on the shutdown shows it's possible.
Greta Thunberg a 16-year old Swedish schoolgirl's decided to stop attending school on Fridays and picket her parliament to draw attention to climate change. She followed up with an address to COP24 in 2018 and the World Economic Forum in Davos this year galvanizing a student protest movement in Europe demanding action on climate change. Led mostly by girls, it has led to school strikes by tens of thousands of young students across Europe, and now they have called for a day of unified global action on March 15. In addition to a March 15 strike in the US, continuing protests as in Europe are urgently needed to support the girls.
Prevailing Plastic Pollution in Pakistan
In recent times our globe has trodden the path of development and advancement by leaps and bounds. This advancement and progress have taken place up to such extent that a lower class citizen finds himself besieged by multiple machines in his small home. The excess services of the technology have taken the world by storm because it has facilitated humanity with astonishing services. Advancement in technology has a direct link with that of globalization. With the advancement in globalization, the trends of people have altered their preferences. During the last decade, there is a glaring rise in the trends of shopping. The drifts of globalization with capitalism have enticed people to widen their demands. And obviously, one can witness that even a beggar seems to purchase some eatable or aught. With the augmentation in the trends of business and purchasing, there is rampant use of plastic bags and plastic commodities. But this wonder of plastic got a little out of hand.
However, in this technological, globalized, and capitalistic era, our biodiversity with worth trillion dollars is on a perilous verge. Overuse of technological accessories, industrialization, mobilization, and globalization from one perspective have posed a threat to our ecosystem. The one darkest commodity of this globalized and technologically sophisticated world is the menace of plastic. Yes, during these times when the advantages of technology and globalization are getting much publicity, they have posed threat on either side as well. Plastic is one of these perils and has saturated our environment. The invention of this commodity has completely invaded our lives. During these times, everything is at least partly fabricated from plastic. Our clothes, items of furniture, houses, bags, and several items that surround us possess a specific share of plastic in them. In short, our lives are turning into plastic.
Plastic is the biggest threat to biodiversity. The question that arises why it is a threat to the environment? The answer is obvious that plastic is non-biodegradable (not able to be decomposed). The plastic bags that we see on shopping centers usually take 10-100 years to decompose and normal plastic products take 450 years to decompose. According to the report, the world is currently producing nearly 300 million tons of plastic each year. Now imagine for a moment that such a prolific quantity of plastic that is being produced every year, how long it will take to decompose? Centuries of course.
Another question that rears is the plastic that has produced till date, created the perplexity up to which extent? The answer is that it has wreaked havoc in the environment. Particularly, it has harmed marine life. Since heaps of garbage are dumped into the sea, so that refuse involves plastic in it. As seafood is an important source of protein; pollution and damage propagated by plastic are immeasurable. Over 600 marine species are being harmed by plastic pollution every day. Aforementioned that plastic takes many years to decompose, so marine animals can't digest it. When they ingest plastic bags, gills are wrapped by the plastic bags. In this way, suffocation occurs which leads them to death. Their death brings about further pollution to the sea. By this mean, we are squandering our sea boon.
The issue doesn't end here, the life on the earth crust and in the atmosphere is also not safe from this menace. Many people inhabited in small towns and village burn plastic, in order to annihilate. The burning of plastic causes damage to the atmosphere as plastic comprises poisonous chemicals. The polluted air when inhaled by humans and animals affect their health and can cause respiratory problems. Likewise, when plastic is dumped in landfills, it interacts with water and forms hazardous chemicals. When these chemicals seep underground, they degrade the water quality. In these ways, plastic is damaging our globe.
Following analyzing the downside of plastic, the next question inevitably dominates the thinking that how much the government of Pakistan is serious to sort out this issue. The answer to this question is the government is iota interested in this matter. Almost eight months have passed yet the government seems uninterested in this matter. Around 55 billion plastic bags are being used annually in Pakistan. In my city or district, I see at every outlet the plastic bags hung. Every customer carries the eatable or necessity item in the plastic bag. There is no observance of the ban on the use of the plastic bag. On the contrary, many European countries have devised plans and passed the rules against the use of plastic bags. The incumbent government is just good at reprimanding the previous governments. Pakistan is among the top 10 polluted countries and doubtlessly plastic pollution is responsible for bringing at status quo. The government should impose a ban on plastic bag manufacturing factories. Also, it should abbreviate the use of plastic commodities.
Multiple convenient solutions have been proposed in combating plastic pollution. Switching to reusable bags would help a lot in reducing plastic pollution. Organic cotton grocery bags, canvas market bags, and, grab bags are the best alternatives to plastic bags. In 2016, after consuming five years searching through piles of waste, Japanese researchers found a strain of bacteria that naturally grew to eat away at polyethylene terephthalate, which is common plastic and known as polyester. This bacteria is known as Mutant Enzyme. The know-how of the proper way to recycle common plastics is necessary, can also do wonders. Arranging awareness seminars on the detrimental effects of plastic is yet another effective way.
Despite many proposed and effective solutions above the incumbent government is tethered to combat the menace of plastic. The government should be mindful that if we keep going on this trajectory, there will be more plastic than fish by 2050. The government, the NGO's, social welfare organization, civil societies, and we as the unit should join hands together to fight that perilous issue lest it should late.
India advances ground-breaking plan to keep planet and people cool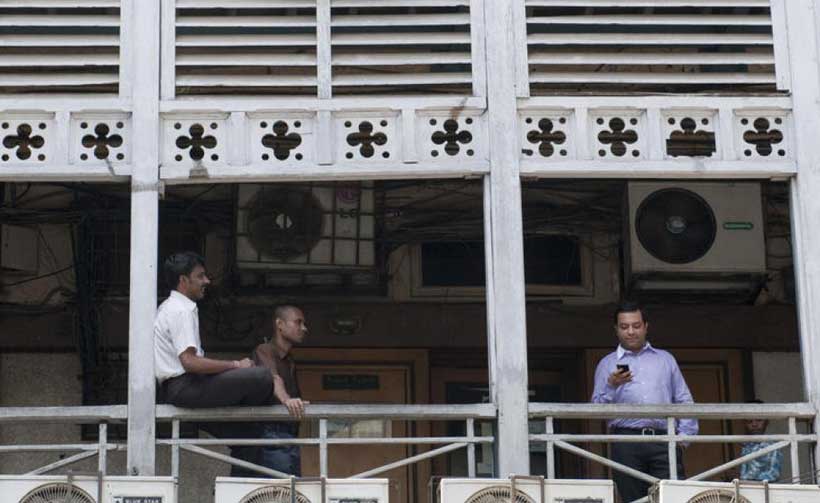 India's new comprehensive Cooling Action Plan targets an increase in sustainable cooling for the good of its population, while helping to fight climate change
Four years after temperatures hit the high forties in India, claiming over 2,000 lives, parts of the country are again baking in intense, and deadly, heatwaves. Throughout April and into May, the states of Madhya Pradesh, Maharashtra and Rajasthan have seen daily highs of 42°C.
As climate change increases, such temperatures are becoming the new normal. Combined with economic growth and urbanization, this brings a huge growth in cooling demand. The number of air conditioners in India is expected to rise from 15 million in 2011 to 240 million in 2030.
Cooling isn't just about protecting against extreme temperatures. A recent study from the UN's Sustainable Energy for All initiative puts India in the top nine countries at greatest risk from lack of access to cooling technology that also keeps food fresh, vaccines stable and children in education.
To give just a few examples, a quarter of vaccines in India arrive damaged because of broken or inefficient cold chains, while only four per cent of fresh produce is transported in refrigerated vehicles, leading to economic losses of US$4.5 billion annually.
Aware of these worrying statistics, the government launched earlier this year the India Cooling Action Plan, the first such holistic plan from any national government.
"Cooling is a developmental need, yet India has one of the lowest levels of access in the world," says CK Mishra, Secretary at the Ministry for Environment, Forest and Climate Change. "To support economic growth and improve resilience, it is inevitable that India will embrace cooling.
"By accelerating and integrating policies, regulations, workforce training and research and development, this plan mobilizes government, industry and society to ensure thermal comfort for all while keeping to our international environmental commitments and not burdening ourselves with inefficient, expensive infrastructure and an overstretched power grid.
"The plan recognizes the significant role of accelerated action on building and appliance efficiency, and the economic and environmental benefits of new technologies such as thermal storage and district cooling."
Energy efficiency a key approach
By 2038, the plan aims to reduce cooling demand by up to 25 per cent, refrigerant demand by 25–30 per cent and cooling energy requirements by up to 40 per cent. It aims to double farmers' incomes by improving the cold chain and so wasting less food.
These are big goals, but experts believe India's plan is sensible and achievable.
"Living in India you quickly understand the importance of keeping cool for your health and day-to-day functioning," says Benjamin Hickman, a UN Environment technical advisor based in India. "This plan acknowledges head-on that Indian cooling demand will grow eightfold in 20 years and recommends a myriad of cross-cutting solutions that urgently need to be implemented and scaled up."
Crucially, the plan also aligns India's cooling growth with the Kigali Amendment to the Montreal Protocol. This international agreement obliges nations to phase down the use of hydrofluorocarbons (HFCs)—refrigerants that are thousands of times more potent greenhouse gases than carbon dioxide.
Globally, the agreement can deliver up to 0.4°C of avoided warming by the end of this century just by phasing out hydrofluorocarbons. Simultaneously improving the energy efficiency of cooling equipment could double the benefits. According to a study by the Lawrence Berkley National Laboratory, such energy efficiency improvements can benefit India. If the average room air conditioner efficiency improves by six per cent per year, more than 64 TWh per year of energy could be saved by 2030. This would cut greenhouse gas emissions, protect cities' power infrastructure from overload, and bring cumulative consumer benefits of up to US$25 billion.
Prioritizing new cooling solutions
The plan doesn't just look at efficiency. It prioritizes other solutions, such as passive cooling, building design, fans and coolers, new technologies and behavioural change. Among the new technologies is district cooling—the distribution of cooling energy from a central plant to multiple buildings.
The Ministry of Environment, Forests and Climate Change is co-chair of the UN Environment-led District Energy in Cities Initiative, which is working with three pilot cities—Amaravati, Rajkot and Thane – in India to demonstrate these technologies. Three quarters of the buildings required for 2030 have yet to be built, so there is a huge opportunity for new urban developments to use district cooling, which can be up to 50 per cent more efficient than stand-alone solutions.
"UN Environment praises India's leadership in being the first country to adopt a comprehensive plan for the cooling sector," says Atul Bagai, Head of UN Environment's India Country Office. "Singling cooling out is vital to scaling up and targeting action on what has for years been a silently growing environmental catastrophe, and India's Cooling Action Plan should set the benchmark for other countries to follow. UN Environment stands ready to support India to achieve and surpass its targets."
Last month, UN Environment, the Climate and Clean Air Coalition, the Kigali Cooling Efficiency Program, and Sustainable Energy for All launched the Cool Coalition. The coalition is a unified front that links action across the Kigali Amendment, Paris Agreement and Sustainable Development Goals. It will inspire ambition, identify solutions and mobilize action to accelerate progress towards clean and efficient cooling.
These kinds of actions provide hope that we can help keep everyone, and the planet, cool.
Just One-Third of the World's Longest Rivers Remain Free-Flowing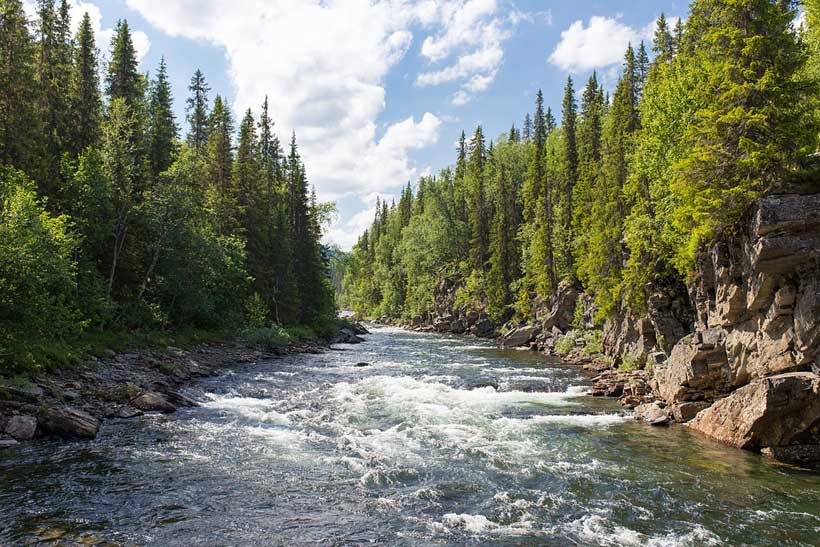 Just over one-third (37%) of the world's 246 longest rivers remain free-flowing, according to a new study published in the scientific journal Nature. Dams and reservoirs are drastically reducing the diverse benefits that healthy rivers provide to people and nature across the globe.
A team of 34 international researchers from McGill University, World Wildlife Fund (WWF), and other institutions [1] assessed the connectivity status of 12 million kilometers (~7.5 million miles) of rivers worldwide, providing the first ever global assessment of the location and extent of the planet's remaining free-flowing rivers. [2]
Among other findings, the researchers determined only 21 of the world's 91 rivers longer than 1,000 km (~600 miles) that originally flowed to the ocean still retain a direct connection from source to sea. The planet's remaining free-flowing rivers are largely restricted to remote regions of the Arctic, the Amazon Basin, and the Congo Basin.
"The world's rivers form an intricate network with vital links to land, groundwater, and the atmosphere,'' said lead author Günther Grill of McGill's Department of Geography. ''Free-flowing rivers are important for humans and the environment alike, yet economic development around the world is making them increasingly rare. Using satellite imagery and other data, our study examines the extent of these rivers in more detail than ever before."
Dams and reservoirs are the leading contributors to connectivity loss in global rivers. The study estimates there are around 60,000 large dams worldwide, and more than 3,700 hydropower dams are currently planned or under construction. They are often planned and built at the individual project level, making it difficult to assess their real impacts across an entire basin or region.
"Rivers are the lifeblood of our planet," said Michele Thieme, lead freshwater scientist at WWF and global leader of WWF's free-flowing rivers initiative. "They provide diverse benefits that are often overlooked and undervalued. This first-ever map of the world's remaining free-flowing rivers will help decision makers prioritize and protect the full value rivers give to people and nature."
Healthy rivers support freshwater fish stocks that improve food security for hundreds of millions of people, deliver sediment that keeps deltas above rising seas, mitigate the impact of extreme floods and droughts, prevent loss of infrastructure and fields to erosion, and support a wealth of biodiversity. Disrupting rivers' connectivity often diminishes or even eliminates these critical ecosystem services.
Protecting remaining free-flowing rivers is also crucial to saving biodiversity in freshwater systems. Recent analysis of 16,704 populations of wildlife globally showed that populations of freshwater species experienced the most pronounced decline of all vertebrates over the past half-century, falling on average 83 percent since 1970.
The study also notes that climate change will further threaten the health of rivers worldwide. Rising temperatures are already impacting flow patterns, water quality, and biodiversity. Meanwhile, as countries around the world shift to low-carbon economies, hydropower planning and development is accelerating, adding urgency to the need to develop energy systems that minimize overall environmental and social impact.
"Renewable energy is like a recipe – you have to find the right mix of ingredients to have both a sustainable energy grid and a thriving natural world," said Thieme. "While hydropower inevitably has a role to play in the renewable energy landscape, well-planned wind and solar energy can be more viable options for rivers and the communities, cities, and biodiversity that rely on them."
The international community is committed to protect and restore rivers under Agenda 2030 for Sustainable Development, which requires countries to track the extent and condition of water-related ecosystems. This study delivers methods and data necessary for countries to maintain and restore free-flowing rivers around the world.
Visit freeflowingrivers.org for more information on free-flowing rivers and an interactive map of the world's rivers.
[1] Contributing Institutions:
McGill University, WWF-US, WWF-NL, WWF-UK, WWF-Mediterranean, WWF-India, University of Basel, Joint Research Centre (JRC), WWF-China, WWF-Canada, WWF-Zambia, WWF Greater Mekong Programme, The Nature Conservancy, University of Nevada, WWF-Malaysia, IHE Delft, WWF- Germany and HTWG Konstanz, King's College London, Umeå University, Swedish University of Agricultural Sciences, University of Washington, Harvard University, University of Wisconsin-Madison, Conservation International , WWF-Mexico, WWF International, Stanford University, Leibniz-Institute of Freshwater Ecology and Inland Fisheries (IGB), Freie Universität Berlin, WWF-Brazil, Eberhard Karls University of Tübingen.
[2] First ever science-based definition of a free-flowing river:
Rivers where ecosystem functions and services are largely unaffected by changes to fluvial connectivity allowing an unobstructed exchange of water, material, species, and energy within the river system and with surrounding landscapes.