Did Pakistan kowtow to post-Pulwama threats? What to do?
Following Pulwama attack, India's prime minister announced that time to talk to Pakistan was over. Now was the time to teach Pakistan `unforgettable lessons'. Fanatic supporters yelled `there is no purpose served by maintaining an army of 1.3 million if it cannot go to all-out war'.
Options chosen by India
Modi deputed ministries of defence and external affairs to dovetail a cogent response in coordination with other institutions. The options on anvil were: (b) continued effort to isolate Pakistan in comity of nations. Obstructing holding of South Asian Association of Regional countries to hold conference at designated venue, Pakistan. Continual demonstrations by Indians abroad to denounce Pakistan as `nerve centre of terrorism'. (c) Getting Pakistan blacklisted by 37 members Financial Action Task Force. (d) Intensifying insurgency in Balochistan through proxies. (e) Preventing flow of excess water into Pakistan. (e) Military action including surgical strikes and air strikes. India's reaction was like a koota yuddha (all-out war) or maya yuddha (war by stratagems) in Chanakyan's parlance (Arthashastra).
Resulting outcomes and possibilities
India burnt its hotlines to get Pakistan diplomatically isolated and blacklisted by financial-action task force. It was in vain as Pakistan managed to get an extension to escape blacklisting. . Fifty countries, including United Nations' Security Council, denounced Pulwama attack without naming Pakistan or Masood Azhar. Only the USA, in a message, pinpointed Pakistan by name.
Saudi-Pakistan joint statement, at end of Prince Mohammad Bin Suleiman's visit, clearly belies India's expectations. It bears a stamp of approval on Pakistan's narrative that India is trying to `politicise the UN listing process'.
Fanatic Hindus demanded immediate action by India's 1.3 million army. Despite pre-election Hindutva frenzy, Modi remained incapacitated from taking quasi-military action because of Pakistan's Chines Chinese Sh-15 Howitzer (TNW) Guns (American equivalent M-777), besides Nasr missiles. However, standing operating procedure for movement of convoys was amended. Civil traffic will now stay stopped until a convoy has moved on. Military route will be barricaded. Troops could be airlifted airlifted to Srinagar to continue cordon-and-search operations (100 companies already airlifted). Security of Kashmiri leaders was withdrawn ostensibly being unaffordable for the cash-starved disputed state. This step is presumed to be an open invitation to opponents to kill Kashmiri leaders. Special correspondent at prestigious Daily Star newspaper, Pallab Bhattacharya suggested `The final option is to carry out covert operations inside Pakistan to take out high-value human targets such as leaders of terror outfits. This might be the least costly and most optimal strategy. However, this would require a great deal of preparation and might not be domestically useful given the amount of secrecy and lack of optics surrounding'. RAW's chief and author of Spy Chronicles feared removal of security may lead to assassination of Mirwaiz.
To block flow of water to lower riparian (Pakistan), India will have to build 100-meter dams at huge expense in about six years. Immediate obstruction to flow of excess water may inundate the whole of Valley.
India has realized that it is not possible to browbeat Pakistan because of China and Afghan-Taliban cards in Pakistan's hands. Despite completing a dam and initiating work on 11 more dams in Afghanistan, India could not carve out a niche in Taliban's heart. Pakistan's military spokesman warned India that Pakistan too has surprises up its sleeves.
Meanwhile, Kashmir students and traders were attacked or looted throughout India. About 700 students, including girls, fled to Valley. Even holders of PM Modi's merit-based competitive scholarships had to rush back to Valley for safety. Kashmiri journalists in Indian states were roughed up, mercilessly beaten, and told to go back Meghalaya governor officially directed to boycott everything Kashmiri. Some Kashmiris petitioned Supreme Court to intervene. In its order, the Supreme Court promptly directed 10 states and various institutions to take remedial steps.
Media reaction
Saner public opinion in India stressed that it is talks not wars that find durable solutions to conflicts. A newspaper taunted `India wants to retain Kashmir but not Kashmiris'. As a licence to kill, security of Kashmiri politicians have been withdrawn. India wants a replay of Kashmiri leaders (like Abdul Ghani Lone) being killed. Over 100 more CRPF companies have been airlifted to Srinagar to continue cordon-and-search operations, and kill suspects in custody. Renowned writer Barkha Dutt (Outlook India dated February 20, 2019)
Reminisced a sensible local police officer's directive `Bodies of those killed in encounters were to be properly zipped in covers and not paraded. At post-mortems of killed terrorists,
no photographs were to be taken or distributed.' Some retired generals and RAW's former chief AS Daulat cautioned against use of force to settle score with Pakistan. Daulat said, `when it comes to insurgencies worldwide, very rarely has an insurgency been sorted out or solved through force and by the gun'. He reminisced `The British, who dealt with this more than anybody else, had a huge problem in 1950 in Malaya' understood ` need to win the hearts and minds of the people'. Daulat exposed gnawing gaps in India's approach which resulted in Kashmiri's alienation and their drift to `militant' outfits.
Daulat pointed out the Kashmiri is craving for peace. He recalls former Norwegian Prime Minister Kjell Magne Bondevik's visit Mirwaiz Farooq. Mirwaiz conveyed a message through him 'we want peace and we want to talk'.
Humiliation of Kashmiris motivates them to become human missiles. The Pulwama Fedayeen, a schoolboy, was forced to rub his nose on ground while hopping around a military jeep.. Just recall Indian army chief awarded commendation certificate to Major Leetul Gogoi who drove his jeep with a Kashmiri protester, tied to his jeep front.
A Kashmiri newspaper reported `The young generation has also seen the Army mercilessly beating the people of Kashmir for not hoisting Indian flag on their cars, bikes and even bicycles. Such was the grim situation in Kashmir that even selling or buying a pencil battery for your radio or wall clock could land you in trouble since these batteries were also used in the wireless sets. These youth, who you think are radicalised, were raised when militants used to make rounds of the villages laden with AK-47 and Kalashnikovs, seeking shelter and meals. The fear of armed forces undoubtedly loomed around, yet people opened their doors to feed the militants or Mujahids as they call them. The fantasy behind this courtesy was the hope to see their wailing vale liberated. These youth, I may tell you were born coinciding with this agonising period in Kashmir's history'.
Even architect of `surgical strikes' retired Lt. Gen D.S. Hooda (Northern Command) urged New Delhi to avoid such "sad and baseless knee-jerk reactions" .He says, "It is not possible to bring such massive amounts of explosives by infiltrating the border." Pakistan's military spokesman questioned what Indian army was doing at borders for past seventy years.
Even dead bodies are mutilated and photographed. Daulat recalls Kashmir's top policeman, SP Pani, the youngest-ever to hold the post, quietly introduced small changes. He directed `bodies of those killed in encounters be properly zipped in covers and not paraded'. `At post-mortems of killed terrorists, no photographs be taken or distributed. Sometimes, he personally attended to phone calls from angry relatives of militants demanding the body and surprised them with his controlled civility' . Daulat stressed `To smear all Kashmiris —as the Meghalaya Governor has done without any public admonishment from the Modi government — is not just wrong; it only helps Pakistan'.
Why Kashmiris are being radicalized ?
While speaking at a panel discussion (January 9, 2019), Indian army chief admitted ` more and more educated youth being drawn into terrorism' is India's former Chief of the Army Staff Bikram Singh observed `Even some of the well-educated and employed youth have fallen prey … As compared to 131 young people , who joined various terrorist outfits in 2017, the number in 2018 rose to over 200. Some new terrorist outfits, such as ISIS-Kashmir and Ansar Ghazwat-ul-Hind aligned to the Islamic State of Iraq and Syria (ISIS) and Al Qaeda ideologies, have also mushroomed in the past few years….In addition to the ongoing military operations, it will require a coordinated deployment of our political, diplomatic, economic, social, and perception management prowess.
Humiliation coupled with political vacuum and economic deprivation provides the answer.
There is need for understanding mind of a suicide bomber. `Motivation, opportunity and capacity' are sine qua non of any act good or evil. Yet, motivation for killing oneself and several other innocent persons appears to be politically, rather than religiously, motivated.
Holy Quran and ahadith forbid taking one's own life or of other innocent people (even if they are slaves). They Quran says, "And commit not suicide…whoever shall do this maliciously and wrongfully, we will in the end cast him into the fire; for this is easy with God". The ahadith provide penalty of life for life, ear for ear, tooth for tooth, so on. Aside from suicides by healthy Muslim, even killing of terminally ill Muslims by themselves or by others (euthanasia) is not unanimously supported by all jurists. Some outfits equate it with jihad. But, according to ahadith and verses, an individual cannot wage jihad (farzul Ayn), only a country or a government can do so (farzul kifaya).
Professor Robert Pape of University of Chicago based his book, Dying to Win: The Strategic Logic of Suicide Terrorism, argues that `the connection between suicide attacks and religion is exaggerated and that suicide terrorism is "mainly a response to foreign occupation" in Mohammed M. Hafez under chapter `Explanations of Suicide Terrorism' in his book Manufacturing Human Bombs points out `Religious fanaticism is one of the most common explanation of why individuals volunteer to become human bombs (p.9 ibid.). `But despite its intuitive appeal, this explanation is not entirely convincing. Political environment is a crucial determinant of the credibility of their appeals' (p.10 ibid.). The author points out that secular persons and groups have been in the forefront of suicide bombers. They include Popular Front for the Liberation of Palestine, PKK fighting for independence from Turkey, , Al-Aqsa Martyrs' Brigade, besides Japanese kamikaze (hot winds) of World War II. In recent history, suicide attacks began during 1981-83 in Lebanon. A group of five secular groups spearheaded the attacks. Just four months after 58 French troopers and 248 US marines were killed in attack on US Embassy in Beirut, the US troops left Lebanon (S. Alam, Suicide Bomber: Phenomenon, Strategy and Future, p.51). Michael Walzer, in his book Just and Unjust Wars: A Moral Argument with Historical Illustrations argues that those engaged terrorism can be morally justified when a nation or community faces the extreme threat of complete destruction and the only way it can preserve itself is by intentionally targeting non-combatants. Is Pakistan under foreign occupation? India needs to unmask `religiosity' of suicide terrorists. And, balm their political wounds, if any.
India itself created Kashmir problem
While India blames Pakistan for her Kashmir troubles, it is pertinent to recall what India's former defence minister George Fernandes (June 30, 1930 to January 29, 1930) said about Kashmir. I quote from Victoria Schofield on page 293 of her book Kashmir in the Crossfire (IB Taurus, London/New York, 1996.).
`I do not believe that any foreign hand engineered the Kashmir problem', stated George Fernandez in 1990. `The problem was created by us, and if others decided to take advantage of it, I do not believe that one should make that an issue; given the nature of the politics of our subcontinent, such a development was inevitable'. (Source: George Fernandez. 12 October 1990, India's Policies in Kashmir: An Assessment and Discourse, in Thomas, ed. Perspectives of Kashmir.).
Solution lies in India's history
At the time of partition, India was embroiled in many virulent insurgenies: Dravidian South movement, seven angry sisters of North East, Khalistan movement. India overcame the insurgencies through talks with Laldenga, Master Tara Singh, Dr. Phizo and others. It accepted demand for creation of new states. Gradually the incendiary states merged into Indian Union. But, India stands alienated in Kashmir.
A prelude to solution
Now the only solution is to demilitarize the state or make India-Pakistan border softer, as envisaged by its own foreign secretary Jagat S. Mehta in his article 'Resolving Kashmir in the International Context of the 1990s'
Mehta understood that plebiscite was the real solution. As such, his proposals were meant to serve as 'requirements' for the solution, not a solution. Some points of his quasi-solution are
(a) Conversion of the LoC into "a soft border permitting free movement and facilitating free exchanges…" (b) Immediate demilitarisation of the LoC to a depth of five to 10 miles with agreed methods of verifying compliance. (c) Pending final settlement, there must be no continuing insistence by Pakistan "on internationalisation, and for the implementation of a parallel or statewide plebiscite to be imposed under the peacekeeping auspices of the United Nations". (d) Final settlement of the dispute between India and Pakistan can be suspended (kept in a 'cold freeze') for an agreed period. (e) Conducting parallel democratic elections in both Pakistani and Indian sectors of Kashmir. (f) Restoration of an autonomous Kashmiriyat. (g) Pacification of the valley until a political solution is reached. (Voracious readers may see detail of Mehta's proposals in Robert G. Wirsing, India, Pakistan and the Kashmir Dispute (1994, St Martin's Press).
The only way out: resilience and talks between India and Pakistan. If not then wait for divine intervention or a nuclear Armageddon.
Da'esh, affiliates remain 'global and evolving' threat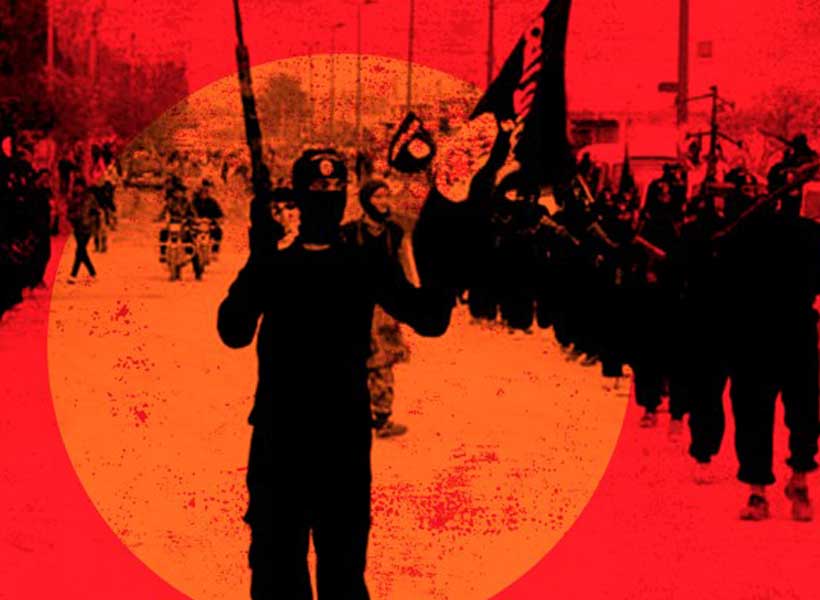 In a joint briefing to the Security Council on Tuesday, UN counterterrorism officials confirmed that the threat posed by Da'esh terrorist fighters and their affiliates remains "global and evolving".
"Da'esh and its affiliates continue to exploit conflict dynamics, governance fragilities and inequality to incite, plan and organize terrorist attacks," said UN counter-terrorism chief Vladimir Voronkov, presenting the Secretary-General's fifteenth report.
They also exploit pandemic restrictions, misuse digital spaces to recruit sympathizers and have "significantly" increased the use of unmanned aerial systems, as reported in northern Iraq.
Decentralized structure, methods
In charting the of the expansion of Da'esh expansion across Iraq, Syria and through areas of Africa that until recently had been largely spared from attacks, Mr. Voronkov attributed their success in part to a decentralized structure focused around a "general directorate of provinces" and associated "offices".
These operate in both Iraq and Syria, as well as outside the core conflict zone – notably in Afghanistan, Somalia and the Lake Chad Basin.
Better understanding and monitoring, including through global and regional cooperation, are vital to counter the threat.
Vulnerabilities across the world
Providing an overview, Mr. Voronkov said that the border between Iraq and Syria remains highly vulnerable, with an estimated 10,000 fighters operating in the area.
In April, the group launched a global campaign to avenge senior leaders killed in counter-terrorism operations.
While the number of attacks claimed or attributed to the local Da'esh affiliate has decreased in Afghanistan, since the Taliban assumed control last year, its presence has expanded into the north-east and east of the country.
In Europe, Da'esh has called on sympathizers to carry out attacks by exploiting the easing of pandemic restrictions and the conflict in Ukraine.
Africa in crosshairs
In Africa, meanwhile, the senior UN official described the expansion of Da'esh across the Central, Southern and Western reaches of the continent.
From Uganda, one affiliate widened its operations into the Democratic Republic of the Congo, while another – after being knocked out by military action in 2021 – intensified small-scale attacks in Mozambique's Cabo Delgado province.
The expansion has even affected littoral countries in the Gulf of Guinea, which had previously been spared from violence.
Managing millions
In terms of financing, Mr. Voronkov said Da'esh leaders manage between $25 to $50 million in assets, significantly less than estimates three years ago.
However, the diversity of both licit and illicit sources underscores the importance of sustained efforts to cut terrorism funding.
While he welcomed recent repatriations by Iraq, Tajikistan and France, he expressed concern that the limited progress achieved so far in repatriating foreign terrorist fighters and their family members is "far overshadowed by the number of individuals still facing a precarious and deteriorating situation".
Calls to repatriate foreign fighters
Tens of thousands of individuals – including more than 27,000 children – from Iraq and some 60 other countries remain subject to enormous security challenges and humanitarian hardship.
The counter-terrorism chief reiterated the Secretary-General's call for Member States to further their efforts in facilitating the safe, voluntary and dignified repatriation of all individuals who remain stuck in camps and other facilities.
"Terrorism does not exist in a vacuum," said Weixiong Chen, Acting Executive Director of the Counter-Terrorism Committee Executive Directorate, which was established in 2001 following the 11 September terrorist attacks in the United States.
Describing gains, he said that the Executive Directorate, which is a special political mission, was able to resume its on-site assessment visits after two years of virtual and hybrid formats brought on by the COVID-19 pandemic.
Among other efforts, his team issued a report synthesizing its extensive consultations with African civil society groups on trends related to ISIL in Africa, as well as a study on the links between counter-terrorism frameworks and international humanitarian law.
In closing, he called for a comprehensive, coordinated "All of UN" approach tailored by age and gender, and human rights compliant as the only way to push back against a global terrorist threat like Da'esh.
War Victim Becomes Hope For Pakistan's Tribal Districts
A 10-Year-old boy Irfan Ullah Jan would walk down the streets of Sadda, Kurram district heading to his school with one simple fantasy: one day he would become something. He aspired to return something back to his loved ones. Sadly, Jan's fantasy didn't remain simple as it seemed to be after a deadly bomb blast. But today, he is giving back a lot more to the once war-torn Tribal districts.
An IED blast ripping through the Awami Bazar, Sadda in Kurram District killed three people on spot, leaving several injured back in July 2011. Among them was Jan, whose legs had to be amputated to rescue his life. It took almost 10 years for him to formulate an organization in the once war-torn Tribal districts of Pakistan called as "FATA Disable Welfare Organization". Till date, he has enrolled thousands of poor disabled students in private schools.
Furthermore, he rendered social services for disables by forming an organization "Kurram Union of Special Persons". This union facilitated disabled children to get their early education without any cost. The union after years of hard work has been matured into FDWO – FATA Disable Welfare Organization. The now chairman of FDWO, Irfan Ullah Jan has successfully assisted hundreds of war victims in getting free access to education. FDWO has rehabilitated more than one thousand disabled persons by providing them with artificial limbs. Philanthropist Mr Jan has reintegrated the disabled persons by arranging community activities like Sports galas. Speaking to us on the support he has been receiving, Irfan Ullah Jan says "FDWO receives charity money from public at large. Pakistan Army has been pivotal in facilitating me to inaugurate rehabilitation center for Special Persons along with an imperative support in educating disabled children of the area. I received "President's Pride of Performance Award" this year for the services FDWO has been providing in the region."
He expresses that "the tribal region has seen worst militancy in the past which includes deaths, economic losses and instability. Apart from these challenges, rehabilitating war victims was the biggest challenge for the government of Pakistan and this was the aim behind the foundation of his organization to rehabilitate and bring normalcy in the region."
The long wave of militancy which effected people economically and socially especially in the tribal districts has now transformed into a wave of rehabilitation. Youth like Irfan Ullah Jan are returning a lot more to the once war-torn Tribal districts.
With Al Qaeda down but not out, killing Zawahiri is symbolic
President Joe Biden was not wrong when he declared that "justice has been served" with the killing of Al Qaeda leader Ayman Zawahiri in a US drone strike.
The problem is that's only half of the truth; the other half is that Mr. Zawahiri was more a has-been than a power to be reckoned with on the jihadist totem pole. In death, he may have scored his most significant achievement since becoming head of Al Qaeda as the symbol of the failure of decades of war in Afghanistan.
Mr. Zawahiri's presence in Kabul in a house owned by Sirajuddin Haqqani, Afghanistan's de facto deputy head of state, will be touted as evidence that Afghanistan has reverted to being a base for terrorist groups. Mr. Haqqani's son and son-in-law are believed to have also died in the drone strike.
In addition, the killing will likely become a partisan issue in domestic US politics, with Republicans pointing to Mr. Biden's bungled withdrawal a year ago of US troops from Afghanistan.
In anticipation of the criticism, Mr. Biden said the killing demonstrated the United States' post-withdrawal ability to protect Americans without "thousands of boots on the ground."
Even so, the withdrawal resulted from a war that the United States and its allies could not win and a fundamentally flawed US-Taliban agreement negotiated by the administration of former President Donald J. Trump that helped the Taliban regain power.
Since succeeding Osama bin Laden after the United States killed him in 2011, Mr. Zawahiri, the man who helped shape Al Qaeda from day one, could not garner the stature of the group's former leader. Nor was he able to impose his will on Al Qaeda franchises in Yemen, Somalia, and elsewhere in Africa.
Researcher Nelly Lahoud argues in a recently published book based on computer files confiscated in the US raid that killed Mr. Bin Laden that Al Qaeda had lost much of its operational capability in the immediate years after the 2001 invasion of Afghanistan.
The Islamic State, the foremost jihadist organization locked into a bitter fight with the Taliban, increasingly overshadowed Al Qaeda, showcasing Mr. Zawahiri's inability to fill Mr. Bin Laden's shoes.
In fact, the Islamic State today poses a greater threat to the United States than Al Qaeda. Equally importantly, the Islamic State also constitutes a more significant threat to Central Asian states like Tajikistan and Uzbekistan, as well as Russia and China.
If Mr. Zawahiri's presence in Kabul raises questions about the Taliban's willingness and determination to prevent militant groups from operating from its territory, repeated Islamic State attacks on domestic Afghan targets, and the firing of rockets into Tajikistan and Uzbekistan call into question the group's ability to do so.
To be sure, granting Al Qaeda leaders shelter does not by definition amount to Taliban acquiescence of the group launching attacks from Afghan soil.
The questions are particularly acute given that Mr. Zawahiri was killed days after the Taliban engaged with representatives of 30 countries at a conference in the Uzbek capital of Tashkent in a bid to unfreeze some US$7 billion in Afghan foreign currency reserves.
Days later, Tashkent hosted foreign ministers of the Shanghai Cooperation Council (SCO), who had Afghanistan high on their agenda. The SCO groups India, Russia, China, Pakistan, Uzbekistan, Kazakhstan, Kyrgyzstan, and Tajikistan.
The Taliban regime has yet to be officially recognized by any country. Countries across geopolitical divides have insisted that the Taliban first demonstrate their willingness and ability to control all of Afghanistan and curtail militant groups.
The international community also required the Taliban to form an inclusive government and ensure women's rights. The Taliban have yet to deliver on any of its promises.
Reporting to the United Nations Security Council in January, UN Special Representative for Afghanistan Deborah Lyons noted that "the existence of numerous terrorist groups in Afghanistan remains a broad international and especially regional concern. The desire of the de facto authorities to take on this threat across the board remains to be convincingly demonstrated."
Ms. Lyons' remarks have seemingly gone unheeded in Kabul. In response to the Islamic State attacks on Tajikistan, home to Russia's largest foreign military base, the Taliban are building a watchtower on the two countries' border with the help of a Tajik group bent on changing the regime in Dushanbe.
Adding insult to injury, graffiti near the tower celebrates Muhammad Sharipov, aka M. Arsalon or Mahdi Arsalon, a Tajik national wanted by authorities for the past eight years on terrorism charges.
During talks last month, Tajik President Emomali Rahmon cautioned his Russian counterpart, Vladimir Putin, against a possible recognition by Moscow of the Taliban regime. Mr. Putin insisted that he would consider Tajik concerns about ethnic minority rights in Afghanistan.
While ethnic minority rights may be a Tajik concern, the opposite may be true for China. China fears that the militant Turkestan Islamic Party (TIP), also known as the East Turkestan Islamic Movement (ETIM), hardened by the war in Syria, may want to use Afghanistan as a launching pad for attacks in retaliation for China's brutal crackdown on the Uyghur Turkic Muslim minority in the northwestern province of Xinjiang.
A United Nations Security Council report said last month that the group had built strongholds in Badakhshan near the Chinese border in northeast Afghanistan, where it had "expanded its area of operations and covertly purchased weapons, with the aim of improving its capabilities for terrorist activities."
The Taliban suggested that they had moved the estimated 1,000 Uyghur fighters away from the Chinese border to other parts of Afghanistan last October. China has long pressed the Taliban to curtail the group's activity.
Creating distance between Uyghur militants and the Chinese border may not be good enough. The Islamic State sought to make that clear when it employed an Uyghur as a suicide bomber in an attack last October on a Shiite Muslim mosque in the Afghan city of Kunduz.
The message was: Uyghur militants have alternatives. The Taliban may not be their best bet.