UN Report: Israel violated international humanitarian law
An independent UN report into last year's protests along Gaza's border fence involving Israeli security forces, that resulted in the shooting deaths of more than 180 Palestinians, concluded on Thursday that there are "reasonable grounds" to believe Israel violated international humanitarian law.
There was "no justification" for Israeli forces to use live rounds, according to a press release issued by the UN Commission of Inquiry into the 2018 Gaza protests.
"The Commission has found reasonable grounds to believe that Israeli security forces committed serious violations of human rights and international humanitarian law," Chairperson Santiago Canton told journalists in Geneva.
He added: "These violations clearly warrant criminal investigation and prosecution and we call on Israel to conduct meaningful investigations into these serious violations and to provide timely justice for those killed and injured."
Created by the 47-Member UN Human Rights Council in May last year, the Commission of Inquiry was tasked with investigating all violence linked to anti-Israeli demonstrations on the Israel-Gaza border from 30 March to 31 December 2018.
In total, the Commission conducted 325 interviews with victims and witnesses and analyzed audio-visual material showing demonstrators being shot.
Its findings indicate that Israeli Security Forces injured 6,106 Palestinians with live ammunition at protest sites during the period of its mandate, while another 3,098 Palestinians were injured by bullet fragmentation, rubber-coated metal bullets or by tear gas canisters.
Four Israeli soldiers were injured at the demonstrations, the report also found, noting that one Israeli soldier was killed on a protest day "but outside the protest sites".
Children 'shot playing football'; wheelchair users, medics, journalists
Ahead of the one-year anniversary of the beginning of the protests on 30 March, which Gazans refer to as the "Great March of Return", the Commission of Inquiry underscored the need for Israel and the Hamas-controlled Palestinian authorities to do more to protect civilians, who continue to demonstrate near the border fence every Friday.
"The Commission found reasonable grounds to believe that Israeli snipers shot at journalists, health workers, children and persons with disabilities, knowing they were clearly recognizable as such," it said in a statement.
Commissioner Betty Murungi described how an 11-year-old boy was shot while playing football near the fence with Israel. He subsequently had one of his legs amputated.
"Although the killings have lessened, we still see protected groups of individuals including children…still being killed as recently as three weeks ago," said Commissioner Sara Hossain.
She added that paramedics and journalists also continue to be injured at demonstration sites, while also dismissing the idea that the protesters were intent on violent acts.
"We found that in all of the demonstrations, there was violence in the form of the use of the throwing of stones and burning of tyres by a minority of demonstrators," she said, adding that "the vast majority" were not involved in any form of violence.
"There were women and children present, there were people having poetry reading, playing music, waving flags, things that can't in any way be considered to be violent," she insisted: "I think the characterization of all the demonstrators as violent is something we wouldn't agree with."
De facto authorities 'must encourage peaceful protests'
In addition to the appeal to Israel to cooperate with an investigation into the killings, Commission chairperson Santiago Canton called on the de facto authorities in Gaza to ensure that demonstrations were peaceful.
"The Commission finds that these protests were a call for help from a population in despair", Santiago Canton said. "Not only Israel but also the de facto authorities led by Hamas and the Palestinian Authority have responsibilities towards them.
Mr Santiago also called noted the Commission's call for Israel to lift the blockade of Gaza, and in particular allow those in need of urgent medical care to leave the territory, after it found that hospitals there were "literally overwhelmed by the sheer number of death and injuries" after demonstrations on 14 May.
The Commission of Inquiry's full report will be presented to the Human Rights Council on 18 March 2019.
'Act urgently' to stave off catastrophic famine in Yemen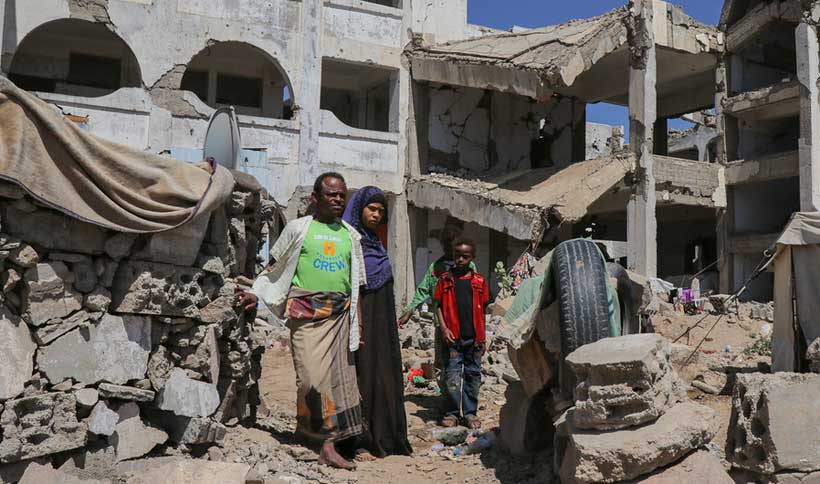 Yemen is in "imminent danger of the worst famine the world has seen for decades", the UN chief warned in a statement released on Friday, calling for urgent action on the part of the international community to "stave off catastrophe".
Secretary-General António Guterres warned that without immediate action to protect civilians battered and starved, after more than five years of grinding civil conflict, "millions of lives may be lost."
On Tuesday, the UN released $100 million in emergency funding from its Central Emergency Response Fund (CERF), to avert the growing threat of famine across seven countries, including Yemen, deemed most at risk of famine.
'Time is running out'
Earlier in the month, UN relief chief Mark Lowcock, warned the Security Council that Yemenis were not simply "going hungry", they were being starved, and all parties to the conflict – between the internationally-recognized Government supported by a Saudi-led coalition, and the opposing Houthi militias which control much of the country including the capital – needed to do everything possible to prevent widespread famine.
"All of us – parties to the conflict, Security Council members, donors, humanitarian organizations and others – should do everything we can to stop this. Time is running out", Emergency Relief Coordinator and OCHA chief Lowcock told the Council.
Deadly combination
In his statement, the UN chief said a combination of factors had come together to create famine conditions, including "a drastic reduction in funding for the UN-coordinated relief operation this year compared to 2018 and 2019, a failure to sustain external support for Yemen's economy, especially in stabilizing the value of the Yemeni Rial, and the impact of the ongoing conflict and impediments imposed by powerful Yemeni and other parties on the life-saving work of humanitarian agencies."
To cap the crises rooted in human behavior, locusts and floods are compounding the problem, added the UN chief.
"I urge all those with influence to act urgently on these issues to stave off catastrophe, and I also request that everyone avoids taking any action that could make the already dire situation even worse", said Mr. Guterres.
"Failing that", he concluded, "we risk a tragedy not just in the immediate loss of life but with consequences that will reverberate indefinitely into the future."
Social media-based trafficking on the rise during coronavirus pandemic
A UN rights committee has called on social media platforms to use big data and artificial intelligence to help eliminate trafficking in women and girls, amid an increase in online traps designed to recruit potential victims during the COVID-19 pandemic.
The Committee on the Elimination of Discrimination against Women (CEDAW) said on Wednesday that women and girls continue to be the most common victims of trafficking across the world.
"The global pandemic has revealed the urgent need to address the use of digital technology in and against trafficking", said committee member Dalia Leinarte, who led drafting of the panel's recommendations. "Combatting trafficking also entails discouraging the demand," she added.
Those behind the trafficking networks enjoy widespread impunity, despite national and international laws and policies designed to tackle the problem, the panel said.
Hiding in cyberspace
Insisting that the coronavirus pandemic had made matters worse for victims, the Geneva-based committee said that countries had seen a global rise in "trafficking in cyberspace" in recent months.
Online, demand has been channelled "through social media, dark web and messaging platforms" which provide easy access to potential victims, but hide the identity of the perpetrators, the committee said.
The panel of UN-appointed independent rights experts also warned against the increased recruitment of vulnerable people by traffickers for online sexual exploitation, along with "an increased demand for child sexual abuse material and technology-facilitated child sex trafficking".
Social responsibility
In an appeal to social media and messaging companies, CEDAW recommended that they set up relevant controls to reduce the risk of exposing women and girls to trafficking and sexual exploitation.
It urged the online platforms to use their "big data, artificial intelligence and analytics to identify any pattern that could lead to trafficking and identification of the involved parties" taking part in illegal operations.
Online firms should also "put in place the appropriate governance structure and procedures which will allow them to be reactive in their response and provide the relevant level of information to the concerned authorities", the UN panel said.
Turning to Governments, CEDAW urged States to address the root causes that push women and girls into vulnerable situations.
Sex-based discrimination was a fundamental factor in this, the panel said, along with socio-economic injustices in victims' home countries that forced them to leave, along with conflict and humanitarian emergencies.
Close link to sexual exploitation
"Trafficking is a gendered crime, closely linked to sexual exploitation", CEDAW's Leinarte said, insisting that State parties "must create appropriate conditions to ensure women and girls are free from the danger of trafficking".
Among its other recommendations, the Committee called for policies to promote women's autonomy and equal access to education and job opportunities.
It also urged a safe migration framework to protect women and girls, while also calling for comprehensive protection and assistance for displaced women and girls affected by conflict and emergencies.
"Combatting trafficking in women and girls in the context of global migration requires engagement of the larger protection framework stemming from international humanitarian law, refugee law, criminal law, labour and international private law," the Committee said in its general recommendation.
Filippo Grandi: Ending statelessness 'a matter of political will'
The UN High Commissioner for Refugees has called on world leaders to take bold and swift action to eradicate statelessness by 2024.
Marking the sixth anniversary of the #IBelong Campaign, aimed at ending statelessness by 2024, High Commissioner Filippo Grandi urged redoubling of efforts to "resolve this affront to humanity in the 21st century."
The need is all the more pressing in the midst of the coronavirus pandemic, which is worsening the plight of millions of stateless people around the world, he warned.
"The COVID-19 pandemic has shown more than ever the need for inclusion and the urgency to resolve statelessness. A pandemic doesn't discriminate between citizens and non-citizens. It is not in any state's, society's or community's interest for people to be left stateless and living on the margins of society," said Mr. Grandi.
Though global data is hard to obtain as stateless populations are not always accounted for or included in national censuses, there could be about 4.2 million stateless, in 76 countries according to the UN refugee agency, UNHCR. The actual number is believed, however, to be substantially higher.
'Easily resolvable and preventable'
Statelessness is an easily resolvable and preventable issue, said the High Commissioner, explaining that it is "a matter of political will to change a person's status and life, yet the consequences of inaction especially during the middle of a pandemic can be life-threatening."
"To protect and save lives, we urge governments to resolve statelessness and make sure that no one is left behind," he added.
Launched in November 2014, the #IBelong Campaign aims to end statelessness within ten years, by identifying and protecting stateless people, resolving existing situations of statelessness and preventing the emergence of new cases.
The Campaign is also directly linked to target 9 of Sustainable Development Goal 16 (SDG16), to provide legal identity for all, including birth registration, by 2030.
'Extremely vulnerable'
Statelessness is an easily resolvable and preventable issue – a matter of political will to change a person's status and life – High Commissioner Grandi
While significant progress has been made in reducing statelessness worldwide since the launch of the Campaign in November 2014, the pandemic has now exacerbated many of the difficulties and injustices that stateless people face.
Lacking important legal rights and often unable to access essential services, many stateless people are politically and economically marginalized, discriminated against and vulnerable to exploitation and abuse. In many countries, stateless people, including stateless refugees, live in sub-standard and inadequate sanitary conditions which can increase the risk of disease.
"Without citizenship, many stateless people do not have access to or are not included in essential public health services and social safety nets. They have been left extremely vulnerable in the face of this pandemic," said Mr. Grandi.
Some countries have, however, shown leadership by including stateless people in their response to COVID-19, ensuring they have access to testing and treatment, food, clothing and masks. Some governments have made birth registration and other forms of civil documentation an essential service, maintaining operations despite the pandemic, helping to prevent new cases of statelessness arising.