Searching for the perfect grad school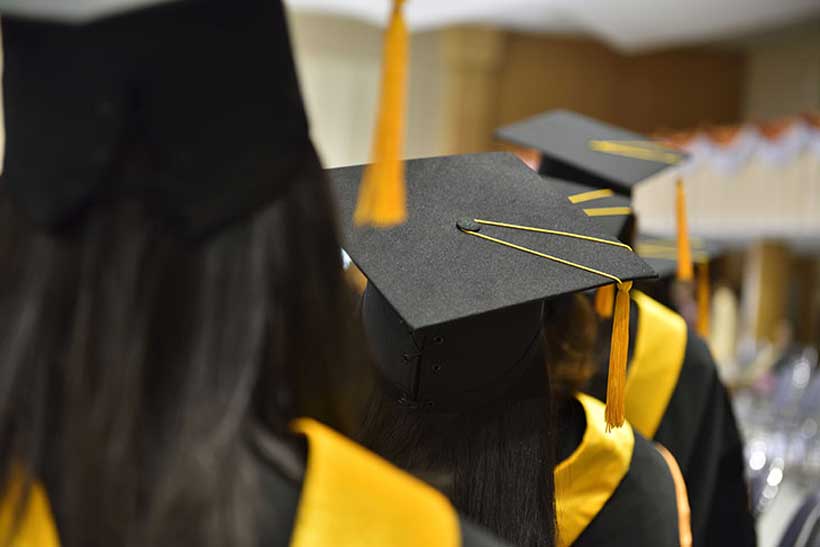 I was fresh off the boat a graduate from Thammasat University in Thailand. I was young, energetic and enthusiastic and at that point, I wanted nothing more than spending a year at the London School of Economics and Politica Science.
Up until that point, I was a leading youth activist in Thailand. I founded an English debate club for my college and later partnered with the European Union to expand equal access to quality English platform for Thai students. I represented Thai youth in the Planned Parenthood Board members and I was actively involved in the creation of the World Development Report on youth – to name but a few.
I wanted a degree that will allow me to make sense of everything that I did and how best to positively impact development in a way that is critical and thoughtful. I researched, I talked to alumni of many universities and I decided there was no other place I rather be that MSC in Development Studies at the London School of Economics and Political Science.
All eggs in the basket. Days went by that I was nervous and anxious. Until the judgment day arrived – early February 2006.
I opened and it read:
Congratulations!
The rest of the text went blur and I screamed on top of my lung to this news. I ran around the house like a three year old getting ice cream and I told my mother, "yes mom, I did it."
Twelve months at the London School of Economics was everything I dreamt of and much more. Intellectually, it was very stimulating. Twenty weeks of twenty theories on Development. Lecturers who knew what they were talking about and better yet – passionate in – even some theorists are arcane, they are so obsessed their stories became interesting and illuminating.
Behind the grandeur of LSE lecture halls, what I appreciated most was the quality of our professors and efforts they put in to make sure "we got it."
Professor Lloyd Gruber particularly helped pave my way for doctorate studies in Columbia. He spent hours and hours in mentorship discussing and debating the role of IMF in Education Budget for Thailand after the Financial Crisis. Behind his desk are paintings of his children. He reminded me no matter how great a lecturer you are, the most important thing is being human and being with family.
I remembered in the class Poverty. We were talking about Social Exclusion and I tried to come up with a captivating way to explain the theory. I decided to tell a story.
"A homeless man walked in. Bought a cup of coffee. Sat there to read newspaper. Everyone looked a him and left. Why?"
Through the rigid lens of poverty, he would be doing just fine and no one would know he's homeless. He had 3 quid to buy a cup of coffee and he is literate. But through Social Exclusion, it is his ardor that separated him from the rest, I said.
Professor Ashwani Seith came up to me and said "keep thinking like this. You will be fine."
LSE taught me so much more than a 850 words article could do a justice. It teaches me disciplines, hardworks and open-mindedness to what you know and don't know. The LSE teaches me to read in team and prepare for exam in groups and share idea. The LSE taught me to be quiet to observe but speak up when necessary.
DESTIN at the LSE brought the best and brightest development professionals to come together, learn together and help each other. 12 years since, these friendships are still alive and knitted.
I write this to say – my perfect grad school is not the same as yours. Don't go around asking people where you should be – go around asking yourself first what you what to do 10 years down the road. Maybe you don't know. It's ok. But ask yourself what type of things you like to do, what kind of people you want to be associate with, what kind of skills you want to have.
Going to grad school is expensive and luxurious. If you can afford it – make sure you spend it on something better than "it's famous."
Fame fades and that answer won't get you in the door.
Finally diagnosed with Bipolar and understanding God's purpose for my life
I've outlasted a lot of things. I'm over 35. I am nearing 40 years of age. I've made mistakes and lived with regret but I don't anymore. And I'm finally able to make peace with the mistakes I've made in my past.
I can forgive someone who brought me pain. The suicidal thoughts that I've manages to overcome. I think of our happy my parents were in my childhood. I think of every childhood experience as happy except the memories brought back to me of apartheid. I don't have to tell myself anymore, you can make it. By the grace and mercy of God, I've survived. And it is God that has outlasted my storms.
So for the millions of people out there who have been diagnosed with a mental illness or have a loved one living with a mental illness, be brave. You are going to get through this storm. You're a fighter.
You're going to make it and when you come out on the other side, talk about it, or write about your survival, tell someone about it, become a storyteller, or give your testimony. You might save a life in the same way yours was saved.
As I write this I think of Robert Lowell, Anne Sexton, Sylvia Plath and being fake-happy. Pretending to love being alone and not being the proper example of a good daughter. You want someone to love you until the end of time. I want someone to love until the end of time. I want people to love me. To remember me. In some way I want to belong to the world. I grew up with a narcissistic mother who passed this trait to her only son and middle daughter. That and beauty. That and arrogance.
But beauty fades like fast cars. It's just tears I tell myself.
Tomorrow I'd have forgotten about them. Anticipating waves or the vibrations of depression does nothing for the way you look on the outside. It is all for you. I do it, I write it for you. I don't know who you are. I just know that you accept me for who I am. I'm growing older and in the blue-dark I can't see that I am growing older. All I do, the poetry, the writing is for you. I'm selfish that way, I guess.
I don't want happiness. I just want a brave personality. That and the writing is what gets me through the hours, the day, the night. And sometimes I try very hard through the tears not to even think of going there. Of letting go. Sometimes I think I love this world too much. I love you, the Reader. I do love you. Perhaps in the end you're the only thing that's keeping the chemicals from balancing me the right way up. It's all for you the Reader. Everything that I've ever written. You're the assignment. Perhaps you're the mission.
I was finally diagnosed with bipolar mood disorder after Tara. I spent
6 months in a mental institution in Johannesburg. Mental illness stamped on my forehead for all to see, alongside a stigma, a family (and paternal and maternal family) that saw to it that I quickly became an outcast, felt like an interloper when spoken to. I was ignored, and sat quietly by myself at family functions. It was as if I was in high school again. I never cried about it, but I don't think that made me brave.
I was half-mute like Princess Diana, and Maya Angelou as a child.
Something had happened to me. Somehow I had been transformed intrinsically in childhood (it was because of my mother's mental, verbal, and emotional abuse), but was it the environment that changed, no, no. It was human nature. All the humans around me. Bright children, no matter how bright they might seem even if adult words come out of their mouths, all children are still innocent. And all children want is the mother-love, and I felt the lack of mother-love acutely with an acumen and focus beyond my years.
I was called insubordinate by a male teacher once. Years later when we met at a prayer meeting, he spontaneously embraced me. In that moment, I forgave him. For the corporal punishment he had meted out to me for letting someone else, a popular girl, copy out my answers in a test. I thought I would be liked. But I wasn't. I was still a goody two shoes.
I still sometimes would spend break in a bathroom stall.
As a moony-moody teenager I would read. I was mostly withdrawn, serious, never smiling (I never smiled once at Collegiate, it hurt too much to smile, my mother would go on rampages then, hurling mental abuse at me in the morning for breakfast, afternoon tea, and supper which my sister made for us. My mother was depressed too in a sinister and deceptive way). Now let me get back to never smiling, and never playing team sports.
Let me talk about the (good) old days. Collegiate High School for Girls in Port Elizabeth (a Model C school). That year, 1995, I was of course a perfectionist. A bipolar perfectionist who only ever understood the world of achievement, achievement. It had nothing and everything to do with having a Khoi-ego, Khoi-identity, Khoi-personality. But I would only understand the knowledge of Khoi-anything later on.
In those days I relaxed my hair. My hair was so straight it made no curls or waves, and I wore it in a ballerina bun. I was skinny, not voluptuous or buxom like the other girls. Late to bloom, as the saying goes. At 17 years old, or 16, I forget, all I could think of was my shame. My shame that I was not White. The shame of not having straight hair. The mortifying shame of not being athletic, not being able to play sports, not being able to be singled out first for a game during P.E. period I did not play hockey, or tennis (my mother got her Transvaal colours for tennis in high school).
I did not have blonde hair, and freckles on my face, forehead, knees, and the rest of my body. I did not have freckles in secret places.
But I learned quick, and I also learned very slowly that people don't easily forgive, and forget if you live with a mental illness. This made me withdraw even more into my mute-self. For most of my life I lived like this with a mute voice inside of me until one day I began to write. I was 8 years old.
In later years cousins on both sides of the family despised me (because I was mentally ill). I could see it there in there eyes, as they did not meet my gaze whenever I spoke. Family despised me (because I was mentally ill). I was not invited to weddings, or kitchen teas. Women-fold women-folk kind of things. They despise you (this I told myself) because society despises lunatics, and for a long time I was happy encompassing whatever this word meant. Lunatic. It was me who was more in touch with reality than the ones who thought I was mad, I have come to accept this now. I have other much more important, and significant things on my mind, and I am about to begin to write my first novel. This is what moves me to write this for other people suffering in silence, people who are being told to pull their socks up (or that they 're beginning to be too big for their britches). Don't live a half-life. Don't live a half-lie.
Young women learn government fundamentals in nationwide leadership program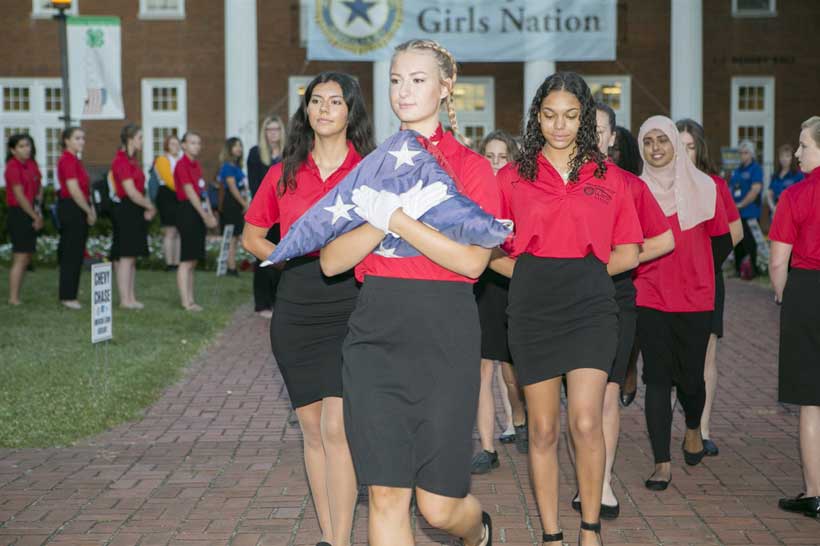 This July, two teenage girls from every state in the country met in Washington, D.C., for the 73rd annual American Legion Auxiliary Girls Nation. This one-week government-in-action leadership development program is designed to educate future leaders on U.S. government fundamentals and the rights, privileges and responsibilities of citizens.
The girls selected to go to ALA Girls Nation are chosen from week-long ALA Girls State programs in each state. The young women become "senators" for a week and participate in mock political campaigns and debates, visit historical sites, and meet their real-life counterparts on Capitol Hill. For a number of the participants, the program's impact extends beyond the weeklong event: Many go on to serve in the military and credit ALA Girls Nation as their source of inspiration.
New ALA member and U.S. Army Capt. Virginia Clark, stationed at Fort Benning in Georgia, is an ALA Girls Nation alumna. Though she says she has always been patriotic, her experiences at ALA Girls State and ALA Girls Nation helped her realize she wanted to serve her country. "Being around really motivated people made me realize I wanted to be around people who were spending their time doing things rather than looking for the next great party," Clark said.
Reflecting on where she has been and where she is going, Clark says she owes it all to the American Legion Auxiliary. "I wouldn't have gotten into West Point without ALA Girls State and ALA Girls Nation … I 100 percent owe, I think, my current life and my career — I met my husband at West Point — to the fact that I went to ALA Girls State and ALA Girls Nation."
For some girls, the Washington, D.C., leadership program is their first opportunity to connect with peers with common interests. For others, it is the first time they encounter students whose perspective differs from their own. For all, it is a moment in time where similarities and differences come together to symbolize strength, democracy and freedom.
Former ALA Girls State and ALA Girls Nation attendee Allyson Snelling, who is attending the U.S. Military Academy at West Point, chose a career in the military because she "loves everything it represents." She adds, "The values and lessons I've learned during my short time at West Point have made me a better person and leader." Snelling said the program taught her the power of one voice and the importance of communicating with others. "Being able to communicate with someone you may completely disagree with is becoming a lost art," she said. "ALA Girls Nation taught me that it doesn't matter if you agree; it matters that you understand."
ALA Girls Nation alumnae have gone on to hold leadership roles in industries spanning government, media, education and law, and many have become high-ranking members of the military.
Notable alumnae include Jane Pauley, national media personality; Susan Bysiewicz, lieutenant governor of Connecticut; retired Lt. Gen. Michelle D. Johnson, former superintendent of the U.S. Air Force Academy and former Air Force aide to the President; Ann Richards, former governor of Texas; and Susan Porter-Rose, former chief of staff to First Lady Barbara Bush, among many others. ALA Girls Nation is proud to be a foundation of support to the future strong women of this great nation.
The American Legion Auxiliary (ALA) is a nonpartisan organization committed to advocating for veterans' issues, mentoring America's youth and promoting patriotism. They advance the mission of The American Legion, incorporated by Congress in 1919 as a patriotic veterans organization founded on four pillars: Veterans Affairs & Rehabilitation, National Security, Americanism and Children & Youth.
Art, poetry, the native as slave, the American Civil War and the promulgation of the Group Areas Act
We must look at the subtle variations of both education and philosophy, the quality of white lie, truth, the conversation which is significant, key, law, abstract, metaphor. It is going to be the poet who is going to save us, mark kismet, become Africa's ruling-leader, Africa's visionary-diplomat, and chief-negotiator.
Here we must think of our collective literature, the fastening of the mother tongue, freedom (and not the actor's freedom, but our social freedom, our justice system, our tradition, heritage, culture that shapes, transcends, transforms and conscientizes us, our exit route out of colonialism that we have worshiped.
See the selfish portrait, the zoned silhouette of the hungry, and impoverished community that anchors us to the working classes, the milieu of the upper ruling classes of the elite, the political community, the petty bourgeoisie of the mixed-race descent of the middle classes. Freedom, liberty, justice is first fantasy, then probable.
Photojournalism is art. It can be stated that from Diane Arbus to Da Vinci, from the early paintings on the walls of caves, to sculpture, modern art and any other forms of abstract expressionism, that art is essentially an expression of self, of human essence and the world around us. Our people are wanting literacy, and books, and books in their mother tongue, and literature, and libraries, and language.
The native as slave challenges us at every turn. It is a mythical, powerful, temporary beast that has an uncertain future in our newfound democracy, in our living rainbow nation, in our born free consciousness, in the millennial as they translate politics into policy, diplomacy, priority, nurturing our "rainbow-children".
So, war has followed us at every uncertain turn in world history, and soldiers have become superstars, and killing machines, and yet, yet we have still arrived starry-eyed at our destination, fulfilled our mandate, turning to our governing-daughters, our patriarchal-filmmakers, the matriarchs who defeated an apartheid-government singlehandedly.
Danto's definition of art. According to the philosopher and art critic Danto, art is something that embodies meaning and that needs to be viewed through the lens of modern society and our societal norms and values. This is something very similar to "a person's character, it is there, a foundational property, deeply hidden, manifesting in personality". Photojournalism does this to a certain degree, by evoking emotions in an audience by reflecting a moment captured by the lens of a photographer. In this way, although not as free in form and creativity as a painter for example, the photographer, much like an artist, frames an intended message. So too, they frame a type of psychological reaction, sensitivity, imagination and creativity for its audience. It can provide an analysis or social commentary for the observer. It has the potential to mirror certain societal behaviours, cultures and events at a specific point in time, providing titbits of information on which the audience can reflect. Topics range from humanities and religion to existentialism any other societal norms and values. In this way, photojournalism, regardless of whether or not it can be mechanically reproduced, can be confirmed as having meaning, and at the same time, also be viewed as a form of art. It can therefore be confirmed, in line with the philosophies of Danto, that photojournalism, can be viewed as a form of art. This is reliant not only on an image and its intended message or meaning, but also on the feelings it evokes in its audience.
The importance of a strong central government. Peace, community, nation-building beginning at a grassroots level (freeing the enslaved) are all necessary for a strong government. Problems in any nation must be dealt with collectively when it comes to agenda, majority rule and policy. At the end of the day to achieve a strong central government for the people, by the people, of the people agenda, majority rule and policy must achieve unity and influence not only amongst the cabinet of the day but also the leaders of the model governing body to be a strong government with effective and consistent leadership at the helm. A powerful central government deals with issues regarding its legal network and ramifications thereof, the environment, the military, the defence, foreign and national policy, public health and administration, labour, social welfare and education.
A central government was necessary for the development of the nation.
It must strengthen issues and ties of national importance amongst its nation's inhabitants. What happened in a post-war-America was to deal with problems of nation-building, the confidence of her inhabitants, strife in nation-building, conflict and secession. There were men who saw the potential for change. Men and women who saw that a nation had to be built. A strong central body was needed because of the estimates and implications of the economic costs of the burnout of the war.
There was a rampant demise in health and disease, and the effects and fallout of the war had affected not just slaves but also American families, soldiers and their wives. Economic influence, the personal status of every individual inhabitant, the self-assurance of America's leaders was conditioned post-war. The end of the war promised an end to the disharmony, the disorder, the unrest, the morale of a nation confounded by the turbulence of war and it also marked a return to a tempered social unity, an empirical solidarity amongst the people after the tragic set of circumstance of the war.
The reasons and outcomes of the American Civil War. Of course, the main reason for the war was the issue of slavery, the abolitionists, the land question, Abraham Lincoln being elected as president and the stance that he took on slaves and the ownership of slaves. Amongst the downtrodden souls of the people of the post-war American nation this war warranted tragedy. It initiated a fleeting compromise amongst North and South where at first none could be seen, an examination between the North and the South's struggles for the "concentration of wealth" (the acquisition of slaves) to survive somehow. In other words, to own slaves was tantamount to gold to the south, but for a fledgling and progressive republican democracy it had to come to an end.
In conclusion, it is easy to surmise that after the devastation and the backlash of war a season of hope and prosperity would follow for both North and South. The South felt usurped and many battled illness and health issues on both sides. In the face of tragedy and an uncertain future a central government emerged trumping the race question and the concentration of wealth in the hands of an elect few.
This government offered an end to an undeniably intellectual battle within the class system (the place of class in an apartheid system).
After the war there was a capacity for dual economic and political change at great economic cost. Thousands of men had lost their lives for this social reform, freedom and the prohibition of slavery. We can sense that one of the outcomes of this egregious nation-building of this brave new world was paved in blood, dissolution, an unsystematic reasoning of slave-ownership and "semantic" choice.