EU-UN Spotlight Initiative to eliminate violence against women and girls
What is the EU-UN Spotlight Initiative to eliminate violence against women and girls?
In September 2017, the EU and the UN launched an ambitious joint partnership to eliminate all forms of violence against women and girls worldwide. It aims at mobilising commitment of political leaders and contributing to achieving the Sustainable Development Goals (SDGs), and more specifically Goal 5 on Gender Equality and Goal 16 on inclusive and peaceful societies. It does so by building new multi-stakeholder partnerships and providing large-scale, targeted support, backed by an initial dedicated financial envelope from the EU of €500 million.
The Initiative aims at ending on all forms of violence against women and girls, targeting those that are most prevalent and contribute to gender inequality across the world.
The Spotlight Initiative will deploy targeted, large-scale investments in Asia, Africa, Latin America, the Pacific and the Caribbean, aimed at achieving significant improvements in the lives of women and girls.
Which countries are covered by the Spotlight Initiative around the world and which forms of violence?
A "Safe and Fair" programme for €25 million was launched in 2017 in South-East Asia, where Spotlight is focusing primarily on ending female trafficking and labour exploitation.
The Spotlight Initiative will be carried out in the ASEAN region, in countries of origin (Cambodia, Indonesia, Lao PDR, Myanmar, Philippines, Vietnam) and countries of destination (Brunei Darussalam, Malaysia, Singapore and Thailand). The action will also target women migrant workers migrating to East Asia (China (Hong Kong, Taiwan), Republic of Korea), and the Gulf Cooperation Council States, although no programming will take place in these countries.
In Latin America, the programme focuses on ending femicide in Argentina, El Salvador, Guatemala, Honduras and Mexico and on empowering regional networks.
The regional African component of the Spotlight aims to eliminate sexual and gender-based violence, including harmful practices. The programme worth €250 million will be implemented across Liberia, Malawi, Mali Mozambique, Niger, Nigeria, Uganda and Zimbabwe. It will also include a regional approach to scale up existing initiatives on fighting female genital mutilation and child marriage and joint activities with the Africa Union.
The Pacific regional Spotlight programme focuses on ending domestic violence in the region.
This will be followed by actions to tackle family violence in the Caribbean region; countries are still being identified.
Why is the Spotlight Initiative focusing today on the Pacific region and on domestic violence?
The Family Health and Safety Studies (FHSS) conducted by UNFPA across 11 Pacific countries show the high rates of violence against women and girls in the region: e.g. 68% of women in Kiribati, and 64% of women in Fiji and Solomon Islands experience physical or sexual violence by an intimate partner over their lifetime. In Timor-Leste, a 2016 Asia Foundation prevalence study found that 59% of women experienced physical or sexual violence by an intimate partner over their lifetime. In Solomon Islands, 37% of women report that they have been sexually abused before age 15. The most common perpetrators were: boyfriend (36%), stranger (24%), family member (20%) and male friend of family (16%). Many incidents of sexual violence involve young girls and children living with extended family, who are particularly vulnerable to sexual abuse e.g. children from outer islands sent to live in urban centres to complete secondary education.
The objective therefore is to intervene to prevent violence against women and girls addressing the root causes of gender inequality and of violence. With activities like advocacy for policy and legislative reform where needed, and law enforcement. Prevention through formal and informal education, community based dialogue and initiatives; involving men, especially traditional leaders and faith-based organisations; access to quality services (health, social services, police and justice) for the victims; training and capacity building targeting teachers, lawyers, social workers, police forces, civil servants; media campaign to change perception.
The programme can count on an envelope of €50 million.
The consultation process, leading to the definition of the geographical scope and specific structure of the programme, will start on February 26th, where all major stakeholders, regional and national authorities, experts, civil society organisations and donors will gather to discuss which are the best tools and methodologies available to be applied in the region.
Why is the Spotlight Initiative focusing on Africa and why FGM and child marriage?
FGM and child marriage have reached epidemic levels in Africa. Female genital mutilation has been documented in 30 countries, mainly in Africa. Based on rigorous evaluation of criteria the following countries were selected under the Spotlight Initiative: Liberia, Malawi, Mali, Mozambique, Niger, Nigeria, Uganda and Zimbabwe.
Why is the Spotlight Initiative focusing on femicide in Latin America?
Femicide has reached epidemic levels in Latin America. The region is home to 14 of the 25 countries with the highest rates of femicide in the world, where 12 women assassinated every day.
The Spotlight Initiative in Latin America will focus on eliminating femicide in five countries: Argentina, El Salvador, Guatemala, Honduras, and Mexico. These countries were selected on the basis of agreed criteria including the level of femicide prevalence in the country and secondary criteria, which assessed the government's commitment to the issue, in addition to an enabling environment including for civil society, national and partner capacities.
In 2016, there were 254 femicides in Argentina, 349 in El Salvador, 211 in Guatemala, 466 in Honduras and 2,813 in Mexico.
Femicide is the most prevalent form of violence against women in the region. Ninety-eight per cent of femicides in the region go unprosecuted.
What is FGM?
Female genital mutilation consists of the (partial or complete) removal of the external female genitalia, and the infliction of other injuries to the female genitalia for no medical reasons. The EU contributes to eliminating FGM/C globally.
Female genital mutilation consists of the (partial or complete) removal of the external female genitalia, and the infliction of other injuries to the female genitalia for no medical reasons. The EU contributes to eliminating FGM/C globally. The EU has actively participated in international cooperation to promote the elimination of FGM/C. FGM/C is included in human rights and political dialogues with partner countries and in annual dialogues with civil society organisations.
About child marriage.
Some 700 million girls and women alive today were married as children, and a further 280 million girls alive today will be married by age 18 if this issues is not tackled with urgency. This is one of the reasons forced child marriage was included in the Sustainable Development Goals (SDGs) under goal number 5 on gender equality, on which the EU is a fierce defender and supporter together with many international partners.
What is femicide?
Femicide is when a woman or girl falls victim to an attack and is killed merely because of her gender. It is rooted in gender inequality social, cultural or religious norms and attitudes within traditional societies.
What is the European Union doing concretely against gender-based violence in developing countries?
The EU is strongly committed to gender equality, the empowerment of women of all ages and the elimination of all forms of violence against women and girls around the world. The European Consensus on Development identifies gender equality and women's empowerment as a critical cross-cutting issue in EU development cooperation. The Agenda 2030 has put gender equality and women's empowerment firmly at the centre of the SDGs, not only through the stand-alone SDG 5 on gender equality and SDG 16 on peaceful societies, but also as a cross-cutting element central to the achievement of all 17 SDGs. The EU's work is guided by the key objectives stipulated in the EU's Global Strategy for Foreign and Security Policy, the new European Consensus on Development and the EU Gender Action Plan II.
The EU's Gender Action Plan 2016-2020 has set an ambitious target to mainstream gender actions across 85% of all new EU initiatives by 2020. Significant progress has been made:
92% of all new initiatives adopted in area of the EU's foreign policy and around 60% of all new initiatives adopted in the EU's International cooperation and development work have been marked as mainly or significantly aiming at promoting gender equality and/or women empowerment.
The actions supported by the EU around the world, include indicatively:
Support to the UNFPA/UNICEF joint programme on ending female genital mutilation in 16 Sub-Saharan countries, aimed at engaging with civil society organizations, men and boys, traditional leaders etc., as to change the social norms, which make the mutilation so largely practiced. (€12 million)
In Zambia, a programme aiming at strengthening the institutional capacity of the national authorities to fight against sexual and gender based violence, to prevent it, to change the social norms and mind set which lead to discrimination and violence, and to improve access to comprehensive services for victims. (€25 million)
The EU has recently announced a €5 million financial support to the 2018 Nobel Peace Prize laureates, Nadia Murad and Dr Denis Mukwege for concrete projects in favour of women who are victims of sexual violence. 5 projects aiming at fighting against sexual and gender-based violence in the most remote areas and in forgotten crisis were contracted in December 2018 in the frame of the GPGC global call for proposals (€32 million in total). The projects' activities will take place in Bangladesh; Iraq, Palestine and Yemen; Cameroon, Chad, Ghana, Liberia, Mali and Sudan.
In the Pacific, a regional programme to combat domestic violence (€13 million).
In Latin America, two regional flagship programmes on women's empowerment and ending violence against women and girls is underway, and considered key for the inclusive and sustainable development of the region. (Under the Eurosocial+ and Al Invest 5.0 programmes (2016-2021, €32 million)
In Uruguay, a programme establishing early warning systems for risk of gender violence and strengthening the role of female police officers.
In Argentina, programmes have focused on establishing tools to prevent gender-based offenses.
In Chile, programmes to reinforce and monitor the training plan for public agents to change the perceptions of violence against women and girls as intra-family violence, which is widespread and tolerated.
In Costa Rica, El Salvador, Guatemala, Honduras, Nicaragua, Panama, a programme to support the elaboration of a permanent regional plan to combat gender violence by the Council of Ministers and the Democratic Security Commission of the Central American Integration System to combat gender violence.
In Peru, a programme to create and implement the National Observatory and Regional Observatories of Violence against Women.
What is the UN doing to end and prevent violence against women and girls?
UN entities continue to support the Member States of the UN to further advance the global legal and policy framework in addressing violence against women and girls.
The UN Trust Fund to End Violence against Women, which is managed by UN Women on behalf of the UN System, provides support to innovative approaches to stem and prevent the pandemic of violence. Since its inception, the fund has provided grants to 426 initiatives in 136 countries, amounting to a total of USD 116 million.
The UN Secretary General's UNiTE campaign to End Violence Against Women, which amongst its many activities initiated Orange Day, proclaims every 25th of the month as a day to raise awareness. It has garnered support for other high-profile initiatives from celebrities, including sports stars in Europe, to raise the profile of the issue.
Is €500 million enough to end violence against the world's women and girls?
No. The EU's initial investment of €500 million – the largest single commitment to eliminate violence against women ever – will serve as seed money to fund innovative and transformative programmes. Other donors and actors will need to join and support the Spotlight cause to achieve Sustainable Development Goal 5. The EU, together with UN, is doing an extensive outreach for other potential donors to join and contribute additional funds, to allow widening the number of countries and regions to be included in the initiative.
How many women and girls are victims of violence?
Violence against women and girls is one of the most systematic and widespread human rights violations around the world. Thirty-five percent of women worldwide are estimated to have experienced, at some point in their lives, either physical and/or sexual intimate partner violence or sexual violence by a non-partner. In some countries, this figure goes up to 70%.
More than 700 million women alive today were married as children, in various parts of the world. Of those women, more than 1 in 3—or some 250 million—were married before the age of 15.
About 70% of all human trafficking victims detected globally are women and girls.
At least 200 million women and girls alive today have undergone female genital mutilation (FGM) in 30 countries.
Around 120 million girls worldwide (over 1 in 10) have experienced forced intercourse or other forced sexual acts. By far the most common perpetrators of sexual violence against girls are current or former husbands, partners or boyfriends.
What are the consequences of violence against women and girls?
The impact of violence ranges from immediate to long term physical, sexual and mental health consequences for women and girls, including death.
It also has tremendous personal, societal and economic costs all around the globe: from greater health care and legal expenses to productivity losses.
What are the root causes of violence against women and girls?
Violence against women and girls is a complex issue that is rooted in gender inequality and discrimination, as well as unequal power relations between men and women, which exist in varying degrees across all communities in the world.
Low economic and social status of women increases the risk of violence that women face. Increasing economic independence is important to help survivors leave abusive relationships.
Prevention work must lie at the core of addressing this challenge. But despite some promising practices, prevention interventions remain small-scale, fragmented and stand-alone activities, under-resourced and lacking impact evaluation.
Are there reliable data to show the prevalence of violence against women and girls?
Understanding the extent, the nature, and the consequences of violence against women and girls is important to inform legislation, policies and programmes. To that end, the EU and UN Member States have made efforts to collect data and compile statistics related to the prevalence of different forms of violence against women and girls, especially domestic and intimate partner violence.
The availability of prevalence data on violence against women and girls, however, remains uneven across and within countries. Quality, reliability and comparability of the data across and within countries remain a challenge.
Are there legal and policy frameworks to end violence against women and girls?
There has been a growing momentum to eliminate and prevent all forms of violence against women and girls. Governments have adopted international and regional policy and legal agreements, such as the Beijing Platform for Action in 1995 and the Sustainable Development Goals.
At least 119 countries have passed laws on domestic violence, 125 have laws on sexual harassment and 52 have laws on marital rape.
The Spotlight Initiative will build on this progress to help eliminate violence against women and girls.
What is different about the programmes under Spotlight?
Studies have shown that well-designed and comprehensive programmes that reach the most marginalised women and girls can be effective in eliminating violence. Each Spotlight Initiative country programme is purposefully designed to address legislative and policy gaps, strengthen institutions, promote gender-equitable attitudes, provide quality services for survivors and reparations for victims of violence and their families, produce disaggregated data and empower women's movements, while leaving no one behind.
UN: India should 'unlock' freedom curbs in disputed Kashmir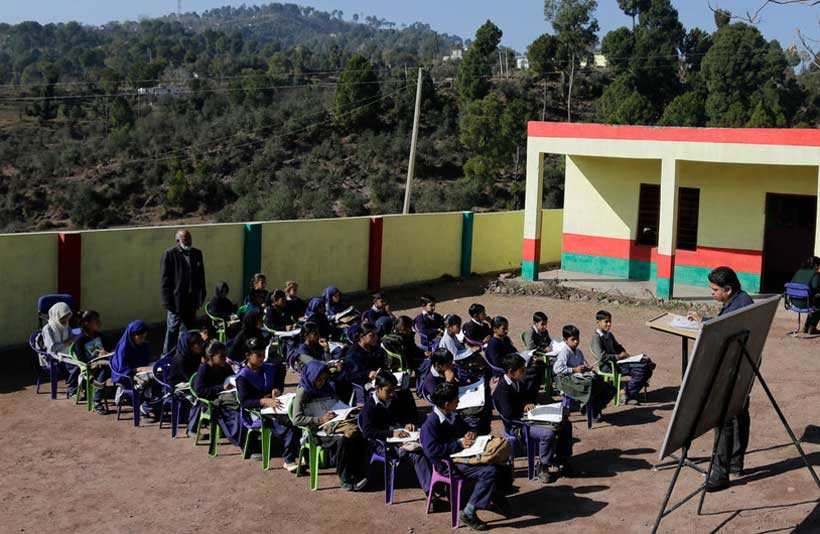 The people of Indian-administered Kashmir continue to be deprived of numerous basic freedoms, the UN High Commissioner for Human Rights said on Tuesday, before urging the Indian authorities "to unlock the situation".
The appeal over the territory – which both India and Pakistan claim as sovereign – follows months of escalating tensions linked to earlier suicide attacks and the Indian Government's decision in August to revoke majority-Muslim Kashmir's special status, which for decades had allowed it partial autonomy.
At the time of the Indian Government decision, five UN-appointed independent rights experts warned that it had led to tighter central Government control, restrictions on peaceful protests and a communications blackout.
Curfew 'still in place in large parts' of Kashmir valley
In Geneva on Tuesday, spokesperson for the High Commissioner for Human Rights (OHCHR), Rupert Colville acknowledged that an "undeclared curfew" had been lifted from much of Jammu and Ladakh regions within a few days.
But he noted that it was reportedly still in place "in large parts of the Kashmir Valley, preventing the free movement of people, as well as hampering their ability to exercise their right to peaceful assembly and restricting their rights to health, education and freedom of religion and belief."
Highlighting several allegations of excessive use of force against protesters that involved the use of "pellet-firing shotguns, tear gas and rubber bullets", Mr. Colville said that there had also been unconfirmed reports of "at least six civilian killings and scores of serious injuries", in separate incidents since the Indian Government declaration on 5 August across Jammu and Kashmir.
The Office of the High Commissioner had also received reports that armed groups in Indian-administered Kashmir have threatened some residents trying to work or go to school, the OHCHR spokesperson said.
In addition, "at least another six people have been killed and over a dozen injured in alleged attacks by armed group members, since 5 August".
Web access blocked, politicians detained
And although restrictions on landline telephones were eventually lifted, and a state-run telecom company allowed to resume partial mobile phone services, all internet services remain blocked in the Kashmir valley, Mr. Colville insisted.
In line with the Indian Government's decision to revoke Jammu and Kashmir's partial self-rule, two separate federally-administered Union Territories are to be created this Thursday, the OHCHR Spokesperson explained, adding that "hundreds of political and civil society leaders" had been detained "on a preventative basis".
While some political workers have reportedly been released, most senior leaders – especially those from the Kashmir Valley – remain in detention, he said.
Why we must urgently close the data gap to end violence against women
Having the full picture is crucial for effective action to end violence against women. Yet today, efforts to address this critical sustainable development and human rights challenge remain severely hampered by lack of data.
Violence against women is both a cause and a consequence of gender inequality, reflecting and perpetuating deep-rooted patterns of discrimination. Violence and fear of violence permeate social, economic and political interactions between women and men, constraining opportunities, choices and access to resources and so limiting economic growth and hindering the achievement of sustainable development.
Ending violence against women and girls is a crucial part of both the Beijing Platform for Action – progress on which will be in focus at the Beijing+25 Regional Review Meeting (29-30 October) – and the 2030 Agenda for Sustainable Development. The Beijing Platform calls for the prevention and elimination of all forms of violence against women and girls—physical, sexual and psychological. The Sustainable Development Goals reiterate this, with two indicators designed to track changes in violence by intimate partners and by other perpetrators.
Yet tracking such changes is hard.
Reliable and comparable data on the incidence of violence against women are rare. The Beijing Platform for Action, back in 1995, recognized that the absence of adequate sex-disaggregated data makes it difficult to create and assess programmes designed to bring about change.
Administrative data such as crime records only cover incidents that are reported, and so are likely to underestimate massively the actual occurrence of violence, which often goes unreported due to fear of recurrence or reprisal, shame or perceptions of 'honour' within families. Trends in reported gender-based violence can also be influenced by changes in awareness and public perceptions, making victims more or less likely to perceive an act of violence as a crime or affecting their willingness to report it to authorities.
A clearer picture of the true scale of violence against women—and its impacts on their lives– must come from surveys designed specifically for this purpose. UNECE's survey module, developed in 2011, provides a standardized tool for countries to produce indicators of physical, sexual and intimate partner violence. To date, few countries in the UNECE region have conducted targeted surveys to measure violence against women, and where they have been conducted they are one-off surveys offering no possibility to see trends over time.
An EU-wide survey conducted in 2014 by the EU's Fundamental Rights Agency and an OSCE-led survey conducted in 2018 in Eastern and South-Eastern Europe take us a step closer towards the goals of international comparability.
However, until such surveys are conducted regularly the data gap will remain a major impediment to progress.
Violence against women – key trends in the UNECE region
Available data in the UNECE Statistical Database shows significant variations in patterns of violence against women across the UNECE region, as detailed in the Beijing+25 regional key trends paper.
Female homicides
The most serious manifestation of violence, homicide, is less likely than other forms of violence to go unreported and is less subject to variations of definition and classification between countries. Trends in homicides among countries can therefore more reliably be compared than other forms of violence.
Although two-thirds of the UNECE countries analyzed show low and unchanging levels of homicide of women, there are exceptions where high levels and/or large increases are seen in the past five years.
Among the 32 countries with available data, Azerbaijan had by far the highest female homicide rate in 2017, at 6.8 per 100,000, slightly down from 7.3 in 2012. Latvia and Lithuania also had high rates in 2017 (3.7 and 3.2 respectively). Fourteen countries had rates of less than 1 per 100,000 with very little change since 2012.
Homicides of women by partners and relatives
A large proportion of homicides of women occur at the hands of current or former partners or relatives.
In 2017, over 70 per cent of homicides of women were perpetrated by a relative in Albania (79 per cent), Croatia (74 per cent), Italy (72 per cent) and Slovenia (71 per cent). In all these countries, this percentage increased since 2012. The increase was particularly significant in Albania, where the percentage doubled in five years. Between 2012 and 2017 the percentage of homicides of women in a family context also increased significantly in Belarus (from 30 to 44 per cent), the Republic of Moldova (from 39 to 50 per cent), Tajikistan (44 to 53 per cent) and Georgia (from 15 to 23 per cent).
Beijing+25 Regional Review Meeting for the UNECE Region
Progress in combating violence against women will be one of the areas in focus at next week's Beijing+25 Regional Review Meeting for the UNECE region.
The Beijing Declaration and Platform for Action of 1995 (Beijing Platform for Action) is the most ambitious road map for the empowerment of women and girls everywhere. In 2020, it will be 25 years since the Beijing Platform for Action outlined how to overcome the systemic barriers that hold women back from equal participation in all areas of life.
The Beijing+25 Regional Review Meeting (29-30 October 2019) will take stock of where the UNECE region stands on keeping the promises of the Beijing Platform for Action. Bringing together government representatives and key stakeholders from the UNECE region, the meeting will tackle a number of obstacles that keep girls and women from realizing their full potential. UNECE is joining forces with the UN Women Regional Office for Europe and Central Asia to deliver a two-day multi-stakeholder meeting to exchange concrete policies to accelerate the realization of gender equality. The outcomes of the meeting will feed into the global review of the Beijing Platform for Action taking place at the sixty-fourth session of the Commission on the Status of Women in New York from 9 to 20 March 2020.
Decisive international action needed to end Israeli occupation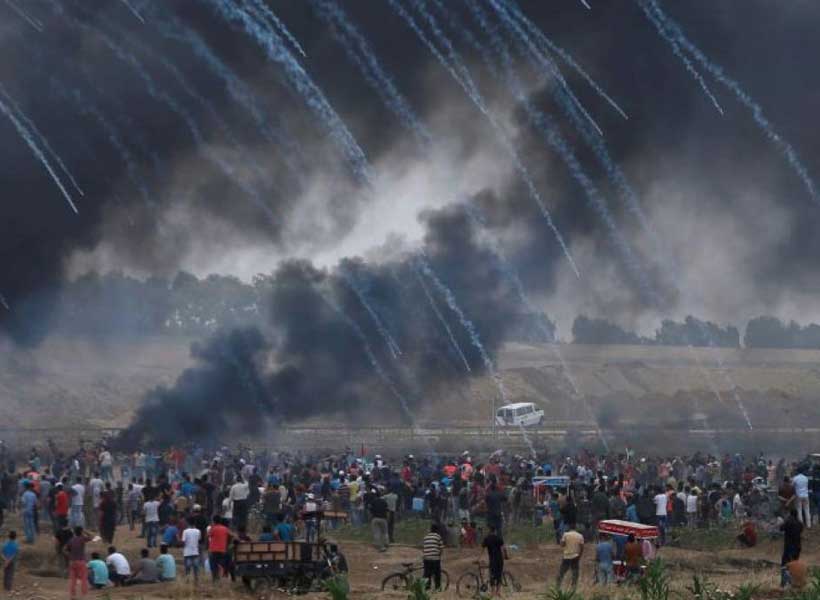 The international community has a responsibility and legal obligation to compel Israel to end its 52 year-long "occu-annexation" of Palestinian territory and remove barriers preventing Palestinian self-determination, a UN independent human rights expert told the General Assembly on Wednesday.
Michael Lynk made the call in his latest report on the situation of human rights in the occupied Palestinian Territory: the West Bank, including East Jerusalem, and the Gaza Strip.
"The status quo of Israel's 'occu-annexation' is endlessly sustainable without decisive international intervention because of the grossly asymmetrical balance of power on the ground," said Mr. Lynk, a Special Rapporteur who advises the UN Human Rights Council on the issue.
"Accountability is the key to opening the titanium cage that is the permanent occupation. The international community has issued countless resolutions and declarations critical of the never-ending Israeli occupation. The time has long past to match these criticisms with effective consequences."
To remedy this, Mr. Lynk recommended that the international community should devise a list of effective countermeasures which would be "appropriate and proportional" to the circumstances.
His report outlines some modern examples of applying pressure, such as diplomatic public statements, trade sanctions, flight bans, travel restrictions and reduction or suspension of aid.
"Should Israel remain unmoved, (the international community) should apply and escalate the range of its targeted countermeasures until compliance had been achieved," he said.
Mr. Lynk said the occupation is the longest in the modern world. It has been characterized by what he described as "a strong sense of impunity" by Israel.
"This occupation will not die of old age," he stated.
"Palestinians, along with Israelis of conscience, have been asking repeatedly for the international community to act decisively in support of international law to compel Israel to end the occupation and enable Palestinian self-determination. We can't afford to ignore their call."
The Special Rapporteurs are part of what is known as the Special Procedures of the Human Rights Council. They work on a voluntary basis; they are not UN staff and do not receive a salary for their work. They are independent from any government or organization and serve in their individual capacity.