Andaz Brand Debuts in Germany With Opening of Andaz Munich Schwabinger Tor
Hyatt Hotels Corporation announced the official opening of Andaz Munich Schwabinger Tor, the first Andaz branded hotel in Germany. Joining Andaz hotels in top destinations around the world, including New York, London, Amsterdam and Abu Dhabi, Andaz Munich Schwabinger Tor is the third Andaz branded hotel in Europe. The luxury lifestyle brand celebrates local culture, fully immersing guests in destinations through distinctive experiences that appeal to each of their senses. True to the brand, the hotel offers guests an unscripted Bavarian-inspired experience, allowing guests to feel like locals from the moment they arrive. The hotel is located in the Schwabing district, the cultural hub of the city and home to theaters, restaurants, and the renowned Englischer Garten.
"Schwabinger Tor is a vibrant and bustling area in Munich known for its culture and diversity," said Mattheos Georgiou, general manager for Andaz Munich Schwabinger Tor. "The hotel is a place for inquisitive travelers, guests, and neighbors with interest in the area's urban design, street art, and social responsibility. Munich is known as one of the most livable cities in the world, and the hotel will offer guests an immersive experience in the Bavarian capital."
Locally Inspired Design
Just as Munich combines new and old traditions, the interior design of Andaz Munich Schwabinger Tor weaves in the heart and soul of the city. Guests can take in a video installation by artist Yves Petzner in the lobby. Stone and herringbone oak floors, luminous diamond patterned ceilings, copper accents, and leather sofas all come together to emphasize the design style of Munich.
In a nod to the Englischer Garten, Munich's largest park located steps from the hotel, the meeting space area features a nature-inspired wall composed of vertically hanging plants. Additionally, the Andaz Lounge offers an authentic Bavarian feel, furnished with a "golden pretzel" – a seat made from a cast bronze alloy and produced by a local Munich art foundry.
Guestrooms
The hotel features 277 spacious, loft-inspired suites and guestrooms that deliver breathtaking views of the city and the Alps. Every room has been thoughtfully designed with contemporary interpretations of Bavarian traditions. Locally inspired snacks and drinks fill the mini-bar in each room. In a unique collaboration with Andaz Munich Schwabinger Tor, bath amenities in each guestroom were produced by La Bottega and Saskia Diez, an internationally renowned Munich jewelry designer. Custom-designed sofas, reminiscent of vintage car seats, provide a comfortable and luxurious setting.
Dining with a Sense of Place
The Lonely Broccoli celebrates the unique flavors of Bavaria by serving quality meat and using (almost) all parts of the animal. The menu offers a selection of prime cuts, grilled and slow-roasted meats, accompanied by local and seasonal produce. The open kitchen in the middle of the restaurant is accompanied by two long chef's tables offering front row seats to the culinary activities.
M'Uniqo, the dramatic rooftop bar, one of the highest in town, is the perfect place to socialize over botanical-infused cocktails, listen to live music, and take in a stunning, panoramic view of the city and the Alps.
Designed to stimulate the senses, Bicicletta, the hotel's coffee bar, infuses aromas its artisan coffee and also offers fresh juices. Guests can enjoy their favorite beverage while sitting on unique bar stools shaped like bicycle seats. For a casual bite, guests can stop by Café M throughout the day for its deli menu.
Wellness
With carefully selected, regionally inspired products and healing treatments – massages, body rituals, facials and aromatherapy – every guest will leave The Andaz Spa, one of the city's largest spas, feeling truly connected to the heart and soul of Munich. A spiral staircase connects the spa to the 55 foot (17 meter) swimming pool, along with an elevator that takes guests directly to the pool deck, where, on a clear day, guests can see as far as the Alps. Gym-goers can take advantage of the fully equipped, state-of-the-art, 24-hour gym.
Meetings and Events
Measuring more than 21,530 square feet (2,000 square meters), Andaz Munich Schwabinger Tor is the perfect location for creative gatherings. Guests can choose from seven inspiring studios for meetings and events, two private kitchens, a 2,150 square foot (200 square meter) exhibition space, and a 5,380 square foot (500 square meter) ballroom with a diamond-shaped folding ceiling and countless programmable lighting options.
The studio spaces offer guests a creative and relaxed environment to work alone or host informal meetings. Situated across two floors and complete with comfortable sofas and playful elements, guests also have access to large flat-screen TVs and glass whiteboards.
Each gathering space reflects the neighborhood, such as the green wall with hanging plants in the welcome area that's inspired by the Englischer Garten.
Opposite the studios on both floors is a private kitchen seating 12 at a wooden table set under the playful, suspended lamps. Here, guests can enjoy the action of live cooking at every event.
A Vision of Sustainable Middle Eastern Design at Four Seasons Hotel Abu Dhabi
Discover a vision of modern Middle Eastern Design at Four Seasons Hotel Abu Dhabi at Al Maryah Island. Developed in conjunction with Mubadala and the Abu Dhabi Urban Planning Council, estidama (the Arabic word for sustainability) was viewed as a key priority—based upon the vision of Sheikh Zayed bin Sultan Al Nahyan—in order to create responsible development in the UAE's capital by the year 2030.
Situated on Al Maryah Island, the city's new business and lifestyle destination, Four Seasons Hotel Abu Dhabi, gives you a connection to the city and its culture through its central location, as well as its spectacular design.
Director of Engineering George Chapides stresses that intelligent architectural design can also reflect the culture of the place it is in:
"Four Seasons strives to achieve unique interiors that reflect the local context and market, and in harmony with the architecture of the building. Our striking façade is firmly rooted in traditional Islamic and Middle Eastern architecture. The window lattices found on the building are not only inspired by textiles found in the UAE's souks but they are also firmly rooted in cultural design elements that have a functional purpose."
The use of the mashrabiya adorning the building is based on an ancient architectural technique in the region. This design principle has been adapted in the modern context on notable Abu Dhabi developments such as the Al Bahr Towers and Masdar City. This element serves three purposes:
It shields the building from the sun's intense rays. During the summer season, temperatures within the region can reach in excess of 44 Celsius (110 Fahrenheit), which greatly increases energy consumption to cool the building, which features floor-to-ceiling windows throughout.
It cools the spaces behind them, creating natural ventilation while reducing the sun's radiation.
It beautifies the spaces around them through the diffusion of light. This architectural element is most prominent in our stunning lobby in the morning hours. This makes going to a big business meeting in the surrounding Abu Dhabi Global Market (ADGM) or even simply enjoying a coffee in Al Meylas an utter joy.
Hyatt Announces the First Hyatt-Branded Hotel in Malta
Hyatt Hotels Corporation announced today that a Hyatt affiliate has entered into a franchise agreement with Bay Street Holdings Limited to develop the first Hyatt-branded hotel in Malta. Located on the scenic coastal destination of St. Julian's, the 153-room resort is expected to open in 2021 as the ideal destination for every occasion – from seamless business meetings to memorable family vacations.
"We are thrilled to announce plans for the first Hyatt-branded property in Malta, a country rich in historic architecture and now quickly becoming one of the most sought after destinations for business and leisure travel," said Guido Frederich, Hyatt's regional vice president development, Europe. "This is a great opportunity to build on the current Hyatt Regency brand presence in Southern Europe, and we look forward to working with the highly experienced developers, Bay Street Holdings, to open a new, exclusive hotel in the area."
Gaining popularity among leisure guests and high-end business travelers, Malta's tourist numbers having doubled since 2010. Increasingly, visitors are choosing to stay at the coastal destination of St. Julian's due to its proximity to shopping, restaurants and entertainment. Hyatt Regency Malta will be located only a short walk from the beach and marina, and less than 20 minutes from Malta's international airport and the UNESCO World Heritage City of Valletta. Furthermore, the hotel will offer flexible event spaces and a five-story underground car park, providing a stress-free environment for corporate events, social gatherings and weddings.
"We are delighted to be working with Hyatt to bring a new resort offer to St. Julian's – one of Malta's most in-demand destinations," said Albert Galea, chief executive officer, Bay Street Holdings Limited. "At Hyatt Regency Malta, guests will enjoy the seamless, intuitive experiences the brand is well recognized for."
Through empathetic service that anticipates guests' needs, the Hyatt Regency brand designs experiences to ensure productivity and peace of mind while traveling. Hotel guests will enjoy a full range of services and amenities, including notable culinary experiences, flexible spaces to work, collaborate or relax, and tools to stay connected and energized for meetings and events.
Hyatt Regency Malta will add to the growing Hyatt Regency brand portfolio in Europe, joining Hyatt Regency Nice Palais de la Méditerranée, soon to open Hyatt Regency Barcelona Fira and Hyatt Regency Hesperia Madrid, and recently announced Hyatt Regency Lisbon.
Marriott International Opens Second Four Points by Sheraton in Tanzania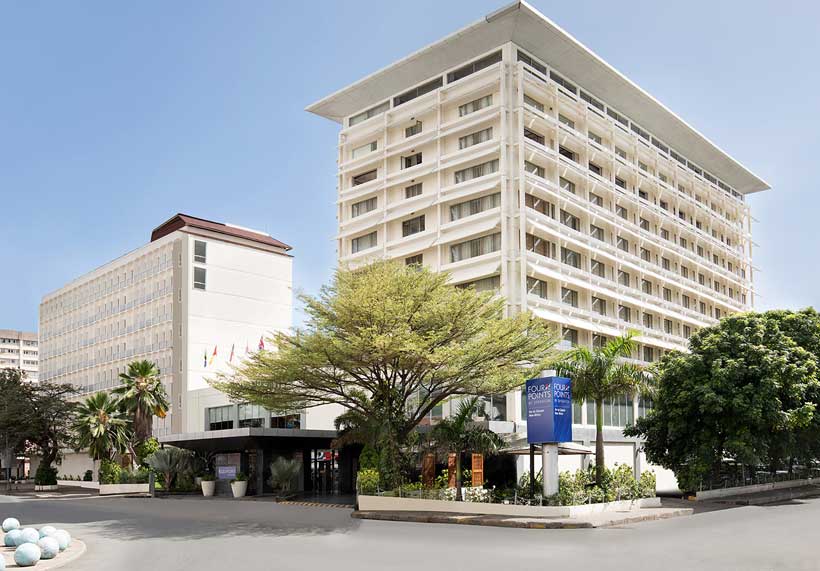 Marriott International, Inc. announced the opening of its second Four Points by Sheraton hotel in Tanzania, Four Points by Sheraton Dar es Salaam, New Africa Hotel. The original New Africa Hotel was built as the official residence of Kaiser Wilhelm II in 1896. It was used as a hospital during World War I before being converted into a hotel during the British Empire. Sitting at the heart of the central business district of the city, overlooking the Harbor the hotel has since emerged as a landmark and an integral part of the burgeoning city. With the renovation and the rebrand the hotel continues to retain its unique charm, while delivering on the brand's promise to provide what matters most to today's independent travelers.
"Four Points by Sheraton Dar es Salaam, New Africa Hotel, is a great addition to our rapidly growing footprint in Africa and further consolidates the brands presence in Tanzania. We are confident that with its blend of stylish comfort and genuine service at a great value, the hotel will meet the rising demand for high-caliber lodging in this fast-growing market and soon emerge as a leading choice among business and leisure travelers," said Alex Kyriakidis, President and Managing Director, Middle East and Africa, Marriott International.
Designed for the modern traveler with an emphasis on approachable design, the 174 room Four Points by Sheraton Dar es Salaam, New Africa Hotel, features spacious and contemporary rooms including suites. It also offers an all-day dining, a coffee shop and a lounge-bar where guests can experience the brand's signature Best Brews™ program and watch their favorite sports matches. The hotel also features The Spice Route, a signature restaurant overlooking the Harbor showcasing Pan Asian fine dining.
Other facilities include an outdoor pool and a state-of-the-art fitness center. With 1000 square feet of indoor meeting and banquet space spread across 12 flexible meeting rooms, the hotel is an ideal venue for gatherings of any size including elaborate social events and weddings.
The hotel offers the brand's defining touches, including the Four Comfort Bed, complimentary bottled water in all rooms, fast and free Wi-Fi throughout the hotel and an energizing breakfast with freshly brewed coffee that helps guests start the day right.
"Our vision is to offer an uncomplicated travel experience for both business and leisure. Perfectly situated in the heart of the city, the hotel is at the epicenter, steeped in history and surrounded by local attractions," said Siddharth Chaudhry General Manager, Four Points by Sheraton Dar es Salaam, New Africa Hotel. "We look forward to welcoming our guests with the brand's signature warm and uncomplicated yet comfortable service."
Four Points has proven to be a global hit with its distinctive identity and ability to meet the increasing demands of the modern, everyday traveler. The brand is experiencing incredible growth momentum having surpassed the 250th hotel milestone globally. Over the past two years in East Africa alone, the brand has opened Four Points by Sheraton Hurlingham, Four Points by Sheraton Nairobi Airport and Four Points by Sheraton Arusha with Four Points by Sheraton Dar es Salaam becoming the fourth property to open in the region.