Women and human rights: Front and centre at the Oscar ceremony this year
Gender equality, the marginalization of indigenous languages, migration, the refugee crisis, the lives of domestic workers, poverty… All these issues which are at the heart of the United Nations' work, are also front and centre in some of the films celebrated this year at the Academy Awards.
Two women, Yalitza Aparicio and Nadine Labaki, could make history this Sunday during the 91st Oscar ceremony taking place this Sunday in Los Angeles, in the United States. Mexican actress Yalitza Aparicio could become the first indigenous woman to win the prestigious golden statuette for her role in the feature Roma, by director Alfonso Cuarón. As for Nadine Labaki, from Lebanon, she could become the first Arab filmmaker to be awarded an Oscar, for her film Capernaum.
Their nominations came two years after a heated debate over the lack of diversity in the Academy Awards' lists of nominees and winners.
This year, the Academy has also shown greater range in its thematic coverage by nominating films that highlight major international issues, in particular related to human rights. For example, the film Roma highlights the need to protect indigenous languages such as Mixtec, as well as the life of domestic workers, and societal inequalities. As for Capernaum, it puts the spotlight on the suffering of migrant and refugee children. Green Book and BlacKkKlansman, also nominated, highlight issues of racism in the United States in the 1960s and 1970s.
This human-rights focus in the world of cinema takes place as the world just celebrated the 70th anniversary of the Universal Declaration of Human Rights.
Focus on indigenous issues and economic inequalities
Director Alfonso Cuarón has hailed Yalitza Aparicio's nomination in the Best Actress category as the most relevant nomination of the 10 his film Roma secured.
The young woman, who made her acting debut in this feature, plays Cleo, a domestic worker who is Mixteca, an indigenous community in Mexico, specifically in the states of Guerrero, Oaxaca and Puebla. Cleo works for a middle class family in the early 1970s in the neighborhood of Roma, in Mexico City.
In an interview with UN News, Mr. Cuarón noted that, in his country, indigenous peoples are particularly affected by social inequalities. "It isn't difficult to notice that economic power is closely linked to the color of one's skin, and indigenous peoples are those who usually end up having the least amount of privilege."
The director stressed that the film had started a conversation on the racism that persists in Mexico, which he said "has been ignored for too long". He added this racism had "not just been ignored" but that its very existence had actually been "denied." He also noted that the topic of domestic work and the rights of indigenous peoples have been overall taboo.
Regarding indigenous languages, of which 2019 is the International Year, Mr. Cuarón lamented that they are "very repressed." Cleo and her friend and fellow domestic worker Adela only speak it when they are alone "in their own spaces" – i.e. the kitchen or their bedroom – or with the "girl who is belittled, ignored and unappreciated by the masculine part of the family."
Labaki's 'duty'
In Capernaum, director Nadine Labaki, nominated in the Best Foreign Language Film category, sheds a light on the plight of refugee children, their violated rights, and how extreme poverty affects them.
The movie tells the story of 12-year-old Zain, a Syrian refugee who, caught in the limbo of conflict and forced displacement, files a lawsuit against his parents for having been born.
In an interview with UN News, Ms. Labaki said that she had "a duty" – "not even a choice" – to record the reality of the refugee crisis playing out on the streets of her native Lebanon. The small country, which is also facing its own political and economic challenges, currently hosts close to 1 million refugees from war-torn Syria.
"I'm actually surprised when people ask me [what pushed me to make this film] because I think, you know, if I can do something about it, and I can use my voice to do something about it, it would be a crime not to do so," she said. "So I decided to use my tool, which is filmmaking, to tell that story, to put that story out there and to talk about this struggle because it's my responsibility."
Stressing that the refugee problem is visibly growing – as one can see in Lebanon "children working on the streets, carrying very heavy loads and doing very difficult jobs" – Ms. Labaki said she purposely chose to tell this story through a child's perspective. A child "sees things so much more clearly than any adult because he is not informed or altered by societies' codes or hypocrisy or politics."
Referring to Alan Kurdi, the drowned Syrian toddler found washed ashore on a Turkish beach in September 2015, she said when she saw his picture, she wondered: "if this child could talk, what would he say? What would he tell the world? How would he address the adults that put him in this situation?"
The different characters in the film are not played by professional actors, but by migrants and refugees who themselves faced very similar situations to those shown in the movie. The main character, Zain, is himself played by a refugee who fled Syria eight years ago.
Ms. Labaki explained he faced "very difficult circumstances" and "never went to school." The only difference with the film, she explained, is that the real Zain has "loving parents."
Since the film was made, Zain was resettled in Norway where he lives now, through the efforts of the UN refugee agency (UNHCR).
ADB Marks International Day Against Homophobia, Transphobia, and Biphobia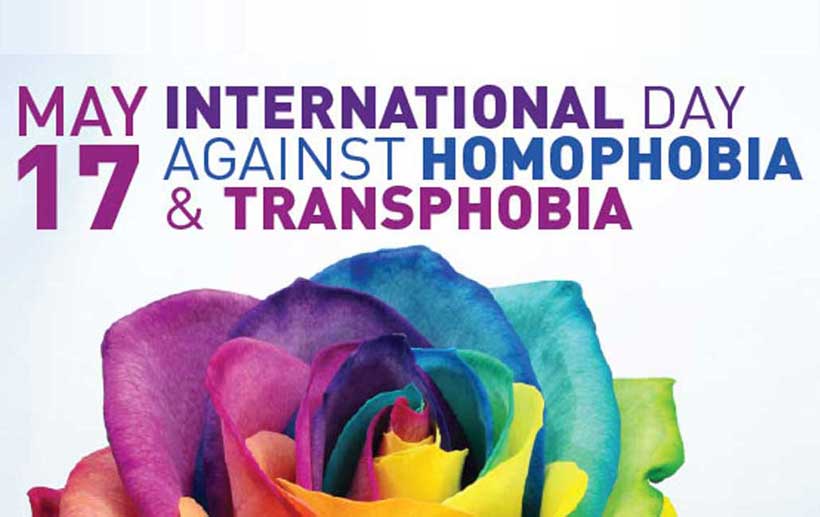 The Asian Development Bank (ADB) is marking the International Day Against Homophobia, Transphobia, and Biphobia (IDAHOT) for the first time by hosting two events over 2 days at ADB headquarters in Manila.
"ADB supports LGBT+ inclusion within and outside its organization. We are committed to a diverse and inclusive workforce where everyone is treated with respect regardless of gender, nationality, ethnicity, religion, sexual orientation, physical ability, and thinking style. We recognize that the promotion and strengthening of diversity, inclusion, and equality at ADB is critical to our effectiveness as an organization," said ADB President Mr. Takehiko Nakao.
On 16 May, IBM Philippines President and Country General Manager Ms. Aileen Judan-Jiao made a presentation on IBM's programs and initiatives to foster a diverse and inclusive workplace for all employees, including for those from the lesbian, gay, bisexual, transgender, and related communities (LGBT+).
ADB hosted a panel discussion on 17 May, which brought together ADB experts and civil society representatives to discuss ways to promote the inclusion of LGBT+ communities in ADB operations. The panel members included civil society leaders from APCOM, the Asia Pacific LGBT+ health and rights organization, and Babaylanes, the Philippines LGBT+ student and youth organization.
The inclusion of vulnerable groups in societies, including LGBT+ people, is critical to achieving a prosperous, inclusive, resilient, and sustainable region, as envisioned in ADB's Strategy 2030.
IDAHOT promotes inclusion and recognizes efforts to overcome the exclusion, discrimination, and violence that the LGBT+ community continues to experience in many parts of the world, including in Asia and the Pacific. IDAHOT recognizes the significant progress that has been made towards equality in many parts of the world. The date of 17 May was chosen to commemorate the World Health Organization's decision in 1990 to declassify homosexuality as a mental disorder.
UN: Gaza blockade causes 'near ten-fold increase' in food dependency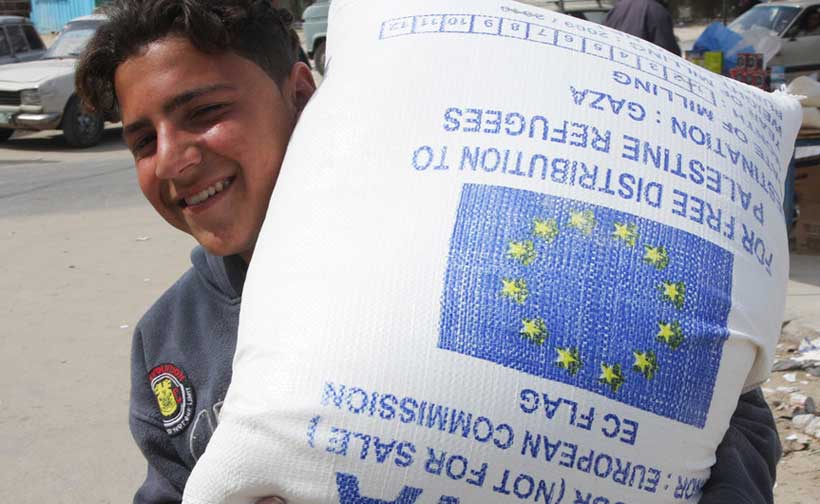 At a time when Muslims globally are observing the holy month of Ramadan, more than half the population in Gaza depends on the international community for food aid, the director of the United Nations Relief and Works Agency for Palestine refugees in the Near East (UNRWA) said on Monday, citing a "near ten-fold increase" in need.
According to UNRWA, it must secure an additional $60 million by June to continue providing food to more than one million Palestine refugees in Gaza, including some 620,000 "abject poor" who cannot cover their basic food needs and are surviving on $1.6 per day. The funds are also needed to cover the severely challenged 390,000 "absolute poor", who survive on about $3.5 per day.
UNRWA is funded almost entirely by voluntary contributions and financial support, which has been outpaced by growing needs.
From fewer than 80,000 Palestine refugees in Gaza receiving social assistance in 2000, today over one million people need urgent food aid to get through their day.
"This is a near ten-fold increase caused by the blockade that led to the closure of Gaza and its disastrous impact on the local economy, the successive conflicts that razed entire neighborhoods and public infrastructure to the ground, and the ongoing internal Palestinian political crisis that started in 2007 with the arrival of Hamas to power in Gaza," said Matthias Schmale, Director of UNRWA Operations in Gaza.
UNRWA is also confronted with an increased demand for services resulting from a growing number of registered Palestine refugees.
Moreover, the tragic death of 195 Palestinians – including 14 UNRWA students and the long-lasting physical and psychological injuries of 29,000 people during year-long demonstrations, known as the 'Great March of Return' – come after three devastating conflicts since 2009 that, combined, left at least 3,790 dead and more than 17,000 injured.
A 2017 UN report predicted that by 2020, Gaza would be unlivable.
Today, with over 53 per cent of Gazans unemployed and more than one million dependent upon quarterly UNRWA food handouts, UN agencies and remittances from abroad are all that stand between Gaza and total collapse.
"For the first time in my year-and-a-half there," Mr. Schmale elaborated, "I had three people talking to me separately about noticeably increasing drug abuse, increasing suicide attempts and prostitution and they put this down to the place is collapsing socially, in socio-economic terms and one can see it and of course against a background like that escalation is possible at any time".
By continuing to deliver upon its mandate, UNRWA remains a critical lifeline for most of Gaza's 1.9 million inhabitants, dispensing services in health and education and defending rights and dignity. Most urgent though, is the food assistance to more than one million Palestine refugees.
Operating with large financial shortfalls, as one of the few stabilizing elements in a very complex environment UNRWA is encouraging all Member States to work collectively to fund its programme budget as well as its emergency programmes, which are financed through separate funding portals.
UNRWA is tasked to help Palestine refugees in Jordan, Lebanon, Syria and the West Bank – including East Jerusalem and the Gaza Strip – to achieve their full human development potential.
UN: Sahel crisis reaching unprecedented levels
Repeated and increasingly sophisticated armed attacks in the Sahel and food shortages linked to last year's severe drought, have reached unprecedented levels, putting the future of a "whole generation" at stake, three top UN humanitarian officials said on Wednesday.
In an appeal for increased funding to support millions of people affected by spreading violence in Mali, Niger and Burkina Faso, the UN Resident and Humanitarian Coordinators for the three countries warned that the instability risked spilling over into other West African countries.
Needs are growing, they maintained, amid a five-fold rise in displacement in the last 12 months which has seen more than 330,000 people leave their homes, in addition to 100,000 refugees.
"Many of those affected by the violence now were already facing dire hardship; for them, it's double devastation," said Mbaranga Gasarabwe, UN Resident and Humanitarian Coordinator in Mali.
Citing "recurrent" violent attacks by armed groups that are up to four times more common now than in 2012 at the start of Mali's security crisis – when the north and centre were briefly under the total control of extremists – Ms. Gasarabwe told journalists in Geneva that these had severely hampered the delivery of basic social services to communities, such as education, health, water sector and shelter.
In Mali "more than 1,800 schools have closed and over 80 health centres are either shut or only partially operational", the UN official said, echoing concerns by her colleagues about service and governance gaps that extremists can be quick to fill.
"We must act now and fast," added UN Resident and Humanitarian Coordinator in Niger, Bintou Djibo. "Sustained relief efforts, economic and social development are key. In the Sahel, violence is also rooted in a sentiment of marginalisation and disenfranchisement."
According to latest UN figures, some 5.1 million people need humanitarian assistance in Burkina Faso, Mali and Niger's western Tahoua and Tillaberi regions.
Aid organizations have appealed for $600 million to assist 3.7 million of those most in need, but funding is at around 19 per cent only, for all three countries.
"We cannot stress enough the urgency of the situation. The future of a whole generation is at stake," said Metsi Makhetha, UN Resident Coordinator for Burkina Faso, referring to attacks by "ISIS-inspired" armed groups, which threatened to destabilize longstanding traditional methods of community-based conflict resolution. "The UN, partner humanitarian organizations and Governments have stepped up operations. But we must do more."
Amid indications that explosive devices now being used in the Sahel resemble those being used in the Syria conflict, the UN officials insisted that the urgent action was needed to help vulnerable communities.
"The attacks are increasing, the methods are getting sophisticated; we are seeing more and more targeting of civilians," said Ms. Makhetha "We need even a concerted effort so that we can really create conditions that will enable the communities to strengthen their traditional community links."
Community tension "is something that we can ill-afford", Ms. Makhetha explained, "and we have to do everything to make sure that the communities are supported because when we don't it is also very fertile terrain for recruitment and it is very fertile terrain for increased grievances."