Women and human rights: Front and centre at the Oscar ceremony this year
Gender equality, the marginalization of indigenous languages, migration, the refugee crisis, the lives of domestic workers, poverty… All these issues which are at the heart of the United Nations' work, are also front and centre in some of the films celebrated this year at the Academy Awards.
Two women, Yalitza Aparicio and Nadine Labaki, could make history this Sunday during the 91st Oscar ceremony taking place this Sunday in Los Angeles, in the United States. Mexican actress Yalitza Aparicio could become the first indigenous woman to win the prestigious golden statuette for her role in the feature Roma, by director Alfonso Cuarón. As for Nadine Labaki, from Lebanon, she could become the first Arab filmmaker to be awarded an Oscar, for her film Capernaum.
Their nominations came two years after a heated debate over the lack of diversity in the Academy Awards' lists of nominees and winners.
This year, the Academy has also shown greater range in its thematic coverage by nominating films that highlight major international issues, in particular related to human rights. For example, the film Roma highlights the need to protect indigenous languages such as Mixtec, as well as the life of domestic workers, and societal inequalities. As for Capernaum, it puts the spotlight on the suffering of migrant and refugee children. Green Book and BlacKkKlansman, also nominated, highlight issues of racism in the United States in the 1960s and 1970s.
This human-rights focus in the world of cinema takes place as the world just celebrated the 70th anniversary of the Universal Declaration of Human Rights.
Focus on indigenous issues and economic inequalities
Director Alfonso Cuarón has hailed Yalitza Aparicio's nomination in the Best Actress category as the most relevant nomination of the 10 his film Roma secured.
The young woman, who made her acting debut in this feature, plays Cleo, a domestic worker who is Mixteca, an indigenous community in Mexico, specifically in the states of Guerrero, Oaxaca and Puebla. Cleo works for a middle class family in the early 1970s in the neighborhood of Roma, in Mexico City.
In an interview with UN News, Mr. Cuarón noted that, in his country, indigenous peoples are particularly affected by social inequalities. "It isn't difficult to notice that economic power is closely linked to the color of one's skin, and indigenous peoples are those who usually end up having the least amount of privilege."
The director stressed that the film had started a conversation on the racism that persists in Mexico, which he said "has been ignored for too long". He added this racism had "not just been ignored" but that its very existence had actually been "denied." He also noted that the topic of domestic work and the rights of indigenous peoples have been overall taboo.
Regarding indigenous languages, of which 2019 is the International Year, Mr. Cuarón lamented that they are "very repressed." Cleo and her friend and fellow domestic worker Adela only speak it when they are alone "in their own spaces" – i.e. the kitchen or their bedroom – or with the "girl who is belittled, ignored and unappreciated by the masculine part of the family."
Labaki's 'duty'
In Capernaum, director Nadine Labaki, nominated in the Best Foreign Language Film category, sheds a light on the plight of refugee children, their violated rights, and how extreme poverty affects them.
The movie tells the story of 12-year-old Zain, a Syrian refugee who, caught in the limbo of conflict and forced displacement, files a lawsuit against his parents for having been born.
In an interview with UN News, Ms. Labaki said that she had "a duty" – "not even a choice" – to record the reality of the refugee crisis playing out on the streets of her native Lebanon. The small country, which is also facing its own political and economic challenges, currently hosts close to 1 million refugees from war-torn Syria.
"I'm actually surprised when people ask me [what pushed me to make this film] because I think, you know, if I can do something about it, and I can use my voice to do something about it, it would be a crime not to do so," she said. "So I decided to use my tool, which is filmmaking, to tell that story, to put that story out there and to talk about this struggle because it's my responsibility."
Stressing that the refugee problem is visibly growing – as one can see in Lebanon "children working on the streets, carrying very heavy loads and doing very difficult jobs" – Ms. Labaki said she purposely chose to tell this story through a child's perspective. A child "sees things so much more clearly than any adult because he is not informed or altered by societies' codes or hypocrisy or politics."
Referring to Alan Kurdi, the drowned Syrian toddler found washed ashore on a Turkish beach in September 2015, she said when she saw his picture, she wondered: "if this child could talk, what would he say? What would he tell the world? How would he address the adults that put him in this situation?"
The different characters in the film are not played by professional actors, but by migrants and refugees who themselves faced very similar situations to those shown in the movie. The main character, Zain, is himself played by a refugee who fled Syria eight years ago.
Ms. Labaki explained he faced "very difficult circumstances" and "never went to school." The only difference with the film, she explained, is that the real Zain has "loving parents."
Since the film was made, Zain was resettled in Norway where he lives now, through the efforts of the UN refugee agency (UNHCR).
UNSC urged to act in face of 'humanitarian catastrophe' in Haiti
The Security Council must act urgently to support Haiti as the gang, economic, and fuel supply crises there "intersect in altogether new and frightening ways", the head of the UN Mission in the country, BINUH, said on Monday.
Meanwhile, political stakeholders are still struggling to find common ground and define a path to elections against this backdrop, she added.
Haitian-led solution critical
"An economic crisis, a gang crisis, and a political crisis have converged into a humanitarian catastrophe. We must not lose hope, but rather combine our efforts to find a pathway to a better tomorrow," said UN Special Representative Helen La Lime, speaking from the capital Port-au-Prince.
"A Haitian-led political solution is the first necessary step to address the current crisis. To support Haitians in their effort towards a better future, this Council must take urgent action."
Gang violence continues to disrupt daily life in Haiti, driving more than 20,000 people from their homes.
More than 1 million affected
The UN estimates that at least 1.5 million people in the Caribbean country have been directly impacted by recent unrest, with gender-based violence, and in particular rape, being used systematically.
The economic crisis has caused food prices to soar, while fuel is often available only on the black market.
Protests broke out in Haiti after the Prime Minister announced on 11 September that the Government will reduce some $400 million in fuel subsidies in efforts to increase revenue for social programmes.
By the following day, barricades had been erected throughout the country, prompting a nationwide shutdown, with the situation persisting in the capital for a full five days.
One of the largest gang alliances also blocked the main fuel terminal there on 12 September. The siege lasted for over a week, despite concerted operations by the police over the weekend.
Good offices role
On the political front, Ms. La Lime said she has maintained good relations with all sectors of society and has encouraged dialogue.
"While so-far inconclusive efforts have led to a perceived stalemate, national stakeholders have begun to re-engage with a renewed sense of urgency. In the past weeks, Government representatives, political groups, and civil society organizations launched new consultations on ways to forge a wider consensus on a path to elections. But we're not there yet," she said.
Aid delivery hampered
The insecurity has also severely curtailed humanitarian access and made it "very difficult and dangerous" to deliver, according to Valerie N. Guarnieri, Deputy Executive Director at the World Food Programme (WFP).
"We expect food security to further deteriorate this year, surpassing the record high of 4.5 million people estimated to face crisis or worse levels of acute food insecurity, including 1.3 million people in emergency," she said.
The gangs strangling the capitol are blocking access to fuel supplies and key logistics hubs, including ports and airports, as well as road access to other areas of the country.
Protesters have also ransacked and looted humanitarian warehouses, with WFP losing one-third of its food stocks in just one week. UN agencies and partners estimate they have lost some $6 million during such attacks, which come at the peak of the hurricane season.
Appeal for support
Ms. Guarnieri stressed that WFP and other aid agencies intend to stay and deliver in Haiti despite the challenges, but will need greater assistance.
"Simply put, we're not in a position to support all of those that need our help due to the general lawlessness and operational environment," she said.
"Therefore, we're looking forward to increased support from the Member States, from you, to further facilitate humanitarian access as well as protection of humanitarian actors, personnel and assets."
Fighting illicit trafficking
The armed groups not only compromise stability and security, they also hamper efforts towards peace and lasting development, said Ghada Fathi Waly, Executive Director of the UN Office on Drugs and Crimes (UNODC).
Haiti is particularly vulnerable to the illicit traffic in commodities, particularly drugs, firearms and ammunition. due to its 1,500 kilometres of coastline and land border with the Dominican Republic.
Ms. Waly said UNODC is supporting border management and is working to map out transnational criminal activities in Haiti, as well as their regional impact.
They are also assisting the authorities in building capacity to inspect containers at strategic points such as ports and border crossings.
"These efforts should ensure that customs revenue be effectively sent to activities to support border modernization and border management," she said, speaking in French.
Lavrov: Russia had 'no choice' but to launch 'special military operation' in Ukraine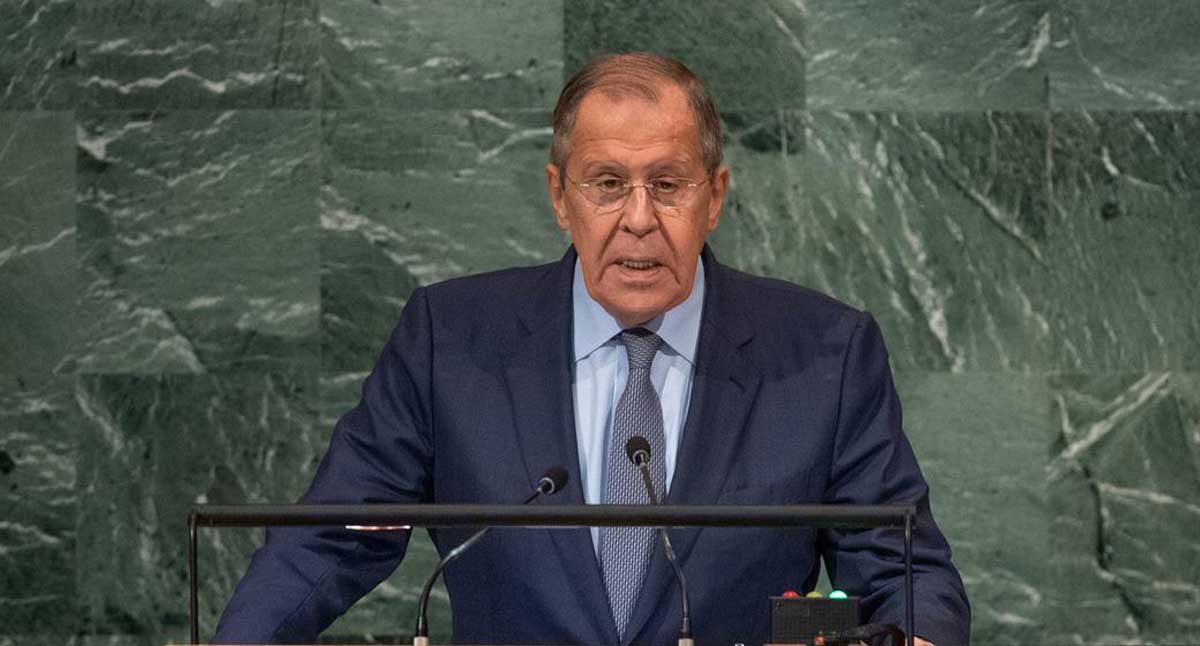 Faced with the "inability" of Western countries to negotiate and the Ukrainian Government's "war against its own people" in the east, Russia had "no choice" but to launch what the Government refers to as its special military operation, Foreign Minister Sergey Lavrov told the UN General Assembly on Saturday.
The operation launched on 24 February had been carried out to protect Russians living in Ukraine's Donetsk and Luhansk regions, and eliminate threats to Russian security, said Mr. Lavrov, that the EU and United States-led NATO military alliance had consistently created in the territory, since what he described as the "bloody coup" by the current "Kyiv regime", in 2014.
"I am convinced that any sovereign, self-respecting State would do the same in our stead, which understands its responsibility to its own people."
'Throwing a fit'
Mr. Lavrov accused the West of "throwing a fit" over this weekend's referenda being conducted in the Donbas and other Russian-controlled areas on becoming a part of the Russian Federation, countering that people there were simply following an order from Kyiv, to "get out and to go to Russia".
The Russian Foreign Minister said the crises surrounding the war were growing, and the international situation was rapidly deteriorating, but instead of having an honest dialogue and searching for compromise, the West was "undermining confidence in international institutions" and encouraging negative tendencies within the United Nations as well.
He said the United States was trying to turn the whole world into its "backyard", and together with its partners, punishing dissenters from its world view, through what he called "illegal unilateral sanctions" which violate the UN Charter, and hurt poor citizens in poorer countries, targeting their medicines, vaccines and food imports.
'Provocations'
Attempts by the US to impose dividing lines, telling nations "you're either with us or against us", meant that instead of "honest dialogue" there was instead "disinformation, crude staging, and provocations".
He praised the UN Secretary-General for mobilizing efforts to overcome the global food and energy crisis fuelled by the war but blamed the West for economic mismanagement in the pandemic, claiming that sanctions against his country amounted to an "economic war against Russia."
He praised the Black Sea Grain Initiative to free up food and fertilizer from Ukraine, and Russia, to alleviate price inflation and supply, but said the poorest countries were still not benefitting, and again criticized the US and EU for not fully removing "obstacles" to Russian exports he said were trapped in European ports.
'Russophobia' claim
Mr. Lavrov told the Assembly that there was now a "crusade by the West against the objectionables", with NATO seeing Russia as simply a threat to its domination of the region and beyond.
Furthermore, Russophobia, he said, had reached unprecedented proportions, with Western powers making no secret of their ambition to militarily defeat Russia, and try to "destroy and fracture Russia…What they want to do is to remove from the global map, a geopolitical entity, which has become all too independent."
He warned countries beyond Europe and North America, that the Western alliance, in an effort to impose its will, was seeking to expand influence and hegemony further into Asia, South America, and Africa, and ended his remarks by quoting the hugely influential and charismatic second UN Secretary-General, Dag Hammarskjöld:
Save humanity from hell
"The UN wasn't created to take mankind to paradise, but rather to save humanity from hell. These are very topical words. They call upon us, to understand our individual and collective responsibility for creating conditions for a peaceful and harmonious development for our future generations, and everyone needs to show political will for that."
Ending his speech on a conciliatory note, and a nod to a brighter future for multilateralism, he said he was convinced that the stability of the world order could be ensured, by returning to "the origins of UN diplomacy", based on the key principle of "sovereign equality of States".
War crimes have been committed in Ukraine conflict
Almost seven months to the day since Russia's invasion of Ukraine, UN-appointed independent human rights investigators said that war crimes have indeed been committed in the conflict.
The finding came in the first report by the Independent International Commission of Inquiry on Ukraine, which was set up in March this year, at the request of Human Rights Council Member States.
Much of the Commission's work focused on investigations in the regions of Kyiv, Chernihiv, Kharkiv, and Sumy, where allegations of the most serious rights violations were made against Russian, or Russian-backed forces, early in the war.
Thorough investigation
Commission chairperson Erik Møse said that investigators visited 27 towns and settlements and interviewed more than 150 victims and witnesses. They also inspected "sites of destruction, graves, places of detention and torture", as well as remnants of weapons.
"Based on the evidence gathered so far during the Commission's existence, we found out after having carried out the investigations in these four areas just mentioned, we found that war crimes have been committed in Ukraine," he told journalists in Geneva.
That conclusion is in line with findings published earlier this year by the UN Human Rights Monitoring Mission in Ukraine (HRMMU).
It documented unlawful killings – including summary executions of civilians – in more than 30 settlements in Kyiv, Chernihiv, Kharkiv and Sumy regions, by Russian armed forces while they controlled these areas in late February and March.
Brutal executions
Other key findings from the report include the surprisingly "large number of executions" in 16 towns and settlements, where "common elements" of the crimes included "visible signs of executions on bodies, such as hands tied behind backs, gunshot wounds to the head, and slit throats".
The report, delivered to the Human Rights Council earlier on Friday, also documented how explosive weapons had been used by the Russian Federation forces, "without distinguishing between civilians and combatants in populated areas".
"We were struck by a large number of executions and other violations by Russian forces, and the Commission received consistent accounts of torture and ill-treatment."
Sexual violence, including against children
Horrific allegations of sexual violence against Ukrainian communities – including children – were also found to be based in fact.
"The Commission investigated cases of sexual gender-based violence. It documented cases in which some Russian Federation soldiers made such crime," said Commissioner Jasminka Džumhur.
Ukrainian forces were also responsible for human rights violations, said Commissioner Pablo de Greiff: "We have found two instances of ill-treatment of Russian Federation soldiers by Ukrainian soldiers, and we mentioned this in our statement. We have found obviously significantly larger numbers of instances that amount to war crimes on the part of the Russian Federation."