Why President Trump Should Reform The Family Court System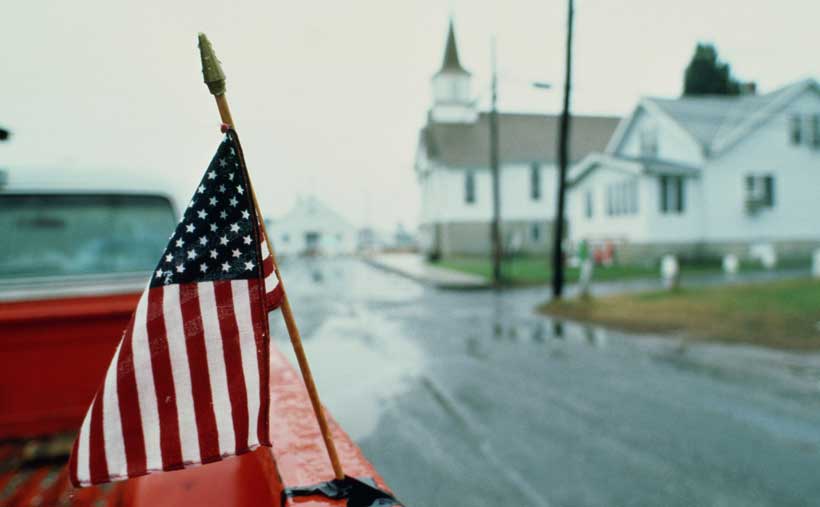 Now that the Trump Administration has successfully prepared, filed and achieved historic criminal justice reform, something which his predecessors could not get done, or even made worse such as with Joe Biden and Bill Clinton's cataclysmic Violent Crime Control and Law Enforcement Act of 1994 ("VCCLEA") often referred to as the "1994 Crime Bill," which illegally and unconstitutionally jailed or contributed to criminal records to 70 million Americans (more than the population of France), mass incarcerating 1/3 of all blacks, 1/6 of all latinos, and 1/10 of all whites in the United States, now is the time to also pass a comprehensive all encompassing family court reform act as well.
The American family court system is world famous for being one of the most cruel, catastrophic, abusive, arbitrary, and destructive forms of court ordered governance that the world has ever seen.
Rooted in such Hitlerian ideas such as "the best interests of the child" and "preventing domestic violence," which seem noble and positive on the surface, unfortunately it is the only court system which removes all constitutional guarantees of individual human and civil rights, usually from the father, as soon as he steps into the "family court arena."
The aforementioned Hitlerian concepts immediately subject a disfavored litigant of his/her 1st, 2nd, 4th, 5th, 6th, 8th and 13th Amendment Rights, within a closed "star chamber" court, without cameras or spectators allowed, completely and totally ripe for them to be plundered, abused, harassed, threatened, surveillanced, castigated, attacked, bankrupted, invaded and destroyed by all of the career members of this family court system – including the various "magistrates," judges, court officers, law clerks, child protective service workers, court appointed attorneys and "forensic experts," law guardians, and anyone else who can either make a buck or get even with one of the parties involved in fighting for his/her life, or that of their children.
It is no wonder that a great many conspiracy theories have emerged that to deposit someone within the family court system is tantamount to a slow motion assassination or torture chamber, wherein that targeted individual is slowly, methodically, and painfully destroyed over many years, sometimes decades, subjected over and over to repeated fear, bankruptcy, incarceration or detention, for crimes/transgressions that did not even exist before the family court even got involved.
And it's all done in secret, not open to the general public, for the "best interests of the child" or to "protect people from domestic violence (even false allegations thereon)."
Orders of Protection ("OP"), depriving people of their life, liberty, property, children, or possessions are handed out like jelly beans, because no judge or magistrate of first impression wants to be in the newspaper just in case one of the allegations turns out to be true, but by the time a party is determined to be innocent of the allegations contained within the family offense petition forming the basis of the OP, that person's life has already been irreparably ruined in almost every capacity.
To that end, the family court system must immediately be reformed, if not outright abolished, as follows:
(1) all judges/magistrates must be screened (and then screened again) for any links to extremist domestic or ideological groups or agents such as militant feminism, leftist organizations, racist organizations, socialist organizations, or any other groups which by nature and definition fly in the face of the United States Constitution guaranteeing equal due process rights for each and every one of their citizenry;
(2) no longer should judges or magistrates allow their law clerks or staff to write their judicial opinions – too many times a "life and death" judicial opinion governing a family, children, or domestic partnership is written in near "chicken scratch" without any basis in law or fact, merely on emotion, gut instinct, and personal prejudice, by an untrained individual with no background in the law or the constitution, resulting in complete destruction of their targets for arbitrary and capricious reasons;
(3) orders of protection can not and should not issue as a matter of right – more emphasis needs to be placed on completely and totally evaluating and gauging the imminent threat and seriousness of both the charges (and the evidence) before these are allowed to be issued, which are also unfortunately registered with the federal government law enforcement agencies as well as with the states and local enforcement agencies;
(4) more emphasis needs to be placed on family mediation, arbitration, and even counseling services for domestic partners, husbands and wives to "stay together" for the best interests of the child, if at all feasible and possible, rather than right from the beginning arming both sides to the teeth with legal and equitable weapons of mass destruction designed to mimic a gladiatorial combat, rather than a very sad and sorry state of affairs facing this very vulnerable and disoriented family;
(5) Fathers and Mothers must be treated equally under the law and their children need to be considered a part of both in complete and total equality – the sad cultural norm that pervades the family court system, that somehow, "women and mothers" are always right and are all powerful, with men and fathers having little to no rights whatsoever, needs to change, and change immediately, as this outright discrimination against men is a direct hit and assault on the very words and meaning of the United States Constitution, and undermines the very basis and spirit of the United States of America, and what our Founding Fathers and their legacies within the U.S. Armed Forces fought and died for, decade after decade, since the country's inception;
(6) Court Officers need to be trained not only in overall court security, but also in common decency and sensitivity as their characteristic "jack booted thug" approach irreparably and for life traumatizes children, families, parents, their lawyers and litigants in the entire family court process;
(7) any indication that one parent is actively interfering with the rights of another parent with regard to visitation, custody, relationship with their own children should be duly noted and punished with extreme prejudice – parental alienation also needs to become a topic covered by child protective service workers and not ignored or covered up like is currently the case now in the family court arena – children are extremely impressionable and sensitive and like to ingratiate themselves to the parent where they feel most safe – and if one parents is alienating or cutting off the other, then that is grounds to change custody immediately;
(8) favoritism within the family court system should be identified and eradicated immediately upon discovery – this reflects the sentiments expressed in Point 1 above, wherein certain litigants in the family court system are allied with the presiding judge or magistrate on purely political, ideological, sexual, financial, ethnic, or other grounds, and then benefit enormously when it comes to case adjudication or decisions handed down from the bench (or from their law clerks/paralegals/forensic experts/court personnel);
(9) the federal government and law enforcement must readily step in whenever and wherever these types of problems arise – currently the position of the federal law enforcement agencies reflect a sentiment that "they do not like to get involved in current court proceedings" but this type of mentality encourages corruption, favoritism, child trafficking, child abuse, parental alienation, contributes to crime, and other social ills/aberrations, and can no longer be tolerated any more;
(10) similarly, appellate and federal courts should no longer outright reject appeals for justice from targeted litigants currently wrestling with a corrupt out of control family court star chamber – and it is not fair or moral that corrupt judges, magistrates, law clerks, and court personnel can claim "sovereign immunity" and thus be insulated from accountability, and then be defended by States Attorneys General and the awesome power and limitless purse of the State, when they commit crimes against children and families.
In short, the American Family Court System, like the Criminal Justice System, needs to be reformed, and reformed now, as it is a National Security issue to preserve and protect the integrity, strength and sanctity of the nuclear family unit.
Can Lula walk the tightrope between Washington and Beijing?
As Brazil's New President Luiz Inácio Lula da Silva (popularly known as Lula) prepares to visit China later this month, maintaining neutrality would be difficult as the winds of change enwrap Beijing.
Brazil is Back
President Lula's coming to power has marked a decisive shift in Brazilian foreign policy. With the Pink Tide resurging in South America, the new President has clearly spelled out his foreign policy aims: restoring Brazil's neutrality and importance in international affairs at par with both the West and East after nearly 4 years of impasse under his predecessor Jair Bolsonaro, who had adopted a Sinophobic, pro-Trump foreign policy.
Brasilia's 39th President, who previously presided over the office between 2003-2010, will have a lot to talk about as he visits his nation's largest trading partner that imported $89.4 billion in 2022 mostly in soy and iron ore which added a surplus of $28.7 billion to Brazil's coffers. Boosting the economic partnership with China will be a priority for Lula, who intends to integrate South America into a closely held economic unit. Another important item on the agenda includes the appointment of former President Dilma Rousseff as the new BRICS Bank president.
Lula and the West
Lula had rattled swords with Washington on several occasions during his previous tenure such as alleging the United States for reducing South America to its "backyard" by intervening in its internal politics as well as by opposing the Iraq War. Even though he recognises the importance of maintaining good relations with the superpower up North; several of Lula's moves including sending a delegation to Maduro-led Venezuela, refusing to sign a UN Human Rights resolution condemning human rights violations in Nicaragua, allowing Iranian warships to dock at Rio de Janeiro, maintaining an ambiguous approach on the Russia-Ukraine War and refusing to send arms to Kyiv, dubbing the 'Balloongate' incident a bilateral issue between the US and China and defining the Taiwan issue as Beijing's internal matter, have deeply irked the West.
While tensions remain, Lula's focus on combating climate change and call for saving the Amazon have earned a thumbs up from the Biden administration as the former's election to power comes as a breath of fresh air after his staunch "Trump of the Tropics" predecessor adopted a not-so-friendly approach towards Biden's entry in the White House. Lula understands Washington's support is required and hence it was a top spot on his foreign visits list. Lula and Biden held talks amidst a cordial ambience and vowed to reboot bilateral ties by promising to protect democracy and combating climate change.
Winds of Change in Beijing
However, winds of change in the East have dispersed the clouds of ambiguity and China now stands more vocal, more critical and more confident in dealing with the United States.
The recent session of the National People's Congress, which won Xi Jinping a never-seen-before third term as the President, saw him voicing his criticism against "Washington-led attempts" to "contain, encircle and suppress" China which pose " serious challenges to its development" ("以美国为首的西方国家对我实施了全方位的遏制、围堵、打压,给我国发展带来前所未有的严峻挑战。"). Sino-US relations have been in the trough since President Trump's tenure with the recent point of clash being the 'Balloon incident' which made Anthony Blinken call off his visit to Beijing.
Xi recently unveiled his new 24 Character Foreign Policy which, Dr. Hemant Adlakha believes, marks "China's new foreign policy mantra in the 'New Era' " acting as its "ideological map to attain national rejuvenation by 2049". The characters "沉着冷静;保持定力;稳中求进;积极作为;团结一致;敢于斗争 " which translate as "Be calm; Keep determined; Seek progress and stability; Be proactive and go for achievements; Unite under the Communist Party; Dare to fight" are set to replace Deng Xiaoping's 24 Character Strategy focussed on never seeking leadership and assuming a low profile.
China's confidence is further boosted by its successful attempt to broker peace between Saudi Arabia and Iran, who have been staunch rivals for the past many years. With the handshake that brought the Sunni Arab Kingdom and the Shiite Persian theocracy together, Beijing has garnered accolades from nations across the region and is all set to play a greater international role by not just pulling American allies such as Riyadh to its side but also through actively putting forth its plans to end wars with Xi all set to pay Putin a visit over the Russia-Ukraine War before he meets Lula at Beijing. Lula too eagerly anticipates what Beijing has to say as he told German Chancellor Olaf Scholz "it is time for China to get its hands dirty".
Neutrality no more?
If the state of Sino-US relations does not improve, things would get hard for many leaders like Lula who seek to balance between the two superpowers. Lula knows neutrality is his best bet but money matters– as his former Foreign Minister Celso Amorim noted "Our surplus with China—and I'm talking just about our surplus—is bigger than all of our exports to the United States. It is impossible not to have good relations with China." Isolating China, with which Brazil has had a long strategic partnership since the 1990s, at the expense of moving closer to the US might come hard on the purse and exacerbate the many economic challenges he faces. Nor can Washington be isolated– not just because of the economic necessities but also in the face of challenges from far-right forces that both Lula and Biden face.
Lula realises the risks of placing all his eggs in one basket but would he be left with the choice to divide them equally into both? The issue is bound to get stickier but if he successfully manages to escape the quagmire of the unfolding great power rivalry, Lula will set a precedent for not just South America but nations across the globe. The only viable solution would be to strengthen regional alliances in Latin America and boost partnerships with developing nations like India while using the collective strength to push Beijing and Washington to come together.
The Malvinas feud as a Global Constant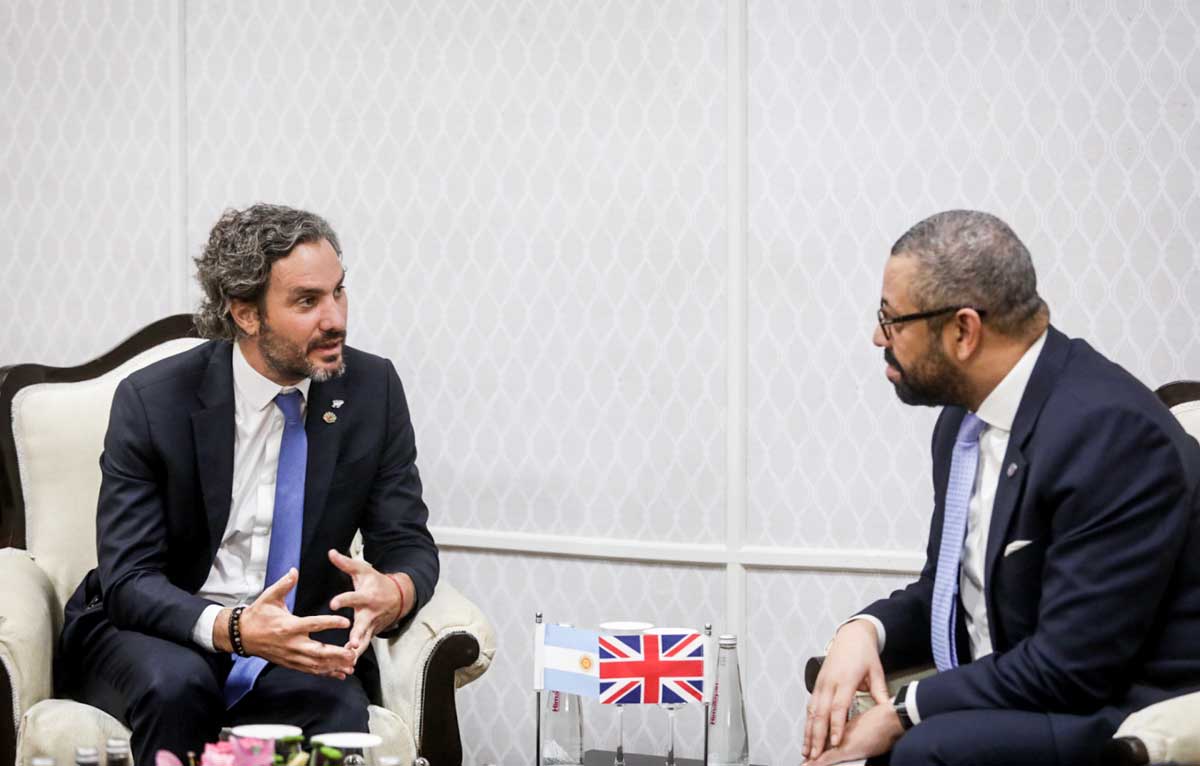 As an event gets bigger, it's more likely that interesting things will happen behind the scenes, that is, in unplanned activities.
The seventh meeting of G20 foreign ministers in India in 2023 confirms this. Bilateral meetings between Qing-Jaishankar, the Blinken-Lavrov dispute, and the meeting between Santiago Cafiero and James Cleverly, during which the former notified the latter of the end of the Foradori-Duncan agreement.
On March 2, 2023, by rescinding the Foradori-Duncan agreement, the Argentine government de facto reopened one of the most important territorial disputes in the Western Hemisphere, perhaps the most important, and did so in the most theatrical way possible: at the G20, the main North-South dialogue platform.
What was the purpose of the Foradori-Duncan agreement?
The idea behind the agreement was for the Argentine government to renounce its claims and any serious discussion regarding the territorial dispute over the sovereignty of the Malvinas (Falklands) Islands and the adjacent territories in the South Atlantic. Instead, the Argentine government would adopt a position of claiming "light sovereignty" in order to obtain benefits, mainly economic ones, through joint exploitation of the natural resources of the islands and adjacent territories in the South Atlantic with the United Kingdom (UK), as well as through British investments in the country.
In practice, this agreement implied the Argentine government's resignation to discuss sovereign rights over the Falkland Islands and their adjacent territories in the South Atlantic. It can be inferred that this was a disguised surrender clause by the government of Mauricio Macri to continue with Argentina's sovereign claim over the Malvinas Islands.
The purpose of the Foradori-Duncan agreement was in line with the foreign policy stance of the Macri administration (2015-2019), which had a marked pro-Western (and more Atlanticist) position than previous governments (Kirchnerism 2003-2015).
This geopolitical code (if we can speak of the existence of a "Macrista geopolitical code" coming from the geopolitical code of the traditional Argentine ruling class) consisted of a series of agreements (tacit and official) of Argentine resignation and subordination to traditional Western powers (of which the Foradori-Duncan agreement was one of its greatest exponents) which aimed –in theory– to obtain greater economic benefits and a renewal of the country's public image in the supposed "international community."
These types of foreign policy positions would be a constant of the Macri government. Even the Argentine scholar Juan Gabriel Tokatlian has conceptualized such a stance as "Concessive Peripheral Unilateralism" to define the foreign policy of the Macri government [1].
In practice, these ideas and plans, were shown to be totally ineffective and unproductive. Argentina practically did not receive economic benefits from such positions, nor did its public image have a significant and positive international projection. And the Foradori-Duncan agreement is the most scandalous example of this reality.
Why did the Argentine government of Alberto Fernández decide to end such an agreement?
The first explanation is the internal conformation and political identity of the government of Alberto Fernández, which logically demanded a change in the previous government's (Macri) stance on the Malvinas agreements, his predecessor and opponent. But this inference raises another question: Why were such measures not taken before? The answers to this question are only conjectures.
Since the end of the Malvinas War (1982) until today, except for the years of the Menem governments (1989-1999), Argentina's bilateral relationship with Great Britain has always been marked by a strong "Malvinense" [2] component on the agenda of their interaction, which has often led to high-pitched disputes between both parties. The "agenda" of the Malvinas cause was a constant trend of the Kirchnerist governments (2003-2015), such claims were made, denouncing British illegal occupation of the Falkland Islands on numerous occasions in various international forums, bilateral meetings, and multilateral forums.
But as mentioned earlier, the Macri government would have a diametrically opposed position to its Kirchnerist predecessors regarding the Malvinas question. However, the reality of the country and its foreign policy changed again when Argentina "presented" a new government in 2019, with Alberto Fernández as the head of the presidency.
The government of A. Fernández has an eclectic political character [3], as a result of a coalition between several political sectors, so the foreign policy of his government also reflects the heterogeneous internal conformation of the government coalition sectors.
In such conformation, sectors such as Kirchnerism, as well as more orthodox Peronist sectors, are present, both of which have traditionally had a more "Post-Western" stance, aiming to "rewrite the Argentine geopolitical code" and the vectors of Argentine foreign policy, projecting an alternative foreign policy, in first place towards their own region: South America, Ibero-America, the Caribbean, and in more modern times, especially towards the Global South, the BRICS, and Asia. In such guidelines, the action of rescinding the Foradori-Duncan agreement was logical. But logic also makes us wonder, why were such measures not taken before? Such questions enter the realm of speculation.
Another analysis could be given in an electoral key reading, this year 2023, presidential elections will be held in Argentina, and Alberto Fernández has expressed on several occasions through words and gestures [4], that he is willing and interested in being re-elected as the head of the Argentine executive branch.
Facing a public image tarnished by the covid-19 pandemic, and mainly a negative macroeconomic situation, the electoral nature of this foreign policy measure cannot be ruled out: the Malvinas cause is a cause that mobilizes emotions in Argentine society and remains a deep wound to national pride, and is a valid rhetorical and practical tool to antagonize the Argentine opposition (liberals and conservatives), which has never had (and perhaps never will have) a firm geopolitical stance nor interest in the Malvinas question.
Also, the reading of tensions within the coalition of the current Argentine government can't be ruled out, in this last aspect, this measure could be read as a gesture of balance from the "Albertismo" towards Kirchnerism, a sector of the government in which many leaders believe that the sector identified with the president has geopolitically leaned too much towards Washington and the West since the 2022 debt agreement with the IMF and the war in Ukraine.
Argentina informed the British of its decision during the G20 foreign ministers' summit, which was dominated by the BRICS. Is it a coincidence that such a measure was taken at one of the most representative events of the Global South?
it clearly cannot be considered a coincidence.
The symbolic weight of such an action, in such a context, must be clearly considered. The G20 has a dual character as the main forum in which traditional (Western) powers dialogue but also reflects their tensions and antagonisms with emerging powers and peoples, including those of the so-called Global South.
With tensions between former metropolis countries and former colonies that make up the G20, and which are now emerging in material capabilities, a post-colonial and decolonial reading cannot be ruled out, and therefore a strong message from Argentina to the world's emerging powers and the Global South.
Did China have any influence on the finalization of the pact?
No, there is no such "Chinese hand" that has driven such a measure by the Argentine government. These are paranoid arguments with a stubborn anti-Chinese bias that also ignores Argentina's own reality. To put it plainly, if we use common sense, the decision was not elaborated nor driven from Beijing.
As mentioned earlier, the issue of the Malvinas is a deeply rooted national cause in Argentine society, and a constant in the foreign policy of Kirchnerism, which today is part of the coalition that compose the current Argentine government, which with such measures such as revoking the Foradori-Duncan agreement seeks to "retake the ownership of the Malvinas and South Atlantic issue in its agenda," marking a clear differentiated stance from the current political opposition (Juntos por el Cambio) that made such a pact in the previous presidential term.
The decision was not elaborated nor driven by Beijing, and in any case, recent and clear positions of support for Argentina's sovereign claim in the Malvinas Islands by powers such as China [5] and Russia [6] were considered within the decision-making process to take such measures. Therefore, the positions of Beijing and Moscow influenced, but did not condition or generate, Buenos Aires' decision.
The future of the Malvinas Question
It's very difficult to envision a future scenario for such a specific and complex issue, especially in the long term. But a prospective scenario can be envisioned in the short term, which is basically and probably that the situation will not change significantly under current conditions. Unless the world is altered by seismic events.
It's highly unlikely that we will see a dialoguing UK government in the short and medium term that is willing to negotiate the sovereignty of the Falkland Islands. And it is similarly unlikely to see a future Argentine government, especially if it has the characteristics of a Peronist, Kirchnerist, or progressive government, openly giving up its claims to the sovereignty of the Falkland Islands.
Such a proposition would surely change if there were a liberal-oriented government in Argentina, such as Mauricio Macri's.
The problem with the current Argentine government, as well as future ones, regarding the Malvinas dispute, is that the country does not have, and will not have in the short and medium term, the set of soft and hard capabilities (economic, diplomatic, military, ideological influence) to press and force the UK hard enough to revise its traditional stance on the occupation of the islands. At least until the current balance of power and the position of emerging powers, such as China, would consolidate even further in the world order.
But in any case, such changes and opportunities will depend on the international context and the agency of third parties, which are independent variables for the positions that future Argentine governments may take.
Most experts in international relations and geopolitics agree that the territorial dispute over the Falkland-Malvinas Islands between Britain and Argentina will not have an easy or predictable resolution in the short term.
Some experts point out that the strategic geographical position of the Malvinas Islands and the presence of significant natural resources in the area, such as fishing and hydrocarbons, make the dispute even more complicated.
Moreover, many experts believe that Britain's position has been strengthened in recent years thanks to the exploitation of the area's natural resources and the lack of a clear strategy on the part of Argentina to resolve the dispute.
A hypothetical Chinese presence in the region, through the southern Argentine city of Ushuaia, through the construction of a logistics hub, has added an intervening element that makes it even more complex to envision a prospective scenario [7].

However, some experts believe that the issue of the territorial dispute over the Falkland Islands, Argentina's position is legitimate, which has won it great support and sympathy among peoples and emerging powers, most of them with a colonial past [8].
References
[1] Tokatlian, J. G. (2018, 2 de febrero). Relaciones con EEUU: ¿nueva etapa? (Relations with the US: a new phase?) Clarín.
https://www.clarin.com/opinion/relaciones-ee-uu-nueva-etapa_0_rka7ze-UM.html
[2] Porto, J. M. (26/03/2022). Despite diplomatic ups and downs, the Malvinas claim became a state policy. Telam. https://www.telam.com.ar/notas/202203/587606-diplomacia-soberania-argentina-islas-malvinas.html
[3] In its composition as a coalition, including important elements of what might be called "Centre-Right" sectors that have Western – especially Washington – affinities.
[4] Its relevant to remember that on 22 February Alberto Fernandez led a public act in situ celebrating 119 years of Argentine presence in Antarctica. "Alberto Fernández visits Antarctica". Sputnik. (23/02/2023). https://sputniknews.lat/20230223/alberto-fernandez-visita-la-antartida-1136141105.html
[5] Joint Statement between the Argentine Republic and the People's Republic of China on Deepening the Argentina-China Comprehensive Strategic Partnership. (06/02/2023). https://cancilleria.gob.ar/es/actualidad/noticias/declaracion-conjunta-entre-la-republica-argentina-y-la-republica-popular-china
China's support for the Malvinas deepens a relationship with many agreements. Telam. (03/07/2021). https://www.telam.com.ar/notas/202107/560027-apoyo-china-malvinas-cada-vez-mas-explicito-profundiza-relacion-muchos-acuerdos.html
[6] United Russia leader Medvedev celebrates Argentina's termination of Foradori-Duncan agreement. Sputnik. (2023, March 6). https://sputniknews.lat/20230306/el-lider-de-rusia-unida-celebra-que-argentina-haya-terminado-el-acuerdo-foradori-duncan-1136503626.html
Putin defended Argentina's sovereignty over Malvinas and took aim at Boris Johnson and Margaret Thatcher. Política Argentina. (2022, May 30). https://www.politicargentina.com/notas/202206/44954-putin-defendio-la-soberania-argentina-sobre-malvinas-y-le-tiro-a-boris-johnson-con-margaret-thatcher.html
[7] The details of the Ushuaia Logistics Hub to supply Antarctica. El Cronista. (24/12/2021).
https://www.cronista.com/economia-politica/exclusivo-los-detalles-del-polo-logistico-de-ushuaia-para-abastecer-a-la-antartida/
An Antarctic logistics hub: official plan opens the door to strategic partners. El Cronista. (11/10/2021).
https://www.cronista.com/economia-politica/un-polo-logistico-para-la-antartida-el-plan-oficial-que-abre-la-puerta-a-socios-estrategicos/
[8] The Group of 77+China gave strong backing to Argentina's position on the Malvinas Islands question. Telam. (2022, November 12). https://www.telam.com.ar/notas/202011/534875-el-g77china-dio-un-fuerte-respaldo-a-la-posicion-argentina-en-la-cuestion-malvinas.html
The History of U.S National Space Policy
In every presidential administration, there is a correlation between space policy evolution and significant events. The process of developing space policy in the United States lacked foresight. Every government seemed to start again when it came to the development of space policy. In this article will see space policy evolution divided into two historical periods. The first was the post-WWII and the Cold War emergence, related to this case, the V-2 Rocket by Werner von Braun gave U.S. more technology to begin sampling in space as soon as World War II took place. So only the U.S. and the Soviet Union were able to access space in the late 1950s and early 1960s during the next Cold War.
Space as venue of Cold War: US – Soviet Rivalry
The U.S.-Soviet rivalry spread into space, becoming another venue for the Cold War and initially both parties took important steps to protect these 3 domains while ensuring freedom of access and thus space race and related space policies were born in this term. The Cold War and space exploration began in the 1950s and 1960s. Both were interwoven and had a maturity and direction connection. The impact of this space exploration was that the rockets provided the United States with the ability to spy on the Soviet Union and this technology would result in a nuclear ballistic missile.
During Eisenhower and Kennedy's administration concentrated on the Cold War, initially driving the U.S space policy and strategy. In November 1954, in a highly classified project called "AQUATONE". President Eisenhower decided to take a strategic decision Recognition of a national policy approved a high-flying U-2 reconnaissance aircraft. To ensure the efficiency of airborne reconnaissance aircraft over the Soviet Union, Eisenhower offered a proposal to the Soviet Union to give both the US and the Soviet Union's right to recognize each other's overflight.
In 1955, to present both the Soviet Union and the United States, President Eisenhower brought Open Skies to Geneva. Access to one another's airspace. The proposal was refused by Khrushchev, but the United States of America continued. Overflights in the Soviet Union. The space shooting down exacerbated the arms race further. The need for intelligence, surveillance and recognition (ISR) systems by President Eisenhower to fly over denied access areas has become a high administrative priority. One of President Eisenhower's classified military space programs was the CORONA project. CORONA's project aimed at carrying out recognition missions across the Soviet Union. By the fall of 1960, the CORONA project became the backbone of America's strategic reconnaissance capability.
In 1958, President Eisenhower proposed to Congress the creation of the National Aeronautics and Space Agency (NASA) as a civilian space agency. Congress agreed and space exploration has now become the nation's military and civil venture. Now the United States had organizations and space exploiting capabilities that needed to establish policy because President Eisenhower signed the 1958 National Aeronautics and Space Act on 29 July 1958 to protect satellites and continue the program of ballistic missiles. The law regulates and declared that space activities should be dedicated to peaceful purposes for the benefit of all humanity.
The law also defined the role of the Department of Defence (DoD) in the space field as responsible for "developing arms systems, military operations or defending the United States" President Kennedy continued the strong advocacy of space exploration by President Eisenhower. In particular, President Kennedy also requested funding from the Congress, "to speed up the use of space satellites for worldwide communications and global weather observation". The U.S. made substantial progress in space technology and space policy during these administrations.
The administration of Reagan, Bush and Clinton all recognized the usefulness of Space domain in achievement of national security goals. Alas, all three of them Governments have suffered from the space policy's short-sighted approach. The administration of Reagan concentrated on ending the Cold War.
The Reagan's DoD budget is rumoured to have risen to the level of the government pre and early-Nixon, which amounted to 6.2% of GDP or 28.1% of the total federal budget dedicated to the overall defence plan. The Reagan Strategic Defence Initiative (SDI) and other initiatives forced President Gorbachev to "choose" arms race and glasnost and perestroika. No government has spent more on defence on the basis of GDP percentage or percentage of the total federal budget after President Reagan. President Reagan also launched ASAT weapons research and development that paved the way for an offensive counter-space strategy. In 1982, the National Security Decision (NSDD) 42 of President Reagan addressed the ability to "pursue space activities in support of the [ nation's] right to self-defence".
NSDD 42 further stated that, if these measures were to contribute to the United States, "the United States would consider verifiable and fair arms control measures prohibiting or otherwise limiting the testing and deployment of specific weapons systems". The United States, however, opposes concepts of arms control or legal regimes that seek general prohibitions on military or intelligence use of space.
President Reagan's policies addressed the Soviet Union's direct ascent and co-orbital ASAT program directly. President Reagan's staff including leaders who were of short view and did not further consider the policy on the long-term implications of ASAT. While at that time, their focus on space could be said to be very specific aimed at winning the Cold War. Therefore, that it will have serious adverse effects on the future of the space domain.
Other countries have taken the lead in developing disruptive technologies such as nuclear weapons and ASAT weapons. It ended with the Cold War, so that now Globalization and technology have had a major impact on space and have taken a lot of attention to the spatial domain of the community both international and commercial communities. Unfortunately, President George HW Bush showed little concern about space and space policy until Operation Desert Storm President Bush.
From a geopolitical perspective, President George W Bush and President Obama faced similar challenges. And if looked from a spatial perspective, during their administration, the lack of foresight from past events and trends in space will culminate in. Both presidents focused on Iraqi freedom and the Enduring Liberty operation and to focused it the budgets were proposed for NASA and the DoD by both presidents is different. Between 2006 and 2009, approximately 17% of the United States was allocated by Bush administrations.
These two administrations have been spatially funded by the military. The launches of the DD ISR continued at a rate of 0 to 4 per year. For the last two decades, this was the standard DoD satellite launch rate. In the meantime, eleven countries operated 22 launch sites. The law on the preservation of space for the benefit of all humanity in the coming years addresses the issue of space policy for the United States and the international community.
As a result, the space domain has become a much more challenging operating environment due to the lack of foresight in domestic and international space policy and law. Increasing efforts by foreign parties to interfere with satellite operations. For example, Iraq in 2002 blocked U.S. positioning, navigation, and timing signals. Libya and Iran interfered with international satellite television broadcasts provided by Arab nations in 2005. In 2006, China lasted a satellite of U.S. imagery recognition.
The approach of President Obama is very different from his predecessor. By issuing the 2010 United States National Space Policy and the 2011 Strategy for National Security Space, he was aggressive with space policy. In his space policy, President Obama has discussed and made contributions to improve the capabilities of civil and commercial space. So, it can be said that United States has committed to fostering and facilitating the growth of the U.S. commercial space industry, this supports the country's own domestic needs. Thus, the legacy and transformation of space success also pose new challenges. The possibilities of using space were limited to just a few nations when the space age began and there were limited consequences for irresponsible or unintended behaviour. The U.S is committed to addressing these challenges. But that cannot be the sole responsibility of the United States. Based on the point mentioned in the National Space Policy, "all nations have the right to use and explore space, but this right also includes responsibility. The United States therefore calls on all nations to work together to take responsible approaches in space to preserve this right for the benefit of future generations."
This can be seen, United States to call all nations to work together and be responsible in space in order to save future generations. Based on explanation above about the development of NSP, during the Obama administration, U.S. has shown that other countries recognize and adhere to the principles of mutual interest between all countries in acting, which is certainly responsible in space to help prevent misunderstandings and distrust. The space operations should be carried out in a manner that emphasizes openness and transparency in order to raise public awareness of government activities and enable others to share the benefits of space use.