Soft power as an important structural component of a foreign policy strategy of a state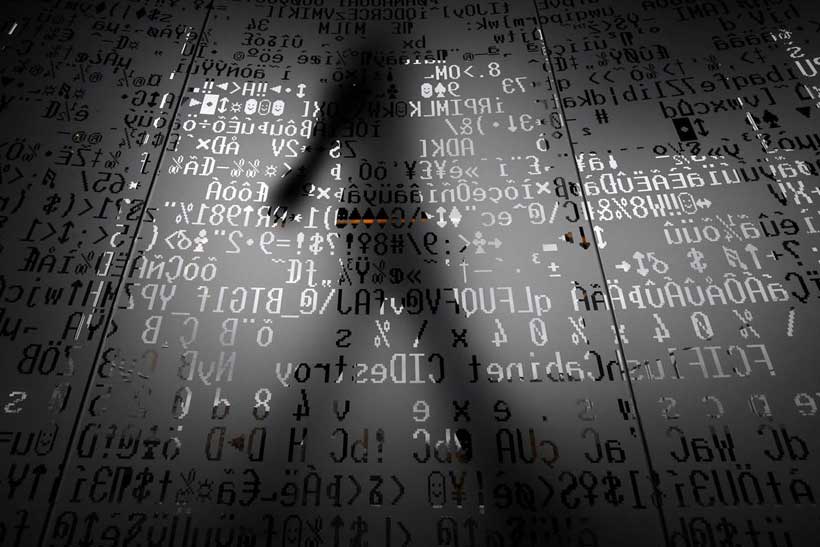 The architect of the 'soft power' concept Joseph Nye focuses on 'the ability to achieve the desired through voluntary cooperation, not by coercion or tricks'. The name of the theory and its interpretation are clearly in conflict because voluntary participation may not involve any force, even if it's soft. Moreover, the author of the theory believes that the power of modern States consists of three parts: military force, economic power and 'soft power'. However, the author himself claims it doesn't seem to be simple to combine hard and soft powers in one strategy. The main idea of the concept of Joseph Nye is that it is 'soft power' that helps to achieve great results in world politics. A careful analysis of the techniques of 'soft power' used by various States in practice, can prove that it is only a kind of power impact, i.e. 'hard power'. It's just an 'iron fist in a velvet glove'.
"Soft power" is neologism in political vocabulary. However, its content is hardly new phenomenon. Throughout human civilization, the techniques of cunning rivals have been used to achieve their goalies. They were named differently or were not named in any way. Recall, at least, the proverb "Beware of Greeks bearing gifts". For 10 years, the Greeks have failed to besiege Troy. It was the subterfuge of Odysseus that helped to take the rebellious city. He offered to give a present to Trojans in the form of a great wooden horse, hiding the elite force inside. There is also another example from modern history. For many years the USA and NATO have been using "soft power" as information influence to disintegrate the Eurasian are wreak havoc and cause instability in the countries neighboring Russia. The United States considers "soft power" an effective means of conducting geopolitical struggle between states. According to O.A.Belkov, "they actively use it in order to defeat or weaken their reel and potential adversary states in the international arena". The tools of American "soft power" are used as the main component in the strategy of conducting "hybrid warfare" (another neologism in political vocabulary). As is known, the aim of "hybrid warfare" is total or partial disintegration of a state, the establishment of external ideological and, after it, political and economic control, and as a result, complete submission to dictates by other states from without. As political analysts A.Bogachev and M.Latugin rightly say, the "concept of "soft power" implies the creation of such an image of power or any political force (including the opposition) that is capable of influencing behavior, forcing the masses to take actions beneficial to the actor of "soft power". The idea of "soft power is based, first of all, not on the arguments of reason, but on the strength of "information and images" and on the influence of "meanings".
China, in contrast to the USA, keeps a low profile and does not try to suppress others nations to its will. Its "soft" intervention into political and economic spheres of various countries have become noticeable practically on all the continents including Africa. However, it looks like PRC is not interested in politics. This implicit impact on the Africans has enabled China to get full control over African markets and profit from them significantly. Ten years ago, in 2007, the Democratic Republic of Congo and China signed "the Contract of the century" worth $9 billion. Lately it has been renegotiated because of the outraged reaction of western colleagues. China was obliged to put into effect restoration of the railway infrastructure with a length of 3200 km, a highway (3600 km), construction of the airport, housing, hospitals, medical centers, universities and colleges. The joint company "Sicomin" was created under the agreements between the Government of RD Congo, the state enterprise "Gécamines" and the consortium of Chinese corporations "Sinohydro", "China Railway Engineering Corporation". 68% of this enterprise belongs to the Chinese government and 32% to the "Gécamines" group. The "five pillars" aimed at strengthening of China-Africa relations announced during the African tour made by Chinese President Jiang Zemin in 1996 and 1997 became the ideological basis of Beijing's cooperation with African countries. Among these principles there are: enhancing of the sincere friendship "come rain or shine"; equal treatment of all the partners and maintaining of the non-interference principle; quest for development on a mutually beneficial basis; activation of consultation and cooperation in international affairs; creation of the new prosperous world. These principles got broad support in African countries.
Apparently, they attracted Africans by the fact that China positioned itself with African States as an equal player who has common interests in bilateral cooperation and on the world scene. Africa accepted cooperation with Beijing as the most viable opportunity to move towards equitable development. Sudanese President Omar Hasan Ahmed al-Bashir once said, «China is a friendly country that never interferes in the domestic affairs of other states» . Is that so? Further analysis of China's policy in this direction will show its «flip side».
Beijing emphatically puts African countries on the same step of a pedestal of priorities as its own country. «We need to make it clear to the world – says He Wenping – that we have a common position on some fundamental international problems» .
Taking into account the destruction of the bipolar system, the Chinese leadership publicly affirmed «the natural preservation of good relations between Africa and the West» because China has always provided assistance to developing countries. However, Beijing, though covertly, put emphasis on the juxtaposition of Africa and itself with the Western community.
An important development mechanism of China's relations with African partners is their interaction within the framework of regular Chinese-African cooperation forums, such as the «France-Africa», «Africa-European Union» summits or the Tokyo International Conference on African Development (TICAD). At the first meeting in Beijing in October 2000, the policy documents on the development of relations with Africa were adopted, including the «Beijing Declaration» and «The China-Africa Cooperation Program on Social and Economic Cooperation». China made commitments to cancel partially or completely the 1,2 billion dollar debt to some of the poorest countries in Africa in the coming two years and also to establish the fund to support investment of Chinese enterprises in the economy of the continent.
At the same time, the Chinese representatives emphasized once again that they did not intend to interfere in the internal affairs of sovereign states. At the opening ceremony of the Forum, former Secretary General of the Central Committee of the Communist Party of China Jiang Zemin said, 'No country should impose its social system and ideology on another country, especially interfere in the internal affairs'.
The phenomenon of "soft power" has always been used by priests. This was both an instrument of the missionaries' influence during the colonization period, and also the way used by the modern church to participate in the politics of most African countries. African authorities often rely on the church to achieve political and economic stability in the country.
For example, the church (mainly Catholic) plays an important role in the life of the Democratic Republic of the Congo. Religious leaders hold high posts in the parliament and the government. For instance, Head of the Church of Christ in the Congo M. Bodo, who is a protestant, has for a long time occupied the post of Chairman of the Senate (the upper house of the Parliament), or Catholic priest M. Malu throughout the electoral process headed the Independent Electoral Commission till the national elections and was awarded the National Order of the Legion of Honor of France. During the transition period (2003-2006), the leaders of the Church addressed people and the government, calling the civilian and military population of the country for tranquility and balance, and political opponents – for the sanity and conduct of a peaceful dialogue in order to avoid anarchy and unrest, for the bloodless end of the transition period and the peaceful settlement in the country. During the elections, religious missions were observers and they provided technical assistance to the Independent Electoral Commission, and carried out advocacy in the provinces.
Clerics remain active in educational and social spheres. Catholic schools and the university acquire authority in the capital. Many hospitals, children's shelters are maintained with funds of the church. For a long period of time the church will preserve its strong positions in the DRC and will continue to affect «softly» Congoleses' formation of the world view.
Different developers of the concept «soft power» have a different attitude towards it. Political and international scientist M. A. Neymark proposes his own vision, a detailed analysis of theories and the application of the «soft power». In the chapter "«smart power» of soft influence" the author concentrates the attention on the fact that «soft power» is an interconnected integrity of various components and their synergistic conceptual and practical-political correlation – cultural, humanitarian, civilizational, socio-political, economic, military factors. The resource capacity of this mechanism of influence is the sociocultural and ideological values that are attractive to the object of impact. According to M. A. Neymark the «smart power» is strictly pragmatic and its geopolitical essence lies in a rational balance. It is focused primarily on the promotion and the protection of national – state interests taking into account new developments on the world stage.
In our view «soft power» implies the formation of a given, regenerated mentality, which is necessary for perception, first of all, of the cultural values of another civilization or people and then its political, economic, religious and other foundations. Fair the judgment of M.A. Neymark that the meaning of "soft power" is "in the projection by the state of its influence on the world around us, relying on economic, informational, communicationary, social, humanitarian and other flexible levers."
For example, political scientist V.S. Yemets considers soft power information technologies to be a tool of a person manipulating. He emphasizes that the informational impact in its manipulative form, which is being exercised to cater to the interests of a person or a group of people's interests towards other people, is a specific form of control. Such a form of control could be dangerous in case if it is being implemented secretly and if it brings unilateral benefits to its organizers. As a result of "mind impact" and appealing to their own culture affection, soft power becomes a tool for a smooth translation into receiving dividends in kind. Thus, the final goal of soft power is to shape a mentality that is identical with the interested actors and ultimately implies the submission of the object of influence.
Soft power on the part of the subject implies the weakness of the object, diffusion, permeability of its physical, ideological and moral shell. Analyst, author and host of the program «Odnako» on Channel One M. Leontiev believes that soft power – real, effective – is a projection of hard power. There can be no soft power in the absence of hard power in the same subject.
The success of the intellectual impact of soft power on the formation of individuals' mentality depends on many factors. First of all, it is necessary to consider the society's social stage of development where a personality is formed. It is complicated to change the mentality and to guide it in another way in the society with a well-developed civilization and high GDP as an individual will have high requirements for the offered food for thought.
In this case forming different approaches of soft power will require a considerable intellectual and material potential. There is a different scale of human values in the less developed society. For example, humanitarian aid, access to safe water, and provision of vaccination for children are essential for the majority of African states, where the level of child and adult mortality remains high and the subsistence wage is less than one dollar per day.
Taking into account the military-political climate in the country along with the moral and psychological condition of people in many respects affects the degree of soft power impact as a foreign policy factor. For example, the population of the Congo has been driven to an extreme point of despair by severe military actions that has been going on for decades. The exodus of the population, refugee camps issues, panic in combat zones – all these factors can become a handicap to the promotion of soft power.
In the state of peace, soft power also may face undesirable factors such as other concerned states` counteraction in the sphere of information, dissemination of knowingly false information and so on. At present the influence of psycho-information processes on the formation of the mentality of the new generation has accelerated. In these circumstances soft power became the most powerful factor that/which influences the perception of actuality, psychic reality and behavior of the population of entire states and regions.
Other factor to be considered when using the soft power is the spiritual component of society. If in some country nationalist sentiments prevail, any instruments of soft power may be considered as a foreign body.
In this case it is important to generate real approaches to the «soft power». Analyzing the anti-Western, anti-liberal alternative to world development, the authors of the monograph "State information policy in the context of information and psychological warfare" maintain one of the milestones of this policy is Russian civilization, which was revived in post-Soviet area. Andrei Maneulo and other authors maintain that "the act of "mental identity", coupled with the logic of paradoxes, suggests: rejecting the Western model of development (once again) after the catastrophe of blind copying "reforms" of the Western liberal model, Russia will inevitably return to the anti-Western position, what is identical to Russian historical role and spiritual and moral foundations (Eastern Christianity). This does not imply a return to barbarism, but rather the only possible recipe for salvation from the true barbarism in which the regions of the former USSR are immersed: inter-ethnic, religious conflicts and spiritual collapse. In these conditions the Russian state information policy inevitably will become necessary to be identical to this process."
"Sort power" is occasionally associated with cultural diplomacy. Although, the difference undoubtedly exists. Cooperation in the cultural sphere implies mutual enrichment of cultures and civilizations, in contrast with "soft power" which is a unilateral "soft pressure" on a certain object. By the early 2000s, the weight and influence of cultural diplomacy had grown so much that a new concept of "foreign cultural policy" had been introduced. Russia is actively taking several comprehensive measures which aimed at spreading Russian culture abroad.
However, the Russian diplomats have to face a range of issues in African states, in particular, where strong positions are occupied by the USA and China. Under the conditions of the multipolar world's formation, different regional leaders use the arsenal of opportunities of «their own» «soft power» taking into account processes of a geopolitical standoff. It is rather difficult to find one's niche for «soft power» on the African continent, because this country has lost the authority it used to have and it has become «cramp» to cooperate in most African states. And if the older generation treats Russia as a sustainable political and economic partner, the younger generation is guided by the USA and China, which do their best from the perspective of «soft power», in order to gain a foothold in this region. As the result, Africans learn American and Chinese willingly use free education programs and quotas in educational institutions of these countries. Americans promote their lifestyle through numerous cultural centers, where they also, as well as their Chinese partners, open courses of English. French and Belgians do not fall behind. «Soft power» demands significant investment, which is required for facilities, for instance, «Russian language classes», a replenishment of university libraries with relevant literature, computer rooms, Russian cultural centers, exhibitions and other cultural events. Without financing «soft power» remains just a theory. According to V.V. Rugeinikov, such an important element of the influence on the world, as the Russian language, loses its creativity. Fewer demanded goods are produced now. The researcher points rightfully, that «if the foreign reader still keeps interest to L. Tolstoy, A. Chekhov and F. Dostoevsky, their works are perceived the historically depressive background».
Experience shows, that where there are still Russian centers of science and culture (Morocco, the Republic of the Congo, Tanzania and others) cultural ties develop much more fruitfully and faster. The formation of a new mentality in the local population is possible only under the condition of a constant, but not a fragmentary cooperation with college students, social agencies, and state officials. At the same time, it is important to work out new forms of cooperation with structures of public diplomacy, nongovernmental organizations, international institutions that use political, economic and information levers of influence.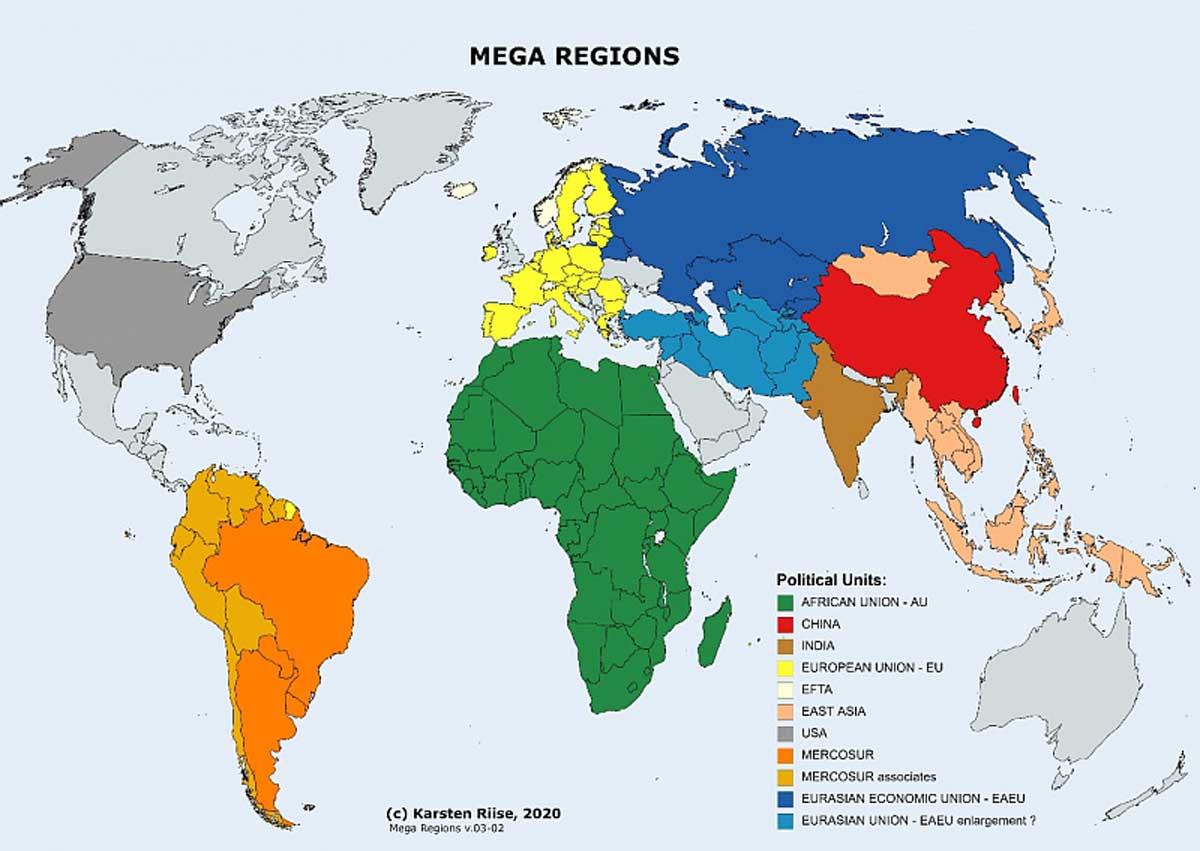 The planet is shrinking
Geopolitics on this diminishing ball in space is not going away. On the contrary, geopolitics is growing to hitherto un-imaginable heights much faster than most people think.
Imagine a possible future world something like this:
· The African Union – the world's biggest continental free-trade-area AfCFTA – of soon-to-be (2035) 1.8 billion people with Parliament in South Africa.
· The European Union (de-facto incl. EFTA) – small on global scale, but more independent, rich and educated than today
· North America (centered on an at least relatively weakened USA)
· South America (centered on a once-again growing Mercosur)
· China – a strong center in all-growing North and South East Asia
· India – growing
Add to this:
· A hypothetic Mega-Eurasian Region including the Eurasian Economic Union (EAEU) with Russia. Enlarged with Turkey, Iran and even Pakistan, Afghanistan, Syria, and Iraq, this would fit nicely into the above possible future picture of the world.
Such Mega Regions as above will come to integrate economy (incl. currency), culture, infrastructure, traffic, energy, environment and above all political administration with security within themselves as well as between themselves. Shrinking the planet ever more. Who will need the intruding USA of today in a future world of self-administering and self-securing Mega-Regions? These Mega Regions will not need the "balancing" or "stabilization" which the USA peddles. In this world, the USA will need to define a new role and self-perception for herself over the next 25 years.
In this future there may also be less room for the English – they may end up as losers even within their own broken and disunited "United" Kingdom. The problem for the English is their mid-size: The UK is not big enough to be a relatively self-sustaining market unto herself like the USA and increasingly China. Even these Mega Regions will depend on trade with each other – else they will suffer the fate of the USSR and Mao's China. The UK depends crucially on open trade access to very big markets. A small (soon to be independent) country like Greenland with 56,000 inhabitants might probably much more easily find satisfying economic niches than Brexit-UK will with 67 million people which have self-detached from the EU-market.
In such a possible world of Mega Regions – do Russians want to be losers like the English today increasingly look like? Or does Russia want to continue to be a great world leader – one of the leading leaders – in a mega-club, for instance with Turkey, Iran, and Pakistan? As Russia holds on to influence in as much geographic room as possible of what the Soviet Union influenced, the answer to that question is already given. Russia wants to be a winner in today's real-politics of nascent Mega Regions – not a loser like the English in their dreamed-up replay of the pre-previous century. Russia's conundrum now like since 300 years is to match her external club-making with her own internal growth. The French and the Germans have learned the joy of sharing power. With possible resourceful partners like Turkey (educated, one of G20), Iran (well-educated), Pakistan (well-educated), subject to re-established partnership with the EU, Russia may not again need to exhaust herself as she did once or twice before in history – Russia herself can grow in this process.
And what about South America? The majority of Latin American countries are all culturally wary enough of US meddling (Monroe doctrine) and have for a century resisted "dependencia". Seeing how successfully Africa now unites, South America may be ripe for a similar development – and the Mercosur with its own Parliament (in Montevideo) is already there for South American governance expansion in their own Mega Region.
A New World Map
The result of Mega Regions might be something like this (see illustration 1).
Instead of Huntington's miscarried idea of civilizations "clashing" we might see the opposite – that civilizations, cultures, religions, and ethnicities grow together across borders. The illustration above is a map of such plausible governance integration.
The Eurasian Economic Union (EAEU) is depicted on the map, because the EAEU (though formally an economic union) is in reality a regional political governance aiming at further integration. In contrast, the NAFTA as a shallow pure free-trade area is not included on this map of political Mega Regions, because the USA (incl. US "liberals") consistently cut Mexico and even Canada off from continental governance. There is no "NAFTA Parliament" underway. And the US may in future even lose some of sometimes high-handed control which the USA today has over her two neighbors.
Similarly, ASEAN is only lightly drafted as part of the light area around a future Chinese influence, because the ASEAN has decided not to pursue closer political regional governance like the European Union (EU), the African Union (AU), the Eurasian Economic Union (EAEU), and the MERCOSUR do. When looking at East Asia on the map (illustration 1), please bear in mind that we here look a little into the future at a time, when the US 7th Pacific Fleet has been pushed out by the fast growing Chinese PLAN Fleet in all waters around China (incl. Taiwan). As China grows (and US 7th Fleet influence wanes), the ASEAN might in future choose a closer political integration, inspired by the EU and African model, but there is no sign of that happening yet.
The EAEU (5 members as of today) will for year 2020 achieve a GDP of USD 1,700 billion – only 11% of the EU and China respectively (both of which now have GDPs of USD 15,000 billion). More tellingly, the EAEU is today only two-thirds of India (with a GDP of USD 2,600 billion). The hypothesized enlarged EAEU (15 members, the two blue areas on map) would considerably catapult the EAEU up on the global economic ladder with a combined GDP of near USD 3,600 billion (2020 data, for Syria latest available statistics from before the war). On the top-of-world economic list, an enlarged EAEU would aspire to be 140% of India – nearly half-bigger than India. Politically, the enlarged EAEU's human and natural resources with geo-strategic control could become much more pivotal than the economic data suggest. (GDP figures from IMF WEO 2020/10)
Mega Region to Mega Region Governance
It is just like in corporate business – apart from a few niche states, states are pressed to merge or form cooperative cartels to achieve critical mass in the world competition. These upcoming country Mega cooperations will as a general tendency increasingly be of multiple partners coming together for common governance (like for example the African Union) and less of the "hub-and-spoke" type. Please bear in mind that the world is fractal, meaning that types of social structures are repeated at different levels – commune, substate, state, Mega Region and even Mega-mega Region. Thus, even Mega Regions may come together in structures of multiple partners of common governance. For instance, you might in this future see the establishment of a joint Mega-mega governance of neighboring Mega Regions EU-AU-EAEU-China-India. Mega Region to Mega Region relations must be managed carefully by all for mutual success. No Mega Region will be enough in itself. Integrating Mega Regions with each other must thus be a careful undertaking.
For instance, Turkey is a member of the EU Customs Union With the political changes in Belarus which are underway, Belarus might soon be offered a Free-Trade or EU Customs Union with the EU, similar to the EU trade-advantages which the Ukraine and Turkey already enjoy. These countries Turkey, the Ukraine and Belarus are clever – they will not be so foolish as the UK to throw away their EU trade privileges. There is here a conundrum to solve, because as East-West bridges, we need Belarus, Turkey and the Ukraine to be able to enjoy the best of East and West: EU privileges in combination with the future Mega Region advantages of EAEU affiliation.
To prosper, the Eurasian Economic Union (EAEU) and the African Union (AU) need an extended free trade area with the EU. We simply need an EU + AU + EAEU Mega Free-Trade Area. The EU has a self-interest in both cases, the African Union as well as Russia and a future Mega EAEU all the way to Pakistan, in granting such trade privileges.
The African Union covers a staggering 30 million km2 (the Soviet Union was 23 million km2) with already 1.4 billion people, and the enlarged EAEU would be 26 million km2 with 700 million people. The EU is here comparatively small – only 4 million km2 and 445 million people. The EU cannot itself handle the administration of any more geographic space. With the issues of Brexit-chaos, the West Balkans, the Ukraine and Belarus, the EU is already critically overextended.
Next Step
The EU has enormous strategic interests in a politically stronger and economically prosperous united Africa to handle Africa's own problems before these problems (including refugees and terrorists) spill devastatingly over into the EU.
The EU also has got enormous strategic interests in letting Russia and Turkey carry the helm of a hypothetical new Mega EAEU political Project for peace, prosperity and political improvement of common governance in the conflict-troubled Eurasian space. Furthermore, an enlarged EAEU Mega Region, as I hypothesize here, will connect the EU not only with the strategic pivots of China and India, but also with the global pivot of the Middle East and in this way with Africa. To achieve this, Kashmir must and will find a peaceful solution.
The EU can do a lot – but the EU's meagre 5,000 tricolore soldiers in Africa for an area 10 times Afghanistan, plus a handful of aid-projects, will not save Africa. Exports, trade, industrialization, advanced services and high-speed economic growth is what Africa needs. A strong African Union is needed to raise Africa above her own problems, and to do this, the African Union needs support by free-trade with the EU (and the EAEU of course).
In the exceedingly troubled Central Asian and Middle Eastern geographic space, Russia has proven to move so well forward. The EU itself would just be hapless or even break porcelain if going alone in Central Asia and the Middle East. France has shown able to achieve just about nothing in Lebanon. And EU countries' military part-taking in porcelain-breaking US ventures in Iraq and Afghanistan (longest US war in history, and little US "peace with honor") illustrates my point. The recent Armenian-Azerbaijani situation further underscores the point that an overarching political Mega Region EAEU is a needed solution – a solution which only Russia and Turkey are capable to initiate.
This planet is shrinking fast. The EU cannot afford to not-care about its own Mega neighborhoods, including all of Africa, Russia, Central Asia, Turkey, Iran, Pakistan, and the Middle East.
As the EU does not have the needed strategic capabilities to "fix" its own Mega neighborhoods, the EU must support those who can and should be empowered – meaning the EU neighbor partners themselves: The African Union, Russia, Central Asian countries, Turkey, Iran, Pakistan, and all others involved.
From our partner RIAC
Bye Diego … (Geopolitics of Sports)
The news of Diego Maradona's death plunged the football world into grief and deprived football fans of the existence of a unique star. If we want to express this issue with the language of a geopolitician, it will be a different perception and analysis by others.
The geopolitical orientation of sport is one of the geopolitical tendencies with an artificial nature. Because sport acts as a source of power in the relationship between actors and shapes their strategies, and because this source of power has no geographical basis, when we want to discuss it in the form of geopolitics, it means a tendency with an artificial nature. The geopolitics of sport is thus conceptualized as the knowledge, acquisition, productivity, and preservation of sport as a (geographical) source of power in local, national, regional, and global relations. In other words, the use of sport and related issues as a new (geographical) source of power to achieve goals in local, national, regional and global relations is called the geopolitics of sport.
By that definition, Maradona was a (geographical) source of power for Argentina. The geographical source of power that since the game between Argentina and England with the goal later known as "Hand of God, the goal of the century" was able to provide a new and different representation of relations between the two countries after the defeat in the Falkland War for Argentina and turn a nation sadness into happiness.
Since then, Maradona has acted as a (geographical) source of power for his country and has been able to influence power relations in designing and representing his country's strategies. On the relations between Argentina and England; Traditional rival of Argentina-Brazil (Pele); In the internal relations of the country; Introducing his country by showing the Argentine flag and so on.
In general, it can be said that sometimes people with importance and position that they can gain in various fields of science, sports, art, etc. can become (geographical) sources of power and be effective in the relationship between actors and the design of strategies. Losing people like Maradona can deprive an actor from a valuable source of power.
Soft Power Policies of East Asian Titans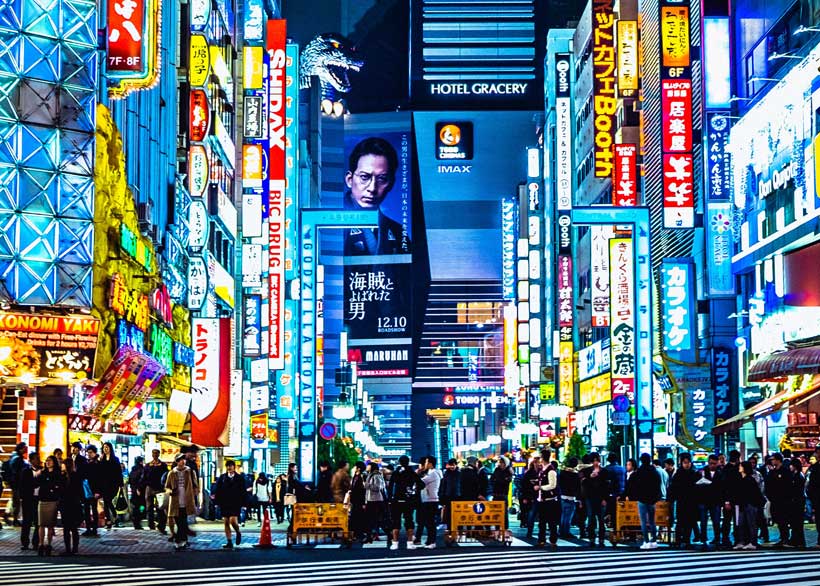 Soft Power is a widely discussed and equally disputed concept as various scholars have their personal interpretation upon the power of attraction.
Joseph Nye has associated soft power with i) culture, ii) political values, and iii) foreign policies of a country.
China, Japan, and (Republic of) Korea rank the highest in the list of Intangible Heritages indicating their rich cultural identity.
The cultural identity like Confucian values gets interwoven with political ideas of respect and help build working morality that influences their foreign policies.
Japanese Anime such as Doraemon and Pokémon are extremely famous and Korean K-Pop such as Gangnam Style became the most liked video on YouTube. TikTok has brought China into the race of audio-visual diplomacy.
National identity and political views are promoted through audio-visual instruments such as movies, paintings, songs while some of them are despised as political propaganda.
The countries which have higher Gross Domestic Product (GDP) Per Capita are accepted to have a good political structure and other countries are likely to endorse a similar system. The three countries have become the symbol of success while many developing countries get inspired to adopt their style to improve their present condition.
Foreign policies depend upon the economic capability of countries and their ability to engage through trade and aid.
Trade is conducted to benefit one's own country which may include importing unprocessed goods and exporting processed products like Japan import iron worth $7.18 billion and export cars and spare parts worth $139.3 billion.
Countries intend to import security instruments, basic goods like oil and gasoline while limiting luxury items by adding a large amount of taxes that shape foreign relations between countries.
The Asian Titans belong to the top ten product exporter as a result they get involved in nation branding and use corporate brands like Honda, Samsung, and Xiaomi to be perceived as a reliable household name.
The aid includes humanitarian aid, military aid, economic assistance, technical and vocational training which help in establishing bilateral relations and all three countries have become active in this genre.
There is an additional component for socialization such as gastrodiplomacy which remains very strong in East Asian Titans which is proven with their many Michelin 3-star Restaurants. The culinary diplomacy is also conducted between government to government level as hosting country invites foreign heads of states in banquets or provide scholarship for elite foreign students.
The events conducted around elites such as tours, banquets, scholarships would transform their social paradigm which may cause policy change leading to norms that would transform the foreign policy of a recipient country in favor of a host country.
The public simply looks at the ranks, scores, and formulate opinions about a country without looking at the bigger picture. This could be efficiently be studied by looking at a single chart.
China
Japan
South Korea
A. Senses as Soft Resources
i) Physical Diplomacy
a) Sports/Activity
Cuppings, Tai chi
Karate, Judo
Taekwondo
b) Olympics Medals
608 Rank:8
498 Rank:15
337 Rank:19
ii) Audio-visual diplomacy
a) Film Production (2018)
1082
Rank:2
613
Rank:3
454
Rank:5
b) Box Office Revenue
(2019)
$ 9.3 billion Rank:2
$2.4 billion Rank:3
$1.6 billion Rank:5
c) Additional Tools
Tiktok
Anime, Manga
K-pop
iii) Gastrodiplomacy
a) Popular Food
Noodles, Dumplings
Sushi, Wasabi
Gimbap, Kimchi
b) Michelin 3-star Restaurants (2017)
5
Rank:5
28
Rank:1
2
Rank:10
B. Resources and Tourism
a) World Heritage Sites
(2020)
55
Rank:1
23 Rank:12
14 Rank:21
b) Intangible Cultural Heritage
(2020)
40 Rank:1
21 Rank:2
20 Rank:3
c) WEF, Travel & Tourism Competitive (2019)
Score:4.9 Rank:13
Score:5.4 Rank:4
Score:4.8 Rank:16
d) Revenue by Tourism
(2018)
$32.617 billion
Rank:10
$34.054 billion Rank:9
$13.427 billion Rank:24
C. Nation Branding
a) Corporate Brands
Xiaomi, Alibaba
Toyota, Honda
Samsung, Hyundai
b) Products Exports (2018)
$2.59 trillion Rank:1
$713 billion Rank:4
$617 billion Rank:5
c) GDP Per Capita
(2018)
$9,771
Rank:78
$39,290
Rank:27
$31,363
Rank:34
D. Noble Prizes Laureates
(2019)
6
Rank:24
28
Rank:7
1
Rank:51
E.The Soft Power 30 (2019)
Score:51.25 Rank:27
Score:75.71 Rank:8
Score:63.00 Rank:19
The factors such as Noble Prize Laureates play a role in projecting Japan as a superior power but countries such as South Korea and China have risen to global prominence recently, this may have resulted in less money for research and development and caused fewer Noble Prize Laureates.
The rapid development of Asian countries has made it attractive and serves as the master of affective resources (culture richness, technology, competitive economy) while they suffer a bitter relationship with one another creating a space for western countries to enforce their normative resources (a third-party capability to arbitrate international dispute) to mitigate the crisis.
The Asian Titans have been growing their institutions to enhance their human resources to produce better publications that would further strengthen their strategic communication and media.
The soft power has helped generate a sense of national cohesion by protecting their ancient culture while promoting their vibrant economic growth. The countries intend to build a reliable economy and to be perceived as a trustworthy power.
Each Asian country has different objectives while promoting their culture. Japanese list of intangible heritage portrays its polytheistic tradition while China showcases itself as a culturally diverse country while it suffers accusation for human rights violations against minorities. Both China and Japan avoid its militaristic knowledge (the image coincide with hard power)even when they have a very interesting history with Martial Arts but South Korea seems to be enthusiastic to showcase its Ssireum(wrestling) and Taekkyeon (a traditional Korean Martial Arts) as intangible heritage.
Soft Power Policies of East Asian Titans maintain a variety within the unity. The region shares historic relations but still maintains its distinct identities creating an aesthetic composition for an external observer. The East Asian Titans are a unique case with tremendous soft power.