China's stance on the Venezuela's crisis and beyond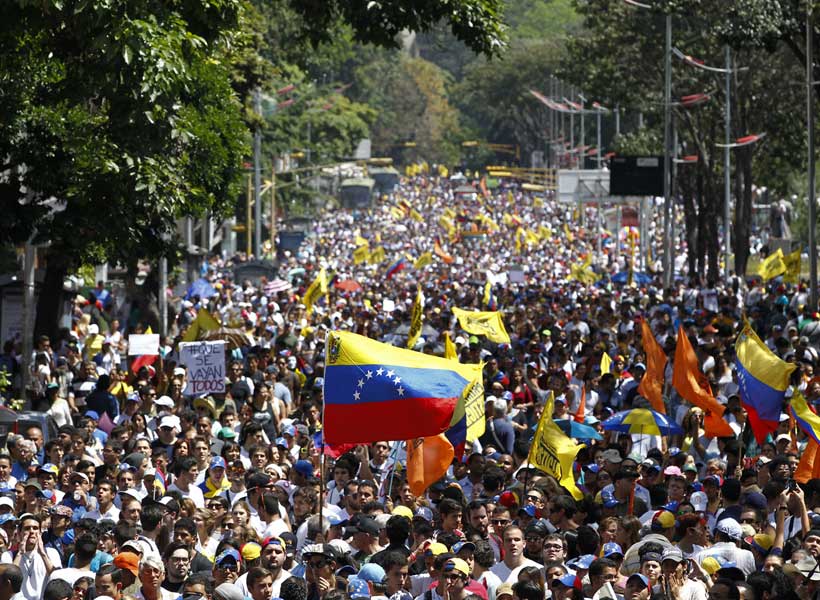 Since January 23, President of Venezuela's National Assembly Juan Guaido was sworn in as the country's "interim president". The US, Brazil and many other countries have issued statements to recognize Guaido. Yet, Venezuela's Supreme Court reaffirmed that the relevant action of the National Assembly "has violated the Constitution". President Maduro announced his decision to sever diplomatic ties with the United States and Columbia as well.
As usual, Chinese government immediately and firmly call upon all relevant parties to stay rational and cool-headed and seek a political solution to the issue of Venezuela through peaceful dialogue within the framework of the Venezuelan Constitution. China supports the efforts made by the Venezuelan government to uphold national sovereignty, independence and stability since it always upholds the principle of non-interference in other counties' internal affairs. Due to this, China opposes foreign interference in Venezuela's affairs in anyway and hopes that the international society can jointly create favorable conditions for this crisis.
China's involvement in Latin America is expanding in a visible and dramatic way. As American scholar Ariel Armony observed, "In a time frame of one decade, China has gone from having virtually no presence in Latin America to being a very significant trade partner to a large number of Latin American states, in particular the Mercosur states." In 2010, China and Venezuela agreed a range of packages that have included financing for Venezuela's energy infrastructure, aerospace training, guaranteed minimums of oil supply to China and a joint Venezuela-China company for oil exploration. Equally, from a hemispheric perspective, the presence of China in the so-called "backyard" of the United States is surprising in its suddenness and scale, and this in turn has aroused a variety of commentary, debate and policy concerns, particularly in the realm of strategic thinking, political economy and bilateral relations, as argued by Kerry Dumbaugh and Mark Sullivan's CRS Report to the U.S. Congress.
But it is necessary to note that China's involvement in Latin America and the Caribbean is part of its general policy of "going out" and then needs to be understood within a larger context of globalization. That indicates China's current drive to "going out" varies by region, by country, by sector and by prior patterns of engagement. Put it simply, China's involvement in Latin America is more cautious, though in a rapidly growing profile, rather than a proactive and overall involvement in Africa. Due to this, China is not interested in engaging in geopolitical competition in Latin America.
Consider this, China's stance on the Venezuela issue can be perceived out of the points as follows. First of all, China has been closely following the uncertain situation in Venezuela. In principle, China must support the Venezuelan government's efforts to uphold national sovereignty, independence and stability. As Chinese spokesperson has argued, all countries should earnestly observe the purposes and principles of the UN Charter and Venezuela's issue must and can only be independently tackled by its own people.
Second, regarding the U.S. possible intervention, either directly or indirectly, China also calls for that all parties can make more efforts to promote stability and development in Venezuela, improve its people's wellbeing, and observe the international law and basic norms governing international relations. Yet, it is equally assured that China will be unlikely involved in Venezuela's issue along with Russia which is much frankly critical of the United States and its allies which have cut off their normal ties with Maduro's government two weeks ago.
Third, the leaders in Beijing are well-aware that China actually can play a minimal role in the West hemisphere if Washington is determined to take actions against the current government of Venezuela. In terms of China's overall goal in the next three decades, Venezuela is a good and important energy partner of China, yet it is not within Beijing's core interests. Therefore, China will not openly challenge the U.S. and its hegemony in Latin America and the Caribbean, though China would be frustrated by this reality.
Fourth, although the current government of Venezuela is at stake for the domestic challenger Guaido who has accumulated the vital support and help from the U.S., key EU states and even some of Latin American states, the current leader Maduro and his ruling party has equally large supporters inside the country and the outsides. This reality also encourages China to continue supporting Maduro and his ruling by upholding international law and diplomatic norms. Yet, all in all, China is very unlikely alliance with Russia on the current issue, no matter what end comes out.
However, China's stance on Venezuela would likely lead to a negative image that China is a simply-driven for money and trade like "a nation of shop-keepers", a term coined by Napoleon who used to scoff about Britain and early the United States. Liberal group might be critical of China's indifferences toward the human rights in Venezuela while realist block likely accuses China's pursuit of power and profits for the final competition with the ruling power, like the United States. Even Russia, which accused the U.S. and its NATO allies of discussing how to arm the opposition in Venezuela, might be unhappy with Beijing's evasiveness in view of their overall strategic partnership and most of the developing countries would somewhat lose their confidence in Beijing's commitment in the future. This has frequently happened in the real politics.
There is no doubt that China's stance on the Venezuela issue comes out of the careful calculation of the reality in Venezuela, Latin America and the real leverage of the U.S. in the whole hemisphere. Recently, Venezuelan FM Jorge Arreaza openly said at a press conference at the UN headquarters that "his government wanted peace with the United States … we want mutual respect between both of us". He even took initiative to say that he would be very pleased to meet with U.S. Secretary of State Mike Pompeo in Washington, or perhaps in New York.
Chinese government has insisted that it is in line with the fundamental interests of the two sides and two peoples, China-Latin America collaboration has brought the latter a large number of job opportunities and solidly boosted local development and improved people's livelihood. It is exactly due to America's uncertainty and arrogance that it has consistently imposed tariffs on China, EU, and Japan while reforming relationships with Canada and Mexico under NAFTA. Under this growing pressure, China has joined Latin American countries in a mission to expand international markets and has offered investment worth 250 billion US dollars. Meanwhile, those with a positive view of the growing China-Latin America relationships see new opportunities in a wider range of investment fields.
As a matter of fact, China, the U.S. and Latin America countries have different comparative advantages in the global trading market. For example, both China and the Latin America are trying to move up to the higher end of the value chain. In addition, China insists in playing a win-win game whereas the current American mindset of international competition reflects the zero-sum game. China is operating in a pragmatic way, which is well-received by the Latin American countries. The best strategy for China and Latin America from now, as Farnsworth suggested, is to forge long-term cooperating relations. Presumably the trade war between China and the US is going to be reduced or end hopefully soon, so the opportunity here is to develop a long-term supplier relationship between these two sides. Once the relationships are built, they are hard to break. True, China and Latin America en bloc are not just business partners, there is more to look at, such as climate change, sustainable environment, and other similar challenges in the global system bring the two sides together, particularly the mutual understanding between the two peoples.
Implications of the U.S. election on U.S.-China relations
The last four years have been one of the most tumultuous periods in modern China-U.S. relations. U.S. President Donald Trump has been the critical catalyst of this upheaval as he has oscillated between presenting China as a valued partner in international affairs, to it being a pariah that needs to be ever more constrained.
Such fluctuations have mounted in intensity as the Trump presidency has progressed. They have left observers uncertain as to whether or not this is a purposeful strategy of the leader of the world's most powerful country, or an indication of an untethered, badly conceived, and even short-sighted policy.
Such a wild approach has been no clearer than in their economic relationship. Here, the U.S. has strived to re-balance its trade relations with China, in particular, to reduce Beijing's long-standing trade surplus with Washington. The surplus has been argued by U.S. elites to have led to an unequal relationship, which a rising China exploits to challenge the U.S.'s economic supremacy. This divide has increasingly taken on a symbolic quality with it becoming representative of a rising China that is soon to surmount the U.S. in global affairs, and which U.S. elites now regard as the most pressing strategic threat to its global position.
In an attempt to pressure China into some kind of re-alignment, the U.S. President initiated a trade war in 2018 and ratcheted up tariffs on Chinese imports to the American market. By early 2020, these amounted to over $400 billion in tariffs, with China imposing its own retaliatory tariffs of $138 billion on its U.S. imports. Such steps have taken place amidst ongoing trade talks between the two sides and have been viewed as a negotiating tactic that has ultimately been detrimental to both countries' economies. In late 2020, the WTO said that U.S. tariffs violated international trade rules, undercutting their legitimacy, as well as the U.S. claims that China is undermining the U.S.-led "rules-based" international order.
Elsewhere, the two sides have also come into friction concerning China's territorial claims in the South China Sea, with the U.S. carrying out regular freedom of navigation operations in the area. The U.S. now also sends warships and military aircraft through the Taiwan Straits on a monthly basis (something innovated under President Trump), so as to deter China's historical claims on the island. In turn, Washington has urged its allies – Australia, Canada, France, and the United Kingdom – to act similarly, which has raised concerns in China of the country being strategically constrained in the region. Such a constraint could prevent Beijing from pursuing its foreign policy goal of claiming hegemony in East Asia.
Concerning the coronavirus pandemic, narratives emanating from the U.S. along with its Western allies have targeted China as being culpable for the outbreak. In a recent speech at the United Nations, President Trump openly claimed that China had knowingly unleased the Covid-19 "plague" on the world, which prompted a terse response from Beijing's officials that it is a cooperative, not a confrontational country that firmly has "no intention to fight either a cold war or a hot one with any country".
Such criticism has been increasingly mainstreamed in the last few months in the West with it acting as a stimulus for discussions on how to deal with China's rise. More critically, an October 2020 Pew survey showed that unfavorable opinions about China were at their highest ever level across the populations of Western Europe, the U.S., Canada, Australia, and South Korea.
All of these aspects of U.S.-China relations will present particular challenges regardless of the outcome of the U.S. election, in particular concerning growing global concerns over China's international ambitions. In this regard, Beijing will certainly need to redouble its diplomatic efforts to present the country as a responsible and benign international actor, through which others can benefit – in primarily – economic terms. That, by most accounts, China has the coronavirus largely under control means that it has been able to restart its economic activity, which gives Beijing the ability to kickstart and lead an international recovery. That most Western countries are still overwhelmed by the pandemic reinforces this capability and gives China the further chance to gain greater leverage and influence.
It also appears that it is now the U.S. that faces the greatest challenges to its international legitimacy, the consequences of which may have profound implications for its own global standing. This relates to the U.S. president's handling of the pandemic, which has to date led to its world-leading status of 210,000 deaths (which is set to double by the end of the year) and over 7.5 million infections. That the U.S. president himself has now become infected points to a leader but also a wider political system around him (including senior military leaders, senators, and most of his election campaign staff) that had a nonchalant, underprepared and irresponsible attitude to the major global health challenge of our time.
President Trump's infection also marks a major national security threat for the U.S. and the world. Given his age, obesity, and unhealthy diet, it is feasible that the leader of the world's most powerful country may become incapacitated from leading the U.S. in the next weeks. Crucially here, it has been widely reported that Trump will be unwilling to accept any negative outcome in the forthcoming election. Apart from suggesting that he would not leave office, he may try to rally supporters – potentially even violently – to protect his position. Crucially here, some of the medication he is taking to help him recover from Covid-19 has the potential to debilitate his mental capacities and overall judgment. This could impact his ability to recognize when he is incapable of leadership, but also spark irrational tweets and behavior that may destabilize the U.S. and even the world.
If the U.S. president were to die – either during or in the months after the election – in all likelihood the country would be thrown into a truly unprecedented constitutional crisis. With widely circulated claims among Republicans and Trump supporters that the election is rigged, if the Democrats were to win, we can expect lengthy legal battles, as well as a heightened potential for major civil unrest across the U.S. Either of these outcomes, would consume the U.S.'s domestic and international capabilities to act beyond its borders. They would also signal a sense of the U.S. political system (and democracy) as being illegitimate.
Such crises will only be to Beijing's advantage (among other U.S. competitors), especially given that China is in many ways returning – if not returned to – its pre-coronavirus economic activity. If U.S.-China relations do signify a contest for supremacy between the world's two foremost countries, Washington's handling of the coronavirus pandemic and its impact upon the U.S. presidential election could very well indicate the U.S.'s decline on the international stage, and essentially speed up China's path to global pre-eminence.
From our partner Tehran Times
The Battle for the Essence of the Democratic Party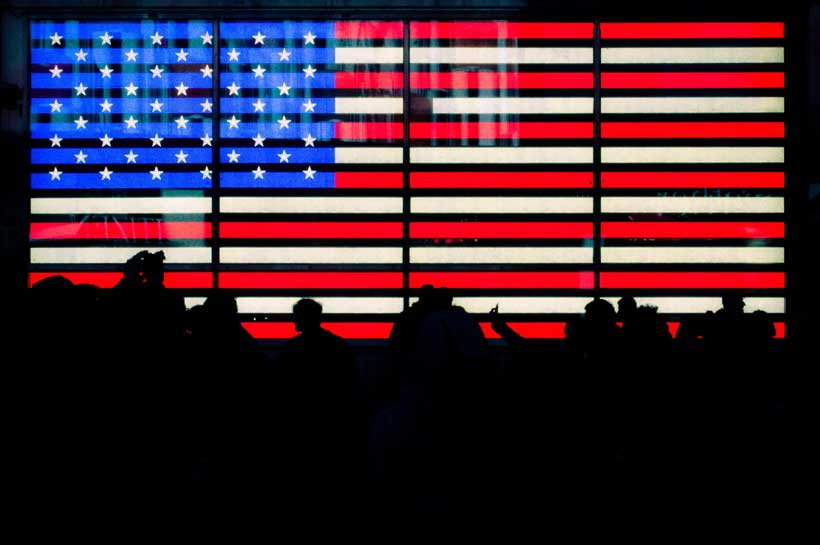 When President Trump fired defense secretary Mark Esper and cybersecurity chief Christopher Krebs just days after the elections, the President set a new integrity litmus test. He was clearly cleaning his circle of those who could stand up to him on the big stuff, such as not sending troops on the Black Lives Matters protesters or not pronouncing the elections rigged. In the meantime, Trump was showing the American public who he still considered loyal by not firing them by keeping the agency chiefs who stayed at least somewhere in the middle.
In the new Biden era, being fired by Trump will be considered the new badge of honor, an integrity stamp of a sort. Despite talk of firing FBI Director Christopher Wray and CIA Director Gina Haspel, Trump has not taken the decision, yet, and there surely must be a reason for it. To paraphrase Trump's infamous McCain quote, I like those who were fired by Trump, not those who were not fired by Trump. This is now the new integrity litmus test.
In May 2020, I was amidst my campaign for UN Special Rapporteur on freedom of speech as one of the top finalists, when in an interview on Bulgaria on Air I called the Trump Administration's and the US authorities' treatment of the media and the protestors during the Black Lives Matter crackdown "despicable". I was set on going after the Trump Administration and the US authorities if I had the chance to win the UN mandate on freedom of speech. And I had no plans for going easy on anyone.
There is something profoundly wrong with the US authorities, if instead of going after the crimes, they willingly choose to go after those that have a reaction against the crimes, outraged by crime impunity.
US agencies who "just don't get it" have to be defunded. And that brings us exactly to the discussion on the future of the heart, soul and essence of the Democratic Party.
The Democratic party has never been about appealing to the middle in order to be liked or about maintaining some kind of lowest common denominator to make sure that no one got offended. The Party has always been about equality and social justice, housing some of the most bad-ass status-quo shakers — not those that wanted to make sure that rich abusers stayed comfortable, racists were not inconvinienced, or abuse of military power for some illusive common good that served only those in power went unchecked. This is the party that offends and has offended throughout the decades to shake the status quo. This is why it is shameful that veterans in the Democratic Party have tried to shame Congresswoman Alexandria Ocasio-Cortez and others who have run and won their mandates on classical Democratic Party values.
Civil rights movement defenders in the black marches never said: "let's have a march but let's do it only on the pavement not to inconvinience cars". They took the whole street.
When I worked for Congressman Bill Delahunt, the Chairman of the House Sub-committee on International Organizations, Human Rights and Oversight, representing 10th congressional district of Massachusetts, some 14 years ago, we did not say that torture by the CIA and the CIA extrajudicial rendition flights were okay but not too much, in order to appeal to the center. We would say that torture is unacceptable, that America can do better than that.
Social justice and equality are uncomfortable. Rights are defended and guarded. They are never simply given. As an example from the other side of the aisle, when Republican President Eisenhower sent the troops on Little Rock to enforce black kids' right to attend school just like any other kid — what Brown vs Board of Education reaffirmed in order to end racial segregation exactly 30 years before the day I was born — Eisenhower did not aim for troops to only show up and waive at the crowds. The soldiers took the black kids by the hand and walked them straight in the school, in the face of hundreds of racist opponents — not trying to please them.
Defending rights takes grit and courage. And some US agencies will never really get it unless their budgets are cut and they are all actually pressed up against the wall — to change unwillingly, forcably and through the trivial but always effective use of financial pressure.
FBI Deputy Director David Bowdich's reaction to the Black Lives Matters protests at the time when I was running for UN Special Rapporteur on freedom of speech this year was that it is the protesters that should be arrested under an outdated rackateering law from the 1940s — not the murdering cops. A memo leaked to the New York Times showed that Mr Bowdich considered the social justice movement "a national crisis" comparable to 9/11. The hundreds of thousands of people mourning and marching across the country, unified by the simple thought that no life should be taken lighly, for nothing, were actually similar to terrorists in the eyes of the FBI who wanted to charge them as racketeers.
It is that kind of injustices and human rights infringements that I would have stood up against as UN Special Rapporteur on freedom of speech, as witnessed by the outrage and intentions, expressed in my May media appearances. I claimed back then that it is precisely in times of crises that rights are tested and defended. The United States is no exception. The US government is bound by international human rights law standards and no interpretation by second-rate lawyers loyal to the Trump Administration, comparing social justice protesters to racketeers and terrorists, can change that. International voices such as myself and others are here to make sure that US authorities do not forget their international human rights legal obligations.
America has a long way to go to recover from the damage that Trump and his cronies spread across the various US agencies have done to democratic principles and human rights. The Trump institutional capture of key agencies such as the FBI and the CIA, let alone DOJ, has lead the country into a downward spiral.
US authorities will not learn unless their actual day-to-day, functional survival is put on the line. People do not get it otherwise. This is why I fully support AOC and others in their defunding efforts, which are considered by many as controversial, extreme, out there and even dangerous, but in reality are simply the only effective way to fight institutionalized racism within the FBI, the police and other law enforcement agencies. "There is nothing radical about moral clarity", to repeat AOC's simple, yet powerful assertion. The comfortable, lowest common denominator parts of the Democratic Party need to wake up and realize that it is the Black Lives movement that got Joe Biden and the rest of the party across the finish line in November. And this precisely will be at the heart of the battle for the essence of the Democratic Party over the next four years.
Why are some Muslims, from India to the U.S Voting against their Natural Allies
Recent national elections in the U.S. and regional elections in India have presented an interesting conundrum. The numbers show that some Muslims, are voting in a counter-intuitive fashion. Given the rise of Islamophobia and right-wing religious nationalism, both in the U.S. and in India, one would surmise that Muslims would vote overwhelmingly to the left of center. But both, in India and in the U.S., many Muslims have however chosen to send a message to the center-left – your sympathetic rhetoric and your verbal condemnations of Islamophobia is not enough, we want to see concrete policies that improve our political and economic conditions. Neither the promises of Joe Biden, nor the fear of Hindu-nationalism is influencing their vote. These Muslims are, for sure, in a minority albeit a growing one. Politicians on the center-left may ignore them at their own peril.

In the U.S.
In the U.S., President-Elect Joe Biden's campaign outreach to Muslims went far beyond that of any presidential candidate in the past. Biden's campaign had a manifesto for American Muslims and a designated outreach person. Biden spoke at Muslim conventions and even quoted from Islamic scripture. He dropped an "inshallah" in the debates. Biden promised to end the so called 'Muslim-Ban' on day one and has repeatedly condemned Islamophobia. Biden spoke up for Uyghur Muslims in China and Kashmiris in India and has opposed the annexation of West Bank. He has promised to resume relations with the Palestinians and restore aid to them. Even Imran Khan, the PM of Pakistan, a self-proclaimed champion of Muslims, does not have such an impressive pro-Muslim curriculum vitae, he has repeatedly refused to speak up for the Uyghurs.
While a majority of American Muslims campaigned very aggressively for the Biden-Harris ticket and raised millions of dollars for the Democrats, the exit polls indicate that only 69% of American Muslims voted for them. On the face value that is a huge win, but if you look at in comparison to the past it is troubling. Despite the fact that Biden went far beyond any other candidate in his outreach to Muslims, and the Islamophobia of President Trump is well documented, Biden has garnered the least percentage of votes by a Democratic presidential candidate in the last four elections according to exit polls conducted by the Council on American Islamic Relations.
A possible explanation for this relatively weak performance is that, for some Muslims his "iron-clad" support for Israel and his willingness to work with pro-Hindutva operatives in the U.S., make his opposition to Islamophobia sound less credible. Words are not enough. If his electoral promises do not actually translate into actual policies, one can expect further decline in Muslim support for Democrats. American Muslims are a rapidly growing and politically engaged community that is over represented in swing states.
A closer reading of the exit polls suggest that things are worse than they seem. The exit polls show that while 17% American Muslims voted for Trump (up from 13% in 2016), 11% declined to reveal who they voted for. It is possible that they lean heavily towards Trump, hence the secrecy. That would mean that in spite of all his Islamophobic rhetoric, Trump may have doubled his support among American Muslims. One Trump supporter told me he voted for Trump because Trump did not invade a single Muslim country in four years unlike Biden who supported the invasion of Iraq.
| | | |
| --- | --- | --- |
| Year | Candidate | Muslim Vote |
| 2008 | Barack Obama | 88% |
| 2012 | Barack Obama | 85% |
| 2016 | Hillary Clinton | 74% |
| 2020 | Joe Biden | 69% |
In Bihar
The recent elections in Bihar has an interesting story to tell. The state is clearly polarizing as most gains have been made by parties on the extremities. Prime minister Modi's right-wing Bhartiya Janata Party (BJP) went from winning 53 wins in the 2015 elections to winning 74 of the 243 seats in 2020. A significant swing in favor of Hindutva ideology. The Communist Party (CPI-ML) gained 9 seats, it had 3 seats in 2015 to 12 seats in 2020. The communist parties combined had a 400% increase, they went from 4 to 16 seats. The parties in decline are the so-called secular centrist parties. The Rastriya Janata Dal (RJD) which is the biggest single party in the state lost five seats (80-75) and the Indian National Congress (INC), the grand old party of India, also lost ground (27-19).
Clearly the secular center is shrinking. The biggest surprise of the elections was the performance of Asaduddin Owaisi's All Indian MajlisIttehadul Muslimeen (AIMIM), a Muslim party, which in the past five years has gone from 0-5 seats. The Majlis won in predominantly Muslim area of Seemanchal and is being accused by commentators of stealing the secular vote away from secular parties. Some are describing Majlis as BJP's B-Team.
It is interesting that now in Indian politics, the code for Muslim vote is 'the secular vote'. Indian Muslims are now the last line of defense for the rather rapidly shriveling secular space. The criticism of Owaisi and the Majlis for denting the prospects of secular parties in Bihar is both misplaced and inaccurate. The question that is important is not why Owaisi's Majlis, a party historically based in Hyderabad (South India) is contesting elections so far in the North of India. The key question is why are Muslims in Bihar voting for Majlis? A party that has no record of governance in their region.
In a speech months before the elections, Owaisi predicted a tectonic shift in Seemanchal's politics and he said that it was coming because of the profound injustices and inequities that plague Muslims of that region. If secular parties that have governed the state for decades had delivered good governance to Muslims, Owaisi would have stayed at home.
Muslim Disillusionment
Muslims are increasingly disillusioned by secular and left politicians. Islamophobia was on the rise even before Trump became President and 37% of American Muslims, pre-covid pandemic, were found hovering near the poverty line. There is much discontent. I think just as 17-25% American Muslims voted for Trump rejecting the centrist politics of Democrats – many Muslims in Bihar too are frustrated by the failure of secular parties to improve their material condition. The region of Bihar where Owaisi's party won five seats is the poorest and infrastructurally the least developed area of the state. Voting for secular parties for decades did not help them much. They have been voting without hope. They too are tired of the lip service.
Muslims of Bihar are fortunate that they have an alternative in Majlis and they are able to reject both Indian secularists and Hindu nationalists unlike some American Muslims who feel that they are stuck between Republicans who are Islamophobic and Democrats who promise much but deliver little. The minority of Muslims who appear to be voting counter intuitively, seemingly against their own interests, either for Donald Trump in the U.S. or the Majlis in Bihar, are clearly sending a signal to secular politicians – do not take our vote for granted, you need to earn our vote.
The center-left may be a natural ally of Muslims, but if it does not deliver for Muslims, they may lose their vote in ever increasing numbers.