The Role of Sovereign Wealth Funds in the Age of Green Energy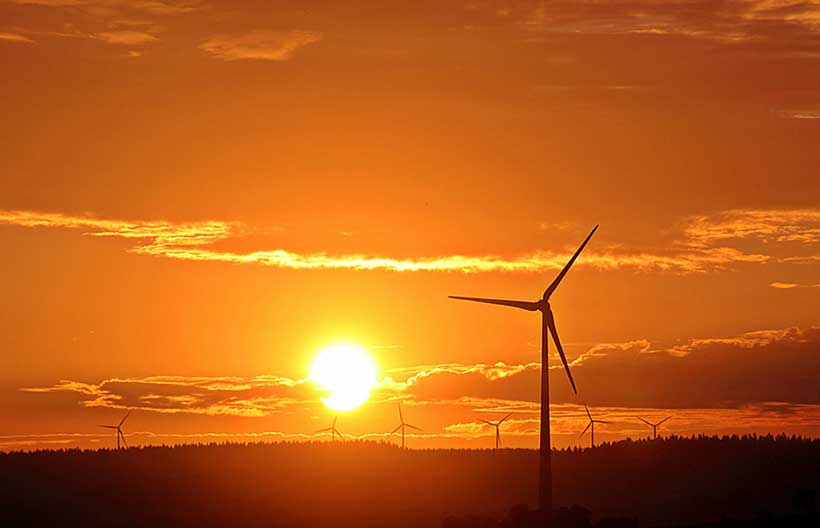 The world's shift away from carbon-based energies in favour of renewable or green energy threatens to turn fossil-fuel-rich economies into "stranded nations" unable to realize the economic value of their carbon wealth. The world's sovereign wealth funds, which collectively own $8 trillion in assets but currently invest just 0.19% of this figure in green energy, have a powerful role to play in helping governments implement policies and investments to prepare for this transition. These are the findings of a World Economic Forum white paper, Thinking Strategically: Using Resource Revenues to Invest in a Sustainable Future, published today.

According to the report, economies where the value of the carbon wealth outweighs the value of human capital or financial assets are particularly vulnerable to the energy transition. This applies to more than a dozen countries that remain heavily dependent on fossil-fuel resources. The report goes further by saying that economies that have over 10% of their total wealth based in carbon assets could become "stranded" and must act now to develop the human capital and economic diversification to thrive in a world that is less dependent on carbon energies.


Adding urgency, the report points out, is that the shift to green energy is likely to occur sooner than expected. Estimates predict between two-thirds to three-fourths of energy will come from green sources by 2050. These estimates are much higher than a decade ago, when just 15% of energy was expected to be green by 2050. This means countries with high carbon wealth may have even less time than anticipated to avoid being stranded as the pace of the green energy shift continues to beat predictions.
While some fossil-fuel-dependent countries have already begun to diversify their economies and increase investment in human capital in preparation for impending energy changes, such changes are rarely adequate for the size and speed of these economic shifts, the report finds.

Sovereign wealth funds, as some of the largest investors in the world, have been an extraordinarily powerful tool for stabilizing resource-rich economies and securing wealth for future generations. By closely aligning their private investment acumen with public policy under a "strategic mandate", these funds can deliver even more value to society. This can be achieved by adopting a "strategic investment fund" model whereby funds act as an additional tool for policy-makers to support local development goals.

"To protect their economic futures, countries whose economies rely on fossil fuels need to prepare now for the impending global shift away from these resources," said Maha Eltobgy, Head of Shaping the Future of Long-Term Investing, Infrastructure and Development at the World Economic Forum. "The resource dependent, fossil-fuel-rich nations that have diligently built large sovereign wealth funds to manage the economic challenges of the Age of Oil must now consider how to use this vast wealth to prepare for the Age of Green Energy."

The potential for sovereign wealth funds to play a transformational role in driving diversification and sustainable growth is underpinned by the number of new funds that have come into existence in recent times. In 2000, there were just 26 sovereign wealth funds in the world; 10 years later, 57 existed; and today, more than 75 sovereign wealth funds collectively hold over $8 trillion in total assets. Only one-third of these funds operate under a strategic mandate, yet the report identifies 41 funds from commodity producers with nearly $4 trillion in assets that could do so.


As the impacts of climate change, demographic shifts and the transition towards green energy become more acute, economic policy-makers should more aggressively apply the strategic investment model to address these challenges head-on. "Increasing the number 'strategic investment funds' is the first step to ensuring economies are prepared for the impending global energy shift," Eltobgy said.

"Rather than waiting for the economic and social impacts, countries must use the investment acumen and wealth they have accumulated to diversify their economies," said Patrick Schena, Co-Head of the Sovereign Wealth Fund Initiative at the Fletcher School of Law and Diplomacy at Tufts University. "While domestic investment is difficult, and political and financial risk must be diligently managed, fossil-fuel economies must use every available tool to sufficiently respond to the impending global economic shift."

With this change, the authors say, sovereign funds can be more closely integrated with public policy, giving them the ability to actually drive, rather than react, to the global energy transition. Their direct investing approach can create wealth rather than merely manage it, bringing new sources of prosperity while preparing for the challenges of tomorrow.


Natural gas markets expected to remain tight into 2023 as Russia further reduces supplies to Europe
Russia's continued curtailment of natural gas flows to Europe has pushed international prices to painful new highs, disrupted trade flows and led to acute fuel shortages in some emerging and developing economies, with the market tightness expected to continue well into 2023, according to the IEA's latest quarterly Gas Market Report.

Natural gas markets worldwide have been tightening since 2021, and global gas consumption is expected to decline by 0.8% in 2022 as result of a record 10% contraction in Europe and unchanged demand in the Asia Pacific region. Global gas consumption is forecast to grow by only 0.4% next year, but the outlook is subject to a high level of uncertainty, particularly in terms of Russia's future actions and the economic impacts of sustained high energy prices.

Russia has largely cut off gas supplies to Europe in retaliation against sanctions imposed on it following its invasion of Ukraine. This has deepened market tensions and uncertainty ahead of the coming winter, not just for Europe but also for all markets that rely on the same supply pool of liquefied natural gas (LNG).

"Russia's invasion of Ukraine and sharp reductions in natural gas supplies to Europe are causing significant harm to consumers, businesses and entire economies – not just in Europe but also in emerging and developing economies," said Keisuke Sadamori, the IEA's Director of Energy Markets and Security. "The outlook for gas markets remains clouded, not least because of Russia's reckless and unpredictable conduct, which has shattered its reputation as a reliable supplier. But all the signs point to markets remaining very tight well into 2023."

The current gas crisis also casts longer-term uncertainty on the prospects for natural gas, especially in developing markets where its use was expected to rise at least in the medium term as it replaced other higher-emission fossil fuels.
European natural gas prices and Asian spot LNG prices spiked to record highs in the third quarter of 2022. This reduced gas demand and incentivised switching to other fuels such as coal and oil for power generation. In some emerging and developing economies, the price spikes triggered shortages and power cuts. Europe's gas consumption declined by more than 10% in the first eight months of this year compared with the same period in 2021, driven by a 15% drop in the industrial sector as factories curtailed production.
Natural gas demand in China and Japan was almost unchanged in that same period, while it contracted in India and Korea. Chinese gas demand is forecast to increase by less than 2% this year, its lowest annual growth rate since the early 1990s. Meanwhile, natural gas prices in the United States hit their highest summer levels since 2008, yet North America was one of the few regions of the world where demand increased, supported by demand from power generation.
Europe has offset the sharp falls in Russian gas supplies through LNG imports, as well as alternative pipeline supplies from Norway and elsewhere. Europe's surging demand for LNG – up 65% in the first eight months of 2022 from a year earlier – has drawn supply away from traditional buyers in the Asia-Pacific region, where demand dropped by 7% in the same period as a result of high prices, mild weather and continued Covid lockdowns in China.

The IEA forecasts that Europe's LNG imports will increase by over 60 billion cubic metres (bcm) this year, or more than double the amount of global LNG export capacity additions, keeping international LNG trade under strong pressure for the short- to medium-term. This implies that Asia's LNG imports will remain lower than last year for the rest of 2022. However, China's LNG imports could rise next year under a series of new contracts concluded since the beginning of 2021, while a colder-than-average winter would also result in additional demand from northeast Asia, further adding to market tightness.

In addition to diversifying supply, the European Union and its member states have taken other steps to increase gas security, such as setting minimum storage obligations and implementing energy saving measures for the coming winter. EU storage facilities were close to 90% full as of end of September, though the absence of Russian supply presents challenges for refilling them next year. Both Japan and Korea have instituted policies to reduce reliance on imported LNG for power generation and have developed contingency plans for possible LNG supply disruptions.

For the new report, the IEA conducted a resilience analysis of the EU's gas market in the case of a complete Russian supply shutdown starting from 1 November 2022. The analysis shows that without demand reductions in place and if Russian pipeline supply is completely cut, EU gas storage would be less than 20% full in February, assuming a high level of LNG supply – and close to 5% full, assuming low LNG supply. Storage falling to these levels would increase the risk of supply disruptions in the event of a late cold spell. A reduction in EU gas demand through the winter period of 9% from the average level of the past five years would be necessary to maintain gas storage levels above 25% in the case of lower LNG inflows. And a reduction in demand of 13% from the 5-year average would be necessary through the winter period to sustain storage levels above 33% in the case of low LNG inflows. Therefore, gas saving measures will be crucial to minimise storage withdrawals and keep inventories at adequate levels until the end of the heating season.
Mozambique Readies For Developing Mphanda Nkuwa Hydroelectric Project
Mozambique is ramping up efforts toward establishing a sustainable energy supply to drive its economy especially the industrialization programme. As it seeks reliable foreign partnerships, it has already shortlisted a few energy groups for the new US$4.5 billion Mphanda Nkuwa hydroelectric dam, on the Zambezi River, located in Tete province that is estimated to generate 2,070 megawatts for Mozambique. It will be 700 metres long and rise 86 metres above its foundations, with 13 floodgates.
The tender for the "Selection of the Strategic Partner or Investor for the Development of the Mphanda Nkuwa Hydroelectric Project" finally in December recieved the results of the market survey carried out in September involving the critical aspects of structuring the project, alignment with potential buyers and shareholder participation. The structure of the energy transmission line, the methodology for selecting the strategic partner, the implementation schedule, among other relevant issues related to the project transaction.
According to Malaysian newspaper The Star, the process of selecting the seven potential investors was made at the end of an investor conference held in Maputo. It further wrote that there were two individual companies and five large consortiums that previously visited the site to understand the natural conditions of the area and assess the fundamental data to prepare proposals from a technical, economic and financial point of view.
The newspaper estimated the infrastructure cost between US$4.5 and US$5 billion and have capacity to produce 1,500 megawatts, making Mphanda Nkuwa the second-largest hydroelectric dam in the country, after Cahora Bassa Hydroelectric (HCB), which generates 2,070 megawatts. With the two infrastructures in fully operational energy production, Mozambique hopes to achieve the goal of universal access to energy and respond to the growing energy deficit that plagues southern Africa.
General Director of the Mphanda Nkuwa development office, Carlos Yum, envisaged that during the construction phase, more than 7,000 jobs will be created, and 50 percent of the energy generated will be exported, contributing to the country's economy and thus making a regional energy hub in Mozambique.
The Mphanda Nkuwa project will be a lower-cost power generation option which will position Mozambique as a regional energy hub, and contribute to universal access, industrialization, job creation and technical training while generating tax and concession fee revenue. The project is fundamental for the energy transition and decarbonization of the southern region of Africa.
Carlos Yum has laid out the status of the Mphanda Nkuwa hydroelectric dam construction project. According to Yun, the project is budgeted at around US$5 billion, and work will start in 2024, the year in which financing is expected to be definitively concluded.
The project will take a total of six to seven years to complete. Of the approximately US$5 billion price tag, 60% is for the construction of the dam and 40% for the power transmission line. At this moment, the development office is preparing the launch of public tenders for the updating of the project's feasibility studies.
By December 2022, the office will launch a tender for the identification of the strategic investment partner, whose financial closing a 2024 deadline has been set. In terms of shareholding, the Mphanda Nkuwa project will have the participation of the Mozambican state, through Electricidade de Moçambique (EDM) and Cahora Bassa Hydroelectric [(HCB), with between 30% and 35% of shares. The remaining 65% will be secured from private investors.
Carta de Moçambique also informed that there would be consultants involved – from Brazil, the United States, Sweden and South Africa – to assess possible problems associated with the project according to the best international practices, avoiding pitfalls that have marred previous projects implemented in the province and in Mozambique generally.
It reported that experts and strategic investors, including the World Bank (WB) and the African Development Bank (ADB), have discussed some significant aspects concerning the implementation of the Mphanda Nkuwa hydroelectric project.
"Overall, we think this project is very important to the government's goal of universal access by 2030," said Zayra Romo, World Bank Mozambique Lead Energy Specialist and Infrastructure Practice Leader. As for the current stage of the project, which consists of the search for a strategic partner for the development of Mphanda Nkuwa, Romo said that the World Bank's support would consist of ensuring the greatest possible competitiveness for the project, with a view to selecting the best contractor or investors that have experience to effectively manage Mphanda Nkuwa.
A press release from the Mphanda Nkuwa Implementation Office said that these companies and consortia had replied to the tender launched in December 2021, and delivered their pre-qualification documents before the deadline, first fixed on 28 February but, at the request of several of the bidders, it was extended to 18 April. It is hoped that construction of the new dam (which has been on the drawing board for decades) will finally begin in 2024. Construction will last for at least seven years.
According to the media release by the Mphanda Nkuwa Hydroelectric Project Implementation Office, the main objective is to ensure the coordination of actions for the implementation of the Mphanda Nkuwa project.
Location: The Mphanda Nkuwa Dam will be located in Tete Province, Centro region, on the Zambezi River, 61km downstream of the Cahora Bassa Hydroelectric Power Plant.
Project description: The Hydroelectric Power Plant will have a capacity of up to 1,500 Megawatts and an Electric Power Transmission Line from Tete to Maputo with 1,300 kilometres.
Budget: US$4.5 to US$5 billion, 60% for the construction of the dam and 40% for the power transmission line.
Strategic importance: The project will position Mozambique as an energy hub in southern Africa. It will provide lower cost energy in the country and region, contribute to universal access to energy in the country by 2030 and support rapid industrialization, with job creation, skills development and business opportunities (local content). Social and economic benefits, in the form of royalties and income on concession fees for the Mozambican state.
Environmental approach: The project will be implemented in strict compliance with national standards and internationally accepted best practices for the development of projects of this nature, to mitigate negative impacts and maximize positive aspects. In this context, the Mphanda Nkuwa Hydroelectric Project Implementation Office recently signed an agreement with the International Hydroelectricity Association for the assessment of the project's sustainability, including training and capacity building.
Mozambique News Agency reported, citing government sources, that there were eight international consortiums interested to become strategic partners of Mozambique in building the Mphanda Nkuwa dam, with electricity production: ETC Holdings Mauritius, Longyuan Power Overseas Investment (Chinese), PowerChina Resources, WeBuild Group, Scatec (Norway), Sumitomo Corporation, EDF and Kansai Electric Power (Japan).
With an approximate population of 30 million, Mozambique is endowed with rich and extensive natural resources but remains one of the poorest and most underdeveloped countries in the world. It is one of the 16 countries, with a collective responsibility to promote socio-economic, political and security cooperation within the Southern African Development Community.
U.S. Government Likely Perpetrated Biggest-Ever Catastrophic Global-Warming Event
On September 28th, the AP headlined "Record methane leak flows from damaged Baltic Sea pipelines" and reported that "Methane leaking from the damaged Nord Stream pipelines is likely to be the biggest burst of the potent greenhouse gas on record, by far. … Andrew Baxter, a chemical engineer who formerly worked in the offshore oil and gas industry, and is now at the environmental group EDF … said, 'It's catastrophic for the climate.'" The article pointed out that methane "is 82.5 times more potent than carbon dioxide at absorbing the sun's heat and warming the Earth."
Russian President Vladimir Putin had been aiming ultimately (and maybe soon) to get the gas to Europe flowing again, and said to EU nations on September 16th, "Just lift the sanctions on Nord Stream 2, which is 55 billion cubic metres of gas per year, just push the button and everything will get going."
Here is what U.S. President Joe Biden had already promised about that on February 7th:
If Germany — if Russia invades — that means tanks or troops crossing the — the border of Ukraine again — then there will be — we — there will be no longer a Nord Stream 2. We will bring an end to it.
Q But how will you — how will you do that exactly, since the project and control of the project is within Germany's control?
PRESIDENT BIDEN: We will — I promise you, we'll be able to do it.
He had promised to cause permanently the end of Nord Stream if Russia invaded, which it did on February 24th. He fulfilled on that promise on September 27th.
Radek Sikorsky, who is a Member of the European Parliament and had been Poland's Foreign Minister and is the husband of the famous writer against Russia Anne Applebaum, and has been affiliated with Oxford Universisty, Harvard University, and NATO, tweeted on the day of the explosions, "Thank you, USA." He also tweeted explanations: "All Ukrainian and Baltic sea states have opposed Nordstream's construction for 20 years. Now $20 billion of scrap metal lies at the bottom of the sea, another cost to Russia of its criminal decision to invade Ukraine." And: "Nordstream's only logic was for Putin to be able to blackmail or wage war on Eastern Europe with impunity."
Furthermore on September 27th, Germany's Spiegel magazine reported that, as Reuters put it, "The U.S. Central Intelligence Agency (CIA) had weeks ago warned Germany about possible attacks on gas pipelines in the Baltic Sea"
On September 28th, SouthFront headlined "No Way Back for Europe" and reported:
It is reasonably suspected that the pipeline was blown up by the special services of the United States in order to finally stop the gas supplies to Germany from Russia.
On September 27, a detachment of warships led by the US amphibious assault ship USS Kearsarge reported on the completion of their tasks in the area of the alleged sabotage in the Baltic Sea and headed for the North Sea.
Since the beginning of September, suspicious activity by anti-submarine helicopters of the US Navy has been observed in the area. In the last few days, reconnaissance activities of NATO aircraft have significantly intensified in the Baltic Sea area. In particular, a US Boeing E-3 Sentry reconnaissance aircraft was on constant patrol over the Baltic States, and a US Joint STARS was spotted over Germany and Poland.