In announcing Four Seasons Resort Bali at Sayan as the winner of its annual readers' survey, Travel + Leisure highlighted the resort's "sense of calm" combined with "innovative and modern" new experiences awaiting guests.
"Obviously, to be named No. 1 a hotel must be consistently excellent across the board," said the magazine's editor-in-chief Nathan Lump. "It's got to have good bones, yes, and it needs to have great people who can build on those bones to transform the place into an experience. At the Four Seasons I especially appreciated how often I was surprised by something I saw or tasted or did, which reminded me that the most memorable hotels and resorts are also about creativity, experimentation, and innovation."
Here are just ten of the innovative experiences available at Four Seasons Sayan, for our guests to connect to the heart and soul of Bali:
LEARN YOURSELF, OR LEAVE IT TO THE EXPERTS: Challenge your other half to a cook-off at Bali's first custom-designed riverside cooking school, Sokasi. Under the guidance of Chef Suta, take a tour of the local markets and the resort's own vegetable gardens. Learn to make all-time Balinese favourites or opt for a plant-based menu, in keeping with Ubud's heritage as the island's wellbeing hub. If you would rather leave the local cuisine to the experts, join the exclusive Chef's Table Dinner and savour a 7-course menu including 12-hour roast duck and 4-hour suckling pig cooked just for you at Sokasi.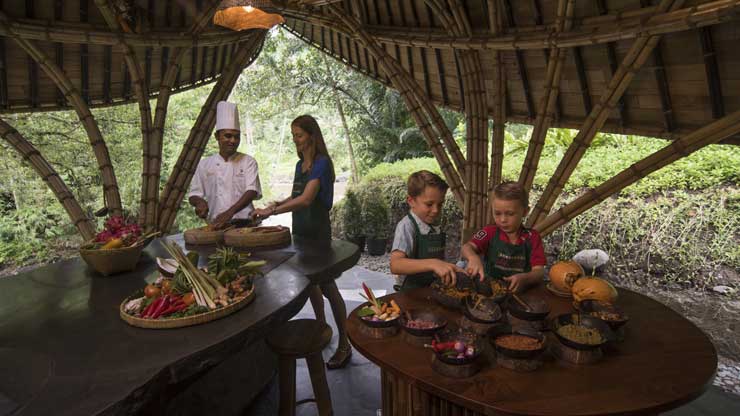 CAN YOU KEEP A SECRET? If so, hop into our open-air vintage VW to visit a secluded water temple, far from the selfie crowds. Bathe in the cool, blessed spring water and refresh your body and soul with a Balinese water purification ritual. Guests are asked to resist the temptation to tag/name this temple on social media, out of respect for the village's wish to preserve its tranquility.
TAKE THE ROAD LESS TRAVELLED: Another way to get off the beaten track and meet the locals is with complimentary guided tours like the 60-minute Sayan Village Walk or Cycling experience. For a bigger challenge, sign up for the exclusive Bongkasa Cycling Tour through a pristine and rarely-visited rice farming village.
LAUGH THOSE WORRIES AWAY: A great way to release any stress or tension you've been bottling up is by laughing your heart out with Putu Purnama at Laughter Yoga. Because laughter fixes everything. Don't believe us? Give it a try!
I BELIEVE YOU CAN FLY: It's also true that you can fly! Bali's only certified AntiGravity Yoga will have you swaying and swinging through the air to deeply stretch muscles and release happy hormones. A pure silk hammock strong enough to support a baby elephant will safely help you into inverted poses even from your first lesson. The benefits may even see you walk out a little taller.
FLOAT AWAY DOWN THE RIVER: Navigate your way along Bali's longest river, the Ayung, which is a main source of the UNESCO Heritage-listed subak irrigation system for traditional rice farming. The Four Seasons Private Rafting experience is as scenic as it is fun; there's even a part where you can hop out and float on your back down the river, looking up into the forest canopy above. The experience conveniently lands directly at Riverside Pool, where a hearty lunch awaits you.
ROOF-TOP DINING: Enjoy the dramatic views high above the treetops from the elliptical rooftop lotus pond with a Private Romantic Dinner, or even a Sunrise Canopy Breakfast. Definitely worth waking up early for – even while on holiday – to catch the first light of day from this stunning vantage point.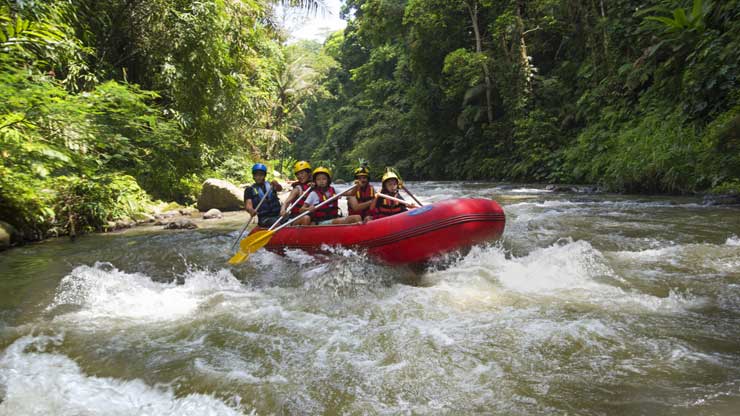 ROCK-A-BYE BABY: Don't remember being rocked to sleep as a baby? Let yourself be taken back to this nurturing childhood ritual with a Sacred Nap by Ibu Fera, immersed in the tranquility of the Sayan Valley. For families, if the little ones refuse to take a rest, let them burn off their energy at Pici Pici Kids Club while you enjoy the luxury of an afternoon nap.
RE-BALANCE YOUR ENERGY: Embrace the healing energy of the Sayan Valley with chakra rebalancing spa treatments. Our seven signature Chakra Ceremonies each have a corresponding Chakra Yoga class to further enhance the benefits. Take a private consultation with our wellness experts to find out which of your energy wheels may need an adjustment, and learn which yoga poses are recommended for your specific needs, to help protect yourself against negative energy forces in future.
LET'S DANCE: Marvel at the beautiful costumes and incredible skill on display at a Balinese dance performance in the Lobby, against a backdrop of the lush valley. Even if you've seen a performance before, it is definitely worth seeing one here. The dance troupe from the local village is accompanied by a full gamelan orchestra, and it is an amazing spectacle. The dancers will happily pose for photos afterwards and even teach you a few steps!
Aloft Hotels Makes a Splash in Bali with the Opening of Aloft Bali Seminyak
Aloft Hotels, Marriott International's hotel brand for music enthusiasts and tech-savvy travelers, announces the opening of Aloft Bali Seminyak. Located in the heart of vibrant Seminyak, the brand-new, urban-inspired hotel features interactive social spaces and modern style, along with a fresh new social scene to Bali as the first Aloft hotel to open on the island.
"We are excited to be unveiling the Aloft Hotels brand in Bali," said Mike Fulkerson, Vice President, Brand & Marketing, Asia-Pacific, Marriott International. "The new Aloft Bali Seminyak is set to own the stage as the hottest gathering hub for travelers visiting the well-known social scene of Seminyak. From its bold design to its live music programming, locals and guests alike can experience the next generation of hotels that will enhance their stay while vacationing on island paradise."
Aloft Bali Seminyak embodies the brand's new tech-forward, future-proofed design philosophy with a lively, industrial-inspired aesthetic intermixed with distinct local touches that complement the free-flowing open spaces. The hotel is home to 80 modern and stylish guest rooms designed with the brand's signature artful and innovative loft layout in mind, featuring airy nine-foot-ceilings, Aloft's ultra-comfortable beds and contemporary décor with Balinese accents. In addition, the hotel features eight guest rooms with direct access to a lap pool, complete with stunning views of a tropical hanging garden. Each guest room is completed with fast and free Wi-Fi, 55-inch smart TV, Bluetooth speakers, and a refreshment station, while the modern bathrooms come with a walk-in rainfall shower.
The hotel features a variety of dining and social spaces including its main attraction: The Kahuna rooftop restaurant, which serves up a fusion of eclectic fare with a playful twist on international and local cuisine complemented by mesmerizing sea views as a backdrop. Re:fuel by AloftSM offers the brand's signature 24/7 grab-and-go options ranging from light meals, snacks, healthy bites, beverages, and more.
The open and expressive lobby is adjacent to Re:mixSM lounge that provides locals and travellers a space to mix and mingle. The brand's signature W XYZ® bar offers signature cocktails and light bites for guests to enjoy over live music as part of the brand's iconic Live At Aloft Hotels music series which offers emerging local artists a platform to showcase their musical talent.
For guests looking to stay fit while travelling, the hotel has a 24/7 Re:chargeSM fitness centre with state-of-the-art equipment. Guests can also take in views of the sea from the hotel's rooftop infinity pool, Splash, that features live music and DJ's spinning until late.
Business travellers can make use of the two multi-functional, tech-forward meeting spaces equipped with fast and free Wi-Fi, which can also be transformed into an intimate event venue accommodating up to 66 people.
"We are thrilled to open the first Aloft hotel in Bali and to welcome the next generation of travellers to Indonesia's most famous island destination," said Kristanti Tannady, General Manager, Aloft Bali Seminyak. "Aloft Bali Seminyak offers a fresh hospitality experience, which brings a contrast between contemporary and traditional designs as well as a blend of both lively and serene lifestyles for guests.
Conveniently located within walking distance to the beach, Aloft Bali Seminyak is nestled in the middle of Bali's prominent neighborhoods: Seminyak, Petitenget, and Canggu. This provides guests with quick and easy access to a variety of popular attractions, activities, and endless entertainment and dining options – from the surfers' paradise Echo Beach to stretches of shopping boutiques and trendy hang out spots including Potato Head Club, Finns Beach Club, Tropical Beach Club, La Fa Vela, Motel Mexicola, and much more.
Aloft currently operates 176 lifestyle hotels globally. There are 132 Aloft hotels in the signed pipeline expected to open in North America, Caribbean & Latin America, Europe, Middle East & Africa, and Asia Pacific.
Westin Hotels & Resorts Debuts In Monterrey, Mexico
Westin Hotels & Resorts is continuing its commitment of bringing unmatched wellness offerings to Mexico with the opening of The Westin Monterrey Valle, the brand's first hotel in Monterrey, and its 8th property in Mexico. Acquired by Fibra Inn and operated by Grupo Hotelero Prisma, the new Westin Monterrey Valle is located in the heart of the city´s famous San Pedro Garza Garcia neighborhood – one of the most prestigious areas in Monterrey.
Embracing the brand's core pillars of Eat Well, Sleep Well and Move Well, the new Westin Monterrey Valle offers business and leisure travelers' unmatched, signature wellness experiences that incorporate local influences across the culinary, spa, and design elements.
"The Westin Monterrey Valle will set a new standard of hospitality in Monterrey by transforming the way travelers experience wellbeing in one of Mexico's most important cities", said Beat Meier, General Manager of The Westin Monterrey Valle. "We are extremely excited to offer our signature wellness programs that will help our guests eat, sleep, move, feel, work and play well while they stay at our wonderful hotel".
The new Monterrey hotel features 174 beautifully designed rooms and suites, all equipped with Westin's world-renowned Heavenly® Bed, which is uniquely designed to revitalize the body and mind for a night of restorative sleep.
Guests looking to stay fit while traveling can make use of the 24- hour Westin WORKOUT® fitness center that is complete with state-of-the-art fitness equipment including TRX and BOSU functional training equipment. The hotel also features a semi-Olympic outdoor swimming pool on its rooftop, offering the perfect complement to any workout. The hotel offers its signature Gear Lending program, providing New Balance® shoes and athletic wear for guests who like to pack light.
Guests looking to relax and recharge can visit the hotel's Heavenly Spa by WestinTM and choose from the latest in beauty treatments. The tranquil spa facility offers holistic massages, sage rollers, body wraps, and signature exfoliating treatments, plus an infinity pool and steam room.
The Westin Monterrey Valle offers guests opportunities to indulge in the brand's Eat Well offerings – as seen at both signature restaurants. Boasting American bistro food and distinct European influences, The Brooklyn, New York Brasserie presents a healthy, balanced menu and an unmatched dining experience with fantastic views of San Pedro Garza García. In keeping with Westin's local-sourcing promise, the hotel's second restaurant, the Deck11 Rooftop, offers refined regional flavors, trendy mixology, and traditional Mexican street food.
With more than 4,300 square feet of event space, guests and visitors will be able to host weddings, social events, conferences or corporate meetings in any of the hotel's modern venues and meeting areas. With wellness in mind, these spaces are fully equipped and designed to enhance productivity offering natural light and spectacular mountain views.
Located in Punto Valle, a residential and commercial haven in the heart of Monterrey's most prestigious neighborhood, San Pedro Garza García, The Westin Monterrey Valle will allow guests to refresh and unwind amid unforgettable views of the city. With its central location, the property allows ideal proximity to popular cultural attractions, such as Macroplaza, Museum of Contemporary Art, Fundidora Park, Pabellon M, Arena Monterrey, Cintermex, Showcenter and the Santa Lucia Riverwalk, García Caves and Cola de Caballo Waterfall.
Hyatt Expands Presence in Turkey with Plans for Hyatt Regency Izmir Istinye Park
Hyatt Hotels Corporation announced today that a Hyatt affiliate has entered into a franchise agreement with Orjin Konaklama Yönetim Hizmetleri A.Ş. for the first Hyatt branded hotel in Izmir, Turkey. Expected to open in 2021, the 161-room hotel marks the seventh Hyatt branded property in Turkey and the brand's entry into Izmir, the country's third largest and one of the oldest cities in the Mediterranean.
Hyatt Regency Izmir Istinye Park will be part of a new major development, Istinye Park Izmir, slated to become a local landmark comprising of a high-end shopping mall and an impressive 860,000 square foot (80,000 square meter) park. Located 12 miles (20 kilometers) from the airport, the hotel will be in close proximity to the metro, tram and bus stations, providing direct access to downtown Izmir.
"Turkey continues to be one of the most popular tourist destinations in Europe, and we have long sought to expand our brand footprint outside of Istanbul," said Takuya Aoyama, vice president development, Hyatt. "We are very pleased to be working with Orjin Group who has an excellent track record of developing and operating premium real estate in the country."
The property, which will overlook the Gulf of Izmir, will be designed with business and leisure travelers in mind, offering seamless and personalized experiences for any occasion. Hyatt Regency Izmir Istinye Park will feature a restaurant and bar, as well as a spa and a fitness center. Additionally, with more than 21,500 square feet (2,000 square meter) of flexible event space, the hotel will also offer a premium venue for corporate meetings and social gatherings alike.
"We are thrilled to be working alongside Hyatt as it expands its brand presence in Turkey," said Zafer Kursun, chairman of Orjin Group. "Hyatt Regency is a globally recognized brand and our extensive knowledge of the Turkish market and the city of Izmir will allow us to develop a premium property."
Hyatt Regency Izmir Istinye Park will be joining Hyatt's growing portfolio across Turkey, alongside Park Hyatt Istanbul – Macka Palas, Hyatt Regency Istanbul Atakoy, Grand Hyatt Istanbul, Nish Palas Istanbul, Hyatt Centric Levent Istanbul and Hyatt House Gebze.