In announcing Four Seasons Resort Bali at Sayan as the winner of its annual readers' survey, Travel + Leisure highlighted the resort's "sense of calm" combined with "innovative and modern" new experiences awaiting guests.
"Obviously, to be named No. 1 a hotel must be consistently excellent across the board," said the magazine's editor-in-chief Nathan Lump. "It's got to have good bones, yes, and it needs to have great people who can build on those bones to transform the place into an experience. At the Four Seasons I especially appreciated how often I was surprised by something I saw or tasted or did, which reminded me that the most memorable hotels and resorts are also about creativity, experimentation, and innovation."
Here are just ten of the innovative experiences available at Four Seasons Sayan, for our guests to connect to the heart and soul of Bali:
LEARN YOURSELF, OR LEAVE IT TO THE EXPERTS: Challenge your other half to a cook-off at Bali's first custom-designed riverside cooking school, Sokasi. Under the guidance of Chef Suta, take a tour of the local markets and the resort's own vegetable gardens. Learn to make all-time Balinese favourites or opt for a plant-based menu, in keeping with Ubud's heritage as the island's wellbeing hub. If you would rather leave the local cuisine to the experts, join the exclusive Chef's Table Dinner and savour a 7-course menu including 12-hour roast duck and 4-hour suckling pig cooked just for you at Sokasi.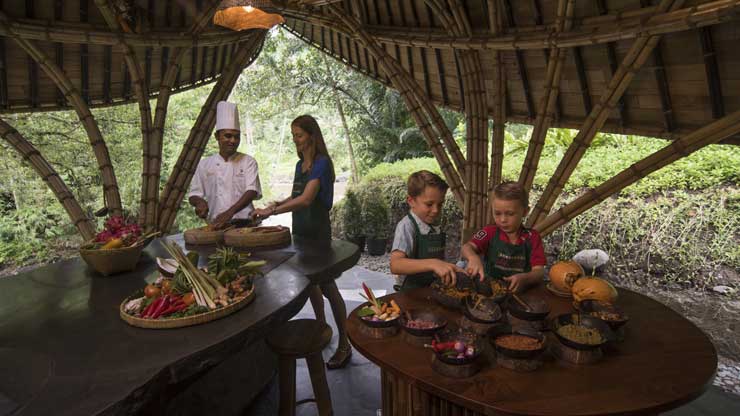 CAN YOU KEEP A SECRET? If so, hop into our open-air vintage VW to visit a secluded water temple, far from the selfie crowds. Bathe in the cool, blessed spring water and refresh your body and soul with a Balinese water purification ritual. Guests are asked to resist the temptation to tag/name this temple on social media, out of respect for the village's wish to preserve its tranquility.
TAKE THE ROAD LESS TRAVELLED: Another way to get off the beaten track and meet the locals is with complimentary guided tours like the 60-minute Sayan Village Walk or Cycling experience. For a bigger challenge, sign up for the exclusive Bongkasa Cycling Tour through a pristine and rarely-visited rice farming village.
LAUGH THOSE WORRIES AWAY: A great way to release any stress or tension you've been bottling up is by laughing your heart out with Putu Purnama at Laughter Yoga. Because laughter fixes everything. Don't believe us? Give it a try!
I BELIEVE YOU CAN FLY: It's also true that you can fly! Bali's only certified AntiGravity Yoga will have you swaying and swinging through the air to deeply stretch muscles and release happy hormones. A pure silk hammock strong enough to support a baby elephant will safely help you into inverted poses even from your first lesson. The benefits may even see you walk out a little taller.
FLOAT AWAY DOWN THE RIVER: Navigate your way along Bali's longest river, the Ayung, which is a main source of the UNESCO Heritage-listed subak irrigation system for traditional rice farming. The Four Seasons Private Rafting experience is as scenic as it is fun; there's even a part where you can hop out and float on your back down the river, looking up into the forest canopy above. The experience conveniently lands directly at Riverside Pool, where a hearty lunch awaits you.
ROOF-TOP DINING: Enjoy the dramatic views high above the treetops from the elliptical rooftop lotus pond with a Private Romantic Dinner, or even a Sunrise Canopy Breakfast. Definitely worth waking up early for – even while on holiday – to catch the first light of day from this stunning vantage point.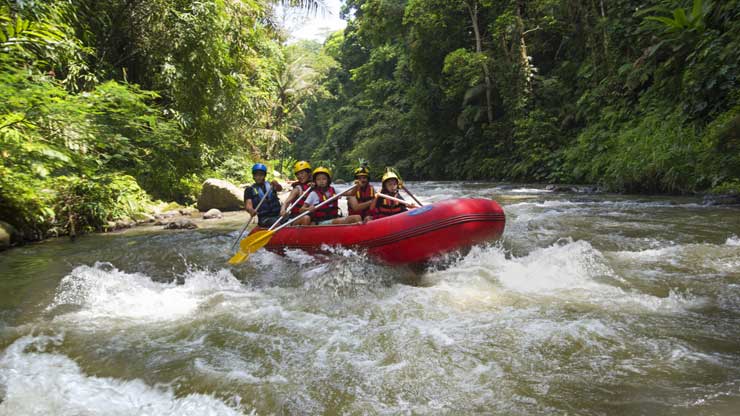 ROCK-A-BYE BABY: Don't remember being rocked to sleep as a baby? Let yourself be taken back to this nurturing childhood ritual with a Sacred Nap by Ibu Fera, immersed in the tranquility of the Sayan Valley. For families, if the little ones refuse to take a rest, let them burn off their energy at Pici Pici Kids Club while you enjoy the luxury of an afternoon nap.
RE-BALANCE YOUR ENERGY: Embrace the healing energy of the Sayan Valley with chakra rebalancing spa treatments. Our seven signature Chakra Ceremonies each have a corresponding Chakra Yoga class to further enhance the benefits. Take a private consultation with our wellness experts to find out which of your energy wheels may need an adjustment, and learn which yoga poses are recommended for your specific needs, to help protect yourself against negative energy forces in future.
LET'S DANCE: Marvel at the beautiful costumes and incredible skill on display at a Balinese dance performance in the Lobby, against a backdrop of the lush valley. Even if you've seen a performance before, it is definitely worth seeing one here. The dance troupe from the local village is accompanied by a full gamelan orchestra, and it is an amazing spectacle. The dancers will happily pose for photos afterwards and even teach you a few steps!
10 Reasons to Visit Four Seasons Hotel Cairo at Nile Plaza This Summer
As the sun gets brighter and the nights get longer, summer in Cairo is the ultimate opportunity to wake up every day to marvel views of the legendary Nile and magical Cairo's skyline. Being the heartbeat of the Nile, Four Seasons Hotel Cairo at Nile Plaza makes for the perfect starting point to experience what Cairo has to offer this summer.
From centuries-old museums and galleries to music festivals and exhilarating concerts, summertime in Cairo is as exciting as diverse with Four Seasons Hotel Cairo at Nile Plaza Concierge team sharing the favourite things to do this summer in the vibrant city.
Attend the Citadel Music Festival
Salah El Din Citadel dominates Cairo's skyline and was the nerve centre of Egypt for almost 700 years. In August, the Citadel will turn into an arts and culture centre during its annual two-week music festival. Organized by Cairo Opera House, the festival hosts various art performances by local and international artists in a unique experience with a breath taking backdrop of the 12th-century Citadel.
Soak Up the Sun with a Cooling Dip
One of the best things about Cairo is the long morning hours. Take advantage and escape the heat into one of three rooftop swimming pools at Four Seasons Cairo at Nile Plaza. Lounge with a refreshing drink in hand; and let the cooling breeze that follows blow away any stressful thoughts.
Travel Back in Time with Cairo's Most Fascinating Palaces
When summer weather strikes, take activities indoors while exploring Cairo's lavish palaces. From the masterpieces at Princess Aisha Fahmy Palace and the luxurious Manial Palace that tells the story of botanical eloquence and architectural grandeur, to Amir Taz Palace, Abdeen Palace and many more tell great stories of Cairo's modern history.
Embrace the Warm Weather at the Spa
A hot summer day in Cairo is just the perfect time to set the mood for well-being at Four Seasons Spa – an oasis of peace in the summer heat with treatments designed to prep and prime guests to soak up that warm summer sun while reviving some of the pharaohs' beauty secrets.
Spend an Afternoon with the Pharaohs
Home to the world's most extensive collection of ancient Egyptian antiquities, the 107 hall Egyptian Museum features an incredible 160,000 objects on display with artefacts spanning 5,000 years of the pharaonic era. To beat summer heat, the museum opens during late afternoon every Sunday and Thursday.
Get Lost in Cairo's 1000-Year Old Market; Khan El Khalili
Few places in Cairo can match the energy of Khan El Khalili market, especially in the evenings when the entire area is lit up with colourful lanterns. Chef Concierge Dalia Khalil recommends experiencing the essence of old Cairo and visiting the legendary 240-year old El Feshawy café.
Cheer the Africa Cup of Nations – Egypt 2019
Be part of the continent's biggest football competition, as Egypt is hosting the 32nd Africa Cup of Nations from June 21 to July 19, 2019. The Concierge team at Four Seasons Hotel Cairo at Nile Plaza are the go-to for booking tickets and information. For those eager to catch their favourite match on the big screen, the Hotel will turn Upper Deck Lounge into a fan-zone with panoramic pool views.
Have a Sunset Picnic in a Felucca, a Traditional Wooden Sailing Boat
A felluca is a traditional wooden sailing boat used by the pharaohs throughout history, and is definitely a must-do while in Cairo. The boat will carry guests on a smooth sail across the Nile, while sipping oriental tea with mint and watching as some of Cairo's remarkable landmarks become the backdrop. Such an experience with huge astonishment is just steps away from Four Seasons Cairo at Nile Plaza.
Go Skiing
Skiing does not have to stop just because it is summer in Cairo. Egypt's first snow park Ski Egypt is just the perfect fun destination for all ages. The park offers snow-filled winter wonderland all year round, from skiing, slope snowboarding to sledging and sliding.
Extend Cairo Adventures with Complimentary 4th Night
It is the time to experience a vibrant summer getaway in the beating heart of Cairo over the marvel views of the Nile at Four Seasons Hotel Cairo at Nile Plaza. To extend a stay in Cairo longer, the Hotel offers the Stay Longer – Fourth Night Free package to explore the vibrant city of Cairo.
Hyatt and BTG Homeinns Unveil New Hospitality Brand Under Joint Venture
Following the pioneering joint venture announcement in February, Hyatt and BTG Homeinns Hotels Group continue to make great strides with the unveiling of a new hospitality brand on Wednesday, June 19. Leveraging the respective strengths and resources of Hyatt and Homeinns, the UrCove brand is positioned to compete in the currently underserved upper-midscale segment. UrCove is an entirely homegrown hotel brand, built specifically to meet Chinese travelers' preferences and growing expectations for a seamless, comfortable and premium travel experience in the upper-midscale market.
Announced at the China Hotels and Tourism (CHAT) conference today, UrCove, pronounced as "your cove", is a metaphorical reference to having a safe harbor for a boat while on a journey at sea. The Chinese name Yifei (逸扉) also takes on the same concept of providing comfort, assurance and an overall feeling of being at home for travelers. The logo design of the UrCove brand uses a streamlined approach—the elegant C-shaped symbol references a bay as well as waves of the vast sea. The arching details within it echo UrCove hotels being the reliable shelter, as the brand aims to provide a cozy sanctuary for travelers to recharge with excellent quality and care backed by Hyatt.
"As we commemorate our 50th year in Asia Pacific and Greater China region, we are committed to maximizing our core business to drive purposeful growth and cater to the high end travelers of every segment we serve," said Stephen Ho, president of Greater China, global operations, Hyatt. "Given China's growing economic importance and the phenomenal growth of its middle-class segment, the UrCove brand strengthens our representation in the underserved upper-midscale segment, and we believe that this locally developed brand will advance our commitment to this important market."
Data released by the Ministry of Culture and Tourism of The People's Republic of China showed that domestic tourism revenue increased by 13% in 2018, bringing in a solid revenue of CNY 5.05 trillion. The growing middle-class population and a government policy to boost domestic consumption continues to ensure long-term growth for the travel and hospitality market.
"We are one step closer to fulfilling our commitment to elevate the business travel experience of the growing upper-midscale segment," said David Sun, general manager of BTG Homeinns Hotels Group, chairman & chief executive officer of Homeinns Hotel Group. "The UrCove brand is designed to better serve local consumers. By combining our extensive knowledge and vast network of the local market with Hyatt's experience in premium care and hospitality, we are on track towards setting a new benchmark for hospitality in China."
UrCove hotels will cater to the 'Road Warriors' – a term used to identify an extension within the upper-midscale segment of frequent business travelers. These highly mobile travelers often seek out efficiency and comfort but are limited in opportunities to get the best out of their travel experience. With its population expected to reach 440 million by 2020 and continuously rising income levels, China's middle class is greatly underserved when traveling for work.
Located in highly accessible locations in gateway cities where travelers can get the best business and leisure experiences, UrCove hotels will adopt best-in-class design. Functional business space and practical amenities will allow travelers to manage work tasks while exploring their host city with ease. Leveraging Hyatt's highly renowned food and beverage excellence, UrCove hotels will also provide delicious food including a nutritious breakfast with lavish choices to ensure a whole day's energy for work, as well as group or business dinner options. The first two UrCove hotels are expected to open in Shanghai and Beijing by late 2020.
A Vision of Sustainable Middle Eastern Design at Four Seasons Hotel Abu Dhabi
Discover a vision of modern Middle Eastern Design at Four Seasons Hotel Abu Dhabi at Al Maryah Island. Developed in conjunction with Mubadala and the Abu Dhabi Urban Planning Council, estidama (the Arabic word for sustainability) was viewed as a key priority—based upon the vision of Sheikh Zayed bin Sultan Al Nahyan—in order to create responsible development in the UAE's capital by the year 2030.
Situated on Al Maryah Island, the city's new business and lifestyle destination, Four Seasons Hotel Abu Dhabi, gives you a connection to the city and its culture through its central location, as well as its spectacular design.
Director of Engineering George Chapides stresses that intelligent architectural design can also reflect the culture of the place it is in:
"Four Seasons strives to achieve unique interiors that reflect the local context and market, and in harmony with the architecture of the building. Our striking façade is firmly rooted in traditional Islamic and Middle Eastern architecture. The window lattices found on the building are not only inspired by textiles found in the UAE's souks but they are also firmly rooted in cultural design elements that have a functional purpose."
The use of the mashrabiya adorning the building is based on an ancient architectural technique in the region. This design principle has been adapted in the modern context on notable Abu Dhabi developments such as the Al Bahr Towers and Masdar City. This element serves three purposes:
It shields the building from the sun's intense rays. During the summer season, temperatures within the region can reach in excess of 44 Celsius (110 Fahrenheit), which greatly increases energy consumption to cool the building, which features floor-to-ceiling windows throughout.
It cools the spaces behind them, creating natural ventilation while reducing the sun's radiation.
It beautifies the spaces around them through the diffusion of light. This architectural element is most prominent in our stunning lobby in the morning hours. This makes going to a big business meeting in the surrounding Abu Dhabi Global Market (ADGM) or even simply enjoying a coffee in Al Meylas an utter joy.