In announcing Four Seasons Resort Bali at Sayan as the winner of its annual readers' survey, Travel + Leisure highlighted the resort's "sense of calm" combined with "innovative and modern" new experiences awaiting guests.
"Obviously, to be named No. 1 a hotel must be consistently excellent across the board," said the magazine's editor-in-chief Nathan Lump. "It's got to have good bones, yes, and it needs to have great people who can build on those bones to transform the place into an experience. At the Four Seasons I especially appreciated how often I was surprised by something I saw or tasted or did, which reminded me that the most memorable hotels and resorts are also about creativity, experimentation, and innovation."
Here are just ten of the innovative experiences available at Four Seasons Sayan, for our guests to connect to the heart and soul of Bali:
LEARN YOURSELF, OR LEAVE IT TO THE EXPERTS: Challenge your other half to a cook-off at Bali's first custom-designed riverside cooking school, Sokasi. Under the guidance of Chef Suta, take a tour of the local markets and the resort's own vegetable gardens. Learn to make all-time Balinese favourites or opt for a plant-based menu, in keeping with Ubud's heritage as the island's wellbeing hub. If you would rather leave the local cuisine to the experts, join the exclusive Chef's Table Dinner and savour a 7-course menu including 12-hour roast duck and 4-hour suckling pig cooked just for you at Sokasi.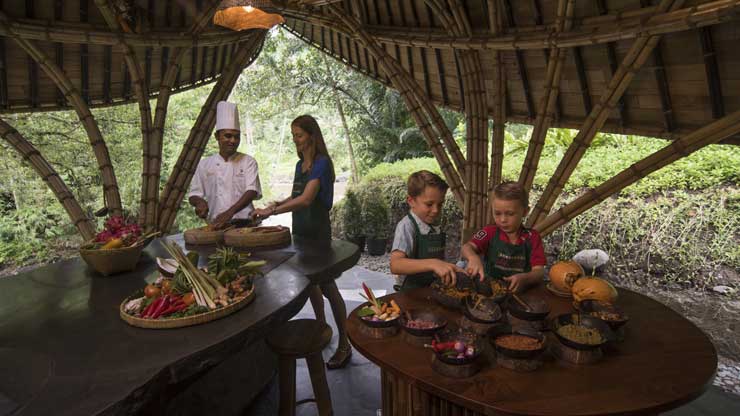 CAN YOU KEEP A SECRET? If so, hop into our open-air vintage VW to visit a secluded water temple, far from the selfie crowds. Bathe in the cool, blessed spring water and refresh your body and soul with a Balinese water purification ritual. Guests are asked to resist the temptation to tag/name this temple on social media, out of respect for the village's wish to preserve its tranquility.
TAKE THE ROAD LESS TRAVELLED: Another way to get off the beaten track and meet the locals is with complimentary guided tours like the 60-minute Sayan Village Walk or Cycling experience. For a bigger challenge, sign up for the exclusive Bongkasa Cycling Tour through a pristine and rarely-visited rice farming village.
LAUGH THOSE WORRIES AWAY: A great way to release any stress or tension you've been bottling up is by laughing your heart out with Putu Purnama at Laughter Yoga. Because laughter fixes everything. Don't believe us? Give it a try!
I BELIEVE YOU CAN FLY: It's also true that you can fly! Bali's only certified AntiGravity Yoga will have you swaying and swinging through the air to deeply stretch muscles and release happy hormones. A pure silk hammock strong enough to support a baby elephant will safely help you into inverted poses even from your first lesson. The benefits may even see you walk out a little taller.
FLOAT AWAY DOWN THE RIVER: Navigate your way along Bali's longest river, the Ayung, which is a main source of the UNESCO Heritage-listed subak irrigation system for traditional rice farming. The Four Seasons Private Rafting experience is as scenic as it is fun; there's even a part where you can hop out and float on your back down the river, looking up into the forest canopy above. The experience conveniently lands directly at Riverside Pool, where a hearty lunch awaits you.
ROOF-TOP DINING: Enjoy the dramatic views high above the treetops from the elliptical rooftop lotus pond with a Private Romantic Dinner, or even a Sunrise Canopy Breakfast. Definitely worth waking up early for – even while on holiday – to catch the first light of day from this stunning vantage point.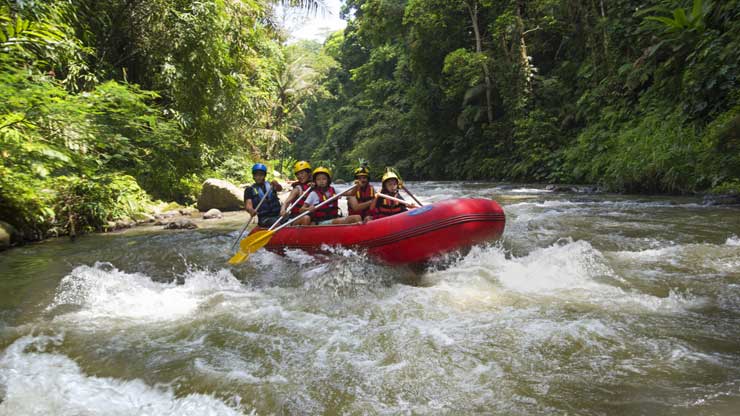 ROCK-A-BYE BABY: Don't remember being rocked to sleep as a baby? Let yourself be taken back to this nurturing childhood ritual with a Sacred Nap by Ibu Fera, immersed in the tranquility of the Sayan Valley. For families, if the little ones refuse to take a rest, let them burn off their energy at Pici Pici Kids Club while you enjoy the luxury of an afternoon nap.
RE-BALANCE YOUR ENERGY: Embrace the healing energy of the Sayan Valley with chakra rebalancing spa treatments. Our seven signature Chakra Ceremonies each have a corresponding Chakra Yoga class to further enhance the benefits. Take a private consultation with our wellness experts to find out which of your energy wheels may need an adjustment, and learn which yoga poses are recommended for your specific needs, to help protect yourself against negative energy forces in future.
LET'S DANCE: Marvel at the beautiful costumes and incredible skill on display at a Balinese dance performance in the Lobby, against a backdrop of the lush valley. Even if you've seen a performance before, it is definitely worth seeing one here. The dance troupe from the local village is accompanied by a full gamelan orchestra, and it is an amazing spectacle. The dancers will happily pose for photos afterwards and even teach you a few steps!
Hilton Signs Six New Luxury Hotels in Asia Pacific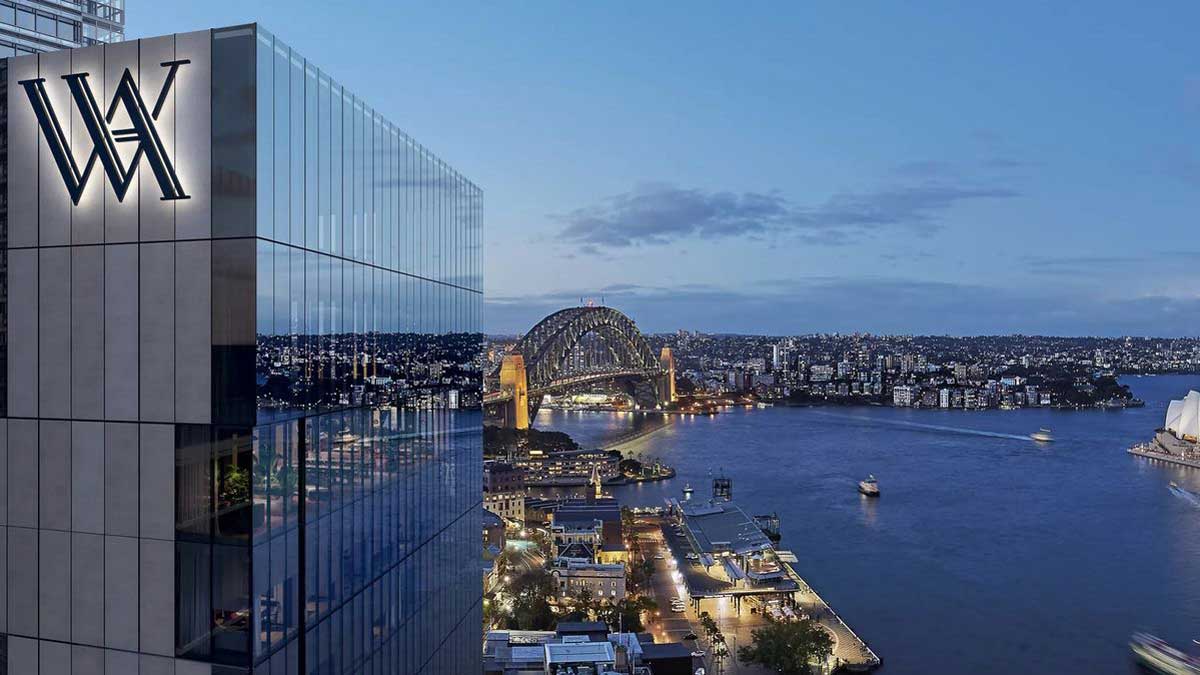 Leading global hospitality company Hilton (NYSE: HLT) has announced six landmark signings in Asia Pacific (APAC) across its portfolio of luxury brands – Waldorf Astoria Hotels & Resorts, Conrad Hotels & Resorts and LXR Hotels & Resorts – in the year to date, a mark of growing optimism in luxury travel across the region.
With the signing of Waldorf Astoria Xi'an, Waldorf Astoria Shanghai Qiantan, Waldorf Astoria Kuala Lumpur, Waldorf Astoria Sydney, Conrad Nagoya and an LXR Hotels & Resorts property in Bali, Hilton's pipeline of luxury hotels in the region increases to 20. When these hotels open in the coming years, travellers will enjoy an exquisite portfolio of more than 50 luxury hotels across Asia Pacific.
With a growing middle class, increased consumer spending and an underserved lodging market, Asia Pacific presents a US$10 trillion consumption growth opportunity over the next decade.
Alan Watts, president, Asia Pacific, Hilton said, "Hilton is Asia Pacific's fastest growing hospitality company, and that signals the confidence that owners and developers have in our ability to capture growing demand and deliver strong returns in APAC's most sought-after destinations. We share the optimism that owners and developers have about the future of luxury travel and appreciate the importance they place on partners and brands that will optimize their yield. As we continue to pursue quality organic growth and enhance our network effect, we too stay focused on prioritizing the right partnerships to deploy the right brands in the right locations."
Post-pandemic recovery has prompted increasing owner and developer interest in hospitality real estate, as the APAC hotel investment volume in 2021 grew 46% year-on-year to exceed US$12 billion, and investors focused on acquiring luxury or resort assets. The luxury travel segment is also expected to burgeon as 42% of APAC consumers who intend to take an international trip seek out luxury experiences.
"These signings mark an incredible moment for our luxury brand portfolio as we expand Waldorf Astoria, Conrad, and LXR throughout five countries in the region, offering even more opportunities for travelers to immerse in our authentic approach," said Dino Michael, senior vice president & global category head, Luxury Brands, Hilton. "From Waldorf Astoria's intuitive service, to Conrad's bold design and LXR's culturally immersive experiences, the hotels continue to showcase innovation and deliver on what guests are looking for in their stay. This expansion reinforces the appeal of the brands globally, and is a true testament to the team members who bring luxury to life."
Hilton's latest signings mark a further closing of key city gaps as its award-winning luxury brands debut or expand in key travel destinations such as Japan, Australia, Malaysia, Indonesia and China.
China in particular holds great potential in shaping the future of luxury travel as it is home to the world's largest consumer economy and is set to become the largest luxury goods market by 2025. Travel demand is also shifting as the country's new generation of young and discerning travelers seeks higher levels of personalization, wellbeing, sustainability and quality in their luxury travel experience.
The signings of Waldorf Astoria in Xi'an and Shanghai Qiantan put the brand on track to double its portfolio in China and offer its unrivalled luxury in eight world-class hotels. When open, Waldorf Astoria Xi'an will be one of the tallest buildings in this ancient capital of the 13 Dynasties. Designed by the famed design firm, Yabu Pushelberg, the hotel will draw inspiration from the city's rich millennia-old culture and integrate oriental elegance into modern design. Waldorf Astoria Shanghai Qiantan will mark the city's second Waldorf Astoria hotel. Located in Shanghai's brand-new CBD – the New Bund area – the hotel will boast panoramic views of the Huangpu River and immerse guests in the tranquility and glamour of China's commercial capital.
Today, there are more than a dozen Conrad hotels operating in China. When the other nine hotels in the country's pipeline open – including Conrad Shenzhen and Conrad Chongqing next year – guests will be able to enjoy the discreet yet sophisticated luxury that the brand is known for in more than 20 destinations.
Four Seasons Hotel New York Downtown Celebrates New York Fashion Week with Acts of Love
Four Seasons Hotel New York Downtown, the award-winning luxury lifestyle hotel located in the heart of TriBeCA, is launching Acts of Love – three dedicated moments for guests and locals to engage during Fashion Week. From Friday, September 9 through Thursday, September 14, 2022, the Hotel lobby will be transformed into a vibrant and whimsical escape.

Three Acts of Love will take over the lobby of Four Seasons Hotel New York Downtown:
Love is the Scent of Fresh Blooms: Famed artistic director and celebrity floral designer Jeff Leathamwill curate five dazzling floral arrangements that will flow throughout the lobby. Leatham's bold and colourful vision will unfold through cascading designs that will transform the lobby into THE Instagram spot to visit during Fashion Week. Guests can also pick the perfect flower to take home from the Four Seasons flower cart.
Love is a Letter from the Heart: Guests can immerse themselves in the lost art of letter writing at the bespoke Letters of Love postcard experience in collaboration with fashion designer Christian Siriano, who created custom-designed postcards exclusively for Four Seasons.
Love is Sweet: After dropping the postcard in the heritage mailbox, guests can enjoy a sweet treat from the specialty gelato cart.
The Spa at Four Seasons Hotel New York Downtown is ready to pamper and treat Fashion Week guests who need a respite from the busy week with Acts of Love that focus on self-care and wellness.
Guests can book an appointment to experience NextHealth's IV Therapy during a special pop up at The Spa. Four IV treatments will be available including:
Glamour IV to enhance the skin's overall glow from the inside out with revitalizing and collagen-boosting ingredients such as vitamin C, L-Lysine, and biotin that will leave skin looking supple and hair feeling hydrated.
Super Immune IV to supercharge the immune system with a potent combination of vitamin C, magnesium, vitamin B5, antivirals, and other essential vitamins and minerals for boosted bodily defences.
Energy Plus to fuel and enhance mental and physical vitality with energy-boosting ingredients such as L-Carnitine, vitamin B12, and potent amino acids.
Detox to encourage the elimination of toxins and harmful substances with powerful ingredients such as lysine, taurine, and antioxidants for a fully refreshed feeling.
The Spa is launching new skincare products and services with Augustinus Bader, the science-backed and award-winning luxury skincare brand best known for The Method Facial. The Method uses Augustinus Bader's groundbreaking technology to create a one-of-a-kind, highly sophisticated facial experience. The facial promotes a sequence of personalized regenerative processes for skin hydration, firmness, evenness, and protection against environmental aggressors.
Four Seasons Hotel New York Downtown is the official hotel partner for Vogue's inaugural Vogue World Fashion Experience. Fashion Week guests will receive a special welcome amenity created by Executive Chef Maria Tampakis and three expert Four Seasons executive pastry chefs including: Rhonda Ashton, Four Seasons Jackson Hole; Eddy Dhenin, Four Seasons Minneapolis; and Rob Differ, Four Seasons One Dalton Street, Boston.
The Acts of Love experience will be open to guests and locals during the following times:
Friday, September 9: 4:00– 8:00 pm
Saturday, September 10: 1:00– 4:00 pm
Sunday, September 11: 4:00– 8:00 pm
Monday, September 12: 8:30 am – 12:30 pm
Tuesday, September 13: 4:00– 8:00 pm
Wednesday, September 14: 4:00– 8:00 pm
Hilton Dubai Palm Jumeirah Opens on Palm West Beach
Hilton celebrates the opening of Hilton Dubai Palm Jumeirah. Located on the popular Palm West Beach, the hotel is the perfect escape for couples, families, friends and solo travelers looking to enjoy sunset views, a temperature-controlled pool, event spaces, a tranquil spa and more. Featuring 608 guest rooms and suites along with ten enticing culinary concepts, it is poised to become one of the top leisure and events destinations in Dubai. 
"Hilton Dubai Palm Jumeirah opens as an iconic addition to the world-famous palm shaped island and promises guests an exceptional beachfront resort experience as well as outstanding dining options," said Jochem-Jan Sleiffer, president, Middle East, Africa and Türkiye, Hilton. "We are delighted to bring our flagship Hilton Hotels & Resorts brand to this prominent location on the Palm Jumeirah, adding to the choices Hilton offers for an incredible stay in Dubai, the world's leading visitor destination."
The hotel is home to several new dining concepts unique to the property including Zing Beach Bar which offers refreshing craft drinks and a wide selection of light bites at the water's edge, and the cool, calm and connected SocialBee which features a delightful menu designed around locally-sourced honey. Mowsem, the hotel's all-day dining destination, serves an exciting array of global cuisine, whilst Australian Jones the Grocer, located on the beach and already a favourite among residents, is the perfect breakfast spot for fresh and delicious artisan food.
Launching later this year, Factory by McGettigan's will become the ultimate neighbourhood hangout with its Irish charm, delicious artful drinks, sharing plates, and an ever-changing line up of live entertainment.
CLAW BBQ will dial up the Southern hospitality with mouthwatering must-have grills, seafood, shakes and retro arcade games in a fun and vibrant setting.
Also opening later this year, Barfly by Buddha Bar will be located on the 13th floor of the property, offering sunset views of the sea, Bluewaters Island, the glittering Dubai Marina skyline and the Palm Jumeirah. This restaurant, bar and lounge will boast an exquisite dining and drinking experience, set to a soundtrack of uplifting music mixed by talented DJs.
The renowned Trader Vic's and Tahitian Village will launch just as the good weather returns and will serve up simmering plates of island-style cuisine alongside delicious and popular Mai Tais.
Aside from the culinary experiences, the property offers one of the longest pools in Dubai, a state-of-the-art fitness centre and the award-winning eforea Spa that provides comprehensive relaxation experiences, eight well-appointed treatment rooms, a dedicated spa suite and a Moroccan Hammam for individuals and groups. For young guests, the Pirates Kids Club has an indoor and outdoor area, and a dedicated kid's pool. The hotel will also feature a pristine private beach with breathtaking city views, daybeds and a range of watersports activities.
Additionally, the property has several meeting and event spaces designed for all occasions, including the outdoor Ocean Terrace that can cater for up to 800 people – perfect for weddings and large events.
Leonard Gooz, global brand head, Hilton Hotels & Resorts said, "Across the world, Hilton Hotels & Resorts properties are located in sought-after destinations for guests who know that where they stay matters – and Hilton Dubai Palm Jumeirah is no exception. With its prime location on the spectacular Palm Jumeirah, the hotel provides guests with the ultimate vacation where they can enjoy beachside living, Hilton's world-renowned hospitality and a memorable stay."
Hilton Hotels & Resorts marks its continued global growth by reaching its 600th property with the recent openings of Hilton Dubai Palm Jumeirah and Hilton Hiroshima. As Hilton's flagship brand, Hilton Hotels & Resorts continue to offer exceptional stay experiences to guests for over a century at hotels located in the most sought-after destinations around the world. In addition to the latest milestone openings, the brand recently grew its all-inclusive footprint with the opening of Hilton Tulum Riviera Maya All-Inclusive Resort and Hilton Cancun, an All-Inclusive Resort. Hilton Hotels & Resorts also debuted the largest hotel in Asia Pacific with the opening of Hilton Singapore Orchard and made its highly anticipated entry in the Maldives with Hilton Maldives Amingiri Resort & Spa
Hilton Dubai Palm Jumeirah joins 33 other Hilton properties operating in the UAE. The hotel is part of Hilton Honors, the award-winning guest-loyalty program for Hilton's 18 distinct hotel brands. Members who book directly have access to instant benefits, including a flexible payment slider that allows members to choose nearly any combination of Points and money to book a stay, an exclusive member discount, free standard Wi-Fi and the Hilton Honors mobile app. Book direct at Hilton.com, through the Hilton Honors app or through other official Hilton channels for more perks and a price match guarantee. Hilton Honors members can redeem Points using the Points Explorer tool.