Pakistan-India: Old blame-game was not successful in past and may not work in future
India was in a habit of blaming and coercing Pakistan for its failures to over-come domestic issues. I a matter of fact, it has been seven decades that Pakistan was established as in independent state, but India has never accepted it and always tried to destabilize Pakistan and over-taking this country. India is still dreaming of "Akhand Baharat" (Bigger India) which includes Pakistan and many other countries in the neighborhood up to Indonesia and Australia.
In past, whenever, India coerce Pakistan, the political leadership always try to fond escape, but today the Pakistan is in the control of strong leadership, who is sincere, honest, brave and patriot.
Prime Minister Imran Khan on 19 February 2019 said Islamabad will take action if Delhi shares any actionable evidence concerning last week's suicide bombing in occupied Kashmir's Pulwama area which had targeted Indian paramilitary soldiers. But unfortunately, India has nothing except lies.
While offering cooperation and another chance at a dialogue over the Kashmir issue, the premier also warned India against any act of aggression, saying Pakistan will not hesitate in retaliating to a provocation. Pakistan is not in the position of war, but if imposed, may retaliate in a manner which suits us. However, he made it clear that he hopes better sense will prevail.
"First of all, you accused Pakistan. There was no evidence. You never thought: 'What would be in it for Pakistan?'," he said. "Would even a fool do such a thing to sabotage his own conference? And even if he the crown prince had not been visiting, what benefit would Pakistan get from it the Pulwama attack?"
"You wish to remain stuck in the past, and each time something happens in Kashmir, you want to hold Pakistan responsible. Instead of trying to resolve the Kashmir issue, start a dialogue or move forward, you want to make Islamabad your whipping boy again and again," the prime minister said, addressing Delhi. This will not work anymore. "I am telling you clearly, this is naya(New) Pakistan. It is a new mindset, a new way of thinking. We believe that it is in our interest that our soil is not used for carrying out terrorist attacks in other countries, nor do we want outsiders to come and carry out terror attacks here. We desire stability," he asserted."Today, I would like to make the Indian government an offer. Any sort of investigation you wish carried out regarding this incident about the involvement of any Pakistani, we are ready for it."If you have any actionable intelligence that a Pakistani is involved, give it to us. I guarantee you that we will take action ─ not because we are under pressure, but because they any individuals found involved are acting as enemies of Pakistan.""If someone is using Pakistan's soil to carry out terror attacks elsewhere, it is akin to enmity with us. It is against our interests."
The prime minister added that whenever Pakistan tries to initiate dialogue with India, Delhi's precondition is that terrorism must be talked about."We are ready to talk about terrorism. We want terrorism in the region to end," he stated. "Pakistan has been the worst affected by terrorism. Therefore, we are ready to talk with you."
"And after that, where does the matter go? We all know that starting a war is easy. But starting a war may be in our hands, ending it won't be. Where it the tide of war will go, God knows. That's why I hope that better sense will prevail.""This issue will only be resolved through dialogue and talks," he concluded.
Based on historical facts, "Whenever there is supposed to be an important event in Pakistan, or the country is moving towards stability, then there is always some sort of staged incident in either India or occupied Kashmir," the DG ISPR said, adding that such incidents also seem to occur when India is just months away from elections. Below is list of such incidents:
"In Dec 2001 ─ the Indian parliament attack ─ India was supposed to have general elections and the presidential election in 2002, the United Nations General Assembly was in session. It was around this time that an influx of terrorists began on Pakistan's western border following 9/11.
"When the Mumbai attack took place, our progress in the war on terror was quite good and at this time too, there were to be general elections in India from February to December.
"On Jan 2, 2016, Pathankot happened. The President of the United States' State of the Union address was due. India was to see state elections and there were foreign secretary-level talks scheduled between India and Pakistan. That was scuttled," he said.
"The Uri incident happened on Sept 18, 2016, when our prime minister was set to go to the UNGA to deliver a speech," he added.
"So this pattern shows that whenever in Pakistan there is some important event due, some staged action of this sort takes place," Maj Gen Ghafoor noted.
He pointed out that there were eight significant events to take place either in Pakistan or involving Pakistan in the period Feb-March 2019:
Saudi crown prince's visit and investment conference
Discussion on United Nations Security Council terror listing
Afghan peace talks
European Union discussion on occupied Kashmir
Hearing of Indian spy Kulbhushan Jadhav's case at the International Court of Justice
Discussion on FATF report
Meeting between Pakistan, Indian officials on Kartarpur Corridor developments
Pakistan Super League matches to be played in Pakistan
The DG ISPR also observed that India was to hold elections in the coming months even as "an indigenous struggle in occupied Kashmir is at its peak and out of India's control"."In light of these events, what benefit would Pakistan get from involvement in the Pulwama attack?" he questioned. In fact 'India should question its security forces'. "India began showering Pakistan with accusations immediately after the attack without sparing a moment to think, and without any evidence in hand," Ghafoor said."From the Line of Control onwards, Indian security forces have layered defences," he said, explaining that there were layered lines of defence, one after another."How is it possible for anyone from Pakistan to cross the LoC and go to some area where the population of security forces is greater than that of locals?"
"The Pulwama attack happened miles away from the LoC. The explosives that were employed were being used by the administration and security forces in occupied Kashmir, it didn't go there from Pakistan," Maj Gen Ghafoor said. "The car that was used was also local [to Kashmir]. It did not go there
"We do not wish to go into war, but please rest assured that should you initiate any aggression ─ first, you will never be able to surprise us. Pakistan armed forces will never be surprised by you. But let me assure you, we shall surprise you," he promised.
"We have singleness of conception ─ from the prime minister, down to a citizen, from the three chiefs down to each soldier, all political parties, and all segments of life. We have a singleness of conception, and the will and the determination, the ways and means to reach our desired end state.
The army's spokesman said that Pakistan in the 21st century was looking towards tackling issues such as education, health, and upholding the right of its citizens and future generations to live in peace ─ "not a war that you are trying to set the stage for", he admonished India. The whole nation is united on one point agenda that to defend our country at all cost.
It is worth mentioning that both Pakistan and India, are nuclear states. If any misadventure will be initiated from India, Pakistan deserve to response in its own manner which suits Pakistan most. We are peace loving nation and strongly believe in "peace and diplomacy". We keep on insisting for dialogue for last seven decades, India was always trying to escape behind any lame excuse.
India has been exposed to the rest of world and its atrocities in Kashmir has crossed all records. Let all the peace-loving nations and individuals come up to make India change its war-craze mind-set, once for all.
PTI Government in Pakistan: To full-fill its promise on curbing Corruption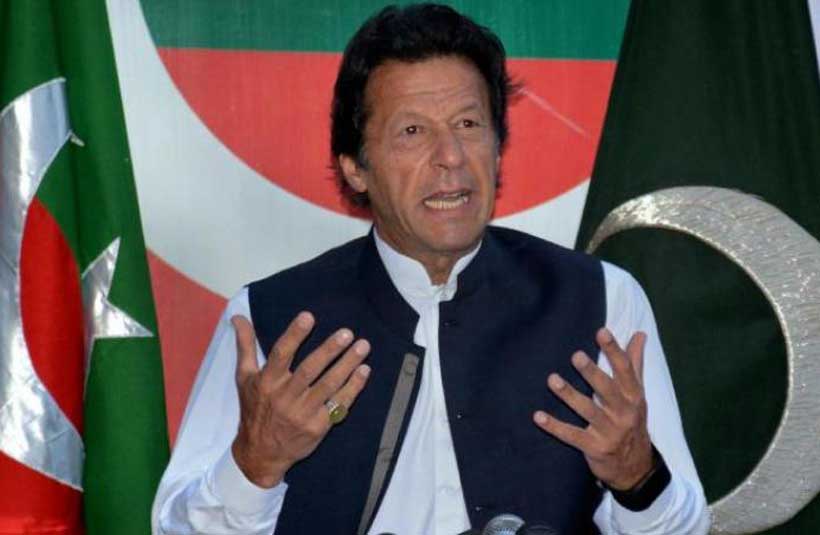 Big achievements of PTI (Pakistan Tehreek-E-Insaf) Government in Pakistan. Corruption is an international phenomenon, especially among developing and underdeveloped countries. Corruption is a major hurdle in the fight against poverty and development. However, the beneficiary of corruption is still the developed world. The rulers from developing and underdeveloped world, transfer all their black money to developed countries and in the end, developed world enjoy out of their black money.
Pakistan, being a developing country, no exception to this curse. During the last few governments, it was very much visible. Either it was financial corruption of moral corruption, all are equally harmful to the country. Previous few governments, appointed corrupt and unqualified persons on key posts and used them as their front men in corruption.
Some of their front men were an evil genius and committed heinous crimes in such a technical manner that it is very difficult to find out evidence. Either it is fake accounts or various forms of money laundering or in the form of subsidies or government grants, commissions or kickbacks in projects or procurement, bribes or gift, all are the same but with different forms to harm the socio-economic of this country.
It was in the manifesto of PTI, and part of its slogan during the election campaign, to fight against corruption. Prime Minister Imran Khan in his speech on several occasions has promised with the nation that, he will fix all corrupt, irrespective of their status in the society. It is logical to start from the big fish and later on to common corrupt officials at junior levels.
Pakistan's judiciary and the military are also on the same page and extending full support to the PTI government's mission to eliminate corruption from this society once for all. The recent arrests are just the beginning of accountability and have to go on a long journey. May it take one term or even next term, but the accountability process must keep on going till the eradication of corruption completely.
Pakistan is under the heavy foreign-debt, worth US Dollars 100 billion approximately. Who took this huge loan? Have they worked out, how to pay back? Have they spent all the loans on the development of Pakistan? Why this loan has not been trickled down impact? Why this heavy loan could not improve Pakistan's economy? How useful was this loan to common man of Pakistan? Why IMF could not improve the governance of Pakistan? Why IMF failed to improve performance of Pakistan? Why IMF could not give positive advice to Government of Pakistan? The lenders also need to be blamed for lending without any feasibility and failure of IMF packages offered to Pakistan during last one decade or so long. Why few families (rulers) become more rich and country become poorer?
If the sitting governments of that times have been borrowing without any planning or homework or without considering how to pay back, all of them must be held responsible for this heinous crime against the nation. Whether they are inside Pakistan or left the country, they must be arrested and brought back to face justice.
If only a few corrupt families are arrested and asked for the return of looted money, Pakistan can get rid of its major part of foreign-debt. We may not need any bailout package from the IMF or any help from any friendly country. All the looted money must be returned, all the illegal assets must be confiscated and suctioned out. All the recovered money must be used to pay back our foreign-debt.
There is no need to impose additional taxes and duties on the common man. Electricity, Fuel, Gas and consumer products may be kept on the original position. It is illogical that the common man, who is not responsible for the debt and still suffers due to the corruption of rulers. It is desired, the previous rulers, who have pushed the country into economic chaos, should be held responsible and all damages need to be compensated by them only. There is no need to punish the whole nation for few criminals. Recovery from previous corrupt rulers is very much do-able and very much possible, above all very much desired. There are examples available in the world, how they recovered looted money from their big shots. Saudi Arabia has done it well. China is a role model to be followed in this regard. The Chinese government is willing to share its experience and expertise in fighting against corruption.
Our internal resources may be utilized fully to control corruption and recover all black money. Even if there is a need to introduce new legislation, the Government should not hesitate. Masses in Pakistan stands with Government on this issue. The government should move smartly in this direction with full strength and confidence. Public support is already there. However, if the Government fails to accomplish this task, it may lose popularity.
Gentlemen's game or Propaganda? Cricket and the India-Pakistan Voices
Can a sport be utilized as an effective propaganda tool? And if so, does it ideally mean that government intrusion is a necessity for its success? The answer to this question lies in the reflection of the cricket scenario in Asia. Although recognized as a gentlemen's game, much can be said about its dichotomy as a weapon in the ever-growing war between India and Pakistan. Cricket propaganda has become a major trend over the past decade between the two countries as competition remains scarce with the political tensions and matches are seen as a great opportunity to reflect those political tensions.
Recently, the tension between the two countries escalated with a suicide bombing attack sponsored by the terror group, Jaish-e-Mohammed in the Pulwama district of Jammu & Kashmir. This grave attack resulted in the death of 40 Central Reserve Police Force personnel, which in the opinion of the Indian government was an act of war leading them to raise the issue on the global platform. Surprising, one of the biggest acts of public response, with the usual backlash of the country's rights over the Kashmir valley, was a call to abandon the upcoming match between the two countries following the start of the ICC cricket world cup. Although, the Modi government did conduct airstrikes against Pakistan, leading to a major confrontation between the two countries along the 'line of control' (the de facto border between the two countries), a large scale debate about whether India should abandon the game was a hotly debated topic in the country.
It is worth noticing that later the Board of Control for Cricket in India (BCCI), did hand over the matter to the Modi government, after which the decision was inclined towards the sportsmanship of the country, however, both the Indian cricket team and the BCCI were not ready to desert the will of the public that easily. Involved in an ODI series with Australia, the Indian team walked out wearing military caps as a sign of apparent solidarity with the troopers killed in the terrorist attack. Never before had Team India taken it upon themselves to spread such jingoistic propaganda on a global scale and make such overt statement. The rise of the protestors in Pakistan were met with official statements from the International body of Cricket (ICC), stating their approval as a means of "support" to the Indian team for a fund-raising effort for their fallen soldiers.
Similarly, in an act of nationalistic fervor, the BCCI decided to get Pakistan banned from the upcoming world-cup prior to its commencement but was severely backlashed by the International Cricket Council (ICC), to keep politics away from the sanctity of the game. Although BCCI was unsuccessful in passing an unrealistic degree of order, given their large scale influence on the International body, it was clear that cricket had become an additional weapon of mass destruction and means of propaganda between the two countries.
So has the situation become better now? Recently, an Ad-war following the start of the world cup has emerged between the two countries, given their highly anticipated upcoming clash on the 16th of June. Ahead of the Sunday clash-guaranteed to put both the nations at a standstill- Star Sport's Mauka ad ( loosely translated to a chance of winning) has captured the attention of the Indian fans, as the video has garnered over 2.5 million views after it was published on 10th June 2019. This video currently stands as a reprise an extension of the "Patakhe kab podhenge" campaign (clumsily translated to "When will be get to burn crackers"), wherein a Pakistani fan never gets a chance to burn his crackers as Pakistan is always defeated by India on a world cup stage, as indicated by the records as well. However, the new Mauka ad seems to recognize the importance of June 16th as Father's day and does not fail to interject the role of India as a father in comparison Pakistan, as a means of cheeky humor which received large scale reaction from the Pakistani fans.
As a means of response, a Pakistani news channel Jazz Tv published a video with a character impersonating Wing Commander Abhinandan Varthaman, the Indian air force pilot who was captured, briefly held and then released under the pretense of the Geneva Convention. The character is seen sporting the pilot's handlebar mustache with a fake South Indian accent and is dressed in the Indian team jersey, following which an interrogator asks him to give back the teacup he has been holding, as a means to denote how the cup belongs to Pakistan. This video was met with the usual support from the Pakistani fans and deemed 'racist' by the Indian fans, accounting to the portrayal of the esteemed pilot with a fake southern accent. Although, tension has been running high between the countries for some time now, both the nations have resorted to extending their tensions to the cricket pitch as well, ensuring large scale traction for their upcoming matches.
Same old Modi puts himself in throne again but with different mandate this time. This time he came with much force and appeared more vigilant. Sweeping an electoral win with more than 300 seats out of 543 and restricting Indian National Congress to mere 52 seats. This clearly shows that India gave priority to nationalism over any other set of idea. Prior to previous electoral year i.e. 2014,Modi lured with promises of social and economic reforms and upheaval. Which sunk badly as some of the predicaments are still in the society. From being miserable in improving the job sector that gave rise to unemployment rate to the inducing grieves to the farmers, Modi bagged some failures as well in his previous tenure.
Whereas this time bait was the Hindu nationalistic sentiments, which Mr. Modi and his members of the den enjoyed the feast by winning the election. By using hate mandate, Modi successfully maneuvered himself and his party in to the realms of Delhi. Before elections, his unfortunate adventurous voyage with its neighbor and rival Pakistan made a lucid chance to portray himself as heroic figure. Modi flaunted anger and hate towards its immediate neighbor. It profited him in shape of getting a majority in the lower house of the Indian political saga. Hate sentiments were provoked and inducted in common minds. Question herby rises that how Hindu nationalism can or will transform India?
During previous reign of Mr. Modi, clear social and religious divisions were drawn onto the Indian society. This was mechanized in recent elections as well by promoting nationalism or more likely Hinduism. One of the tactics that was opted by BJP and Modi is persuasion of fears of Indian society and Hindu ideology and presenting himself as the only savior. Modi portrayed himself as the only option for Hindu caste to save Hindu ideology from external threats.
Modi has always been fond of shifting Indian secular discourse towards a Hindu nationalist sermon. His previous tenure and the plight minorities faced during that time testifies his aims. Now he has been elected for another five years. This time he has secured almost 56% of the lower house that clearly means that Mr. Modi will have to face no hurdle in his way towards passing a legislation.
Media and Modi has always been close aides to each other. This nexus was also prominent in the recent elections as Social and Electronic media, both were eminent in glaring Modi-ism. It ultimately cultivated his ideology in the minds of a common viewer hence reflecting it in the election results. His election campaign was given more coverage than any other thing on TV. The election soap series continued feeding the people of the India. Without any doubt, there have been immense flow of monetary funds in the veins on Indian media during the election time.
Modi's Bharatya Jantya Party or BJP's Modi have already drawn a plan to be executed in the society. Selection of candidates that were given tickets and won were some of the most extremist in nature. Shakshi Mahraj, a newly elected member of parliament on BJP's seat already has more than 30 criminal cases against him. Another newly elected BJP's Member of Parliament, Pragya Singh Thakur remarked Mahatma Gandhi's assassin as "a patriot". Not only this, selections for new cabinet members clearly indicated where Mr. Modi would be leading Indian society. Amit Shah who is also a president of BJP has ironically been selected as India's Home Minister. There is a clear chance thatnew reforms might be religion centric rather than being focused on governance. BJP will clearly exhibit the Hindu ideology in governance that would further raise concerns for the minorities in India.
The Indian future and the question of Indian minorities seems bleak. Modi created a narrative on abhorrence and nationalism, he won elections on this mandate but now he has to defend it and every word of hatred that came out of his mouth may be realized through his actions. It puts Indian society in a dismal situation.
It is arduous to analyze that how large populous has voted in favor of hate mandate prompted by Modi. But there is a chance that Indian society might be falling prey to reverse psychology. It indulged itself so deep and intense in criticizing and accusing its neighbor, Pakistan, for being extremist and conservative society that it itself is becoming one.