Montenegrin political earthquake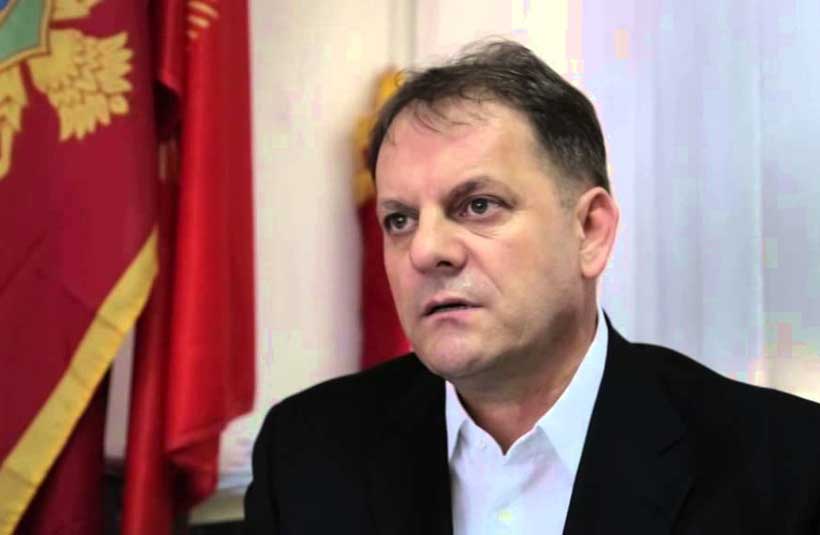 In mid-January, across Montenegro, one video clip caused a real political storm. For the first time it was seen how a businessman close to the government gives 97,000 euros to Slavoljub Stijepovic, former mayor of capital Podgorica and senior official of the rulling Democratic Party of Socialists (DPS), to fund the election campaign. It all happened ahead of the parliamentary elections in 2016. Dusko Knezevic, chairman of the Montenegro-based Atlas Group, meanwhile suspected of money laundering and other financial malversations, explained that this was just one in series of multi-million donations to the DPS of President Milo Djukanovic, during which time the DPS has never been out of power. This video clip was the first concreate confirmation of something that has long been an open secret in Montenegro.
Ten days after the release of the video Djukanovic confirmed that Knezevic was a donor, but not in the figures stated by Knezevic. The Prosecution Office needed three days to make a statement after Knezevic's video, which shocked most of the public. Also, it was shocking how the Prosecution Office led the investigation. Thus, after the audio recording as part of the affair Atlas, the former Vice Governor of the Central Bank Velibor Milosevic was arrested expressly, because of the suspicion of being part of a criminal organization, for whose boss is marked Dusko Knezevic. Milosevic was detained for up to 30 days, due to possible influence on witnesses. On the other hand, the video from the beginning of the story was not a sufficient reason to treat Slavoljub Stijepovic in the same way. He was interviewed only 20 days after the appearance of the video, as a citizen. Unlike Velibor Milosevic, who was detained by the prosecutor with handcuffs and in front of television cameras, Stijepovic had the privilege to come to the Prosecutor's office through the premises of the Ministry of Justice and to come out unnoticed.
The Prosecution Office decided to suspect Stijepovic for the criminal offense of Money Laundering by helping, but Prosecution Office in his case, as in the case of Velibor Milosevic, did not see a threat to the influence of witnesses or the need for detention. According to some media reports, Stijepovic took the guilty upon himself, which is why the Prosecution assessed that there was no need for the hearing of Milo Djukanovic, president of Democratric Party of Socialists and Montenegro. Stijepovic also reportedly told the Prosecution Office the names of DPS activists from the Zeta region who received money. More than 20 were heard in the Prosecutor's Office, no detention was ordered.
Reaction
On the same day when he was charged with a criminal offense, Stijepovic  came to the session of the Presidency of the Democratic Party of Socialists, where "traditional centers of destruction", media and other circles, were blamed for current affair, aimed at destabilizing the country. Milo Djukanovic, according to a tried-and-tested model, tried to show that behind this affair are centers of power from Russia. So his media machine was trying to show that Dusko Knezevic is in Moscow and that he work at the orders of the Russian intelligence services. However, it soon became clear that Dusko Knezevic is in London. In an interview with Al Jazeera Balkans in London, Dusko Knezevic presented new accusations against Milo Djukanovic. Dusko Knezevic stated that he has a lot of videos that shows how he personally gives money to Djukanovic. He keeps these videos for the finals of the affair, when he says, will completely reveal the criminal octopus of Milo Djukanovic.
This criminal affair encouraged people to action. Soon protests were organized. The first protests were held on February 2. The protest was organized by a group of citizens who claimed that they started "civil struggle" against the regime in Montenegro, and that behind them stands no organization. With whistles and sirens, the demonstrators scandalized the "Street of Freedom", "Rise Up, People", "We Want Justice", after which they left 97 envelopes in front of the building of the Supreme State Prosecutor's Office, on which they wrote "1,000 Euros" on the one hand, and on the other some of the long-standing unsolved affairs that the Prosecution should solve. On Saturday, February 16th, second large gathering was held in the capital of Montenegro, where the demands to the Protesters Office were presented. From the protest gathering, held under the slogan "97,000 Resist", urgent and irrevocable resignations were sought from the president of the state and the government, Milo Djukanovic and Dusko Markovic, Supreme State Prosecutor (VDT) Ivica Stankovic, Special State Prosecutor (SDT) Milivoje Katnic and Director of the Agency for the Prevention of Corruption (ASK) Sreten Radonjic. Since Dusko Knezevic has said that there is a part that is not corrupt in the Democratic Party of Socialists, the protestants decisively denied that. The current events with the new affair of Milo Djukanovic were also used by Albanians from the United States. A truck with the inscription "Meet the Montenegrin president – a man of organized crime in the year 2015" was parked near the White House, the Congress, the State Department, the Montenegrin and the EU Embassy in Washington. On the truck also stood the message "Stop the discrimination of Albanians in Montenegro".
Conclusion
Montenegro, which is, a NATO member since July 2017 and a candidate for EU membership, is often accused of not doing enough to tackle organized crime and corruption. EU has demanded more concrete results in the fight against corruption at a high political level as one of the main conditions for its making progress towards joining the EU. The entire rule of Milo Djukanovic is marked by affairs, but what this sets out is the fact that Dusko Knezevic is an insider, a man who took part in many important tasks. In addition to his testimonies, Dusko Knezevic also presents video recordings as well as documents. What many analysts spoke and warned about long time ago, now is documented. This affair also clearly demonstrated that all institutions in Montenegro are under the control of Milo Djukanovic. Initially, the scandalous silence of the Prosecution Office after the outbreak of the affair, the subsequent refusal to execute detention measures for Stijepovic, but above all the absence of a hearing of Djukanovic despite the unquestionable evidence of his involvement in illegal work, is in favor of the long-held thesis that these institutions are an integral part of the regime. Judicial institutions do not even try to show that they are independent. There is no doubt that the affair initiated by Montenegrin businessman Dusko Knezevic seriously shaken Milo Djukanovic and his party. It is still early to predict how the affair will culminate because all the evidence Knezevic announces has not yet been published. However, this is clear indication that the West has decided to significantly weak Djukanovic. An attempt by the media machine of Mila Djukanovic to connect Dusko Knezevic with Russian intelligence services, is not accepted in the West. Dusko Knezevic clearly shows that he is doing all the attacks on Djukanovic from London, where he currently lives. The fact that some political parties that are close to the Western Embassies support street protests, which was not the case before, speaks enough. One of the reasons why Milo Djukanovic has been ruling for almost three decades is complete obedience to the West. However, Djukanovic did all the tasks that the West needed, the separation of Montenegro from Serbia, the recognition of Kosovo's independence, and finally the violent entry of Montenegro into NATO. Now with his biography, which is full of affairs, he is only a burden to the West. In any case, this affair will either take Djukanovic out of power or send him a clear message that it is time for political retirement.
First published in our partner International Affairs
The European Union and the East Wind
One characteristic trait of modern life is that the key global actors are much more focused on their own domestic problems than on international issues. This propensity for political introspection (some may even call it political autism syndrome) is present, to some extent, in the U.S., Russia, China, and India. However, it is particularly characteristic of the European Union, which currently has to simultaneously deal with Brexit, prepare for the upcoming European Parliament elections, restore financial discipline in the eurozone, and reconcile differing views on migration issues along with many other urgent and extremely important domestic issues. It is clear that Brussels is running out of time to come up with a common pan-European foreign policy.
However, the EU by its very nature is much more dependent on the surrounding world than the U.S., China, or Russia. In this sense, Brussels cannot really afford any manifestations of even selective isolationism. If the EU is not prepared to deal with external forces, then these external forces are quite prepared to deal with the EU. One good example here is China's increased interest in Europe. In late 2018, Chinese President Xi Jinping visited Madrid and Lisbon; rumour has it that he is going to visit Rome and Paris in the near future, and he is speeding up preparations for two multilateral summits in 2019: with the EU as a whole and in the 16+1 format (China plus 16 countries of Central Europe and the Balkans).
"The east wind prevails over the west wind," Mao Zedong said at a meeting of communist and labour parties in Moscow in November 1957. Sixty years ago, this formula was perceived in Europe as poetic hyperbole. Today, Europe cannot afford to neglect the east wind, which is gaining more strength each year, penetrating all the windows and crevices in the European building, swaying the unstable European structures, slamming doors in the Brussels corridors of power, and forcing European leaders to shiver in the draught and seek reliable shelter.
Experts and politicians in the EU are currently discussing ways to protect Europe from yet another Chinese advance. It is believed that China is going to use the EU's soft "Mediterranean underbelly" in order to disrupt the already fragile European unity. Beijing apparently is seeking to gain control over European transport and energy infrastructure as well as establish control over the most promising European technology companies. There are fears that China will begin interfering more actively with political processes in European countries.
How justified are these fears? Is Brussels doomed to negotiate with Beijing from a position of weakness? After all, China needs Europe no less than Europe needs China. The EU with its five hundred million consumers remains the world's largest market. Europe is the ultimate geographic target of China's flagship Belt and Road project. Europe is the most important source of investment, management models, and social practices for China. Moreover, as Chinese-U.S. trade, economic, and political relations are worsening, the EU has taken on increased importance for China.
China is certainly a difficult and uncompromising partner. Its tactics include the ability to delay negotiations endlessly, return again and again to discussing general provisions, minimise its obligations, leave room for different interpretations of agreements already reached, and so on. The U.S., especially under the current administration, prefers twisting its partners' arms in a rough and unequivocal manner, whereas China aims to outsit its partners and possibly avoid any unpleasant confrontation. One good example of China's tactics is the Chinese-EU talks on mutual investments, which have not been particularly successful so far.
Nevertheless, in the current situation Beijing and Brussels are equally interested in attaining a new level of cooperation. Common sense suggests that the parties should demonstrate maximum flexibility, understand each other's priorities, take into account the partner's red lines, and be willing to make mutual concessions.
Both parties must resist obvious temptations. China is tempted to take advantage of the EU's current problems and weaknesses in order to achieve tactical advantages in its relations with Brussels. Europe is tempted to demonstrate, once again, its unfailing loyalty to Washington by mechanistically replicating the U.S. position in trade and economic negotiations with Beijing.
Of course, it is unlikely that all tension in EU-Chinese relations will be eliminated in the coming months or even years. However, even symbolic positive changes would send an important signal to everyone.
This would be a signal to the Donald Trump administration, which needs to realise that it can no longer dictate the rules of the game in the global economy to the rest of the world.
It would also be a signal to Russian leaders, who need to understand that the idea of the contemporary world as an inevitable confrontation between the "aggregate West" and the "aggregate non-West" is not consistent with reality.
This would also be a signal to the entire international community, which very much needs to receive confirmation that the current fragmenting of the world economy and the rise of protectionism and economic nationalism are not a long-term path for development but merely a temporary, and by no means universal, deviation from the irreversible process of globalisation.
Most importantly, successful negotiations with China would send a very important signal to Europe at a time when such a signal is particularly needed: on the eve of the historic European Parliament elections, when the pressure being applied by Eurosceptics and right-wing populists to mainstream parties is growing every day.
The growing east wind means a new challenge for the European project, but it is not the end of the world. As Mao noted, "When the wind of change blows, some people build walls, others build windmills".
First published in our partner RIAC
Does anyone remember Nigel Farage? He led the UK Independence Party and the 'leave' EU vote — along with his last minute ally Boris Johnson who hoped to push himself up to prime minister. Farage is still around as a Member of the European Parliament representing south-east England, a job soon to be redundant when Britain leaves the EU. Boris is still in parliament … and still unlikely to be prime minister.
In the meantime, there is no clear majority for any deal in the British parliament. A major sticking point is Northern Ireland, an integral part of the UK. Leaving the European customs union would mean a border in Ireland separating the north from the rest. This is anathema to the Irish who have become used to living with an open border. The Northern Island MPs in Westminster will vote as a block against any deal that does not maintain it.
But the majority of Prime Minister Theresa May's Conservatives want out of the EU customs union. Hence the deal she came up with, which was to make the Irish Sea a border. It meant leaving Northern Ireland in the customs union (i.e. an open border) and the rest of Britain outside. Unfortunately for her, a parliamentary majority including the opposition Labor party were against such a customs division within the UK that might also in the future bring Northern Ireland closer to Europe.
One of the principal motivators for Farage's UKIP and its allies is seldom discussed. It has much in common with the reason for Donald Trump's wall, and it was the reason the first British politician meeting the newly minted. President Trump was Nigel Farage. Trump had in mind his prospective wall, and after winning the 'leave' vote Farage had the English Channel; both barriers for the unwanted: Escapees from the chaos (often US caused as in Honduras) in Central America in one case; southern and eastern European migrants in the other after the EU embraced these new countries.
The desperation of many of these migrants forced to remain on the Mexico side of the US border was poignantly evident in a documentary broadcast on March 12 by the Public Television network on its evening PBS Newshour program. The processing slowdown engineered by this administration, blamed on lack of staff, has caused waiting times in months. Little children have to beg during the day and single mothers sell themselves at night for families to have food to eat.
After losing the vote on the deal she had negotiated, Ms. May brought forward a vote on a no-deal exit. Amended to a no-deal ever, the motion was defeated, as was a subsequent one on a simple no-deal; this time by an even larger majority. The day following, she actually won a vote: the government won a motion to ask the EU for a Brexit extension from March 29 to June 30, if the May deal passes next week. Otherwise they will have to request a longer delay.
How fractious the issue is, was evident. Half of Mrs. May's Conservative Party voted against her including eight ministers; a Labor Party amendment for a second Brexit referendum was voted down 85 to 334 after many labor members including some shadow ministers voted against, tendering their resignations as a result. Parliament and the country are split on the issue.
Meanwhile, Donald Tusk, the Polish president of the EU Council, announced he is in favor of a long extension and will ask EU leaders to consider it. Also Germany is in favor of a soft Brexit. Perhaps the one million Poles now in Britain and Germany's exports have something to do with it.
Italy and the Belt & Road Initiative
There has been a growing scepticism with regard to the Belt and Road Initiative (BRI) project in many quarters, due to the lack of transparency with regards to terms and conditions as well as the economic implications for countries which are part of the project. A report published by the Center for Global Development (CGD) Washington in April 2018 flagged 8 countries (including Pakistan, Maldives, Laos and Djibouti where the level of debts are unsustainable.
Apart from red flag raised by a number of researchers, the removal of Pro-China leadership in countries like Malaysia, Maldives and Sri Lanka has also resulted in the problems of the BRI project, and China's economic dealings (which are clearly skewed in favour of Beijing) with other countries drawing more attention.
The most vocal critic of China's economic links has been by Malaysian Prime Minister Mahathir Mohamad. During a visit to China in August 2018, Mahathir not known to mince his words while alluding to China's trade relations with poorer countries could lead to 'a new version of colonialism'. Mahathir later on denied that his statement was targeted at China or the BRI. The fact is that the Malaysian Prime Minister did scrap projects estimated at well over 20 Billion USD (which includes a rail project, East Coast Link as well as two gas pipelines).
Top officials in the Trump Administration, including US Vice President Mike Pence, have also been critical of the BRI project for a variety of reasons. The major criticism from US policy makers has been the economic 'unsustainability' of the project as well as the point that the project is skewed in favour of China.
Italy to join BRI
As the debate carries on with regard to the BRI,no body can ignore the fact, that Italy (the world's 8th largest economy) is likely to become the only G7 country to join the BRI.
During Chinese President Xi Jinping's visit to Italy, later this month (March 22-24) a Memorandum of Understanding MOU, and could be signed. Senior officials in the government have been cautious, and have emphasised on the fact, that the MOU would be 'non-binding'. Commenting on the status of the MOU, Undersecretary in Italy's economic development ministry, Michele Geraci stated:
'…it is possible that it will be concluded in time for [Xi's] visit."
Geraci a Sinophile, who has spent a fair amount of time in China, is said to be driving the ruling coalition's policy (The Five Star Movement (M5S) and right leaning Lega joined hands to form a government in June 2018) towards China.
Italian PM, Giueseppe Conte while addressing a seminar, in Genoa, made the point, that while joining BRI would open new opportunities and horizons for Italy, Rome was likely to be cautious, and would not do anything in haste.
Current state of Italy-China relations
If one were to look at the state of China-Italy bilateral relations. China-Italy bilateral trade reached nearly 50 Billion USD in 2017. China is Italy's largest trading partner in Asia. It would be pertinent to point out that ties between both countries are not restricted to the economic sphere. There has also been a rise in Chinese tourists visiting Italy (over 1.5 million annually). Even in the sphere of education, linkages between both countries are rising. As of 2017, there were over 6,000 students Italian students in China and nearly 20,000 Chinese students in Italy.
The current government has given immense attention to China, and there have been 3 high level visits ever since the ruling coalition took over the reigns last June (senior officials who visited include – Italy's Finance Minister Giovanni Tria, Geraci, and Deputy Prime Minister Luigi Di Maio — who also holds the charge of economic development minister). The Italian PM is also likely to attend the second Belt and Road Forum to be held in Beijing in April 2019.
The clear objective of becoming part of BRI, according to senior officials, is to get access for its goods and to also leverage its geo-political location within Europe. During his visit to China in September 2018, the Italian Deputy PM had spoken in favour of Italy joining the project. The Deputy PM who had gone to attend the 17th Western China International Fair had made the point that Italy was identifying the possible avenues for participation in the project, and that the G7 country could benefit immensely, if it successfully harnessed it's own economic and geographical strengths.
In 2018,the inaugural meeting of Italy's China Task Force was held in Rome (this is headed by Michele Geraci). The key objectives of this task force are; to give an impetus to bilateral economic cooperation (to give a boost to Chinese investments in Italy, giving a push to Italian exports to China, cooperation in Research and Development) and also to explore how Italian companies could seek financing under the BRI initiative. Italy has also been seeking to expand cooperation with China in Africa (the argument is that African growth will help in putting a check on immigration to Italy). Interestingly, former PM Paolo Gentiloni had urged EU and US to invest more in Africa, and to counter China's growing influence.
Scepticism with regard to Italy-China economic relations
While the government has unequivocally spoken out in favour of this decision. Many argue, that Italy will need to develop it's own infrastructure – especially the rail system, if it needs to benefit significantly from BRI. Given Italy's current fiscal situation, too much investment into infrastructure seems highly unlikely. With China having invested in Piraeus (Greece) it is important that the Venice Port becomes more competitive. This will require not just economic investments, but strategic thinking.
There are those who also argue, that the current Italian government has given too much attention to Beijing, at the cost of relations with other countries. The China policy, it is argued will also have an adverse impact on EU's common China policy.
Unlike other Western countries, Italy has not given a very strong reaction on the Huawei controversy
Italian Deputy Prime Minister was quick to state that "We are in no way tilting the geopolitical axis,"
Italian PM also made it clear, that while Italy will join the BRI, it will ensure that this benefits both, and that EU norms and values are not forgotten.
It is argued, that by reaching out to Euro skeptics in EU, Beijing is trying to create divisions within the bloc. Countries like Hungary and Greece, which are being increasingly dependent upon China, have taken a different stance from other EU countries on issues such as The South China Sea and Human Rights violations.
The EU has been critical of the BRI..
It has even come up with its own version of BRI. In September 2018, EU's strategy for connecting Europe and Asia. Senior EU officials including High Representative/Vice-President Federica Mogherini made it clear, that EU's strategy was to enhance connect between Europe and Asia, and to ensure it was beneficial for both. The project would also take into account financial and environmental sustainability.
US reaction to Italy joining BRI
US also took note of Italy joining BRI. As expected, the US was critical of Italy's decision to join the BRI. A White House National Security Council spokesperson, Garrett Marquis in a media interview stated:
"We view BRI as a 'made by China, for China' initiative,"
As mentioned earlier, senior members of the Trump Administration too have flagged the shortcomings of the BRI project and how the dependence of certain countries in Asia and Africa is rising.
Conclusion
It is important for countries within the EU as well as other countries sceptical of the BRI to adopt a more pragmatic stance towards Italy's decision. One must also keep in mind the fact, that while speaking about signing an MOU with China it has left room for manouevre. It is also important for countries vary of increasing Chinese influence to themselves stand up for liberal values, and greater economic integration. One of the reasons for Beijing's increasing economic clout, is increasing the inward looking economic policies being adopted by a number of countries – not just the US. At the January 2017, World Economic Forum (WEF) Chinese President Xi Jinping had warned against the increasing scepticism with regard to globalisation. Said the Chinese President:
'Some people blame economic globalization for the chaos in our world. Economic globalization was once viewed as the treasure cave found by Ali Baba in the Arabian nights, but now it has become the Pandora's Box.'
Very few leaders have spoken up on this issue forcefully enough. Similarly, if the US has flagged problems of the BRI it should be willing to invest in an alternative narrative. So far even if one were to look about the narrative of a 'Free and Fair' Indo-Pacific, Washington has not made significant financial commitment (In July 2018, the Trump administration did make a commitment of 113 Million USD for areas like energy, digital economy and infrastructure). While it is believed that the US IDFC (International Development Finance Corporation) created through BUILD (Better Utilisation of Investment leading to development act) may be able to give the much required boost to some important connectivity projects, but it's total budget estimated at 60 Billion USD pales in comparison to China's budget.
The only country which has attempted to put up a cohesive alternative to BRI is Japan's 'Partnership for Quality Infrastructure' (PQI). Japan along with Asian Development Bank will be providing over 100 Billion USD (50 Billion from Japan and 50 Billion from ADB) for infrastructure in Asia. Japan's economic presence in Africa is also steadily rising, though it is assisting Africa in a number of other areas like health, education through Tokyo International Conference on African Development (TICAD) ( which is co-hosted by the Government of Japan, The World Bank, United Nations Development Programme (UNDP), the African Union Commission and the United Nations).
While it is true, that globalization may not be perfect and some scholars went overboard, but there is also no denying the point that populist policies which have favoured economic isolationism may have helped in achieving political successes, but their limitations are beginning to show in the economic sphere. It is for this reason, that even leaders like Mahathir who are critical of Chinese projects have stated, that if he were to chose between China and an 'unpredictable US' he would choose the latter. Italy on its part must be cautious and should astutely balance its own interests and not allow Beijing to have a free run. Differences with the EU, should not lead to Italy and other countries becoming excessively dependent upon China.
There is no denying the fact, that Italy's acceptance of the BRI has important implications which go well beyond EU.