Kashmir puts Chinese counterterrorism on the defensive
Heightened tension in Kashmir and evidence of a Chinese military presence on the Tajik and Afghan side of their border with China's troubled north-western province of Xinjiang are putting on display contradictions between the lofty principles of the People's Republic's foreign and defense policies and realities on the ground.
The escalating tension between Pakistan and India puts to the test what Pakistan and China tout as an "all-weather friendship." The test will likely occur when the Financial Action Task Force (FATF), an international anti-money laundering and terrorism finance watchdog, debates an Indian demand that the South Asian nation, already grey-listed, be put on the organization's black list.
With the attack and its aftermath unfolding as FATF this week concluded a meeting in Paris, the Kashmir incident is expected to really play out in June when the group is certain to discuss a report that is expected to provide what India considers evidence of Pakistan's alleged culpability for this month's attack on a bus in Kashmir that killed more than 40 Indian paramilitary personnel as well as Pakistani backing for the group believed responsible for the assault and other militant organizations.
Pakistan has denied the allegations and offered to help investigate the Kashmir incident.
China, however, despite refusing to prevent FATF from grey-listing Pakistan last year, will find it increasingly difficult to defend its shielding of Pakistan in the United Nations and could be caught in the crossfire as it continues to protect Masood Azhar, the leader of Jaish-e-Mohammed, the group believed responsible for the Kashmir attack.
Like in the past, China this week rejected an Indian request that it no longer block designation of Mr. Azhar by the UN Security Council as a global terrorist. China asserts that Indian evidence fails to meet UN standards.
Nonetheless, China's shielding of Mr. Azhar risks it being perceived as violating the spirit of the 2017 summit in Xiamen of BRICS countries – Brazil, Russia, India, China and South Africa – that for the first time identified Pakistan-backed militant groups as a regional security threat.
Question marks about China's approach to the countering of political violence and militancy also reflect on China's justification of its brutal crackdown on Turkic Muslims in Xinjiang.
Concern that militant Uyghurs, the predominant Turkic Muslim minority in Xinjiang, including foreign fighters exfiltrating Syria and Iraq, could use Central Asia as an operational base has prompted China to violate its declared principle of not wanting to establish foreign military bases.
China has been believed to be involved for several years in cross-border operations in Tajikistan and Afghanistan's Wakhan Corridor, both of which border on Xinjiang.
A Washington Post report this week, based on a visit by one of its correspondents to the Tajik-Chinese border provided evidence of China's military presence on the Tajik side of the dividing line. "We've been here three, four years," a Chinese soldier told the reporter.
Evidence of the long-reported but officially denied Chinese military presence in Tajikistan comes on the back of China's increasing effort to put in place building blocks that enable it to assert what it perceives as its territorial rights as well as safeguard Xinjiang and protect its mushrooming Diaspora community and overseas investments that are part of its Belt and Road initiative.
The evidence in Tajikistan, moreover, follows the establishment of a military base in Djibouti in the Horn of Africa and facilities in the South China Sea that bolster China's disputed territorial claims.
"Beijing is quietly establishing a security presence in CA (Central Asia) that is broader and deeper than just facilities or hundreds of PLA (People's Liberation Army) soldiers on the ground," said Carnegie Endowment for International Peace scholar Alexander Gabuev.
Potentially, China's military expansion into Central Asia could complicate relations with Russia that sees the Eurasian heartland, once part of the Soviet Union, as its backyard. Continued expansion would call into question a seeming Chinese-Russian division of labour that amounted to Russian muscle and Chinese funding.
Like China, Russian Foreign Minister Sergei Lavrov appeared to be nibbling at the edges of that understanding on a visit to Central Asia this month in which he dangled investment, economic assistance and security guarantees.
Mr. Lavrov's travels followed a visit to Uzbekistan in October by President Vladimir Putin that produced US$27 billion in commercial deals.
"Russia would be smart to rethink its policy towards CA, and base new approach on support for sovereignty of local states. If Russia won't view the 5"(Central Asian) states as its subjects, they are likely to seek greater engagement with Moscow to balance Beijing's econ/sec influence," Mr. Gabuev said, referring to China's economic and security interests.
The Impact of Words: Christchurch Shooting
New Zealanders and Australians (two English-speaking Commonwealth nations closely knit by culture, geography and history) have been horrified by a major white extremist terrorist event in Christchurch, New Zealand, on Friday 15 March.
Forty-nine Muslim worshippers, at Friday prayers in two Christchurch mosques six kilometers apart, were murdered in concurrent gun attacks led by an Australian far-right nationalist extremist, Brenton Tarrant, who filmed his whole attack from a head-held video camera while he shot worshippers at random with a semi-automatic weapon. Forty people were injured, some critically. Major mainstream and social media are being asked to remove Tarrant's deeply evil video footage, but much of it had already got out online as was his intention.
The mosques were unguarded, New Zealand having hitherto been entirely terrorism-free. Tarrant and four other unnamed persons involved, three men and a woman, who are believed at this stage to be New Zealanders, are under arrest. Tarrant's trial is listed for April. A shaken NZ Prime Minister Jacinda Ardern vowed immediate government action to tighten NZ's lax gun laws, to tighten NZ border controls, and to strengthen NZ-Australia intelligence agency information-sharing on extremist groups.
Australian Prime Minister Scott Morrison, who faces an early election which has to be held by May, and which he is tipped to lose heavily, expressed sympathy and shock. He conspicuously visited Sydney's most important mosque, in solidarity with Australian Muslim communities. But many Australians may doubt his sincerity in view of his and his Immigration Minister Peter Dutton's long personal history of anti-immigrant and anti-Muslim public sentiments.
Tarrant had issued a racial-hate manifesto online, minutes before his group's attack began, calling for an end to all Muslim migration into Australia and NZ. His views are shared within a small but vocal group of white extreme nationalist extremists in Australia who hold provocative public meetings and seek out media attention. Such a meeting is still scheduled to go ahead today in Moorabin, Melbourne, at which Senator Fraser Anning from the state of Queensland will criticise Australia's immigration policies. A counter-demonstration is planned in protest. Police will be present.
At federal political level, Islamophobic and anti-immigrant views are most stridently represented by Senator Pauline Hanson's minority One Nation Party and by Senator Anning, who was elected as a Queensland state senator on the One Nation Party ticket but subsequently broke with Senator Hanson. Queensland is a state characterised by high youth unemployment and a declining coal industry. It is a focus of far-right white nationalist extremism.
Anning, who is not expected to be re-elected, desperately seeks publicity. Just hours after the Christchurch shootings, he published a highly offensive media release blaming the shootings on Muslim immigration to Australia and NZ, alleging that the governments had created a climate of racial tension. His media release effectively endorsed much in Tarrant's manifesto. It has been almost universally condemned in Australia.
This well-planned politically-motivated mass murder is being compared to the Anders Breivik mass murder of young Norwegians in 2011. It is also being compared to recent targeted terrorist attacks, in US and elsewhere, on people at prayer in mosques and synagogues.
Questions are being asked about context and coincidence.
How was it possible for an Australian with known links to white supremacist extremist organisations in Australia to fly to New Zealand without NZ Security agencies being alerted to monitor him? How was it possible for his group to buy guns and ammunition in New Zealand without security agencies being alerted? Are Australian and New Zealand security agencies too focused on monitoring alleged threats from Islamist extremist groups, to the neglect of even more dangerous far-right white nationalist extremists?
Also: the attack coincided with a day of major 'school strikes' and street demonstrations by many thousands of young people in all major cities around Australia, protesting at Australian federal and state governments' inadequate climate change policies, including their failure to ban opening of new coal mines. Similar demonstrations were taking place in New Zealand, supported by PM Ardern. Australian PM Morrison had criticised the demonstrations as inappropriate on a school day. In any event, the NZ shooting tragedy totally eclipsed media attention to the young people's climate change and anti-coalmines demonstrations. Was this planned by the perpetrators, and who might have advised them?
Some critics claim, I believe correctly, that right-wing politicians who now dominate the governing party coalition, and right-wing mainstream media, have over recent years fostered and helped to generate a supportive climate for an anti-immigrant extremist movement in Australia, helping it to gain respectability and take root among economically depressed and politically alienated white Australian youth. These critics say that these politicians and media must now accept shared responsibility for fostering a political climate that encourages such terrible acts as the massacre of innocents in Christchurch.
Senior police leaders in Australia have appealed to politicians and media to consider the impact of their words. I hope they will do so.
Though this terrorist event has visibly shocked decent mainstream opinion in Australia and New Zealand, it may push race relations and immigration issues into greater prominence in the forthcoming Australian federal election. There is a danger of polarisation under Scott Morrison's clumsy leadership: he could as in past Australian elections try to talk up racial fears to his party's presumed advantage.
Australia's and New Zealand's foreign policies are also coming under scrutiny in the wake of this attack. Both countries are members of the 'Five Eyes' Intelligence-sharing network. Their military forces are deeply enmeshed in US-led past and present military operations in Afghanistan, Iraq and Syria. Sophisticated US-Australian joint defence facilities at Pine Gap, Central Australia are believed to be in current use to assist US military targeting in Syria. The Australian arms industry is selling weapons technology to Saudi Arabia that is being used by the Saudi Air Force in lethal bombing operations against Yemeni civilians.
The danger is that, after the initial public shock and horror at this attack has passed, the desperate and failing Morrison government may be tempted to exploit it to try to create a 'national security' and anti-immigration pre-election climate. The Labor Party Opposition and its leader Bill Shorten will need to watch its own words and policies in coming weeks. So will Australia's mainstream and social media.
I believe the lessons for all responsible governments and politicians are: firstly, to consider the impact of their policies and words on disaffected youth, and always to uphold inter-ethnic and inter-religious harmony; secondly, to task national security agencies to monitor equally extremist elements of all persuasions. I believe by both these yardsticks the Russian Federation has a very good record. I wish I could currently say the same of Australia.
First published in our partner RIAC
The emerging new world order's alarm bells: Men like Brandon Tarrant and Andreas Breivik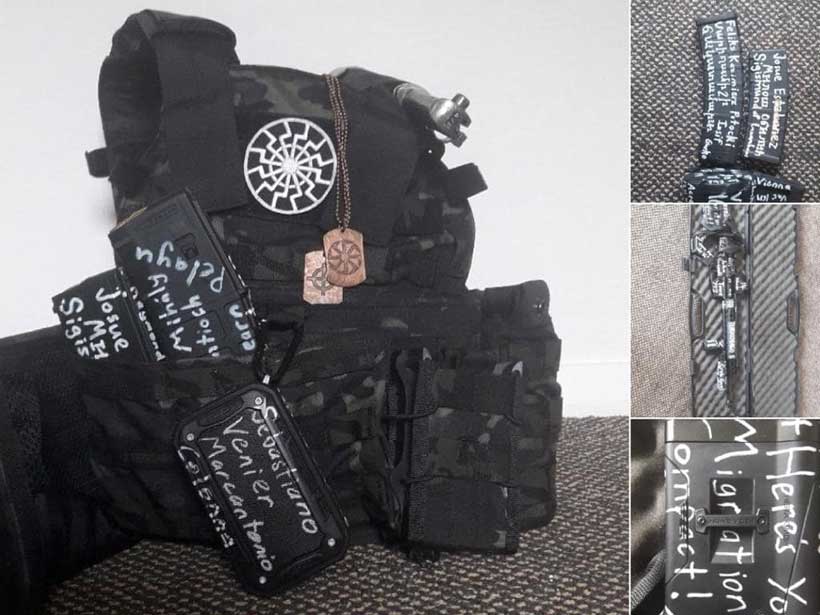 This week's attack on two mosques in New Zealand reflects a paradigm shift: the erosion of liberal values and the rise of civilisationalism at the expense of the nation state.
So do broader phenomena like wide spread Islamophobia with the crackdown on Turkic Muslims in Xinjiang as its extreme, and growing ant-Semitism These phenomena are fuelled by increasing intolerance and racism enabled by far right and world leaders as well as ultra-conservatives and jihadists.
These world leaders and far right ideologues couch their policies and views in terms of defending a civilization rather than exclusively a nation state defined by its citizenry and borders.
As a result, men like China's Xi Jingping, India's Narendra Modi, Hungary's Victor Orban and US president Donald J. Trump as well as ideologues such as Steve Bannon, Mr. Trump's former strategy advisor, shape an environment that legitimizes violence against the other.
By further enabling abuse of human, minority and refugee rights, they facilitate the erosion of the norms of debate and mainstream hate speech.
Blunt and crude language employed by leaders, politicians, some media and some people of the cloth helps shape an environment in which concepts of civility and mutual respect are lost.
Consequently, the likes of Brenton Tarrant, the perpetrator of the attacks on the Christchurch mosque in which 49 people died, or Andreas Breivik, the Norwegian far-right militant who in 2011 killed 78 people in attacks on government buildings and a youth summer camp, are not simply products of prejudice.
Prejudice, often only latent, is a fact of life. Its inculcated in whatever culture as well as education in schools and homes irrespective of political, religious, liberal, conservative and societal environment.
Men like Messrs. Tarrant and Breivik emerge when prejudice is weaponized by a political and/or social environment that legitimizes it. They are emboldened when prejudice fuses with politically and/or religiously manufactured fear, the undermining of principles of relativity, increased currency of absolutism, and the hollowing out of pluralism.
Their world is powered by the progressive abandonment of the notion of a world that is populated by a multitude of equally valid faiths, worldviews and belief systems.
The rise of civilisationalism allows men like Messrs. Tarrant and Breivik, white Christian supremacists, to justify their acts of violence in civilizational terms. They believe their civilization is under attack as a result of pluralism, diversity and migration
The same is true for jihadists who aim to brutally establish their vision of Islamic rule at the expense not only of non-Muslim minorities but also Muslims they deem no different than infidels.
Civilisationalism provides the justification for men like Hungary's Mr. Orban to adopt militant anti-migration policies and launch attacks laced with anti-Semitism on liberals like financier and philanthropist George Soros.
It also fuels China's crackdown on Turkic Muslims in the north-western province of Xinjiang, an attempt to Sinicize Islam and the most frontal assault on the Islamic faith in recent memory.
Similarly, civilisationalism validates Mr. Modi's notions of India as a Hindu civilizational state and Mr. Trump's anti-Muslim and anti-migrant policies and his continued vacillation between lending racism and white supremacism legitimacy and condemning far-right exclusivism.
Civilisationalism poses a threat not only to the world we live in today but to the outcome of the geopolitical struggle of what will be the new world order. The threat goes beyond the battle for spheres of influence or competition of political systems.
Civilisationalism creates the glue for like-minded thinking, if not a tacit understanding, between men like Messrs. Xi, Orban, Modi and Trump, on the values that should undergird a new world order.
These men couch their policies as much in civilisationalism as in terms of defense of national interest and security.
Their embrace of civilisationalism benefits from the fact that 21st century autocracy and authoritarianism vests survival not only in repression of dissent and denial of freedom of expression but also maintaining at least some of the trappings of pluralism.
Those trappings can include representational bodies with no or severely limited powers, toothless opposition groups, government-controlled non-governmental organizations, and some degree of accountability.
The rise of civilisationalism is further facilitated by a failure to realize that the crisis of democracy and the revival of authoritarianism did not emerge recently but dates back to the first half of 1990s.
Political scientists Anna Lührmann and Staffan I. Lindberg concluded in a just published study that some 75 countries have embraced elements of autocracy since the mid-1990s. Key countries among them have also adopted aspects of civilisationalism.
The scholars, nonetheless, struck an optimistic tone. "While this is a cause for concern, the historical perspective…shows that panic is not warranted: the current declines are relatively mild and the global share of democratic countries remains close to its all-time high," they said.
This week's attack in Christchurch is one of multiple civilizational writings on the wall.
So are the killings committed by Mr. Breivik; multiple jihadist attacks, the recasting of political strife in Syria and Bahrain in sectarian terms; the increasing precarity of minorities whether Muslim, Christian or Jewish; rising Buddhist nationalism, and the lack of humanitarianism and compassion towards refugees fleeing war and persecution.
These alarm bells coupled with the tacit civilisationalism-based understanding between some of the world's most powerful men brushes aside the lessons of genocide in recent decades.
Ignoring the lessons of Nazi Germany, Hutu Rwanda, the Serbian siege of Srebrenica or the Islamic State's Yazidis poses the foremost threat to a world that is based on principles of humanitarianism, compassion, live-and-let-live, and human and minority rights.
Framing the challenge, Financial Times columnist Gideon Rahman noted that Mr. Trump's "predecessors confidently proclaimed that American values were 'universal' and were destined to triumph across the world. And it was the global power of western ideas that has made the nation-state the international norm for political organisation. The rise of Asian powers such as China and India may create new models: step forward, the 'civilisation state.'"
Mr. Rahman argues that a civilizational state rejects human rights, propagates exclusivism and institutions that are rooted in a unique culture rather than principles of equality and universalism, and distrusts minorities and migrants because they are not part of a core civilisation.
In short, a breeding ground for strife and conflict that can only be kept in check by increasingly harsh repression and/or attempts at mass re-education and homogenization of the other – ultimately a recipe for instability rather than stability and equitable progress.
China Chooses to Stand with Terrorists for the Fourth Time
It's not a big surprise for any strategist that China has blocked the bid to have Jaish-e-Mohammed chief Masood Azhar designated a global terrorist for the fourth time. China has repeated the old story of putting "technical hold" on the proposal asking for more time. The proposal to designate Azhar under the 1267 Al Qaeda Sanctions Committee of the UN Security Council was moved by France, the UK and the US on February 27, days after the fidayeen attack of the Jaish-e-Mohammed (JeM) which killed 44 CRPF soldiers in Pulwama, leading to Indian air strike on Balakot terror camp in Pakistan and resultant air engagement.
How does it Matter for India?
If the proposal was accepted, it would have amounted to freeze on JeM assets, future funding and travel ban on Maulana Masood Azhar. Realistically none of these measures would have affected the terror activities of JeM, which has earlier been declared as US designated terror organization. The funding through unauthorized route is business as usual by attaching any of its members with any nominated social welfare organization and the fund flow could have been regulated through it. Freezing of asset also could have been faked by taking over one small house. Maulana Masood Azhar being sick and most secure inside Pakistan may not be keen to travel outside anyway, because he would have been most vulnerable outside. In nutshell India has to continue dealing with terror activities of JeM with or without the imposition of the UNSC ban. India has to show the resolve to deal with JeM itself, for which it has all the options (Overt as well as Covert) are on the table. The UNSC ban on Azhar was thus a symbolic exercise which must continue with similar zeal to rebuild the diplomatic pressure after six months, when it can be reconsidered because naming and shaming in UN platform has its own importance.
How is China Affected?
Chinese considerations to my mind in blocking the ban are governed by its own perceived national interest, which is not a surprise. China has to protect its economic investment in CPEC including its safe future operation and safety of over 5000 workers from terrorist groups, which are controlled by Pakistan Army and ISI and JeM happens to be one of them. China also wants to retain leverage in terms of Maulana Masood Azhar against India for opposing CPEC and BRI. It also proves the all weather friendship with Pakistan, which is milking China with its profitable terror industry. There seems to be an understanding with Pakistan for not training ETIM terrorists causing trouble in restive Xinjiang province of China and a promise to look the other way, when Chinese cause atrocities on Uighurs (Muslims brothering). In any case Pakistan's relation with China is that of a client state being protected by the patron. China was also not too happy with Indian resolve exhibited in air strikes at Balakot, but could not do anything about it.
This decision of China is marred with some risks as well. China after this action remains isolated with Pakistan on the issue of terrorism and does not project itself as a world power in making by this petty politics. While China may disregard the world opinion for the time being, but if it faces a terror attack in its heartland, it may find itself in tight spot with nobody on its side. Pakistan is host to 131 UN designated terror organizations but all the terrorist groups are not under control of Pakistan Army/ISI. In fact most of the terrorist groups are not too happy with Chinese influence and people in Pakistan but seem to be tolerating them in exchange of money, an arrangement which may not last very long. It has also pushed India few notches closer to the western world, risking a promising Indian market, not realizing the national sentiments post Pulwama attack.
Options for India
China has acted against the Indian interest which is rather disappointing especially not in line with Wuhan Summit spirit and understanding. India has every reason to target JeM and other militant groups in the manner it feels appropriate. India should not hesitate in openly supporting Baluchi cause and give asylum to their leaders, if they ask for it. In fact it could consider allowing them Government in exile, should they request for it. India should also show pro-activism in POK and Gilgit-Baltistan by filling their seats in Lok-Sabha and Rajya Sabha and start acting to represent them by giving them a voice and oath of Indian Union. We should not shy away from giving asylum to Rubiya Kader should she ask for it. We need to work with US, other western powers and Japan towards robust policy towards Indo- Pacific region including South China Sea. We need to engage with Taiwan more intimately for trade and look at 'One China Policy' as corollary of 'One India Policy' including entire Jammu and Kashmir. We need to coordinate counter terror operations with neighbors of Pakistan suffering from its proxy war like Afghanistan and Iran. We should not shy away from giving arms to some of the neighbors like Vietnam asking for it. India could also join other countries in looking at human right abuses in Xinjiang.
It seems evident that by blocking the bid to have Jaish-e-Mohammed chief Maulana Masood Azhar designated a global terrorist China has much more to lose than India, despite it being business as usual for Pakistan. India has to continue with policy of offensive defence with all options to get rid of the terrorists emanating from Pakistan soil and creating problems for people of India. India needs to develop capacity for the same; hence start with steps to enhance its 'Comprehensive National Power' (CNP) because China and Pakistan will respect only the CNP of India. In the interim robust strategic partnerships will have to be developed with like minded nations.