Kashmir puts Chinese counterterrorism on the defensive
Heightened tension in Kashmir and evidence of a Chinese military presence on the Tajik and Afghan side of their border with China's troubled north-western province of Xinjiang are putting on display contradictions between the lofty principles of the People's Republic's foreign and defense policies and realities on the ground.
The escalating tension between Pakistan and India puts to the test what Pakistan and China tout as an "all-weather friendship." The test will likely occur when the Financial Action Task Force (FATF), an international anti-money laundering and terrorism finance watchdog, debates an Indian demand that the South Asian nation, already grey-listed, be put on the organization's black list.
With the attack and its aftermath unfolding as FATF this week concluded a meeting in Paris, the Kashmir incident is expected to really play out in June when the group is certain to discuss a report that is expected to provide what India considers evidence of Pakistan's alleged culpability for this month's attack on a bus in Kashmir that killed more than 40 Indian paramilitary personnel as well as Pakistani backing for the group believed responsible for the assault and other militant organizations.
Pakistan has denied the allegations and offered to help investigate the Kashmir incident.
China, however, despite refusing to prevent FATF from grey-listing Pakistan last year, will find it increasingly difficult to defend its shielding of Pakistan in the United Nations and could be caught in the crossfire as it continues to protect Masood Azhar, the leader of Jaish-e-Mohammed, the group believed responsible for the Kashmir attack.
Like in the past, China this week rejected an Indian request that it no longer block designation of Mr. Azhar by the UN Security Council as a global terrorist. China asserts that Indian evidence fails to meet UN standards.
Nonetheless, China's shielding of Mr. Azhar risks it being perceived as violating the spirit of the 2017 summit in Xiamen of BRICS countries – Brazil, Russia, India, China and South Africa – that for the first time identified Pakistan-backed militant groups as a regional security threat.
Question marks about China's approach to the countering of political violence and militancy also reflect on China's justification of its brutal crackdown on Turkic Muslims in Xinjiang.
Concern that militant Uyghurs, the predominant Turkic Muslim minority in Xinjiang, including foreign fighters exfiltrating Syria and Iraq, could use Central Asia as an operational base has prompted China to violate its declared principle of not wanting to establish foreign military bases.
China has been believed to be involved for several years in cross-border operations in Tajikistan and Afghanistan's Wakhan Corridor, both of which border on Xinjiang.
A Washington Post report this week, based on a visit by one of its correspondents to the Tajik-Chinese border provided evidence of China's military presence on the Tajik side of the dividing line. "We've been here three, four years," a Chinese soldier told the reporter.
Evidence of the long-reported but officially denied Chinese military presence in Tajikistan comes on the back of China's increasing effort to put in place building blocks that enable it to assert what it perceives as its territorial rights as well as safeguard Xinjiang and protect its mushrooming Diaspora community and overseas investments that are part of its Belt and Road initiative.
The evidence in Tajikistan, moreover, follows the establishment of a military base in Djibouti in the Horn of Africa and facilities in the South China Sea that bolster China's disputed territorial claims.
"Beijing is quietly establishing a security presence in CA (Central Asia) that is broader and deeper than just facilities or hundreds of PLA (People's Liberation Army) soldiers on the ground," said Carnegie Endowment for International Peace scholar Alexander Gabuev.
Potentially, China's military expansion into Central Asia could complicate relations with Russia that sees the Eurasian heartland, once part of the Soviet Union, as its backyard. Continued expansion would call into question a seeming Chinese-Russian division of labour that amounted to Russian muscle and Chinese funding.
Like China, Russian Foreign Minister Sergei Lavrov appeared to be nibbling at the edges of that understanding on a visit to Central Asia this month in which he dangled investment, economic assistance and security guarantees.
Mr. Lavrov's travels followed a visit to Uzbekistan in October by President Vladimir Putin that produced US$27 billion in commercial deals.
"Russia would be smart to rethink its policy towards CA, and base new approach on support for sovereignty of local states. If Russia won't view the 5"(Central Asian) states as its subjects, they are likely to seek greater engagement with Moscow to balance Beijing's econ/sec influence," Mr. Gabuev said, referring to China's economic and security interests.
Pakistan's commitment to eradicate terrorism is more advance than UNSC
Big blow to Indian diplomacy by United Nation Security Council (UNSC), when passed a resolution declaring JAISH-e-Muhammad (JeM) chief Maulana Masood Azhar as a global terrorist under the United Nations Security Council Resolution 1267, without linking him with Pulwama, or Kashmir Freedom Movement.
India, traditional rival, has been trying to blame Masood Azhar on suspicions of his possible involvement in Pulwama Incident, Bombay Attacks, Hijacking Indian Air, or Kashmir Freedom Movement. Since 2008, the US attempted four times to get Masood Azhar listed under the UNSC resolution 1267 but every time its move was thwarted by China. "The Security Council Committee pursuant to resolutions 1267 (1999), 1989 (2011) and 2253 (2015) concerning ISIL (Da'ish), al Qaeda, and associated individuals, groups, undertakings and entities approved the addition of entry to its ISIL (Da'ish) and Al-Qaeda Sanctions List of individuals and entities subject to the assets freeze, travel ban and arms embargo." The resolution was limited to ISIL (Da'ish), Al-Qaeda only. But Indian addition of Kashmir or other incidents related to India made the resolution unfit on technical grounds.
Pakistan had rejected earlier proposals to list the JeM chief, as India wanted to link it with the movement in Indian Occupied Kashmir where Kashmiris are waging struggle to get their inalienable right of self-determination. Pakistan's FO spokesperson said, "India is presenting this new development as its victory and confirmation of its narrative, but these claims are unfounded and false. Once politically motivated attempts to link it with the Pulwama incident and the legitimate Kashmiri struggle for the realization of the right to self-determination were removed, the current amended listing proposal was approved." Of course, China withdrew its opposition after consultations with Pakistan, and that Pakistan agreed to the listing after its objections were addressed. China and Pakistan are on the same page and support each other on all national, international or regional issues. During his recent visit to China, Prime Minister Imran Khan had met President Xi Jinping and Prime Minister Li Keqiang and discussed matters of mutual interest. Reviewing with satisfaction the historical development of China-Pakistan relations and the great strides made, both sides in the joint statement agreed to further strengthen the China-Pakistan all-weather strategic cooperative partnership in line with the principles set forth by the treaty of friendship, cooperation and good-neighborly relations signed in 2005.
This time, the resolution was presented on its original merit and got passed. As per the resolution, his assets should be frozen, travel ban and arms embargo should be imposed. But, Pakistan due to its own policies, has already frozen his assets and imposed a ban on his travel and arms embargo since long ago.
In a matter of fact, Pakistan was the victim of terrorism for almost the last four decades. We have sacrificed 80,000 precious lives, which no other nation can afford. We suffered an economic loss of approximately 250 billion US Dollars, which no other country can afford individually. The net loss in term of time, losing 4 decades means loss of almost two generations. Emotional suffering is much more and beyond any estimation.
Pakistan was compelled to formulate "National Action Plan" at its own and has been implementing successfully for several years. Our achievement to the over-come menace of Terrorism has been acknowledged by the international community. Under the National Action Plan, Pakistan has taken all possible measures to eradicate terrorism from grassroots. Actions against Masood Azhar was part of our national priority. It has nothing to do with any third country.
UNSC's decision in respect of Masood Azhar may be the last nail in Modi's Elections. Indian Elections are based on "anti-Pakistan" and "hate-Pakistan", Modi did his best to hate-Pakistan, harm-Pakistan, Isolate-Pakistan, etc. But all of his efforts went wrong and Pakistan has emerged as one of the most resilient nation, moderate, peace-loving and visionary nation. Pakistan's narrative is more acceptable to the international community.
Horror in Sri Lanka and Love Fest in Vladivostok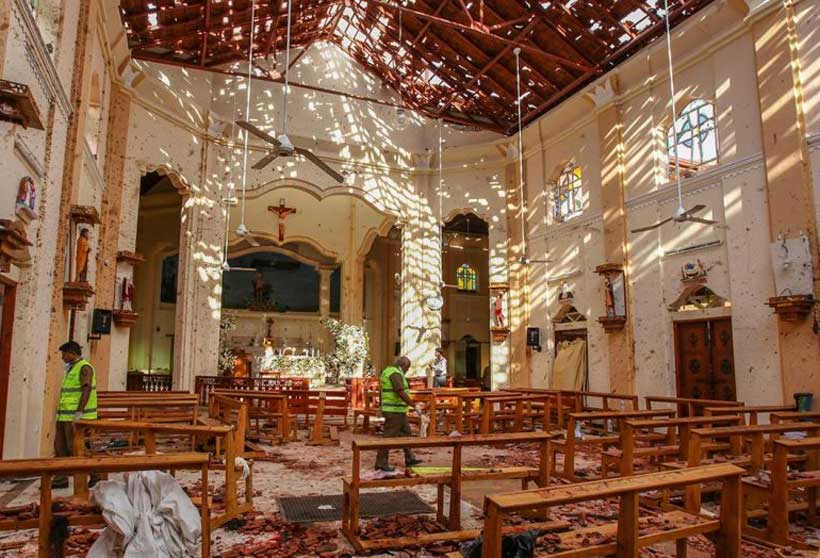 The horrendous Easter bombings in Sri Lanka make little sense; the question remains, why? Following 30 years of civil war between the majority Buddhist Sinhalese (75%) and the minority and mostly Hindu Tamils (11%), who felt discriminated against after the country won independence from the British, it had enjoyed a decade of peace.
The Muslims are another minority in Sri Lanka. They have been under attack in recent years by a new aggressive Buddhism rearing its head. So why should Muslims attack Christians a fellow Abrahamic minority when there has never been any discord between them, and when they could be natural allies.
After ISIS claimed responsibility displaying faces-covered photos of the bombers (except for the leader whose face was uncovered), the murkiness of the circumstances precipitated out. He who pays the piper calls the tune they say, and the local group (National Thowheed Jam'aath) who were the instruments, did not have the wherewithal or the resources on their own — just a leader radicalized by attacks on Muslims by the extremists among Sinhalese Buddhists a year ago.
According to ISIS, it was revenge for the New Zealand mosque bombings but it was also designed to hit the tourist trade. Then too, Zahran Hashim the leader of the group, and who himself is thought to have carried out the attack on Colombo's Shangri La Hotel was of Tamil background. The cycle continues.
Needless to say the attack on Christians also wrong-footed the security forces for they had intelligence reports since January, but clearly had little or no security presence. Will there be retribution? That is what Muslims fear (and ISIS wants) for it generates more recruits to continue the madness.
How did ISIS emerge? It might be repetitious to say so, but it takes the brutality of war to generate extremists. Think of the IRA, or the Tamil Tigers who invented the suicide bomber. The crazed path of destruction created in the Middle East and North Africa by the US will leave a trail many years hence.
And not only there, as the revolution fomented in Ukraine has led to a civil war, with Russia backing the ethnic Russians of the Donbass region in East Ukraine. Just this week, Russian president Vladimir Putin issued an order simplifying the procedure for them to obtain Russian passports. Is this another step towards eventual annexation?
Meanwhile, Mr. Putin has decided to fill the void left when Donald Trump in Vietnam walked away from what he called a bad deal with Kim Jon Un of North Korea. Kim had demanded an end to all economic sanctions before he would begin to dismantle his nuclear weaponry. Kim had a point: it is clearly not easy to replace destroyed armaments unlike sanctions.
Putin is now playing the role of global power broker with North Korea drawing the attention Trump had received briefly until the falling out. A new bromance? Perhaps, and one important enough for Putin to travel across seven time zones to Vladivostok for the meeting. Kim was met with great ceremonial pomp and treated to a lavish banquet laden with delicacies; thus indulging his twin weaknesses for deference and good food. No cheeseburgers, thank you — in marked contrast to Trump's favorite food.
What does Putin get? Along with being seen as an influencer in North Korea, he could well become its intermediary, the go-to guy. The wily Putin seldom loses. He waits and watches, watches and waits. For Kim, his two neighbors Russia and China have been his strongest support for generations, to which he now returns.
He tried to emulate China, wanting capital and western firms to invest and kickstart a commercially moribund economy. But Trump's price was too high. One wonders whether Trump will expound on the Art of the Missed Deal if he loses the next election. But then the 'curiouser and curiouser' Democrats might ensure that he does not have to.
Post-Pulwama False Flag Operation: Prediction and Reality
Since the nuclearization of South Asia in 1998, the region has become a major component of international security and stability. The recent military escalation and de-escalation of February-March 2019 between the nuclear armed rivals of South Asia i.e. Pakistan and India, more than a month has passed but the world is still concerned about the situation in this volatile region. There is an ongoing debate in Pakistan about the Pulwama attack of 14th February 2019 as a 'False Flag Operation' in the realm of hybrid warfare which India has launched against Pakistan. The false flag operations are based on deception with pre-determined outcomes to achieve some political or strategic objective.
India has a history of such false flag operations starting from 1971 till now for achieving the predetermined strategic and political goals (whether successful or unsuccessful). The 2016 Uri attack, the PathanKot Air Base attack, the Mumbai attacks 2008are candid examples of the false flag operations which India has carried out. These operations which are now part of history were aimed to divert international attention from Kashmir issue while blaming Pakistan without any evidence. These operations have remained focused of achieving political goals in elections. The most recent example is the Pulwama suicide attack of February 2019, in which 44personnel of Indian Central Police Reserve Force (CPRF) were killed. The BJP election campaign based on hatred against Pakistan to get popular support whereas the timing of attacks i.e. just two months before the elections make it one of the most controversial false flag operations. Within few minutes after the attack India claimed that about 350 kilograms Improvised Explosive Device (IED) was used. There are above 700,000 Indian troops present in Indian Occupied Kashmir (IOK) and most of the times curfew is applicable which makes it impossible for any group to navigate carrying such a huge volume of explosives. As an election stunt the Indian leaders and media blamed Pakistan for backing the attacks without any investigation and evidence.
Pakistan's 'appropriate response' in the after math of February 2019 events is part of history now. On 7th April 2019 Pakistan's Foreign Minister has predicted that another 'Pulwama like attack' in IOK may happen in coming days between 16th to 20th April. India could stage another Pulwama like attack in IOK to justify its military escalation and to increase diplomatic pressure on Pakistan. He further said that Pakistan has authentic intelligence regarding Indian preparations for such attack. In this regard Pakistan has conveyed formally to the diplomatic representatives of the permanent members of UNSC in Islamabad. A meeting of India's 'Cabinet Committee on Defence' was held recently in which Modi gave free hand to the services chiefs to act against Pakistan in upcoming days. The chiefs responded that they have already selected military targets that go beyond Line of Control (LoC).
India under Modi's leadership is intentionally increasing the war hysteria against Pakistan without realizing the reality that any escalation beyond a certain point a may lead to a first ever nuclear exchange between the two countries. The Pulwama attack was no doubt a false flag operation carried out by India with two politico-military objectives. First, to project the freedom fighting movement in Kashmir as 'terrorism' which is at its peak since Modi is in power and second is to gain maximum popular support in context of 2019 elections by spreading hatred against Pakistan. The aftermath of Pulwama has re-assured Pakistan's Nuclear Deterrence at conventional level and proved it a dominant factor over escalation ladder.
In case of a 'new false flag operation' or any February 2019 like escalation from India, Pakistan though lacking in number of conventional forces and weapons will remain with no choice but to respond un-conventionally by using the tactical nuclear weapons i.e. 'NASR' and subsequently short and medium range missiles capable of delivering nuclear war heads. The recent military standoff has proved to be a matter of failure for India vis-à-vis the credibility of the claims. The international media as well as the Indian media and opposition parties have questioned Modi's government for the evidence of targeting militant training camp (killing 350 militants) and proof of Pakistan's jet plane crashed during 27th February dogfight (claimed by India).According to Foreign Policy Magazine US officials have verified that Pakistan's F-16 fleet is complete in numbers and not a single jet is missing.
The February 2019 military crisis and its aftermath didn't prove to be a politico-military success for BJP. Pakistan has proved that it can respond to any Indian aggression appropriately and thus gained a moral and psychological edge over India in the crisis. Pakistan's nuclear deterrence has served as a dominating factor against the Indian conventional maneuvers. Pakistan needs to be well prepared against a new false flag Pulwama like operation in coming days realizing the political hype in India. In case of breach of Pakistan's sovereignty by India in the name of a limited conflict or a surgical strike, this time the response might be a 'nuclear' staying below the nuclear threshold.