Pulwama Attacks: Pakistan takes on India again
The attacks by Jaish-e-Muhammed on Indian security forces has come at a tricky time; Modi led government's reaction to the killings, and the preparations for the 2019 general elections, are two events, that are going to intrigue imagination of wide possibilities. Forty men lost their lives, in the kind of barbarism that India expects from Pakistani non-state actors. Mind the assertion; if media sources in India can prove that Masood Azhar-the master mind, controlled the entire event from a military hospital in Rawalpindi, Pakistan has landed itself in a great limbo. Masood Azhar is no longer a non-state actor in Pakistan; instead he is a Pakistani non-state actor. Pay attention, there is a difference.
The fact that India failed to anticipate such an attack, again, is beyond sound logic. Terrorist attacks on armed convoys over bordering highways, is but a chilling script that keeps the Indian administration on their toes. Mind the lapse. What a miss!
What happened?
Nobody in India and elsewhere predicted this. PM Narendra Modi did not see this coming. Not the intent, but the magnitude of casualties. For this alone, Pakistani non-state actor(s) calculated brilliantly. They intercepted a psychological lapse of a strong, yet busy Prime Minister. Let us also pretend that there was a rare moment of blunder by the Indian intelligence. That leaves us to the only realistic assumption of what might have happened.
For many years, India has maintained the vocal discourse of Pakistan's deceitful personality in dealing with transnational issues. The Pulwama killings would have choked Narendra Modi, reminding him the lesson of how a wild animal can never be tamed. More so, not when they promise to not hurt you. Imran Khan is an icon, but no excuses this time, the blood is in his hands. From an observatory perspective, one cannot help but conclude that there is an element of serious political assurance turning into fraudulence.
After-effects
Two months prior to the 2019 general elections, the Indian Prime Minister has woken up to the challenges, that nobody in India would have not predicted. Still, the Pulwama attacks has placed him in a very awkward position. It is a well-documented fact that India can carry out surgical strikes, just like it has in the recent past. Equally, it can only be fair to assume that Pakistan will be ready this time. The story will lose all plot, if Pakistan, like India fails to anticipate another precision attack on its border. Mind the context, it actually means something more.
Reportedly, PM Modi threatened against Pakistani aggression; however, India stands on crossroads. From the Pakistani logic, time has subsided India's options. Imagine another strike gone wrong in the enemy's territory. Imagine a full-fledged war, overtaking the carousal of national elections. Islamabad is ready this time. In the worst case, they have managed to manufacture a predictable excuse to penalize India's confronting military creativity. Pay attention, there are little choices. And the consequences are alarming.
Pakistan's credibility
Regardless of all legitimate Indian accusations, Pakistan would be less worried, by Indian threats to isolate them diplomatically. While the current Indian rhetoric might be another disguise before their jets ignite for a military crackdown; Pakistan has and will operate with their elements of non-state actors. Hence, there is no question about credibility. Mind the change in Pakistani attitude. Before, non-state actors were merely a means to their ends. Now, the Pakistani military is on the front foot, itching for an Indian reaction. Calculations have been made. The Pulwama attacks are a testimony to their intentions. The international community will be hoping that India will let go this time; take it under their chin, once again. There is an acute wish to avoid a situation of hypocrisy. Given a foreseeable Indian aggression, Pakistan will seek international assurance based on equality. The rules apply the same for everyone.
Distinctive
For good reasons, the Pulwama killings will presumably lead to a peaceful solution. The Indian reaction will be gold for academic books, that are based on solving inter-state disputes. India owes a reaction to all kinds of anticipative communities, on a platform that Pakistan has calculatedly fished for their arch-rivals. The ball is in India's court. A moment of magnifique for Narendra Modi, or a strategic tit for tat for Pakistan? Mind the set-up. Evenly poised!
Firearms trafficking, 'enabler and multiplier of violence' worldwide
The Global Study on Firearms Trafficking 2020 focuses on the serious and "too often hidden" problem of firearms trafficking that serves as "an enabler and multiplier of violence and crime in every part of the world", said Ghada Waly, Executive Director of the UN Office on Drugs and Crime (UNODC).
Making up some 39 per cent of the total number of firearms seized worldwide, pistols are the most seized type of firearm globally.
And almost all flows of arms trafficking between regions, can be traced back to points in Northern America, Europe and Western Asia.
As they are often involved in violence, particularly homicides, they are also a major security concern.
Vital tool for governments
The report, which provides the most comprehensive data on firearms trafficking to date, said UNODC, is a vital source for law enforcement and policy makers to help reduce the damage and loss of life, stemming from illegal arms flows.
"By shedding light on challenges, and on the origin and trafficking routes of firearms, the study can support Governments in strengthening law enforcement and criminal justice responses to detect and disrupt illicit flows, dismantle the criminal organizations and networks responsible, and bring the perpetrators to justice", maintained Ms. Waly.
In the shadows
Firearms trafficking remains a largely invisible phenomenon, which only emerges once trafficked weapons are used to commit other crime, according to the study.
On average, two-thirds of seized firearms were impounded on the legal grounds of illegal possession.
However, additional information related to the seizures and tracing results, suggest that a considerable portion of these firearms may have been illicitly trafficked into the country, prior to their being confiscated.
And only around half of the arms suspected to have been trafficked, were taken on the basis of having been trafficked.
Regional breakdowns
Data from cities in 81 countries in the study, reveals that around 550,000 firearms were seized in 2016 and 2017, with pistols the most commonly trafficked.
This may be explained by the high number of responses received from the Americas, where pistols made up, on average, more than half of all seizures.
Meanwhile, in Africa and Asia, at 38 and 37 per cent respectively, shotguns were the most prominent firearms seized and in Oceania, rifles were top, at 71 per cent.
At the same time, Europe seems to be the most heterogenous in terms of seizures, with pistols accounting for 35 per cent, rifles 27 per cent, and shotguns, 22 per cent.
Weapon ownership
The study reveals that around the world, 54 per cent of homicides are carried out with a firearm.
And while handguns play a significant role in gang or organized crime killings, they are far less prominent in murders involving partners or family members.
Countries with higher levels of violent death and homicide – particularly in Africa and Latin America and the Caribbean – tend to seize a higher percentage of firearms connected to violent crime, while in Europe, drug trafficking is the most prominent among the other forms of crime linked to illicit weapons.
Terrorism in the EU: Terror attacks, deaths and arrests in 2019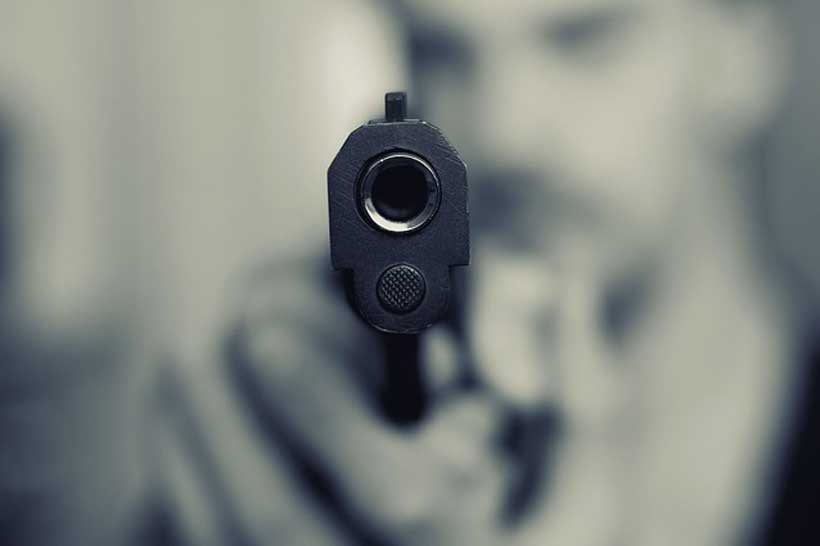 The number of terrorist attacks and victims of terror in the EU continued to decrease in 2019. Check out the graph to see the evolution of jihadist terrorism since 2014.
There were 119 terrorist attempts in Europe in 2019 counting the ones that were successfully carried out and those that failed or were foiled. Of those, 21 are attributed to jihadist terrorism. Although they represent only a sixth of all attacks in the EU, jihadist terrorists were responsible for all 10 deaths and 26 out 27 people who got injured.
About half of terrorist attacks in the EU are ethno-nationalist and separatist (57 in 2019, all but one in Northern Ireland) with the other main categories of terrorists being far-right (6) and far-left (26).
The numbers of victims of jihadist terrorism has further decreased since its peak in 2015 and in 2019 the number of attacks foiled by member state authorities was double the number completed or failed. However, according to Manuel Navarrete, the head of Europol's counter-terrorism centre, the threat level is still relatively high.
Navarete presented Europol's annual report on terrorist trends to Parliament's civil liberties committee on 23 June. He said that there is the same trend of online communities instigating violence in right wing and jihadist milieus: "For the jihadists, terrorists are holy war martyrs, for right wing extremists, they are the saints of a racial war."
Fewer terrorist attacks and terrorism victims
Ten people lost their lives in three completed jihadist attacks in the EU last year in Utrecht, Paris and London, compared to 13 deaths in seven attacks in 2018.
Eight EU countries suffered terrorist attempts in 2019.
Twice as many foiled attacks as completed or failed ones
In 2019, four jihadist attacks failed while 14 incidents were foiled, compared to one failed atack and 16 foiled ones in 2018. In both years, the number of plots foiled by authorities is double the number of completed or failed attacks. Jihadist-inspired attacks mostly target public places and police or military officers.
The completed and failed jihadist attacks were mostly carried out using knives and firearms,. All plots involving the use of explosives were disrupted. The majority of the perpetrators were acting or were planning to act alone.
In 2019, 436 individuals were arrested on suspicion of offences related to jihadist terrorism. The arrests occurred in15 countries. By far the most in France (202), between 32 and 56 in Spain, Austria and Germany and between 18 and 27 arrests in Italy, Denmark and the Netherlands. This figure is also lower than the previous year when a total of 511 people were arrested.
The threat of radicalised prisoners
People in prison for terrorist offences and those radicalised in prison pose a threat. In many European countries, a number of radicalised prisoners will soon be released and this could increase the security threat, Navarrette warned. In 2019 one failed attack, one foiled and one successful one were carried out by radicalised prisoners.
EU cooperation
Reinforced cooperation between EU countries and information sharing have helped to prevent attacks or limit their impact, according to the head of Europol's counter-terrorism centre. "Because of the information exchange, because of the connections that we have, member states manage to be early on the scene to identify the risks. For me it's a good sign that two thirds of the attacks were identified and foiled thanks to the cooperation that is in place."
No systematic use of migration routes by terrorists
Some have been concerned about the risk posed by migrants trying to enter Europe. Europol 's report reiterates that as in previous years there are no signs of systematic use of irregular migration by terrorist organisations. In fact, in more than 70% of arrests related to jihadist terrorism, for which citizenship was reported to Europol, the individuals were nationals of the EU country in question.
'Strengthen multilateralism' to combat global terrorism
Although the pandemic has posed one of the greatest challenges since the UN's founding 75 years ago, Vladimir Voronkov, head of the UN Office of Counter-Terrorism (UNOCT) closed a week of events devoted online to countering the scourge, by echoing the Secretary-General in stating the "need to keep up the momentum" in countering the global threat of terrorism.
Key conclusions
Setting out key conclusions of the discussions, the counter-terrorism chief spoke of the need to invest in strategic preparedness to build societies able to cope with global challenges, including terrorism.
The UN official also underscored the importance of strengthening multilateralism and international cooperation, calling the UN Global Counter-Terrorism Coordination Compact, "a dynamic platform" to enhance coordination in delivering UN technical assistance to Member States.
Pointing out that "all events underscored the need to fully respect human rights and the rule of law in the fight against terrorism", he maintained that this was not just the UN's fourth pillar, but integral to the entire UN global counter-terrorism strategy.
"Much more is needed to translate this into practice…to ensure that measures to counter terrorism do not shrink civic space or hinder humanitarian activities", upheld the counter-terrorism chief.
To this end, he shared his plan for a regional high-level conference on human rights and counter-terrorism when the COVID-19 context allows.
Cross-border consequences
The UNOCT chief stressed that the threats posed by bio and cyber terrorism have "consequences that span across borders".
"Pandemics magnify these threats, putting additional pressure on emergency response and security structures, and increasing the risk of weaponization by non-State actors", he highlighted, lauding the Secretary-General's Roadmap for Digital Cooperation, designed to help address this.
While protecting freedom of expression, the particpants emphasized the need to prevent terrorist misuse of social media and the Internet, further unleased by COVID-19 pandemic-fueled hate speech and xenophobia.
"These efforts must be underpinned by strong partnerships between governments, tech companies and civil society, and a strategic communications approach with credible voices and positive messages to counter terrorist narratives", said the UN counter-terrorism chief.
Foreign fighters
Meanwhile, he relayed the "grave concerns" of participants regarding foreign terrorist fighters who remain at large, citing women and children with suspected links to UN-listed terrorist groups who are stranded in Syria, Iraq and elsewhere.
"I urge Member States to take swift action regarding their nationals to meet their international obligations and prevent this issue being used to radicalize future generations", spelled out Mr. Voronkov.
He also flagged the importance of better understanding how "terrorists prey differently on women and men to incite and recruit, the range of roles women and men play in both terrorism and counter-terrorism, and the differentiated impact of terrorism and counter-terrorism on women and men, also in this pandemic environment".
Remaining vigilant
The UNOCT chef said that the week's discussions would feed into the first Global Congress of Victims of Terrorism, scheduled for next year.
In closing, he underlined the need to remain vigilant and united; anticipate the evolving threat posed by terrorists; and adjust our responses to changes from the pandemic.
Virtual Counter-Terrorism Week drew over 1,000 participants with representatives from 125 Member States and over 150 from international and regional organizations, 200 from UN entities and 80 from civil society and the private sector.