The Slippery Slope of Sino-US Trade War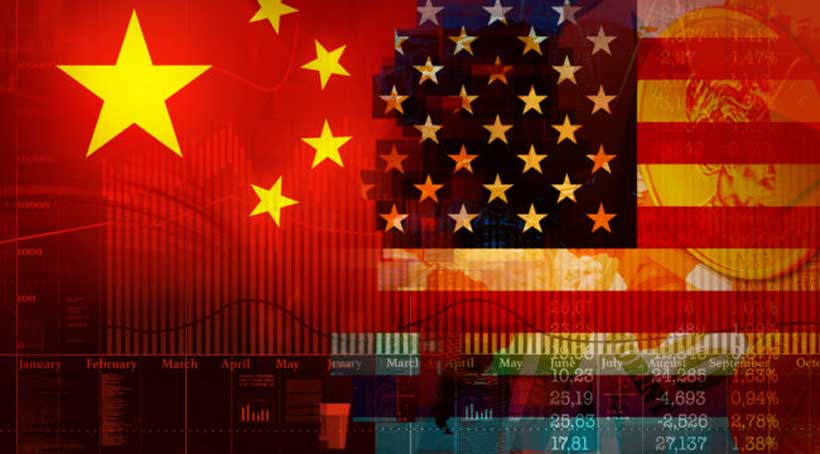 Change is the only constant. After a struggle for supremacy in geopolitical and geo-economical spheres, now technological realms have also been contested among superpowers. The Fourth Industrial Revolution is at the verge of breaking out and it is expected that this stage of modernization will tug the very fabric of society and will alter the way individuals interact with each other and world at large. Ongoing industrial innovation will act as a modus operandi to transform global economies, communities, and politics.
The world is in stern need of a modern global architecture before the fourth industrial revolution starts encroaching on us. That is why a trade tussle emerged on statist lines among all major economic stakeholders of the international economy, especially among those having a larger share in business with the United States. The US President Donald Trump opted a pre-emptive approach and imposed tariffs and nuisance in global economies. Eminent journalist, Bob Woodward highlighted the fact in his book 'FEAR' that USA's protectionist elements are far-greater than ever before and such actions will hinder economic peace with traditional allies or trade partners. Trump's tariff imposition on China and renegotiation of NAFTA and Free Trade Agreements with EU leaves no doubt about Woodward's projections. Another famous Nico Colchester prize-winner financial journalist, James Politi of Financial Times referred exchange of tariff brawls between USA and China as "protectionist firepower" by Trump administration aiming against China. To cut short, current trade tariff discourse is in order to contain China in geopolitical, economic and technological leadership.
An ongoing trade war is economic intimidation and coercion by the USA towards China to redevise their trade agreements and get more favorable terms for the country, which will also advance Trump's populist mantra of America First. Trade tariffs were imposed as a consequence for not responding the sheer allegations on Chinese companies by US administration of unprecedented level of larceny and infringement upon intellectual property rights. US Politicians claim that industrial migration and capital flight from the US to China was the reason of unemployment in the USA, but economists condemned the long-term policies like reliance on imports and not saving much for the future.
China's rise is perceived as a threat to hegemonic stability, thus an influx of uncertainty is stirring in the realm of international political economies. This rise is analogous to the Thucydides trap and also depict similar characteristics as of power transition theory. But the fault line of this predicament lies in the technological advancement of China by virtue of US private enterprises and regional economic connectivity ventures of the country. In short, it is a feud between the two leading economic powers to overhaul world trading practice (its terms and conditions) coupling with technology and knowledge-based economy with an intent to hedge and wedge each other being the contenders of global hegemony.
Both economic powers, China and USA have been in a state of economic tug of war since June 2018. To resolve his sticky situation, Trump administration imposed 25 percent import tax on $50 billion worth of products of Chinese origin in order to overcome the trade deficit between both economic giants. China countered this move by levying duties on the produce of USA and more than three rounds of tariffs worth $250 billion were exchanged among both parties, in addition, both parties threatened with each other with penalties of $267 billion. However, both countries had annual trade relations of $710.4 billion in 2017 and China is ranked as the third largest export market for the USA.
The Chinese government was alleged for backing their private companies by injecting billions of dollars every year and termed as state-owned private enterprises by several journalists and newspapers. In addition, Chinese companies were suspected to violate patent rights especially the ones related to modern technology and Chinese authorities for restricting foreign companies to access their markets freely. China also announced its strategy named 'Made in China 2025' which implies that majority of end-user products will be developed by China in near-term while it is also a challenging situation for the USA for being a techno-center of the world. Vision 2025 asserts that China will be a front-runner in modern technologies like Artificial Intelligence and Biotechnology in the respective year .
While campaigning for elections, Republican President of USA, Donald Trump also proclaimed that Chinese development is equivalent to 'rape' and his administration will levy 45 percent tariffs on total imports from China. Formerly China had been under tariff regime of USA on products worth of $50 billion annually and President-Elect also threatened Chinese government to take a radical stance and impose further 25 percent taxes on January 1st, 2019 on products worth $200 billion. Chinese government retaliated this move by imposing tariffs worth $60 billion despite economic coercion from the US government of striking further duties on all products of Chinese origin.
Joseph Stiglitz, an eminent scholar, and Nobel laureate explained stated that:
"The United States has a problem, but it's not with China. Predicament lies in America because they saved too little, and borrowed and imported too much".
USA and China are heading towards a war which no one wants at this point in time.In this modern era, the US and China must see ahead of time and resolve their bilateral relations which is a cause of disturbance in the international economic order. To do so there is a need to establish new norms of trading and economics which incorporate prevalent treaties and meet the requirement of the 21st century.  To serve the purpose rules should be developed to cater the technology related matters in international trading practices.
Current global situation of power transition and hegemon desiring stability depict the same case as of Thucydides trap which is an outcome of structural pressures spiraling from an emerging power challenge the ruling one. Although this theory is ancient but very relevant to the on-going trade-brawls of China and USA, a case where the leadership of both countries sings hymns of making their country great again. This conflict has no resolution other than either party accepts the dominance of other whereas in this case China is not going to cap and roll their economic endeavors, and the US will also not concur to Chinese supremacy in Pacific, cyberspace and external space. There are certain stern measures which competing economies will have to take in order or else it could be an all-out war.
Emergence of New World Order out of Sino-US clash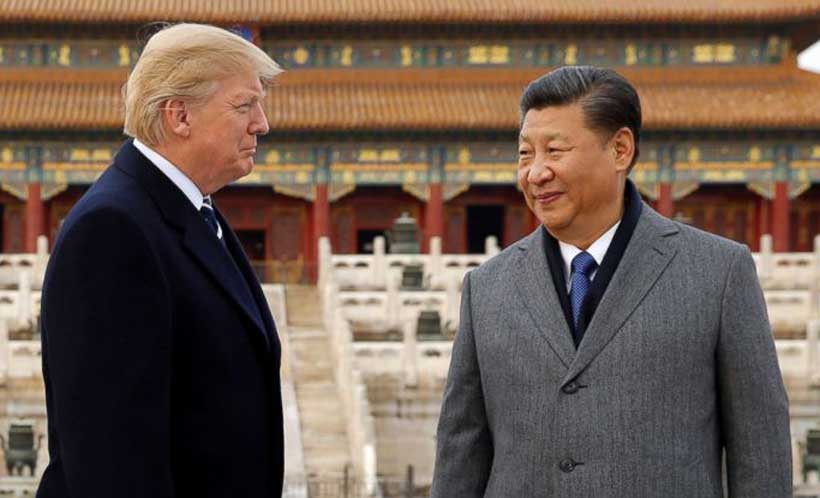 The United States of America and China's relation has many up and down since the outbreak of Taiwan Strait status issue, Whenever, US Navy lifted than China deployed thousands of soldiers to Quemoy and MatruIsland in Taiwan Strait in August 1955.Later,Beijing was threatened with the Atom bomb, to end the agitation against the US. US president Richard Nixon ascribed Taiwan Strait status with China in 1972. Enduring conflict compelled the US to pass "Taiwan relation Act" from the congress on January 1, 1979, to help and maintain the peace, security and stability in western pacific and foreign policy would help to US authority to support on commercial, cultural and other relations between both countries. Therefore, Washington was lobbying to help Taiwan to get observer status at the World Health Organization (WHO) in the 73rd annual world health assembly while failing to maintain the preservation of the cross-strait status quo. Moreover, on retaliation by Chinese president Xi Jinping about Taiwan as under one-China policy to get and capture at any cost before 2050. However, this conflict would carry both superpowers to close any disastrous war.
Meanwhile, US-China Relation Act of 2000granted permission to China on trade. Firstly, the trade tensions were uprisings due to the US trade deficit with China from $273.1 billion in 2010. Therefore, on fulltime high of $295.5 billion in 2011.Preamble,US was malediction to pay $375.2 billion deficit to China in 2017.That imports increased $550 billion annually before imposing tariffs in which the comprehensive economic dialogue was convened in July 2017, on mutual understandings to adjourn$160 billion tariffs on Chinese goods, after the unfair practices of currency and manipulation of 1988 and 2015 Act of USA had compelled to China on massive tariffs.
Moreover, in March 2019, Trump warned most of the countries do not use Huawei and Telecom giant's equipment in the battle with China for technological supremacy, and 5G works could use the company of spy. Furthermore, Trump administration-imposed tariffs to increase 10 to 25 percent on Chinese goods. The whole scenario compelled to Beijing to sign a trade agreement with Washington. However, the US blamed on currency manipulation through Act of 1988 under section 3004 against an opponent. It is a lengthy history of China to devalue the currency to gain and capture the market of the world. After the devaluation of Yuan as much weaker, which makes more competitive Chinese exports and buying to foreign currencies. Through, in global trade rules, if the competition among the countries on inflation and deflation currency could not evaluate due to get more foreign currencies though reduce capital inflow significantly hits on jobs sector especially in the USA and Europe. People's Bank of China is under control by the communist party to let Yuan fall below key in 7.0 level against the US dollar and 8.5 percent depreciation from the exchange rate. However, the US department of treasury reported on January 13, 2020, before a great deal in which semiannual report on microeconomic and foreign exchange policies. This report assured about 20 significant partners of the US are involved with China on currency practices. The first trade deal would lead only $200 billion imports of US production and including $32 billion in agricultural. Moreover, $40 billion would be pasteurized through tariffs on Chinese goods at the end of 2021. Indeed, Trump ensured China all tariffs would be removed after signing the "second plan" trade deal.
The US and China's relations got a new major twist due to COVID-19. After the breakout of the virus, the US president stretches the misinformation about China called "Chinese virus" and "Wuhan virus". Moreover, the conspiracy theory lies the ideas about escaped from Wuhan lab. On the other side, China blames on US military persons on the carried virus and spilling in China. Therefore, the political battle of China is intense against adversaries, most of Americans about 66% believe virus divulged as the danger of dependency on China all manufacturing products, infect, the US was unaware from the abrupt global pandemic. It revealed the lack of necessary medical supplies and personal protective equipment's (PPE) as well. The US must keep in mind the new raising for economic nationalism. The trade war between both countries will create uncertainty and global supply chain. Eventually, some business moved out of China like Apple production and the Tesla factory. If US government forced to leave US business from China through executive orders in which reestablish business in the USA to create jobs for Native Americans and secondly, a business must take ensures as a freeway, on its position. China is the first victim of the virus and reopening with $45 billion more attractive worth of markets. At the same time, senior US officials are proposing a plan to make China responsible for this virus and proposals are prepared to compensate that virus effects that economy of the world.
Furthermore, US state agencies convened a meeting on May 7, 2020, to begin mapping out a strategy as reflationary measurement against China, the whole meeting and planning put out on vanquish or anonymity because they were not authorized to reveal the planning. Trump and some expert have discussed to strip "sovereign immunity" of China. However, legal expert says it would not be easy to put back China even pass the congressional legislation which is extremely difficult for accomplishing and secondly, senior officer advice to Trump to cancel the debt obtain to China or to pay back $1200 billion amount with no interest and to consider levy extreme. Lastly, Trumps thinks about to increase one trillion-dollar tariff on Chinese imports due to damage to US cost. Similarly, coronavirus has killed 106000 Americans with loss of 28 million jobs. However, companies, corporation, oil companies became bankrupt and lost more than $700 billion since the outbreak of COVID-19 that would never easy to let the US boast up the economy after any solution about the virus.
China modernized maritime PLA Navy for the context of the new war. Moreover, this whole region relies on primary of American military presence on different offshores of countries to contain any immediate response from China and allies after intensifying the naval gape would lead the geopolitical competition US commentators towards south Asia. Last three weeks before Washington post published the secret report of CIA "The war with China would lead the major disastrous for the USA" And major superpowers would lead the US capital losses. Therefore, all bases of US in Indo-pacific command region would be at risk, especially US territory Guan might be the first concern. The primary issue of both superpowers on Taiwan Strait land. After pandemic ravaged in the world. Furthermore, the escalation was erupted last month to push back on the major war that would erupt a nuclear war. After publishing the report, the vast difference had been seen between Trump administration and US establishment.
On the other hand, Trump claims super-duper missiles. Moreover, the US wants to test nuclear bomb to deterrence against China. Besides, China is acknowledged throughout the world on economic hegemony. Lastly, after the end of pandemic US will lose her hegemony from the Middle East, South Asia because US pullout all forces from NATO on any stage in recent future, so Trump already withdraw from WHO. Moreover, Black African American George Floyd murder took a new great agitation against white supremacy. However, all about that weaken and isolate the US from rest of world which is beginning of the downfall of the US that could be enduring so on China will take a better position to change new world order on an economic basis.
Post pandemic: US, China and their deteriorating relationship
In the aftermath of the coronavirus pandemic, there has been an increasing clamor, for reducing imports, especially of essential commodities from China, and for exploring new supply chains.
The US has proposed an 'Economic Prosperity Network' consisting of US, India, Vietnam, Australia, New Zealand, Japan, South Korea. US Secretary of State, Mike Pompeo while speaking to the media, reiterated the need for greater cooperation between these countries for pushing forward the global economy, in a post corona world, and also to change existing supply chains.
Similarly, a number of members of the CPTPP (Comprehensive Partnership Trans Pacific Partnership), especially Japan, Singapore and Australia, worked closely, to keep supply chains intact in the midst of covid19 (Japan has also been seeking to expand the CPTPP with the aim of alternative supply chains).
Reducing dependence upon Chinese technologies
Apart from supply chains of essential commodities, steps are being taken to create an alternative to Chinese technologies. UK has recently proposed, that 10 countries work together to counter China's technologies – especially 5G. This network, Britain has proposed, should include G7 countries (United States, Italy, Germany, United Kingdom, Japan, Canada, France) + South Korea, India and New Zealand. US President Trump further stated, that G7should be expanded to include India, South Korea, Russia, New Zealand.
Resumption of International travel
While there have been numerous discussions on shifting supply chains from China, another challenge posed by the pandemic is likely to be the resumption of international travel. Interestingly, the US has international flights with China from June 16, 2020. This is in line with the US President's aggressive stance vis-à-vis China. The reason cited for the US President's decision was China's refusal to allow US carriers to fly to China (American companies on the other hand have been lobbying for the resumption of flights). China was then compelled to take back on its decision of US airlines.
China has recently allowed business executives to fly in from Germany and South Korea (China and South Korea have also signed a fast track arrangement to reduce the quarantine period for executives travelling).
Domestic flights within Asia
A number of countries in Asia, including Vietnam and India have opened domestic travel (the latter is likely to resume international flights from June 9 to US and Canada). Vietnam had resumed domestic travel after the easing out of social distancing measures, (since then over 500,000 domestic passengers have flown). The ASEAN nation began by opening out five tourist destinations. India resumed domestic Air travel on May 25, 2020 and between then and June 1, 2020 over 4,000 flights have been operated.
Japan seeking to revive air travel
Apart from China, one more country which is working towards resuming air connectivity with other countries is Japan (restrictions will remain in place for some time for US, China and South Korea). The countries, with which Japan is exploring the possibility of air travel are; Australia, Vietnam, New Zealand and Thailand. Japan shares close economic linkages with Australia, Vietnam and Thailand(over 1500 Japanese companies operate in the two ASEAN nations, while Japan is dependent upon Australia for farm products). Japan also receives a large number of tourists from these countries. The East Asian nation is focusing on resuming air connectivity with the above countries for kickstarting the economy, but it is likely to do so in a phased manner; international flights will begin first for business men, then students and finally tourists.
Countries like China, India, Japan, Thailand and Vietnam are looking to revive economic activity and air connectivity, both domestic and international, is essential for the same. It is important, not just to resume air connectivity, but also to learn best practices with regard to precautions.
While all the above steps are welcome, the real challenge for governments, globally, is likely to be in the months of August and September 2020, when students from different parts of the world, need to travel to the west (especially, US, UK and Canada) for pursuing higher education.
Conclusion
The efforts of Japan, New Zealand, Vietnam and Australia yet again reiterate the point, that while all eyes have been on the US and China and their deteriorating relationship, a number of countries have been seeking ways to foster cooperation, not just in dealing with the pandemic, but also for giving a boost to economic ties, and resuming air connectivity.
Exposure of Ulterior Motives Behind Stigmatization of China with COVID-19
As the COVID-19 outbreak continues to rage across the US, the American people are complaining about the White House's "lack of action" in the critical period of pandemic prevention and control, to which, however, Pompeo and his fellow politicians have kept finding excuses for themselves.
To be fair, these politicians have truly had a full plate since the outbreak, although on their plate is not how to control the pandemic at home, but how to make trouble for other countries.
When China, the country first hit by the virus, was busy containing its spread, the US politicians tried to stick their nose into China's Xinjiang, Taiwan, and Hong Kong and brazenly interfered in the internal affairs of the country by passing the so-called "acts". On the other hand, they put out a number of ludicrous assumptions like "China made the virus" and "China covered up its pandemic situation", in an attempt to stigmatize China in the international community and corner it to a moral predicament. Washington leaves no stone unturned when it comes to the use of these ugly tricks.
This isn't the first time that politicians like Pompeo are trying to loot a burning house – they always jump at the first sign of sniffing such an opportunity. They rolled out sanctions against Iran during its domestic turbulence; they tried to have it both ways when Qatar was on bad terms with countries like Saudi Arabia; and they, on the pretext of "democracy and human rights", blatantly backed radical and violent criminals in Hong Kong during the riot and unrest caused by the expatriation law amendment bill.
If we go into their ploys seriously, Pompeo and his like are not only professional looters of burning houses, and they set the fire themselves! They first set the house on fire and flame it up, then loot it while occasionally making a gesture of putting out the fire. They are so good at playing "good cop and bad cop" games and busy putting on their farcical performances.
Just take a look at what the US has done in the Middle East. The wars it waged against Iraq and Afghanistan left the two countries in lasting turmoil; the Arab Spring it much-trumpeted left Egypt and Syria in prolonged instability; and its instigation and flame-fueling have led to the growing escalation of Palestine-Israel conflicts, in which the US had sowed seeds.
Yet certain American politicians have the nerve to reap geopolitical gains where they set fire in the first place. Pompeo and his like even posed as saviors or angels claiming to have brought peace to those areas they left in ruins.
How ridiculous and shameful they are! These politicians are accustomed to being cops in name but thieves in nature, calling "stop thief" on the one hand while being that thief on the other. They beautify hegemony as justice and dress up rumor-mongering as freedom of speech.
Pompeo and his like are doomed to a pathetic end. As an old Chinese saying goes, good and evil will meet their karma one day or another, which has been verified on Pompeo and his like over and over again. In the Middle East, for instance, America's credibility has been irreversibly destroyed no matter how hard Pompeo and his like are trying to bloat their bubble.
The COVID-19 outbreak wouldn't and shouldn't have spread so fast and widely across the US had Pompeo and his like devoted a tiny part of their energy and time into what they should have done. The chaotic disaster of Washington's epidemic control has made millions of Americans suffer, and a growing number of the righteous people are voicing their questions and protests. In contrast, the US media has named Pompeo one of the worst Secretaries of State ever in American history.
Turning a blind eye to the chaos and loss of lives at home, Mike Pompeo and his like, adamant on making trouble for the world, have kept disrupting international cooperation and undermining peace undertakings. They have become the common enemy of world peace and are doomed for a pathetic end. The burning house looters will eventually get burned themselves.