Renaissance Hotels Debuts in Mexico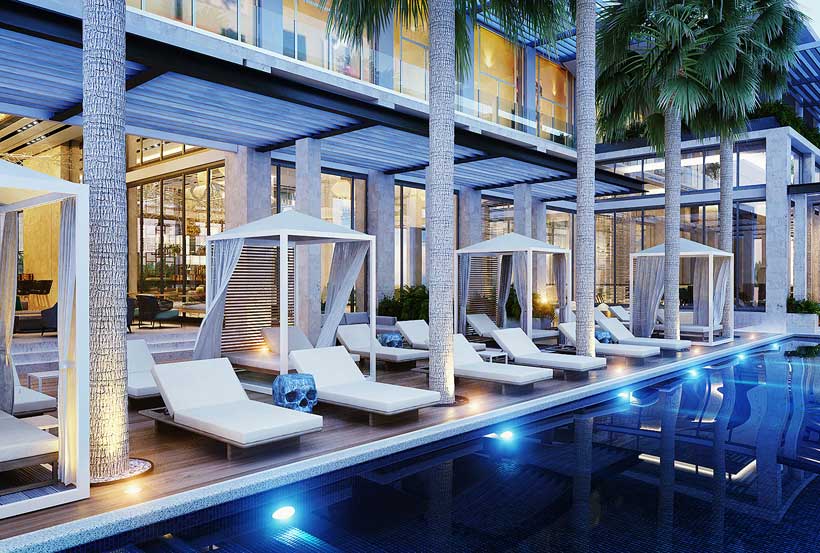 Renaissance Hotels today announced the opening of Renaissance Cancún Resort & Marina, the brand's first hotel to open in Mexico. The anticipated resort anchors the new marina in Puerto Cancún and connects travellers to both the local spirit of the neighbourhood and the destination's pristine beaches, just minutes away. Through its surprising design, entertaining evening bar rituals and engaging Navigator, the 180-room lifestyle resort is poised to anchor Puerto Cancún – home to a professional golf course designed by Tom Weiskopf, residential areas, a shopping centre with restaurants, movie theatres, and the largest marina in the area.
"We have been on a journey to evolve our hotels' design to reflect what the Renaissance brand offers today: a sense of clever theatricality and an open invitation to experience something a little unexpected during our guests' travels," said George Fleck, Vice President of Global Brand Marketing & Management, Renaissance Hotels.  "We are  thrilled to celebrate Renaissance Cancún Resort & Marina and its spontaneous high-low design that embraces the DNA of the locale and gives guests a new sense of the destination."
Led by Estudio Lemus Arquitectos in conjunction with Idea Asociados, the hotel's design takes a decidedly distinct approach to Mayan mythology, inspired by the journey a soul takes after death through the cenotes to reach the mystical underworld of Xibalbá.  Renaissance Cancún Resort & Marina thrives from stark contrasts created through materiality, different textures and a dynamic color palette – a showcase of the brand's refined design strategy, which reflects what the Renaissance brand offers today: a sense of clever theatricality and an open invitation to experience something a little different both inside and out of the hotel.
Renaissance Cancún Resort & Marina encourages travellers to discover the hidden gems that gives its neighborhoods soul through its whimsical design.  Upon arrival, guests are greeted with sweeping views of the Caribbean Sea anchored by a deconstructed wooden sculpture representing the sacred Mayan tree (ceiba). Metal wire sculptures resembling mollusks contrast the natural, wood stones and polished ceramics throughout the lobby.   From underground art created by local urban artists to an engaging pool table and reading nook in the public spaces, the hotel's interior design reframes the historic fabric of the destination with a modern energy – extending from the lobby to the guest rooms. The hotel boasts 180 guestrooms, including 11 suites, all with ocean, marina or golf course views – inspiring a sense of spontaneous discovery at every turn.
"Just as the Mayan underworld is a universe worth discovering, Renaissance Cancún Resort & Marina is a space full of stories waiting to be told," said Karina Zuñiga, General Manager.  "Stories that will awake the explorer within us, when we allow ourselves to be inspired by the unexpected."
Music as a means to stir the soul is a theme carried through the hotel's social spaces, artwork and atmosphere. Zek Bar sits center stage with a designed-DJ table beckoning travellers through the lobby and to the terrace. Savour the very best of local cuisine at Káajal Restaurant or linger for a coffee at Nüup Deli Café.  For a taste of Baja Califonia visit Merotoro and enjoy a simple yet sophisticated menu curated by Chef Jaír Téllez. Business meetings turn into ultimate moments of inspiration, whether gathering in one of the meeting rooms, the more intimate boardroom, or hosting a magnificent event on the terrace overlooking the ocean.
Distinctly local, personalized service is brought to life through the hotel's engaging Navigators, the Renaissance brand's ambassadors who connect travelers to the locale and help guests discover the neighborhood's handpicked local discoveries, including discovering Isla Mujeres or scuba diving at the Underwater museum with a private tour from the hotel's marina; enjoying a relaxed yet energetic atmosphere with Chef Jaír Téllez, just steps away from the hotel or finding Chef Tiago Aceituno's home and experiencing his farm-to-table cuisine at Mostaza.
Conveniently located 10 minutes from the city and 25 minutes from Cancun International Airport, the new Renaissance Cancún Resort & Marina is located in Puerto Cancún, an exclusive and gated community at the beginning of the hotel zone, and only steps away from the beach.  Opening rates begin at $250 per night.
Hyatt Announces Plans for its First Hotel in Cyprus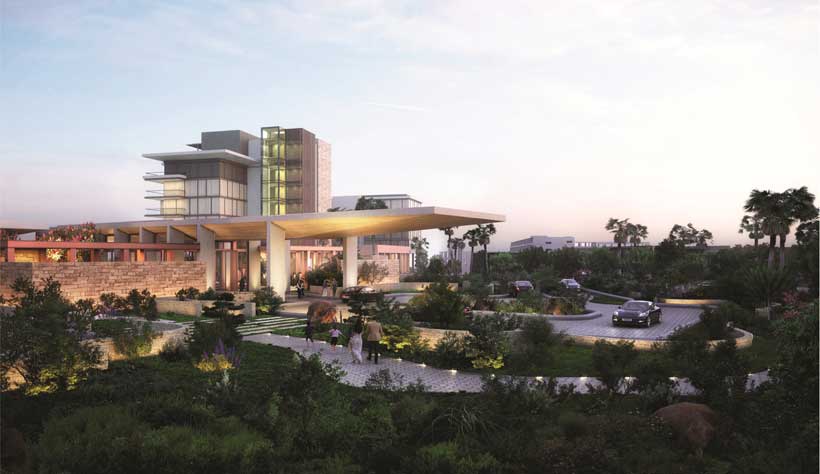 Hyatt Hotels Corporation announced today that a Hyatt affiliate has entered into a management agreement with Anolia Holdings Limited for the first Hyatt hotel on the island of Cyprus, Grand Hyatt Limassol. The 300-room luxury resort is expected to open in 2025 and signifies Hyatt's continued growth into Europe's leading travel destinations.
The new-build beachfront resort will be situated at a Blue Flag beach east of Limassol, one of the island's most cosmopolitan cities. With a prime beachfront location on the southern coast of the island and 300 bold, light-filled rooms offering sea views, Grand Hyatt Limassol will be a captivating destination within a destination featuring a stunning 43,000-square-foot (4,000 square meter) beach club including premium spa and fitness facilities as well as an indoor pool and two outdoor pools. The resort will additionally offer five elevated food and beverage concepts as well as 15,000 square feet (1,400 square meters) of event space. Furthermore, Grand Hyatt Limassol will be a key element of Zaria Resort, a mixed-use luxury development, comprised of residential apartments and private villas totaling more than 861,100 square feet (80,000 square meters).
"We're delighted to work with Anolia Holdings Limited to bring the Grand Hyatt brand, known for its access to iconic locales, to the island of Cyprus, one of the most popular tourist destinations in Europe," said Takuya Aoyama, vice president development for Europe and Africa, Hyatt. "Grand Hyatt Limassol represents a key element of our growth strategy in Europe as we continue to seek opportunities to extend our resort footprint in the Mediterranean."
Only a 30-minute drive from Larnaca International Airport, the hotel will bring with it the exceptional brand of luxury and vibrant design that the Grand Hyatt brand delivers to guests worldwide. Arriving guests will drive past the lush greenery of the hotel's 150,000-square-foot (14,000-square-meter) public garden and promenades and enjoy a spectacular view of the Mediterranean. The resort promises to be a celebration of all the exquisite details of Cypriot culture, offering guests a stay beyond the ordinary through magnificent moments of more and superior service.
"We are thrilled to team-up with Hyatt on this development," said Alexander Iakovlev, director of Anolia Holdings "The Grand Hyatt brand is synonymous with luxury and creating unique experiences for guests which remain authentic to the destination itself. In addition, given Limassol's status as a financial capital of Cyprus, the hotel will not only attract leisure guests but may also prove popular for business travelers, conference-goers and event attendees. We are eager to see Grand Hyatt Limassol become the heart of the Zaria Resort development."
The announcement of Grand Hyatt Limassol follows a significant expansion in Hyatt's brand footprint in Europe over the last 12 months. Nine new hotels including Great Scotland Yard, Hyatt Centric Dublin, Andaz Vienna Am Belvedere, Hyatt Regency Chantilly and more opened in the region in 2019, with four more additions in Barcelona, Manchester and Frankfurt this year. These plans for a hotel in Cyprus represent a key opportunity in Europe as it builds upon Hyatt's existing and upcoming portfolio in Malta, Athens Thessaloniki and Izmir. The island has furthermore proven to attract travelers from Hyatt's key strategic markets including the UK, Russia, Greece, Germany and the Middle East.
Expansive Gaylord Hotels Re-Open Marking a Positive Return for the Hospitality Industry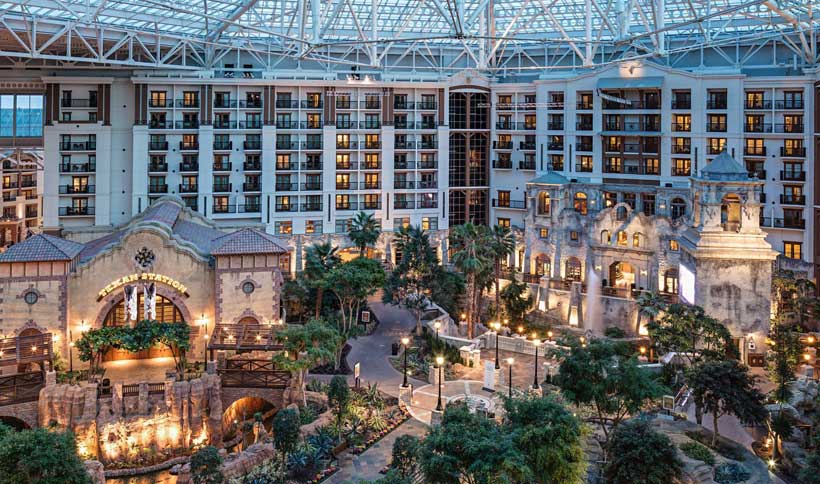 Today marks a significant milestone in the return to business of the U.S. hotel industry, as three sprawling resorts reopen their doors. Ready to welcome back travelers this summer, Gaylord Rockies in Colorado, Gaylord Palms in Florida and Gaylord Opryland in Tennessee join the recently opened Gaylord Texan to offer four hotel and entertainment destinations that provide a multitude of experiences within acres of indoor space as well as outdoor pool play. Diverse summer programming includes family-friendly activities and live entertainment for all ages while socially distanced; the hallmarks of what consumers need from a summer escape in today's travel environment.
In accordance with Marriott's "Commitment to Clean" protocols, the resorts will provide enhanced cleaning technology, hospital-grade disinfectants, attendants dedicated to sanitizing frequently throughout the day, new social distancing protocols, and hundreds of new cleaning processes to take care of guests while they enjoy the resorts' amenities. Additionally, the Gaylord Hotels ownership group, Ryman Hospitality Properties, Inc. selected Vanderbilt University Medical Center, a leader in medical research, as its official wellness advisor. These combined efforts will further support the multi-phased health and sanitation plans, procedures, and employee training.
Frequent guests of Gaylord Hotels also know the brand to have phenomenal convention and meeting space. As the meetings industry focuses on the right way back to business, Gaylord Hotels have taken the opportunity to introduce new processes that will help meeting planners understand and navigate what business gatherings could look like in the months ahead. Each property has 400,000 square feet or more of meeting space, and as events reschedule, the hotels are working with groups to embrace and incorporate new technology such as live streamingand contactless options. Marriott's Meeting Services App allows meeting planners to request meeting room adjustments like temperature, set up and audio visual services, as well as review billing, and Marriott Bonvoy Members can access Mobile Check-In via the Marriott Bonvoy app. Gaylord Hotels' new meeting and event protocols include changes to banquet guidelines and meeting space. Banquet food and beverage standard updates include the elimination of self-service buffets and reduced seating at dining tables from 10 persons to six. Meeting space guideline changes include reduced capacity, adding chair space for theater style set ups, and additional sanitization of all meeting room touch points, hard services and chairs.
"The reopening of the Gaylord Hotels marks a key moment for the industry. These remarkable hotels have customized programming for guests, plenty of space and are innovating with technology appropriate for the times," said Mike Stengel, Senior Vice President of Gaylord Hotels at Marriott International.
Providing "everything in one place" for visitors, Gaylord Hotels are delivering re-imagined summer experiences and amenities to meet the demand of drive-market leisure travelers. Highlights of these summer offerings include:
Gaylord Rockies – Aurora, CO
Visitors will experience a summer escape full of adventure, from a Colorado Explorer Scavenger Hunt where children and adults alike become real-life explorers, to the Grand Lodge featuring a winding walkway, tranquil lake and bubbling rapids. The resort's water experience, Arapahoe Springs, features indoor and outdoor pools, three waterslides, and a 720-foot long lazy river.
Gaylord Palms – Kissimmee, FL
Guests can relax and soak up the Florida sun at Cypress Springs Water Park featuring a zero-entry swimming pool, multi-level water playground, racing slides, drop slide and FlowRider® surf simulator. In addition to spaced pool seating, guests can rent private cabanas that include shaded seating, flat-screen televisions, refrigerators and snacks. Premium guaranteed pool seating will also be available for purchase.
Gaylord Opryland – Nashville, TN
Visitors of the "Music City" resort will be entertained by live musical performances, fountain and light shows, indoor flatboat rides, garden tours, scavenger hunts, and golf at Gaylord Springs Golf Links. Guests can also book packages that include access into SoundWaves™ Water Attraction, a 4-acre upscale indoor/outdoor resort water attraction featuring a wave pool with 37-foot video screen, double FlowRider® surf stimulator, multi-level play structures, lazy rivers, multiple winding waterslides and adults-only exclusive pools and bars.
Gaylord Texan – Grapevine, TX
Guests can splash into Texas-size fun at Paradise Springs, a 10-acre outdoor pool complex offering a 600-foot long lazy river, 6,000-square-foot family lagoon, multi-level water playground, zip-lining, multiple winding waterslides, and plush private cabanas for rent. Summer activities include canvas painting, morning yoga, live music performances, scavenger hunts and more.
In addition to the family-friendly events and outdoor pools, each of the four reopened Gaylord Hotels provide acres of airy indoor atriums under soaring glass ceilings, kept at a comfortable 72 degrees, where visitors can roam, play, and discover lush gardens and waterfalls – all while supporting social distancing protocols.
The Ritz-Carlton, Nikko Opens its Doors Amidst a UNESCO World Heritage Site in Japan
The Ritz-Carlton Hotel Company, L.L.C today announced the opening of the latest hotel to join its luxury Asia Pacific portfolio, The Ritz-Carlton, Nikko. The property – set amidst a UNESCO World Heritage Site – introduces a new level of luxury to the destination, with an experience marked by an emphasis on immersing oneself in the majestic natural surroundings.
Ideally located in the Northern Kanto region of Japan, The Ritz-Carlton, Nikko is set two and a half hours north of Tokyo, accessible by rail or car, and is a true oasis promising access to a breadth of outdoor activities and cultural experiences. It features many natural treasures including the Kegon Falls and an array of famous Buddhist temples and Shinto shrines. Nikko, and the surrounding area, has long been known as a holy place and was named a UNESCO World Heritage Site for the cultural, religious, and architectural significance of its richly decorated shrines and temples. Perched along Lake Chuzenji and Mount Nantai, guests can easily access prominent scenic attractions, such as Nikko National Park, where the hotel is located, as well as the UNESCO World Heritage designated area.
"Following much anticipation surrounding its debut, we are thrilled to finally open the doors to The Ritz-Carlton, Nikko and to continue the growth of the luxury segment in Japan," said Rajeev Menon, President Asia Pacific (excluding Greater China), Marriott International. "Today marks an extremely monumental day for our brand and the entire company as we set the bar in luxury travel, embracing the new normal, while consistently instilling confidence in travel amongst all of our guests."
Taking cues from its picturesque surroundings, the hotel articulates graceful Japanese design through a modern lens to bring the natural beauty of Nikko indoors. Earthy materials such as woods and stones permeate the property and are enhanced by streaming natural light. The hotel's 94 spacious guest rooms and suites all feature a private balcony that flows seamlessly with an engawa lounge area, offering an expanded space for guests to take in the striking scenery surrounding the hotel.
Though nature takes center stage at The Ritz-Carlton, Nikko, Japanese tradition and craftsmanship guide the property's four distinct dining experiences: The Japanese Restaurant offers all-day dining and showcases the vibrant elements of Japanese cuisine; Lakehouse uses fresh, local ingredients to create imaginative Western dishes in a tranquil setting; The Bar, is a sophisticated haven of relaxation where local ingredients are highlighted in original cocktails celebrating the culture, nature and spirituality of the ancient city; and The Lobby Lounge is the ideal place to unwind, where visitors can enjoy light bites and Afternoon Tea overlooking a picturesque garden. Ingredients from local purveyors find their way onto plates and into glasses, with every dish and drink a reflection of the culture's appreciation for beauty and design. This acknowledgement is further showcased by exclusively crafted pottery by the well-established Mashiko pottery artists, GENDO, or by traditional wood carving motifs created by the first female wood carving artists in the 400-year history of the shrines and temples.
An urban sanctuary of wellness, the Spa at The Ritz-Carlton, Nikko showcases treatments inspired by the abundance of natural revitalizing elements and the rich heritage of the Nikko region within four specialized treatment rooms. The hotel is the first Ritz-Carlton property to feature an authentic hot-springs experience in the Japanese onsen tradition. Guests are invited to enjoy the spacious indoor and open-air hot spring baths, where therapeutic thermal waters drawn from the springs of nearby Yumoto Onsen will rejuvenate their body and mind. The onsen experience promises the ultimate holistic journey, with a secluded tension-melting soak before any of the supremely relaxing and personalized treatments.
Guests of The Ritz-Carlton, Nikko will feel embraced by the traditions and practices of the local culture and surrounding natural environment, and enjoy the highly tailored and authentic service for which the brand is known. Further enhancing the hotel's meditative and spiritual setting, guests are invited to participate in a nightly meditation. Every day at dusk, the lobby area will be transformed into a place of spiritual respite, offering a moment to reset and appreciate the day that has passed. Upon departure, guests will receive a sacred omamori (Japanese amulet), their own keepsake memento and a wish for safe travel.
Taking full advantage of its location within Nikko National Park, a destination revered for its scenic beauty as well as the splendid architecture of its UNESCO-designated Shinto shrines and Buddhist temples, the hotel offers a wide selection of activities that showcase the unique offerings of its highland setting. Visitors can choose from a collection of unforgettable excursions ranging from cycling through protected wetlands, to strolling through the precincts of centuries-old sanctuaries, meditating under waterfalls, ascending their frozen cascades in winter, and more. Entwined with local culture, the hotel also offers guests the opportunity to master the Japanese skill of furoshiki wrapping, witness a mystical temple fire ceremony or enjoy the sounds of drums and Japanese flute music at a sacred ritual ceremonial dance. Spanning nature, culture, spirituality, and Ritz-Kids programming categories, there is something for curious explorers, thrill-seekers and everyone in between.
"We are thrilled to be able to offer an elevated level of luxury and the first of its kind to be located in the sublime mountain region of Nikko," said Jennie Toh, Vice President, Brand, Asia Pacific, Marriott International. "Our Ladies and Gentlemen at The Ritz-Carlton, Nikko are looking forward to welcoming guests and providing enriching, authentic experiences that truly embrace the local culture and destination."