Renaissance Hotels Debuts in Mexico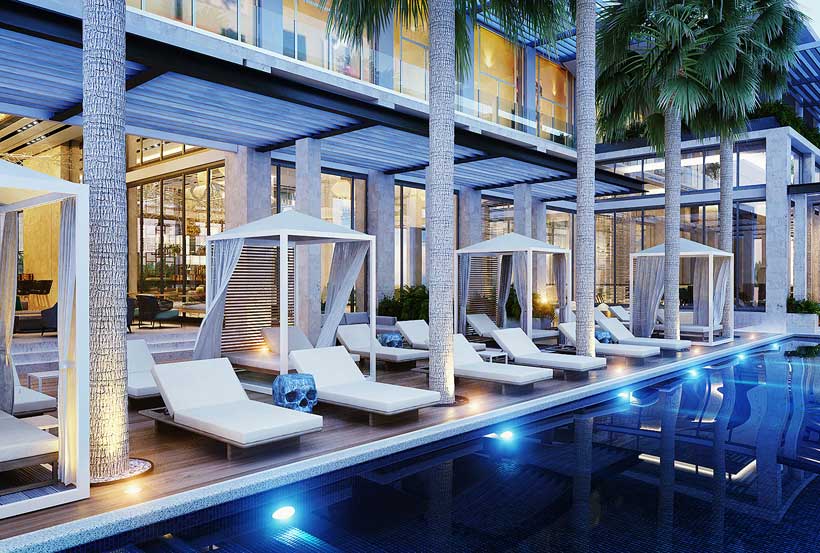 Renaissance Hotels today announced the opening of Renaissance Cancún Resort & Marina, the brand's first hotel to open in Mexico. The anticipated resort anchors the new marina in Puerto Cancún and connects travellers to both the local spirit of the neighbourhood and the destination's pristine beaches, just minutes away. Through its surprising design, entertaining evening bar rituals and engaging Navigator, the 180-room lifestyle resort is poised to anchor Puerto Cancún – home to a professional golf course designed by Tom Weiskopf, residential areas, a shopping centre with restaurants, movie theatres, and the largest marina in the area.
"We have been on a journey to evolve our hotels' design to reflect what the Renaissance brand offers today: a sense of clever theatricality and an open invitation to experience something a little unexpected during our guests' travels," said George Fleck, Vice President of Global Brand Marketing & Management, Renaissance Hotels.  "We are  thrilled to celebrate Renaissance Cancún Resort & Marina and its spontaneous high-low design that embraces the DNA of the locale and gives guests a new sense of the destination."
Led by Estudio Lemus Arquitectos in conjunction with Idea Asociados, the hotel's design takes a decidedly distinct approach to Mayan mythology, inspired by the journey a soul takes after death through the cenotes to reach the mystical underworld of Xibalbá.  Renaissance Cancún Resort & Marina thrives from stark contrasts created through materiality, different textures and a dynamic color palette – a showcase of the brand's refined design strategy, which reflects what the Renaissance brand offers today: a sense of clever theatricality and an open invitation to experience something a little different both inside and out of the hotel.
Renaissance Cancún Resort & Marina encourages travellers to discover the hidden gems that gives its neighborhoods soul through its whimsical design.  Upon arrival, guests are greeted with sweeping views of the Caribbean Sea anchored by a deconstructed wooden sculpture representing the sacred Mayan tree (ceiba). Metal wire sculptures resembling mollusks contrast the natural, wood stones and polished ceramics throughout the lobby.   From underground art created by local urban artists to an engaging pool table and reading nook in the public spaces, the hotel's interior design reframes the historic fabric of the destination with a modern energy – extending from the lobby to the guest rooms. The hotel boasts 180 guestrooms, including 11 suites, all with ocean, marina or golf course views – inspiring a sense of spontaneous discovery at every turn.
"Just as the Mayan underworld is a universe worth discovering, Renaissance Cancún Resort & Marina is a space full of stories waiting to be told," said Karina Zuñiga, General Manager.  "Stories that will awake the explorer within us, when we allow ourselves to be inspired by the unexpected."
Music as a means to stir the soul is a theme carried through the hotel's social spaces, artwork and atmosphere. Zek Bar sits center stage with a designed-DJ table beckoning travellers through the lobby and to the terrace. Savour the very best of local cuisine at Káajal Restaurant or linger for a coffee at Nüup Deli Café.  For a taste of Baja Califonia visit Merotoro and enjoy a simple yet sophisticated menu curated by Chef Jaír Téllez. Business meetings turn into ultimate moments of inspiration, whether gathering in one of the meeting rooms, the more intimate boardroom, or hosting a magnificent event on the terrace overlooking the ocean.
Distinctly local, personalized service is brought to life through the hotel's engaging Navigators, the Renaissance brand's ambassadors who connect travelers to the locale and help guests discover the neighborhood's handpicked local discoveries, including discovering Isla Mujeres or scuba diving at the Underwater museum with a private tour from the hotel's marina; enjoying a relaxed yet energetic atmosphere with Chef Jaír Téllez, just steps away from the hotel or finding Chef Tiago Aceituno's home and experiencing his farm-to-table cuisine at Mostaza.
Conveniently located 10 minutes from the city and 25 minutes from Cancun International Airport, the new Renaissance Cancún Resort & Marina is located in Puerto Cancún, an exclusive and gated community at the beginning of the hotel zone, and only steps away from the beach.  Opening rates begin at $250 per night.
Hilton Named Official Hotel Partner of the Chicago Theatre
Hilton and The Madison Square Garden Company (NYSE: MSG) are pleased to announce that Hilton has been named the official hotel partner of The Chicago Theatre. The iconic theater is located near several Hilton properties, including: The Palmer House, a Hilton Hotel; LondonHouse Chicago, Curio Collection by Hilton; and theWit Chicago – a DoubleTree by Hilton Hotel.
Located in the heart of the Loop's theatre district, The Chicago Theatre is a historic landmark that opened in 1921 as a lavish movie palace. The venue now hosts more than 150 events each year and is the fifth highest grossing venue of its size in the world, according to Billboard's 2018 year-end charts. The approximately 3,600-seat auditorium is seven stories high and more than one-half of a city block wide. The vertical sign, "C-H-I-C-A-G-O," at nearly six stories high, is a symbol of State Street and Chicago.
"Our partnership with The Chicago Theatre further reinforces our commitment to the city's dynamic tourism industry and the importance of partnering with established local attractions and brands to showcase Chicago's culturally rich experiences," said Andrew Flack, vice president, regional marketing & eCommerce Americas. "Partnerships that support the local arts and theatre community help our guests connect to the destination even more to gain a better understanding of the city's past, present and future."
"We are thrilled to welcome Hilton as the Official Hotel Partner of The Chicago Theatre," said Darren Pfeffer, executive vice president, Live, The Madison Square Garden Company. "The Chicago Theatre is a destination for live events, attracting audiences and artists from around the world. We look forward to working with Hilton, a partner that shares our commitment to delivering world-class hospitality and an unparalleled customer experience to guests."
As the official hotel partner of The Chicago Theatre, Hilton Honors rewards members enjoy access to exclusive benefits at The Chicago Theatre.
Across the city, visitors planning a Chicago getaway can choose from Hilton's 98 hotels, ranging from iconic properties such as The Drake, a Hilton Hotel and Hilton Chicago to boutique-style hotels like LondonHouse Chicago, Curio Collection by Hilton and theWit Chicago – a DoubleTree by Hilton Hotel to new Hilton hotels such as the Home2 Suites by Hilton Chicago River North or the family-friendly DoubleTree by Hilton Hotel Chicago – Magnificent Mile, home to the city's first Five Feet to Fitness™ rooms.
Nearby guests can also plan a staycation and enjoy the show with a weekend getaway with Hilton's "Park and Stay Package," available at participating hotels, which includes complimentary parking with a confirmed reservation.
The Luxury Collection Makes A Landmark Debut In Qatar
The Luxury Collection today announced the opening of Al Messila, A Luxury Collection Resort & Spa in Doha, marking the debut of the brand in Qatar. Only 25 minutes from Hamad International Airport and 15 minutes from Doha's city centre, West Bay, Al Messila is an urban oasis designed to respect the area's natural surroundings. The 'private palace' setting is a celebration of a verdant retreat in the heart of the desert, offering attentive service infused with age-old Qatari hospitality. A cherished reflection of the local spirit, Al Messila is anchored by holistic wellness and epicurean journeys for each guest to embark on during their stay.
"Doha today is a world-class city with a burgeoning arts and culinary scene, rooted in tradition and a rich heritage," said Anthony Ingham, Global Brand Leader, The Luxury Collection. "We are delighted to welcome Al Messila Resort & Spa to The Luxury Collection's ensemble of hotels. True to our brand's mission and informed by Qatar's foresight and commitment to sustainability, Al Messila offers global explorers a palatial retreat in a lush haven, guiding our guests on transformative journeys that touch their spirits and enrich their lives."
A regal retreat in a historical oasis
With an expansive botanical backdrop in Doha's historic 'oasis' district, Al Messila is visually dramatic and equally inspiring. Guests arriving through the stately porte-cochere will be transported to their own private palace. Understated opulence hints at its 21st-century roots, where the three-story, light-filled lobby adjoins a lounge offering expansive views of the resort. Sculpted marble sits alongside mashrabiya, detailing original Arabic patterning with the contrast producing a warm and welcoming ambience, perfectly infusing modern design with Qatari accents.
The resort has 152 rooms and suites, including 30 premium Villas, each with their own pool, garden and personal butler service. Landscaped with native Mimosa and Acacia trees, alongside an abundance of vibrant flora and fauna, Al Messila is the ultimate oasis escape within a dynamic city.
Acclaimed dining and epicurean exploration
With eight unrivalled dining venues expertly overseen by Michelin Star Chef Pino Lavarra, Al Messila Resort & Spa offers an unrivalled international epicurean experience. Snøull features a Nordic gourmet experience inspired by friluftsliv, the Scandinavian philosophy of 'reconnecting with nature.' Dishes are crafted using naturally nourishing, raw and biodynamic produce. Veritas offers a refined Northern Italian menu inspired by seasonal ingredients. Caravanserai will serve hearty, comforting dishes that reinterpret the flavors of the Maghreb and Europe for a contemporary audience. Those seeking a spirited, convivial atmosphere can thrive in the down-to-earth Greek estiatorio, Siga-Siga, with its healthy menu of authentic mezze and fresh seafood. This is complemented by a signature Deli Kitchen where guests can shop, learn and enjoy under the same roof.
An original approach to wellness and family
The resort's comprehensive Al Messila Wellness facility is an extensive female-only facility with 26 treatment rooms and advanced hydro-thermal facilities. Al Messila hosts the region's largest wellness retreat of its kind, including three therapy pools and four hydro wellness 'Worlds' – Oriental, Mystic, Mineral and Floral – equipped with flotation tanks, cocoon beds, oxygen rooms, Kneipp walks, Hammams, salt rooms, and an elite range of exclusive treatment products and protocols.
Suitable for families, Al Messila also hosts the innovative Little Explorers' Club – the first 'edu-tainment' facility of its kind in Doha. This includes a gym with kids-fit equipment, a cinema, an educational play area, an outdoor playground with interactive water fountains, and a shaded outdoor pool with hot-dip trampolines.
The Park Hyatt Brand Celebrates Debut of Park Hyatt Kyoto
Hyatt Hotels Corporation announced today the opening of Park Hyatt Kyoto. Set in the heart of this noble city with centuries of history and heritage, Park Hyatt Kyoto unfolds a journey of discovery with enriching, sophisticated and rare experiences.
Park Hyatt Kyoto is located in one of the city's best-preserved historic districts, Higashiyama hills. The region, known as the birthplace of traditions such as the Japanese tea ceremony, the Ikebana flower arrangement and Japanese Zen gardens, will offer a rich foundation for the hotel. Park Hyatt Kyoto embodies the quintessential Japanese guesthouse, offering a serene Higashiyama hillside retreat for discerning global travelers and local residents. The hotel is next to Kodai-ji temple and within walking distance to many of Kyoto's UNESCO World Heritage sites, including Kiyomizu-dera temple, and offers sweeping views of the city and Yasaka Pagoda. Park Hyatt Kyoto is located less than one mile (1.5 kilometers) from the Kyoto train station, which connects travelers to Tokyo in just over two hours via the Nozomi Shinkansen bullet train.
"We are delighted to celebrate the opening of Park Hyatt Kyoto, the second Park Hyatt hotel in Japan in 25 years, and to offer guests a refined home-away-from-home in this remarkable city," said David Udell, group president, Asia Pacific, Hyatt. "We are grateful to the hotel's owners, Kyoyamato and Takenaka Corporation, for their trust, support and deep understanding of luxury hospitality. Park Hyatt Kyoto is a celebration of Japanese harmony and tranquility and we look forward to seeing guests immerse themselves in the city's inspiring heritage and culture."
Located within the same grounds as Park Hyatt Kyoto, guests can find a historic garden with steps leading to Kyoyamato, a traditional ryotei and culinary institution which opened in 1877 and serves authentic, seasonally inspired Kaiseki cuisine. Kyoyamato, one of the hotel's owners, is a seven-generation, family-run business and consists of several historic buildings including "Soyotei," a teahouse from the Edo era with a private room where feudal warlords once secretly met. Its storied gardens and traditional houses complement the hotel's modern interpretation of classical Japanese architecture and intimate hospitality.
"We are excited to introduce the Park Hyatt brand of personal and exceptional hospitality in a special place like Kyoto and look forward to unlocking the unique character of Japan's ancient capital of high arts and craft," said Mark de Leeuwerk, general manager, Park Hyatt Kyoto. "It has been a privilege for us to work closely with our neighbors in Higashiyama as well as the artisans and craftsmen of this beautiful city."
Concept and Design
Park Hyatt Kyoto is a modern interpretation of Japanese hospitality steeped in culture and place, immersing guests in nature. Jointly developed by Takenaka Corporation – one of the largest architecture, engineering, and construction firms in Japan, and Tony Chi and Associates, an award-winning interior design firm – the hotel's design and construction incorporates traditional Japanese design, architecture and artisanal craftsmanship. Several historic buildings including an Edo-era teahouse, as well as the Japanese garden that is central to the site, have been preserved and carefully restored.
Guestrooms
The low-rise hotel features 70 guest rooms, including nine suites, offering calm and respite from the bustle of Higashiyama's neighboring streets. The elegantly designed rooms and suites highlight local craftsmanship and materials such as fragrant Tamo wood, original artwork and Zen garden views.
Drinking and Dining
Park Hyatt Kyoto offers guests and visitors four distinct culinary venues:
Kyoto Bistro is a casual, street-side café featuring international and Japanese comfort food prepared with locally sourced and organic ingredients in a lively, open kitchen. All dishes are served on handmade earthenware exclusively created for the hotel by Asahiyaki, a local pottery master with a heritage of over 400 years in Uji, a city south of Kyoto.
Bathed in natural light during the day and the lingering scent of Tamo wood from the open fireplace, The Living Room welcomes guests to start their day with an authentic Japanese breakfast expertly prepared by Kyoyamato or an afternoon enjoying tea and light snacks.
Yasaka's team of skilled chefs demonstrate their elevated cooking skills on the Japanese "teppan," or "steel plate," which guests can enjoy alongside the breathtaking views of Kyoto's famous Yasaka Pagoda.
After the stimulating teppanyaki action at Yasaka, guests can head next door to Kohaku, where a fine collection of rare and craft spirits, including artisanal whiskey, sake, and gin made in Kyoto, awaits. The intimate bar exudes a warm, classic atmosphere with its dark woods and leather textures.
Events and Wedding
Park Hyatt Kyoto is positioned to be the city's premier location for unique, timeless, and crafted experiences inspired by the tradition and majesty surrounding the hotel and the city. Alongside views of a Tsuboniwa Japanese garden, the elegant ballroom offers 2,153 square feet (200 square meters) of event space and multi-functional meeting facilities, a show kitchen, foyer and the latest audio-visual system.
Wellness
A tranquil heaven, The Spa at Park Hyatt Kyoto, has a treatment suite for two with a private bath house including Japanese-style bathtubs, as well as dry and mist saunas. The signature treatment features an original signature oil developed by Kotoshina, a Kyoto-based organic skincare brand using locally harvested green tea. The spa and adjacent wellness center are open only to guests staying at the hotel.