Interview with Renzo Piano
Renzo Piano, winner of the 1998 Pritzker Prize and the 2002 UIA Gold Medal (among others), is one of the most prolific architects of our time, with an architectural repertoire that numbers over 50 landmark buildings spread right across the world. Today, he is perhaps best known for his iconic designs of the Georges Pompidou Centre (Paris, France) and The Shard (London, United Kingdom).
Born in 1937 to a family of builders in Genoa, Italy, Piano went on to found the Renzo Piano Building Workshop in 1980, which now has offices in Paris, Genoa and Berlin. He also established the Renzo Piano Foundation, a non-profit organisation dedicated to the promotion of the architectural profession through educational programs and activities.
But Piano, it seems, is far from slowing down: he recently volunteered his services to his hometown of Genoa, where he is designing a replacement for the Morandi Bridge, which tragically collapsed in August 2018.
The UIA Secretariat caught up with Mr. Piano just before the New Year to talk about the 1970 UIA-endorsed competition that marked a milestone in his early career: The Georges Pompidou Centre.
What attracted you to the competition for the Georges Pompidou Centre?
There was an idea in the competition brief that Richard [Rogers] and I found particularly interesting: the creation of a "house of culture". André Malraux, culture minister from 1959-1969, came up with the idea of establishing a "house of culture" in every French city; a place where the different disciplines could intertwine, from music to literature to art. We liked that idea.
The other thing about this competition was the chairman of the jury, Jean Prouvé: my idol! Prouvé served as a great example to me, not just because of his talent for designing buildings, but also because of the ethics of his architecture, manifest mostly in his work with Abbé Pierre. He was an icon!
How did you feel when you won the competition?
Imagine: you're 34-years-old, you've done a bit of work, but mostly small contracts, and somebody gives you the opportunity to build the Georges Pompidou Centre: How do you feel? Very surprised! We never expected to win – I mean, there were 681 entries!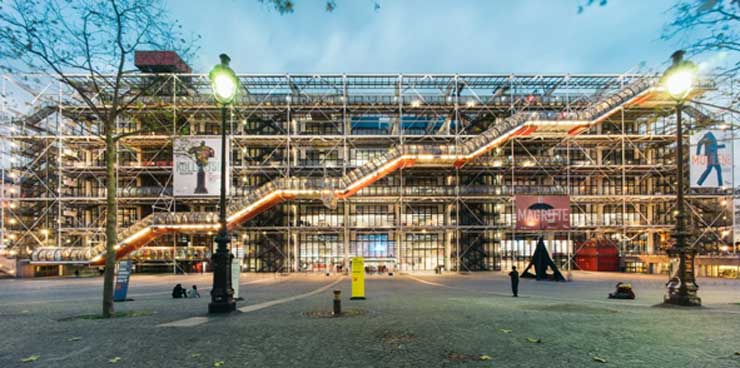 What impact did this competition have on your career?
It had a huge impact: it gave us self-confidence and the courage to fight for our ideas. When we won that competition, we were projected into a new dimension. Up until then, we were small fry! Then suddenly we found ourselves working with big construction companies, and those kinds of companies are always telling you "impossible, Mr. Piano, impossible"! But our experience with the Georges Pompidou Centre taught us how to defend our ideas and not to let them fade away under the pressure of opposition. Though, of course, you have to be careful; you have to be sure the idea you're defending is a good one! Once you're sure of that, you have to be prepared to put all your energy into upholding your idea, day after day.
What advice would you give an architect entering a design competition?
Firstly, I would encourage any young architect to enter competitions. I myself got about 80% of my work through competitions. Even the new Palais de Justice, in Paris, was a competition. Nobody asks you to design buildings like that without a competition process first.
Secondly, forget tactics. One of the reasons why Richard and I won the competition for the Georges Pompidou Centre was because we never thought we could actually win, so we had zero strategy with regards to the jury. We were just focused on finding the right idea for that revolutionary period after May 68. Don't waste your time trying to conform to what you think the jury is looking for, or you'll never find true inspiration. Just concentrate on digging deep inside yourself, brainstorming with your colleagues, and looking for the right idea. Then, only then, you might win!
District energy: A secret weapon for climate action and human health
If you're sweltering in Delhi or shivering in Detroit and want affordable, environmentally friendly cooling or heating, district energy may be your best bet.
A district energy system is a network of pipes that heat and cool buildings across a neighbourhood or entire city. Modern district energy systems connect renewables, waste heat, thermal storage, power grids, thermal grids and heat pumps—delivering up to 50 per cent less primary energy consumption for heating and cooling. Visionary cities and countries have been able to decarbonize heating and cooling and achieve high efficiency, renewable energy, and CO2 targets with modern district energy.
To replicate and scale up best practices worldwide, UN Environment launched the District Energy in Cities Initiative.
Consider just one of the District Energy in Cities Initiative's 36 cities, Banja Luka in Bosnia and Herzegovina. With the help of the Initiative and the European Bank for Reconstruction and Development, the city updated its 35-year-old network. These refits increased the share of renewables by 75 per cent, cut harmful air pollutants by 94 per cent and saved US$1 million a year in fuel costs.
Well-designed district energy systems don't just lessen climate change. They also bring benefits across the sustainable development agenda—improving human health by cutting air pollution, increasing access to affordable and clean energy, and creating green and decent jobs.
Similar benefits are being achieved across the District Energy Initiative's 14 countries.
From India to Chile
District cooling is accelerating across India. Amaravati, the new state capital of Andhra Pradesh, is the first of the Initiative's cities in India to receive investment from the Initiative's partner Tabreed on a district cooling project for public buildings. The Initiative is supporting Amaravati to go further, innovating new technologies and expanding the mandate beyond public buildings in line with the objective of Chief Minister of Andhra Pradesh N. Chandrababu Naidu, who recently stated at the city's annual Happy Cities Summit: "I want district cooling for all the buildings in Amaravati."
Meanwhile, Rajkot is the first Indian city to include district cooling in its Smart City Plan: the US$49 million project will save up to 50 per cent of CO2 and electricity, significantly reducing harmful refrigerants and peak demand by up to 30MW.
"We are working to make Rajkot a 'Climate Resilient City' and have already prepared an action plan and committed to reduce carbon emissions," says Bina Acharya, the city's mayor. "Rajkot's energy consumption inventory shows that electricity consumption in the building sector is highest due to cooling and lighting. Rajkot is now moving forward with district cooling to reduce energy consumption in the cooling sector."
Working with the Initiative, India has recently incorporated district energy into the Indian Cooling Action Plan as a priority technology to reduce the economic and environmental impact of the country's skyrocketing cooling demand.
Similarly, in Latin America, Chile has incorporated district energy under its National Heat Strategy and Presidential Plan to address air pollution. Recently, Chile's Ministry of Energy signed a collaboration agreement with the District Energy in Cities Initiative and the county's largest industry association to boost district energy.
"The importance of this agreement lies in bringing together public and private efforts," says Ricardo Irarrázabal, Undersecretary of Energy for Chile. "We are beginning a long-term relationship with a common goal, to have more efficient energy and to reduce pollution levels in the southern cities of our country. In this way, we are advancing more and more in the energy modernization of Chile."
A district heating project in the Chilean city of Coyhaique, led by the Regional Office of the Ministry of Environment with UN Environment, is part of an approach to cut air pollution. The regional government has set aside up to US$2.8 million for the construction and implementation of the first stages of the project.
These are all encouraging developments which show the potential to bring massive savings in energy use across the globe.
Heating, cooling and hot water mostly supplied by fossil fuels
Heating, cooling and hot water represent 60 per cent of energy demand in buildings, most of it supplied by fossil fuels. Cities contain over half the world's population, consume over two-thirds of the world's energy and account for more than 70 per cent of CO2 emissions.
Forward-looking cities are connecting district energy with efficient buildings, waste and renewables to create integrated urban systems and achieve resilience and circularity. This will be a topic of discussion at the Cities Summit during the 4th UN Environment Assembly.
About the District Energy in Cities Initiative
In 2016, during the Habitat III conference in Quito, Ecuador, 197 nations adopted the New Urban Agenda, which recognizes modern district energy systems as a key solution to integrate renewables and energy efficiency in cities. The District Energy in Cities Initiative is coordinated by UN Environment with financial support from the Danish International Development Agency (DANIDA), the Global Environment Facility, and the Italian Ministry of Environment and Protection of Land and Sea.
As one of six accelerators of the Sustainable Energy for All Energy Efficiency Accelerator Platform, the Initiative aims to double the rate of energy efficiency improvements for heating and cooling in buildings by 2030, helping countries meet their climate and sustainable development targets.
The Initiative supports local and national governments to build know-how and implement enabling policies that will accelerate investment in low-carbon and climate-resilient district energy systems. It currently provides technical support to 36 cities in four pilot countries (Chile, China, India and Serbia) and 10 replication countries (Argentina, Bosnia and Herzegovina, Colombia, Egypt, Malaysia, Mongolia, Morocco, Russia, the Seychelles and Tunisia).
Beijing air improvements provide model for other cities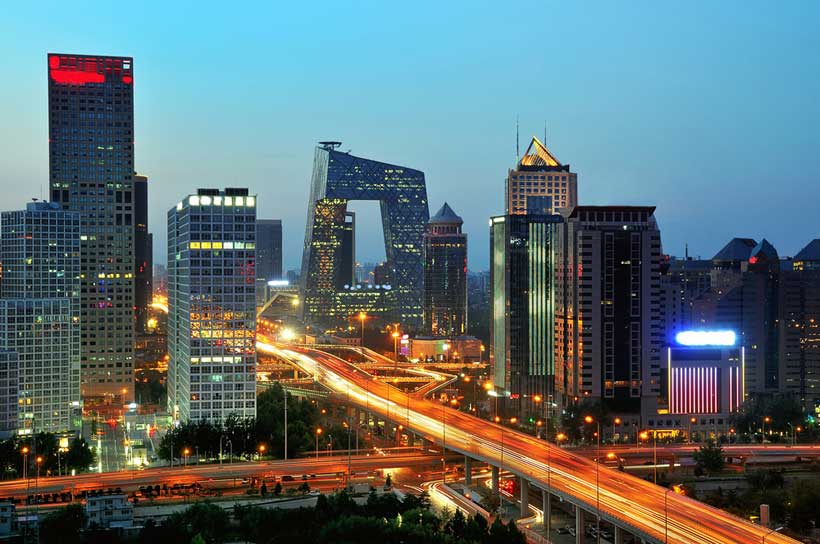 More than 20 years after Beijing began looking for ways to improve air quality in one of the largest and fastest growing cities in the developing world, its successful efforts provide a model for other cities to follow, according to a report released ahead of the UN Environment Assembly.
Research by UN Environment and the Beijing Municipal Ecology and Environment Bureau (BEE) outlines how Beijing's air quality management programme has evolved, and makes recommendations for near, medium, and long-term steps that Beijing can take to maintain its momentum toward clean air.
The report, A Review of 20 years' Air Pollution Control in Beijing, was compiled by a UN Environment-led team of international and Chinese experts over two years. It covers 1998 to the end of 2017.
"This improvement in air quality didn't happen by accident. It was the result of an enormous investment of time, resources and political will," said Joyce Msuya, Acting Executive Director of UN Environment. "Understanding Beijing's air pollution story is crucial for any nation, district or municipality that wishes to follow a similar path."
He Kebin, the principal author of the report and Dean of Tsinghua University's School of Environment, said Beijing progressed between 1998 to 2013, but that there were even more significant improvements under Beijing's Clean Air Action Plan 2013–2017.
In 1998, air pollution in Beijing was dominated by coal-combustion and motor vehicles. Major pollutants exceeded national limits. By 2013 levels had fallen and some pollutants, like carbon monoxide and sulfur dioxides, met national standards.
In 2013 Beijing adopted more systematic and intensive measures. By the end of 2017 fine particulate pollution (PM2.5) had fallen by 35 per cent and by 25 per cent in the surrounding Beijing-Tianjin-Hebei region. Much of this reduction came from measures to control coal-fired boilers, provide cleaner domestic fuels, and industrial restructuring.
Over this period, annual emissions of sulfur dioxide (SO2), nitrogen oxides (NOx), particulate matter (PM10) and volatile organic compounds in Beijing decreased by 83 per cent, 43 per cent, 55 per cent and 42 per cent respectively.
Beijing's air quality management system is supported by monitoring and evaluation, pollution source apportionment and emission inventories. It also contains comprehensive legal standards and strict environmental law enforcement. Air quality work is supported by economic policies, public participation, and coordination on air pollution prevention and control in the Beijing-Tianjin-Hebei region.
Mr. Yu Jianhua, Deputy Head of the Beijing Municipal Bureau of Ecology and Environment, said that while much has been achieved, more can be done.
"At present, the PM2.5 concentration in Beijing still fails to meet national ambient air quality standards and far exceeds the levels recommended by the World Health Organization (WHO), and heavy pollution episodes still occur during autumn and winter," he said. "Solving all these air quality issues will be a long-term process. We are willing to share our long-accumulated knowledge and wealth of experience on air pollution with other cities in developing countries."
Mr. Liu Jian, UN Environment's Chief Scientist, said the results reflected the Chinese Government's emphasis on environmental protection and the input and intensity of pollution control in recent years
"Beijing's efforts, achievements, experiences and lessons in air pollution control over the last twenty years are worth analyzing and sharing in order to progress global environmental governance," he said.
This is UN Environment's third independent assessment of Beijing's air quality, following the Independent Environmental Assessment: Beijing 2008 Olympic Games and A Review of Air Pollution Control in Beijing: 1998–2013, which were published in 2009 and 2016 respectively.
Dechen Tsering, Director of UN Environment's Asia Pacific Regional Office, said UN Environment was committed to promoting sustainable development and best practices in countries and cities around the world.
"Beijing has achieved impressive air quality improvements in a short amount of time." Ms. Tsering said. "It is a good example of how a large city in a developing country can balance environmental protection and economic growth."
Making it circular: The role of industries in circular cities
The United Nations Industrial Development Organization, together with the Permanent Missions of Austria, Ecuador, Slovenia, the Ellen MacArthur Foundation and UNDESA, has organized an event, "Making it Circular: The Role of Industries in Circular Cities". The event took place at United Nations Headquarters in New York City, and was organized as a part of Circular City Week New York.
The debate concentrated on providing specific industry examples of how a circular economy can be achieved, and what policies, technologies and business models need to be put in place.
Practices for a circular economy in manufacturing highlighted the opportunities to create greater diversification and localization of production and how feedstock supply can support cities in becoming more self-sufficient and resilient to changes in global markets. The Ellen MacArthur Foundation emphasized how digital technology plays a crucial role in sharing local material use and enabling manufacturing to occur locally in cities.
From a policy perspective, it was emphasized by all the distinguished panelists that collaboration between industries and governments are key to break down the silos and support a rethinking of waste and sharing of local utilities. Furthermore, building the capacity of small and medium entreprises will be a key element for unlocking circular business practices and upscale circular local production and manufacturing.
Speakers included H.E. Luis Gallegos Chiriboga, Permanent Representative of Ecuador to the UN; H.E. Darja Bavdaž Kuret, Permanent Representative of the Republic of Slovenia to the UN; Lindsay Clinton, Senior Vice President, New York City Economic Development Corporation; Miranda Schnitger, Cities Project Lead, Ellen MacArthur Foundation; Brian Matuszewski, Global Head of Brand Partnerships, TerraCycle, Loop; and Ditte Lysgaard Vind, Managing Partner, Lendager TCW. The very lively moderation was led by Michael Shank, Communications Director, Carbon Neutral Cities Alliance.
This event is part of a series of UN-events focusing on the circular economy and acted as a follow-up event to the Second Committee of the UN General Assembly and the Economic and Social Council's joint Meeting on: "Circular Economy for the SDGs: From Concept to Practice".
UNIDO has set out to actively engage in this discussion in New York and continues to organize events to inform Member States and the interested public on green industry and circular economy trends and issues.