The new strategic axis between the Russian Federation and Iran
On February 11 last the Iranian Foreign Minister, Mohammed Javad Zarif, arrived in Beirut, shortly after the establishment of a new Lebanese government that, although led by an old friend of Westerners, namely Hariri, is certainly one of the recent governments closest to Hezbollah.
Minister Javad Zarif offered the Iranian support to the new government – "support in all sectors".
Besides the Foreign Minister, the Iranian delegation was composed of a select group of 30 Iranian businessmen, who met Lebanese and Palestinian businessmen.
It is the first sign of an Iranian "grip on the Lebanon" by the Shiite Republic of Iran, which will lead to many strategic, geopolitical and economic changes.
It is obvious that, at the end of clashes in Syria, Iran wants to secure a stable centre of power in the Mediterranean region, in close contact with Israel and towards the East Mediterranean gas area which – as often noted – will be very important in the future.
Nor should we forget that Zarif's visit was scheduled precisely on the day of the 40thanniversary of Imam Khomeini's Shite revolution – a political symbol which should certainly not be overlooked in a country with a large Shite population.
Same religion, same political leadership – this seems to be the meaning of this careful choice and coordination of dates.
Hence both Russia and Iranthink that the new stability in the Syria led by Bashar al-Assad is based above all in the Lebanon.
Both Russia and Iran, however, have indicated – at least indirectly in the case of Russia – Hezbollah, in particular, as their primary point of reference in the Lebanon.
For the Russian Ambassador to Beirut, currently only the United States can trigger a conflict with Iran, given its regional policy.
As to the probable future conflict between Israel and the Lebanon, Ambassador Zasypkyn believes that the situation is much more unstable and even more controllable.
In other words, Russia still relies on its power of political and military deterrence in Syria to avoid a clash between Hezbollah and Israel – a war that would put a strain on both its new hegemony in the Middle East and stability in Syria.
Just one day before Zarif's visit to the Lebanon, the Russian envoy to Jerusalem had reassured the Israeli government that Hezbollah was a "stability force" throughout the region.
Probably Russia cannot yet do without Iran, both in Syria and in the Lebanon, and accepts – like it or not – that the primary link in the Lebanon is between the "Party of God" and the new government led by Hariri.
But how long can it last?
If Hezbollah decided to exert new pressure on Israel, Russia could quickly lose its grip on Southern Syria and miss its primary goal of becoming the rotating platform of the Greater Middle East.
Inter alia, the signals coming from the Lebanese Shiite military group are very clear: on February 7 last, Hassan Nasrallah openly called for the rearming of Lebanese forces (obviously) only by Iran and later made it clear that, in a possible US future attack to support Israel, Hezbollah would immediately fight on the Iranian side.
Nasrallah also asked to make the new Iranian "advanced" missiles available to the Lebanon, as well as sensor systems and tactical and signals intelligence.
It is therefore the request for a real strategic parity between Southern Lebanon and Israel.
This means that the Lebanese Shiites' aim is to eliminate all kind of US interference in the region and later put pressure – not just at military level – on the Jewish State that, without the US support, would be forced to accept a downward and uncertain peace.
This is the first goal of both Iran and Hezbollah, but certainly not of the Russian Federation.
Nevertheless, in his Lebanese meetings, Javad Zarif – who implicitly accepted Hezbollah's request for help – also made it clear that Bavar 373 – a missile launching and air defence system very similar to the Russian S-300 – was ready for the forces of the "Party of God", but also for the Lebanese regular army.
"Bavar" means "belief", albeit in a strictly religious sense, while the number 373 reminds of the soldiers belonging to the final ranks of the Twelfth Imam.
Iran is full of political symbols that must always be taken into account.
Bavar 373 is a well-copied surface-to-air missile system – probably from the Russian S-300 system that appeared in Iran for the first time in 2015.
The system uses the Iran-made missile called Sayyad-4 having a range of 150 kilometres. It also uses advanced radars that – as the analysts who saw Bavar 373 at work maintain – can saturate at least sixty targets at the same time.
It is therefore obvious to imagine what will immediately happen: sooner or later Israel will have the opportunity of destroying the Iranian networks in the Lebanon with a surgical operation. In all likelihood, however, Hariri's government will refuse Iran's offer, thus allowing Russian weapons and, above all, the S-300 missiles to arrive in the Lebanon.
It should be recalled that the S-300 missiles will be carefully monitored both from the Russian bases in Syria, which will never be abandoned by Russia, and simultaneously from the Russian missile site.
Obviously Iran does not object to the transfer of Russian weapons to the Lebanon. Quite the reverse.
Furthermore, the Shite regime will soon maintain that, since the United States still arm and train the Kurds against the so-called Caliphate, it also regularly and lawfully arms their Hezbollah units against the same enemy, and with equivalent devices and systems.
Hence Iran's and Russia's primary goal is the total expulsion of the United States from Syria and from the Lebanese and Israeli Mediterranean coast.
Once completed this operation, Russia will ask Israel for a new deployment of its potentials against Hezbollah and the Palestinian jihad forces, which are also in Iran's calculations.
And possibly, in the future, in Russia's calculations.
However, as far as we currently know, the final US withdrawal from Syria should be completed by the end of April.
But, again, what is the reason underlying this new Russian interest in the "Party of God"?
It is already clear that Russia does not want to remain alone in Syria.
The Russian Federation, however, does not even want Iran to undermine its regional hegemony, since it believes that everything Iran can ask is the stability of its "corridor" from Iraq to the Lebanon, but only under Russia's control.
Hence taking Hezbollah away from Iran's hands is vital for the Russian Federation, which desperately needs strategic buffers to control Syria by isolating Iran's primary instrument, namely Hezbollah.
As already seen, also on February 11 last, in its talks with Netanyahu's government, Russia maintained that "Hezbollah was a peace force".
This also makes us understand that President Putin has no interest in stopping the Israeli operations against the tunnels of the Shiite military organization.
Again, for Russia, the possible conflict between Israel and Lebanon can only break out because of the United States, considering that Hezbollah supported only the lawful government of Damascus, unlike what the United States did since the beginning of hostilities.
Hence Russia believes that the United States should tone down its attacks on Iran, with a view to reducing the Shiite Republic's pressure on Hezbollah and the current Lebanese government.
Is this hypothesis reasonable? Both yes and no.
Certainly, if the United States wants a prolonged war (this is the sense that Iran attributes to the US statements), the most likely reaction will be an Iranian attack that will set fire to the whole "corridor" and destabilize the Golan region.
Nevertheless, is it not equally probable that the US Presidency's brags were just a strategic "trial balloon" and boasts for internal use?
As is currently probable, it is precisely Russia that wants the "Party of God" shift from a clear Iranian dominance to a stable (and hegemonic) Russian protection.
If this happened, Russia would avoid paying too high a Syrian price to Iran. It would also have a military organization at its disposal that could well secure the East Mediterranean region and keep – again on Russia's behalf – peace and stability of Bashar al-Assad's regime, whose Armed Forces it never liked much.
Three important considerations shall be made in this respect: the S-300 operating systems that Russia has left in Syria since last October are not yet operational.
This means that Russia has not yet decided what to do with them in Syria.
Furthermore, Iran has not yet completed the factory and has not yet started the production of "advanced" missiles on the Syrian territory.
It was, in fact, mere psyops to show to Israel and the USA a greater development stage than the real one and to underline the impending  danger of an Israeli attack.
Finally, Iran has not yet accepted the pressing Russian request to quickly move the centralized command of its forces in Syria, which operates from the Damascus International Airport area.
All Iranians are still there and they will stay there for a long time.
Therefore, in essence, Russia believes that all these post-truths are the result of an American and Israeli psywar operation, designed to clearly separate the Iranian, Russian and Lebanese interests and hence rebuild a security network in Syria and in the Lebanon.
Precisely in response to said alleged psyops, Russia is currently trying to place the whole "Party of God" movement under its wing, at a time when it knows very well that the Iranian support for Hezbollah is weak and economically unpredictable.
Hence a new Hezbollah, which would act as a watchdog in Syria and ensure the security of the coasts south of Latakia and Tartus. It would also enable Russia to have access to the wide universe of Sunni and Shite "resistance" movements opposing the Israeli expansion.
Russia wants a stable Israel, but small and less powerful than it currently is.
We have already seen important signs of this operation during the Sochi meeting between Putin, Erdogan and Hassan Rouhani held on February 14 last.
On that occasion President Putin clearly reaffirmed his support for Hezbollah, i.e. his "grip on the group", and the possible use of this new protection for both Turkey and obviously Iran.
Probably Russia knows that Iran can no longer afford to support the very expensive "Party of God", as well as the whole jihadist network south of Israel.
According to Russian plans, however, Iran and Turkey will never be able to use the new arrangement of the "Party of God" on their own.
In addition, Rosneft has already penetrated the complex and largely autonomous Lebanese natural gas market which, as already noted, has left the sphere of the Cairo Conference.
A twenty-year agreement between the Russian natural gas giant and the Lebanese government is already in place for a storage site in Tripoli.
As soon as the USA leaves the Middle East, Russia will immediately occupy the oil and gas sites and positions.
But it will do so on its own, without parallel agreements with Syria or Iran.
Moreover, from now on, the Lebanon explicitly wants Russia to manage the relations between the Lebanon and Syria that, as is well-known, have never been particularly peaceful.
The variable of the Lebanese real independence from Syria is the central point of Russia's current posture and, hence, of its specific focus on Hezbollah.
The one billion US dollar agreement of military transfers from Russia to the Lebanon, which has been much discussed in Western capitals, is a first sign showing that Russia does not want Iran in the Lebanon, but can accept it among the other secondary players, above all in Syria.
The Russian-Lebanese trade has risen from 423 million in 2016 to the current 800 million, with a market dominated by Russian energy transfers to the Lebanese market.
In all likelihood, in the future Russia will support Hezbollah's request that the Israeli deep-sea Leviathan gas field illegally acquires some of the resources of the Lebanese gas fields.
The threat is clear: if Russia fully supported the Lebanese requests, there would be the possibility of a beginning of hostilities between the "Party of God" and Israel. At the end of a short, but harsh confrontation, said hostilities would be mediated exactly by the Russian Federation.
Chinese purchases of Iranian oil raise tantalizing questions
A fully loaded Chinese oil tanker ploughing its way eastwards from two Iranian oil terminals raises questions of how far Beijing is willing to go in defying US sanctions amid a mounting US military build-up in the Gulf and a US-China trade war.
The sailing from Iran of the Pacific Bravo takes on added significance with US strategy likely to remain focused on economic rather than military strangulation of the Iranian leadership, despite the deployment to the Gulf of an aircraft carrier strike group as well as B-52 bombers and a Patriot surface-to-air missile system.
As President Donald J. Trump, backed by Secretary of State Mike Pompeo, appears to be signalling that he is not seeking military confrontation, his administration is reportedly considering a third round of sanctions that would focus on Iran's petrochemical industry. The administration earlier this month sanctioned the country's metals and minerals trade.
The sailing raises the question whether China is reversing its policy that led in the last quarter of 2018 to it dramatically reducing its trade with Iran, possibly in response to a recent breakdown in US-Chinese trade talks.
"The question is whether non-oil trade remains depressed even if some oil sales resume, which I think it will. That's the better indicator of where Chinese risk appetite has changed. Unfortunately Iran's reprieve will be limited—but better than zero perhaps," tweeted Esfandyar Batmanghelidj, head of Bourse & Bazaar, a self-described media and business diplomacy company and the founder of the Europe-Iran Forum.
A Chinese analyst interviewed by Al Jazeera argued that "China is not in a position to have Iran's back… For China, its best to stay out" of the fray.
The stakes for China go beyond the troubled trade talks. In Canada, a senior executive of controversial Chinese telecommunications giant Huawei is fighting extradition to the United States on charges of violating US sanctions against Iran.
Reports that Western companies, including Kraft Heinz, Adidas and Gap, wittingly or unwittingly, were employing Turkic Muslims detained in re-education camps in China's north-western province of Xinjiang, as part of opaque supply chains, could increase attention on a brutal crackdown that China is struggling to keep out of the limelight.
The Trump administration has repeatedly criticized the crackdown but has stopped short of sanctioning officials involved in the repressive measures.
Bourse & Bazaar's disclosure of the sailing of the Pacific Bravo coincided with analysis showing that Iran was not among China's top three investment targets in the Middle East even if Chinese investment in the region was on the rise.
The Pacific Bravo was steaming with its cargo officially toward Indonesia as Iranian foreign minister Mohammad Javad Zarif was touring his country's major oil clients, including China, in a bid to persuade them to ignore US sanctions.
A second tanker, the Marshal Z, was reported to have unloaded 130,000 tonnes of Iranian fuel oil into storage tanks near the Chinese city of Zhoushan.
The Marshall Z was one of four ships that, according to Reuters, allegedly helped Iran circumvent sanctions by using ship-to-ship transfers in January and forged documents that masked the cargoes as originating from Iraq.
The unloading put an end to a four-month odyssey at sea sparked by buyers' reticence to touch a cargo that would put them in the US crosshairs.
"Somebody in China decided that the steep discount this cargo most likely availed … was a bargain too good to miss," Matt Stanley, an oil broker at StarFuels in Dubai, told Reuters.
The Pacific Bravo, the first vessel to load Iranian oil since the Trump administration recently refused to extend sanction exemptions to eight countries, including China, was recently acquired by China's Bank of Kunlun.
The acquisition and sailing suggested that Bank of Kunlun was reversing its decision last December to restrict its business with Iran to humanitarian trade, effectively excluding all other transactions.
The bank was the vehicle China used in the past for business with Iran because it had no exposure to the United States and as a result was not vulnerable to US sanctions that were in place prior to the 2015 international agreement that curbed Iran's nuclear program.
China's willingness to ignore, at least to some extent, US sanctions could also constitute an effort to persuade Iran to remain fully committed to the nuclear accord which it has so far upheld despite last year's US withdrawal.
Iran recently warned Europe that it would reduce its compliance if Europe, which has struggled to create a credible vehicle that would allow non-US companies to circumvent the sanctions, failed to throw the Islamic republic an economic lifeline.
In a letter that was also sent to Russia and China, Iran said it was no longer committed to restrictions on the storage of enriched uranium and heavy water stocks, and could stop observing limits on uranium enrichment at a later stage.
Russian president Vladimir Putin warned in response to the Iranian threat that "as soon as Iran takes its first reciprocal steps and says that it is leaving, everyone will forget by tomorrow that the US was the initiator of this collapse. Iran will be held responsible, and the global public opinion will be intentionally changed in this direction."
Will there be war with Iran? Will there not be war with Iran? The questions are being asked repeatedly in the media even though a single carrier task force is steaming up there. The expression is old for the latest carriers are nuclear powered. Imagine the mess if it was blown up.
There are two kinds of weapons in the world … offensive and defensive. The latter are cheaper, a fighter plane compared to a bomber. If a country does not (or cannot afford to) have offensive intent, it makes sense to focus on defense. It is what Iran has done. Moreover, its missile centered defense has a modern deadly twist — the missiles are precision-guided.
As an Iranian general remarked when questioned about the carrier task force: some years ago it would've been a threat he opined; now it's a target. Iran also has a large standing army of 350,000 plus a 120,000 strong Revolutionary Guard and Soviet style air defenses. In 2016 Russia started installation of the S-300 system. It has all kinds of variants, the most advanced, the S-300 PMU-3 has a range similar to the S-400 if equipped with 40N6E missiles, which are used also in the S-400. Their range is 400 km, so the Iranian batteries are virtually S-400s. The wily Putin has kept trump satisfied with the S-300 moniker without short-changing his and China's strategic ally. The latter continuing to buy Iranian oil.
Iran has friends in Europe also. Angela Merkel in particular has pointed out that Iran has complied fully with the nuclear provisions of the UN Security Council backed Joint Comprehensive Plan of Action i.e. the Iran nuclear deal. She is mustering the major European powers. Already alienated with Trump treating them as adversaries rather than friends, they find Trump's bullying tiresome. President Macron, his poll ratings hitting the lowest, is hardly likely to engage in Trump's venture. In Britain, Theresa May is barely able to hold on to her job. In the latest thrust by senior members of her party, she has been asked to name the day she steps down.
So there we have it. Nobody wants war with Iran. Even Israel, so far without a post-election government does not want to be rained upon by missiles leaky as its Iron Dome was against homemade Palestinian rockets.
Topping all of this neither Trump nor Secretary of State Pompeo want war. Trump is as usual trying to bully — now called maximum pressure — Iran into submission. It won't. The wild card is National Security Adviser John Bolton. He wants war. A Gulf of Tonkin type false flag incident, or an Iranian misstep, or some accident can still set it off.
In Iran itself, moderates like current President Hassan Rouhani are being weakened by Trump's shenanigans. The hard liners might well want to bleed America as happened in Iraq and Afghanistan.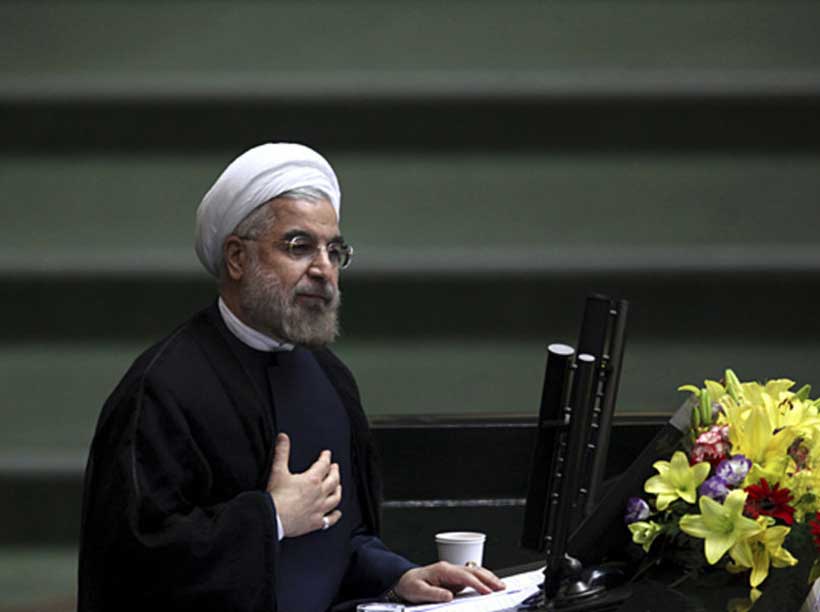 By announcing that Iran will begin keeping its excess uranium and heavy water, the Islamic Republic now sends a firm and clear message to the west, exactly one year after U.S. president, Donald Trump unilaterally withdrew from its nuclear deal with Iran.
At this point, it seems that Iran has made a wise decision. Over the last year, the European troika has not only done anything to revive the nuclear deal or bring any kind of benefit to the Iranian nation, but they have actually backed up U.S. by developing new plans to undermine Iran's "missile work", and diminish its "power in the region" as well as its "nuclear technology".
As stated in clauses 26 and 36 of Joint Comprehensive Plan of Action (JCPOA), if the other side fails to meet its obligations, Iran is entitled to partially or completely end its commitments as well. So, Iran's recent decision could be analyzed both on legal and strategic terms.
However, it seems that the strategic aspects of Iran's decision are even more important than its legal aspects. This decision is strategically important because it stops Washington and European troika to carry out their anti-Iran scheme, a dangerous scheme that they actually started devising when Trump took the office in 2017.
At the time, Theresa May, the British Prime Minister, and Emmanuel Macron, the French president played a major part in carrying out the west scheme. A scheme based on enforcing Iran to keep its "nuclear promises" and stay committed to a "distorted nuclear deal" while "U.S. had abandoned the deal", and at the same time, trying to "diminish Iran's power in the region" and "reduce its missile activities".
All other actions of Europeans toward Iran were also simply targeted at carrying out this major plan, including how they constantly changed their strategies toward Tehran, and how Germany, U.K. and France intentionally delayed in launching the alternative trade mechanism (Instex) with Iran.
Now, Iran's decision to keep its Uranium and heavy water is definitely in compliance with JCPOA, and more importantly, it will seriously undermine the "American-European" joint plan against Iran. This also explains why French government was so distressed by Iran's new nuclear strategy and had such a quick reaction, considering that Emmanuel Macron, the French president and Jean-Yves Le Drian, the French Foreign Minister both have had important roles in carrying out the American-European anti-Iran scheme.
At any rate, what is clear now is that the game has just started! And the Iranian political system and specially the foreign ministry have a great mission to run this game wisely.
In following days, the European troika might want to force Iran into changing its decision by threats such as reviving the European Union sanctions against Iran or even taking Iran's case to the United Nations Security Council (so that Trump administration can meddle in Iran's affairs). But, it is time for Iran political system to be adamant in its decision.
The Iranian Foreign Ministry should clearly ask the Europeans to choose one of these options, either Iran will "further reduce its commitments to the nuclear deal" or the Europeans should do something practical to "protect the rights of Iranian nation".
It is also necessary that the Iranian political system reveals the American-European joint anti-Iran scheme to the people so that the true nature of Europeans is showed to Iranians. In that case, Europe and specially the European troika will completely lose their reputation.
First published in our partner Tehran Times