New York's Moxy Chelsea Opens As The Flower District's New Secret Garden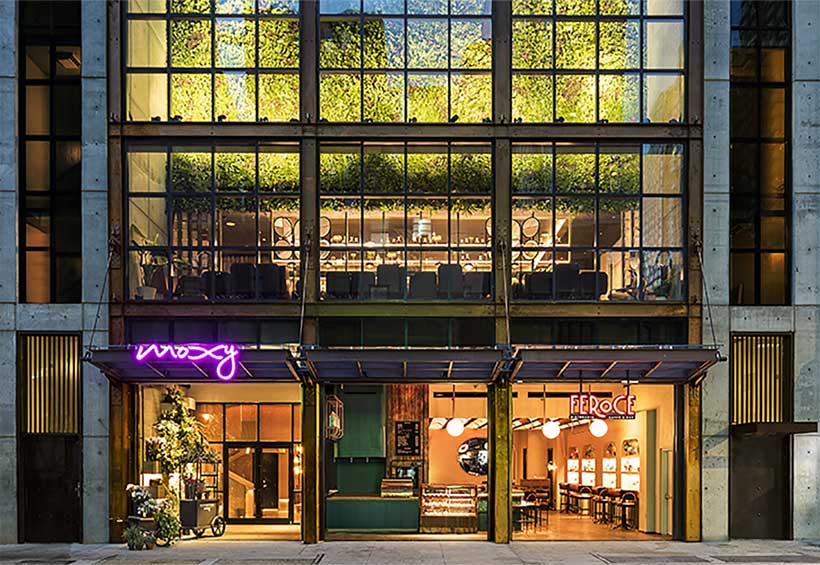 Rising 35 stories high into the New York City skyline, Moxy NYC Chelsea, the micro-room, macro-amenity hotel, developed by Lightstone and part of Marriott International's experiential Moxy Hotels brand, officially opens its doors today. Inspired by the surrounding Flower District, the hotel blends a botanically-influenced design with Italian romance and a touch of playful wit – perfectly timed to welcome guests on Valentine's Day.
Creating an environment that appeals to both today's modern traveler and locals, Moxy Chelsea was developed with a collection of public spaces designed to meet the community's dining, drinking, and co-working needs—while providing guests access to New York City at a neighborhood level. The 349-room hotel marks the second collaboration between Yabu Pushelberg, Rockwell Group, and architects Stonehill Taylor, the designers behind Moxy Times Square and three of the industry's most admired firms.
The newly-constructed building's architecture riffs off the neighborhood's retro-industrial style and feels harmonious with its location, in the heart of the Chelsea Flower Market. The hotel blends into the lush flower shops that surround it, with a soaring three-story glass atrium revealing the vertical gardens within. Guests enter through the overgrown Putnam & Putnam Flower Shop, designed by Yabu Pushelberg, which is envisioned as a "botanical library," with planter boxes suspended from the 15-foot wall, reachable by a wheeled ladder. The shop is run by husbands Darroch and Michael Putnam, whose couture approach to floral arrangements over the years has made them a staple at celebrity weddings, including the recent nuptials of Gwyneth Paltrow and Brad Falchuk. Just beyond the flower shop, a bright yellow neon sign spelling out the words "MEET" and "GREET" beckons guests into Moxy's take on the check-in area. Four butcher blocks, alluding to the nearby Meatpacking District, are dramatically suspended from the 12-foot ceiling above, acting as check-in kiosks. Members of Marriott's recently renamed Loyalty program, Marriott Bonvoy; replacing Marriott Rewards, Starwood Preferred Guest and The Ritz-Carlton Rewards; can also access keyless entry through the Marriott Mobile App. Just beyond check-in is the Moxy Digital Guestbook streaming videos and images taken within Moxy hotels or tagged #atthemoxy for visitors' pre-elevator amusement.
The bedrooms are drenched in sunlight and feature floor-to-ceiling, wall-to-wall windows. For the design, Yabu Pushelberg replicates the clever functionality they created for Moxy Times Square, leavened with wit and humanized with a sense of craft. In all three room types — King, Double/Double and Quad Bunk — the furniture, which includes a writing desk and chair/luggage rack, can be folded up and hung up on Moxy's signature peg wall when not in use. Other space-saving gambits include under-bed storage and a lava-stone sink and vanity area placed outside the bathroom. Tiles in the shower stalls are printed with cheeky phrases like "SOME REGRETS" and "WILD THING," while a bulldog-shaped beer bottle opener hangs on the door. Additional bedroom features nod to the Flower District, like reading lamps that resemble garden lanterns and faucets that recall hose reels. Unique to Moxy Chelsea is the over-the-top MONDO Suite, an entertainment suite located on the 32nd floor. With soaring, double-height 18-foot ceilings and a wall of industrial-style windows looking out onto the Empire State Building, the room is equipped for entertaining and socializing. The suite can be combined with one or two adjoining king rooms to create a place to party and sleep.
Dining and Drinking Concepts for Guests and Locals Alike
Lightstone teamed up with Francesco Panella, owner of Antica Pesa, the legendary trattoria in Rome and its celeb-favorite counterpart in Brooklyn, and TAO Group to create new dining and drinking concepts for Moxy Chelsea that will appeal to guests and locals alike—Feroce Ristorante, Feroce Caffè, and Bar Feroce. The menu at Feroce Ristorante embraces both traditional dishes and modern interpretations utilizing ingredients from historic brands and small producers across Italy, as well as local purveyors in New York. In front of the restaurant is Feroce Caffè, with glass airplane hangar-style doors that can be raised all the way up, opening the space entirely to the sidewalk, as in Italy. It also features a vintage doughnut machine that wafts tempting aromas onto the sidewalk, luring locals in off the street. The hotel entrance has its own dedicated window counter connecting to the caffè, so guests can pick up fresh-baked doughnuts and coffee as they come and go.
Panella also created the menu at Bar Feroce, an Italian snack bar and lounge offering a modern twist on traditional Roman comfort dishes, oven-fired pizzas, and classic cocktails. On Bar Feroce's all-season, alfresco garden terrace, The Backyard, a terra cotta oven turns out gourmet Roman-style pizzas and features a made-for-Moxy bocce drinking game.
When designing Feroce, Rockwell Group worked closely with Panella to capture his vision and energy. As a result, the space has a theatrical quality, from the overscale terrazzo floors to the Brooks Brothers custom-designed waitstaff uniforms, to the grappa cart roving the dining room.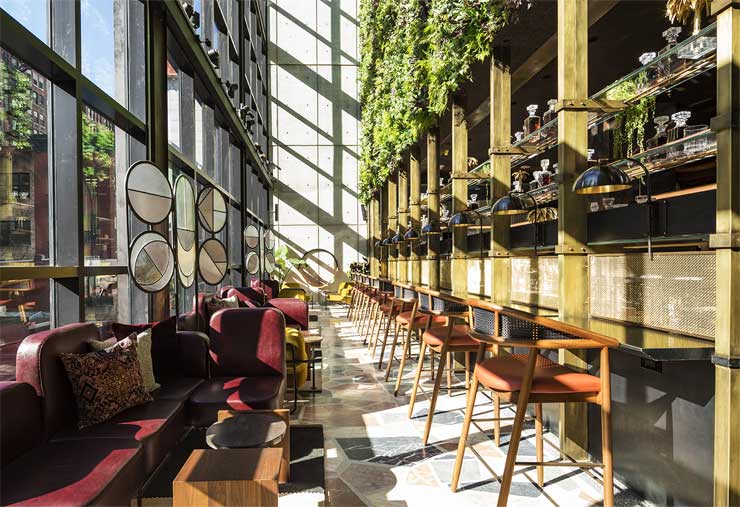 Rockwell Group was also responsible for Moxy Chelsea's second-floor lobby, which unfurls as a series of spaces with multiple uses that change with the rhythm of the day. The Conservatory occupies the three-story glass atrium on the building's front façade; on one side, greenhouse-style windows overlook the sidewalk, while on the other, a vast living wall teems with plants, Little Shop of Horrors–style. During the day, sunlight flows in, refracted by multicolored glass screens and reflected kaleidoscopically on the terrazzo floor—an ideal spot for working or reading. At night, a DJ shifts the energy from day to evening, transitioning the space seamlessly into a cocktail lounge.
The lobby atmosphere is enlivened by a design that reflects Moxy's trademark cheekiness, such as classically sculpted figurines making unexpected poses, like twerking, taking selfies, and wearing sunglasses. A life-size, toga-clad Roman statue rests on a column, one arm extended so it can hold a guest's phone and pose with them for a selfie. Throughout the lobby, ample seating options invite co-working and socializing, including modular meeting studios that morph seamlessly from daytime workplace to evening social space.
TAO Group and Rockwell also collaborated on The Fleur Room, Moxy Chelsea's rooftop lounge, topping off the hotel on the 35th floor with panoramic 360-degree views of the Manhattan skyline, from the Statue of Liberty to the Empire State building. The design features a copper-clad bar, glass chandeliers that resemble giant water droplets, and a massive disco ball salvaged from the notorious 1980s L.A. nightclub Vertigo. The real showstopper: The lounge's glass walls descend at the touch of a button, transforming the space into an alfresco sky veranda.
"We've all read about how the modern traveler wants to satisfy their curiosity with unique experiences and personalized, insider access," says Mitchell Hochberg, President of Lightstone. "Nobody really expects that at the Moxy price point. With Moxy Times Square, we proved we could flip the script; and with Moxy Chelsea, we're taking it to the next level: We've doubled down on that formula—affordable rates, rooms with character, distinctive public spaces—and made it even more personal, more local, more genuinely New York."
"With the opening of Moxy Chelsea, the Moxy Hotels brand continues to boldly reinvent the hospitality scene," says Toni Stoeckl, Global Brand Leader, Moxy Hotels, and Vice President, Distinctive Select Service Brands, Marriott International. "When you walk into a Moxy, you know you're getting a killer bar experience with fun, playful programming; an in-the-know Crew; stylish and functional bedrooms; and experiential moments you'll want to share with friends during your trip. Moxy Chelsea offers all of that, with a distinctly bold, New York twist."
Moxy now has 30+ experiential hotels open across North America, Europe and Asia. Moxy is expected to open 20+ more hotels in 2019, in destinations including Paris, Nashville and Boston.
Moxy Chelsea is located at 105 W 28th Street (at 6th Avenue). The hotel opens in preview today and launches officially March 8, 2019. For more information or to book, visit www.moxychelsea.com.
JW Marriott Debuts in Oman's Historic Capital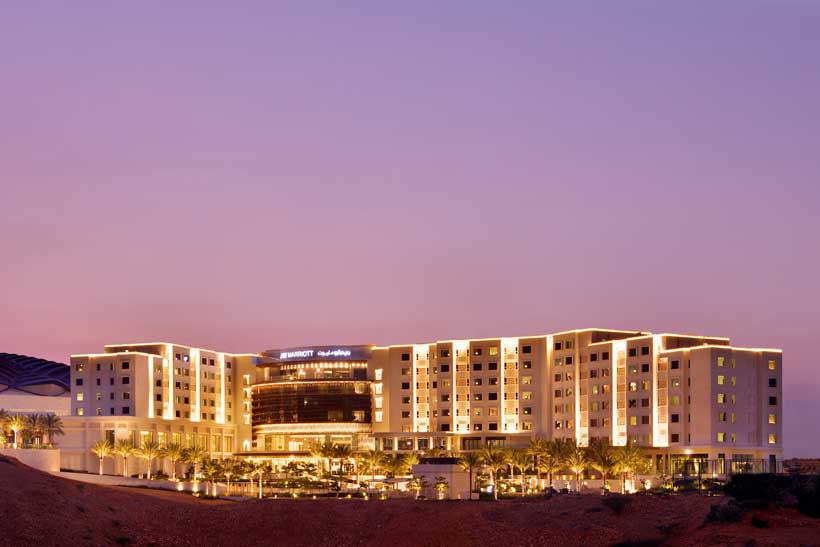 JW Marriott announced the opening of JW Marriott Muscat today, setting the stage for distinctive experiences in Oman's historic capital. Located in the heart of Muscat's new business hub, within the Sultanate's largest urban development project Madinat Al-Irfan, the hotel is an integral part of the prestigious Oman Convention & Exhibition Centre (OCEC) precinct. Directly linked to the OCEC, it also provides easy access to key city landmarks including Muscat Old Town, Royal Opera House, Old Souq and Mattrah Corniche.
"The debut of JW Marriott in Muscat marks an exciting milestone for the brand in the Middle East and Africa as we continue to grow our footprint and deliver an elevated and warm luxury experience," said Mitzi Gaskins, Vice President & Global Brand Leader, JW Marriott. "The hotel's extensive offerings encourage guests to live in the present and pursue their best selves while immersing themselves in the culturally authentic experiences of this enchanting city."
Designed to allow guests to focus on feeling whole, JW Marriott Muscat is a true representation of JW Marriott's mission to providing enriching experiences that enable guests to live with intent. The property offers spaces to be present in mind, nourished in body and revitalized in spirit; including special mindful moments in dedicated areas throughout. Hotel guests can participate in a series of daily rituals that help transport them into a refuge of calm; each of which includes a five to 10-minute activity that enables them to be more aware, present, focused and inspired:
· The '108 Steps' ritual brings people together by encouraging guests to walk in a circle clockwise, silently counting their steps to the number 108 to cultivate mental discipline and as a gesture of respect for the natural flow of life
· The 'Words to Inspire' ritual invites guests to choose words from a bowl and envision themselves being an embodiment of the word, leaving them feeling positive and inspired
· 'Your Best Day' ritual is about visualization of what is important to each guest and built around self-acknowledgment
Overlooking inspiring surroundings, JW Marriott Muscat features 304 guest rooms and suites, many of them offering views of Oman's wadis, spectacular natural valleys flowing with water. With 2500 square meters of banqueting space flooded with natural daylight and equipped with the latest state-of-the-art technology, the new property is the perfect place to host artfully choreographed meetings and events. Whether it is a small board meeting, a large conference, a social gathering or a wedding, the hotel offers space and choice with two large ballrooms and six meeting rooms. Directly linked to the Oman Convention & Exhibition Centre (OCEC) precinct, JW Marriott Muscat invites business travellers to benefit from the acclaimed 'Events by JW' service, including multi-lingual and experienced event planners and tailored menus. JW Marriott Muscat houses the largest Executive Lounge in the country and is the first hotel to have an exclusive lounge for airline crew.
Oman's rich local produce is at the heart of JW Marriott Muscat's food and beverage philosophy, with five restaurants and lounges to ensure the culinary experiences at the hotel fulfil every taste and desire. The all-day dining found at Kitchen 7 offers a tasteful selection of international buffets, Asian woks, Middle Eastern grills and Indian tandoors with an interactive show kitchen. Fire cooking lovers can enjoy sophisticated grills with a sparkling flair at Pink Salt; nature and the crafts of a botanist inspire the refreshing and creative beverages at Tonika; while Butter Buns gastropub houses the city's best burgers, creating exceptional flavors. Guests can also relax and enjoy the Mediterranean vibe and entertainment from sunrise to sunset at the property's CATCH pool bar.
A rejuvenating Spa by JW, offers signature treatments organized by four distinct benefits – renewal, calmness, invigoration and indulgence – as well as sauna and steam room facilities. Additional leisure facilities include a state-of-the-art fitness center, three outdoor swimming pools, a floodlit tennis court and a multipurpose court for basketball, volleyball and badminton.
The Ben, The First Waterfront Hotel in Downtown West Palm Beach
Today, Autograph Collection Hotels announced the opening of The Ben, the first hotel on the downtown West Palm Beach, Florida waterfront. The Ben is part of Autograph Collection's diverse and dynamic portfolio of more than 180 independent hotels carefully crafted with vision and passion. Just like The Ben, each distinctive hotel in the Autograph Collection is singular and special: Exactly Like Nothing Else.
The Ben joins Autograph Collection's robust portfolio of 18 hotels in Florida including the newly opened Cadillac Hotel & Beach Club in Miami Beach, The Daytona in Daytona Beach and Fenway Hotel in Dunedin.
"We're thrilled to introduce The Ben, an unmistakably original hotel that injects new energy into the traditionally classic city of West Palm Beach," said Jennifer Connell, Vice President and Global Brand Leader, Autograph Collection Hotels. "The Ben reimagines classic South Florida lifestyle for today's travelers by blending elements inspired by the city's early days as an untamed tropical paradise with modern touches, making it a perfect fit for the Autograph Collection."
The 208-room, new-build hotel features a modern design aesthetic reflecting the spirit of the Ben Trovato Estate, one of West Palm Beach's original homes. Byrd Spilman Dewey, one of Florida's most prolific authors of the pioneer era, gave her 1892 Victorian home the name Ben Trovato, literally meaning "well invented." The name is derived from "Se non è vero, è ben trovato," an Italian phrase which, loosely translated, means "Even if it isn't true, it's a good story." The Estate put West Palm Beach on the cultural map, entertaining luminaries from Henry Phipps Jr. to Woodrow Wilson and the Vanderbilts.
Reimagined for today, The Ben creatively channels Dewey's joie de vivre, her love of entertaining, her whimsical interests and personal passions. Much like the Ben Trovato Estate, this new hotel is a place for socialization, lively conversation and enrichment.
"The Ben is a development unlike anything West Palm Beach has seen before. We're redefining what it means to travel to and live in West Palm," said Bernardo Neto, General Manager of The Ben. "We invite guests and locals to experience the essence of this magical waterfront city in an inspired setting fueled by a unique story, thoughtful design and the spirit of socialization."
Pioneered by South Florida architecture firm EoA and its founder and design director Malcolm Berg, The Ben's heartfelt design beautifully combines vintage Florida with modern elements. The hotels' interiors intrigue guests with a combination of rich textures and earth tones accented with lush greenery evocative of the South Florida setting and climate that enchanted Dewey. Guestrooms feature eclectic elements including sliding bookcases that, when discovered, reveal a window into the shower and whimsical, mod iconic collage portraiture. In the lobby, a book display wall is arranged to manifest the silhouette of hotel muse Dewey's face.
Proper Gritdebuts as the hotel's signature restaurant, with Executive Chef Andre Sattler at the helm. The contemporary South Florida chophouse is open daily and offers indoor and outdoor seating in a comfortable, yet upscale setting. A communal-style table stretches across the dining room to encourage socialization, with cozy, living-room style nooks along its border where guests can intimately enjoy a cocktail prior to being seated. Menus include fresh, locally sourced fare that combines the property's Old Florida roots interpreted the "proper" way and offers staples like whole, fresh caught snapper filleted table-side, and a perfectly cooked ribeye steak, served bone-in.
The Ben also features Spruzzo, a stunning rooftop lounge and bar that is accessible via an express elevator directly from the ground floor. This new West Palm hotspot boasts sweeping, 'Byrds-eye' views of the Palm Harbor Marina and beyond, and offers a setting for guests to enjoy poolside cocktails and Mediterranean bites al fresco.
Living up to its roots and identity as downtown West Palm's social hub, The Ben features more than 8,000 square feet of meeting and event space, from a sleek boardroom to a unique glass-enclosed gallery, The Studio, which provides a supplementary flex-space that serves as a blank canvas for the most innovative events to come to life.
For weddings and elegant affairs, The Ben's rooftop Blue Heron Ballroom ups the ante on events in the area. The space can host up to 500 guests and is the only rooftop ballroom in all of West Palm Beach with captivating ocean views from Singer Island to Palm Beach Island and beyond.
Regular programming will make use of the varied spaces throughout the hotel with offerings including Sunset/Sunrise Yoga on the Rooftop, a Proper Grit Pup Brunch, Gin & Jam Tea Time and more.
Owned and operated by ConcordHospitality, an award-winning hotel development and management company, The Ben is located at 251 N. Narcissus Avenue, one block from vibrant Clematis Street, minutes away from the newly reimagined Rosemary Square and a short drive from Palm Beach International Airport (PBI).
Hyatt Regency Barcelona Tower Officially Opens
Hyatt Hotels Corporation announced today the opening of the fully renovated 280-room Hyatt Regency Barcelona Tower, a hotel in the gateway to Barcelona's new financial district. Connecting travelers between Barcelona's international airport and city center, the opening of the hotel marks the second Hyatt Regency branded property in Spain as Hyatt mindfully grows the Hyatt Regency brand footprint in markets where guests want to be.
Designed by renowned architect Richard Rogers who is best known for his work on the Pompidou Centre in Paris, the Millennium Dome in London, and the European Court of Human Rights building in Strasbourg, the hotel is one of Barcelona's skyline landmarks. The 344-foot (105-meter) high and 29-story tower is topped by a stunning glass dome providing the top-floor restaurant with breathtaking 360-degree views of the city.
"Grounded in Hyatt's purpose to care for guests, we are proud to grow the Hyatt Regency brand in Barcelona with the opening of Hyatt Regency Barcelona Tower," said Guzman Muela, general manager of Hyatt Regency Barcelona Tower. "Rich culture and world-renowned architecture have ensured Barcelona as a desirable locale where our guests want to stay. Meanwhile, the hotel's location, just minutes from the Fira Gran Via Congress Center, the vibrant meeting spaces and dining options allow us to cater to business travelers' needs."
Guestrooms
Hyatt Regency Barcelona Tower offers 280 contemporary rooms including 41 suites, one Presidential Suite as well as twelve duplex suites, all offering beautiful views of the city skyline. The Presidential Suite is located in the tower on the 26th floor and includes two separate bedrooms, a private office, two large terraces and free access to the Regency Club and Metropolitan Health Club & Spa.
All rooms have ample space, each with walk-in closets, luxurious bathrooms and wall-to-wall mirrors. In addition, the hotel also offers 24-hour room service and around the clock laundry service.
Dining and Drinking
Hyatt Regency Barcelona Tower features a range of energizing drinking and dining options.
Terrum is a new and unique restaurant concept led by the prestigious two-Michelin starred chef, Oscar Velasco. Fresh and seasonal produce as well as excellent service allow guests to depart on culinary adventures.
The Axis Bar invites guests and locals to indulge in cocktails and a variety of snacks and sandwiches in a sophisticated setting. A spectacular outdoor terrace completes the Axis Bar as a perfect place to enjoy the comfortable year-round weather in Barcelona.
The Azimut Restaurant offers a daily breakfast buffet with a wide range of nutritious and healthy options to start the day confidently.
Meetings and Events
Hyatt Regency Barcelona Tower offers a variety of intuitive event and meeting spaces, including its own 500 seat auditorium. Additionally, the Cosmos Room can hold up to 1,800 people and 24 paneled meeting rooms. Furthermore, the hotel lobby offers a wide and open space to work and relax including a spectacular 2034-square-foot (189-square-meter) LED screen, one of the largest in Europe. The flexible meeting spaces backed by the brand's signature service of personalized care and attention to detail ensures that event planners have seamless and high-touch gatherings.
Fitness Center
Guests of Hyatt Regency Barcelona Tower have exclusive access to one of the most prestigious and best equipped gyms in Spain, the Metropolitan Health Club & Spa. The Metropolitan boasts two paddle courts, a solarium, as well as activity rooms with personal training and Pilates studios.
Hyatt Regency Barcelona Tower was rebranded from Hotel Hesperia Barcelona Tower and is managed by HesperiaWorld. It is the fifth Hyatt hotel to open in Spain, alongside Hyatt Regency Hesperia Madrid, Hyatt Centric Gran Vía Madrid, Hotel SOFIA Barcelona and Park Hyatt Mallorca.