New York's Moxy Chelsea Opens As The Flower District's New Secret Garden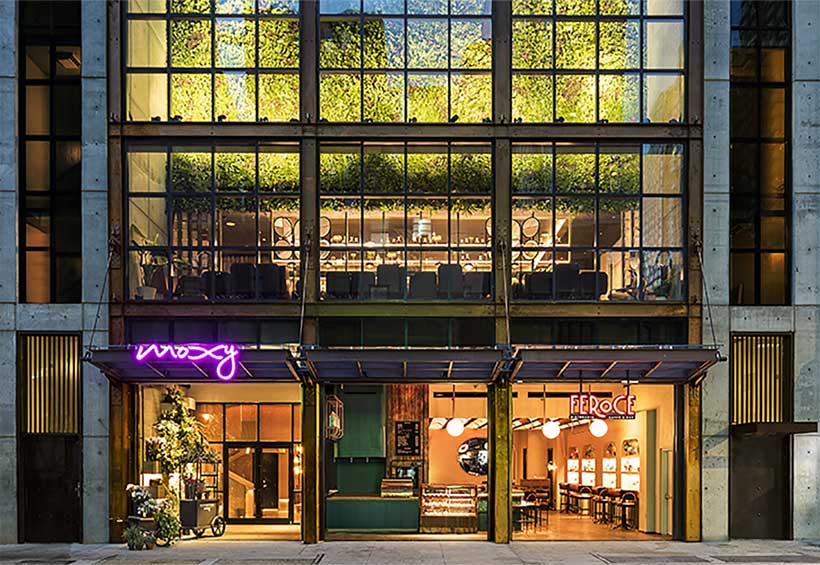 Rising 35 stories high into the New York City skyline, Moxy NYC Chelsea, the micro-room, macro-amenity hotel, developed by Lightstone and part of Marriott International's experiential Moxy Hotels brand, officially opens its doors today. Inspired by the surrounding Flower District, the hotel blends a botanically-influenced design with Italian romance and a touch of playful wit – perfectly timed to welcome guests on Valentine's Day.
Creating an environment that appeals to both today's modern traveler and locals, Moxy Chelsea was developed with a collection of public spaces designed to meet the community's dining, drinking, and co-working needs—while providing guests access to New York City at a neighborhood level. The 349-room hotel marks the second collaboration between Yabu Pushelberg, Rockwell Group, and architects Stonehill Taylor, the designers behind Moxy Times Square and three of the industry's most admired firms.
The newly-constructed building's architecture riffs off the neighborhood's retro-industrial style and feels harmonious with its location, in the heart of the Chelsea Flower Market. The hotel blends into the lush flower shops that surround it, with a soaring three-story glass atrium revealing the vertical gardens within. Guests enter through the overgrown Putnam & Putnam Flower Shop, designed by Yabu Pushelberg, which is envisioned as a "botanical library," with planter boxes suspended from the 15-foot wall, reachable by a wheeled ladder. The shop is run by husbands Darroch and Michael Putnam, whose couture approach to floral arrangements over the years has made them a staple at celebrity weddings, including the recent nuptials of Gwyneth Paltrow and Brad Falchuk. Just beyond the flower shop, a bright yellow neon sign spelling out the words "MEET" and "GREET" beckons guests into Moxy's take on the check-in area. Four butcher blocks, alluding to the nearby Meatpacking District, are dramatically suspended from the 12-foot ceiling above, acting as check-in kiosks. Members of Marriott's recently renamed Loyalty program, Marriott Bonvoy; replacing Marriott Rewards, Starwood Preferred Guest and The Ritz-Carlton Rewards; can also access keyless entry through the Marriott Mobile App. Just beyond check-in is the Moxy Digital Guestbook streaming videos and images taken within Moxy hotels or tagged #atthemoxy for visitors' pre-elevator amusement.
The bedrooms are drenched in sunlight and feature floor-to-ceiling, wall-to-wall windows. For the design, Yabu Pushelberg replicates the clever functionality they created for Moxy Times Square, leavened with wit and humanized with a sense of craft. In all three room types — King, Double/Double and Quad Bunk — the furniture, which includes a writing desk and chair/luggage rack, can be folded up and hung up on Moxy's signature peg wall when not in use. Other space-saving gambits include under-bed storage and a lava-stone sink and vanity area placed outside the bathroom. Tiles in the shower stalls are printed with cheeky phrases like "SOME REGRETS" and "WILD THING," while a bulldog-shaped beer bottle opener hangs on the door. Additional bedroom features nod to the Flower District, like reading lamps that resemble garden lanterns and faucets that recall hose reels. Unique to Moxy Chelsea is the over-the-top MONDO Suite, an entertainment suite located on the 32nd floor. With soaring, double-height 18-foot ceilings and a wall of industrial-style windows looking out onto the Empire State Building, the room is equipped for entertaining and socializing. The suite can be combined with one or two adjoining king rooms to create a place to party and sleep.
Dining and Drinking Concepts for Guests and Locals Alike
Lightstone teamed up with Francesco Panella, owner of Antica Pesa, the legendary trattoria in Rome and its celeb-favorite counterpart in Brooklyn, and TAO Group to create new dining and drinking concepts for Moxy Chelsea that will appeal to guests and locals alike—Feroce Ristorante, Feroce Caffè, and Bar Feroce. The menu at Feroce Ristorante embraces both traditional dishes and modern interpretations utilizing ingredients from historic brands and small producers across Italy, as well as local purveyors in New York. In front of the restaurant is Feroce Caffè, with glass airplane hangar-style doors that can be raised all the way up, opening the space entirely to the sidewalk, as in Italy. It also features a vintage doughnut machine that wafts tempting aromas onto the sidewalk, luring locals in off the street. The hotel entrance has its own dedicated window counter connecting to the caffè, so guests can pick up fresh-baked doughnuts and coffee as they come and go.
Panella also created the menu at Bar Feroce, an Italian snack bar and lounge offering a modern twist on traditional Roman comfort dishes, oven-fired pizzas, and classic cocktails. On Bar Feroce's all-season, alfresco garden terrace, The Backyard, a terra cotta oven turns out gourmet Roman-style pizzas and features a made-for-Moxy bocce drinking game.
When designing Feroce, Rockwell Group worked closely with Panella to capture his vision and energy. As a result, the space has a theatrical quality, from the overscale terrazzo floors to the Brooks Brothers custom-designed waitstaff uniforms, to the grappa cart roving the dining room.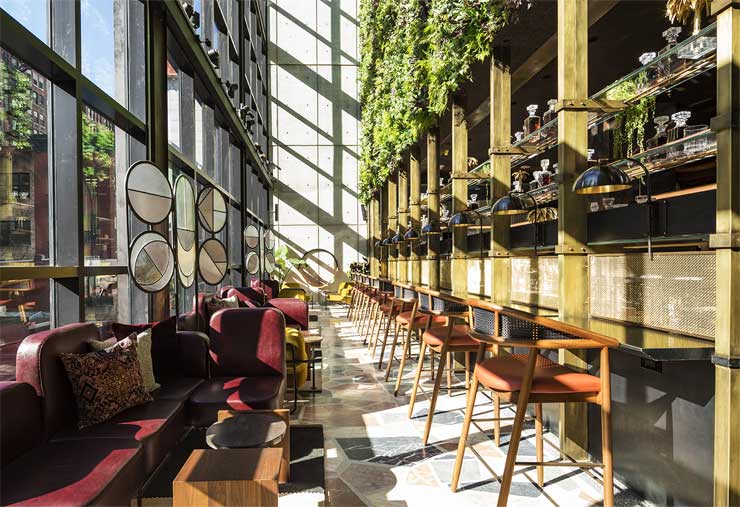 Rockwell Group was also responsible for Moxy Chelsea's second-floor lobby, which unfurls as a series of spaces with multiple uses that change with the rhythm of the day. The Conservatory occupies the three-story glass atrium on the building's front façade; on one side, greenhouse-style windows overlook the sidewalk, while on the other, a vast living wall teems with plants, Little Shop of Horrors–style. During the day, sunlight flows in, refracted by multicolored glass screens and reflected kaleidoscopically on the terrazzo floor—an ideal spot for working or reading. At night, a DJ shifts the energy from day to evening, transitioning the space seamlessly into a cocktail lounge.
The lobby atmosphere is enlivened by a design that reflects Moxy's trademark cheekiness, such as classically sculpted figurines making unexpected poses, like twerking, taking selfies, and wearing sunglasses. A life-size, toga-clad Roman statue rests on a column, one arm extended so it can hold a guest's phone and pose with them for a selfie. Throughout the lobby, ample seating options invite co-working and socializing, including modular meeting studios that morph seamlessly from daytime workplace to evening social space.
TAO Group and Rockwell also collaborated on The Fleur Room, Moxy Chelsea's rooftop lounge, topping off the hotel on the 35th floor with panoramic 360-degree views of the Manhattan skyline, from the Statue of Liberty to the Empire State building. The design features a copper-clad bar, glass chandeliers that resemble giant water droplets, and a massive disco ball salvaged from the notorious 1980s L.A. nightclub Vertigo. The real showstopper: The lounge's glass walls descend at the touch of a button, transforming the space into an alfresco sky veranda.
"We've all read about how the modern traveler wants to satisfy their curiosity with unique experiences and personalized, insider access," says Mitchell Hochberg, President of Lightstone. "Nobody really expects that at the Moxy price point. With Moxy Times Square, we proved we could flip the script; and with Moxy Chelsea, we're taking it to the next level: We've doubled down on that formula—affordable rates, rooms with character, distinctive public spaces—and made it even more personal, more local, more genuinely New York."
"With the opening of Moxy Chelsea, the Moxy Hotels brand continues to boldly reinvent the hospitality scene," says Toni Stoeckl, Global Brand Leader, Moxy Hotels, and Vice President, Distinctive Select Service Brands, Marriott International. "When you walk into a Moxy, you know you're getting a killer bar experience with fun, playful programming; an in-the-know Crew; stylish and functional bedrooms; and experiential moments you'll want to share with friends during your trip. Moxy Chelsea offers all of that, with a distinctly bold, New York twist."
Moxy now has 30+ experiential hotels open across North America, Europe and Asia. Moxy is expected to open 20+ more hotels in 2019, in destinations including Paris, Nashville and Boston.
Moxy Chelsea is located at 105 W 28th Street (at 6th Avenue). The hotel opens in preview today and launches officially March 8, 2019. For more information or to book, visit www.moxychelsea.com.
A Dozen Interesting Facts About Four Seasons Hotel Bengaluru
1. Located in North Bengaluru, the city's growth corridor, Four Seasons Hotel Bengaluru can be reached in less than 30 minutes from Kempegowda International Airport.
2. The Embassy ONE estate comprises triple skyscrapers—Pinnacle Tower, comprising premium grade office spaces and retail, South Tower which houses the hotel building flanked on the other side by the North Tower, comprising private residences.
3. Set amid 5.6 acres (243,936 square feet) of landscaped gardens and water features, the hotel is a unique combination of modern urban architecture dotted with calming parksand gardens. All the restaurants have an adjoining al fresco area.
4. The resort-like vibes can best be felt in the heart of the estate comprising a 100 feet (30 metre), heated outdoor pool, the meditative Butterfly Garden and the Ribbon Lawn.
5. Alongside the pool and located behind a soothing waterfall is Infuse Spa, which gives one an illusory feel of time travel under water, with its fluid, recurring arches and cool cream and aqua design aesthetics.
6. The hotel design is modern and sleek, designed by internationally acclaimed firm Yabu Pushelberg marked by a dominant recurrence of straight lines and geometric patterns, with the 21st Floor making a complete departure with its unmistakable flair and style. Designed by LW Design, this floor is unlike the rest of the hotel and houses 2 remarkable dining outlets: Copitas, the destination bar and Far & East, the Asian Brasserie.
7. The event spaces are modern, have a separate entrance and are all located on the same floor with an adjoining Terrace that makes for a great al fresco event area.
8. The art in the hotel is multilayered with a play of textures from wood, ceramics, canvas, iron to bronze. All works are by a collection of 25 contemporary Indian artists who have seen recent acclaim in the last few years.
9. There is a custom built, expansive grill in the restaurant CUR8, which is powered by charcoal and is perhaps one of the largest in the country.
10. The Lobby Lounge & Terrace has some special tea blends curated specially for the hotel. Among them are Rose tea, Apple Cinnamon Duet, Wild Berry Tales which is a green tea with berry undertones, Orange Blossom with a sweet vanilla and citrus note, Summer Times redolent of ripe mangoes and the Chocolate Mint tea that one can replace dessert with.
11. The hotel is pet friendly. We welcome furry friends and family to stay, provided he or she is well within 15 kilograms (33 pounds) in size.
12. The Collection has a selection of more than 60 world whiskies and whiskey inspired cocktails.
Hyatt Regency Brand to Enter the Portuguese Market with Hyatt Regency Lisbon
Hyatt Hotels Corporation announced today that a Hyatt affiliate has entered into a franchise and related agreements with Realtejo – Hotelaria e Turismo, S.A., owned subsidiary of United Investments Portugal and Fibeira, to develop the first Hyatt branded hotel in Portugal: Hyatt Regency Lisbon. Expected to open in late 2020, the hotel will feature 200 hotel rooms and apartments and will be located between Rua Guerra Junqueiro and Avenida da Índia, a stunning waterfront location facing Tejo River.
The foray into Lisbon, Portugal's coastal capital city, is an important milestone for Hyatt, signifying its growing brand presence in increasingly competitive markets across the continent. The number of tourists visiting Portugal has increased for eight consecutive years, with 12.8 million travelers visiting in 2018 alone.
The hotel will be situated just a five-minute drive from Lisbon's historic city center and within easy reach of many major attractions, including the two UNESCO World Heritage sites: the Bélem Tower and the Jéronimos Monastery. These nearby sites, along with its prime location across from Lisbon's conference center and convenient access to the airport, will make the Hyatt Regency brand a natural fit with its appeal to both business and leisure travelers seeking a seamless experience.
"We are delighted by the announcement of plans for the first Hyatt hotel in Portugal as Lisbon is one of Europe's leading cities in overnight stays and has quickly established itself as a prime destination not only for leisure travelers, but also for larger conventions and events." said Nuno Galvão-Pinto, regional vice president development at Hyatt. "We look forward to working with United Investments Portugal on this exciting project in Lisbon. This is an important step for Hyatt as we look to expand our brand presence throughout Portugal."
Hyatt Regency Lisbon will offer a wide range of intuitive facilities, including a luxurious spa, a swimming pool, a rooftop terrace bar with views over the river, as well as a beautiful courtyard and garden.
Carlos Leal, general manager of United Investments Portugal commented, "We are thrilled to be working with Hyatt on our first development in Lisbon in a premier riverside location in one of the world's leading cities. With its warm climate, culture, history, gastronomy and beaches, Lisbon truly has it all.
The Hyatt Regency brand offers a stress-free environment for leisure and business travelers alike to enjoy a productive and energized experience. Guests can enjoy signature services and amenities, including notable food and beverage, flexible spaces to work, collaborate or relax, and expansive technology-enabled facilities for meetings and events, along with expert planners who adhere to every detail.
Hyatt Regency Lisbon will mark continued growth for the brand in Europe, joining Hyatt Regency Nice Palais de la Méditerranée and soon-to-open Hyatt Regency Barcelona Fira and Hyatt Regency Hesperia Madrid.
Historic, Storyful, New: Iconic Caribe Hilton Is Officially Open
Caribe Hilton, admired as one of Puerto Rico's most beloved resorts, retakes center stage, officially debuting a more than $150 million restoration following a 15-month closure. A gem of the Caribbean since 1949, the highly anticipated opening marks a major milestone as the storied property celebrates its 70th birthday, and as Hilton marks its 100th anniversary.
Plunged into the limelight as a hotspot for celebrities, politicians and royalty since its mid- century opening, Caribe Hilton earned its place at the forefront of tourism in the Caribbean, instantly embodying the jet-set glamour of the era during its early days and remaining a social institution for decades to follow. Just in time for summer, the beachfront resort's top-to-bottom makeover pays homage to years of cherished history and oceanside allure, complemented by modern accommodations and amenities at an arm's reach from Old San Juan's pulsating, colorful center.
"Caribe Hilton was our first hotel to open outside the continental U.S. and the birthplace of the piña colada, and for that reason, has always been an incredibly important hotel for Hilton. It is with great pride that we say 'welcome back' or 'bienvenidos' to this emblematic property," said Danny Hughes, Executive Vice President and President, Americas, Hilton. "We are extremely proud of our new product and the resilient Team Members who worked to redevelop a resort worthy of its history. We can't wait to welcome guests and members of the community back to the hotel."
Caribe Hilton, which has been meticulously restored by owner Park Hotels and Resorts (NYSE: PK), delivers contemporary guest room and suite renovations; reimagined F&B concepts (sweet history was made here in 1954 when Ramon "Monchito" Marrero created the Piña Colada at the former Beachcomber Bar); fitness center; spa; tennis center (in collaboration with Puerto Rican Olympic gold medalist Monica Puig); and landscaping redesigns, paired with an incredible 65,000 square feet of indoor and outdoor event space.
Boasting touches inspired by "the island of enchantment," Caribe Hilton's reinvigorated look is deeply influenced by the vibrant culture, lively colors and rich history of San Juan, as well as the warmth and charm of the locals who call it home.
"The reopening of Caribe Hilton is one more symbol that Puerto Rico is back in business," said Pablo Torres, General Manager, Caribe Hilton. "The sun is shining, there's energy and rhythm on the island, and once again our famous piña coladas are flowing. We're welcoming our return guests back home, as well as introducing new ones to the enduring Caribe Hilton experience and legacy."
To celebrate the opening, for a limited time, guests can extend their stay in paradise an additional night with "One Night on Us" — a complimentary 3rd night free. Travel must be booked by June 30 for travel between May 15 and December 20, 2019.