New York's Moxy Chelsea Opens As The Flower District's New Secret Garden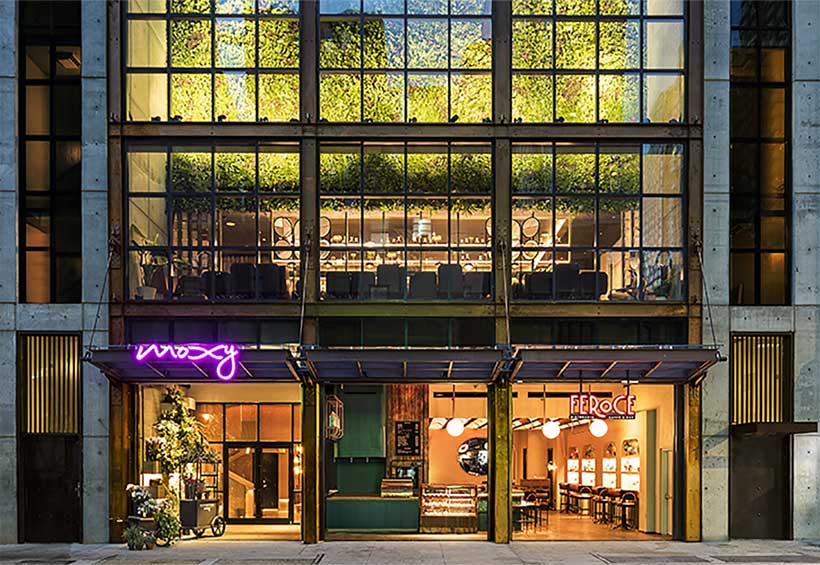 Rising 35 stories high into the New York City skyline, Moxy NYC Chelsea, the micro-room, macro-amenity hotel, developed by Lightstone and part of Marriott International's experiential Moxy Hotels brand, officially opens its doors today. Inspired by the surrounding Flower District, the hotel blends a botanically-influenced design with Italian romance and a touch of playful wit – perfectly timed to welcome guests on Valentine's Day.
Creating an environment that appeals to both today's modern traveler and locals, Moxy Chelsea was developed with a collection of public spaces designed to meet the community's dining, drinking, and co-working needs—while providing guests access to New York City at a neighborhood level. The 349-room hotel marks the second collaboration between Yabu Pushelberg, Rockwell Group, and architects Stonehill Taylor, the designers behind Moxy Times Square and three of the industry's most admired firms.
The newly-constructed building's architecture riffs off the neighborhood's retro-industrial style and feels harmonious with its location, in the heart of the Chelsea Flower Market. The hotel blends into the lush flower shops that surround it, with a soaring three-story glass atrium revealing the vertical gardens within. Guests enter through the overgrown Putnam & Putnam Flower Shop, designed by Yabu Pushelberg, which is envisioned as a "botanical library," with planter boxes suspended from the 15-foot wall, reachable by a wheeled ladder. The shop is run by husbands Darroch and Michael Putnam, whose couture approach to floral arrangements over the years has made them a staple at celebrity weddings, including the recent nuptials of Gwyneth Paltrow and Brad Falchuk. Just beyond the flower shop, a bright yellow neon sign spelling out the words "MEET" and "GREET" beckons guests into Moxy's take on the check-in area. Four butcher blocks, alluding to the nearby Meatpacking District, are dramatically suspended from the 12-foot ceiling above, acting as check-in kiosks. Members of Marriott's recently renamed Loyalty program, Marriott Bonvoy; replacing Marriott Rewards, Starwood Preferred Guest and The Ritz-Carlton Rewards; can also access keyless entry through the Marriott Mobile App. Just beyond check-in is the Moxy Digital Guestbook streaming videos and images taken within Moxy hotels or tagged #atthemoxy for visitors' pre-elevator amusement.
The bedrooms are drenched in sunlight and feature floor-to-ceiling, wall-to-wall windows. For the design, Yabu Pushelberg replicates the clever functionality they created for Moxy Times Square, leavened with wit and humanized with a sense of craft. In all three room types — King, Double/Double and Quad Bunk — the furniture, which includes a writing desk and chair/luggage rack, can be folded up and hung up on Moxy's signature peg wall when not in use. Other space-saving gambits include under-bed storage and a lava-stone sink and vanity area placed outside the bathroom. Tiles in the shower stalls are printed with cheeky phrases like "SOME REGRETS" and "WILD THING," while a bulldog-shaped beer bottle opener hangs on the door. Additional bedroom features nod to the Flower District, like reading lamps that resemble garden lanterns and faucets that recall hose reels. Unique to Moxy Chelsea is the over-the-top MONDO Suite, an entertainment suite located on the 32nd floor. With soaring, double-height 18-foot ceilings and a wall of industrial-style windows looking out onto the Empire State Building, the room is equipped for entertaining and socializing. The suite can be combined with one or two adjoining king rooms to create a place to party and sleep.
Dining and Drinking Concepts for Guests and Locals Alike
Lightstone teamed up with Francesco Panella, owner of Antica Pesa, the legendary trattoria in Rome and its celeb-favorite counterpart in Brooklyn, and TAO Group to create new dining and drinking concepts for Moxy Chelsea that will appeal to guests and locals alike—Feroce Ristorante, Feroce Caffè, and Bar Feroce. The menu at Feroce Ristorante embraces both traditional dishes and modern interpretations utilizing ingredients from historic brands and small producers across Italy, as well as local purveyors in New York. In front of the restaurant is Feroce Caffè, with glass airplane hangar-style doors that can be raised all the way up, opening the space entirely to the sidewalk, as in Italy. It also features a vintage doughnut machine that wafts tempting aromas onto the sidewalk, luring locals in off the street. The hotel entrance has its own dedicated window counter connecting to the caffè, so guests can pick up fresh-baked doughnuts and coffee as they come and go.
Panella also created the menu at Bar Feroce, an Italian snack bar and lounge offering a modern twist on traditional Roman comfort dishes, oven-fired pizzas, and classic cocktails. On Bar Feroce's all-season, alfresco garden terrace, The Backyard, a terra cotta oven turns out gourmet Roman-style pizzas and features a made-for-Moxy bocce drinking game.
When designing Feroce, Rockwell Group worked closely with Panella to capture his vision and energy. As a result, the space has a theatrical quality, from the overscale terrazzo floors to the Brooks Brothers custom-designed waitstaff uniforms, to the grappa cart roving the dining room.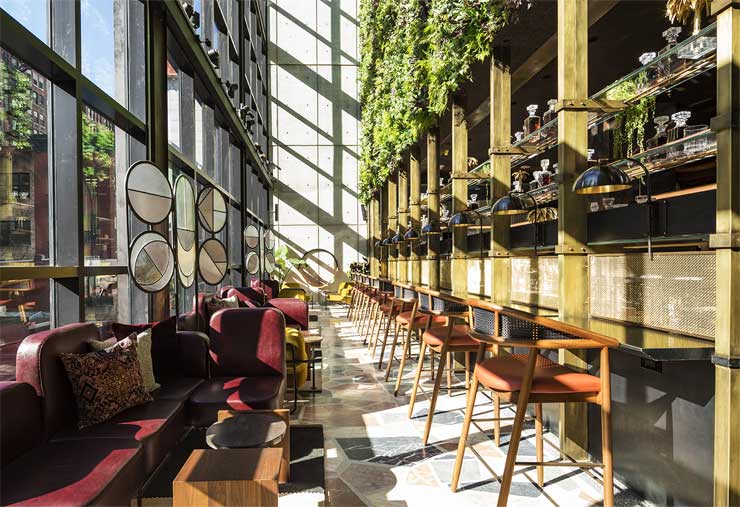 Rockwell Group was also responsible for Moxy Chelsea's second-floor lobby, which unfurls as a series of spaces with multiple uses that change with the rhythm of the day. The Conservatory occupies the three-story glass atrium on the building's front façade; on one side, greenhouse-style windows overlook the sidewalk, while on the other, a vast living wall teems with plants, Little Shop of Horrors–style. During the day, sunlight flows in, refracted by multicolored glass screens and reflected kaleidoscopically on the terrazzo floor—an ideal spot for working or reading. At night, a DJ shifts the energy from day to evening, transitioning the space seamlessly into a cocktail lounge.
The lobby atmosphere is enlivened by a design that reflects Moxy's trademark cheekiness, such as classically sculpted figurines making unexpected poses, like twerking, taking selfies, and wearing sunglasses. A life-size, toga-clad Roman statue rests on a column, one arm extended so it can hold a guest's phone and pose with them for a selfie. Throughout the lobby, ample seating options invite co-working and socializing, including modular meeting studios that morph seamlessly from daytime workplace to evening social space.
TAO Group and Rockwell also collaborated on The Fleur Room, Moxy Chelsea's rooftop lounge, topping off the hotel on the 35th floor with panoramic 360-degree views of the Manhattan skyline, from the Statue of Liberty to the Empire State building. The design features a copper-clad bar, glass chandeliers that resemble giant water droplets, and a massive disco ball salvaged from the notorious 1980s L.A. nightclub Vertigo. The real showstopper: The lounge's glass walls descend at the touch of a button, transforming the space into an alfresco sky veranda.
"We've all read about how the modern traveler wants to satisfy their curiosity with unique experiences and personalized, insider access," says Mitchell Hochberg, President of Lightstone. "Nobody really expects that at the Moxy price point. With Moxy Times Square, we proved we could flip the script; and with Moxy Chelsea, we're taking it to the next level: We've doubled down on that formula—affordable rates, rooms with character, distinctive public spaces—and made it even more personal, more local, more genuinely New York."
"With the opening of Moxy Chelsea, the Moxy Hotels brand continues to boldly reinvent the hospitality scene," says Toni Stoeckl, Global Brand Leader, Moxy Hotels, and Vice President, Distinctive Select Service Brands, Marriott International. "When you walk into a Moxy, you know you're getting a killer bar experience with fun, playful programming; an in-the-know Crew; stylish and functional bedrooms; and experiential moments you'll want to share with friends during your trip. Moxy Chelsea offers all of that, with a distinctly bold, New York twist."
Moxy now has 30+ experiential hotels open across North America, Europe and Asia. Moxy is expected to open 20+ more hotels in 2019, in destinations including Paris, Nashville and Boston.
Moxy Chelsea is located at 105 W 28th Street (at 6th Avenue). The hotel opens in preview today and launches officially March 8, 2019. For more information or to book, visit www.moxychelsea.com.
Check-In From the Skies: Waldorf Astoria Arrives in Dubai's Financial Centre
Today, the highly anticipated Waldorf Astoria Dubai International Financial Centre (DIFC) opens its doors, joining two other Waldorf Astoria properties in the UAE and reinforcing the brand as the pinnacle of luxury in the region. The 275-room hotel is a welcome addition to Dubai's bustling financial district, bringing a slice of the French Riviera with its stylish rooftop bar and pool, a piece of New York City with acclaimed restaurant Bull & Bear and a timeless design that evokes the elegance of the 1960s.
Waldorf Astoria DIFC occupies the 18th to 55th floors of the Burj Daman, a complex featuring residences and office towers. Guests will enjoy a unique reception and check-in experience on the 18th floor, which is also home to the hotel's dining and wellness facilities and acts as the true heartbeat of the hotel. All 275 guest rooms, including 46 suites and 28 residential suites, offer breathtaking, unobstructed views of the downtown Dubai skyline, which can be viewed through floor-to-ceiling windows in each room. Guests can reach The Dubai Mall, Burj Khalifa and The Dubai Fountain within minutes during their stay in one of Dubai's most vibrant districts.
"We are delighted to expand our luxury presence in the region with the opening of Waldorf Astoria DIFC which is located in an important economic hub within the region," said Rudi Jagersbacher, President, Middle East, Africa & Turkey, Hilton. "Earlier this year, His Highness Sheikh Mohammed bin Rashid Al Maktoum approved the launch of DIFC 2.0 which will add 13 million square feet of space to the Centre. We are pleased to be part of this rapidly growing district and look forward to delivering unparalleled experiences to guests staying in DIFC."
Inspired by the iconic architecture, lifestyle and mid-modern style of the 1960s, the hotel exudes a contemporary elegance and understated luxury. With its stylish furniture, multifunctional design peppered with marble, ebony, brass and bronze materials, the hotel boasts a sleek and contemporary look.
In line with Waldorf Astoria's legacy of culinary expertise, Waldorf Astoria DIFC is primed to be a best-in-class dining destination. All restaurants and bars are located on the 18th floor, a stunning location from which to view the city.
Bull & Bear: Inspired by the original once located in the Waldorf Astoria New York, Bull & Bear is the hotel's signature restaurant which offers a twist on the legendary eatery. Diners can enjoy imaginative cuisine in a stylish, relaxed setting.
St Trop: An oasis in the heart of the city, St. Trop serves up a slice of the French Riviera in DIFC. This stylish rooftop lounge ⁠— with its pool, whirlpool, timber decking and bright colours ⁠— is perfect for drinks and light bites from day to night. Truly an urban escape, St Trop brings laidback poolside chic to Dubai's financial district.
Peacock Alley: Peacock Alley is an elegant lounge and bar ideal for both sophisticated gatherings and informal gatherings. The term "Peacock Alley" was coined to portray the daily promenade of people through the original colonnade connecting The Waldorf and The Astoria hotels in New York City. The iconic venue is present at all Waldorf Astoria hotels worldwide ⁠— and this historical part of New York heritage is now in DIFC.
For those looking to unwind, the Waldorf Astoria Spa ⁠— with its floatation tank, hydrobath, hammam and Vichy shower ⁠— is a sanctuary of relaxation in the middle of the city. Secluded on the 18th floor, the spa offers four treatment suites and the hotel's fitness centre offers state-of-the-art equipment and views of Dubai's skyline from 18 floors up.
The hotel offers five elegant, innovative settings, including a unique library concept which houses an open kitchen. The hotel also features spacious meeting rooms, a grand ballroom with a pre-function area and a sophisticated boardroom that is perfect for corporate meetings. All spaces have a residential, personal feel, providing the ideal setting for every type of event.
"We are thrilled to bring Waldorf Astoria to DIFC and offer True Waldorf Service in such a thriving and dynamic location within the city," said Dino Michael, Global Head, Waldorf Astoria Hotels & Resorts. "From Bangkok to Amsterdam, Waldorf Astoria properties are set in landmark locations all over the world, and Waldorf Astoria DIFC is a remarkable addition to our growing portfolio in the Middle East and beyond."
Waldorf Astoria DIFC joins two award-winning Waldorf Astoria properties in the UAE ⁠— Waldorf Astoria Dubai Palm Jumeirah and Waldorf Astoria Ras Al Khaimah ⁠— and is the brand's first city-based hotel in the country. Like all Waldorf Astoria properties in the world, Waldorf Astoria DIFC offers True Waldorf Service: graceful, anticipatory service from the moment a guest books through checkout.
Waldorf Astoria DIFC is part of Hilton Honors, the award-winning guest-loyalty program for Hilton's 17 distinct hotel brands. Members who book directly have access to instant benefits, including a flexible payment slider that allows members to choose nearly any combination of Points and money to book a stay, an exclusive member discount, free standard Wi-Fi and the Hilton Honors mobile app. Book direct at Hilton.com, through the Hilton Honors app or through other official Hilton channels for more perks and a price match guarantee.
To celebrate the hotel's opening, Hilton Honors members will earn an additional 5000 Points per night, with a minimum stay of three nights ⁠— for bookings through 30 December 2019, when booking directly with Hilton.
Enjoy 5 Wonderful Attractions Just Steps Away from Four Seasons Hotel Buenos Aires
Floralis Genérica: Designed to flower during the day and close at night, like most real flowers, Floralis Genérica is a piece of art composed of aluminium and stainless steel created by the Argentine architect Eduardo Catalano. It is located in the United Nations Park, just a 10 minute walk from Four Seasons Hotel Buenos Aires, in the neighboirhood of Recoleta. Given its location, it is a nice plan to take a walk through the square and then enjoy lunch or dinner in the exclusive restaurants around it.
Recoleta Cemetery: The Recoleta Cemetery is an outdoor work of art. It houses some 4,780 vaults of which more than 90 are national historical monuments, belonging to the main figures in Argentine history, such as Eva Perón. It is the most visited cemetery in the city, its entrance is free and free one-hour guided tours are offered in Spanish only every day.
Avenida Alvear shops: Alvear is the most luxurious avenue in the city, only five blocks away from Four Seasons Hotel Buenos Aires, and it extends for seven blocks, starting from the Plazoleta Carlos Pellegrini to the Plaza Alvear. It stands out for its architecture filled with French-style palaces, and for its luxury boutiques of the most prestigious haute couture designers.
Museum of Fine Arts: The Museum of Fine Arts is located in the Recoleta neighbourhood, surrounded by important sites of interest. It is home of more than 12,000 paintings, an artistic library with more than 150,000 volumes and it has a larger auditorium. The permanent collection of the museum feature paintings of the most prominent Argentine and international painters and sculptors such as Picasso, Goya, Monet, Manet, Renoir, Van Gogh, Rubens, Cézanne, El Greco and Rodin. Undoubtedly it is an important stop during your visit to Buenos Aires.
Teatro Colón: Considered one of the most important theatres in the world, the Teatro Colón is a must-see attraction in the city of Buenos Aires. Built more than 100 years ago, it has been restored by the government of the city of Buenos Aires in 2008. In it, the most important directors, singers and dancers in history performed, such as Igor Stravinsky, Herbert von Karajan, Daniel Barenboim, Maria Callas, Luciano Pavarotti, Plácido Domingo, Rudolf Nureyev, Julio Bocca and Maximiliano Guerra.
The Barbie Room Arrives at Hilton Cartagena
Barbie® continues with incredible surprises to celebrate her 60th birthday. Girls of all ages, moms and fans of the most famous doll in the world can participate in the most incredible experience of the Barbie® room in Hilton Cartagena. Starting this month, the exclusive Barbie® room will be available to fulfill the dreams of a lot of little ones.
The Barbie® room is full of details and exclusive elements to spend an unforgettable experience. Mattel and Hilton will come together to create a room that takes up the concept of "glamping," a current trend in the world.
"Glamping is the fusion of the words glamour and camping. The glamorous camping is a growing global phenomenon that combines the experience of camping with luxury and the conditions of the best hotels," said Vinod Agarwal, general manager, Hilton Cartagena. "Barbie® loves to travel, enjoy nature and take care of the environment without forget the comforts and attractions of the most sophisticated accommodations."
Barbie® will be present in every detail. Upon entering, guests can take amazing pictures in the iconic doll box, climb small pink stairs to check-in and discover the exclusive pink menu in the hotel restaurant. In addition, on the occasion of its 60th anniversary, she will share with visitors a little of her history through images and pieces of collection.
The room, which will be available until March 2020, took approximately 20 weeks from its conceptualization, design and production. "The presence of Barbie® can be felt in every corner. The elements of decoration, bedding, toys, dolls and activities are intended to continue inspiring girls to be what they want to be and to fulfill their greatest desires," shared Vinod Agarwal during the opening event.
Both the guests of the room and the girls who visit the hotel can enjoy spaces with unbeatable touches of Barbie®, they will have the opportunity to enjoy incredible thematic experiences in the different seasons of the year and explore the multiple services offered by the hotel. When registering the lodging to the Glamping Room of Barbie®, the girls will receive a special welcome kit.
Hilton Cartagena is one of the most emblematic of the country which is located on the peninsula of El Laguito. This beach hotel is bordered by the Caribbean Sea on three sides, so it offers an unparalleled view and a peaceful atmosphere. It has a privileged location facing the sea, just ten minutes by car from the old walled city and the convention center of Cartagena de Indias.
The fee to experience the Barbie room will have a rate from $183 USD.