New York's Moxy Chelsea Opens As The Flower District's New Secret Garden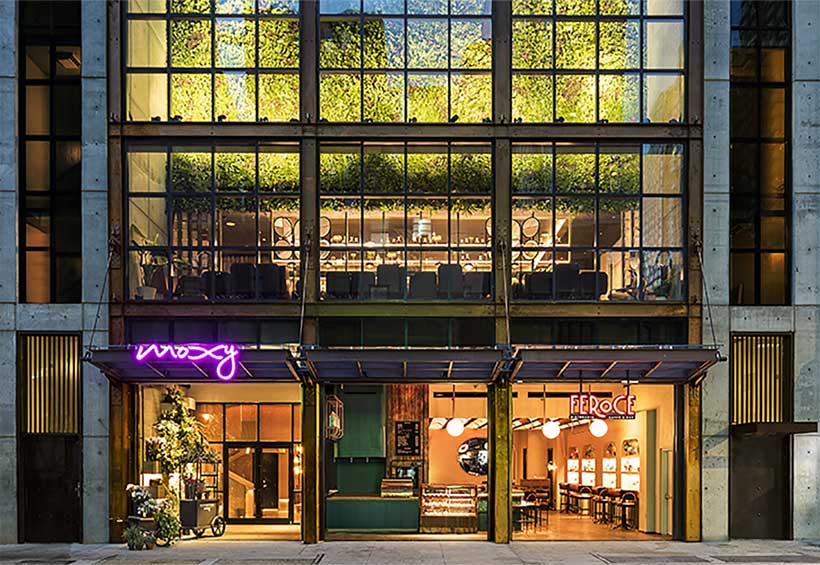 Rising 35 stories high into the New York City skyline, Moxy NYC Chelsea, the micro-room, macro-amenity hotel, developed by Lightstone and part of Marriott International's experiential Moxy Hotels brand, officially opens its doors today. Inspired by the surrounding Flower District, the hotel blends a botanically-influenced design with Italian romance and a touch of playful wit – perfectly timed to welcome guests on Valentine's Day.
Creating an environment that appeals to both today's modern traveler and locals, Moxy Chelsea was developed with a collection of public spaces designed to meet the community's dining, drinking, and co-working needs—while providing guests access to New York City at a neighborhood level. The 349-room hotel marks the second collaboration between Yabu Pushelberg, Rockwell Group, and architects Stonehill Taylor, the designers behind Moxy Times Square and three of the industry's most admired firms.
The newly-constructed building's architecture riffs off the neighborhood's retro-industrial style and feels harmonious with its location, in the heart of the Chelsea Flower Market. The hotel blends into the lush flower shops that surround it, with a soaring three-story glass atrium revealing the vertical gardens within. Guests enter through the overgrown Putnam & Putnam Flower Shop, designed by Yabu Pushelberg, which is envisioned as a "botanical library," with planter boxes suspended from the 15-foot wall, reachable by a wheeled ladder. The shop is run by husbands Darroch and Michael Putnam, whose couture approach to floral arrangements over the years has made them a staple at celebrity weddings, including the recent nuptials of Gwyneth Paltrow and Brad Falchuk. Just beyond the flower shop, a bright yellow neon sign spelling out the words "MEET" and "GREET" beckons guests into Moxy's take on the check-in area. Four butcher blocks, alluding to the nearby Meatpacking District, are dramatically suspended from the 12-foot ceiling above, acting as check-in kiosks. Members of Marriott's recently renamed Loyalty program, Marriott Bonvoy; replacing Marriott Rewards, Starwood Preferred Guest and The Ritz-Carlton Rewards; can also access keyless entry through the Marriott Mobile App. Just beyond check-in is the Moxy Digital Guestbook streaming videos and images taken within Moxy hotels or tagged #atthemoxy for visitors' pre-elevator amusement.
The bedrooms are drenched in sunlight and feature floor-to-ceiling, wall-to-wall windows. For the design, Yabu Pushelberg replicates the clever functionality they created for Moxy Times Square, leavened with wit and humanized with a sense of craft. In all three room types — King, Double/Double and Quad Bunk — the furniture, which includes a writing desk and chair/luggage rack, can be folded up and hung up on Moxy's signature peg wall when not in use. Other space-saving gambits include under-bed storage and a lava-stone sink and vanity area placed outside the bathroom. Tiles in the shower stalls are printed with cheeky phrases like "SOME REGRETS" and "WILD THING," while a bulldog-shaped beer bottle opener hangs on the door. Additional bedroom features nod to the Flower District, like reading lamps that resemble garden lanterns and faucets that recall hose reels. Unique to Moxy Chelsea is the over-the-top MONDO Suite, an entertainment suite located on the 32nd floor. With soaring, double-height 18-foot ceilings and a wall of industrial-style windows looking out onto the Empire State Building, the room is equipped for entertaining and socializing. The suite can be combined with one or two adjoining king rooms to create a place to party and sleep.
Dining and Drinking Concepts for Guests and Locals Alike
Lightstone teamed up with Francesco Panella, owner of Antica Pesa, the legendary trattoria in Rome and its celeb-favorite counterpart in Brooklyn, and TAO Group to create new dining and drinking concepts for Moxy Chelsea that will appeal to guests and locals alike—Feroce Ristorante, Feroce Caffè, and Bar Feroce. The menu at Feroce Ristorante embraces both traditional dishes and modern interpretations utilizing ingredients from historic brands and small producers across Italy, as well as local purveyors in New York. In front of the restaurant is Feroce Caffè, with glass airplane hangar-style doors that can be raised all the way up, opening the space entirely to the sidewalk, as in Italy. It also features a vintage doughnut machine that wafts tempting aromas onto the sidewalk, luring locals in off the street. The hotel entrance has its own dedicated window counter connecting to the caffè, so guests can pick up fresh-baked doughnuts and coffee as they come and go.
Panella also created the menu at Bar Feroce, an Italian snack bar and lounge offering a modern twist on traditional Roman comfort dishes, oven-fired pizzas, and classic cocktails. On Bar Feroce's all-season, alfresco garden terrace, The Backyard, a terra cotta oven turns out gourmet Roman-style pizzas and features a made-for-Moxy bocce drinking game.
When designing Feroce, Rockwell Group worked closely with Panella to capture his vision and energy. As a result, the space has a theatrical quality, from the overscale terrazzo floors to the Brooks Brothers custom-designed waitstaff uniforms, to the grappa cart roving the dining room.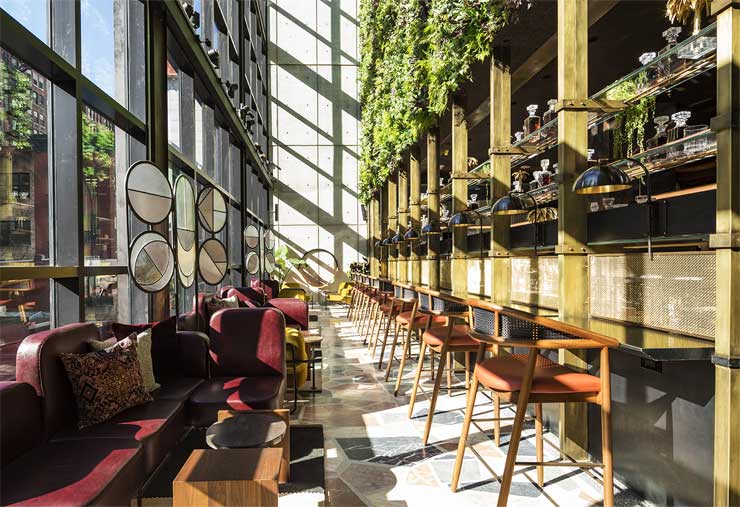 Rockwell Group was also responsible for Moxy Chelsea's second-floor lobby, which unfurls as a series of spaces with multiple uses that change with the rhythm of the day. The Conservatory occupies the three-story glass atrium on the building's front façade; on one side, greenhouse-style windows overlook the sidewalk, while on the other, a vast living wall teems with plants, Little Shop of Horrors–style. During the day, sunlight flows in, refracted by multicolored glass screens and reflected kaleidoscopically on the terrazzo floor—an ideal spot for working or reading. At night, a DJ shifts the energy from day to evening, transitioning the space seamlessly into a cocktail lounge.
The lobby atmosphere is enlivened by a design that reflects Moxy's trademark cheekiness, such as classically sculpted figurines making unexpected poses, like twerking, taking selfies, and wearing sunglasses. A life-size, toga-clad Roman statue rests on a column, one arm extended so it can hold a guest's phone and pose with them for a selfie. Throughout the lobby, ample seating options invite co-working and socializing, including modular meeting studios that morph seamlessly from daytime workplace to evening social space.
TAO Group and Rockwell also collaborated on The Fleur Room, Moxy Chelsea's rooftop lounge, topping off the hotel on the 35th floor with panoramic 360-degree views of the Manhattan skyline, from the Statue of Liberty to the Empire State building. The design features a copper-clad bar, glass chandeliers that resemble giant water droplets, and a massive disco ball salvaged from the notorious 1980s L.A. nightclub Vertigo. The real showstopper: The lounge's glass walls descend at the touch of a button, transforming the space into an alfresco sky veranda.
"We've all read about how the modern traveler wants to satisfy their curiosity with unique experiences and personalized, insider access," says Mitchell Hochberg, President of Lightstone. "Nobody really expects that at the Moxy price point. With Moxy Times Square, we proved we could flip the script; and with Moxy Chelsea, we're taking it to the next level: We've doubled down on that formula—affordable rates, rooms with character, distinctive public spaces—and made it even more personal, more local, more genuinely New York."
"With the opening of Moxy Chelsea, the Moxy Hotels brand continues to boldly reinvent the hospitality scene," says Toni Stoeckl, Global Brand Leader, Moxy Hotels, and Vice President, Distinctive Select Service Brands, Marriott International. "When you walk into a Moxy, you know you're getting a killer bar experience with fun, playful programming; an in-the-know Crew; stylish and functional bedrooms; and experiential moments you'll want to share with friends during your trip. Moxy Chelsea offers all of that, with a distinctly bold, New York twist."
Moxy now has 30+ experiential hotels open across North America, Europe and Asia. Moxy is expected to open 20+ more hotels in 2019, in destinations including Paris, Nashville and Boston.
Moxy Chelsea is located at 105 W 28th Street (at 6th Avenue). The hotel opens in preview today and launches officially March 8, 2019. For more information or to book, visit www.moxychelsea.com.
Hilton Named Official Hotel Partner of the Chicago Theatre
Hilton and The Madison Square Garden Company (NYSE: MSG) are pleased to announce that Hilton has been named the official hotel partner of The Chicago Theatre. The iconic theater is located near several Hilton properties, including: The Palmer House, a Hilton Hotel; LondonHouse Chicago, Curio Collection by Hilton; and theWit Chicago – a DoubleTree by Hilton Hotel.
Located in the heart of the Loop's theatre district, The Chicago Theatre is a historic landmark that opened in 1921 as a lavish movie palace. The venue now hosts more than 150 events each year and is the fifth highest grossing venue of its size in the world, according to Billboard's 2018 year-end charts. The approximately 3,600-seat auditorium is seven stories high and more than one-half of a city block wide. The vertical sign, "C-H-I-C-A-G-O," at nearly six stories high, is a symbol of State Street and Chicago.
"Our partnership with The Chicago Theatre further reinforces our commitment to the city's dynamic tourism industry and the importance of partnering with established local attractions and brands to showcase Chicago's culturally rich experiences," said Andrew Flack, vice president, regional marketing & eCommerce Americas. "Partnerships that support the local arts and theatre community help our guests connect to the destination even more to gain a better understanding of the city's past, present and future."
"We are thrilled to welcome Hilton as the Official Hotel Partner of The Chicago Theatre," said Darren Pfeffer, executive vice president, Live, The Madison Square Garden Company. "The Chicago Theatre is a destination for live events, attracting audiences and artists from around the world. We look forward to working with Hilton, a partner that shares our commitment to delivering world-class hospitality and an unparalleled customer experience to guests."
As the official hotel partner of The Chicago Theatre, Hilton Honors rewards members enjoy access to exclusive benefits at The Chicago Theatre.
Across the city, visitors planning a Chicago getaway can choose from Hilton's 98 hotels, ranging from iconic properties such as The Drake, a Hilton Hotel and Hilton Chicago to boutique-style hotels like LondonHouse Chicago, Curio Collection by Hilton and theWit Chicago – a DoubleTree by Hilton Hotel to new Hilton hotels such as the Home2 Suites by Hilton Chicago River North or the family-friendly DoubleTree by Hilton Hotel Chicago – Magnificent Mile, home to the city's first Five Feet to Fitness™ rooms.
Nearby guests can also plan a staycation and enjoy the show with a weekend getaway with Hilton's "Park and Stay Package," available at participating hotels, which includes complimentary parking with a confirmed reservation.
The Luxury Collection Makes A Landmark Debut In Qatar
The Luxury Collection today announced the opening of Al Messila, A Luxury Collection Resort & Spa in Doha, marking the debut of the brand in Qatar. Only 25 minutes from Hamad International Airport and 15 minutes from Doha's city centre, West Bay, Al Messila is an urban oasis designed to respect the area's natural surroundings. The 'private palace' setting is a celebration of a verdant retreat in the heart of the desert, offering attentive service infused with age-old Qatari hospitality. A cherished reflection of the local spirit, Al Messila is anchored by holistic wellness and epicurean journeys for each guest to embark on during their stay.
"Doha today is a world-class city with a burgeoning arts and culinary scene, rooted in tradition and a rich heritage," said Anthony Ingham, Global Brand Leader, The Luxury Collection. "We are delighted to welcome Al Messila Resort & Spa to The Luxury Collection's ensemble of hotels. True to our brand's mission and informed by Qatar's foresight and commitment to sustainability, Al Messila offers global explorers a palatial retreat in a lush haven, guiding our guests on transformative journeys that touch their spirits and enrich their lives."
A regal retreat in a historical oasis
With an expansive botanical backdrop in Doha's historic 'oasis' district, Al Messila is visually dramatic and equally inspiring. Guests arriving through the stately porte-cochere will be transported to their own private palace. Understated opulence hints at its 21st-century roots, where the three-story, light-filled lobby adjoins a lounge offering expansive views of the resort. Sculpted marble sits alongside mashrabiya, detailing original Arabic patterning with the contrast producing a warm and welcoming ambience, perfectly infusing modern design with Qatari accents.
The resort has 152 rooms and suites, including 30 premium Villas, each with their own pool, garden and personal butler service. Landscaped with native Mimosa and Acacia trees, alongside an abundance of vibrant flora and fauna, Al Messila is the ultimate oasis escape within a dynamic city.
Acclaimed dining and epicurean exploration
With eight unrivalled dining venues expertly overseen by Michelin Star Chef Pino Lavarra, Al Messila Resort & Spa offers an unrivalled international epicurean experience. Snøull features a Nordic gourmet experience inspired by friluftsliv, the Scandinavian philosophy of 'reconnecting with nature.' Dishes are crafted using naturally nourishing, raw and biodynamic produce. Veritas offers a refined Northern Italian menu inspired by seasonal ingredients. Caravanserai will serve hearty, comforting dishes that reinterpret the flavors of the Maghreb and Europe for a contemporary audience. Those seeking a spirited, convivial atmosphere can thrive in the down-to-earth Greek estiatorio, Siga-Siga, with its healthy menu of authentic mezze and fresh seafood. This is complemented by a signature Deli Kitchen where guests can shop, learn and enjoy under the same roof.
An original approach to wellness and family
The resort's comprehensive Al Messila Wellness facility is an extensive female-only facility with 26 treatment rooms and advanced hydro-thermal facilities. Al Messila hosts the region's largest wellness retreat of its kind, including three therapy pools and four hydro wellness 'Worlds' – Oriental, Mystic, Mineral and Floral – equipped with flotation tanks, cocoon beds, oxygen rooms, Kneipp walks, Hammams, salt rooms, and an elite range of exclusive treatment products and protocols.
Suitable for families, Al Messila also hosts the innovative Little Explorers' Club – the first 'edu-tainment' facility of its kind in Doha. This includes a gym with kids-fit equipment, a cinema, an educational play area, an outdoor playground with interactive water fountains, and a shaded outdoor pool with hot-dip trampolines.
The Park Hyatt Brand Celebrates Debut of Park Hyatt Kyoto
Hyatt Hotels Corporation announced today the opening of Park Hyatt Kyoto. Set in the heart of this noble city with centuries of history and heritage, Park Hyatt Kyoto unfolds a journey of discovery with enriching, sophisticated and rare experiences.
Park Hyatt Kyoto is located in one of the city's best-preserved historic districts, Higashiyama hills. The region, known as the birthplace of traditions such as the Japanese tea ceremony, the Ikebana flower arrangement and Japanese Zen gardens, will offer a rich foundation for the hotel. Park Hyatt Kyoto embodies the quintessential Japanese guesthouse, offering a serene Higashiyama hillside retreat for discerning global travelers and local residents. The hotel is next to Kodai-ji temple and within walking distance to many of Kyoto's UNESCO World Heritage sites, including Kiyomizu-dera temple, and offers sweeping views of the city and Yasaka Pagoda. Park Hyatt Kyoto is located less than one mile (1.5 kilometers) from the Kyoto train station, which connects travelers to Tokyo in just over two hours via the Nozomi Shinkansen bullet train.
"We are delighted to celebrate the opening of Park Hyatt Kyoto, the second Park Hyatt hotel in Japan in 25 years, and to offer guests a refined home-away-from-home in this remarkable city," said David Udell, group president, Asia Pacific, Hyatt. "We are grateful to the hotel's owners, Kyoyamato and Takenaka Corporation, for their trust, support and deep understanding of luxury hospitality. Park Hyatt Kyoto is a celebration of Japanese harmony and tranquility and we look forward to seeing guests immerse themselves in the city's inspiring heritage and culture."
Located within the same grounds as Park Hyatt Kyoto, guests can find a historic garden with steps leading to Kyoyamato, a traditional ryotei and culinary institution which opened in 1877 and serves authentic, seasonally inspired Kaiseki cuisine. Kyoyamato, one of the hotel's owners, is a seven-generation, family-run business and consists of several historic buildings including "Soyotei," a teahouse from the Edo era with a private room where feudal warlords once secretly met. Its storied gardens and traditional houses complement the hotel's modern interpretation of classical Japanese architecture and intimate hospitality.
"We are excited to introduce the Park Hyatt brand of personal and exceptional hospitality in a special place like Kyoto and look forward to unlocking the unique character of Japan's ancient capital of high arts and craft," said Mark de Leeuwerk, general manager, Park Hyatt Kyoto. "It has been a privilege for us to work closely with our neighbors in Higashiyama as well as the artisans and craftsmen of this beautiful city."
Concept and Design
Park Hyatt Kyoto is a modern interpretation of Japanese hospitality steeped in culture and place, immersing guests in nature. Jointly developed by Takenaka Corporation – one of the largest architecture, engineering, and construction firms in Japan, and Tony Chi and Associates, an award-winning interior design firm – the hotel's design and construction incorporates traditional Japanese design, architecture and artisanal craftsmanship. Several historic buildings including an Edo-era teahouse, as well as the Japanese garden that is central to the site, have been preserved and carefully restored.
Guestrooms
The low-rise hotel features 70 guest rooms, including nine suites, offering calm and respite from the bustle of Higashiyama's neighboring streets. The elegantly designed rooms and suites highlight local craftsmanship and materials such as fragrant Tamo wood, original artwork and Zen garden views.
Drinking and Dining
Park Hyatt Kyoto offers guests and visitors four distinct culinary venues:
Kyoto Bistro is a casual, street-side café featuring international and Japanese comfort food prepared with locally sourced and organic ingredients in a lively, open kitchen. All dishes are served on handmade earthenware exclusively created for the hotel by Asahiyaki, a local pottery master with a heritage of over 400 years in Uji, a city south of Kyoto.
Bathed in natural light during the day and the lingering scent of Tamo wood from the open fireplace, The Living Room welcomes guests to start their day with an authentic Japanese breakfast expertly prepared by Kyoyamato or an afternoon enjoying tea and light snacks.
Yasaka's team of skilled chefs demonstrate their elevated cooking skills on the Japanese "teppan," or "steel plate," which guests can enjoy alongside the breathtaking views of Kyoto's famous Yasaka Pagoda.
After the stimulating teppanyaki action at Yasaka, guests can head next door to Kohaku, where a fine collection of rare and craft spirits, including artisanal whiskey, sake, and gin made in Kyoto, awaits. The intimate bar exudes a warm, classic atmosphere with its dark woods and leather textures.
Events and Wedding
Park Hyatt Kyoto is positioned to be the city's premier location for unique, timeless, and crafted experiences inspired by the tradition and majesty surrounding the hotel and the city. Alongside views of a Tsuboniwa Japanese garden, the elegant ballroom offers 2,153 square feet (200 square meters) of event space and multi-functional meeting facilities, a show kitchen, foyer and the latest audio-visual system.
Wellness
A tranquil heaven, The Spa at Park Hyatt Kyoto, has a treatment suite for two with a private bath house including Japanese-style bathtubs, as well as dry and mist saunas. The signature treatment features an original signature oil developed by Kotoshina, a Kyoto-based organic skincare brand using locally harvested green tea. The spa and adjacent wellness center are open only to guests staying at the hotel.