New York's Moxy Chelsea Opens As The Flower District's New Secret Garden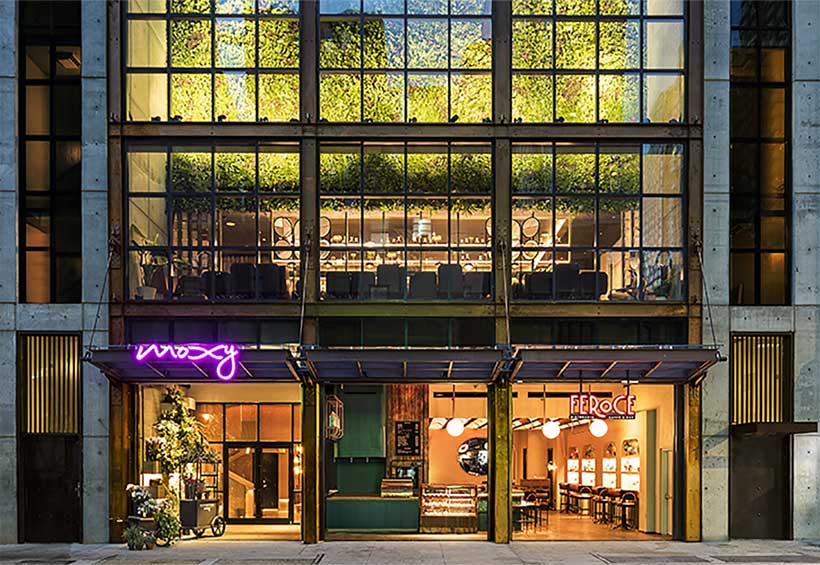 Rising 35 stories high into the New York City skyline, Moxy NYC Chelsea, the micro-room, macro-amenity hotel, developed by Lightstone and part of Marriott International's experiential Moxy Hotels brand, officially opens its doors today. Inspired by the surrounding Flower District, the hotel blends a botanically-influenced design with Italian romance and a touch of playful wit – perfectly timed to welcome guests on Valentine's Day.
Creating an environment that appeals to both today's modern traveler and locals, Moxy Chelsea was developed with a collection of public spaces designed to meet the community's dining, drinking, and co-working needs—while providing guests access to New York City at a neighborhood level. The 349-room hotel marks the second collaboration between Yabu Pushelberg, Rockwell Group, and architects Stonehill Taylor, the designers behind Moxy Times Square and three of the industry's most admired firms.
The newly-constructed building's architecture riffs off the neighborhood's retro-industrial style and feels harmonious with its location, in the heart of the Chelsea Flower Market. The hotel blends into the lush flower shops that surround it, with a soaring three-story glass atrium revealing the vertical gardens within. Guests enter through the overgrown Putnam & Putnam Flower Shop, designed by Yabu Pushelberg, which is envisioned as a "botanical library," with planter boxes suspended from the 15-foot wall, reachable by a wheeled ladder. The shop is run by husbands Darroch and Michael Putnam, whose couture approach to floral arrangements over the years has made them a staple at celebrity weddings, including the recent nuptials of Gwyneth Paltrow and Brad Falchuk. Just beyond the flower shop, a bright yellow neon sign spelling out the words "MEET" and "GREET" beckons guests into Moxy's take on the check-in area. Four butcher blocks, alluding to the nearby Meatpacking District, are dramatically suspended from the 12-foot ceiling above, acting as check-in kiosks. Members of Marriott's recently renamed Loyalty program, Marriott Bonvoy; replacing Marriott Rewards, Starwood Preferred Guest and The Ritz-Carlton Rewards; can also access keyless entry through the Marriott Mobile App. Just beyond check-in is the Moxy Digital Guestbook streaming videos and images taken within Moxy hotels or tagged #atthemoxy for visitors' pre-elevator amusement.
The bedrooms are drenched in sunlight and feature floor-to-ceiling, wall-to-wall windows. For the design, Yabu Pushelberg replicates the clever functionality they created for Moxy Times Square, leavened with wit and humanized with a sense of craft. In all three room types — King, Double/Double and Quad Bunk — the furniture, which includes a writing desk and chair/luggage rack, can be folded up and hung up on Moxy's signature peg wall when not in use. Other space-saving gambits include under-bed storage and a lava-stone sink and vanity area placed outside the bathroom. Tiles in the shower stalls are printed with cheeky phrases like "SOME REGRETS" and "WILD THING," while a bulldog-shaped beer bottle opener hangs on the door. Additional bedroom features nod to the Flower District, like reading lamps that resemble garden lanterns and faucets that recall hose reels. Unique to Moxy Chelsea is the over-the-top MONDO Suite, an entertainment suite located on the 32nd floor. With soaring, double-height 18-foot ceilings and a wall of industrial-style windows looking out onto the Empire State Building, the room is equipped for entertaining and socializing. The suite can be combined with one or two adjoining king rooms to create a place to party and sleep.
Dining and Drinking Concepts for Guests and Locals Alike
Lightstone teamed up with Francesco Panella, owner of Antica Pesa, the legendary trattoria in Rome and its celeb-favorite counterpart in Brooklyn, and TAO Group to create new dining and drinking concepts for Moxy Chelsea that will appeal to guests and locals alike—Feroce Ristorante, Feroce Caffè, and Bar Feroce. The menu at Feroce Ristorante embraces both traditional dishes and modern interpretations utilizing ingredients from historic brands and small producers across Italy, as well as local purveyors in New York. In front of the restaurant is Feroce Caffè, with glass airplane hangar-style doors that can be raised all the way up, opening the space entirely to the sidewalk, as in Italy. It also features a vintage doughnut machine that wafts tempting aromas onto the sidewalk, luring locals in off the street. The hotel entrance has its own dedicated window counter connecting to the caffè, so guests can pick up fresh-baked doughnuts and coffee as they come and go.
Panella also created the menu at Bar Feroce, an Italian snack bar and lounge offering a modern twist on traditional Roman comfort dishes, oven-fired pizzas, and classic cocktails. On Bar Feroce's all-season, alfresco garden terrace, The Backyard, a terra cotta oven turns out gourmet Roman-style pizzas and features a made-for-Moxy bocce drinking game.
When designing Feroce, Rockwell Group worked closely with Panella to capture his vision and energy. As a result, the space has a theatrical quality, from the overscale terrazzo floors to the Brooks Brothers custom-designed waitstaff uniforms, to the grappa cart roving the dining room.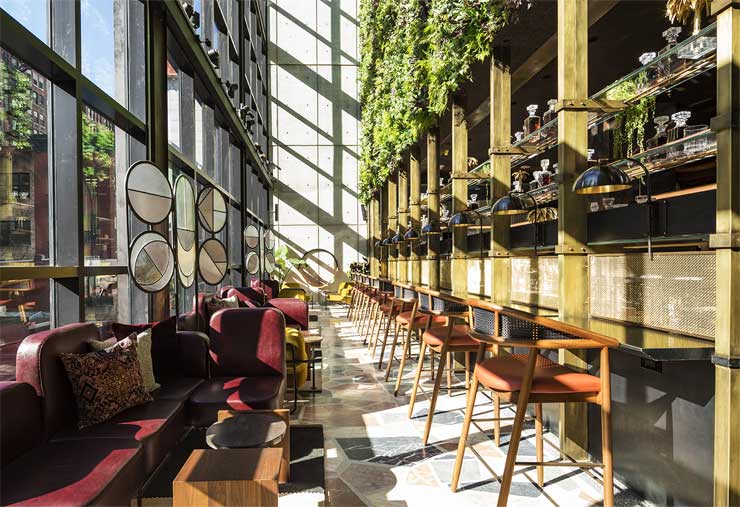 Rockwell Group was also responsible for Moxy Chelsea's second-floor lobby, which unfurls as a series of spaces with multiple uses that change with the rhythm of the day. The Conservatory occupies the three-story glass atrium on the building's front façade; on one side, greenhouse-style windows overlook the sidewalk, while on the other, a vast living wall teems with plants, Little Shop of Horrors–style. During the day, sunlight flows in, refracted by multicolored glass screens and reflected kaleidoscopically on the terrazzo floor—an ideal spot for working or reading. At night, a DJ shifts the energy from day to evening, transitioning the space seamlessly into a cocktail lounge.
The lobby atmosphere is enlivened by a design that reflects Moxy's trademark cheekiness, such as classically sculpted figurines making unexpected poses, like twerking, taking selfies, and wearing sunglasses. A life-size, toga-clad Roman statue rests on a column, one arm extended so it can hold a guest's phone and pose with them for a selfie. Throughout the lobby, ample seating options invite co-working and socializing, including modular meeting studios that morph seamlessly from daytime workplace to evening social space.
TAO Group and Rockwell also collaborated on The Fleur Room, Moxy Chelsea's rooftop lounge, topping off the hotel on the 35th floor with panoramic 360-degree views of the Manhattan skyline, from the Statue of Liberty to the Empire State building. The design features a copper-clad bar, glass chandeliers that resemble giant water droplets, and a massive disco ball salvaged from the notorious 1980s L.A. nightclub Vertigo. The real showstopper: The lounge's glass walls descend at the touch of a button, transforming the space into an alfresco sky veranda.
"We've all read about how the modern traveler wants to satisfy their curiosity with unique experiences and personalized, insider access," says Mitchell Hochberg, President of Lightstone. "Nobody really expects that at the Moxy price point. With Moxy Times Square, we proved we could flip the script; and with Moxy Chelsea, we're taking it to the next level: We've doubled down on that formula—affordable rates, rooms with character, distinctive public spaces—and made it even more personal, more local, more genuinely New York."
"With the opening of Moxy Chelsea, the Moxy Hotels brand continues to boldly reinvent the hospitality scene," says Toni Stoeckl, Global Brand Leader, Moxy Hotels, and Vice President, Distinctive Select Service Brands, Marriott International. "When you walk into a Moxy, you know you're getting a killer bar experience with fun, playful programming; an in-the-know Crew; stylish and functional bedrooms; and experiential moments you'll want to share with friends during your trip. Moxy Chelsea offers all of that, with a distinctly bold, New York twist."
Moxy now has 30+ experiential hotels open across North America, Europe and Asia. Moxy is expected to open 20+ more hotels in 2019, in destinations including Paris, Nashville and Boston.
Moxy Chelsea is located at 105 W 28th Street (at 6th Avenue). The hotel opens in preview today and launches officially March 8, 2019. For more information or to book, visit www.moxychelsea.com.
5 Reasons To Go Offline at Four Seasons Resorts in Bali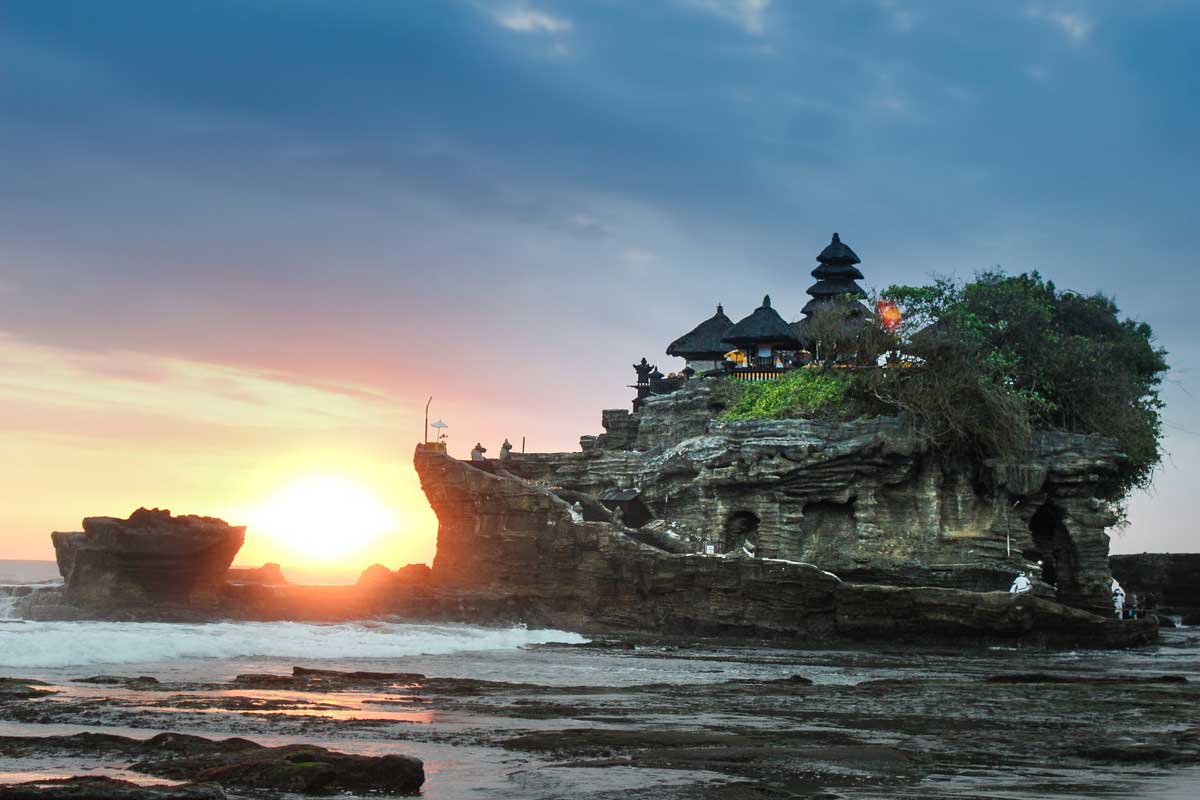 Free WiFi is expected at five-star hotels nowadays, and as such it's a standard inclusion for guests of Four Seasons Resort Bali at Jimbaran Bay and Four Seasons Resort Bali at Sayan. But the paradox of the internet and social media can be a very anti-social holiday where our phones never leave our sides. Here, we present five exclusive Four Seasons experiences that will inspire you to be in the moment. Ranging from water blessings to high-flying yoga and surf tours, you'll be disconnecting from the internet and reconnecting to each other and the wonderful world around you.
Can You Keep A Secret? This exclusive temple tour is not on anyone's bucket list. We ask guests to help us keep it that way, by resisting the urge to post the temple on social media. If you agree, our guide will take you on a scenic three-hour tour from Four Seasons Sayan in an open-air vintage VW through nearby yet untouched rice farming villages. Visit historic sites include a secluded water temple where you are welcome to bathe, or simply to enjoy the serene and undiscovered atmosphere far from selfie sticks.
Learn to surf in the sheltered confines of Jimbaran Bay or take a boat trip to explore Bali's world-class breaks with Tropicsurf's coaches and guides. On-site at Four Seasons Jimbaran Bay, the Tropicsurf philosophy is based on small groups (maximum four people) and avoiding the crowds to take your surfing to the next level, faster. For the ultimate adventure, take Asia's only heli-surfing tour to ride uncrowded waves in pristine conditions off the east coast of Java.
Bali is home to thousands of beautiful Hindu temples. We invite you to go beyond the most famous landmarks and explore hidden gems like the Goa Gong 9th century cave temple. Open to visitors by appointment only, this natural archaeological site is nearby Four Seasons Jimbaran Bay. Our resort priest Ajik Ngurah will be your guide to explore the cave's shrines and stalactites, and can also arrange a melukat water purification ritual. Not something you want to be holding your phone for!
Discover the beauty of the Ayung – Bali's longest river and part of the ancient UNESCO World Heritage-listed subak irrigation system. Our guided Four Seasons Private Rafting Adventure takes you through easy rapids flanked by virgin jungle, rice terraces and majestic gorges. Hop out of your raft and let yourself float down a quiet and calm stretch of the river, gazing up into the canopy overhead. Make a riverside landing directly at Four Seasons Sayan, where we'll be waiting to welcome you back home.
Experience the intimacy of Trust Yoga, the newest addition to the inspiring wellness program at Four Seasons Jimbaran Bay. Head to the ocean-front yoga pavilion and partner up with your soul mate, a friend or relative. Take turns being guide and flier, with postures that both require and build trust, strengthening your bond to each other and extending your practice. Our yoga instructor will lead each couple through this joyful 75-minute class, adapting postures to suit all levels. A fun way to connect emotionally and physically to someone special in your life, and a reminder that the best connections are human connections.
'Tis the Season: Best Holiday Offers to Fuel Your Festive Spirit
Hilton has curated a selection of delicious, family-friendly and unique ways to create memorable experiences during the magical festive season. Whether it's playing a game of curling with mulled wine on the waterfront of Danube or indulging in a festive afternoon tea in the tallest building in Manchester, Hilton has something for everyone to get you into the holiday spirit.
Foodie Festivities
Waldorf Astoria Versailles – Trianon Palace
Tucked between the Palace of Versailles and the Grand Trianon, Waldorf Astoria Versailles is welcoming the jolly season alongside a new sweet delicacy – The Christmas Turkey. Created by the hotel's talented pastry chef Eddie Benghanem, the dessert features a charming Turkey Chef preparing a festive dessert while sitting on an indulgent cooking pot made from chocolate. The dessert serves 6 – 8 portions and is available for takeaway when pre-booked from 84 euros.
Set in the heart of the Manchester metropolis, Hilton Manchester Deansgate invites guests to indulge in a festive afternoon tea at the Cloud 23 bar. Known as the highest bar in the city, Cloud 23 offers unrivalled floor-to-ceiling views over the Manchester city centre skyline. The afternoon tea will include unique festive cocktails alongside festive flavoured teas, sandwiches and cakes. Afternoon tea is priced at £55 per person.
Those looking to warm up near Hyde Park's magical Winter Wonderland will be in luck, with the hotel offering a bespoke Winter Wonderland afternoon tea. Clementine and chocolate reindeer macaroons alongside blueberry jelly and chestnut cream meringues will ensure every guest has indulged in the festive delicacies. Afternoon tea is priced from £32 per person with an option to add a glass of champagne.
Hilton Garden Inn Zagreb – Radnicka
Celebrate the holiday season with the whole family in the heart of Croatia's charming capital Zagreb. Hilton Garden Inn Zagreb has prepared joyful surprises for the children, alongside a "Children's Corner" games station with various creative workshops available. Parents can happily relax at the hotel's restaurant and bar with a 20% discount. Confirmed Connecting Rooms for four guests with breakfast included start from 138 euros per night.
Those looking for a delicious adventure are invited to The Able Butcher restaurant to experience the best of theatre and dining in an immersive culinary journey from "Le Petit Chef". The event features cutting-edge 3D visual technology and digital mapping paired with themed music and props. With lobster on the menu and Santa Claus as a host, every guest, big and small, will feel the festive joy. The event is hosted during lunch on December 24 and all day on December 25. Prices start from £89.
Hilton Geneva Hotel & Conference Centre
This merry season guests are invited to experience the Christmas Alpine Dream Chalet in the heart of Geneva. Set at the entrance to Hilton Geneva, the chalet will keep everyone warm by serving exquisite hot chocolates alongside mulled wine. Children are also invited to join festive cookie decoration masterclasses alongside the hotel's pastry team. The Chalet is open throughout December.
The Trafalgar St. James London, Curio Collection by Hilton
For an unforgettable New Year's Eve celebration, guests are invited to experience Le Nord at The Rooftop, an event dedicated to ringing the new year in style alongside an array of delicacies and free-flowing drinks. Unrivalled views over Trafalgar Square paired with luxurious rooms make it the ideal spot to indulge in celebrations in the heart of London.
Hilton Vienna Danube Waterfront
Resting by the Danube waterfront, Hilton Vienna Danube Waterfront invites guests to team up and celebrate the cheery season with a game of curling. With unlimited mulled wine and punch complemented by roasted chestnuts, everyone will enjoy some festive entertainment. Prices per person start from 15 euros.
DoubleTree by Hilton Harrogate Majestic Hotel & Spa
Set in the heart of the Victorian spa town, the hotel offers to join the New Year's Eve "Prohibition" black-tie gala dinner. Paying homage to the roaring '20s, the event will feature flapper dresses, champagne towers and firework displays. Guests will be treated to a five-course dinner alongside a live swing and party band, DJ and disco fireworks during the night. A surprise balloon drop with a champagne toast during midnight will be the crown jewel of the whole evening. Prices start from £120 per person.
10 Facts About the Legendary Beverly Wilshire
Beverly Wilshire, A Four Seasons Hotel is a history-rich property built in 1928, when Beverly Hills was still undiscovered by Hollywood's in-crowd. Take a step back in time with us as we share fun facts on the evolution of the iconic Beverly Wilshire, A Four Seasons Hotel:
Built on the site of the Beverly Auto Speedway, Beverly Wilshire, A Four Seasons Hotel provided residents with an opportunity for picnics and Model T Ford races on Sunday afternoons.
Beverly Wilshire, A Four Seasons Hotel has been made guest appearances in movies such as Escape from the Planet of the Apes, Clueless, Sex and the City: The Movie and Valentine's Day, but gained worldwide recognition as the setting of the movie Pretty Woman.
The Mediterranean-style pool is modeled after Sophia Loren's private villa pool in Italy.
Famous stars such as Elvis Presley, Warren Beatty and Steve McQueen have all lived in the Hotel, which continues to receive fan mail for the actors, even decades after they have moved out.
Beverly Wilshire, A Four Seasons Hotel is a salute to its construction and renovation teams over the years. It has withstood major earthquakes in 1933, 1971 and 1994 and was designated an air raid shelter during World War II.
The Concierge team has a combined total of more than 175 years of experience among them, and six Les Clefs d'Or members.
Opened in June 2006, CUT is Wolfgang Puck's first steak restaurant, and was designed by the famed architect Richard Meier (of the Getty Museum).
The Spa spans more than 8,000 square feet (745 square metres), with nine treatment rooms (seven with in-room showers), and was the first Spa on the west coast to feature luxury skincare line, 111SKIN.
There are more than 800 employees working at Beverly Wilshire, A Four Seasons Hotel.
Located on the private, key-accessed 14th floor of the Beverly Wing, the Penthouse Suite is the largest guest room space in the city at 5,000 square feet (465 square metres). And only
Beverly Wilshire, A Four Seasons Hotel features two rooftop terraces, overlooking the Hollywood Hills from the Royal Suite or the legendary Drive from the Rodeo Terrace.