Humanitarian crisis in Yemen remains the worst in the world
An estimated 24 million people – close to 80 per cent of the population – need assistance and protection in Yemen, the UN warned on Thursday. With famine threatening hundreds of thousands of lives, humanitarian aid is increasingly becoming the only lifeline for millions across the country.
According to the Office for the Coordination of Humanitarian Affairs (OCHA) the "severity of needs is deepening", with the number of people in acute need, a staggering 27 per cent higher than last year, when it was already the most acute crisis on the globe.
Thursday's 2019 Humanitarian Needs Overview for Yemen report, shows that 14.3 million people are classified as being in acute need, with around 3.2 million requiring treatment for acute malnutrition; that includes two million children under-five, and more than one million pregnant and lactating women.
Highlighting that more than 20 million people across the country are food insecure, half of them suffering extreme levels of hunger, the report focuses on some key humanitarian issues: basic survival needs, protection of civilians and livelihoods and essential basic services.
"The escalation of the conflict since March 2015 has dramatically aggravated the protection crisis in which millions face risks to their safety and basic rights", OCHA reports.
The UN agency data shows that a total of 17.8 million people lack access to safe water and sanitation, and 19.7 million lack access to adequate healthcare. Poor sanitation and waterborne diseases, including cholera, left hundreds of thousands of people ill last year.
Meanwhile, grain which could help feed millions, is still at risk of rotting in a key Red Sea storage facility because conditions are too unsafe to reach it, UN Special Envoy Martin Griffiths and UN Emergency relief chief Mark Lowcock said earlier this week.
Death toll and displaced people
During the past four years of intense conflict between Government forces and Houthi rebels have left tens of thousands dead or injured including at least 17,700 civilians as verified by the UN.
The agency adds that an estimated 3.3 million people remain displaced, up from 2.2 million last year, including 685,000 people who fled fighting in Hudaydah and on the west coast, from June onwards. According to the UN Refugee Agency (UNHCR), the number of sites hosting displaced people has increased by almost half over the past 12 months.
Pledging conference
In a bid to respond to the urgent humanitarian needs, the United Nations and the Governments of Sweden and Switzerland will convene the third High-Level Pledging Event for the Humanitarian Crisis in Yemen, later this month.
The event is scheduled for 26 February in Geneva and seeks to garner support for the humanitarian response and alleviate the suffering of the Yemeni people. At the beginning of this month, UN Emergency relief chief Mark Lowcock said that $4 billion would be needed.
Fresh evidence of war crimes committed by all sides in Syrian conflict, probe finds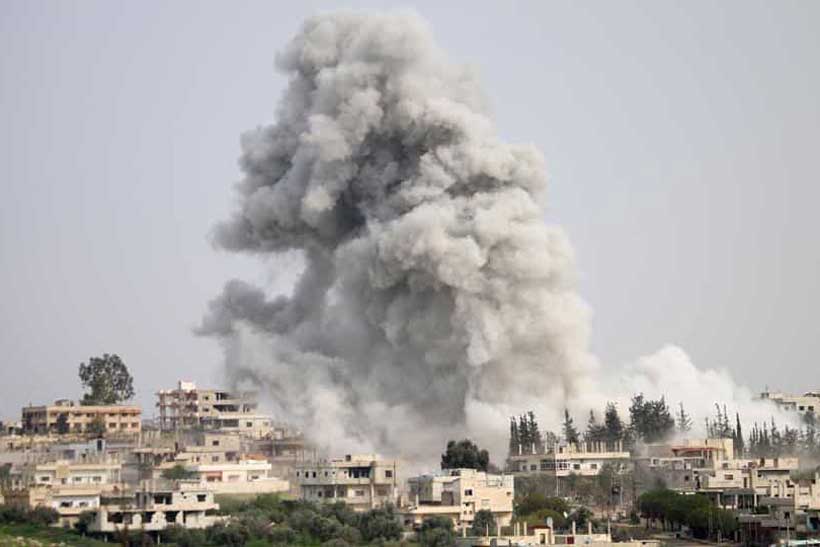 In its latest report, the Commission of Inquiry on Syria highlighted the military campaign launched late last year in Idlib Governorate by pro-Government forces, to retake the last remaining areas under armed groups' control.
'Spreading terror'
The Commissioners also maintained that UN-designated terrorist group Hayat Tahrir al-Sham (HTS) indiscriminately shelled densely populated civilian areas, "spreading terror" in Government-held areas.
"It is completely abhorrent that, after more than nine years, civilians continue to be indiscriminately attacked, or even targeted, while going about their daily lives", said Commission Chair Paulo Pinheiro.
Bombarded while fleeing
"Children were shelled at school, parents were shelled at the market, patients were shelled at the hospital…entire families were bombarded even while fleeing", he continued. "What is clear from the military campaign is that pro-government forces and UN-designated terrorists flagrantly violated the laws of war and the rights of Syrian civilians."
Alongside the Russian air force, Syrian Government troops "carried out air and ground attacks which decimated civilian infrastructure, depopulated towns and villages", killing hundreds of women, men and children, said the commissioners, who report to the Human Rights Council in Geneva.
International law flouted
Numerous locations protected by international law in the country's northwest were destroyed in aerial and ground attacks, some involving cluster munitions, according to their report.
It details how from November 2019 to June this year, 52 attacks by all parties included 17 on hospitals and medical facilities; 14 on schools, 12 on homes and nine on markets.
If proven in court, such acts would amount to the war crimes of launching indiscriminate attacks, and deliberate attacks on protected objects, the investigators maintained.
Mass displacement
Beginning in the second half of December and mid-February, "widespread and indiscriminate" bombardment carried out by pro-government forces on Ma'arrat al-Nu'man and Ariha in Idlib governorate, as well as Atarib and Darat Azza in western Aleppo, led to mass displacement, according to the report.
Civilians had no choice but to flee, the Commissioners said, adding that this may amount to the crimes against humanity of forcible transfer, murder and other inhumane acts.
Detained, tortured, executed
When people fled, HTS terrorists pillaged their homes, the investigators continued, and "as battles waged, they detained, tortured, and executed civilians expressing dissenting opinions, including journalists".
Female media workers were doubly victimized, as the terrorist group continued to discriminate against women and girls, including by denying their freedom of movement.
"Women, men and children that we interviewed faced the ghastly choice of being bombarded or fleeing deeper into HTS-controlled areas where there are rampant abuses of human rights and extremely limited humanitarian assistance", said Commissioner Karen Koning AbuZayd. "The acts by HTS members amount to war crimes."
In an appeal for the nearly one million highly vulnerable civilians displaced by the conflict in Idlib governorate who now face added threat of COVID-19, Commissioner Hanny Megally urged all parties to the conflict to cease attacks on civilians and civilian objects.
"Now more than ever, civilians need sustained and unfettered access to humanitarian assistance which must neither be politicised by Member States nor instrumentalised by parties to the conflict. Pandemics know no borders, neither should life-saving aid," Mr. Megally said, while also urging Member States to pursue accountability for crimes outlined in the report.
The Commission's report is scheduled to be presented on 14 July to the Human Rights Council during its current 44th session.
Exploring migration causes: Why people migrate
People migrate for many reasons , ranging from security, demography and human rights to poverty and climate change. Find out more.
The number of people residing in an EU country with the citizenship of a non-member country on 1 January 2019 was 21.8 million, representing 4.9% of the EU-27's population. A further 13.3 million people living in one of the EU27- countries on 1 January 2019 were citizens of another EU country.
Push and pull factors
Push factors are the reasons people leave a country. Pull factors are the reason they move to a particular country. There are three major push and pull factors.
Socio-political factors
Persecution because of one's ethnicity, religion, race, politics or culture can push people to leave their country. A major factor is war, conflict, government persecution or there being a significant risk of them. Those fleeing armed conflict, human rights violations or persecution are more likely to be humanitarian refugees. This will affect where they settle as some countries have more liberal approaches to humanitarian migrants than others. In the first instance, these individuals are likely to move to the nearest safe country that accepts asylum seekers.
In recent years, people have been fleeing to Europe in large numbers from conflict, terror and persecution at home. Of the 295,800 asylum, seekers granted protection status in the EU in 2019, over a quarter came from war-torn Syria, with Afghanistan and Iraq in second and third place respectively.
Demographic and economic factors
Demographic change determines how people move and migrate. A growing or shrinking, aging or youthful population has an impact on economic growth and employment opportunities in the countries of origin or migration policies inthe destination countries.
Demographic and economic migration is related to labour standards, unemployment and the overall health of a country's' economy. Pull factors include higher wages, better employment opportunities, a higher standard of living and educational opportunities. If economic conditions are not favourable and appear to be at risk of declining further, a greater number of individuals will probably migrate to countries with a better outlook.
According to the UN International Labour Organization, migrant workers – defined as people who migrate with a view to being employed – stood at roughly 164 million worldwide in 2017 and represented nearly two thirds of international migrants. Almost 70% were found in high-income countries, 18.6% in upper middle-income countries, 10.1% in lower middle-income countries and 3.4% in low-income countries.
Environmental factors
The environment has always been a driver of migration, as people flee natural disasters, such as floods, hurricanes and earthquakes. However, climate change is expected to exacerbate extreme weather events, meaning more people could be on the move.
According to the International Organization for Migration, "Environmental migrants are those who for reason of sudden or progressive changes in the environment that adversely affect their lives or living conditions, are obliged to leave their habitual homes, either temporarily or permanently, and who move either within their country or abroad."
It is hard to estimate how many environmental migrants there are globally due to factors such as population growth, poverty, governance, human security and conflict, which have an impact. Estimates vary from 25 million to one billion by the year 2050.
New EU migration pact
Managing migration effectively to deal with asylum seekers and protect external borders has been an EU priority for many years. The European Commission is set to propose a new pact on migration and asylum this year. The Parliament has been advaocating an overhaul of EU asylum rules to ensure greater solidarity and fairer sharing of responsibility among EU countries.
Parliament's civil liberties committee is currently working on a report on new avenues for legal labour migration. MEPs underline the need for legal paths to reduce irregular migration and fill labour market gaps and for a harmonised EU policy. The committee is also calling for the Common European Asylum System to be complemented by a European Union Resettlement Framework and humanitarian corridors.
Impacts of COVID-19 disproportionately affect poor and vulnerable
Addressing poverty eradication on Tuesday in front of the General Assembly, UN chief António Guterres warned that the impacts of the COVID-19 pandemic are falling "disproportionately on the most vulnerable: people living in poverty, the working poor, women and children, persons with disabilities, and other marginalized groups".
The virtual high-level UN meeting was billed as the first in a series of policy dialogues on ending poverty, and also served as the official inauguration of the Alliance for Poverty Eradication, an initiative of the President of the General Assembly, Tijjani Muhammad-Bande.
In his remarks, Mr. Guterres noted that the pandemic has "laid bare" challenges –such as structural inequalities, inadequate healthcare, and the lack of universal social protection – and the heavy price societies are paying as a result.
'People-centred' recovery
Ending poverty sits at the heart of the UN's 2030 Agenda for Sustainable Development, and is the first of the Sustainable Development Goals (SDGs). Despite this, poverty and hunger, as the UN chief reminded his audience, are on the rise, following decades of progress.
Economic recovery plans should prioritize at-risk workers, such as those in the informal sector; protect micro, small and medium enterprises, including those owned by women; and involve an expansion of universal social protection, said Mr. Guterres. The Secretary-General has also proposed a rescue and recovery package equivalent to more than 10 per cent of the global economy's overall value.
The UN chief called for improved international cooperation; more support for developing countries – by providing financial assistance, and relieving or postponing foreign debt – and for economies to be steered towards inclusive and green growth.
'A blot on humanity's conscience'
Addressing the meeting, Mr. Muhammad-Bande described poverty as a "blot on humanity's conscience", which is the underlying trigger of conflict and civil strife, and "the most formidable obstacle" realizing the SDGs. Research, he said, has shown that due to the sharp decline in economic activity resulting from the pandemic, more than 850 million people now risk falling into poverty.
The Alliance for Poverty Eradication, he continued, is designed to address the poverty question from all possible angles, and serve as a forum for networking, information-sharing, and bridge-building.
Mr. Muhammad-Bande pointed out that the Alliance would be the first UN group to promote ending poverty, and will provide a major opportunity to confront the challenge, which he described as "enduring, complex and multi-sided".