Trade agreements: What the EU is working on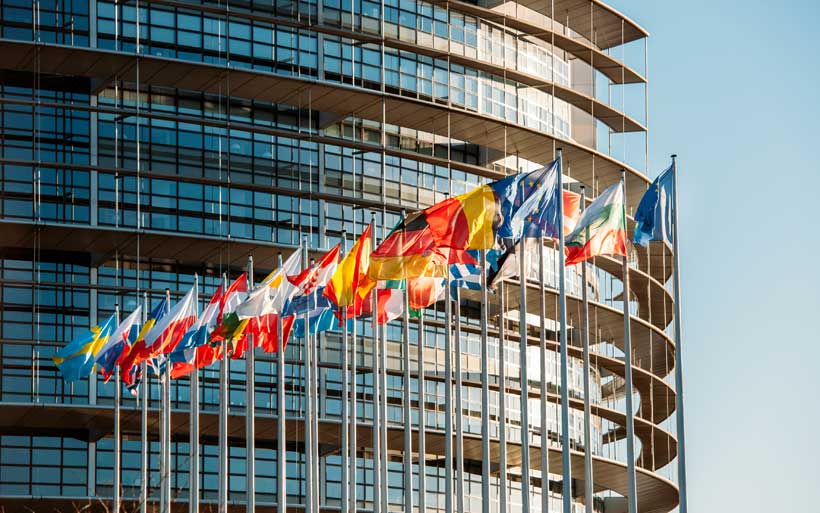 The EU negotiates various trade deals all over the world, but they depend on approval by the European Parliament. Read our overview of the negotiations in progress.
On 13 February, MEPs voted in favour of EU-Singapore trade and investment protection deals, which will eliminate nearly all tariffs within five years. This comes only two months after MEPs approved a major trade agreement and a strategic partnership with Japan.
The importance of trade agreements
Trade agreements are very important to the EU as they are a key driver of economic growth. In 2015 the EU was the world's biggest exporter and importer of goods and services, covering 32.15% of the global trade, ahead of the US (12.01%) and China (10.68%). New trade agreements create new business opportunities for European companies, leading to more jobs being created, while consumers can look forward to more choice and lower prices.
There are concerns that trade agreements can lead to job losses in some sectors due to the increased competition, but these deals always create more jobs than they destroy. Another concern is that they could lead to high quality standards for products such as food being watered down. However, as the EU represents such a large market, it is in a good position to impose its standards on foreign companies. For MEPs, quality standards are always a red line in trade agreements and any attempt to lower them could be a reason for them to reject them. In addition EU negotiators often include clauses regarding human rights and labour rights in trade agreements to help improve the situation in the country we are trading with.
Types of agreements
The EU has different types of agreements in place with countries. They can focus on reducing or eliminating tariff barriers or establishing a customs union by removing customs duties and establishing a joint customs tariff for foreign imports.
It's not all about tariffs though. It could also be about investment and how to deal with disputes involving investment. For example, when a company feels a decision by a government is affecting its investment in that country. Non-tariff barriers are also vital such as product standards (for example the EU has banned certain hormones in cattle farming over health fears).
North America
The free trade agreement with Canada, known as the Comprehensive Economic Trade Agreement (Ceta) provisionally entered into force on 21 September 2017. It will enter fully into force once all EU countries have ratified the agreement.
The Transatlantic Trade and Investment Partnership (TTIP) with the United States has proved very controversial due to concerns over product standards and the resolution of investment disputes. Negotiations were stopped until further notice at the end of 2016.
Asia
MEPs adopted a trade agreement with Japan during the December plenary.There are no free trade negotiations ongoing with China, but there are other talks as well such as negotiations for a comprehensive EU-China investment agreement. Launched in November 2013 and the latest negotiation round took place on 29-30 October 2018.
Negotiations with other Asian countries:
Malaysia (both sides are assessing whether there is enough common ground to relaunch talks)
Vietnam (free trade agreement is being prepared for signature)
Indonesia (futher negotiations took place this year)
Thailand (EU ready to resume talks)
Philippines (no date yet for next round of negotiations)
Myanmar (no date set yet for next round)
India (both sides are in the process of assessing the outcomes of talks)
Oceania
Negotiations for a comprehensive trade agreement with Australia were launched on 18 June 2018. Negotiations for a deal with New Zealand were launched on 21 June 2018. In both cases there have been further rounds of talks since then.
Latin America
In Latin America the latest round of talks with Mercosur countries took place on 10-14 September 2018. The date for the next round still has to be confirmed.
Negotiations with Mexico on modernising the EU-Mexico Global Agreement started in June 2016. A political agreement was found on 21 April 2018 and the full legal text is expected to be finalised by the end of the year.
The latest round of negotiations with Chile took place in May 2018 and the date for the next one still has to be determined.
Southern Mediterranean and Middle East
There are various agreements, including association agreements to especially boost trade in goods. There are also talks on expanding these agreements in areas such as agriculture and industrial standards with individual countries.
Trade in Services
The Trade in Services Agreement (TiSA), is currently being negotiated by 23 members of the World Trade Organisation (WTO), including the EU. Together, the participating countries account for 70% of world trade in services. Talks were put on hold in late autumn 2016 and the next steps still need to be determined.
Parliament's role
Since the Lisbon Treaty entered into force in 2009, trade agreements need the Parliament's approval before they can enter into force. MEPs also need to be regularly updated on progress during negotiations.
Parliament has already shown it will not hesitate to use its veto if there are serious concerns. For example MEPs rejected the Anti-Counterfeiting Trade Agreement (Acta) in 2012.
Green Deal: €1 billion investment to boost the green and digital transition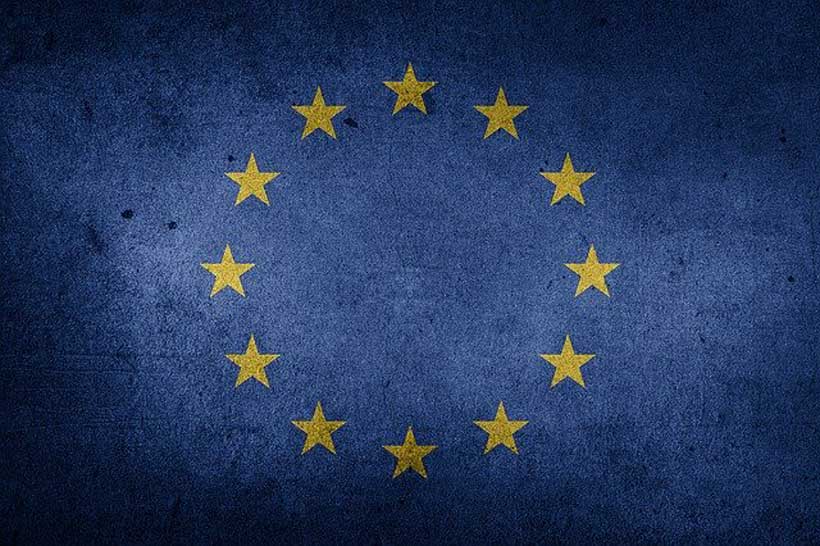 The European Commission has decided to launch a €1 billion call for research and innovation projects that respond to the climate crisis and help protect Europe's unique ecosystems and biodiversity. The Horizon 2020-funded European Green Deal Call, which will open tomorrow for registration, will spur Europe's recovery from the coronavirus crisis by turning green challenges into innovation opportunities.
Mariya Gabriel, Commissioner for Innovation, Research, Culture, Education and Youth said: "The €1 billion European Green Deal call is the last and biggest call under Horizon 2020. With innovation at its heart, this investment will accelerate a just and sustainable transition to a climate-neutral Europe by 2050. As we do not want anyone left behind in this systemic transformation, we call for specific actions to engage with citizens in novel ways and improve societal relevance and impact."
This Green Deal Call differs in important aspects from previous Horizon 2020 calls. Given the urgency of the challenges it addresses, it aims for clear, discernible results in the short to medium-term, but with a perspective of long-term change. There are fewer, but more targeted, larger and visible actions, with a focus on rapid scalability, dissemination and uptake.
The projects funded under this call are expected to deliver results with tangible benefits in ten areas:
Eight thematic areas reflecting the key work streams of the European Green Deal:
Increasing climate ambition
Clean, affordable and secure energy
Industry for a clean and circular economy
Energy and resource efficient buildings
Sustainable and smart mobility
Farm to fork
Biodiversity and ecosystems
Zero-pollution, toxic-free environments
And two horizontal areas – strengthening knowledge and empowering citizens, which offer a longer-term perspective in achieving the transformations set out in the European Green Deal.
The €1 billion investment will continue building Europe's knowledge systems and infrastructures. The call includes opportunities for international cooperation in addressing the needs of less-developed nations, particularly in Africa, in the context of the Paris Agreement as well as the Sustainable Development Goals (SDGs).
The deadline for submissions is 26 January 2021, with selected projects expected to start in autumn 2021.
A Horizon 2020 Green Deal Call Info Day & Brokerage event will take place as part of the virtual European Research & Innovation Days that will take place from 22-24 September 2020.
Background
The European Green Deal is the European Commission's blueprint and roadmap to make Europe the first climate neutral continent by 2050, with a sustainable economy that leaves no one behind.
To reach this 2050 goal, action will be required by all sectors of our economy, including:
investing in environmentally-friendly technologies;
supporting industry to innovate;
rolling out cleaner, cheaper and healthier forms of private and public transport;
decarbonising the energy sector;
ensuring buildings are more energy efficient;
working with international partners to improve global environmental standards.
Why social fairness and solidarity are more important than ever
EU Commission's services have published the 2020 edition of the Employment and Social Developments in Europe (ESDE) review dedicated to the theme of social fairness and solidarity. The review provides evidence-based analysis on how to achieve greater fairness across the EU in the face of crises such as the COVID-19 pandemic as well as structural changes due to demographic ageing, and the green and digital transitions.
Commissioner for Jobs and Social Rights Nicolas Schmit said: "The ESDE report shows that strengthening social fairness is key to overcoming the crisis. This requires putting people front and centre. To ensure resilience, solidarity and cohesion, the EU's response has to prioritise employment, reduce inequalities and ensure equal opportunities. The effective implementation of the European Pillar of Social Rights will serve as our guide."
The review notes that the COVID-19 pandemic is having profound health, economic, employment and social effects, threatening much of the progress that the EU had achieved previously. All Member States are experiencing a greater economic shock than in 2008-2009. Economic output has contracted sharply and unemployment is on the rise. The most vulnerable persons, including Europe's youth, are hit particularly hard.
Against this background, the ESDE report points to the following findings:
Adequate minimum wages and minimum income can have a beneficial effect on the social mobility of Europeans.
Strengthening social fairness, including through investments in people, pays off. Closing gender-related gaps brings particularly high returns, while extending working lives, and raising educational attainment also have positive effects.
Structural change, such as the green transition, has to be accompanied by social measures to be successful. Notably, this transition requires social investment in the form of re-skilling programmes and/or unemployment benefits. According to ESDE, this social investment could amount to €20 billion or more until 2030.
Short-time work schemes are protecting jobs effectively. The EU is helping Member States to provide such support through solidarity mechanisms like the instrument for temporary Support to mitigate Unemployment Risks in an Emergency (SURE).
Social dialogue and collective bargaining influence fairness and its perception at the workplace by promoting more equitable wages, better working conditions and more inclusive labour markets.
More generally, to repair the damage done by COVID-19 and prepare an economy and society for a future of faster structural changes, the EU and Member States need to embrace fully the opportunities offered by the transition to a greener, digitalised economy and build inclusiveness, solidarity and resilience into the design of all policies. Ensuring a broad-based recovery is a key policy objective of our policy action, which will help strengthen social resilience in the longer run.
Background
The annual Employment and Social Developments in Europe review prepared by the Directorate-General of Employment, Social Affairs and Inclusion, provides up-to-date economic analysis of employment and social trends in Europe and discusses related policy options. It is the European Commission's analytical flagship report in the area of employment and social affairs, mandated by Articles 151, 159 and 161 of the Treaty on the Functioning of the European Union (TFEU).
There are many examples in which the Commission focuses on addressing the challenges raised in the yearly ESDE reports. In April 2020, the Commission proposed the SURE instrument, which will provide €100 billion in financial support to help protect jobs and workers affected by the coronavirus pandemic. In May 2020, the Commission put forward a powerful, modern and revamped long-term EU budget boosted by NextGenerationEU, an emergency temporary recovery instrument, to help repair the economic and social damage brought by the coronavirus pandemic, kickstart the recovery and prepare for a better future for the next generation. The Recovery and Resilience Facility will be one of EU's main recovery tools, providing an unprecedented €672.5 billion of loans and grants in frontloaded financial support for the crucial first years of the recovery. The European Social Fund Plus (ESF+) will continue to invest in people, while an improved European Globalisation Adjustment Fund (EGF) will be able to intervene even more effectively to support workers who have lost their jobs. The European Pillar of Social Rights and its upcoming Action Plan, as well as initiatives and tools such as the European Skills Agenda, the Youth Employment Support initiative or the Digital Europe Programme will all contribute to address challenges identified in the ESDE.
EU-China Leaders' Meeting: Upholding EU values and interests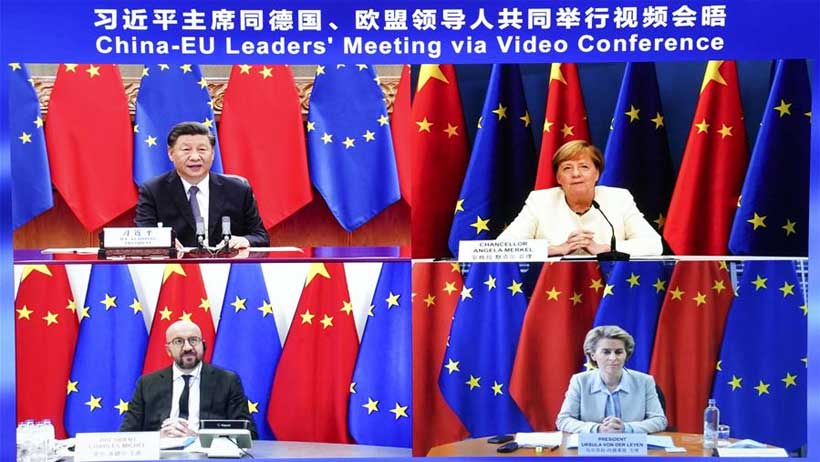 The European Union and China held a Leaders' Meeting via videoconference on 14 September 2020. An EU-China Leaders' meeting with the participation of leaders of all EU member states was initially scheduled to take place on this date. President of the European Council, Charles Michel, President of the European Commission, Ursula von der Leyen, and the Federal Chancellor of Germany, Angela Merkel, for the Council Presidency, conducted the videoconference with Chinese President Xi Jinping. The meeting provided an opportunity to follow up on discussions at the 22nd EU-China Summit (22 June). The meeting was important to maintain the momentum of EU-China high-level exchanges in order to achieve concrete results in line with EU interests and values.
The comprehensive agenda of the Leaders' meeting covered trade and investment, climate change and biodiversity, the response to the COVID-19 pandemic, as well as international affairs and other issues.
With regard to the negotiations for an ambitious EU-China Comprehensive Investment Agreement (CAI), while both sides registered progress on the rules regulating the behaviour of State-owned-enterprises, on forced technology transfer and on transparency of subsidies, the EU emphasised that more work was urgently needed on the issues of rebalancing market access and on sustainable development. The EU called on China to step up its ambition on these issues. The two sides reaffirmed their objective of closing the remaining gaps before the end of the year. The EU side emphasised that high-level political engagement would be required within the Chinese system to achieve a meaningful agreement.
On other trade and economic issues, the EU reiterated its call on China to engage in future negotiations on industrial subsidies in the WTO. The EU stressed that, in line with China's stated commitment to open up and ensure that EU producers are fairly treated on the Chinese market, more needed to be done to improve market access in the agri-food trade, financial services and the digital sector. The EU also again made clear its concerns on overcapacity, both in traditional sectors such as steel and aluminium as well as in high tech.
The two sides welcomed the signature of the EU-China Agreement on Geographical Indications which will improve access to the Chinese market especially for high-quality European agricultural products.
The EU underlined the need for reciprocity and a level playing field in the area of science and technology, underpinned by high ethical and integrity standards. Leaders welcomed and agreed to continue the high level digital dialogue. They looked forward to concrete progress on ICT standards, product safety and research and innovation.
On climate change and biodiversity, the EU encouraged China to strengthen its climate commitments in terms of peaking carbon dioxide emissions and setting the goal of climate neutrality domestically. The EU also stressed the importance of a moratorium in China of building coal-fired power plants and financing their construction abroad, at least as part of a global initiative. The EU also encouraged China to launch its national emission trading system soon. The two sides agreed to establish a High-Level Environment and Climate Dialogue to pursue ambitious joint commitments on these issues.
The EU noted that joint commitments by both sides on biodiversity could be a game-changer at global level and China has a key role to play as host of the Conference of the Parties next year. An ambitious global agreement would be a major achievement.
On the COVID-19 response, the EU emphasised the shared responsibility to participate in global efforts to stop the spread of the virus, boost research on treatments and vaccines, and strengthen the role of the World Health Organisation, including through the full implementation of the World Health Assembly resolution of May 2020. The EU also underlined that the recovery measures should support the transition to a greener and more sustainable economy. China's full engagement in G20 efforts to support low-income countries and effectively implement the G20 – Paris Club Debt Service Suspension Initiative will also be essential.
With regard to Hong Kong, EU Leaders voiced their grave concerns about the erosion of the fundamental rights and freedoms following the imposition of the national security law on Hong Kong on 30 June, which is contrary to China's international commitments. They also reiterated the EU's concerns at the postponement of the Legislative Council election and the disqualification of candidates.
The EU reiterated its serious concerns about the treatment of ethnic and religious minorities, the situation of human rights defenders, as well as the limitations to freedom of expression and access to information. The two sides agreed that the Human Rights Dialogue will take place as a physical meeting in China later this year.
On regional and international issues, the EU referred to the escalating tensions in the South China Sea, urging for self-restraint and a peaceful resolution of disputes in accordance with international law. Leaders welcomed the start of the intra-Afghan negotiations in Doha. They also confirmed their commitment to upholding the Joint Comprehensive Plan of Action (the Iran nuclear deal).
The EU also expressed readiness to continue to discuss the Strategic Agenda for Cooperation 2025, which can only be concluded once significant progress has been made in the negotiations on the Comprehensive Investment Agreement.
An EU-China Leaders' Meeting with the participation of the Heads of State and Government of the EU member states and President Xi is foreseen to be held in 2021.