Trade agreements: What the EU is working on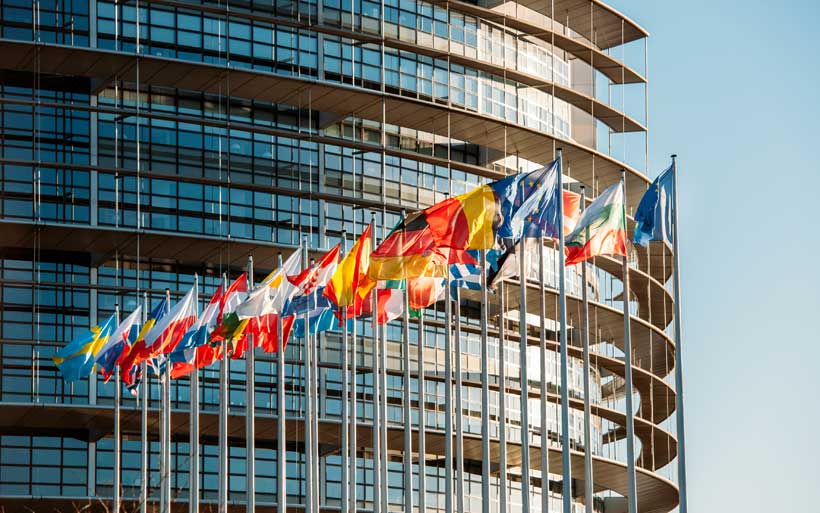 The EU negotiates various trade deals all over the world, but they depend on approval by the European Parliament. Read our overview of the negotiations in progress.
On 13 February, MEPs voted in favour of EU-Singapore trade and investment protection deals, which will eliminate nearly all tariffs within five years. This comes only two months after MEPs approved a major trade agreement and a strategic partnership with Japan.
The importance of trade agreements
Trade agreements are very important to the EU as they are a key driver of economic growth. In 2015 the EU was the world's biggest exporter and importer of goods and services, covering 32.15% of the global trade, ahead of the US (12.01%) and China (10.68%). New trade agreements create new business opportunities for European companies, leading to more jobs being created, while consumers can look forward to more choice and lower prices.
There are concerns that trade agreements can lead to job losses in some sectors due to the increased competition, but these deals always create more jobs than they destroy. Another concern is that they could lead to high quality standards for products such as food being watered down. However, as the EU represents such a large market, it is in a good position to impose its standards on foreign companies. For MEPs, quality standards are always a red line in trade agreements and any attempt to lower them could be a reason for them to reject them. In addition EU negotiators often include clauses regarding human rights and labour rights in trade agreements to help improve the situation in the country we are trading with.
Types of agreements
The EU has different types of agreements in place with countries. They can focus on reducing or eliminating tariff barriers or establishing a customs union by removing customs duties and establishing a joint customs tariff for foreign imports.
It's not all about tariffs though. It could also be about investment and how to deal with disputes involving investment. For example, when a company feels a decision by a government is affecting its investment in that country. Non-tariff barriers are also vital such as product standards (for example the EU has banned certain hormones in cattle farming over health fears).
North America
The free trade agreement with Canada, known as the Comprehensive Economic Trade Agreement (Ceta) provisionally entered into force on 21 September 2017. It will enter fully into force once all EU countries have ratified the agreement.
The Transatlantic Trade and Investment Partnership (TTIP) with the United States has proved very controversial due to concerns over product standards and the resolution of investment disputes. Negotiations were stopped until further notice at the end of 2016.
Asia
MEPs adopted a trade agreement with Japan during the December plenary.There are no free trade negotiations ongoing with China, but there are other talks as well such as negotiations for a comprehensive EU-China investment agreement. Launched in November 2013 and the latest negotiation round took place on 29-30 October 2018.
Negotiations with other Asian countries:
Malaysia (both sides are assessing whether there is enough common ground to relaunch talks)
Vietnam (free trade agreement is being prepared for signature)
Indonesia (futher negotiations took place this year)
Thailand (EU ready to resume talks)
Philippines (no date yet for next round of negotiations)
Myanmar (no date set yet for next round)
India (both sides are in the process of assessing the outcomes of talks)
Oceania
Negotiations for a comprehensive trade agreement with Australia were launched on 18 June 2018. Negotiations for a deal with New Zealand were launched on 21 June 2018. In both cases there have been further rounds of talks since then.
Latin America
In Latin America the latest round of talks with Mercosur countries took place on 10-14 September 2018. The date for the next round still has to be confirmed.
Negotiations with Mexico on modernising the EU-Mexico Global Agreement started in June 2016. A political agreement was found on 21 April 2018 and the full legal text is expected to be finalised by the end of the year.
The latest round of negotiations with Chile took place in May 2018 and the date for the next one still has to be determined.
Southern Mediterranean and Middle East
There are various agreements, including association agreements to especially boost trade in goods. There are also talks on expanding these agreements in areas such as agriculture and industrial standards with individual countries.
Trade in Services
The Trade in Services Agreement (TiSA), is currently being negotiated by 23 members of the World Trade Organisation (WTO), including the EU. Together, the participating countries account for 70% of world trade in services. Talks were put on hold in late autumn 2016 and the next steps still need to be determined.
Parliament's role
Since the Lisbon Treaty entered into force in 2009, trade agreements need the Parliament's approval before they can enter into force. MEPs also need to be regularly updated on progress during negotiations.
Parliament has already shown it will not hesitate to use its veto if there are serious concerns. For example MEPs rejected the Anti-Counterfeiting Trade Agreement (Acta) in 2012.
Ebola: EU announces new funds to strengthen preparedness in Burundi
The Ebola virus disease outbreak in the Democratic Republic of Congo continues to spread in the east of the country with a high risk of a spill-over into the neighbouring countries. The European Union is stepping up its assistance to Burundi with €465,000 to further strengthen Ebola preparedness measures by authorities and aid organisations in the country.
Christos Stylianides, Commissioner for Humanitarian Aid and Crisis Management, who is also the EU's Ebola Coordinator, said: "To effectively fight the Ebola virus we do not only have to address the affected cases in the Democratic Republic of Congo but also increase our efforts to prevent the disease from spreading to neighbouring countries like Burundi. The European Union is therefore supporting ongoing Ebola preparedness measures in the country, including infection prevention and control. Everything possible must be done to avoid a further spread of the deadly virus."
The new EU funding will be allocated through the World Health Organisation. It will strengthen the coordination, surveillance and response capacities to Ebola in high-risk districts in Burundi, close to the border with the Democratic Republic of Congo. This new funding complements the existing financial support to the ongoing EU efforts in Ebola surveillance and awareness-raising via NGOs and UN.
Background
Since 2018, the EU has provided €47 million to humanitarian partners in the Democratic Republic of Congo involved in the Ebola response in the affected areas as well as in high-risk areas. In parallel, the EU has also been supporting Ebola prevention and preparedness measures in the neighbouring countries most at risk – Uganda, South Sudan, Rwanda and Burundi – with over €4 million in humanitarian aid to ensure rapid detection and treatment in case of spill-over.
Supporting Ebola preparedness in neighbouring countries is crucial in this region with the high mobility and considerable cross-border trade. Uganda has recently witnessed three cases of a family returning from an Ebola-affected area in the Democratic Republic of Congo. No Ebola cases have been detected in Burundi, but the threat has become increasingly real with two newly confirmed cases in the Democratic Republic of Congo's province of South Kivu, which shares a border with Burundi.
RescEU assets mobilised to help Greece fight devastating forest fires
Following a request for assistance from Greece on 13 August 2019, rescEU assets have been mobilised to tackle forest fires ravaging several areas of Greece. As an immediate response, the European Union has already helped to mobilise 3 forest fighting planes from rescEU reserve from Italy and Spainto be dispatched swiftly to the affected regions.
rescEU is the EU's strengthened EU Civil Protection Mechanism, whose reserve includes firefighting planes and helicopters. Through rescEU, the EU reinforces its collective ability to respond to disasters that affect European countries. This is the first ever deployment of the rescEU assets.
Commissioner for Humanitarian Aid and Crisis Management Christos Stylianides said: "The EU stands in full solidarity with Greece at this difficult time. The planes are already in action, fighting the fires. This immediate response proves the added value of rescEU which makes our response more robust, quick and efficient. Moreover, this is a real example of the common European values on which rescEU is based: solidarity and protection of lives of our European citizens. I am thankful to Italy and Spain for their offers of assistance. We stand ready to provide further assistance."
Commissioner Stylianides is in constant communication with the Greek authorities. Today, the Commissioner is in Athens where he met with Prime Minister Kyriakos Mitsotakis and visited the Crisis Centre of the Greek Civil Protection to be briefed along with the Minister for the Protection of Citizens Michalis Chrysochoidis and oversee the operation of the rescEU assets.
The European satellite mapping system Copernicus is helping to provide damage assessment maps of the affected areas.
Background
The EU Civil Protection Mechanism strengthens cooperation between Member States/Participating States in the field of civil protection, with a view to improving prevention, preparedness and response to disasters. Through the Mechanism, the European Commission plays a key role in coordinating the response to disasters in Europe and beyond.
When the scale of an emergency overwhelms the response capabilities of a country, it can request assistance via the Mechanism. Once activated, the Mechanism coordinates assistance made available by its Member States/Participating States through spontaneous offers. In addition, the EU has created the European Civil Protection Pool to have a critical number of readily available civil protection capacities allowing for a stronger and coherent collective response. Should the emergency require additional, life-saving assistance, the new rescEU reserve can be used as a matter of last resort.
To date, all EU Member States participate in the Mechanism, as well as Iceland, Norway, Serbia, North Macedonia, Montenegro, and Turkey. Since its inception in 2001, the EU Civil Protection Mechanism has responded to more than 300 requests for assistance inside and outside the EU.
EU mobilises €9 million to tackle the food crisis in Haiti
The European Union has released €9 million in humanitarian aid in response to the deteriorating food and nutrition situation in Haiti. The humanitarian aid will cover the basic food and nutritional needs of more than 130,000 people living in the worst affected areas.
'For the EU, the humanitarian situation in Haiti is not a forgotten crisis We are committed to providing vital support to the people hit by the food and nutrition crisis in the country. This assistance comes on top of the €12 million allocated in 2018 to address the urgent food and nutrition needs of Haitians,' said Commissioner for Humanitarian Aid and Crisis Management, Christos Stylianides.
The funds provided will benefit families living in the areas worst affected by the crisis and children suffering from acute malnutrition. Life-saving nutritional support will also be provided to over 5,000 children under the age of 5 who are suffering from acute malnutrition. In parallel, the EU will back measures to strengthen the analysis of the food situation and to improve the quality of the humanitarian response.
The European Commission's humanitarian assistance pays special attention to victims of forgotten crises, i.e. severe, protracted humanitarian crises where the people affected do not receive sufficient international aid, as is the case in Haiti. Haiti is the main beneficiary of the European Commission's humanitarian aid to Latin America and the Caribbean, having received €404 million in support since 1994.
Background
Due to its vulnerability to natural hazards and its high levels of poverty, Haiti has limited capacity to cope with recurring emergencies such as earthquakes, hurricanes, and prolonged droughts.
In recent months, the humanitarian situation in Haiti has deteriorated dramatically and the country is facing serious food shortages. Between 2018 and 2019, the number of people in crisis situations or facing food emergencies doubled to 2.6 million, i.e. 25 % of the population. Furthermore, the prevalence of acute malnutrition among children under the age of five remains high, and above World Health Organization (WHO) emergency levels in several locations, including the Nord-Ouest department.
€3 million were earmarked at the end of July 2019 for disaster risk reduction.
In Haiti, particular emphasis is being placed on establishing an effective link between relief, rehabilitation and development (LRRD) to facilitate the transition between emergency relief work and structural development assistance in the country. More specifically, in terms of development cooperation, the amount of EU funding allocated to Haiti is the highest in the region, standing at €420 million for the period 2014-2020. These funds are intended to support development and the fight against poverty in the country by focusing on four key sectors: strengthening and modernising public administration, education, urban development and infrastructure, and food and nutrition security.