Navigating Sri Lanka's Demographic Change
The latest edition of the World Bank's Sri Lanka Development Update (SLDU) finds the island in a challenging macroeconomic landscape. The post-conflict high growth momentum has decelerated. A volatile global environment and structurally weak competitiveness continue to weaken growth and external sector performance. High interest costs mask limited fiscal improvement.
The report's special focus examines the challenges associated with a change in demographic composition and suggests that a multi-year program of policy reforms and institutional strengthening could help prepare Sri Lanka for the decades ahead.
The SLDU, which analyses key developments in Sri Lanka's economy over the past six months, notes that while post-conflict growth has decelerated, the outlook remains stable, conditional on political stability and reform implementation.
Sri Lanka is stepping up to the plate at a time when the global environment remains turbulent. Key reforms, such as the implementation of the Inland Revenue Law, passing of the Active Liability Management Act, are helping to prepare for heightened external debt refinancing risks in 2019 and beyond.
"It is important to consolidate on previous reforms to ensure maximum benefits," says Fernando Im, an author of the SLDU and the senior country economist for Sri Lanka-Maldives. He explains that future reforms could yield high development impacts, such as further strengthening public finance management and supporting the implementation of a social registry to improve coverage and targeting of social safety nets.
Below are some of the recent developments highlighted in the report:
Sri Lanka's debt portfolio carries significant risks
At an estimated 83 percent of its Gross Domestic Product, Sri Lanka's central government debt level is high. As the country approached upper middle-income status, it has been borrowing on more commercial terms with increased cost and risk.
The majority of foreign currency denominated debt is now largely made up of market borrowings including International Sovereign Bonds (ISBs) and Sri Lanka Development Bonds (SLDBs), which in 2017 accounted for 53 percent, up from just 3 percent of total foreign currency denominated debt in 2000.
In total, maturities of bullet repayments on Eurobonds from 2019 to 2023 and from 2025 to 2028 alone amount to USD 12.15 billion. The SLDU notes that this is new territory for the country and could expose the island nation to refinancing risks.
In response, the government has adopted policies designed to address these risks, however, the slow progress of key structural reforms remains a cause for concern. It is hoped that improvements in debt management will help manage costs and risks of the portfolio, develop the domestic financial market and improve access to finance.
Despite the fast poverty reduction, there remain areas with significant poverty
Over the past two decades, Sri Lanka's economy expanded at a rapid pace and the country has done much to address extreme poverty with a decline from 15.4 percent in 2013 to 9.7 percent in 2016, as measured against the World Bank's international poverty line of $3.20 per day for lower middle-income countries.
Measures, such as the expansion of the Samurdhi programme in 2015, offered dividends although better targeting of social assistance would have resulted in larger gains. However, it is vital to note that a large number of people remain just a small shock away from falling back into poverty, says the report, noting that adverse weather conditions have become increasingly influential in recent years.
Critically, there is a disparity between various districts, with the highest poverty headcount being reported in the Northern and Eastern provinces, where regions like Ratnapura, Kandy and Badulla account for more than a quarter of the poor population combined. It is clear, Sri Lanka must design different strategies to address the varied issues around human capital, basic services, the availability of jobs and access to markets.
Sri Lanka is undergoing profound demographic change – the country needs to do more to prepare
Like many other countries in the world, Sri Lanka is staring down a dramatic demographic shift – Sri Lanka's share of working-age population peaked in 2005 and it is expected to gradually decline over time. This has implications for labor supply, service delivery in sectors such as health and education, and of course for pensions, employment and public finances overall.
A particular concern are the limited savings and instructional support mechanisms in place to support this rapidly expanding elderly population. Increasing costs mean that programs such as the Public Servants Pension Scheme (PSPS) could struggle to deliver on their benefit promises over the long run, while the EPF – the employer-based defined contribution saving scheme for formal private sector workers – appears inadequate to meet the costs associated with over two decades of retirement.
As can be expected formidable challenges exist, but improving various aspects of delivery systems will prove critical to broadening worker coverage. By prioritising educational attainment, addressing the skills mismatch that hurts new graduates in the market, and nurturing entrepreneurship, younger people could be encouraged to participate in the workforce. Finally, improving female labour force participation could also help buffer the adverse impacts of demographic factors on growth.
Asia and Pacific on course to miss all Sustainable Development Goals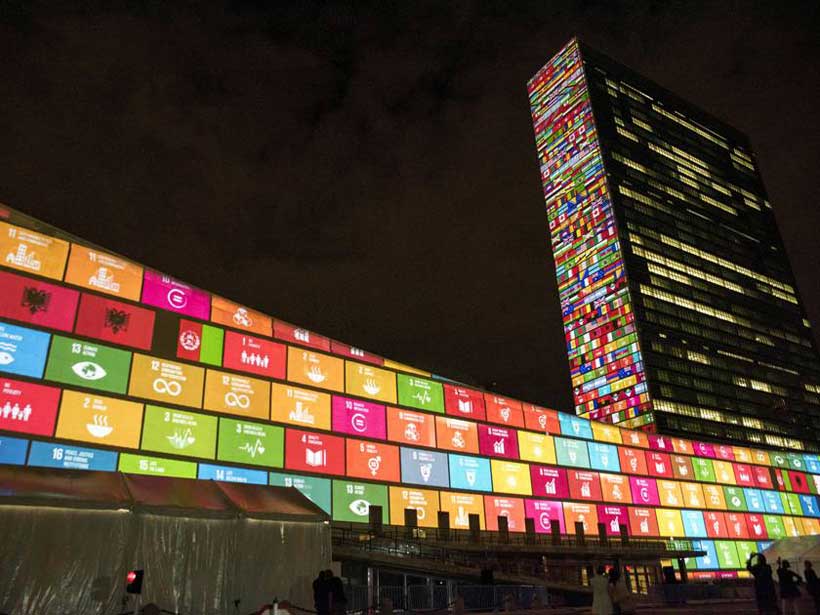 Unless progress is accelerated, Asia and the Pacific are on course to miss all of the 17 Goals of the UN's 2030 Agenda for Sustainable Development, the Executive Secretary of the UN regional commission for Asia and the Pacific (ESCAP), told UN News at the Organization's Headquarters on Wednesday.
Under-Secretary-General Armida Salsiah Alisjahbana was in New York to take part in the High-Level Political Forum on Sustainable Development, the main UN platform for monitoring the progress that countries are making towards the Agenda, which is the UN's blueprint for ending poverty and preserving the planet.
ESCAP's latest Sustainable Development Goals Progress Report shows that, when it comes to some of the Goals, the region is actually going backwards. These are the goals related to access to clean water and sanitation (Goal 6), decent work and economic growth (Goal 8), and responsible consumption and production (Goal 11).
There are, said Ms. Alisjahbana, several reasons for this: "There is water scarcity, because of the pressure of urbanization, and the management of natural resources and the environment are making the situation worse. As for moving towards sustainable consumption, that has to do with behaviour and lifestyle. With increasing wealth you consume more, but what you consume is something that is actually not sustainable.
Governments, said the head of ESCAP, must ultimately be responsible for investments in sustainable development. Investing in basic infrastructure costs money, but there is a considerable multiplier effect, that has a positive effect on the economy. Countries with smaller financial resources should look at raising money through fiscal reforms rather than looking for aid, and risking becoming dependent, she added.
The Progress Report complains about a lack of data, an important point because, says Ms. Alisjahbana, without the correct data you can't track progress, or evaluate the best actions to take going forward. Improved data must go hand in hand with improved capacity for analysing data, which means national statistical offices, and SDG monitoring.
Despite the many challenges facing the region's efforts to achieve the Goals, Ms. Alisjahbana remains optimistic. The situation, she believes, can be turned around, through better cooperation, as well as the abundant talent and expertise found in the region.
Asia and Pacific Growth Steady Amid Global Trade Tensions
Developing Asia will maintain strong but moderating growth over 2019 and 2020, as supportive domestic demand counteracts an environment of global trade tensions, according to a new Asian Development Bank (ADB) report released today.
In a supplement to its Asian Development Outlook (ADO), ADB maintains growth forecasts for developing Asia at 5.7% in 2019 and 5.6% in 2020—unchanged from its April forecast. These growth rates are slightly down from developing Asia's 5.9% growth in 2018. Excluding the newly industrialized economies of Hong Kong, China; the Republic of Korea; Singapore; and Taipei,China, the regional growth outlook has been revised down from 6.2% to 6.1% in 2019 and maintained at that rate in 2020.
Deepening trade tension between the People's Republic of China (PRC) and the United States (US) remains the largest downside risk to this outlook, despite an apparent truce in late June that could allow trade negotiations between the two countries to resume.
"Even as the trade conflict continues, the region is set to maintain strong but moderating growth," said ADB Chief Economist Mr. Yasuyuki Sawada. "However, until the world's two largest economies reach agreement, uncertainty will continue to weigh on the regional outlook."
The growth outlook for East Asia in 2019 has been revised down to 5.6% because of slower than expected activity in the Republic of Korea. The subregion's growth outlook of 5.5% for 2020 is unchanged from April. Growth for the subregion's largest economy, the PRC, is also unchanged, with forecasts of 6.3% in 2019 and 6.1% in 2020, as policy support offsets softening growth in domestic and external demand.
In South Asia, the economic outlook is robust, with growth projected at 6.6% in 2019 and 6.7% in 2020, albeit lower than forecast in April. The growth outlook for India has been cut to 7.0% in 2019 and 7.2% in 2020 because the fiscal 2018 outturn fell short.
The outlook for Southeast Asia has been downgraded slightly to 4.8% in 2019 and 4.9% in 2020 due to the trade impasse and a slowdown in the electronics cycle. In Central Asia, the growth outlook for 2019 has been revised up to 4.3% on account of an improved outlook for Kazakhstan. Central Asia's growth outlook of 4.2% for 2020 is unchanged from April. The growth outlook in the Pacific—3.5% in 2019 and 3.2% in 2020—is unchanged, as the subregion continues to rebound from the effects of Cyclone Gita and an earthquake in Papua New Guinea, the subregion's largest economy.
The major industrial economies have had slight revisions to their growth forecasts, with the US revised up to 2.6% for 2019 and the Euro area revised down to 1.3%. The growth outlook for Japan is unchanged at 0.8% in 2019 and 0.6% in 2020.
Developing Asia's inflation projections were revised up from 2.5% to 2.6% for both 2019 and 2020, reflecting higher oil prices and various domestic factors, such as the continuing outbreak of African swine fever in several Asian economies, which is expected to drive up pork prices in the PRC.
How to measure blockchain's value in four steps
To help organizations identify the value of blockchain technology and build a corresponding business case, the World Economic Forum, the International Organization for Public-Private Cooperation, has released the Blockchain Value Framework as part of the white paper, Building Value with Blockchain Technology: How to Evaluate Blockchain's Benefits.
Co-designed with Accenture, the Blockchain Value Framework is the second in a series of white papers for organizations to better understand that blockchain technology is a tool deployed to achieve a specific purpose, not a goal in itself. This new framework provides organizations with the tools to begin measuring blockchain's value, including key questions to consider. It is the first visual roadmap of its kind and is based on a global survey of 550 individuals across 13 industries, including automotive, banking and retail, public-sector leaders, chief executive officers and an analysis of 79 blockchain projects.
"In our last paper, we stressed that blockchain deployment is not the end goal," said Sheila Warren, Head of Blockchain at the World Economic Forum. "We wanted to get beyond the hype. This new framework is for those business leaders that have figured out blockchain is the right solution for a specific problem, but don't know what to do next."
"Organizations need to make business decisions and investments with confidence and that requires proof of the value-add and an analysis of why, or why not, they should consider something new," said David Treat, Managing Director and Global Blockchain Lead at Accenture. "Through this new framework, we aim to educate businesses and challenge them to rethink their current business models, relationships between ecosystem partners, customers and their investments in technology. The path to blockchain adoption starts here with evaluating the technical and strategic priorities and aligning them with investments in innovation."
The framework starts with questions on blockchain's role and desired impact. Assessing potential pain points and areas for opportunity without thinking about the technology is essential. Next is to examine the three key dimensions of blockchain's role alongside its capabilities. The roadmap can assist organizations in moving from current-state assessment to future blockchain opportunity, and to identify where the value will be created and delivered. Cost savings, increased revenue and improved customer experience are all possible business case results.
According to the global survey conducted in conjunction with the new framework, 51% of survey respondents identified "missing out on developing new products/services" as the number one expectation if they do not invest in blockchain technology in the near future. The other two most common answers were missing out on speed/efficiency gains (23%) and missing out on cost savings (15%). The interviews highlighted the potential of the technology to simplify and optimize complete value chains through the sharing of simplified real-time data with increased efficiency. However, the paper also cautions businesses to carefully consider whether blockchain is the best solution, relative to other technologies or other digitization strategies. As noted in the Blockchain Beyond the Hype white paper, blockchain may not be a viable solution or it may not be the correct time to pursue this avenue.
In nine of the industries surveyed, the full traceability and integrity of the data were the top two potential advantages of using blockchain technology. Most of the industries surveyed could benefit from smart contracts and automation provided by blockchain. Surprisingly, few organizations selected "new business products or services" as one of the benefits. This suggests the current focus for organizations is on improving existing products and services before considering investing in new opportunities.
"We may be moving beyond the hype, but blockchain isn't going away. Central banks are experimenting with digital currencies and supply chain networks are piloting blockchain policies. We are also seeing companies like Facebook and Starbucks entering the blockchain and cryptocurrency space. This means practical use cases of the technology will become more widespread," Warren said. "A draft of the framework was further validated at a multilateral session of global leaders at the World Economic Forum Annual Meeting 2019 in Davos-Klosters."